Cliff Masterson

composer l arranger l orchestrator l music supervisor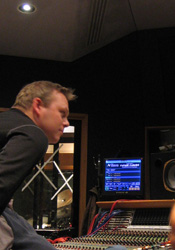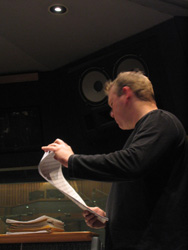 Cliff Masterson at Capitol Studios, Hollywood, CA

photos: bytheC


History:  A graduate of Royal Academy of Music, Cliff has numerous credits as arranger, composer, songwriter and producer. He has worked with artists as diverse as Charlotte Church, Michael McDonald, Ronan Keating, Lionel Richie, Oasis, G4, Westlife and Cliff Richard. Cliff co-wrote and produced "Destiny" the theme song for the "Mission : Space" attraction at Walt Disney World's EPCOT Center. Cliff has worked as a conductor and orchestrator with orchestras including the Royal Philharmonic Orchestra, the London Studio Orchestra and the world famous Nashville String Machine.




Masterson is the co-writer of the award winning musical "Gameboy" which was also a finalist in the PRS/Vivian Ellis Awards. Cliff's credits in film and theatre include: Orchestrator in "Alfie" and "Goal" Music Supervisor in "Riverdance" (London production). He has composed for "The Rose Tattoo" (Theatr Clywd) and was Musical Director / Composer for "All's Well That Ends Well" (New Shakespeare Company).





Cliff has written and / or produced songs for artists including: Charlotte Church; Anthony Callea (Australian Idol); Shayne Ward (UK Idol/ X Factor); Journey South (UK Idol / X Factor); Matt Dusk; The Hollies and David Bisbal. His orchestra arrangements has appeared on artists to inclue: Michael McDonald, Lionel Richie, Ronan Keating, Oasis (MTV Unplugged), Westlife, Vanessa Mae, Emma Bunton, Cliff Richard and The Opera Babes. He has produced and arranged for G4, Michael Balland and Lee Ryan. Masterson was the musical director for Delta Goodrem.



Current Credits:  Cliff is currently involved in a number of projects... He has just completed work orchestrating and conducting the debut album for Canadian tenors RyanDan. Cliff's next project is the follow up to the much celebrated "Voices Of The Valley" album with the Fron Male Voice Choir and the Prague Symphonic Orchestra. Cliff is also writing and developing a unique computer animated musical entitled, "Musicbox".



listen to Masterson Music Here


with Matt Dusk during the recordings at Capitol

Contact: Clif Masterson in US

copyright 2007 studioexpresso