ATC Speakers Listed As Ingredient For Grammy Winner Engineer's Time-Tested Recipe
Michael Bishop Speaks OF Importance Of His Tools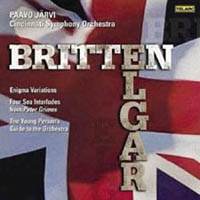 Bishop photo by: Wes Bender

Telarc recording engineer Michael Bishop's rare blend of technical aptitude and musical intuition earned him his sixth Grammy Award for Best Engineered Album, Classical. Although the Academy recognized his recording of conductor Paavo Järvi and the Cincinnati Symphony's performances of Elgar's "Enigma Variations" and Britten's "The Young Person's Guide to the Orchestra" and "Four Sea Interludes" for the Grammy, anyone who has listened carefully to his work will realize that this is but one gem among many.
A reflective and unduly modest craftsperson, Bishop recognizes the importance of his tools and has slowly bzuilt a collection of truly superb equipment that works in consonance. "Almost every classical piece I engineer goes direct to stereo and direct to surround," he said. "So when I record, I'm making decisions that directly impact the final master. There's no second guessing and no safety net. Every piece of equipment in the chain is critical. The tools that I use are like ingredients in a time-tested recipe- they work very well together."
Since the mixes are committed to the hard drive at the time of recording, Bishop's ability to hear every fine distinction and shade of timbre is paramount. Whether at home in Cleveland or on the road, he relies on five ATC 150 midfield monitors. The highest of the high-end speakers, ATC 150s are often found in mastering studios. However, Bishop reasons that the qualities that make them ideal in a mastering studio also make them ideal in critical direct recording.
"The extreme resolution of the ATC 150s reveals the slightest shift in mic position or the subtle effects of changing atmospheric conditions," he explained. "At the same time, they're very musical and fun to listen to, even after long hours of tracking." Since a single ATC 150 weighs nearly 200 pounds, the fact that all five travel with him says something about their indispensability. "Stage crews are seldom happy to see us pack in with half a ton of speakers," he laughed, "but that's what I need to have to do my job properly."
In addition to revealing the nuance and magic of a performance, Bishop's guiding philosophy is to capture spatially engaging, three-dimensional sound. "The last thing I want is an orchestra plastered against the front speakers with ambient rattling around in the rear," he laughed. "I need a good bridge between the front and the rear channels, a three dimensional image that places the listener in the center of a very real experience." Consistent with this goal, his stereo signal originates with a Neumann KU 100 binaural dummy head, and his surround signal originates with a set of strategically-placed Sennheiser MKH-series condenser microphones and a Royer SF-24 stereo ribbon microphone.
As might be expected, Bishop keeps his signal chain short and minimal. He uses the same Upstate Audio custom mic preamps that are currently being used by Al Schmitt, Chuck Ainlay, and a few others. From the preamps on stage, the signals enter a "heavily modified" Studer 962 via the insert returns. Custom busses allow him to mix for stereo and surround simultaneously. Both masters are recorded on a Sonoma DSD workstation with EMM Labs DSD converters.
Since Bishop uses no spot microphones, a crucial component of his successfully engineered recordings is the feedback that he gives to the conductor. "The conductor is entirely responsible for the balance between instruments," he explained. "For the Grammy project, Paavo never questioned what he was hearing on the ATC 150s. He came in after the first take, listened for changes he wanted to make, and went back out and delivered on those changes. That sort of beneficial feedback would be impossible if the monitors colored the recording. Thus, the ATC 150s benefit everyone who I'm collaborating with in ways that are much deeper than most people appreciate."
The summer of 2006 saw the studio's fourth incarnation in a completely new building created by celebrated designer Martin Pilchner of Pilchner Schoustal International. The control room centers on a Pro Tools HD Accel system with an Icon-D Control surface and is brought to life by five soffit-mounted Acoustic Transducer Company (ATC) 150ASL full-range loudspeakers and an ATC Sub1/15Pro subwoofer.

ATC's drivers are manufactured in-house to exacting tolerances and are legendary for their many design innovations, such as the innovative SL magnet system and the company's renowned Soft Dome mid-range driver, which achieves exceptionally broad and even dispersion to produce a flat response anywhere in the room. Situated in Aston Down in rural Gloucestershire, England, ATC was established in London in 1974 by acoustics engineer and musician, Bill Woodman.
For more info on ATC Loudspeakers (UK) contact Brad Lunde at www.lasvegasproaudio.com or Phone (702) 307-2700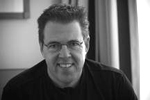 Las Vegas Pro Audio (www.lasvegasproaudio.com) a division of TransAudio Group, is the launch pad for the brands of tomorrow including ATC studio monitors(UK), Accusound Silver Audio Cables, Digital Audio Denmark AD/DA DXD/DSD converters, Daking electronics, Enhanced Audio mic mounts, and Pauly Superscreen pop-filters. The goal of LasVegasProAudio.com is to provide unique equipment, useful information and long term support.
TransAudio has quickly become the premier US importer/distributor for high-end audio with a product line to include Accusound, A-Designs (USA) AEA ribbon microphones (USA), ADT Toolkit, AEA, ATC Loudspeakers (UK), Brauner microphones(Germany), Drawmer (UK), Geoffrey Daking & Co. (USA), Enhanced Audio (Ireland), George Massenburg Labs (GML) (USA), Heil Sound (USA); Mercury Audio (USA) Mission Audio (UK) Phoenix Audio (UK), PAULY Superscreens(Germany), SABRA SOM(Brazil), Soundelux (USA), SoundField Microphones (UK), Z-Systems (USA) and Weiss Engineering (Switzerland) and Z Systems (USA).


Solid State Logic X-Rack A Winner In Summing Mixer Shootout
"It Sounds Like an SSL Console"

In an effort to improve mixes in the digital audio workstation realm, film and TV composer/producer Brian Adler and studio tech/engineer John Hartman have conducted an exhaustive, controlled comparison of leading summing mixers. Adler, owner of film, TV and music credits including The '60s, Twice Upon a Time and Tapeheads, reports that among the seven most prominent products surveyed, Solid State Logic's X-Rack, from its acclaimed XLogic product range, was the clear winner.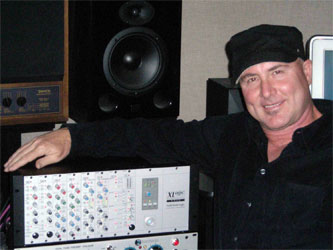 "I embarked on this comparison because I'm just not happy with in-the-box mixing," says Adler, who came to Los Angeles as a signed singer/songwriter and has written songs performed by Smokey Robinson, Cheap Trick, Sam Moore and Junior Walker. "I'm not happy with digital, to a large degree; I'm missing so much of analog. But I've been a Pro Tools user forever.
"I make most of my living in film and TV production now; record production is secondary. You have to move so quickly in TV and film, and make so many revisions, that you really have to work on a digital audio workstation. But while great digital mixes are dazzling left to right, they are two-dimensional. I've always missed the three-dimensional sound that is inherent in analog, along with better natural compression, punch and a cohesive sheen over the top of the whole thing.
"I started having conversations with trusted mix engineers," Adler continues. "Some said that there is a sonic 'bottleneck' or logjam at the summing stage that affects things like panning and image, which is why so many audio professionals are turning to summing mixers."
Adler and Hartman (Ladysmith Black Mambazo, Alice Cooper, Public Enemy) used the same four music selections, ranging from hard rock/alternative to light acoustic to orchestral, to test the equipment. "We made a point to not discuss our opinions of the various gear with one another while doing the tests," he recalls, "instead choosing to make all our various mixes, take some time off for an ear break, list our rankings and then simultaneously convey our findings to one another over the phone.
"To our surprise, they were exactly the same, in the same order, and SSL is clearly the leader. The X-Rack has provided the best depth, and has a discrete quality. The separation is fantastic-you can really hear the instruments speak and sustain remarkably. The SSL sounds wider, deeper, tighter, punchier and has more 'wow' factor than the others. What's most impressive is that it sounds like a big SSL console. Wow!"
Though the comparison focused primarily on the respective products' summing performance, Adler and Hartman also tracked with the X-Rack's Mic Amp, EQ and Dynamics modules, "and we are very impressed with those as well," Adler says. "As a matter of fact, we're trying that against other good tube and Class A products. The X-Rack is a really magnificent box."
The X-Rack is a modular rack system that incorporates a unique Total Recall® capability. Featuring the same SuperAnalogue™ processing as the XL 9000 K Series console, the X-Rack now boasts six optional modules: Eight Input Summing Module, Four Channel Input, Master Bus, Mic Amp, Channel EQ and the original Dynamics module. This combination now makes it possible to configure X-Rack as a standalone mixer and analog summing system, or as a standalone processing solution for studio and live applications or working with the flexible inserts of an AWS 900+ Analogue Workstation System to provide a complete "SSL" channel processing solution for the console.
Solid State Logic is the world's leading manufacturer of analogue and digital audio consoles and provider of creative tools for film, audio, video and broadcast professionals. SSL's product range includes the C100, C200 & C300 Digital Consoles, Duality, the large format analogue console with integral DAW control, AWS 900+ Analogue Workstation System, the XLogic range of rack processors & I/O, the Duende DSP engine for workstation users and the Soundscape Audio Workstation product line. For more information about our award-winning products, please visit: www.solid-state-logic.com




Expresso Cat Walk at Billboard Music Awards, NAB and beyond.

Mariano Barba poses backstage with his four awards at the 2007 Billboard Latin Music Awards in Coral Gables honoring the Latin music artists with the highest sales and radio airplay as shown on the Billboard charts from Feb. 11, 06 through Feb. 3, 07. Barba won awards for Hot Latin Song of the Year, Regional Mexican Album of the Year, Regional Mexican Airplay song of the Year, Male Solo Artist and Regional Mexican Airplay Song of the Year, New Artist. Mexican rockers Mana won twice. Teen pop phenomenon RBD took home three awards, including best tour, while fellow Mexican pop singer Paulina Rubio opened the show and picked up two awards for her album, "Ananda." Colombia's Shakira and Haitian-American rapper and producer Wyclef Jean won best duet for their smash hit, "Hips Don't Lie." Puerto Rican reggaeton duo Rakim y Ken-Y, took home only one of seven nominations, for their song "Down." Singer, songwriter and actor Miguel Bose received the Billboard Lifetime Achievement award for his roughly 30-year career. Puerto Rican Toby Love won in both hip-hop and tropical categories. Venezuelan singer Ricardo Montaner was also honored for his work with disabled children and those living in poverty across Latin America. Spanish-language soap star Marlene Favela and singer-actor Carlos Ponce hosted the event in Coral Gables, just south of downtown Miami. NBC subsidiary Telemundo aired the show. The awards cap off the Billboard Latin Music Conference at the Intercontinental Hotel in downtown Miami -- three days of panels, showcases, schmoozing and market navel-gazing.
This year's NAB was strong with 108,000 registered attendees. HD and numberous studio tools were in the headlines. Previewed at NAB in 2006, Solid State Logic's MediaWAN project has been under development for three years. Collectively, the team has developed products that have won three Emmys® and an Oscar® in this field. More recently Network News Service (NNS) chose SSL's Mediawan Gravity System for joint organization benefits that links NNS' databases for news and satellite operations and allows third-party edit systems to share resources on a closed network.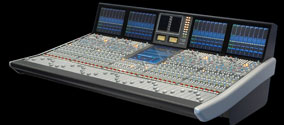 NNS is owned by ABC, CBS, and Fox News Channel and provides distribution services for news content to more than 500 affiliate stations nationwide. Solid State Logic exhibited the significantly expanded C100 Digital Broadcast Console product portfolio at NAB 2007, April 16-19 at the Las Vegas Convention Center. Doubled Channel Count, Increased Processing Power, New Slimline Console, New Centuri HD-S Processor Among Updated Features of HD Series. The acclaimed C100 console has evolved to become the C100 HD with new Version 4.0 software that delivers an enhanced feature set and a significant boost in processing power. The C100 HD console is joined by the new C100 HD-S, a smaller form factor console designed for space limited applications. The new C100 HD range is further enhanced by the addition of a new smaller front loading Processor option the Centuri HD-S. Solid State Logic will exhibit its new C Series range at NAB 2007, April 16-19 at the Las Vegas Convention Center

Solid State Logic is the world's leading manufacturer of analogue and digital audio consoles and provider of creative tools for film, audio, video and broadcast professionals. SSL's product range includes the C100, C200 & C300 Digital Consoles, Duality, the large format analogue console with integral DAW control, AWS 900+ Analogue Workstation System, the XLogic range of rack processors & I/O, the Duende DSP engine for workstation users and the Soundscape Audio Workstation product line. For more information about our award-winning products, please visit: www.solid-state-logic.com.
Studio Suite from AlterMedia (booth # SL10226 at NAB) is shipping SS8, a ground-up rebuild of their leading studio management software. This major new release tackles the complex organizational requirements of today's production facilities with a slew of new features, better security, and integration with other software, including QuickBooks, iCal, Pro Tools, FinalCut, and more. Studio Suite 8 manages all kinds of media production: Audio, Video, Pre-Production, Production, Post-Production, Animation, Graphics, Film, TV, Radio, DVD, Internet, Games, Duplication, Mastering, Rentals, etc. Studio Suite 8 manages everything - schedules, contacts, communications, projects, inventories, libraries, labels, invoices and more. It is user-customizable, relational, and networkable across Mac/PC platforms. Pricing is $749 for the initial License, and $449 for each additional networked workstation. Upgrade prices are available. These prices include FileMaker Pro 8.5, which is required. Bundles including FileMaker Server are also available. More details, a downloadable trial version, and a video demo, are available from http://www.studiosuite.com. or by calling 800.450.5740 (outside the US and Canada call 1.818.752.3900).
"Studio Suite 8 essentially provides studios with a highly-evolved structure for organization and management right out of the box,"says Joel Stoner, AlterMedia president and designer of Studio Suite. Studio Suite is used by work-at-home editors, engineers, producers, and composers; yet it's also the anchor of operations at facilities ranging from small boutique production studios to major corporations such as Sony, Warner Bros., Fox, BET, and several branches of the US Government. With thousands of Users in 40 countries,


The Anthony Jackson Contrabass Guitar Library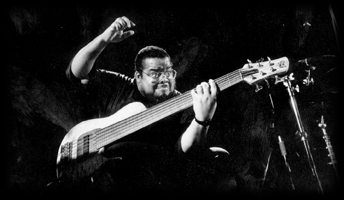 An international bass legend, Anthony Jackson has performed on over 500 albums, many of which have become classics and gold or platinum recordings. Harper-Ferrari introduce the release of Bass VI- The Anthony Jackson Contrabass Guitar Library. Featuring definitive recorded performances by the internationally acclaimed bassist Anthony Jackson, the library contains the largest, most powerful bass palette ever commercially offered to the industry. The 37 Gigabyte (10 DVD) collection includes Open and Flat Pick Attacks, Harmonics, and Palm Mute articulations using every note over the entire six string range of the instrument. State-of-the-art components were used during every phase of the production, with both direct and live versions of each articulation included. Five velocities, multiple versions of every note, and switchable string and fret positions (when using the unique Mod Wheel program), offer the user flexibility, subtly, and realism in every production. Another powerful feature the user will discover is the ability of playing chords in the standard guitar range. The direct and live programs can be used individually or in unlimited combinations to produce an astounding range of sound: from thunderous lows to ethereal highs. From Rap, Rock, and Funk to Film, Pop, and Jazz, The Anthony Jackson Contrabass Guitar Library delivers the fundamentals in a one-of-a-kind collection
Currently available for Logic's ESX sampler for $400.00 plus S+H. TASCAM's GVI (Giga Virtual Instrument) version for the PC coming soon. Visit www.basssix.com or call 800-561-5087 for complete technical and ordering information.

Get The Silver Sound
Las Vegas Pro Audio Adds Accusound Cable To Its line of quality audio products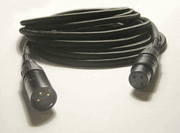 Arguably the world's finest cabling manufacturer, Accusound's cables use hybrid, silver-plated copper conductors and silver compound solder to reproduce the purest sounds from every piece of gear. Every possible electro-magnetic imperfection has been hunted down and eliminated through clever design, carefully selected materials, a proprietary winding technique and fanatical attention to detail. As a result, Accusound cables boast phase shift and distortion that is unmeasurable between 0 and 200kHz. It may come as a surprise that even though they sound better, Accusound's cables cost almost half as much as other silver cable, a happy consequence of Accusound's reliance on word of mouth instead of wasted marketing dollars.
Like the other brands distributed by Las Vegas Pro Audio, Accusound will benefit from the truthful representation and continuous promotion. It seems only fitting that the world's most advanced silver cable manufacturer should be represented by the Silver State's only audio distributor!
"Our mission is to find new companies that have an edge, a fundamental advantage over the competition; companies that are driven by an owner who has a unique mission," commented Brad Lunde, president of TransAudio Group, the parent company of Las Vegas Pro Audio. "Accusound certainly meets that high standard. Their cables are built right, convey noticeably greater fidelity, yet are reasonably priced. On top of that, they build everything in the USA using strict testing protocols and stand behind their work with an impressive lifetime warranty. Accusound is the right cable company to come forward in the US market after studying everything available."
For more info on Accusound contact Brad Lunde at http://www.transaudiogroup.com/ or
Phone (702) 307-2700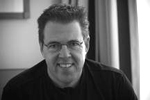 TransAudio has quickly become the premier US importer/distributor for high-end audio with a product line to include Accusound , A-Designs (USA) AEA ribbon microphones (USA), ADT Toolkit, AEA, ATC Loudspeakers (UK), Brauner microphones(Germany), Drawmer (UK), Geoffrey Daking & Co. (USA), Enhanced Audio (Ireland), George Massenburg Labs (GML) (USA), Heil Sound (USA); Mercury Audio (USA) Mission Audio (UK) Phoenix Audio (UK), PAULY Superscreens(Germany), SABRA SOM(Brazil), Soundelux (USA), SoundField Microphones (UK), Z-Systems (USA) and Weiss Engineering (Switzerland) and Z Systems (USA).

TV & Radio Museum Updates With DakingPlus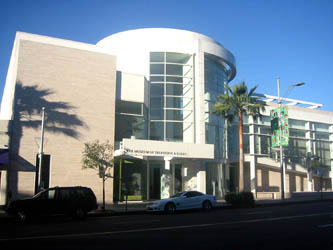 The Museum of Television and Radio (MTR), which has locations in Midtown Manhattan and Beverly Hills, is upgrading its Ralph Guild Radio Studios with the assistance of Geoff Daking and Dave Thibodeau of DakingPlus. The company is donating Daking audio equipment for use in the two radio studios, while the company principals are lending their design expertise to the renovation project, working alongside original benefactor, Ralph Guild of Interep, Norm Pattiz of Westwood One, with Doug Warner, MTR's director of engineering, acting as project manager.
Daking and Thibodeau are sourcing new audio equipment to bring the studios up to date with current technology. The museum's New York building was originally completed in 1991 and the Beverly Hills branch in 1996. "We're going to give them a Daking Mic-Pre IV, two Mic-Pre/EQs and two FET Compressor/Limiters," Daking reports.
A Sierra Audio Systems digital audio mixing console has been selected for both studios and Daking and Thibodeau are working with the manufacturer to provide total integration of the Daking Mic-Pre IV with the system. "Dave and I have a company called DakingPlus, the digitally-controlled side of the company," Daking explains. "We're developing a product hand-in-hand with SAS, taking the Mic-Pre IV and making it remote controlled."
Thibodeau elaborates, "SAS does not offer a mic preamp for their console.
Historically, people have just bought off-the-shelf mic pres and put them in a cabinet somewhere. But they lock them up, generally, so if you want to tweak it you have to find a way to get in there. The Mic-Pre IV is a high quality analog mic pre, and we're going to digitally control it through a couple of different protocols." For integration with the SAS system, DakingPlus will implement the RS 485 protocol. The unit will also include MIDI and USB control.
The fully digital audio setup at the radio studios will allow fast changeovers from one operator or program to the next. "It's a fabulous system, the way SAS has set it up. It can address any of the Mic-Pre IV settings on the front panel, so they'll be able to change settings from one user to another, or show to show. They'll just click one button and everything is set, with the equipment routed where it needs to be routed,"
says Thibodeau.
"Although the price point may not necessarily meet the budget of every radio station," continues Thibodeau, "the new digitally controlled DakingPlus product offers a lot of potential. It's a transformer input, transformer output design that is particularly well suited to driving tougher loads. If they're doing anything with mic pres that need to be very far away, it's a perfect solution."
The multi-use rooms, which will continue to host guest radio stations and operators for live broadcasts and will also offer editing functionality, will additionally be outfitted with a small Digidesign Pro Tools system, Telos telephone hybrids, CD players and 360 Systems digicart machines. Bob Heil of Heil Microphones is supplying his popular model PR40 radio microphone as well as mic stands for the rooms.
Daking and Thibodeau will also oversee the expansion and relocation of the radio studio at the MTR's Beverly Hills branch to a street-side position. "It's going to be like the old 'Today Show,' with a window onto the street," explains Daking, who was involved in the original radio studio design and equipment choices at the two locations. The design of the studio at the New York branch will remain largely unchanged, he says.
The Beverly Hills location will additionally include video equipment. Norman Pattiz of broadcaster Westwood One is overseeing that part of the project, according to Daking.
The renovation is being sponsored by Ralph Guild, who is head of Interep, the country's largest independent national sales and marketing organization specializing in radio, the Internet and new media. Guild is a broadcast industry hall of fame inductee and the recipient of numerous awards, including the 2001 Gold Medal from the International Radio and Television Society. He is also on MTR's board of directors.
The MTR, formerly known as the Museum of Broadcasting, maintains a duplicate archive of over 120,000 television and radio programs and advertisements at both of its locations. The collection covers nearly 90 years of broadcast history from around the world and encompasses all genres.
For more info on Geoffrey Daking & Co. call Brad Lunde at (702) 307-2700
Las Vegas Pro Audio (www.lasvegasproaudio.com) a division of TransAudio Group, the exclusive U.S.source for Accusound, ATC studio monitors(UK), Accusound Silver Audio Cables, Digital Audio Denmark AD/DA DXD/DSD converters, Daking electronics, Enhanced Audio mic mounts, and Pauly Superscreen pop-filters. The goal of LasVegasProAudio.com is to provide unique equipment, useful information and long term support.
TransAudio has quickly become the premier US importer/distributor for high-end audio with a product line to include , A-Designs (USA) AEA ribbon microphones (USA), ADT Toolkit, AEA, ATC Loudspeakers (UK), Brauner microphones(Germany), Drawmer (UK), Geoffrey Daking & Co. (USA), Enhanced Audio (Ireland), George Massenburg Labs (GML) (USA), Heil Sound (USA); Mercury Audio (USA) Mission Audio (UK) Phoenix Audio (UK), PAULY Superscreens(Germany), SABRA SOM(Brazil), Soundelux (USA), SoundField Microphones (UK), Z-Systems (USA) and Weiss Engineering (Switzerland) and Z Systems (USA).

The Blaze Behind The Tools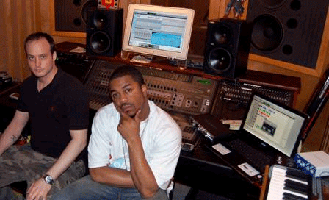 Producer Just Blaze (Jay-Z, Kanye West, The Beastie Boys, The Game, T.I.) is currently in the studio completing the debut album of Fort Knocks Entertainment artist, Saigon. He's also working with artists from other labels, including Busta Rhymes, Memphis Bleek, Faith Evans, and Talib Kweli. During the mix phase of Jay-Z's single, he recalls how Pro Tools benefited his workflow: "My engineer, Ryan West, got most of the mixing done using the HD rig in the B Room at Baseline Studios. Then I took that session with me to Hong Kong and literally finished mixing the record on the plane using Pro Tools M-Powered with a set of headphones. A week later it was on MTV." In addition to the Pro Tools|HD® systems he has housed in his own New York-based Baseline Studios, Just Blaze relies on a Digidesign Mbox® 2 Mini Pro Tools LE® system and a Pro Tools M-Powered™ system when he travels. "What we do now is record the sample into Pro Tools, chop up the parts of the sample that we definitely want to use, then import them into Native Instruments Battery. We basically use Battery and an M-Audio Trigger Finger to trigger the samples the same way an MPC would, and we use Pro Tools as the sequencer," says Blaze who concludes: "It's not about the machine, it's about the man
behind it."


Dawn Of Dudamel At LA Phil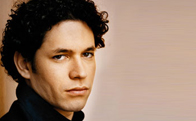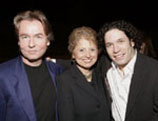 l-r: Dudamel with Salonen and President Deborah Borda
It was announced earlier this month that the new Music Director of the Los Angeles Philharmonic will be 26-year-old, Venezuelan conductor Gustavo Dudamel. His five-year contract will start with the 2009/10 season (actual start date is September 21, 2009), and he will be Music Director Designate during the 2008/09 season. In his first season as MD (2009/10), he will conduct 10 weeks, plus summer concerts at the Hollywood Bowl. Dudamel is the MD of the Simón Bolívar Youth Orchestra of Venezuela, and Principal Conductor of the Gothenburg Symphony in Sweden. His symphonic guest engagements take him to the Berlin Philharmonic, Vienna Philharmonic, Israel Philharmonic, London Philharmonia, Boston Symphony, Chicago Symphony, New York Philharmonic, among others, with operatic engagements at La Scala and Berlin Staastsoper. "Gustavo 's remarkable talent, intelligence and energy are the absolute right match for the orchestra and Los Angeles. While I intend to continue my relationship with the LA PHIL, I am peaceful and joyous about the artist to whom we will pass the baton," says Salonen who plans to dedicate himself more fully to composing. "Deborah Borda commented, "Esa-Pekka Salonen has built an orchestra of the 21st century - vital, of our time and in forward motion... I cannot imagine a person better suited than Gustavo Dudamel to carry on our important work: reaching out to new audiences, championing music of our time and dreaming of what can be," says President Deborah Borda. "I felt a special connection and deep feeling from the players. They are wonderful. I am very honored to be chosen to succeed the great conductor/composer Esa-Pekka Salonen, who has been so warm to me and has given me so much support," says Dudamel.
New West Symphony Discovery Artist Recital & Music For The Kids Gala
Five Talented Musicians Showecased On April 27; For The Kids Music Education Auction June 9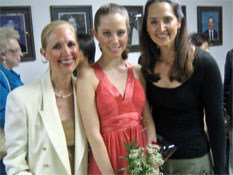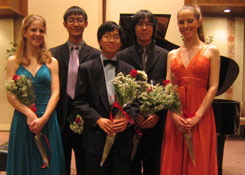 2007 Discovery artists surrounded by family and friends on April 27 at Holy Trinity Lutheran Church in TO and on April 28 at First United Methodist Church in Ventura.; l-rKatrina Bobbs (violin & piano), Gary Chan, piano, Ben-Han Sung (piano), Joshua Hong (violin & piano), Michaela Shaw, harp

Joshua Hong gave a riveting performance playing violin and piano repertoires by Prokofiev and Carl Vine at the Lutheran Church in TO last Friday night with 4 other New West Symphony Discovery Artist musicians under the direction of conductor Boris Brott. Hong began studying both violin and piano in 1996 with Shu-wei Liu and Elinor Martin, respectively. "I now take private violin lessons regularly with Joyce Osborn and Alexander Treger, and occasionally with Maurice Sklar. I take piano lessons regularly with Edward Francis," says Hong, a high school junior at the Crossroads School in Santa Monica who will be applying only for music schools. Katrina Bobbs 17 who played works by JS Bach and Chopin is currently a high school junior in the Young Artists Program at the Cleveland Institute of Music and studying with Alvin Chow and Angela Cheng at the Oberlin Conservatory. Most recently, she was selected toperform the Ravel Piano Concerto with the Cleveland Orchestra in their Education Series. She has received 1st place in numerous categories of the Southwestern Youth Music Festival, MTA Baroque Concerto Competition and Emerging Artists Festival of Southern California. Katrina has spent her summers at the Aspen Music Festival, Innsbrook Institute and Indiana University Academy as a scholarship student. Also an accomplished violinist, Katrina is a student of Paul Kanto and serves as Co-Concertmistress of the Cleveland Orchestra Youth Orchestra. She plans to attend a conservatory and make music her career. Other talented musicians included: Ben-Han Sung on piano, the beautiful Michaela Shaw on harp and Gary Chan on piano who concluded the concert with a mezmarizing Andante spianato & Grande Polonaise , Opus 22 by Chopin. Order tix for Season Finale Friday, May 18, 2007 8:00 pm Oxnard Performing Arts Center and Saturday, May 19, 2007 8:00 pm Countrywide Performing Arts Center at the Thousand Oaks Civic Arts Plaza. Program includes: Antonio Pompa-Baldi, piano Los Robles Master Chorale ; Master Chorale of Ventura County Rachmaninov and Prokofiev Concerto No. 2007/08 Season resumes in September.







Star War guests among attendees at the Wadswroth concerts and sample of painted violin on display
Support Music Education - Purchase a raffle tix for $100 before May 20 for a chance to win a MercedesE350 or attend For The Kids Gala at the Regency Club (Brentwood) on Sat June 9 -- Fine dining, live auction and wonderful music. For more info call: Carl Schurtz at (310) 694-3550 or visit NewWestAuction.com Auction includes celebrity pained and authographed violins by Herb Alpert, Tom Hanks & Rita Wilson, Melanie Griffith & Antonio Banderas.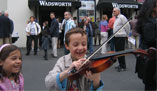 Acclaimed Rapper Calls On Memphis Roots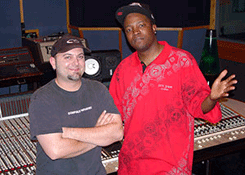 Pictured at Ardent Studios in Memphis are (L-R) engineer Jason Latshaw and recording artist Al Kapone.
Al Kapone, one of the originators of the Memphis underground rap explosion and known as a pioneer of the Dirty South Crunk/Buck style of Hip-Hop, has been mixing at Ardent Studios with engineer Jason Latshaw. Kapone, who is a 2006 Critic's Choice Award-winner, previously mixed material at Ardent for the hit film "Hustle and Flow." For his new album, with the working title "What About the Music?", Kapone has been experimenting with a number of different styles, including Rock, Soul, and R&B. Kapone revealed during sessions at Ardent that he's interested in incorporating the music of Memphis in its earlier days into the album, referring to Stax artists and the unforgettable soul music that came out of the 50's and 60's. His vision includes a new sound that utilizes the legacy of Elvis, B.B. King, Al Green and Isaac Hayes with the crunk energy of the Memphis rap scene developed by Three-6 Mafia, 8Ball & MJG, Yo Gotti, and Project Pat. The album is expected for Fall release.

Emmy Nomination For Mutato Muzika Scoring Team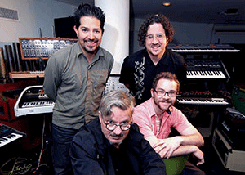 Pictured at Mark Mothersbaugh's Mutato Muzika recording studios in Hollywood Emmy®-nominated composers (clockwise from lower Left) Mark Mothersbaugh, Albert Fox, John Enroth, and Silas Hite. Photo by David Goggin.
The Mutato Muzika scoring team has been nominated for Outstanding Achievement in Music Direction and Composition for their work on "Shaggy & Scooby-Doo Get a Clue!", the #1 show on Kids WB!. The nominees for children's programming were announced February 7 at the Kidscreen Summit in NYC. The winners are to be honored during the Daytime Emmy Award Ceremony at the Kodak Theater in Hollywood on June 15. "Creating great music for children has been one of my primary goals since I began composing for film and television," remarked Mark Mothersbaugh, co-founder of DEVO and composer for such television shows as Rugrats and Pee Wee's Playhouse, and films such as The Royal Tenenbaums and Rushmore. "It's very cool to be nominated for all the hard work that Albert, John, Silas and myself have put into this show."
"Sid 'n' Susie" Begin Second Album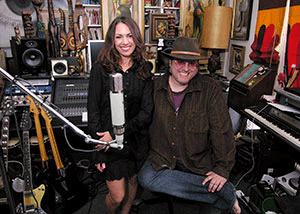 Pictured in the Lolina Green studio are Susanna Hoffs of The Bangles and Matthew Sweet with a new Telefunken | USA Ela M 251F condenser tube microphone. Photo by David Goggin.

Susanna Hoffs is famed as lead singer, rhythm guitarist and founding member of The Bangles. Sidney Matthew Sweet has been a mainstay of the pop scene since his smash 1991 debut, "Girlfriend." The two are longtime fans of each others work, performing guest vocals at each others concerts over the years, and collaborating with comedian Mike Myers as members of Austin Powers on-screen band Ming Tea in Austin Powers: International Man of Mystery and Austin Powers in Goldmember.The duo have purchased a pair of Telefunken | USA Ela M 251F microphone systems. "I helped Susanna set up a ProTools studio of her own like mine," explains Sweet. "For our second album together, we are going back and forth, so it's genius for us to have the 251 in both studios." As "Sid 'n' Susie," Sweet and Hoffs explored the classic era of 60s pop music on their 2006 debut collaboration "Under The Covers." The intricate yet intimate sound of the record reveals the ease of the sessions. Recorded entirely at Sweets home facility, Lolina Green, the album features "The Warmth Of The Sun" by The Beach Boys, Neil Young's "Cinnamon Girl," Pete Townsend's "The Kids Are Alright," John Phillips "Monday, Monday," and The Beatles' "And Your Bird Can Sing." Their second album for Shout! Factory will explore the pop music of the 70s.

TRUE New World Symphony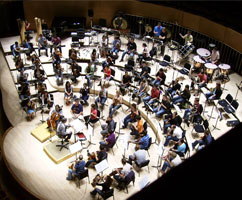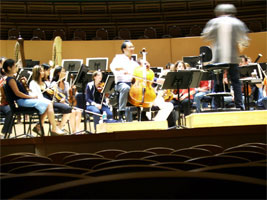 On February 27th arguably the most well-known classical musician in modern history joined the New World Symphony at the Carnival Center's Knight Concert Hall in Miami, Florida to perform works by the Russian composer Shostakovich. To thunderous applause, cellist Yo-Yo Ma graced the newly-renovated stage under the leadership of conductor Michael Tilson Thomas. NWS serves as an academy that smoothly bridges the gap between a student's masters degree and his or her gainful employment in a professional orchestra. They also make peerless archival recordings and select from the best of them for an annual CD release. The New World Symphony also supports the very best aspiring recording engineers, and Audio Engineering Recording Fellow Gene Gerhiser was on hand the night of the Yo-Yo Ma concert to capture the performance on Pro Tools. As part of his responsibilities, Gerhiser is testing new gear with an eye toward outfitting the program's new $200 million building with top-flight recording equipment. On that night, he was testing the eight-channel TRUE Systems Precision 8 mic preamp. Gerhiser recorded the concert with two Schoeps MK4 capsules on CMC6 bodies configured in an ORTF configuration about eight feet in front and ten feet above the orchestra. He supplemented those with two Schoeps omnis about fifteen feet from the middle on either side and a pair of Neumann 140s as an XY pair on the woodwinds. All six microphones went through the Precision 8, which has a flat frequency response that extends from an amazing 1.5Hz to an incredible 500kHz.TRUE Systems can be reached at (520) 721-2735.


90 Years of Ella!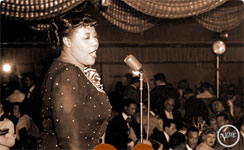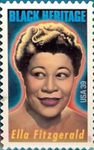 2007 stamp honoring Ella Fitzgerald, Jazz Singer and "First Lady of Song" is part of the Black Heritage month.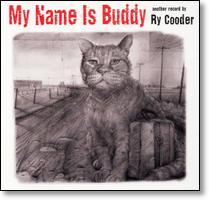 My Name Is Buddy As as a Slide-Guitarist Ry Cooder played in Captain Beefheart's Magic Band, and has also accompanied such artists as Gordon Lightfoot, the Rolling Stones, Eric Clapton, Randy Newman, John Lee Hooker and many others. Cooder has composed soundtracks for more than twenty films, among them Wim Wenders' "Paris, Texas", and "The End of Violence." On his new album, My Name Is Buddy he has written short stories as back-story to each song accompanied by evocative illustrations from noted San Antonio-based painter and muralist Vincent Valdez, all of which are included in a specially designed package.
A Dream For Justice
Remembering The First Genocides of 20th and 21st Centuries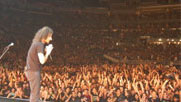 Genocide Memorials-- fire of Tsitsernakabert, Yervan, SOAD concert for human rights, Montebello, Girl in Little Armenia in Hollywood

This month while humans around the world celebrate Earth Day (4.22), some 50,000 Americans of Armenian descent took the streets of Hollywood on 4.24 protesting crimes against humanity --the first genocide of the 20th century in Turkey and now the first genocide of the 21st century in Darfur. Screamers (see the trailer) is a stirring documentary that chronicles the efforts of the heavy-metal, Grammy Award-winning band System of a Down, while on international tour, to raise awareness of genocide. The band members also come to the stark realization that if the perpetrators of this genocide over 90 years ago had been made accountable for their crimes against humanity, perhaps future genocides could have been avoided. They estimate 1.5 million Armenians died as a consequence of genocide in Turkey, 2 million died in Cambodia; 200,000 in Bosnia; 800,000 in Rwanda; 400,000, and counting, in Darfur. The film mentions the ominous quote: "After all, who remembers today the extermination of the Armenians?" The speaker is Adolf Hitler. The line was uttered in 1939. The reference was likely to the coming Holocaust of 6 million Jews as well as scores more people whom Hitler didn't see as fitting into his idea of Utopia. At a recent screening 92-year old director of "Germany & The Secret Genocide" says: "What happens to one of us happens to all of us."
In the end, the truth, like a good song, always wins.
Farewell Slava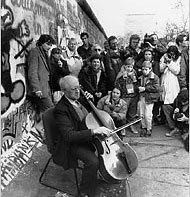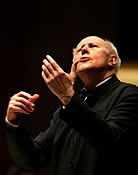 L- Mstislav Rostropovich gave an impromptu concert at Checkpoint Charlie after the Berlin Wall fell in November 1989.

In Friday's (4/27) New York Times, Allan Kozinn reports: "Mstislav Rostropovich, a cellist and conductor who was renowned not only as one of the great instrumentalists of the 20th century, but also as an outspoken champion of artistic freedom in Russia during the final decades of the Cold War, died." He was 80. As a cellist, Mr. Rostropovich played a vast repertory that included works written for him by some of the greatest composers of the 20th century who knew him as their personal friends," including Shostakovich, Prokofiev, Britten. In 1991 Maestro Rostropovich and his wife founded The Vishnevskaya-Rostropovich Foundation (VRF) to improve the deplorable state of children's health care in Russia and other Newly Independent States formerly part of the Soviet Union. Mr. Rostropovich, who was widely known by his diminutive, Slava (which means glory in Russian), was also an accomplished pianist. He was often the accompanist at recitals by his wife, the Russian soprano Galina Vishnevskaya, whom he married in 1955 and who survives him, as do two daughters, Olga and Elena.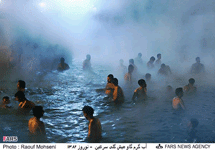 For Seals on the beach and bathers at Norooz (New Years) in Iran -- Spring is in the air.
Until next month, come together!