Deaf Dog Hears More With ATC
Composer John Ovnik Chooses ATC's for Deaf Dog Studios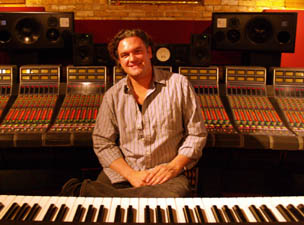 Chicago¹s Deaf Dog Music owner and chief composer, John Ovnik, chose ATC SCM100ASL Pro Reference Loudspeakers to complement his 64-input Focusrite console.

Deaf Dog Music, a fixture on the Chicago recording scene since 1999, has upgraded Studio A with a pair of British-made ATC (Acoustic Transducer Company) SCM100ASL Pro reference loudspeakers. The three-way active mid-field monitor speakers were selected for the facility's large, main control room as a natural complement to the studio's 64-input Focusrite analog mixing console - one of only eight ever manufactured.
As Ovnik recounts, he auditioned a number of systems from respected speaker manufacturers before deciding on the ATC monitors, which he experienced firsthand at the Mastering Lab in California. "Doug Sax is a good friend and does almost all my mastering. He took me up to Ojai and we spent a day listening to his ATCs. I really liked them. They sounded true and natural."
Although originally a commercial music composer, Ovnik says that he has found himself devoting more time to record projects. "I've been doing more work that requires higher sound pressure, and I was thinking that I wanted a three-way speaker, but I never found one that I was comfortable with until I heard the ATCs."
Returning to Chicago, he called U.S. distributor, Brad Lunde, at ATC's exclusive U.S. distributor, Las Vegas Pro Audio. "Brad sent me a pair of ATCs. It's subjective, of course," he admits, having tried and rejected two competing brands, "but for me, these are the most comfortable. I put them up, and they were what I thought a monitor should be. I mixed a record on these and I loved them."
The ATC SCM100ASLs have performed well since they were installed a few months ago, reports Ovnik. "These speakers have been great, and I've done a lot of mixes on them. I've just completed the sound track album for a musical for the Lookingglass Theatre, with the Chicago Children's Choir. The soundtrack is really interesting." "Sita Ram" adapted from a sacred Hindu epic, is the second collaboration between the theatre and the choir, opening March 16th. "It was the first project that I started and finished with the ATCs. The album came out so they can sell it at the show - and the show's already sold out."
Comments multi-instrumentalist Ovnik, "I've done a lot of commercial music in the past, but lately I've been doing more label work." Ovnik's most noted project to date has been "Simple Complex," by jazz composer and pianist, Jon Weber. The album was critically acclaimed in the U.S. and Europe, ending up at the top of the year's best lists in 2004.
"What I love is recording live musicians in a big room with a real console," he concludes. "I do work in many styles of music, especially while composing for TV. Everything from orchestral works, to the most aggressive alternative rock. If I'm composing I use keyboards to work out ideas. But what I really enjoy is capturing real, organic music, while it's being performed."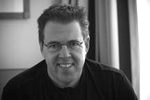 For more info on ATC Loudspeakers (UK), please email Brad Lunde at LVPA or Phone (702) 307-2700

Las Vegas Pro Audio is the direct sales division of TransAudio Group. The goal of LasVegasProAudio.com is to provide a personal long-term relationship with top engineers delivering insightful and accurate advice, unique equipment and long term support.TransAudio Group, founded by industry veteran Brad Lunde, has quickly become the premier US importer/distributor for high-end audio. visit the web sites at: www.lasvegasproaudio.com
TransAudio Group's product lines include A-Designs (USA) AEA ribbon microphones (USA), ADT Toolkit, AEA, ATC Loudspeakers (UK), Brauner microphones(Germany), Drawmer (UK), Geoffrey Daking & Co. (USA), George Massenburg Labs (GML) (USA), Heil Sound (USA); Mercury Audio (USA) Mission Audio (UK) Phoenix Audio (UK), PAULY Superscreens(Germany), SABRA SOM(Brazil), Soundelux (USA), SoundField Microphones (UK), Z-Systems (USA) and Weiss Engineering (Switzerland) and Z Systems (USA).



Hollywood Cat Notes

The Hollywood Cat who's been seen with Conway Studios' Cat, Nick (above), says: .....write to us with your feedback and news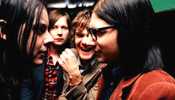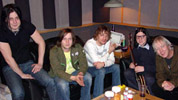 The Raconteurs -- photo at Ardent in Nashville by: David Goggin
The Raconteurs, Jack White's new band featuring White, Brendan Benson and The Greenhornes' Jack Lawrence and Patrick Keeler - will release their debut album 'Broken Boy Soldiers' from Third Man/V2 Records on May 15. The band debuted live from Liverpool on March 20th. Benson admits they're feeling the pressure. He told Rolling Stone: "The other day Patrick had a dream that the band was like Big Star," says Benson. "I was like, 'Cool!' And he says, 'No, the record failed and we played three shows and that was the end of it.' Everyone is pretty excited, but we feel the pressure - like, 'Oh, shit, this better be good.'" White, just back from a tour of Japan with The White Stripes, himself added that the band is his top priority for the remainder of 2006. "This year, The Raconteurs is definitely what I'm interested in doing," he said. Don't forget they all have record contracts in their own right, and will scurry back to their day jobs, if the new band does not fly.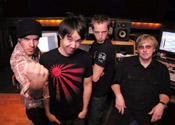 L-R are Hoobastank's Dan Estrin, Doug Robb, Chris Hesse and mastering engineer Brian "Big Bass" Gardner. Photo by David Goggin.
Every Man For Himself: Triumphant post-grunge rockers Hoobastank recently mastered their new album, "Every Man For Himself," at Bernie Grundman Mastering. Gardner also mastered their hit self-titled debut album. The Producers & Engineers Wing of The Recording Academy, in association with NAMM, presented the 13th Grammy SoundTable at the Winter NAMM show. "Anatomy Of A Hit: Hoobastank's The Reason" convened key players in the creation of this multi-platinum album for a discussion on its creative journey from the inspiration for its songs, to their inception as chords and lyrics, through the production process, to the final mixes. Hoobastank's new Island Def Jam album will be released on April 18.


Costello Symphony Tour - Elvis Costello is heading out on an orchestral tour where he will perform with many of the finest symphonies in the United States - Baltimore, Chicago, Atlanta, Austin, San Francisco, to name a few. The first portion of Elvis Costello's performance will feature his full-length orchestral work, Il Sogno. After intermission, he will return to perform a collection of his pop and rock hits
Tsunami Welcome -- Dana Childs is welcomed by Tsunami Producer Management. Formerly of Nettwerk, Childs will work directly with Adam Katz. Childs also worked at World's End and Gold Mountain. She can be reached directly at 323-210-2525 x133.


Meantime vet producer manager Jim Phelan (recently at Sanctuary) is teaming up with Jerimaya Grabher (RPM) and can be found at GPS (Global Positioning Services). Jim will continue to look number of clients to include: John Alagia, Jason Cupp, Bob Ezrin, Ethan and Glyn Johns, Nathaniel Kunkel, Patrick Leonard, Ric Ocasek, Brian Scheuble and Charlie Sexton. Jim may be contacted at Tel - 310.656.1340.


Shure Careers We heard that Shure has posted a job openning for Program Director in Niles, IL (Northern Suburb Chicago). Candidates can submit directly to Shure
Responsibilities:The Program Director, Personal Audio will collaborate with the Product Manager, Portfolio Manager, and Technology Director to create multi-year roadmap of new products and technologies as well as maintenance activities related to existing products. He/she is responsible for achieving the multi-year development plan as it supports the Personal Audio Business Unit's needs while maximizing ROI through reuse of platforms and technologies.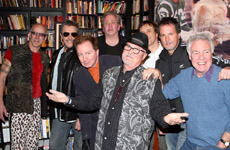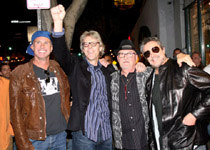 Pictured (L-R) are subjects from the book: Mixer John X, drummer Jim Keltner, Devo's Jerry and Bob Casale, Mr. Bonzai, Devo's Bob Mothersbaugh, "A Mighty Wind" composer/music producer CJ Vanston, and Firesign Theatre's Phil Proctor. Photo by Joshua Barash. Outside the book soup l-r: Chad Smith of the Red Hot Chili Peppers, Stewart Copeland of The Police, Mr. Bonzai, and Jim Keltner of The Traveling Wilburys.
Lux Appointment: In a move designed to secure long-term multi-platform audio distribution solutions for film, broadcast, and tangible media, Gary Lux, formerly of 5.1 Entertainment Group, has been appointed Senior Vice President of Music Development and Audio Production at Bennett Productions/HDLA.
According to Darren Chuckry, executive vice president of Bennett Productions, "Gary's talent and musicality is known worldwide and his commitment to promoting surround sound is well documented by the over 400 DVD's he was associated with producing while at 5.1. We value his thorough knowledge of the technology and the future of music and audio."

Lux's most recent DVD and DualDisc music mixes include; Rob Thomas' "Something To Be," the 2005 Surround Music Awards Best Surround Concert Video, Ben Harper & The Blind Boys of Alabama "Live At The Apollo," Janet Jackson's "From Janet to Damita Jo," and Usher's "8701."
He has two Emmy Award nominations for his work with The Jacksons and Frank Sinatra.
Bennett Productions, based in West Los Angeles, California, is a leading high definition production studio specializing in adventure sports, fashion, beauty and music.
HD/LA post produces all of Bennett Production's line up of shows, as well as numerous concerts including Hootie and the Blowfish, Benise, Shelby Lynne, Sting, The Cult, Farm Aid 2006, Earth Wind and Fire, Chicago and others. Gary can be reached at 310-442-6630



Faces Of Music: Award-winning photographer and author Mr. Bonzai hosted a wildly successful book signing at Book Soup, LA's premiere independent book store, for his new release: Faces of Music: 25 Years of Lunching with Legends. As a queue of fans stretched a block along the Sunset Strip, Mr. Bonzai was joined by subjects from the book, including members of Devo, The Red Hot Chili Peppers, The Police, The Traveling Wilburys, and The Firesign Theatre.
Mr. Bonzai's insightful and inspiring anthology features over 400 photographs and 160 interviews with popular music artists, songwriters, producers, and recording engineers, including Fiona Apple, Jon Brion, Jimmy Buffet, Leonard Cohen, Stewart Copeland, Devo, Geoff Emerick, Peter Gabriel, Herbie Hancock, Jim Keltner, k.d. lang, David Lynch, George Martin, Robert Moog, Willie Nelson, Les Paul, Phil Proctor, Phil Ramone, Carlos Santana, Chad Smith, Andy Summers, Don Was, Brian Wilson, Stevie Wonder, and Frank Zappa.


Avatar Back To Analog! According to New York's Avatar studio manager Tino Passante, the studio has had as many as 6 Studer A800 running simultaneously on different sessions on the same day, as well as multiple ½" analog sessions all at one time! "V2 band "Icarus Line" is mixing from 48-track 2" to ½" analog using our Studer A800's and A820. Not to mention using one of our 1/4" B67 machines for slap effect! NY band, The Cringe, is tracking a new album strictly to 48-track analog, and plan on mixing discretely to ½" analog as well. They also incorporated an Echoplex for analog reverb! Ryan Adams recently recording to 16-track 2" Analog using Avatar's 16-track headstack on a Studer A800. John Mayer recently also recorded to 8-track 2" Analog using our Studer A800," says Passante.


Other activitiy at Avatar include: Paula Cole recording with producer Bobby Columby. They Might Be Giants recording with Dust Brothers producing. Sonny Rollins recording with producer and trombonist Clifton Anderson. John Patitucci recording with engineer Joe Barbaria. Producer arranger David Matthews recently recording Manhattan Jazz Orchestra, with engineer Rich Alderson and Roberta Flack recently was in overdubbing with producer Jerry Barnes in studio G.

Got VOX? Liana Manis does. She has been singing background vocals on major tours, network television, and on major records in Nashville for over 20 years. She has toured with many artists including Marie Osmond, George Strait, Lee Ann Womack, Patty Loveless and Clint Black. She even has a doll modeled after her!
Like many musicians today, Liana is offering her services via internet..."After you have finished your tracks and final vocals, we will send you a link to upload your files. Then you will send the stereo mix without lead vocals and a separate track with the lead vocal. We will then record my background vocals and send you a rough mix for approval," says Liana. After you approve the background vocals, you pay the invoice through a secure PayPal account. She will upload the newly recorded tracks and send you a link to download and place back in your session. "This process is standard but can be changed to fit your needs. Since this is transfered over the Internet, I can work with you in any country," she says.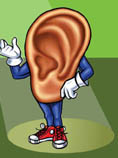 It's How You Listen That Counts A fun campaign that uses the humorous character 'Earbud' to inform teens about the dangers of noise-induced hearing loss, an irreversible affliction that accounts for 30% of all hearing loss in the population. One important component of the multimedia campaign is a chance, for web survey respondents, to win a Sennheiser PC 160 gaming headset when they answer listening-related questions at www.earbud.org.


"REDDI" For A GRAMMY




Pearlman and 2006 GRAMMY winner Bacharach for "Best Pop Instrumental Album
Buffalo Sound, the studio of L.A.-based producer/engineer Ted Perlman stays busy whether it's Grammy award-winning session for a legend like Burt Bacharach, or an under-the-radar indie demo.
Perlman ensures high performance at every level with a full suite of systems from A-Design Audio. "My A Designs Audio gear has become my magic boxes. They sound amazing, but they're still direct, to the point, and reliable," says Perlman, who utilizes the A Designs' REDDI tube direct box, MP1 tube pre, Pacifica solid-state microphone preamp, and ATTY passive level controls at Buffalo Sound. "My criteria for equipment is that it has to be well-made and
uncomplicated: If it doesn't make SOME SORT OF SOUND in ten minutes, get rid of it!" The tools I have from A Designs just work, from the sound to the interface."
Perlman's distinctively bright red REDDI box was an important part of helping to record Bacharach's latest record "At This Time," which took home the 2006 GRAMMY for "Best Pop Instrumental Album." "The REDDI is way more than just a direct box," Perlman says. "Like a DI box should, it keeps the electrical signal strong, clean and pure over long cable runs, but it also takes an ordinary sound and makes it special. For example, sometimes an acoustical guitar with pickups just sounds like an electric guitar, but the REDDI retains the acoustic character and makes it sound great. For bass, it wraps the signal in this protective coating that makes it sound spectacular when you're placing it in the mix. I also use it for mono keyboards, harmonica and anything else I can think of. I basically won't record without it."
The A Designs mic pres have become an equally integral part of the Buffalo Sound signal path. "The MP1 is my favorite vocal preamp," states Perlman, whose lengthy discography includes the likes of Chicago, Dr. Dre, Bob Dylan, Elton John and Carole King. "It's clear, but with a kind of a tape sound that takes away any digital coldness and saturates without over-coloring, as if I had a great Ampex two-inch 24-track tape machine running. I also use it often for guitars. It's very musical sounding.
"The Pacifica is a solid-state preamp that has a great tube sound. It's also got the simplicity that I love: just turn the knob, find the sound, go. It reminds me a lot of the operation of the LA-2A compressor in that way, and I think the Pacifica is definitely the grandchild of the LA-2A."
A lover of the seemingly simple things in life, Perlman gets maximum mileage from his A Designs Audio ATTY and ATTY 2-D passive audio line level controls. "The ATTY is a very clear, invisible attenuator which allows you to drop the level down without changing the sound of the device that's going into it," he explains. "If most gear can be compared to a car than runs well, the ATTY would be the bumper that makes sure you don't get any dents or scratches. I have a Brauner mic, for instance, that puts out a great deal of output. I could use the 10dB roll-off on the mic, but that changes the sound slightly. Instead, I leave the Brauner on full and after it leaves the phantom power I take that into the ATTY, where I drop it down 5-10dB, and from there it goes into my MP1."
Ted Perlman's A Designs Audio equipment is ideal for Buffalo Sound. "I have a small studio, but I've shown I can hold my own in many ways with the top facilities we have in L.A.," he says. "Whether it's Burt Bacharach or my up-and-coming clients, I never have to think twice about calling on my A Designs gear. It works for me every time."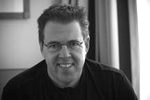 For more info on A-Designs (USA), please email Brad Lunde at LVPA or Phone (702) 307-2700

Las Vegas Pro Audio is the direct sales division of TransAudio Group. The goal of LasVegasProAudio.com is to provide a personal long-term relationship with top engineers delivering insightful and accurate advice, unique equipment and long term support.TransAudio Group, founded by industry veteran Brad Lunde, has quickly become the premier US importer/distributor for high-end audio. visit the web sites at: www.lasvegasproaudio.com
TransAudio Group's product lines include A-Designs (USA) AEA ribbon microphones (USA), ADT Toolkit, AEA, ATC Loudspeakers (UK), Brauner microphones(Germany), Drawmer (UK), Geoffrey Daking & Co. (USA), George Massenburg Labs (GML) (USA), Heil Sound (USA); Mercury Audio (USA) Mission Audio (UK) Phoenix Audio (UK), PAULY Superscreens(Germany), SABRA SOM(Brazil), Soundelux (USA), SoundField Microphones (UK), Z-Systems (USA) and Weiss Engineering (Switzerland) and Z Systems (USA).

Walk Now 2006
Producer Matt Wallace Wants Your Pledge




Because of the high incidence of autism (1 in every 166 children) it is one of the most prevalent health issues facing children and their loved ones today. The chances are that someone you know is affected by it. Producer Matt Wallace (Maroon 5, John Hiatt) who walks at the LA event each year says his goal is to raise $12,000 in donations this year (for the past two years he has raised total of $16,000 for Walk Now). He wants to remind everyone that this is a completely tax deductible donation (Cure Autism Now is a registered 501 (c) 3 organization and the tax ID number is 95-4542637)
WALK NOW is Cure Autism Now's grassroots fundraising and awareness initiative uniting thousands of parents, children and families in a fun, friendly, empowering environment. The Walk, held in sixteen cities this year, is a 5K (just over 3 miles) with lots of water, food and fun along the route."The walk is Saturday, April 22nd, but I'd really like to get all of the pledges in a week or so before. If anyone wants to pledge/donate to contact me via email -mattwallacemusic@earthlink.net I am looking to you for your pocket change, gambling windfalls, inheritance, etc to be pledged for this very worthwhile cause," says Wallace.

Matt will mail you a self addressed and stamped envelope or, feel free to place a check made out to "Cure Autism Now" in the mail to: Matt Wallace c/o studioexpresso 13351-D Riverside Dr. Suite 275 Sherman Oaks, CA 91423. Let's help Matt meet his goal. Thank you.



Haut Tech On the Slopes
Music Player, phone and jacket?!






What are designers dreaming up in Haut Couture these days? Haut Tech is the new craze!
The Airvantage jacket which promises to inflate depending on how warm you want to be or the Cooling Jacket which came from the need to keep astronauts the right temperature in space. The Puddlejumper (green image above) makes the wearer part of the rain's rhythm. The front circles are "electroluminescent lamps", wired to sensors on the sleeve and back. How about if the tiny tubes in your outfit can carry smells like freshly cut grass?! Well, two enterprising companies already have introduced products for your next Ski season. Take along your Audex jacket and leave the ipod home! Snowboarding equipment manufacturer Burton unveils a new line of outerwear that the company designed with Motorola. The Audex jackets, helmets and beanies will be equipped with cell phone and MP3 player technology so that snowboarders can toggle between talking on the phone and listening to music.
Bruce Hawver, vice president of Motorola's companion products division, says boarders can use their own cell phones and MP3 players as long as they're Bluetooth-enabled, or they can buy products with the devices wired in. Hawver says the jackets feature a control module on one sleeve that uses Bluetooth wireless technology to communicate with the cell phone and the MP3 player and to switch between the two. For example, when a snowboarder gets a call, the control panel automatically pauses the music and displays the caller information. The wearer can accept or reject the call with the touch of a button. A microphone in the jacket zipper picks up the wearer's voice, and speakers in the hood and helmet allow the wearer to hear the call or listen to tunes.
Sound cool? Burton and Motorola's Jacket features speakers in the hood and a control panel on the sleeve. The consensus among a group of snowboarding instructors at the Stratton Mountain ski resort in Vermont is that these products are for the "joeys"—the preteen and teenage wanna-bes whose parents can afford to buy such extravagancies for them. According to Burton spokeswoman Nancy Carlson, the jackets will cost about $499.

Exec Shuffle at Interscope
New Appointments For Chair Ron Fair, and Urban Prez Step Johnson





Universal Music Group's A&M president Ron Fair, 51, will assume the title of chairman at A&M and Geffen, reporting to IGA chairman Jimmy Iovine. He is riding a hot streak, overseeing recent hits by acts like the Black Eyed Peas, Keyshia Cole and the Pussycat Dolls.
Fair was named president of A&M in February 2001; he came to the company after a long tenure as senior VP A&R at RCA Records. As an accomplished producer, his recent work includes: Christina Aguilera for the Dreamworks motion picture "Shark's Tale," Queen Latifah's jazz and blues album; Keyshia Cole (along with Kanye West); The Pussycat Dolls and Vanessa Brown.
Fair who specializes in string arrangements, has scored for Vanessa Carlton's album "Harmonium;" John Mayer's "Daughters" for Columbia Records; and tracks for UK superstar Daniel Bedingfield, and breaking artist Butterfly Boucher.
Fair has climbed Mt. Kilimanjaro, the tallest peak in Africa. He runs uphill daily and enjoys gardening.

Geffen's current co-president, Polly Anthony, is expected to take a post working on Interscope's fledgling TV ventures and Jordan Schur, is stepping down to run a new record company in partnership with Geffen's corporate parent, the Universal Music Group. Sources say he may reignite Flip Records (where he discovered the rap-rock act Limp Bizkit).

Additionally, Step Johnson has been appointed president of urban music at Interscope Geffen A&M (IGA). With Interscope since 1992, he most recently co-headed the company's urban music staff with Ron Gilyard who exited the company last year. Under Johnson's watch, IGA has garnered success with such artists as Dr. Dre, Snoop Dogg, 2Pac and more recently Mary J. Blige, 50 Cent and his G-Unit acts, Eminem, Keyshia Cole and The Game.
The industry veteran first broke into the music business in the 1970s as a regional promotion executive for ABC Records in New Orleans. He joined A&M Records in 1981 as senior VP of urban promotion. Johnson left that Los Angeles post in the mid-'80s when he was named senior VP/GM of urban music at Capitol Records. Johnson graduated from New Orleans' Loyola University with a B.A. in marketing.
My Humps' Historical Threshold
The Black Eyed Peas High Tones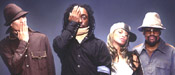 Multi-platinum 2-time Grammy-winners The Black Eyed Peas cross an historic threshold as their hit single "My Humps" passes 2-million Master Tones sales in the US this week according to Universal Music Mobile, a division of Universal Music Group (UMG) - making it the top selling Master Tone of all time, and the first to reach this 2- million landmark. (A Master Tone is an excerpt of the actual master record­ing rather than a synthesized ringtone used to personalize a mobile phone.) "My Humps" is the longest-running hit from the RIAA triple-platinum CD Monkey Business, which has sold more than six million plus copies worldwide since its release back in June 2005, and is in its 39th week on the Billboard 200 and Top R&B/Hip-Hop Albums charts.


Internet Radio To Roku
New Gadget: Old Look


If you don't have a laptop, now you can have a portable internet radio with built-in speakers. The SoundBridge Radio Wi-Fi Music System (from the makers Roku Labs) combines the ease-of-use of a high-quality tabletop radio with digital music streaming and Internet radio features. Compare features here
However, music bought on Apple's iTunes Music Store will not play on the SoundBridge Radio because of Apple's refusal to license its digital rights management software. Even though it deosn't require a computer for radio, SB can pull music off your computers wirelessly and play it.
It can even play music stored on a Secure Digital memory card. Coming to a store near
you for $400.
Coke's Call
Music To Drinking Giant's Ear






Through the years, CAA helped secure plum spots to showcase Coke's brands in film and TV shows, most notably, Fox's hit American Idol, and got assorted stars from the cast of Friends to Penelope Cruz to hawk soda. Numerous other brands followed in Coke's footsteps, building alliances with product placement and Los Angeles talent shops, creating the surging market for branded entertainment.

In recent years, however, the Coke/CAA relationship, like so many star-studded unions, began to fade, with the high costs of CAA's retainer—at one time worth nearly $400,000 a month—rankling beverage execs at headquarters in Atlanta. Coke, which has been re-evaluating several vendor relationships in a bid to cut costs, is bringing more of its entertainment capabilities in-house as it continues to rebuild its once-vaunted marketing operations.

Coke has "taken significant steps to right-size" its relationship with CAA, according to an internal Coke memo obtained by Brandweek. The agency's role will continue "in a limited capacity" with the Coca-Cola North America entertainment department, per the note. It was written by Beatriz Perez, vp-media, sports and entertainment marketing and sent via her BlackBerry to 20 key execs on Dec. 31. That night marked the bow of Coke's new "Welcome to the Coke side of life" campaign.

Coke was said to be paying the Beverly Hills, Calif.-based shop an estimated $5 million a year until two years ago, per sources, but that number had recently dwindled to roughly $3 million annually.

Several sources said that in some cases, the CAA relationship actually makes it harder for Coke to secure deals with desired talent. For example, discussions with Ryan Seacrest for off-channel Idol activities became downright awkward since Seacrest is repped by rival William Morris Agency.


Downey and Flatow will handle upcoming projects, namely the new season of Idol, a promotion with the Academy Awards telecast, the first-ever Powerade Sports Awards and a gaming aspect of the new MyCokeRewards.com loyalty program, crossing all Coke trademarks, due later this quarter.

Powerade agency Wieden + Kennedy, Portland, Ore., has been pushing the idea for a music, sports, fashion and lifestyle awards show for more than a year. The branded entertainment play, which will see Powerade fully integrated into the show, was presented to MTV in recent weeks and won a positive reception, per another source.


Tab Energy, Coke's attempt at reviving that diet franchise, starred during the Oscar fest. Two TV spots, created by Kirshenbaum Bond & Partners, New York, debuted during the telecast. "The energy drink category is exploding and no one is talking to women," said a source. Tab execs were said to be in talks to use Gwen Stefani's music in ads, but no deal is likely.

Relatedly, the long-awaited jingle written by the rock band the White Stripes [Brandweek, April 4] has been shelved indefinitely. That effort was part of a pool of "iconic" advertising from Berlin Cameron/Red Cell, N.Y. and other shops, which was rejected by Coke's global marketing team. Coke hasn't ruled out using the jingle in its current campaign.

W+K was named lead agency on the $200 million Coke account in October 2005. Rounding out the reconstructed entertainment division, Joel Katz, an Atlanta-based firm, will still handle music, and Premiere Entertainment will continue handling product placement.

"There isn't a studio, label, producer, artist, or agent in the world who wouldn't take Coke's call," said another industry source. "So, CAA was in Hollywood trying to represent Coke without a full understanding of what their brands were really trying to accomplish."


Now mix music with world beats while sipping the cola ...only a click away here!


Happy Norooz, Easter and Spring!



According to an ancient Persian legend, Haji Firooz is the traditional herald of the Norooz, the new year -2565 (1385). Disguised in makeup and brightly colored outfits made of satin, the jolly character, Haji, sings, dances and parades through the streets with tambourines, kettledrums, and trumpets to spread good cheer and the news of the coming new year, Norooz.

Let your spirits rise!