Mastering Weiss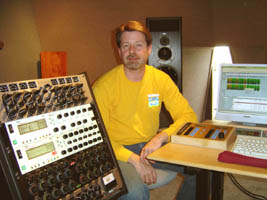 The philosophy of Final Stage Mastering has always been about staying one step ahead. For chief mastering engineer Randy LeRoy (Pam Tillis, Relient K, the Nitty Gritty Dirt band and Merle Haggard), that meant matching his sharp ears and instincts to digital gear from early on, starting with the EQ1 from Weiss Engineering. Fifteen years after opening for business, Final Stage has grown into one of the busiest mastering houses in Nashville, and their Weiss gear has kept the pace. "The Weiss boxes seemed to really come out and give you the quality and smoothness of digital processing that was never there before. They didn't change the tone and imaging of the mix, instead, all you heard was the slight EQ subtleties you were adding," says LeRoy. "As Final Stage started supporting higher sample rates, Weiss Engineering founder and president, Daniel Weiss, kept adding those capabilities too," LeRoy notes. "When I first purchased Weiss' EQ1 7-band EQ and DS1 compressor, they were both 44.1/48kHz units. Two years later, they upgraded them to the MK2 version, which was able to do 96kHz/24-bit. Soon after that, a Linear Phase model upgrade was available which allowed me to use the EQ1 in either MK2 or Linear Phase modes. I also took advantage of the DYN upgrade, which added dynamic control in the frequency domain. For Final Stage, the consistent upgrades to Weiss Engineering systems are a key component in keeping ahead, and delivering top results for his choosy clientele in the process. "Facilities and their gear are always moving forward, and I want to be surrounded by gear and companies that do that with me," LeRoy concludes.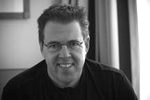 Weiss Engineering (Switzerland) products are available through Las Vegas Pro Audio located in Las Vegas, Nevada. Please email Brad Lunde at LVPA or Phone (702) 307-2700

Got Soundelux or SoundField?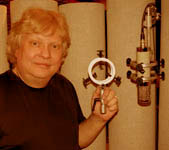 Michael Wagener - legendary rock producer, engineer, and mixer (Metallica, Ozzy Osbourne) is a self-professed gear aficionado. Name a microphone, a pre-amp, or an outboard processor, and in most instances, he has tried it. But now that he has discovered Enhanced Audio's M600 universal microphone mount, he's likely to try his favorites all over again. According to Wagener, using an M600 mount helps great microphones sound even greater. Since trying one late last year, he has bought two for Wireworld, his Nashville-area private recording facility.
"I started using it on the Soundelux 251, which is my 'go to' vocal microphone," Wagener recalls. "Anything that has a 'natural' sound gets the 251 or a ribbon mic as a first try. When I tried the M600 with the 251, I was very impressed. All of the 251's bottom was still there, but the top seemed 'see through' and clearer. It's really hard to describe. Before there was something not there that was covering things over the whole frequency range. It's very noticeable - not night and day - but now that I've heard it, I would miss it if it weren't there."
The uniquely designed M600 offers increased musical headroom and greater dynamic transient capability via a reduction in low-level mechanical noise and increasing low-level 'information.' Comprised of two low-resonant aluminum rings and thoughtfully designed mount hardware, the M600 effectively improves fidelity by significantly reducing the transmission of infrasonic vibrations. It is easily used with a wide variety of microphones and stand thread types.
"I'm not exactly sure how it does it, but it does," Wagener confirms. "It takes out sub-low frequencies that affect the performance of the mic by being there. They're low-frequency rumbles that you would probably not even hear. But when those frequencies are missing, it does seem to clear up the whole picture. The M600 is a rigid mount so, to me, it goes against what I think would've happened. I would think that it would transfer what's going on in the room to the mic, but it doesn't. I don't question it though. It just works!"
Since Wagener left behind his old shockmount, what he is getting from his 251 and other mic selections is continually amazing. No where is this more apparent than in the realm of vocal recording. "Normally, vocals are the loudest in the mix," he explains. "They're up front and, especially on slower songs, you hear every little inflection of the voice, as well as every little thing that would disturb it. This is where the M600 really shines."
So chances are, if you hear any product of Wagener's post-2005 productions recorded at Wireworld, you'll also experience 'the M600 effect' as he has. And that's one effect this advocate of superior microphone selection and placement is more than happy to use. "For thirty years, I lived without it," he concludes. "Then all of a sudden, I heard what the M600 could do. I don't want to miss that anymore."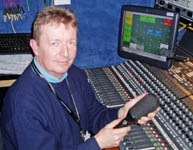 British Sky Broadcasting (BSKYB) has specified SoundField microphone systems to capture crowd ambience in 5.1 surround for Sky Sports HD Premiership Soccer coverage, which begins transmission in early 2006. SoundField's ability to collapse any 5.1 surround mix to stereo or mono without introducing any phase problems, making it ideal for live broadcast applications where events will be transmitted in HD and SD (Standard Definition) simultaneously. SoundField systems will be permanently installed at Manchester United, Chelsea, Liverpool and Arsenal where more regular HD coverage will be broadcast.

LasVegasProAudio distributes Soundelux and SoundField Microphones For more info, please email Brad Lunde at LVPA or Phone (702) 307-2700


LasVegasProAudio (www.lasvegasproaudio.com) distributes Geoffrey Daking & Co.
For more info, please email Brad Lunde at LVPA or Phone (702) 307-2700

Las Vegas Pro Audio is the direct sales division of TransAudio Group. The goal of LasVegasProAudio.com is to provide a personal long-term relationship with top engineers delivering insightful and accurate advice, unique equipment and long term support.TransAudio Group, founded by industry veteran Brad Lunde, has quickly become the premier US importer/distributor for high-end audio. visit the web sites at: www.lasvegasproaudio.com
TransAudio Group's product lines include A-Designs (USA) AEA ribbon microphones (USA), ADT Toolkit, AEA, ATC Loudspeakers (UK), Brauner microphones(Germany), Drawmer (UK), Geoffrey Daking & Co. (USA), George Massenburg Labs (GML) (USA), Heil Sound (USA); Mercury Audio (USA) Mission Audio (UK) Phoenix Audio (UK), PAULY Superscreens(Germany), SABRA SOM(Brazil), Soundelux (USA), SoundField Microphones (UK), Z-Systems (USA) and Weiss Engineering (Switzerland) and Z Systems (USA).

Hollywood Cat Notes

The Hollywood Cat says the 6000 building on Sunset (Cello) has wings! We understand the new owner plans to reopen the studios very soon with all of its original gear that was purchased earlier this year. Stay tuned or write to us if you know more.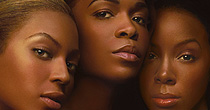 The Survivor Foundation has already secured funds in excess of $400,000 through the initial contributions of Beyonce Knowles ($250,000), Kelly Rowland, Mathew Knowles, Tina Knowles, and Solange Knowles-Smith and is seeking donations from both the corporate and personal sectors to expand the reach of the Foundation's storm relief housing initiative.
The House of Dereon, the clothing line established by Beyonce and Tina Knowles, has earmarked a percentage of its profits to benefit the Survivor Foundation which set an initial goal of securing cost-free transitional housing for 100 families by Christmas 2005.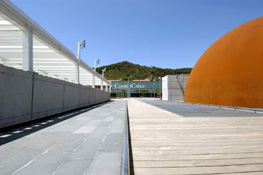 Barcelona's Museo De La Ciencia (above) taps Medialon for Plantetarium show control and Museum digital signage. Medialon Manager is also utilized to control live, interactive events staged for special groups in the Planetarium. In this application, the speaker may use the system to trigger a pre-programmed presentation, pausing and running the show as he/she interacts with the audience. In addition, the system can be used to run original multimedia presentations using standard sources and projectors to play back media files. Medialon Manager acts as the presentation master controller allowing the speaker to conduct the presentation according to the audience reaction. Lunatus of Barcelona, who designed the Planetarium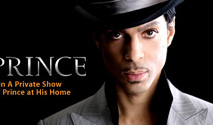 Universal/Motown and ITunes have the ultimate prize for the ultimate Prince fan: A private concert in the comfort of Prince's own home! A limited numer of Purple tickets is to be included (worldwide) with the album 3121 as well as copies of the "Black Sweat" single, to win "An Evening With Prince - A private performance at Prince's house". Digital tickets for this event can also be won through iTunes.


Hoyt Atkinson shows up every year at the Chevrolet Freestyle International Competition at Deer Valley Resort to work, but from now on, he may get the chance to enjoy the action a lot more. "With Lectrosonics, I can sleep better at night knowing that I don't have to worry about my wireless microphones," he says. "This year, everything went off like clockwork. We had Lectrosonics and we just went to work."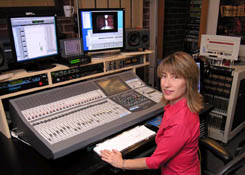 Sabrina Buchanek (above) has joins Cups 'N Strings Studios as re-recording mixer and sound editor, announces studio owner and chief engineer Bruce Maddocks.

"We've experienced considerable growth in our post-production work and Sabrina's expertise has enhanced our reputation and allowed us to expand efficiently,." says Maddocks.

In the world of film (Species and The Fantastiks) and television post-production (Inside Look: Down From the Mountain, Run for Cover and Dial H for Hitchcock) award-winning mixer and editor Sabrina is well-known for her mastery of sound. In several television series such as The Crusaders and For Better or For Worse she has handled all aspects of post-production sound, including editing, sound design and mixing music, dialogue and effects. As a music recording engineer and mixer proficient with analog as well as the latest digital technology, she has worked with Fleetwood Mac, Robert Palmer, Missing Persons, Jimmy Jam and Terry Lewis, among numerous others.

A graduate of Indiana University with a degree in Recording and Audio Reinforcement, Buchanek is the recipient of Promax Muse Gold and Silver Awards, Aurora Platinum and Gold Awards, Omni Silver and Bronze, and AXIEM Silver Awards for her work on promos and trailers including Hannibal, Gone in 60 Seconds, Ace Ventura Pet Detective and X-Men.
Take an expresso tour of Cups 'N Strings or visit them at their new home (3025 Olympic Blvd., Suite 400 Santa Monica, CA 90404) For info, tel 310.453.1615



1989 Yamaha C7 4 Sale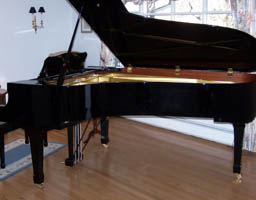 According to the original owner, this piano (Serial number E4637070) has been babied. It's beautiful, but we're downsizing, she says. Call 818-990-3031 with offers to make it yours today.
Avatar Artists On The Move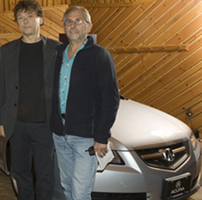 l-r: Jerry Harrison, Elliot Scheiner and the Acura TL ELS Edition

STUDIO A- (NEVE 8068) hosted Jeff Golub & Kirk Whalum recently in tracking with producer Philippe Saisse; Regina Carter recording with engineer Joe Ferla; Mike Stern recording with producer Jim Beard, Phil Magnotti engineered; R&B artist Rihanna recording strings with arranger Rob Mounsey, Maclolm Pollack engineered; Donny McClurkin recording with Avatar engineer Peter Doris; Nadja Salerno Sonnenberg recently recorded with engineer Tom Lazarus
STUDIO B- (SSL9000J) hosted Jim Anderson recently mixed Swiss Jazz Orchestra with producer George Robert; Jim Anderson recently mixed pianist DD Jackson; Eliane Elias recently in with producer Lester Mendez and engineer Josh Wilbur
Studio C- (NEVE-VRP72) Walter Becker recently in tracking with engineer Jay Messina; Legendary Sonny Rollins came in to record with producer Clifton Anderson. Richie Corsello engineered; Igor Butman recording with Jack DeJonette, John Patitucci, Chick Corea, Stefon Harris. Jack DeJonette produced, James Farber engineered.
Studio G- (SSL4000G+) hosted Roberta Flack recently in overdubbing with producer Jerry Barnes. Roy Hendrickson engineered; Producer Don Gilmore continuing overdubs with Dashboard Confessional. Mark Kiczula engineered.
Mastering- Kevorkian mastered upcoming albums by The Walkmen, moe., and Swati. Fred also mastered Trey Anastasio's live performance at Madison Square Garden.

More than 1.2 million people attending heard Delirious? when the band traveled to Hyderabad, India to join dynamic evangelist Joyce Meyer and India's own Sounds of the Nations for one of the largest Christian events in India. With as many as 400,000 people attending each day of the four-day gathering, hundreds of thousands made commitments to faith in Jesus Christ. Delirious? is also being recognized for its song on the Music Inspired by the Chronicles of Narnia: The Lion, The Witch, and The Wardrobe, which received a GMA Music Award nomination for Special Event Album of the Year.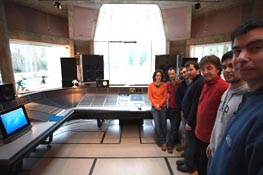 Peter Gabriel's Studio Adds SSL XL 9000 K Series, AWS 900 Consoles for his Real World Studios gearing up for 5.1 future. The residential facility, which is owned by internationally acclaimed artist Peter Gabriel, hasn't had a face-lift of this magnitude since it opened in 1988.
Nearly a year ago, Real World Studios started negotiating the purchase of a new console for The Big Room with the intention of equipping it for 5.1 and high-resolution audio so that it could handle more complex productions. As the order was placed, SSL revealed that the company was being put up for sale. Rather than canceling the order as some clients would, Peter Gabriel decided to buy the company. Real World will also be transforming its smaller second studio, The Production Room, by installing an SSL AWS 900 Analogue Workstation System. This perfectly complements the studio's existing workstation system and, because it is so compact, will create enough space to build a voiceover booth. "While we're in building mode, we're also opening a demo studio, which will be attached to our existing rehearsal facilities. The range and breadth of facilities offered will allow us to take a project from pre-production right through to completion.The Big Room re-opened in mid-January and is booked through to the end of March," says manager, Owen Leech.
Most recording engineers have a favorite piece of equipment that's a must-have at every session. For Nashville-based engineer Eric Legg it's the Mic-Pre/EQ by Geoffrey Daking & Co., Inc. Having used the Mic-Pre/EQ on every tracking session for the last ten years, Legg recently purchased the new four-channel Daking Mic-Pre IV. And now he has a new favorite. "This new four-banger box is really, really cool," says Legg, whose extensive studio credits includes sessions with Martina McBride, Willie Nelson and the Dixie Chicks. "That's a punchy, punchy mic pre, if you're interested in that kind of in-your-face sound. I've never heard anything better for guitar and drums."
He says of his two channels of Mic-Pre/EQ, "I've not used anything else on kick and snare in the last ten or eleven years. The Dixie Chicks "Wide Open Spaces" is all Daking. There's not a record that I've done where I haven't had at least kick and snare through those pres, including the new Lari White, and Billy Dean recent records." And the new Mic-Pre IV is even better, says Legg.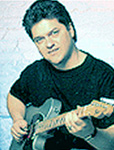 Brent Mason, an award-winning guitar player who has appeared on Nashville-produced releases by artists such as Alabama, George Strait, Willie Nelson, Shania Twain, Aaron Neville, Trisha Yearwood, Randy Travis and Neil Diamond, is now recording a new solo album of instrumental music with his brother, Legg reports. "I'm supposed to be mixing the record. The Daking Mic-Pre IV is the only mic pre they're using, for bass and all the guitars and everything."

LasVegasProAudio (www.lasvegasproaudio.com) distributes Geoffrey Daking & Co.
For more info, please email Brad Lunde at LVPA or Phone (702) 307-2700



Totally Basico
hotels with the "d" factor
next time you're booking a session out of town and need to accommodate your artists with a little style and don't want to sacrifice your production budget, consider design hotels AG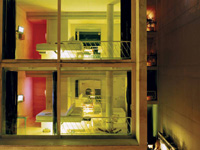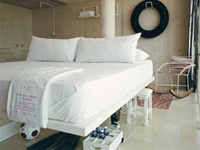 Mexico's hotel basico caters, minimally, to hedonists
With 140 hotels in more than 40 countries, you can find the right fit. Casa Camper in Barcelona, Spain, Metropole in Cape Town, South African, Hotel CRAM in Paris, France, The Three Sisters hotel in Tallinn, Estonia and In the heart of Milan, only a few minutes walk from the Dome, the Galleria and La Scala, in one of the 19th century buildings that surround the famous piazza lies the new and exciting design hotel Straf. And how about the very basic but stylish hotel basico in Mexico's glitttering rouist haven Playa del Carmen, 40 miles from Cancun. Here the rooms are $150 per night not $500 and it will cater to hedonists where gone are the sleek fixtures and clean lines, and in their place are familiar touches like mismatched floors and distressed '50s furniture.. A bartender can provide a mojito along with a room key at the juice bar-cum-reception desk; in the rooms, guests will find champagne bottles stocked in an open-air crate, exposed plumbing, and cement floors reminiscent of a typical Mexican patio. Beach balls and fins are stored beneath elevated institutional beds, chained to which are vintage-style Polaroid cameras that guests can use to document their stay.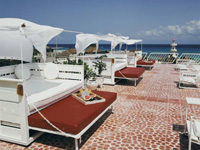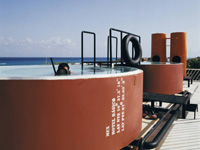 Eleven years ago, Claus Sendlinger had a vision. He predicted that travelers would not only be attracted to design-oriented hotels, but demand them. So Sendlinger used his previous experience as a travel agent to form Design Hotels, an international lifestyle brand "synonymous with distinctive architecture and interior design, balanced with functionality and service."
studioexpresso can probably find you the nearby studio that comes recommended too!


New CEO at Warner




Patrick Vien, the new Chairman and CEO of Warner Music International (WMI) reports to Edgar Bronfman, Jr., Chairman and CEO of WMG. Vien who succeeds Chairman and CEO, Paul-René Albertini, will be based in New York City. "Patrick is a talented and accomplished entertainment executive with strong operational skills, and he brings to WMI a deep understanding of the opportunities that new and emerging technologies present global content businesses. With his extensive background in producing, distributing and marketing content in a dynamic international environment, and his strong relationships in the entertainment community, Patrick will be an invaluable addition to WMG as we continue our transformation into a diverse, music-based content company," says Edgar Bronfman, Jr.

Since 2004, Vien, 39, has been the President of NBC Universal's Global Networks Division. At WMI, Vien will oversee WMG's international recorded music business (ex-U.S.) conducted through various affiliates and licensees operating in more than 50 countries around the world.

As President of NBC Universal Global Networks, Vien was responsible for the division of the company that wholly owns and operates 11 television channels in territories around the world. Vien oversaw all aspects of programming, marketing, distribution and finance, and was charged with creating new channel brands for distribution platforms worldwide. The entertainment television channels under Vien's supervision reached more than 70 million subscribers across 40 countries. In addition to these responsibilities, Vien represented NBC Universal's interests in several global joint ventures and, in this capacity, was a member of the board of directors of the Sundance Channel, HBO (Asia), HBO (China), Showtime and TV1 (Australia/NZ), LAPTV (Latin America), The History Channel (Germany, Austria and Switzerland) and Telecine (Brazil). Vien earned a master's degree in business communications from the Annenberg School of Communications at the University of Southern California and graduated from McGill University in Montreal with a bachelor's degree in economics. He is a member of the Young Presidents' Organization, a global association of business leaders under the age of 50.
Music Oscars & Composer Noms
The nominees were selected by viewers of two Los Angeles screenings, which Daily Variety described as similar to a bake-off. About 40 songs were shown in 3 minute clips, then rated on a scale of 6 to 10. Songs had to have an 8.25 rating or higher to garner an Oscar nod.
Nominated songs had to be clearly audible and not run under dialogue and only the first song in the end credits could be considered, Variety said. Here's the results.




Brokeback Mountain, The Constant Gardener & Alberto Iglesias
Original Score
"Brokeback Mountain" (Focus Features) Gustavo Santaolalla
("A Love That Will Never Grow Old," penned by Santaolalla and Bernie Taupin and performed by Emmylou Harris)
The Constant Gardener (Focus Features)-- Alberto Iglesias
"Memoirs of a Geisha" (Sony Pictures Releasing) John Williams
"Munich" (Universal and DreamWorks) John Williams
"Pride & Prejudice" (Focus Features) Dario Marianelli

The media attention around Willie Nelson's gay cowboy song "Cowboys are Frequently (Secretly) Fond of Each Other" has paid off. This past Saturday, five days after its debut on Howard Stern's Sirius satellite radio show, the song reached the No. 12 spot on iTunes, where it's available exclusively for download.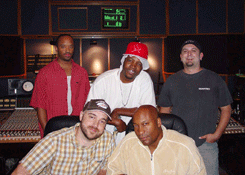 Photo: Mr Bonzai
L-R front row: director Craig Brewer and producer John Singleton; L-R back row: mix engineer Slisce T; rapper Al Kapone, and Pro Tools operator Jason Latshaw.

"Hustle and Flow," which was shot in Memphis and scored at Ardent Studios, has been nominated for two Academy Awards: Best Performance by an Actor in a Leading Role (Terrence Howard) and Best Original Song ("It's Hard Out Here for a Pimp", Music and Lyric by Jordan Houston, Cedric Coleman and Paul Beauregard).
In the film, the character DJay is a small-time pimp and drug dealer who dreams of stardom in the world of hip-hop music. Despite the criminal trappings of his day-to-day existence, DJay has an inner determination and a belief in his own talent that leads him to parlay a meeting with an old high school friend, now a sound engineer, into a chance for a better life.

Original Song Noms
In the Deep - Crash -- Kathleen "Bird" York and Michael Becker
It's Hard Out Here For a Pimp - Hustle & Flow - written and performed by Three 6 Mafia
Travelin' Thru - Transamerica - written and performed by Dolly Parton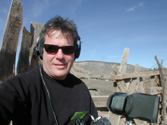 The Ascent Media family congratulates Supervising Sound Editor Wylie Stateman (above) of Soundelux on his Academy Award nomination in the category for Best Sound Editing.
Farewell
David L. Abell
- 2/11/06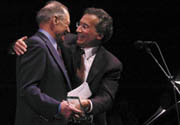 Courtesy of Jonathan Harnish/daily bruin senior staff
Abell was presented with the UCLA Duke Ellington Humanitarian Award for his contributions to the musical community by the Friends of Jazz at UCLA.

David L. Abell, whose Beverly Boulevard piano store served for 40 years as a resource for motion picture, pop, rock and jazz performers, died Feb. 11 of lung disease at Cedars-Sinai Medical Center in Los Angeles. He was 75.

Abell Fine Pianos were sought by Frank Sinatra, Gene Kelly, Stevie Wonder, Jackson Browne, Elton John, Andre Previn, Emanuel Ax, Quincy Jones, George Shearing, Tony Bennett, Benny Carter, the Eagles, John Williams and Steven Spielberg as well as those who used the stages at the Hollywood Bowl, the Greek Theater and UCLA's Royce Hall. He was the first dealer in Los Angeles to feature Yamaha and Bosendorfer instruments.
In addition to surviving economic ups and downs, the business also came back from a fire that destroyed the store on Sept. 30, 1990, the day of his daughter Jami's wedding. Abell rebuilt the business almost immediately. When he sold the business to Keyboard Concepts in 1999, Abell recalled special moments in the store. "John Williams came in one day and spontaneously played the Prokofiev Third Sonata, and it was one of the greatest performances I've ever heard," Abell told writer Don Heckman for an article in The Times. "If I had heard it in concert, I would have been standing in my chair and cheering."
In 1995, he spearheaded a drive to replace the music department of Washington Preparatory High School, which had been destroyed by fire, and helped raise more than $250,000 to replace the losses. Abell was president of the Los Angeles Jazz Society and then chairman emeritus.

"Abel took the time time to personally call and make sure that the musicians and studios were taken care of," says studioexpresso's Claris Sayadian-Dodge who knew the keyboard expert from her facility management years. He will be missed.
The family suggests that donations be made to the CARES Foundation, 189 Main St., Milburn, NJ 07041, or the UCLA Foundation, David L. Abell Endowment, Friends of Jazz at UCLA, 1237 Murphy Hall, Los Angeles, CA 90095-1419.









Dreams Delivered
Congrats and Good luck to all Oscar noms!

One of Oscar's Official sponsor AT&T sports Oasis' track All Around The World on a new ad which landed the band a cool one mill deal. The company's logo is plastered on billboards, airport signs and TV commercials across the United States. AT&T's famous slogan "Reach out and touch someone" is replaced by "Your world, delivered." who says rock'n roll can't deliver?!
Jon Stewart is set to host the 78th Academy Awards for the first time. Kodak Theater is the crown jewel of the Hollywood & Highland® entertainment complex and features a press area in the hotel for 1,500 journalists and a 40,000 square-foot Grand Ballroom catered by Wolfgang Puck.
watch nominated film previews here and print the ballot for your Oscar party and have your guests guess the winners!
Crash, Hustle & FLow and to all a Good Night And Good Luck. Walk The Line!