The Go-To Mics At Flyte Tyme Spell Brauner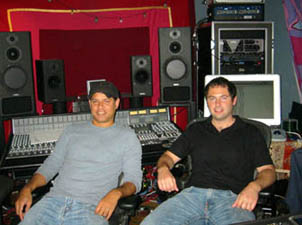 Ian Cross (left) and Matt Marrin staff engineers at Flyte Tyme Studios keep their three Brauner VM1 Klaus Heyne Edition mics in constant use with high profile artists.
With Flyte Tyme's new five-room music production facility in Santa Monica only a few months from completion, super-producers Jimmy Jam and Terry Lewis have purchased two additional Brauner VM1 Klaus Heyne Edition (KHE) vocal microphones. The new pair of Brauner mics, plus a third VM1 KHE that has been in constant use over the last two years with world-acclaimed artists such as Usher and Janet Jackson, will be the primary vocal microphone in each of the three vocal booths at Flyte Tyme's new West Coast headquarters.
According to longtime Flyte Tyme staff engineer Matt Marrin, the production duo have used the Brauner VM1-KHE with virtually every artist they have worked with since being introduced to it two years ago by Brad Lunde, president of Las Vegas Pro Audio, the U.S. distributor for Brauner. "We were looking for a decent, all-round vocal mic that could handle a lot of level and be pretty versatile and sound really good," explains Marrin.
"Brad sent one over," he recalls. "We were working on an Usher session. We tried it on him and he loved it, so we bought it. Then we used it on several of the cuts." That project was released as "Confessions," Usher's massively successful, multi-platinum and multiple award-winning 2004 album release, which also spawned a string of hit singles.
At the new studio complex, Marrin continues, "We want things to be as standard as possible, because we have so many projects that we work on at the same time. So we try to keep the signal chain pretty much the same.
We're going to have three vocal booths, and we need to have them set up so that they're always ready to go. We'll have some other mics available, but the Brauners are going to be our go-to mics." Jam and Lewis will each have a vocal booth associated with their production rooms, with a third vocal booth shared by the other three control rooms.
For the last four years, Marrin and another key engineer, Ian Cross, along with Jam and Lewis have been recording in a multi-room facility at The Village Recorders in West Los Angeles. "We're using a Brauner on Janet's new record. I just used them with Celine Dion as room mics on the strings. She's recorded 'Dance With My Father' for the Luther Vandross tribute album. We also used a Brauner on Mary J. Blige for that album." The production team also used the Brauner vocal mic on a number of singles currently enjoying chart success, including Earth Wind & Fire's "Pure Gold," Gwen Stefani's "Harajuku Girls" and Jessica Simpson's "These Boots Are Made For Walkin.'"
Jam & Lewis, who have a long history with Janet Jackson, have worked with some of the biggest names in R&B and pop, including - to name only a few of an extensive list - Mariah Carey, Sting, Boys II Men, Michael Jackson, and TLC. The production partners, who have a star on the Hollywood Walk of Fame, have had over 100 gold, platinum and multi-platinum records, and have won multiple Grammy Awards, as well as other honors. They are probably the most successful production duo in contemporary music history. Jimmy Jam and Terry Lewis have produced 16 number one pop hits and 25 R&B chart-toppers.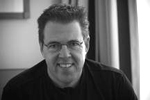 Las Vegas Pro Audio is the direct sales division of TransAudio Group. It was created to serve as a conduit between extremely busy pro audio professionals and boutique high-end equipment manufacturers. TransAudio Group, founded by industry veteran Brad Lunde, has quickly become the premier US importer/distributor for high-end audio. visit the web sites at: www.lasvegasproaudio.com
TransAudio Group's product lines include A-Designs (USA) AEA ribbon microphones (USA), ADT Toolkit, AEA, ATC Loudspeakers (UK), Brauner microphones(Germany), Drawmer (UK), Geoffrey Daking & Co. (USA), George Massenburg Labs (GML) (USA), Heil Sound (USA); Mercury Audio (USA) Mission Audio (UK) Phoenix Audio (UK), PAULY Superscreens(Germany), SABRA SOM(Brazil), Soundelux (USA), SoundField Microphones (UK), Z-Systems (USA) and Weiss Engineering (Switzerland) and Z Systems (USA).
For more info, please email Brad Lunde at LVPA or Phone (702) 307-2700 or (702) 365-5155 or Fax (702) 314-2764.
Walk The Line
In the Black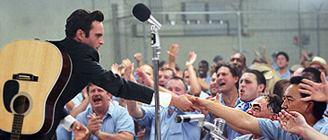 Burnett photo by: Robert Knight
The $28 Million Dollar 20th Century Fox film (opens November 18th) begins with a young Johnny Cash getting ready for his performance at Fulsom prison in the late 60's. It then proceed to tell his story with a formulaic flashback to his childhood ... proceeding through his career, marriage and relationship with June Carter beautifully played by Reese Witherspoon.

"Walk the Line" -- a title drawn from Johnny Cash's song about the difficulties of avoiding temptation while married -- is essentially a romance about a couple who are alone together only on-stage. The two clearly are soul mates, but much stands between them including Johnny's equally passionate attraction to amphetamines.

Directed by James Mangold, Walk The Line is a chronicle of country music legend Johnny Cash's life, from his early days on an Arkansas cotton farm to his rise to fame with Sun Records in Memphis, where he recorded alongside Elvis Presley, Jerry Lee Lewis and Carl Perkins.

Joaquin Phoenix's (Gladiator) leading role shines with superb delivery of music from Grammy winner producer T-Bone Burnett (O Brother, Where Art Thou?, Down from the Mountain, Man of Constant Sorrow) who expertly handles not only the score but also production of all the film's music. "What was wonderful about John was he did what was truthful to him," says Phoenix.
Though Phoenix displays a surprisingly good voice and the ability to imitate Johnny's deep bass, most would say that lip-synching like Foxx did in Ray would have worked better. "Like John, Joaquin has very little interest in the glitz of show business," says producer, T-Bone Burnett. Tracks were recorded at Capitol and Village Studios.
East Coast Noise

Lennex, whose name carries a curious connection to the late Andy Kaufman, is making a lot of noise on the east coast. Their brand of music: An accessible vortex of hard-rocking rhythms and melodies. After release of their debut record in 2000, the band took to the road on a whirlwind tour of Universities - Maryland, Delaware, Virginia, Georgetown, Penn State, and Princeton. Next they garnered a weekly spot playing at their hometown, Ocean City, MD's renowned Hurricane Club to crowds of 400+.
More recently, Lennex took the grand prize in an ArtistDirect contest (among 1200 bands) judged by Ska maestro, Dickey Barrett of the Mighty Bosstones, Nate Mendel of the Foo Fighters and Sully of Godsmackthey. Lennex was also chosen by alternative station WHFS for a coveted slot at the sold out HFS'tival at RFK Stadium in D.C., playing alongside platinum artists such as Incubus, Linkin Park, Coldplay and Green Day (to name just a few). Already in regular rotation at Delaware's WZBH, is the funky, core-punching anthem "Sumkind", from their second album, the iridescent, "For the Sake of Simplicity." A first for an unsigned band at this well regarded rock radio institution. Hear the music at MySpace

Sovereign Distribution Strategy
98LB Weakling's Berlin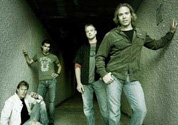 The next rock band to take LA by storm? According to Sovereign, it's Los Angeles' 98lb Weakling who debued their first of 3 planned EP releases on Sovereign Digital on October.

In what might be called a "platform release strategy," each participating digital retail partner will be granted exclusive releases in regards to the new EP for a particular period of time. iTunes and AOL Music will lead the release beginning October 4th with the exclusive iTunes release of the six-song EP "Berlin." "Berlin" will be exclusive to iTunes until January 1, 2006, at which point it will become available through other online retailers. Other future releases by 98lb Weakling on Sovereign Digital include the band's 2nd EP, "London," scheduled for a January 10, 2006 premiere and "New York," the third EP, to be released in April of 2006. Following the three-month period of exclusivity for each EP, they will be available through most online retail outlets as well as the 98lb Weakling and Sovereign Artists websites. The price for the EP "Berlin" on iTunes is set at $4.49 for the release and .99 cents per individual song.
"Live Forever," was personally selected by Apple execs to kick-off the debut of the phone and it was also the theme song to the new Discovery Channel reality series, "The Gym.," to premiere in October.

Sovereign Artists, the two-year-old record label whose eclectic artist roster includes Heart, Don Grusin, Bill Frisell/Petra Haden, The Crickets, Loudon Wainwright, Chris Hillman and Dee Dee Bridgewater, is set to makes its first major foray into the world of exclusive-to-online digital sales with the release "Berlin."
Session News from Prairie Sun Recording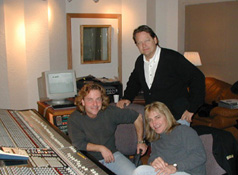 l-r: Jack Blades, studio owner, Mark (Mooka) Rennick, engineer/producer, Michael Lardie
(Great White) at Prairie Sun Recording

Prairie Sun was the site for the new Eric Gales record, featuring Eric's blistering blues-rock guitar and raw, honest vocals (recorded with a Neumann M 49 one of the studio's many vintage mics). "They just wrapped up after 3 1/2 weeks of rehearsal, tracking, and mixing. The sessions made good use of all three studios and nearly every piece of gear on the farm," says manager Nick Tipp.

Produced by Mike Varney for the Shrapnel Label Group's Blues Bureau Records, with Jason D'ottavio as tracking engineer, the album was mixed by Prairie Sun founder "Mooka" Rennick. According to Mooka, the album is some of his best mixing work, allowing him to fully utilize the SSL and multitude of outboard gear in studio A. It was mastered by Tim Gennert and Mooka for Eugene Productions.

"Shrapnel may be known for virtuoso guitar acts, but Eric's guitar work is unique in that it seems to flow so naturally from the greats who inspired him that it is at once familiar and unexpected, classic and contemporary," says Rennick.

Meanwhile, as Eric was staying in the cabin and was tracking in B and C, Dancehall artist RawSun was in the guest house and Studio A, working with engineer Adam Muñoz on an upcoming collaboration with international star Fiji for Island Records called Coconut Island, slated for release Jan 12th. RawSun's earlier work this year at Prairie Sun will also be heard on "Rated-R" from Jahnra Music Group/Hard Eight Records, out on Dec 6th.

Following RawSun in the guest house was Holy Mountain drums and bass duo OM, working once again with longtime engineer Billy Anderson (Mr. Bungle, The Melvins) on a set of extended explorations of thickly fuzzed bass riffs and thumping drums punctuated by thematic, nearly-chanted vocals. For this project, Anderson and OM layered bass amps, mics, and tracks the way most metal bands treat guitars, all recorded through Studio B and C's pristine vintage Neve consoles. The final mix in A of this sound, with drum tracks that emphasize round, roomy tones, results in a warm wall of heavy music all their own.
Rome At Star City Recording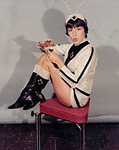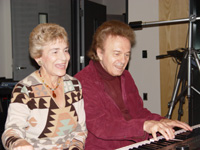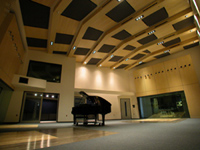 Jane (as space girl then) and now singing with Rome at Star City
Richard Rome, an icon in the music industry, is currently working on his latest project at StarCity Recording Company, a world-class facility located in Bethlehem, PA. A celebrated producer, conductor and arranger for legendary artists like Lou Rawls, Dionne Warwick, Tony Bennett, Bob Hope, Dusty Springfield and Sammy Davis, Rome is producing, arranging and conducting a collection of ballads performed by recording artist Jane Norman.

Innovator and Jazz Producer George Avakian Honored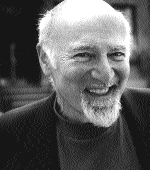 photo: Avaru Avakian
George Avakian, the legendary jazz producer will be honored with the Professional of the Year Award at APS' 34th Annual Professional of the Year banquet, scheduled for Saturday, November 5, 2005 at Music Center's Dorothy Chandler Pavilion. Avakian produced records with Benny Goodman, Dave Brubeck, Sonny Rollins, Miles Davis, Duke Ellington, and Louis Armstrong, among countless others.
Under Avakian's lead, Columbia became the first major label to enter the field of live pop and jazz recording, at a time when only smaller specialty labels such as Norman Gram's Clef were doing it. Later he signed Miles Davis, which also brought John Coltrane to Columbia in his prime. In the summer of 1955, Avakian issued the first and perhaps best LP sampler ever, I Like Jazz, a capsule jazz history, intelligently annotated, that sold for only $1 and served as a powerful marketing tool showcasing the Columbia catalog.

For information regarding the event please contact the APS (email: apsla@apsla.org or voicemail: 818-685-9946).
Droney Promoted To Grammy Producers Wing Director


The Recording Academy® has named Maureen Droney as Executive Director of the Producers & Engineers Wing (P&E Wing). In her new position, Droney will report to Angelia Bibbs-Sanders, Recording Academy Vice President of Member Services. Droney will be responsible for managing the daily activities of the Producers & Engineers Wing, as well as using her technical expertise to further develop programs for its members and leadership. The P&E Wing provides The Recording Academy with a vehicle to reach a specific constituency, to craft advocacy positions, and to better address the daily concerns of these professionals.
"As we strive to grow and develop its programs and services, Maureen's vast knowledge and expertise will further strengthen and expand the P&E Wing's initiatives as we move forward with our Academy's plans for the future." said Recording Academy President Neil Portnow.
"With more than 15 years of experience as a recording engineer, as well as her extensive project management skills and her exceptional relationships with manufacturers, Maureen is a welcome addition to our team," said Bibbs-Sanders.
Originally from Connecticut, Droney has worked in the music recording industry for more than 20 years. She began her career as an assistant engineer at the legendary Automatt Studios in San Francisco, where she trained with such notable producers and engineers as Fred Catero, Jim Gaines, Leslie Ann Jones, David Kahne, and Ron Nevison. She went on to become a freelance engineer on projects for George Benson, Whitney Houston, John Hiatt, Tower of Power and Santana, among many others, including Santana's GRAMMY®-winning album BluesFor Salvador. She holds a degree in broadcast communication arts from California State University, San Francisco, and has taught seminars in the theory and practice of audio engineering for facilities including ABC Television and Radio, CBS Television, and Deluxe Film Labs Post Production. Most recently, Droney was executive vice president/general manager of the Kiva Family of Studios, which includes the House of Blues Studios in Los Angeles and Memphis, and East Iris in Nashville. She is the author of Mix Masters, a book of interviews with top engineers, and a regular contributor to numerous audio and performing arts publications, as well as, for the last 10 years, the Los Angeles editor for Mix magazine.


Two Studios = 1
New York's Sound On Sound Joins Right Track

Sound On Sound will close its doors at 322 West 45th St. and relocate it's staff and key equipment to the premises at Right Track just blocks away in the heart of Manhattan on October 31, 2005.
The sum of our new company will be greater than our individual parts. We'll be maintaining the best of both companies; we won't be losing any of the qualities that makes each of us special," says Dave Amlen, CEO of SOS. Recognized as one of the premier recording studios on the East Coast for many years, Right Track features two production rooms and four music-recording studios with full 24-bit digital and high-end analog environments.
MW Audio Outfits Composer Project Studio For Jeffery Alan Jones
Jeffery Alan Jones' remodeled project facility, Alan Audio Works, features a 350 square foot, 5.1-channel control room that connects to a pair of live tracking rooms and a vocal/voice-over booth.

Jones is a highly experienced producer, arranger, composer and pianist. He has composed music for several feature films, television shows, documentaries and commercials, including "Man, Woman, Film," "Blind Heat" and "Fair Play." His remodeled project facility, Alan Audio Works, features 5.1-channel control room that connects to a pair of live tracking rooms and a vocal/voice-over booth.
New outboards supplied by MW Audio include an Avalon Designs AD2022 Class A Dual-mono Mic Pre-Amplifier, Genelec 1030A Monitors and companion 7060 Subwoofer, Neumann U87 and KM-184 condenser microphones, an AKG C414 B-XLII large-capsule condenser and a Sennheiser MHK416 shotgun mic for ADR and related sessions. For more info contact MW Audio

Exhibit Kasai



photo: Mr Bonzai
If you live in the greater LA region, don't miss an exhibition of Keiko Kasai's work, one piece indoors called "Black Glacier" and an outdoor installation comprised of six pieces. Pictured here is a detail of "Morsels," carved out of deep red/black granite and pierced by two 8-foot wooden rods coated in sumi ink and graphite.

The show also features new work by Jesse Simon comprised of foam, resin, and wood, i.e., surfboards that have been ingeniously re-purposed. Look for the contrast of heavy and light, ancient and modern. Opening Reception, Saturday, October 22, from 5-9 pm. Works on view through November 26, 2005. Patricia Faure Gallery 2525 Michigan Avenue, B7, Bergamot Station
Santa Monica, California 90404

Fundraising Efforts for The New Orleans Musicians Clinic & Billy Lewis
Roy Rogers and The Delta Rhythm Kings Helping Friends In Need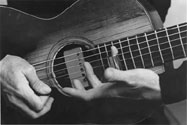 Known as one of the best slide players in the USA today, Roy Rogers raised over $1,000 for The New Orleans Musicians Clinic on his radio show "Under The Influence" on KRSH (95.9 and 95.5 FM) in Santa Rosa, California. "This great region of our country is filled with a bounty of amazing musicians, history and art. As a lot of you know Roy and I have been going to New Orleans for years and even spent our honeymoon there. We've just always felt that it was such a special place in America's culture. So now it's time to get in to gear...," says wife, Gaynell Rogers.
On a sad note, drummer Billy Lewis was diagnosed with cancer this last summer. On Dec. 5th Roy Rogers and The Delta Rhythm Kings will be hosting a benefit for Billy and his family in San Francisco at Slim's with an all star cast of characters including Tommy Castro Band with some very special guests. Meantime, Mike Hyman from Louisville, Kentucky will be playing with the band this fall. Vist www.roy-rogers.com for show details.
Roy Rogers and The Delta Rhythm Kings are out on the road to support the national distribution of their new album, Live! At the Big Room from The Sierra Nevada Brewing Company now available through Tower, Virgin and major retailers. The shows this month will take the band to South East and North East -- Atlanta, Charlotte, Norfolk and Arlington Virginia as well as Ohio and New York.

For more information please contact: Peter Grueneisen, AIA nonzero\architecture
studio bau:ton, LLC T. (213) 251-9791 F. (213) 251-9795

Real Estate Expresso!
Hot Properties With Recording Studios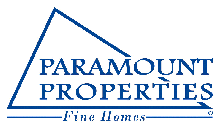 For most people, selling their home is the biggest financial decision they will ever make; add a Recording Studio on top of that, and it is indeed the case. "To protect your interests and assure that you make the best possible decisions, it's important that you have an agent on your side who is a specialist Realtor to the music industry," says Christine Lloyd-Maddocks, Specialist Realtor to the Music Industry. Contact Christine at Paramount Rodeo Realty Phone: (818) 999 2030 Cell: (818) 437 0369 or visit her web site for various articles on Buying/Selling Homes and listings of Real Expresso!
WANTED TO LEASE – RECORDING STUDIO/POST PRODUCTION SPACE.
Recording studio/post production space fitted with control room and Iso booth
Location: West Side
Size: 500 – 1000 sq. ft.
T erm: 12 months minimum
Parking: if available would be a plus
Preferably gound/1st floor location
Space only no gear
Sublease o.k.
Please contact Christine at Paramount Rodeo Realty Phone: (818) 999 2030 Cell: (818) 437 0369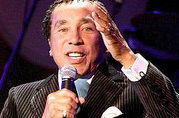 Legendary Motown artist Smokey Robinson and his wife, Frances, have listed their estate in a gated Chatsworth development at $10.5 million. Furnishings are extra.
The singer-songwriter, who recently released the album "My World: The Definitive Collection," and his wife, an interior designer, will live primarily in Las Vegas, where they have a home."We will always have a home in the L.A. area," she said, adding that they decided to sell "because this is just too much house for us."
With 9,000 square feet on 2 1/2 acres, according to the Multiple Listing Service, the house has seven bedrooms and 6 1/2 bathrooms. It was built in 1990.
The Robinsons bought the home three years ago, and Frances took a year to redo it. She designed the crystal and wrought-iron chandelier in the three-story domed entry, which has a sweeping staircase; replaced marble with cherrywood on the floors; and created a 35mm soundproof theater with eight reclining leather chairs.
There are three family rooms, three kitchens, 10 fireplaces, a wine cellar and a gym. The master bath has a sauna and a fireplace. Another bedroom is used strictly for his golf gear.
Motown founder Berry Gordy — a prominent figure in Robinson's career as a singer, leader of the R&B group the Miracles and producer of other Motown greats — is often a guest and has his own bedroom staked out.
The estate has a couple of nooks and crannies where Smokey likes to work. "He writes in his office and could cut a record in the room if he wanted," said Frances, while ushering around visitors. In the backyard, past a pool, spa, waterfalls, detached guesthouse and outdoor living room, there is a red-rock bluff where Smokey goes to write songs (By Ruth Ryon, Times Staff Writer).

Have Downloads, Will Travel
MP3 Express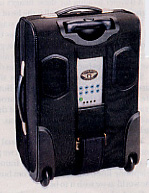 From the creative folks at Hammacher Schlemmer & Co the first luggage with a built-in music system that provides the clear, robust sound of a home stereo. The luggage contains two embedded 3" stereo speakers, an amplifier, and a 4" integral subwoofer for deep, powerful sound with almost no loss of packing space. A connection jack accommodates an iPod® or any sound device with a headphone jack. The luggage also includes a jack that allows you to add your own microphone, transforming the suitcase into a public address system for presentations. Cost: $329.95
Fashion Rocks 2005
CBS' Star Studded Concerts Kicks Off New York Fall Fashion Week And Raises Money For Katrina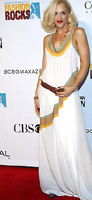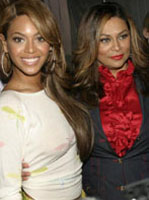 Gwen Stefani in L.A.M.B. - Gwen L.A.M.B. ROCK Steady Fashion ICON Doll $79.99; Beyonce and Tina Knowles pose for photos during Olympus Fashion Week Fall 2005 at Bryant Park February 7, 2005 in New York City. (Photo by Scott Wintrow/Getty Images)


A 2 hour television special of this year's concert was broadcast on CBS television Friday, September 9. In addition to abundant tributes to the fashion world, the show provided multiple appeals to support the victims of Hurricane Katrina.
The hosts for the event were Sugar Ray's lead vocalist Mark McGrath, with model good looks, and Poppy Montgomery, star of the TV series Without a Trace. The second annual FASHION ROCKS was a star-studded concert honoring the extraordinary relationship between fashion and music and featured performances by some of the music industries' biggest stars: David Bowie, Destiny's Child (in their last televised appearance as a group), Duran Duran, Billy Idol, Alicia Keys, Tim McGraw, Nelly, Shakira, Gwen Stefani, Joss Stone, The Arcade Fire and Rob Thomas.

David Bowie and Arcade Fire - Initially Bowie took the stage solo to perform his classic "Life On Mars." Decked out for the song with black eye and bandaged hand, he surely sent many fans to the Internet searching for word. The iconic rocker is still renowned for his wardrobe choices. In September, he also became a published author with the release of Moonage Daydream which features his commentary on his explosive Ziggy Stardust era, alongside equally provocative photographs by Mick Rock. "I'm far more interested in the theatrical implications of clothes than I am in everyday fashion," says Bowie.
Meantime, Beyonce and mom Tina Knowles announce that The House of Dereon (named after Tina's mom, a seamstress who was family's fashion inspiration) has signed a licensing agreement with G-III Apparel Group, Ltd. (Nasdaq: GIII) to collaborate on the design, marketing and distribution of an exclusive comprehensive collection of outerwear. This young contemporary women's line is expected to launch in time for the holiday delivery to better specialty and department stores throughout the country. Beyonce and Tina Knowles pose for photos during Olympus Fashion Week Fall 2005 at Bryant Park February 7, 2005 in New York City. (Photo by Scott Wintrow/Getty Images)
Beyonce Knowles said, "We want to launch an extraordinary outerwear collection for the Holiday season ... the perfect coat to complement our fashion line."







LAMB Fall Collection Sample

Today's most innovative style maverick might be Gwen Stefani with her trademark platinum blonde hair and bold red lipstick. She's forged an original look wearing clothes of her own design. From her roots as bindi-bearing ska chanteuse to her current entourage of flamboyantly dressed harajuku girls, she is always a step ahead. Stefani also infuses her signature style into her blockbuster fashion line L.A.M.B., named for her smash hit solo album Love. Angel. Music. Baby. Ck out available items on Ebay here or visit LAMB at Nordstroms here
Sixth Annual Woodstock Film Festival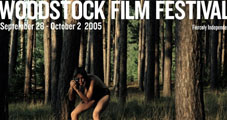 The 2005 Woodstock Film Festival (9/28 -Oct2) was one of the premiere spots to tap into the independent film world. This years' program included an outstanding collection of over 150 films, panels, concerts and special events in Woodstock, NY and the neighboring towns of Rhinebeck, Hunter and Rosendale.
Closing Night offered screening of "Lonesome Jim," directed by Steve Buscemi and starring Casey Affleck, Liv Tyler. Director Atom Egoyn's "Where The Truth Lies" which stars Kevin Bacon and Colin Firth closed the festival.

BMI and WACBIZ presented SEE IT HEAR FIRST where emerging songwriter artists and recent signings including Brendan James (Capital Records), Adriano Sciavo, Jeremy Gregory (WB), Missy Higgins (WB), Mieka Pauley, and KJ Denhardt.


Art, Religion, Music and Architecture


The Hollywood Cat (THC) Reporting From AES


And The Tec Awards Goes To...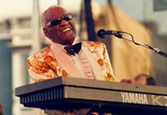 The engineers, sound editors and other audio professionals behind Eric Clapton's Crossroads Guitar Festival, Ray Charle's Genius Loves Company album and Universal Pictures' Ray, were among the many winners at the 21st Annual Technical Excellence & Creativity Awards, held this evening at the New York Marriott Marquis. Industry's finest creative talents witnessed the induction of legendary producer/engineer Arif Marden into the TEC Awards Hall of Fame, and the presentation of the prestigious Les Paul Award to David Byrne. Atlantic Records founder, Ahmet Eregun presented the Hall of Fame Award to Mardin, who produced chart-topping hits for artists such as Aretha Franklin, the Bee Gees, Bette Midler and many others. Highlighting the presentation was a surprise performance of "Through the Fire," by Chaka Khan, in tribute to Mardin. Other winners for Creative Achievement were the production crew of Green Day's "American Idiot" (Record Production/Single or Track); the sound crew for U2's :Vertigo" tour (Tour Sound Production); 24 (Television Sound Production); as well as the design team behind New York City's Jazz at Lincoln Center Studio (Studio Design Project). In the category of Technical Achievement, the 16 winners included the Solid State Logic AWS 900 (Large Format Consoles); Mackie Design's Onyx 1640 (Small Format Consoles) and Big Knob (Ancillary Equipment); the Yamaha PM5D (Sound Reinforcement Consoles); Digidesign's Pro Tools 6.7 (Workstation Technology); the Waves L3 Maximizer (Signal Processing Technology/Software); Apogee Electronics' Rosetta 200 (Digital Converter Technology); Shure's SLX Series Wireless (Wireless Technology); and Harman Pro Group's Crown Commercial Audio Series (Amplifier Technology), AKG C414B-XLS/C414B-XLII (Microphone Technology/ Studio) and JBL VerTec VT4888DP (Sound Reinforcement Loudspeakers).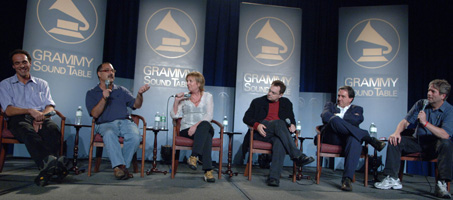 L-R: Moderator Dave Adelson and panelists Michael Caplan, Susan Butler, Jonathan Daniel, Robert Hurwitz and George Massenburg
The Producers & Engineers Wing of The Recording Academy® presented the GRAMMY® SoundTable panel "Death Of The Record Business? Rebirth Of The Music Business: Part II" at the AES Convention at New York's Javits Center on Oct. 7
SSL Cheer!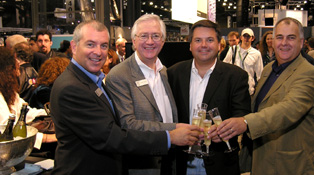 L-R: During a champagne toast at the show: Phil Wagner, SSL U.S. president; Piers Plaskitt, SSL group commercial director; David Engelke, SSL co-owner; and Antony David, SSL managing director.
Photo: David Goggin

Solid State Logic had much to celebrate at the AES show, welcoming new products, new faces and a new era. In addition to the LMC-1 Plug-In, SSL introduced the C300 digital console for post production and film, XLogic X-Rack Dynamics Package and XLogic E Signature Channel. The company also announced a new strategic vision, with the intention to expand on its core business and develop further products for DAW users.
Faces of Music
25 Years of Lunching with Legends by Mr. Bonzai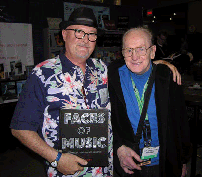 Pictured at the AES book signing event are Mr. Bonzai and Les Paul.
Artist Pro announced the publication of the hardcover edition of the book authored by award-winning photographer, author and renowned chronicler of the music industry, Mr. Bonzai. Les Paul was among the guests at The AES 2005 launch party and two-day champagne celebrations.
This insightful and inspiring anthology features over 400 photographs, many never-before published, and 160 interviews with popular music artists, songwriters, producers, including Leonard Cohen, Devo, Geoff Emerick, Peter Gabriel, Eddie Kramer, k.d. lang, David Lynch, George Massenburg, George Martin, Robert Moog, Willie Nelson, Les Paul, Phil Ramone, Carlos Santana, Red Hot Chili Peppers, Al Schmitt, Don Was, Brian Wilson, Stevie Wonder, and Frank Zappa, to name a few.
"I'd like to thank all the readers who came by to get the book signed, and also thank the many subjects from the book who came by to add to the festivities. And here is one of the 160 legends, Les Paul, who turned 90 this year and has a new album out with his friends and guitar legends," says Mr Bonzai. Faces of Music is now available for immediate shipment at Amazon.com
Meet Me At Midem Jan 2006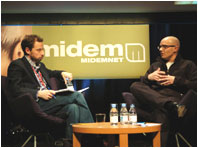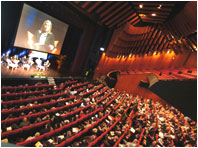 This January 22-26, 9,300 music professionals from 92 countries will meet for another five days of meetings. They'll discover new sounds and services, explore business opportunities, learn about tomorrow's industry, make deals, enjoy live music and party.
Keynotes confirmed to-date: EMI Group chairman Eric Nicoli (photo); Ken Lombard, president of Starbucks Entertainment, the man behind the coffee chain's music retailing initiative; Patricia Langrand, senior EVP of content for France Telecom; and Nokia's EVP and general manager of multimedia Anssi Vanjoki Registration here.


Farewell Shirley Horn
May 1, 1934 -- Oct 2005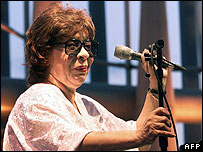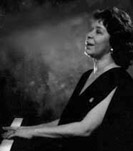 The jazz pianist and vocalist who got her start opening for Miles Davis died at the age of 71, after an extended battle with diabetes. Ron Goldstein, President & CEO of her label, the Verve Music Group, comments "Shirley Horn was a true innovator."
Horn's career entered a renaissance when she signed with Verve Records in 1986. She went on to release several acclaimed albums, and was featured at major jazz festivals and venues around the globe. Horn was nominated for multiple Grammys and won the award in 1991 for best jazz vocal performance. Last year, Horn was honored as a jazz master last year by the National Endowment for the Arts.
"I like to be referred to as a good singer of good songs in good taste," she told The Associated Press in a 1991 interview.
And here's couple of Trick or Treaters from UK (The Banks Family)...saying, Happy Halloween.
Sweet Music to All!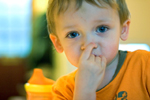 Maddy & Mikey