Rex Rideout
producer l songwriter l arranger l musician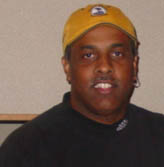 History: You may not recognize him, but you know his music. Grammy nominated, Rex Rideout could be considered one of the industry's best kept secrets. From R&B and pop to smooth jazz to television and radio commercials, Rex has continued to exhibit his versatile gifts as a producer, songwriter, arranger and musician, and has quietly built an impressive body of work. His music can be heard on such artists as Luther Vandross, Angie Stone, Will Downing, Lalah Hathaway, and Boney James, and in advertising spots for Coca-Cola, AT&T, Mc Donald's, Budweiser, Ford Motors and K-Swiss. Hailing from Pittsburgh PA, Rex's interest in music began at the age of ten when he learned to play the piano and performed with local groups. Deciding to pursue a career in music, he moved to Atlanta, meeting up with some of the area's noted musicians. From there, Rex was led to New York and subsequently became the live keyboardist for Roy Ayers, George Howard, Noel Pointer and Will Downing. Roadwork eventually turned into studio work, where Rex garnered songwriting and production on three of George Howard's albums on GRP Records and on two of Will Downing's albums on Mercury Records. Rex's song, "Sorry I" became a Top 10 Urban AC single as well as a Top 40 R&B single, pushing Downing's Moods to be a #1 Billboard Contemporary Jazz album. During that same time, Rex began writing and producing jingles for TV and radio commercials, as well as developing new artists under his production company.






Showing no signs of slowing down, Rex produced songs on the next two Will Downing albums, Invitation Only and All the Man You Need, and was tapped by a number of other stellar artists. Rex contributed his production of "Silver Bells" on the Christmas album from SWV. He co-wrote and arranged "Nights In Harlem", the 1st single from Luther Vandross' gold certified and Grammy nominated album, I Know. He produced and wrote, "How Could He Hurt You" which became the 2nd single from The Temptations' platinum certified and Grammy nominated album, Phoenix Rising. Likewise, renowned smooth jazz artist, Boney James, features Rex's song, "Are You Ready" on his gold album Body Language, neo-soulist, Angie Stone, includes the single "Coulda Been You" on her breakthrough platinum album Black Diamond, and the soundtrack to the movie Pokemon 2000 incorporates "They Don't Understand" performed by upstart pop group Dreamstreet.
Taking a step out from behind the scenes, Rex, along with N-Coded Music President Carl Griffin, created the concept album Club 1600. Being inspired by Quincy Jones' Q's Jook Joint, Rex set out with the same approach for the smooth jazz arena. Having two installments released, both albums were produced entirely by Rex, and featured a collection of songs performed by some of the most respected names in smooth jazz including Roy Ayers, Randy Brecker, Gerald Albright and Maysa. The first album yielded the chart topper, "Stay", a powerful arrangement of The Tempations' hit song, and the second, Ridin' High, features the infectious single "Tease" highlighting Albright's irresistible sax and Rex's own prolific keyboard playing.





Relocating to Los Angeles, Rex continued his producing and writing, delivering first singles "Somthin' Inside" sung by Dave Hollister from Boney James' Grammy nominated album, Ride and "Cool Water" from Will Downing's CD, Sensual Journey. Rex also produced the Out Of The Blue album for label mate, Maysa and contributed two songs to Al Jarreau's All I Got (including first single "Secrets Of Love"). Not letting his "other career" fade, he completed music for several popular TV and radio spots for Nissan, General Motors, and K-Swiss.





Current Credits: Rex continued to show his production and writing talent, with songs on Richard Elliot's Ricochet ("Seven Sacred Pools", "Sweet Memories" and "So Good") and on Paul Taylor's Steppin' Out (6 songs including the chart topping singles "On The Move" and "Steppin' Out"). Moreover, Rex is most proud to have co-written and arranged three songs on the highly acclaimed album Dance With My Father from the legendary Luther Vandross, which debuted at #1 on the Billboard 200 Album chart and quickly reached platinum certification (now double platinum). "Apologize", "Hit It Again" featuring Queen Latifah and "Once Were Lovers" featuring Stevie Wonder are standouts on this memorable collection.
On the film side, there is the high energy hit "Rain Down" featuring Angie Stone, The O' Jays, Montell Jordan, Melba Moore and Zane, which Rex co-wrote and produced for the Paramount Pictures/MTV Films movie The Fighting Temptations starring Cuba Gooding Jr. and Beyoncé Knowles. "Rain Down" is also on the accompanying soundtrack, now certified gold.
Most recently, Rex's work can be found on Will Downing's Emotions, including current single "Rhythm Of U And Me" and on #1 smooth jazz hit "Talkin' Bout Love" by Peter White. Also to Rex's credit is his production of the Luther Vandross' hit "Take You Out" performed by the renowned George Benson, as well as two songs for Gerald Albright's current set, Kickin' It Up, including the emotion filled "Condition Of My Heart" which matches Albright's caressing sax with touching vocals from Shawn Stockman of Boyz II Men.





Still going strong is a project close to Rex's heart, Forever, For Always, For Luther. Together with Bud Harner of GRP/Verve Music Group, Rex produced an entire tribute album to Luther Vandross covering hits and favorites interpreted by some of THE names in smooth jazz including Dave Koz, Kirk Whalum, Mindi Abair, Boney James, Lalah Hathaway, Rick Braun and more. While celebrating Luther, the collection also supports a worthy cause by having a portion of the proceeds donated to the American Diabetes Association. In fact, the whole cast would gather in New York where Rex would be musical director to raise money for the organization with special headliner, Patti LaBelle! The concert was a sell out. This labor of love tribute album and Rex went on to receive a Grammy Nomination and top the charts with singles from Lalah Hathaway and Richard Elliot.


One of Rex's latest collaborations is for the new Boney James album, Pure!, including "Think About Me" and the single "Better With Time" featuring soul singer, Bilal (which rose up the Urban AC charts and receive much radio airplay). Additionally, Rex kept more irons in the fire by writing and producing music for TV and radio commercials, including spots for the new Bill Cosby produced animated show Fatherhood on Nick At Nite. After writing and producing on a Christmas album for Will Downing, Rex looks forward to many exciting projects in the coming year, including the new 2005 K-Swiss campaign, songs for the debut album of American Idol Season 3 finalist, LaToya London, and much more to come.
Rex has been working with soul artist, Ledisi, over the past year for her album coming out on Verve/Universal. He's also producing several songs for the next Paul Taylor album on Peak.

Contact: Stacy Turner
Turn It Up! Entertainment
818-985-4168 or 818-257-0530

copyright 2004 studioexpresso