London's Chinawhite Vibes With ATCs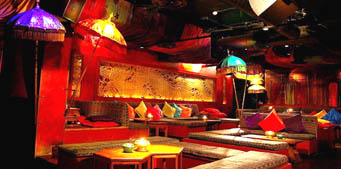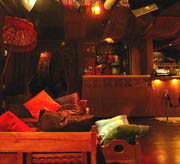 The exclusive Chinawhite London (located close to Piccadilly Circus) has become the latest nightclub to install a custom designed ATC (Acoustic Transducer Company) speaker system. The ultra-chic celebrity haunt, frequently featured in the U.K. tabloids, replaced its original hybrid system with a flown, full-range, active three-way ATC system that includes subwoofers in the Soho club's seating areas.

"The rumble from the subs through the banquette seating is particularly popular with our customers," offers entrepreneur Jeremy Hartley, part of the consortium - which also includes international entertainment veterans Rory Keegan and John Stephen - that opened Chinawhite London below Café Royal in late 1998. Hartley originally auditioned ATC's loudspeakers at the company's demonstration suite near Stroud in Gloucester, England on the recommendation of one of the club's directors, Freddie Moss.

The installation follows ATC's principle of using recording studio quality loudspeakers in greater than average numbers to give enhanced sound performance and extended listening comfort. "We wanted hi-fi quality but with an element of coarseness," explains Hartley. "What ATC has done brilliantly is establish a balance between the two. When you leave the club you do so without any ringing in your ears."

The private, members-only nightclub's main dance floor features eight flown ATC PA65 speaker systems that have been developed from the company's SCM150ASL active studio monitors. Each three-way active enclosure can generate a maximum SPL of 116dB via an ATC Super Linear 15-inch driver, a 3-inch Soft Dome mid-range driver, and a 1.25-inch fabric dome tweeter. Each cabinet offers ±80 degrees of horizontal, coherent dispersion with ±10 degrees in the vertical plane.

Each PA65 system is driven by ATC three-channel Class A/B amplifiers, which deliver 200 watts to the low-frequency driver, 100 watts to the mid-range, and 50 watts to the tweeter. All amplifier channels feature active momentary gain reduction. Crossover frequencies are set at 380Hz and 3.5kHz.

Eight 15-inch passive bass reflex subwoofers are also built into the main floor's banquette seating. The nightclub's Wu Wu bar additionally features a pair of PA2x9 and four x 15-inch subwoofers built into the banquettes. "This has allowed us to maximize the useable floor space, optimize the audio quality in the critical mid-range and give excellent coverage," observes ATC's R&D engineer, Ben Lilly.

The guest-list only Chinawhite London has since expanded, first to Istanbul, Turkey and then to Ibiza, Spain (with The Mao Rooms), before setting up a licensed operation in Glasgow, Scotland. The London club, which operates a £650 a year membership policy, features Chinese day beds and opium platforms and exotic furniture in a deep red, Oriental-themed environment.

ATC's drivers are manufactured in-house to exacting tolerances and are legendary for their many design innovations, such as the company's renowned Soft Dome midrange driver, which achieves exceptionally broad and even dispersion to produce a flat response anywhere in the room. Situated in Aston Down in rural Gloucestershire, England, ATC was established in London in 1974 by acoustics engineer and musician Bill Woodman

For more info email Brad Lunde, at LasVegasProAudio.com Phone (702) 307-2700 or (702) 365-5155 or Fax (702) 314-2764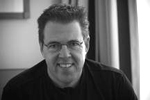 Las Vegas Pro Audio is the direct sales division of TransAudio Group. It was created to serve as a conduit between extremely busy pro audio professionals and boutique high-end equipment manufacturers. TransAudio Group, founded by industry veteran Brad Lunde, has quickly become the premier U.S. importer/distributor for high-end audio.
TransAudio Group's product lines include A-Designs (USA) AEA ribbon microphones (USA), ADT Toolkit, AEA, ATC Loudspeakers (UK), Brauner microphones(Germany), Drawmer (UK), Geoffrey Daking & Co. (USA), George Massenburg Labs (GML) (USA), Mercury Audio (USA) Mission Audio (UK) Phoenix Audio (UK), PAULY Superscreens, SABRA SOM, Soundelux (USA), SoundField Microphones (UK), Z-Systems (USA) and Weiss Engineering.
Get Weiss

LVPA is pleased to announce the addition of Weiss Engineering to its roster of select and esteemed manufacturers for the purpose of U.S. distribution. By providing comprehensive product information, handholding during implementation, on-going customer service and direct-sales. LasVegasProAudio has quickly become a favorite of busy engineers with timely needs and discriminating tastes.
Weiss Engineering, a digital audio equipment manufacturer known for intuitive and incredible sounding gear was founded in 1984 by Swiss equipment designer Daniel Weiss. Weiss, who cut his teeth on digital audio technology during his prominent role on Studer's DASH recorder development team, applied his vast wealth of knowledge to produce some of the audio industry's highest quality digital equalizers, compressors, A/D and D/A converters, and clocking outboard gear. Standout Weiss Engineering products include the EQ1 seven-band equalizer, DS1 compressor/limiter/de-esser, ADC2 A/D converter, SFC2 sampling frequency converter, among others. A virtual 'who's who' list of world-class audio professionals, Weiss Engineering's user base is clear proof of the founder's status as a pro audio innovator and visionary.
"Having the privilege of distributing Daniel Weiss' equipment is a real coup. His "no quality compromise" on manufacturing pristine-sounding digital equipment puts Weiss gear in a class by themselves. In the digital realm, Weiss is unrivaled," says Lunde, president of LasVegasProAudio.
Join the LVPA mailing list in May to be entered to win a free Sabra Som SSM1 Universal Shockmount No purchase necessary.



Singin' & Swingin Dusk to Dawn
Golden Nugget May 16-June 16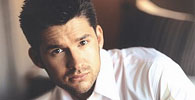 Matt Dusk is a velvet-voiced twenty-four-year-old, who is all set to sing his way to international stardom. The native Canadian's struggle to move from ZAX to the main showroom was documented in FOX Television's 2004 series, THE CASINO. His tune, Two Shots, penned by U2 frontman, Bono, served as the series' opening theme.
Watch Fly Me To The Moon as seen on Canadian Idol here --
Jazz crooner Dusk returns to the Golden Nugget for an exclusive one-month run May 16-June 16. Performances are scheduled nightly in the 400-seat Theatre Ballroom at 5:30 p.m.
The show will be May 27-29 and June 10-11.
Reserved tickets are on sale now and priced at $45, plus tax. Tickets may also be purchased by calling 866-946-5336 or 702-386-8100
Two Shots', his debut album for Decca was recorded at various studios including Abbey Road in London, with a 42-piece string section from the Royal Philharmonic Orchestra adding luxuriant textures reminiscent of the heyday of the big-band balladeers. Terry Sawshuk is credited as producer and mixer/engineer on several tracks.
Although the majority of the album is made up of original compositions, the title track 'Two Shots' was penned by U2's Bono in honour of Frank Sinatra, and allows Matt to pay tribute to two of his musical heroes in one fell swoop.
http://www.mattdusk.com/audiovideo.html
Young Film Composers Semi-Finalists Announced
Sixth Annual Turner Classic Movies Music Competition
The ten semi-finalists for the Sixth Annual Turner Classic Movies Young Film Composers Competition, sponsored by Film Music Magazine, The Guitar Center and Todd-AO, have been selected by a blue-ribbon panel of Hollywood film music judges from almost 500 entries in this year's competition.
Judging coordinator Mark Northam of Film Music Magazine said, "This year's competition featured some of the most talented young composers in the business. The overall talent level this year was significantly higher than in previous years, and every one of these semi-finalists should be congratulated - to get to this point in the competition is a huge achievement that all of these composers can be proud of. We appreciate the work of everyone who entered - this year's entries truly are a testament to the bright future of the art and craft of music for film."

Semi-Finalists (Alpha order) : DANIEL CHAN (Denton, TX); MAT EISENSTEIN (New York, NY); JASON GRAVES (Raleigh, NC); GLEN MORRISSETTE (Durham, NC); JULIA NEWMANN (Los Angeles, CA); DARRELL RABY (Rancho Palos Verdes, CA);
MARCUS SJOWALL (Los Angeles, CA); CEIRI TORJUSSEN (Los Angeles, CA); BILL WANDEL (North Hills, CA); PHILLIP WHITE (Los Angeles, CA)
Five finalists will be selected from the semi-finalists on May 26 at a special judging in Hollywood headed by famed film composer Hans Zimmer. The five finalists will then score a new scene and be flown to Los Angeles to compete in the final round of judging.
For Further Information Contact: Mark Northam - Film Music Magazine 310-909-8418

Soundelux Captures Foo Fighters Upcoming Release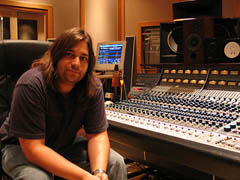 Engineer/Producer, Nick Raskulinecz used the Soundelux ELUX251 for 85% of the Foo Fighters' upcoming
release, "In Your Honor."
Anyone wishing to experience the Soundelux ELUX 251 tube microphone is in for a treat on June 14th, when the Foo Fighters release their fifth album, "In Your Honor" - A double album that features a ten-track disc of full-on rock songs and a ten-track acoustic song disc. The recording sessions for the project relied heavily on the ELUX 251, according to engineer and producer Nick Raskulinecz.
"The Soundelux ELUX 251 was the primary microphone on the acoustic record.
I'd say it was used on 85 percent of that record," reveals Raskulinecz, who has been working with the Foo Fighters since 2001 and, as co-producer, shared the 2004 Grammy Award for Best Rock Album for the band's "One by One." He adds, "It's my 'desert island' microphone. It's the best."
Indeed, the ELUX 251 has put its sonic stamp all over the forthcoming two-disc release. "I've used it on everything - kick drum, bass guitar, cymbal overheads, anything acoustic," he reports. "But I primarily used it for vocals. I've gotten more compliments from other engineers, producers and mastering guys on the vocal sound on this record than I've ever gotten on anything I've ever recorded."
The sonic quality of the microphone was immediately apparent to the band's lead singer/guitarist and erstwhile drummer, Dave Grohl, recalls Raskulinecz. "He's been singing for 15 years and noticed a big difference.
As soon as he sang into the ELUX 251 and listened to the playback, Dave said, 'I've never heard my voice sound like that before.' He really loves how his vocals have turned out."
Raskulinecz, who helped the Foo Fighters build a state-of-the-art private recording studio - dubbed Studio 606 by the band - in Los Angeles, recommended the Soundelux mic following 18 months of nothing but great experiences with it, he says. "When it came time to build the studio we were talking about getting a really nice pair of tube mics, so we got a matched pair of ELUX 251s. They're amazing, just fantastic microphones."
His initial encounter with the ELUX 251 came during tracking sessions in Los Angeles for "Meltdown," the 2004 album release by the Irish band, Ash. "The studio, Sound City, had one and I used it and was blown away by how great it sounded," he recounts. "We used it on Tim Wheeler's vocals. That's why I decided to buy one. And Tim ended up buying one because he loved mine so much, and took it back to his home studio in Ireland."
The engineer, whose extensive resume also includes Queens of the Stone Age, Velvet Revolver, Rancid, and Danzig, also used the ELUX 251 on the latest album by the Exies. "We did their record last year. It's doing really, really well. We used the ELUX 251 on the lead vocals and it just sounds amazing. You can get really loud on it, but you can also record really fine details."
The ELUX 251 recreates the sonic beauty of the fabled Telefunken ELAM 251, a classic microphone that is now costly to purchase - if one can even be found for sale - as well as to maintain. And due to the ravages of time, it can be inconsistent from one example to the next. Says Raskulinecz, "Before I purchased my ELUX 251 I got a loaner and rented five ELAM 251s. The ELUX 251 sounded better than all five of them and at a fraction of the cost. I use it in combination with the Martech MSS10 mic preamp. That's the perfect signal chain. That mic and that preamp is pretty much it for me, I don't need anything else." Jon Haber of Alto Music sold the mic to Raskulinecz.


The Man behind Soundelux
Tubes, Warmth, Action!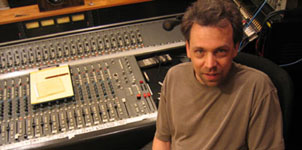 Having heard the popularity of Soundelux Mics, studioexpresso caught up with David Bock, engineer and co-founder of Soundelux Microphones (division of Ascend Media Group) to learn why he can't create these mics fast enough to keep them on the shelf!
He gave us the grand tour of his labs where these fabulous mics get built, tested and shipped. Additionally, Bock has set up a studio in-house where he cuts sessions using the famed mics. Nothing like R&D with what else, real musicians!


Bock made a name for himself working as a tech in some of the most famous studios in the US (Hit Factory and Oceanway). A big part of his job was repairing vintage mics over and over again, and making "this U47" sound like "that U47" when the client demanded it-tough job!
He knows mics inside and out, and uses his ears! So who better to create "New" vintage mics? "The real idea behind Soundelux is to recreate the entire "ideal" mic closet that was demanded at those famous studios but make it more pocket friendly," says Bock.
For more info email Brad Lunde, at LasVegasProAudio.com Phone (702) 307-2700 or (702) 365-5155 or Fax (702) 314-2764
Las Vegas Pro Audio is the direct sales division of TransAudio Group. It was created to serve as a conduit between extremely busy pro audio professionals and boutique high-end equipment manufacturers. TransAudio Group, founded by industry veteran Brad Lunde, has quickly become the premier U.S. importer/distributor for high-end audio.
Exec Screening Rooms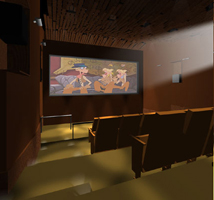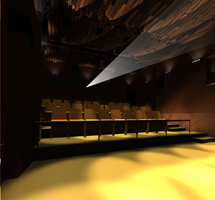 studio bau:ton The Walt Disney Company Screening Room, Amsterdam The Netherlands

studio bau:ton has recently completed the second executive screening room for the Walt Disney Company in Europe.
After having designed and planned a similar theater for the newly consolidated Disney operations near Eurodisney in Marne-la-Vallee outside of Paris, France, studio bau:ton has now finished its latest project, located near Amsterdam in the Netherlands.
Positioned on the top, 19th floor of a glass high-rise tower, the project overlooks the Dutch plains, canals and dikes of the central Netherlands, and Amsterdam's international Schipol airport in the distance. The heavyweight concrete and cement block theater box, entirely floating on steel springs for vibration control, is visible from the ground through the delicate glass curtain wall.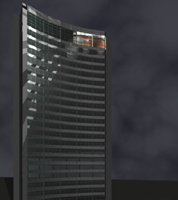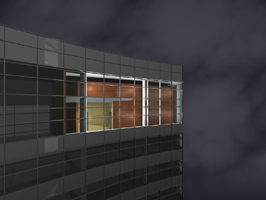 Inside the stepped 38-seat screening room, 35mm-film and digital video projection is available for the twenty-foot wide screen. The most striking and unusual feature is the undulating ceiling, composed of sound diffusing mahogany wood strips, arranged in a random pattern on four varying "clouds". Matching mahogany wood paneling complements sound-absorbing fabric walls, a lectern for live speakers and plush theater seating. A full surround sound system and an executive control panel round out the technical equipment, most of which is located in a separate projection and equipment room behind the theater.
studio bau:ton's expertise with complex technical requirements facilitated the project's planning, both architecturally and acoustically, as well as the coordination of the audio and visual equipment. The architecture and interior design of the project aim to provide an intimate and comfortable environment, yet with a unique and memorable twist.

For more information please contact: Peter Grueneisen, AIA (213) 251-9791
nonzero\architecture - studio bau:ton


Avatar Studios Buzz
Projects completed for Eigsti, Phish, Roberta Flack & Omni Soul...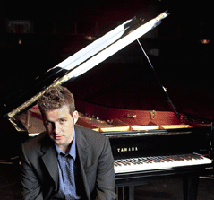 Taylor Eigsti
Producer/engineer Al Schmitt recently in with Concord Records' pianist Taylor Eigsti. Brian Montgomery handled Pro Tools operation.

Windup Records' band OmniSoul recently in Avatar studio A (Neve 8068) with producer Gregg Wattenberg and engineer Greg Gordon. Eddie Jackson assisted. Another Windup artist, Megan McCauley recently was in studio B (SSL 9000J) with producer Gregg Wattenberg where legend Donald Fagen camped out doing various overdubs with Avatar engineer Brian Montgomery, assisted by Eddie Jackson and Jim Keller. Diva Roberta Flack recently in lending her voice to a Mr. Rogers Tribute album. Avatar's Roy Hendrickson engineered assisted by Peter Doris. Engineer/mixer Chris Shaw recently in mixing a track for Nada Surf. Peter Doris assisted.
A series of live performances by Phish were being mastered by Fred Kevorkian in his new mastering room located on the third floor of Avatar Studios.

Viva Glam!
Viva Mac Aids Fund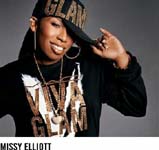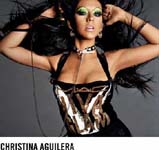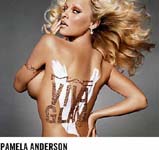 The M·A·C AIDS Fund, the charitable arm of M·A·C Cosmetics, appoints Pamela Anderson as its newest spokesperson for the VIVA GLAM V Lipstick advertising campaign. She will join the A-list roster that includes Christina Aguilera, Missy Elliott, Linda Evangelista, and Chloe Sevigny. Pamela's specific platform will focus on the importance of getting tested, getting results, and knowing your health status.

The M·A·C AIDS Fund provides vital support to men, women and children living with HIV and AIDS. Founded in 1994 by M·A·C Cosmetics, the fund has raised more than $44 million through the sales of the VIVA GLAM lipstick collection, Kids Helping Kids Cards and the M·A·C Deck of Cards.
The stars are out when it comes to marketing known brands. And it doesn't stop at makeup...the trend is contageous...from clothing, bags, shoes, the star power is definately in the air.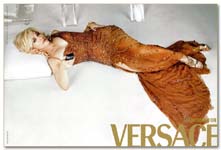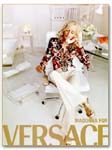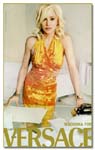 Material gilr is the new face of Versace for their new 2005 campaign (Photographed by Mario Testino). That's not to include artists with their own brands like JLO and Russel Simmons who also launched a special "reparations" sneaker brand in his clothing line. GlobalHue Advertising Agency named Mr. Simmons its Vice Chairman and Senior Team member of the Courvoisier Cognac Team, which pushes the cognac for Allied Domecq Spirits of North America.

I guess you could say...When Stars talk, merchandise walks!


Support Band Line Up for The Stones Tour


The Black Eyed Peas, Maroon 5, The Tragically Hip, Pearl Jam and the John Mayer Trio are among the acts that will hold down the opening slot on The Rolling Stones upcoming tour, which gets underway Aug. 21. Hip-hop act Black Eyed Peas will open the tour's two shows in Boston. Pop-rockers Maroon 5 will be on the bill in Hartford, CT, and Detroit, and will open along with Canadian rock act The Tragically Hip in Moncton, New Brunswick.
Grunge-rock holdovers Pearl Jam are scheduled to open in Pittsburgh, and singer/songwriter John Mayer will support in Philadelphia and Washington, DC. Tickets for San Francisco and Anaheim, CA, go on sale Sunday (5/22), while tickets for shows in Philadelphia and East Rutherford, NJ, go on sale Monday (5/23).
Vegas Baby!
Red Hot Chillie Peppers Rock the Centenial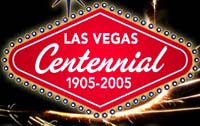 Las Vegas, aka "The Entertainment Capital of the World," turns 100 this year and the highlight of the Centennial Celebration will be a once-in-a-lifetime party that only Vegas can throw! On Saturday, July 2nd, Vegas will host a special concert event headlined by The Red Hot Chili Peppers. And because Vegas is the ultimate host, the City is giving their own gift to visitors and residents alike... this concert will be FREE!
Celebrity Design Collection
Benefit MusiCares






For years Angelwear has been working with some of the biggest artists in the world by asking them to contribute their very own designs for a range of hip clothing, unique greeting cards etc. to benefit the registered charity of THEIR particular choice. A little while back Red Hot Chili Pepper's Flea for example designed this quirky 'Dios Mio' fella for a range of t-shirts , boxer shorts and cards to benefit his baby The Silverlake Conservatory of Music, where kids (and adults!) from all walks of life can learn virtually any kind of instrument and experience the positive power of making music, regardless of their financial & social circumstances.
This year, Anthony Kiedis has come up with a suitably mysterious, cool character to adorn a range of T-shirts, which will directly benefit the charity close to Anthony's heart: the "MusiCares MAP Fund":
Established in 1989 by the Recording Academy, MusiCares provides a safety net of critical assistance for music people in times of medical, financial or personal need. Everyday, MusiCares helps people we all know - whether it's a young guitar player who is about to undergo surgery without health insurance; a veteran pianist whose hand injury will prevent him from performing for an extended period; the family of a beloved blues artist who cannot afford to pay for his funeral; or a songwriter who has found that substance abuse is consuming his life.
MusiCares MAP Fund Honors Dave Navarro And Goldenvoice
May 20 – 7 PM
The Music Box @ Fonda, 6126 Hollywood Blvd., Hollywood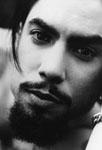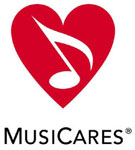 This inaugural MusiCares MAP Fund benefit concert will honor Dave Navarro with the Stevie Ray Vaughan Award and Goldenvoice with the MusiCares Heart Award (in memory of Rick Van Santen). Tom Arnold will be the master of ceremonies with special performances by Navarro, the Panic Channel, Jerry Cantrell, Chris Wyse and Stephen Perkins. All proceeds will benefit the MusiCares MAP Fund, which provides members of the music community access to addiction recovery treatment regardless of their financial situation. To purchase tickets, click here for the reservation form. For more information, please click here.



Venice Art Walk & Auction
A Full Weekend of Art, Cuisine, Music and More



Sunday, May 22 11 a.m. – 6 p.m.:
Westminster School 1010 Abbot Kinney Boulevard Venice, CA 90291

Over 400 original works of art donated by emerging and established artists from throughout the Los Angeles area will be auctioned off at the annual Venice Art Walk Art Auction held in conjunction with the self-guided tours. The diverse selection of works in the auction will include sculpture, paintings, photography and original animation cells and cartoons. The Venice Art Walk & Auction will feature self-guided tours of over 60 local private working studios and homes of notable Venice artists and private collectors and specially-curated weekend exhibitions that extend to the Venice canals in observance of the 100th anniversary of Venice, California. Renowned artist Robert Graham, who lives and works in Venice Beach, has contributed an image for the event's t-shirt. Noted Chicano artist Patssi Valdez 's work, The Dancing Tables, will be featured on the 2005 Venice Art Walk poster.
Enjoy gourmet cuisine from popular Westside Los Angeles restaurants. The afternoon will also include an al fresco cocktail garden and live jazz performances. A "deals and steals" silent auction will offer over 200 items including resort getaways and Hollywood Bowl box seats. A children's arts area will provide hands-on activity and entertainment

The Venice Art Walk & Auction raises funds for the Venice Family Clinic, the largest free clinic in the United States, and supports its work in providing medical care to uninsured individuals and families in Los Angeles County who would otherwise have no access to health care.

Tickets: Art Walk studio tour are $50 per person. All proceeds from the ticket sales as well as the art auction, silent auction and food and beverage sales support the Venice Family Clinic.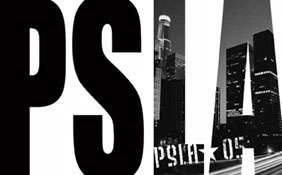 PAC Session Conquers Los Angeles
On June 11, 2005, Pacific Art Collective brings it's West Coast style of collabortive art events known as PAC Session to Art Share Los Angeles.

Representing LA's burgeoning Downtown Arts District, poets, live painters, bands & dj's will come together as one to celebrate art, music, and performance.
Pacific Art Collective, a non-profit arts organization dedicated to presenting live, cross-cultural performance events that create awareness for art districts, multi-disciplinary artists and venues. Art Share Los Angeles is a community arts incubator whose mission is to shape lives through art, education and community action.
Look for Live Music:
» SLOW MOTION REIGN los angeles | rock + alternative
» REMOTER san jose | rock + indie
» INQ san jose | rock
» ONEPOUNDPENNY los angeles | rock + hip hop reggae
» TBA los angeles
For more info http://www.pacificartcollective.com/psla05.htm
CMJ
Cleveland, Ohio
June 8-11






Tickets to the Festival Village are $10 per day and can be purchased through Ticketmaster www.ticketmaster.com VIP to All Access Passes avaialble $99-149

Toga Man!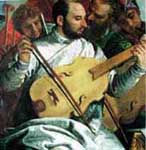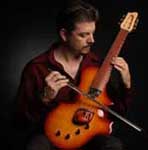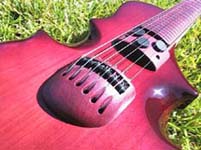 L-R: Masterpiece painting "Noces de Cana"; Jonathan Wilson with TogaMan GuitarViol #2;
If you hear any 'string sounds' while watching CSI, it might just be......a TogaMan! Another amazing film composer/guitarist/virtuoso playing a TogaMan is Heitor Pereria (who often works with Hanz Zimmer). You can hear Heitor's amazing talent in the movie "Spanglish" "Somethings gotta give" and "Bridget Jones Diary". Now that he has a TogaMan, you may very well be hearing at TogaMan at the movies in the near future.
"On May 4th, Yours truly just cut some eeeerie tracks (on a TogaMan Guitar Viol of course) for a movie pilot that my good videographer friend Terry Davis is involved with. (Terry works for a production house that does "Real World" on MTV)," says the founder of Toga Man himself, Doctor Bow (aka Jonathan Wilson).
Jimmy Page. Sigur Ros. Julio Revueltas. These are just a few contemporary examples of modern electric guitar players who are noted for weilding a bow to the guitar. The fact is, however, that "guitar bowing" has been going on for centuries. In the early 1500's, Paolo Veronese painted his masterpiece painting "Noces de Cana". Noces de cana is a depiction of the wedding feast in the Bible where Jesus turned the water into wine. In this painting, Paolo included a portrait of himself wearing a toga and playing a curious guitar-like instrument with a BOW. Often referred to as a "vihuela de arco" or "treble viol", these were essentially guitars (of the day) that were designed to be played with bows. This practice had its origins in 15th century Spain where Moroccan bows were imported and wielded to these early guitars. This important (albeit lesser known) part of the guitar's family tree grew into a family of instruments called viols. Like today's guitars, they were very popular for many of the same reasons that the guitar is popular today. By the 1700's, these heavenly sounding bowed string instruments all but died off due to the modern violin family's greater volume and ability to fill a concert hall with sound.
"I'm working on an acoustic version. The electric ones sound very close to acoustic. My mission is to bring creativity and art back to music," says Wilson. For more info visit http://bowedguitar.com/



Sail On Spars!



The Board of Directors of SPARS, (the Society of Professional Audio Recording Services) visited the campus of Full Sail Real World Education in Winter Park, FL April 22 for a tour and a panel discussion with students in Full Sail's Recording Arts program.
Representing markets from across the country, the panelists comprised SPARS President Andrew Kautz of Nashville's Emerald Entertainment, Treasurer Leslie Ann Jones from the Bay Area's Skywalker Sound, Steve Davis of Atlanta's Crawford Audio, and Kevin Dillon of Miami's Crescent Moon Studios. Representing New York were Remote Recording's Karen Brinton and Mark McKenna of Allaire Studios, and Los Angeles: Kevin Mills of Larrabee Studios, Maureen Droney of East Iris Studios/House of Blues Studios and Jeff Greenberg of The Village.

For more information about the Society of Professional Audio Recording Services visit www.spars.com.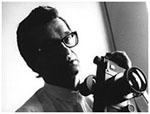 "No matter how far the horizon, it was the things in the foreground, every rock and every shrub, that became important to me..... In the course of taking these pictures I, the photographer, became totally transparent as a subject."
--Wim Wenders

Most of Wim Wenders' photographs are created during his personal travels and while location-scouting for his films. A great part of the resulting body of work has been published in several books and exhibited in museums and galleries all over the world.