Hail Heil Sound
Affordable, Natural-sounding, Dynamic Microphones Now Available through TransAudio Group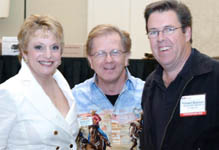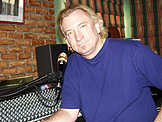 l-r: Sarah and Bob Heil of Heil Sound with Brad Lunde, president of TransAudio Group, their distribution partner; Joe Walsh using GM Pro

What do Celine Dion, Janet Jackson and Erykah Badu have in common? They are all clients of TransAudio Group, the premier high-end audio product distributor and importer who recently added Heil Sound to its choice line.
Heil Sound's innovative Proline microphones are the brainchild of industry legend Bob Heil, who has developed a series of affordable, natural-sounding, dynamic microphones that outperform, not only the many cheap condensers flooding the U.S. market but also, industry standard models that cost many times more. The mics are in stock and ready to ship. Formal introduction will be at the 119th AES Convention in NYC, Booth #851.
Heil Sound's professional grade PR 20, PR 30 and PR 40 have been developed for broadcast, recording and live sound applications over the last couple of years by Heil, working in close collaboration with his longtime friend, fellow amateur radio enthusiast and musician, Joe Walsh. Heil has been manufacturing quality microphones for the communications and amateur radio markets for over two decades. And has brought that experience to bear on the new Proline models, which combine innovative microphone technology and high-quality components to produce a wide frequency response and excellent transient response with low intermodulation distortion.

Heil attributes the outstanding performance of his PR microphone line to his years of ear training as a protégé of renowned St. Louis-based theater organist Stan Kann, beginning in the 1950s. Heil, who still performs, subsequently put that training to use with Heil Sound, a pioneer in the development of quality, multi-kilowatt performance sound systems during the 1960s. During that period, Heil developed one of the first multi-channel live mixers with Tomlinson Holman, toured with the Grateful Dead and The Who, among many, many others, and, legend has it, supplied Showco with that company's first major PA system.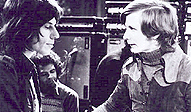 Bob Heil with Jeff Beck circa 60s

TransAudio Group, recently signed an agreement to distribute Heil Sound's professional line of microphones throughout the United States.

For more info on Heil Sound, please email Brad Lunde, president of Las Vegas ProAudio or Phone (702) 307-2700 or (702) 365-5155 or Fax (702) 314-2764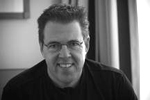 Las Vegas Pro Audio is the direct sales division of TransAudio Group. It was created to serve as a conduit between extremely busy pro audio professionals and boutique high-end equipment manufacturers. TransAudio Group, founded by industry veteran Brad Lunde, has quickly become the premier U.S. importer/distributor for high-end audio.
TransAudio Group's product lines include A-Designs (USA) AEA ribbon microphones (USA), ADT Toolkit, AEA, ATC Loudspeakers (UK), Brauner microphones(Germany), Drawmer (UK), Geoffrey Daking & Co. (USA), George Massenburg Labs (GML) (USA), Heil Sound (USA); Mercury Audio (USA) Mission Audio (UK) Phoenix Audio (UK), PAULY Superscreens, SABRA SOM, Soundelux (USA), SoundField Microphones (UK), Z-Systems (USA) and Weiss Engineering.
The Master Imagician
Branding A Madonna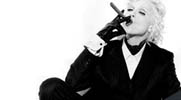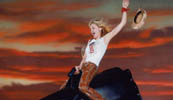 R: Madonna With Geldof at Live8 and a new photo taken for the July issue of LHJ
Madonna may have not made Hilburn's top 20 Pop Elite list (Sunday Times Calendar 7.24), dominated by Usher and Keys (top music execs interviewed put their bets on today's top entertainers), but she takes the lead when it comes to reinvention and longevity. Her latest magazine cover in the July issue of Ladies Home Journal is probably the least likely place one would expect to see the Queen of Pop. Sexy, Fun, Alluring, Shocking...demure wife and mother living in the countryside a la Martha Stewart?







?!
Yup, Madonna is at it again. She may have come full circle with her images but as soon as she settles her fans into believing the perfect image for a Madonna, voila comes the surprise!
Hands down, this master magician is the Pop Diva who has no rival. And she invented the Golden Rule: REINVENT. The quality often lacking from most of the artists on Hilburn's list (the hope is that these top contenders will manage to stay in the game for 10 years or more), that is if their label bosses care for longevity or they themselves can hold jobs for that long.
Meantime, Madonna is always in charge of her calculated branding that somehow stays true to who she is in the many phases of her colorful life and career. Perhaps good artists know that it's not about lists, awards or even sales...it's about how long you can keep your fans wanting more and still manage to have FUN. Lady M, Strike A Pose!


Back to School With Train's Drummer
Going Online at Berkleemusic.com
Interview by Susan Gedutis Lindsay
Intro and photo by Mr. Bonzai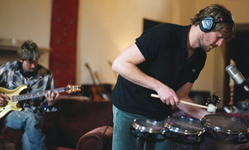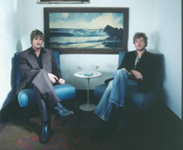 Scott Underwood in the studio

Since their 1994 formation in San Francisco, the group Train has grown steadily as a locomotive force in music. By 2000, their debut, self-titled album had gone Platinum. The band's second album, Drops of Jupiter, appeared in 2001, also going Platinum, with the single "Drops Of Jupiter (Tell Me)" spending 53 weeks on the Hot 100 and earning a Grammy as the Best Rock Song of the year. My Private Nation was released in 2003, firmly establishing Train as one of the premiere rock bands of the new millennium. The song "Ordinary" from Spiderman II further burnished the band's impact in the music world.

Train is currently in the writing and pre-production mode for their much anticipated fourth album. The band's talented drummer/composer Scott Underwood has been studying online at Berkleemusic.com and has incorporated his new skills into the interactive Internet mode of Train's collaborative composition style. In addition, Underwood has teamed up with Train's bass player Charles Colin (a Berklee grad) to form the experimental two-man group called Foodpill.

Scott Underwood Interview:

"When Train is in the midst of promoting a record, I'm on tour most of the time. It's relentless. I'm a self-taught musician, but I always wanted to learn music properly. I want to be better, every day. Unfortunately, I can't take time off from Train to go to Berklee. Therefore the online courses were perfect. I could just take the school with me all over the country. With just a MIDI keyboard and a laptop, I took three courses-Music Theory, Pro Tools, and Berklee Keyboard Method-in one semester. It was so fulfilling. Sometimes when you're on tour, the days are just really slow. Berkleemusic courses helped me to fill them with meaning.

I have absolutely been able to apply the things I've learned online to Train records. The Berklee Keyboard Method was extremely stimulating. I would start out working on simple concepts like chord inversions, and I would skirt away from the assignment, and end up working on a song for a few hours. In the Pro Tools class, we'd have to compose something for every assignment. I'd be working on an assignment and end up writing a piece of music. A lot of the music I've written in the Berkleemusic courses has contributed to the songs on the next Train record.

At first, I was skeptical about whether I was going to learn something online. I wondered how you would deal with your professors, and how you would learn. It seemed like it would be very isolated and weird, but once I started, I discovered it was a great thing. It's almost like school's open 24 hours a day. It was surprising how well it worked out-how convenient it was and applicable to what I'm doing professionally.


My professors were very responsive and the relationship felt personal. Paul Schmeling was really great, and knew my strengths and would encourage me in areas I needed to work on. We correspond by e-mail and it feels like normal dialog. With my Pro Tools professor Dave Franz, after the classes were over, I asked him if he would check out my newest CD with my side project, Foodpill. That recording is really an extension of the work I did on keyboard and synthesizers in the Berkleemusic classes. Foodpill (www.foodpill.net) also came out of learning how to manipulate music using Pro Tools, and all of the great tricks and tools that make music really innovative.

Next, I'm taking the Future of Music and the Producing Music with Reason courses. With the climate of the music industry right now, Train is looking for new, interesting ways to get ourselves out there. Even our record company, Columbia, who's one of the biggest in the world, is struggling with the same idea. A lot of musicians are finding the rewards of independent self-promotion. I think Berkleemusic is going to really help me in that area. I'm really looking forward to that."


Berkleemusic's fall semester enrollment ends on September 15th. For more information visit www.berkleemusic.com, or call 1.866.BERKLEE to speak with an admissions advisor.





Designing For Composers
Zimmer, Newton Howard, Walden and Morgan Enlist studio bau:ton & nonzero\architecture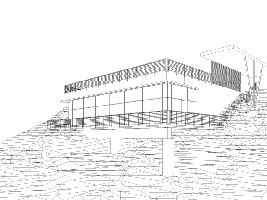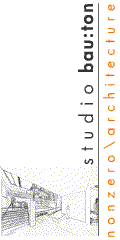 Walden Studio Plans

studio bau:ton and its design entity nonzero\architecture, are currently working on several facilities for well known film and TV composers.
In Santa Monica, another room is being added to renowned film composer James Newton Howard's facility, which was originally designed by studio bau:ton in 1996.

A few blocks down the street, 'Batman'-collaborator with Mr. Howard, Hans Zimmer, a highly esteemed composer, is also expanding and renovating his multi-room studio complex, Media Venture, with the help of nonzero\architecture.
Meanwhile, high in the Santa Monica Mountains, a residential studio building is being planned for Big Band leader and film/TV composer Chris Walden, whose work is known in the US as well as in his native Germany.
Mark Morgan, currently composing music for TV's 'One Tree Hill', has also engaged the bau:ton/nonzero team for the build-out of his personal studio in Malibu, to be completed later this year.
And in the East, Dave Matthews Band drummer Carter Beauford is putting the finishing touches to his personal studio, also designed by studio bau:ton. The facility is intended for film and TV scores as well as for music rehearsals and recording.
nonzero\architecture and studio bau:ton's expertise with audiovisual facilities and its fresh approach to architectural challenges are key factors in the successful designs for these complex and multifaceted projects. Previous projects for the film music community include the Fox Newman Stage, studios for Patrick Williams, Dieter Meier, David Newman, and screening rooms for Disney and David Lynch among many others.

For more information please contact: Peter Grueneisen, AIA nonzero\architecture
studio bau:ton, LLC T. (213) 251-9791 F. (213) 251-9795


Hugh Masekela Records Live at Bernie Grundman's
New Album is Debut for Straight Ahead Records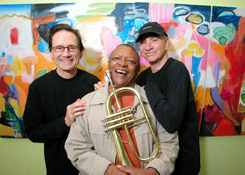 l-r: Bernie Grundman, Hugh Masekela, and Stewart Levine.
Photo by David Goggin
Hugh Masekela recorded his new album, Almost Like Being in Jazz, in the spacious lounges of Bernie Grundman Mastering Studios. The live album, produced by Stewart Levine, was simultaneously recorded to two-track analog tape and high-resolution 24-bit 96K digital, in much the same way as the great direct-to-disk recordings of the past.

The new album is the debut release from Straight Ahead Records, formed by renowned producer Stewart Levine and mastering engineer Bernie Grundman. Levine first worked with Masekela on "Grazing In The Grass", which topped the charts in 1968 and eventually sold four million copies worldwide. Levine and Grundman have been mastering albums and working together since 1975.

"We started this record label," explains Levine, "because we share a passion for the great sounding records of that Golden Age of Recording, the late 1950's." Bernie Grundman adds, "Our signal path uses a unique shared electronic circuitry that enables us to use multiple microphones, but with less overall electronics than with two. The signal goes direct to separate computers for high resolution and standard CD formats and to our analog tape machines for making vinyl. The recordings are truly for the discriminating audiophile."

The album is available both as a 2 LP set mastered by Bernie Grundman on an all-tube cutting system and pressed on Classic Records 200g Super Vinyl Profile and as a Dual Disc containing CD quality audio on one side and high resolution 24/96 quality audio on the flip side Bernie Grundman Mastering 323.465.6263
To purchase Almost Like Being in Jazz, visit www.themusic.com/groove

ATC Atop Miles' Penthouse Studio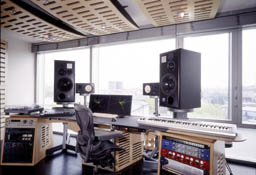 Italian eclectic producer/DJ Robert Miles put together one of the biggest hits of the nineties with his monster single "Children," and was rewarded with a Brit Award in 1997. Several albums and identities later, he is now permanently residing in London, and has put the finishing touches on a new private recording studio, where he is starting work on his new solo album. Describing himself as a '360-degree composer/producer,' Miles is also DJ-ing regularly, producing for his own label S:alt Records, (www.saltrecords.com) and composing music for advertising and film projects.
From its penthouse location, the studio has spectacular views over the city. Alongside the signature wood panel finishes from designers, Recording Architecture, the room is dominated by stand-mounted ATC SCM100 three-way studio monitors, continuing a theme from Miles' previous studio in west London, which featured the larger ATC SCM300s.
Robert was introduced initially to ATC monitors by Roger D'Arcy of Recording Architecture, who also created the design for the earlier studio. "So many systems sound good when you play the music loud, but not as good when you work at low volume. ATC monitors maintain the quality sound at low levels and don't have any coloration. What you hear is the truth."
Although his priority is his solo project, Robert Miles welcomes many collaborators to his studio, including Bill Laswell, Nitin Sawhney, Trilok Gurtu, Jon Thorne and Robert Fripp, with whom he is planning an album, and producing new material for up and coming artists.
A 'digital domain' user for eight years, his minimalist studio is designed around a MAC G5 double processor, Digidesign HD192kHz audio interface + Pro Logic Pro 7 system, with copious quantities of plug-ins, "all to simulate the analogue sound. I love the digital domain for its limitless options, and try to get what I want through a combination of digital mixing and processing/mastering with analogue machines to warm up the sound. Today all you need to mix is a powerful computer, an audio/midi interface like Pro Tools/Logic and as many plug-ins as you can get."


For more info on ATC monitors, please email Brad Lunde, at Las Vegas Pro Audio or Phone (702) 307-2700 or (702) 365-5155 or Fax (702) 314-2764

The Spiritual Wave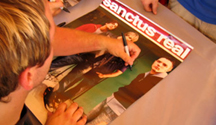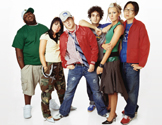 l-r: Sanctus Real, Superchic and Audio Adrenaline

Brentwood, Tennessee-based EMI CMG Label Group is comprised of the Forefront, Sparrow and worshiptogether labels and is a division of the EMI Christian Music Group. EMI Christian Music Group is the world's largest Christian music organization and includes EMI CMG Distribution and EMI CMG Publishing in addition to EMI CMG Label Group. It is part of EMI Group, the world's largest independent music company whose other U.S. labels include Angel, Astralwerks, Blue Note, Capitol, Capitol Nashville, EMI Latin, Narada and Virgin Records. Here's few bands contributing to the charts, tour circles and more...
R & R's most played Christian Rock band of 2004, Sanctus Real received four GMA Music nominations and walked away with a Modern Rock Album of the Year win for its current, critically acclaimed album Fight the Tide. With three No. 1 radio hits in just over a year under their belt ("Everything About You," "The Fight Song," "Beautiful Day"), Sanctus Real members have become well known for their captivating live performances, even capturing the attention of both the CBS Early Show and MSNBC. The readers of CCM magazine have also voted Sanctus Real "Best New Artist." More information on the band can be found at www.SanctusReal.com.
The energetic, pop-punk band Superchic[k] continues its genre-busting journey with recent release, Beauty From Pain. The album, featuring the No. 1 radio hit, "Pure," showcases Superchic[k]'s unique, new wave/rock sound coupled with positive, uplifting lyrics. The band has gained further critical acclaim through exposure in various movie, commercial and TV soundtracks, most recently with Disney's Ice Princes and Stuart Little 3. Superchic[k] is currently traveling the summer festival circuit. New singles, "Anthem" and "We Live," are at radio now. More information can be found at www.superchickonline.com.
Since the band's Dove Award-winning 2001 debut, Above, Flicker Records artist Pillar has seen unprecedented success in every aspect of its career. With five No. 1 radio singles and seven Top 5 hits to its credit, Pillar has earned an additional two Dove Awards, headlined six national tours, performed for more than two million people, and been featured on the covers of Radio & Records, Rockline Magazine, CCM Magazine, 7ball Magazine, Breakaway Magazine, HM Magazine, and Christian Retailing Magazine. The band has also received print coverage in Rolling Stone, Spin, Bass Player, and Hit Parader. Pillar recently wrapped the "For Those About to Rock Tour" featuring Thousand Foot Krutch and will appear main stage at all major festivals this summer. Its latest project, Where Do We Go From Here: Limited Edition, released May 24 and already claims a Top 10 song, "Bring Me Down (The Underground Mix)," at Rock radio. For additional information on Pillar, the limited edition CD/DVD, and a complete itinerary of upcoming events, visit www.pillarmusic.com or www.flickerrecords.com.
GRAMMY Award-winning Audio Adrenaline kicks into fall, headlining its "Until My Heart Caves In" 20-plus-city major market tour. The band is touring in support of their highly anticipated, ninth studio album, Until My Heart Caves In, releasing on ForeFront Records August 30. Take a full throttled blast of musical passion, meld it with a compassionate desire to impact the world at large and add members' rock-solid grounding in reality with their vulnerable, no holds barred songwriting and the results comprise what fans can expect from Audio Adrenaline's nucleus. Thanks to earnest performances and undying appreciation for its fans, the group has sold over three million records and racked up 18 No. 1 singles. Add in an RIAA Certified Gold sales award and the prestigious "CCM Song of the Decade" crowning in the 90s ("Big House"), and Audio Adrenaline has consistently proved its relevance, artistry and heart. The band is also well known for its humanitarian aid, launching the Hands and Feet Project that is dedicated to helping orphans in Haiti. More information on the band can be found at www.AudioA.com.


The most anticipated album of the year is on the way! Gospel Music Association's 2005 Artist of the Year, Switchfoot, is poised to release Nothing is Sound on September 13. "Stars", the first single from the album, will hit radio in late June. Nothing is Sound, is the San Diego band's follow up to the breakthrough album The Beautiful Letdown, which has sold over 2.5 million records. Catch Switchfoot this summer as they perform at four of the season's biggest festivals (Creation, Cornerstone, Alive and Sonshine). The DualDisc featuring the entire album in 5.1 Surround Sound offers exclusive behind-the-scenes footage of the band on-the road and in the studio. The band wound up recording parts of the album in unfamiliar locales as far away as South Africa, and other parts as close to home as one can get--Foreman's San Diego bedroom. Steven Miller (Andy Narell to Backstreet Boys) engineered for John Fields, who produced The Beautiful Letdown, oversaw the sessions and put them all together for Nothing Is Sound. "If you can combine the more-professional-sounding elements with the honesty of doing it yourself, those are the best records," Foreman asserts. "They're honest and pure but listenable."

Le Mobile GML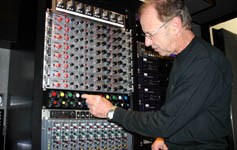 Guy Charbonneau's Le Mobile GML-dominated rack from a recent Josh Groban show.
Le Mobile is one of the most in-demand remote recording trucks in the country thanks to its long established reputation for offering only the highest quality sound for the past . But while owner Guy Charbonneau has invariably relied on his highly customized classic Neve analog console to provide EQ when necessary, he recently broke with tradition and installed a GML 8200 dual-channel, five-band parametric equalizer alongside his dynamics processors and effects gear.
Charbonneau was familiar with the George Massenburg Labs GML 8200, of course, as the equalizer has become an industry standard since its release twenty years ago. "Over the years we would rent it," recollects Charbonneau, who went into business with the award-winning Le Mobile more than thirty years ago. "But I think my appreciation for the GML 8200 came on the first Josh Groban project that we did, maybe four years ago." The experiences recording with Groban prompted Charbonneau to try the EQ unit again on another project. "I did a show with Shelby Lynn, using the Design FX truck. I said to Scott [Peets, Design FX recording director], bring me a GML. I'm going to use it on the overheads. I used it with GML preamps and a pair of [Neumann] TLM 170 microphones. I liked what it did." "We ended up buying one," he continues. "It's in the rack and I'm proud to have it.

According to Charbonneau, Gattica is a regular user of the GML 8200, using the equalizer on the key main vocal and overhead input channels. "With Humberto, I normally do the setup and the soundcheck and EQ everything. When I do a show with him I call Westlake and order a GML EQ and a Boulder preamp for the vocal chain. Same with the overheads; it's a pair of GMLs and TLM 170s and a good set of preamps. Humberto will sit at the console and just tweak the GML. He'll rarely change anything else.

Charbonneau is constantly busy producing music for CD, DVD 5.1 surround, motion picture soundtracks, internet and television music specials with Le Mobile, and is currently mixing a DVD of the Austin City Limits Festival.
Over the years, Le Mobile has built up an enviable client list, including solo artists such as Eric Clapton, Peter Gabriel, Madonna, Rod Stewart, Roger Waters and Sting, plus bands such as The Rolling Stones, U2, Aerosmith, The Grateful Dead, The Eagles, Fleetwood Mac and many, many others.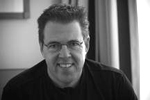 For more info on GML product, please email Brad Lunde, president of Las Vegas ProAudio or Phone (702) 307-2700 or (702) 365-5155 or Fax (702) 314-2764


From Russia With Love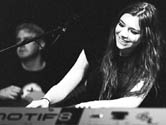 Most of us are familiar with the image of Russian spies in 007 movies or Baryshnikov on the dance floor, but when it comes to the next female alt/pop singer/songwriter...say DA (yes) to MarinaV!
Her well received acoustic shows in and around LA and Orange County club circles are making noise. One of her songs, "Simple Magic" (co-written with guitarist Nick Baker) has been recently added to EuroHits channel of DMX, satellite & cable broadcaster with worldwide daily listening audience of 80 million. She was recently featured in the Keyboard Magazine, which called her "one of the most promising singer/songwriters of the year". She has also been named as one of the HOT 100 Unsigned Artists by Music Connection and is a proud recipient of the ASCAP popular award for 2003-2004. Marina's songs can be heard on MTV (the Real World), films and radio stations such as XM Satellite Radio. The twenty-four year-old chanteuse is officially endorsed by AUDIX microphones, Peavey products and YAMAHA digital pianos.

Marina grew up in Moscow singing and making up her own melodies before she could talk. Influenced by the Beatles and Tchaikovsky, Marina's style is a mix of Tori Amos and Liz Phair with compelling vocals and writing that could be developed into something very unique.
After sending hundreds of demos to the music industry, Marina caught attention of manager David Krebs who's been involved in careers of Don McLean, Trans-Siberian Orchestra and Aerosmith, among others. Earlier in April, Marina released "Simple Magic", with two songs on the CD produced by Jack Douglas (John Lennon, George Harrison, Aerosmith). The new cd is comrpised of songs written and arranged by Marina who plays keyboards and guitar. Another thing this girl has going for her is her drive...she even offers fans Russian Chocolates at each show! Looking forward to the next release, Marina! For more info visit: http://www.marinav.com/


Art, Religion, Music and Architecture
Short Cut To Nirvana
A Single Act of Faith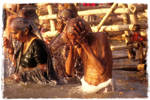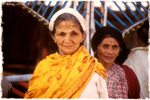 Award-winning documentary reveals the single act of faith that is believed to cleanse the sins of a thousand lifetimes and secure release from the endless cycle of rebirth – literally a shortcut to the state of purest bliss… nirvana.

The Kumbh Mela is the biggest gathering of people in the history of humanity, although few in the West have ever heard of it. More than 70 million pilgrims attend this extraordinary spiritual festival, which has been held every 12 years for over two millennia.
Short Cut to Nirvana: Kumbh Mela provides a sensory entrée to spiritual India in a swirl of color and motion, song and cacophony, the sacred and the surreal.
Director Maurizio Benazzo & Nick Day tell the powerful and uplifting message of harmony, unity, and peace for all humanity. A photography exhibition will accompany the film in select cities.

studioexpresso was on hand at the July screening in Ojai to learn about the DVD release which will include a 5.1 Dolby Digital version of the film as well as many extras, including extended interviews with some of the featured spiritual teachers.
For more information, please visit "Shortcut to Nirvana" or email CarmaDVD


NAB Radio 2005 Show Preview
Pennsylvania Convention Center, PA
September 21-23



Spotlight will be the remarkable AEROMAX-HDFM(tm) Multichannel Digital Processor from Linear Acoustics, which incorporates programmable audio processing for a station's main FM and HD/Digital Radio signal paths, in addition to separate multiband processing for up to two supplementary audio channels. The unit also provides 5.1-channel surround-sound encoding via built-in SRS Labs Circle Surround(r) technology. AEROMAX-HDFM received a "Cool Stuff" Award from Radio World newspaper at the NAB2005 Convention. The Award signifies that a product was selected by a panel of engineers and industry experts as notable for its design, features, cost efficiency and performance in serving radio users. According to Radio World US Editor-in-Chief Paul McLane, "It means that product caused them to stop in the aisles and say: 'Oh, cool!' "



Of Piracy and Plundering
Hosted by EIBC and Century City Chamber of Commerce



Entertainment Industry Business Council (a collaborative partnership between the Century City, Los Angeles, Hollywood, West Hollywood, Santa Monica and Beverly Hills Chambers of Commerce) & Century City Chamber of Commerce hosted a luncheon on June 30th at the House of Blues. The main dish: Piracy and the plundering of the entertainment industry.
Moderated by Hollywood Reporter's Robert Dowling who believes that we haven't personalized piracy, the Panelists included: Glen Ballard, Grammy winning producer/songwriter (best known for his triumphs producing Alanis Morissette's multi-Platinum Jagged Little Pill --more than 28 million sold), Dean C. Garland, VP and Director, Legal Affairs, Worldwide Anti-Piracy, Motion Picture Association of America, Chief George Gascon, Los Angeles Police Department Henry Kupperman, J.D., C.F.E. Senior Managing Director, Kroll and Representative, Recording Industry Association of America
Motion Picture Association of America and its international counterpart, the Motion Picture Association, estimate that the U.S. motion picture industry loses in excess of $3 billion annually in potential worldwide revenue due to off-line piracy activities and Internet losses (China mentioned as one of the bigger culprits) are further causing untold additional damages to the industry. Billion dollar losses from other entertainment product piracy are severely impacting creators, producers, investors and distributors of digital music, electronic gaming, entertainment related merchandise and other online entertainment media.
Most on the panel agreed: Piracy is driving up the investment and profitability risk for entertainment creation and threatening industry job growth. They discussed the latest anti-piracy policies and technologies needed to safeguard the entertainment industry from the plundering of its gold.



Katy Perry
studioexpresso caught up with Glen Ballard who has been developing Katy Perry under her Java label. At the Chamber luncheon Ballard remembered many of his friends who have lost jobs and remained hopeful. The only producer/songwriter on the panel, Glen managed to maintain his sense of humor. "Three things you should never see how they're made: Laws, sausages and albums. All go through a bloody process," says Ballard.
What do you get when you combine a prolific powerhouse percussionist, a legendary producer/engineer, and a world-class recording studio?
In the case of Sony Media Software's "Drums from the Big Room" - a five-disc loop collection performed by Steve Ferrone and recorded by Greg Ladanyi at O'Henry Sound Studios - you get more killer, original, and royalty-free drum tracks than you can shake a drumstick at.


Bratz Rock!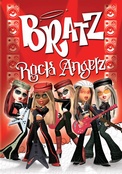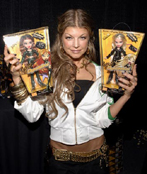 Black Eyed Peas' Fergie is showing off her bratz!

MGA Entertainment, the creator of Bratz, is holding a Charity Bratz Auction on Ebay for 35 Celebrity Signed Bratz Dolls beginning on the 24th of March 2005. This Charity Bratz Auction will benefit the victims of the Tsunami disaster through the charity Save The Children: Tsunami Relief Fund.

These dolls will be signed by artists like Alicia Keys, Sheryl Crow, Jennifer Lopez, Marc Anthony, Ricky Martin and a host of other artists. How did this auction come about? In case you didn't know, MGA Entertainment's Bratz sponsored this years Grammy Awards Gift Lounge at the Awards Show in LA. They got these dolls signed by all the celebrities there. And since Bratz genuinely cares about the world and the children, it was decided to donate 90% of the auction proceeds off to charity.


Look for a rock album release from the Bratz Rock Angelz this summer. The DVD Retail at $19.98 and available 9/13/05.


Starbucks' Music Blend
Chain boosts sales for established and new acts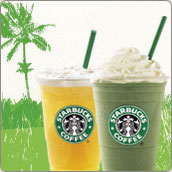 Starbucks, already the world's largest chain of coffee shops, has emerged as an improbably potent force in the music business, able to resurrect careers, enrage music retailers, and now the company hopes to create new stars. When Concord Records Inc President Glen Barros was considering to sign an Italian pop singer Zucchero, the licensing commitment from starbucks help seal the deal. This was not the first time Borros had worked with the java giant. Last summer, his independent jazz label joined with Starbucks to produce and distribute "Genius Loves Company," a collection of duets between the late Ray Charles and performers such as Norah Jones. Helped by the biographical film, "Ray," and attention about Charles' death, the record sold nearly three million copies - about a quarter at Starbucks stores - and in February won eight Grammys. That performance grabbed the attention of a music industry that has seen sales sink by 13% since 2000. The latest albums by Coldplay and Carole King are now in Starbucks. Two disc by Bob Dylan are due in stores next month.

The chain also offers some exclusives, such as an album by New York rock band Antigone Rising. The CD, which Starbucks co-produced with Warner Music Group Corp.'s Lava Records, has sold more than 70,000 copies - a remarkable start for an unknown group with little radio support and a limited touring schedule. One record exec calls Starbuck "the new cute girl that everyone wants to take to the dance."
In music, the company has been careful to cultivate what its execs call "the Starbucks Sound" - an aesthetic that's recognizable and appeals to mostly adult customers: moderately eclectic, often jazzy, and never noisy enough to disrupt a quiet cup of coffee!
It isn't clear how much money, if any, Starbucks makes from music. Estimates are that music will account for less than 2% of Starbuck's US retail sales of $4.5 billion during fiscal year 2005.
EMI's Mr Quartararo says every time one of his company's releases has been sold at Starbucks, the coffee chain has been among the top four retailers selling it. In some weeks, the chain was responsible for almost 50% of newcomer Amos Lee's total sales, but only 6% of the 1.5 million US sales of Coldplay's new "X&Y." Why do record companies like doing business with the coffee company? For one thing, Starbucks says it shifts unsold CDs to other stores or keeps them in a warehouse if it thinks they can be sold at a later date. For that reason, a well as the scale of its operation, Starbucks often receives favorable wholesale pricing terms. In some cases, Starbucks pays the record company half the suggested retail price, which can mean the equivalent of $3 less than the wholesale price. In a sales environment in which retailers from Amazon to Target routinely discount CD's Starbucks often charges customers close to and in some instances more than the full retail price. Beck's "Guero" album carried a list price of $13.98, while Starbucks sold it for $15.95. But, Starbucks customers who spend an average of $4 per visit to the store on drinks and food, have proved themselves willing to pay full freight for a CD.
Starbucks bought Hear Music for $8million from Don MacKinnon, a young music wonk who had spent hours in his Williams College dorm room mixing tapes of his favorite songs. He later opened stores in San Francisco, Chicago and other cities to sell compilation CDs.

Earlier this year, some music retailers were incensed that Starbucks was given a six-week window beginning last month to exclusively sell the new acoustic version of Alnis Morissette's best selling record, "Jagged Little Pill." In Ms Morissette's native Canada, the country's largest music retailer, HMV Group PLC, pulled her other discs from store shelves in protest. Ms Morissette says she looks forward to continuing a "mutually gratifying relationship with traditional retail outlets" and she'll "also continue to come up with other new and creative ways to share my music."


Point Click & Connect
Mobot lets fans order tix, CDs using mobile phones...WEA and Tower Sign Up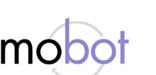 Want the latest ringtone from your favorite artist? Take pix of the CD or poster with your cell phone and voila! Or how about entering to win tix to VANS Wraped Tour?

Massive tours and huge outdoor festivals like the VANS Wraped Tour have become a summer ritual, attracting hundreds of thousands of people each summer. Now WEA and Tower Records make it easy for music fans to get their hands on albums by bands on tour in advance of the concert and to relive their experience at the show. CDs from performing artists from the summer tours are available in custom standup displays nationally at all 83 US-based Tower Records stores now through August.
These 6-foot stand-up displays are the focal point for the "Get Your Hands On The Bands" sweepstakes powered by Mobot, a leader in visual search and recognition technology. Customers visiting Tower Records stores can enter to win by taking a picture with their mobile camera phone of the official "Get Your Hands on the Bands" logo located on the retail displays. Mobot's visual search and recognition technology recognizes the image and, within seconds, sends back a message to the phone confirming entry into the sweepstakes.
An alternate method to enter the sweepstakes is to take a picture of the full-page 'Get Your Hands on the Bands' advertisement running in the August issue of Alternative Press magazine (street date July 7) or enter online at www.tower.com [ http://www.tower.com/ ]. The sweepstakes ends July 21st and one lucky entrant will win a trip for two to New York City on August 13th to see Transplants and My Chemical Romance appearing as part of the VANS Warped Tour.
"The Mobot sweepstakes is a brilliant idea! It's easy to understand and a fun way for fans to participate. We expect it to drive a tremendous amount of foot traffic into our stores." says Tower Records head of National Audio Advertising, Joe Andrules.
"The Mobot sweepstakes makes our in-store, print advertisement and marketing campaigns more interactive for consumers," said Adam Mirabella, Senior Vice President, e-Commerce, WEA Corp. "We are thrilled to work with Tower Records for this offering as a new and exciting way to enhance our fan's experience."
"With the Mobot technology we help make print ads, CD cases and retail displays interactive. We can easily incorporate artist information and gameplay like scavenger hunts that makes it fun for customers and puts the focus on products," said Russ Gocht, CEO of Mobot, Inc
For a retailer or advertiser Mobot is easy to deploy because it doesn't require any changes to the visual - no URLs, short codes, or product codes are necessary for Mobot to recognize an image. To ensure the widest user adoption, Mobot is available on all national U.S. wireless carriers and works with all camera phones.


TECnology Hall of Fame
George Massenburg, Robert Moog, Roger Linn, Georg Neumann Among inductees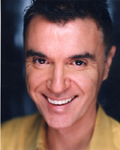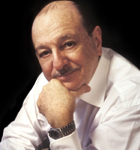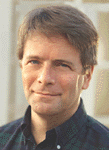 L-R: Byrne photo by Colin Bell; Mardin Photo by Julie Mardin; Massenburg Photo: courtesy of GML
The Mix Foundation for Excellence in Audio, presenters of the Technical Excellence and Creativity (TEC) Awards, has announced the 2005 inductees to the TECnology Hall of Fame.
15 Inventions That Have Shaped Audio History

"This year's inductees mark some real revolutions in the way audio has been recorded and reproduced," says Mix magazine's editorial director, George Petersen. They include:
1913 Edwin Armstrong—Regenerative feedback circuit; superheterodyne (1918) and FM (1933) circuits; 1925 Electrical recording process—Western Electric/Bell Labs;
1931 RCA 44A ribbon microphone; 1943 Altec 604 duplex speaker ; 1951 Pultec EQP-1 program equalizer; 1966 Phantom power—Georg Neumann; 1968 ITI ME-230 (first parametric EQ)—George Massenburg; 1970 Minimoog synthesizer—Robert Moog;
1974 Dolby Stereo—4-channel optical theater surround; 1976 Ampex ATR-102 mastering recorder; 1979 Fairlight CMI (Computer Musical Instrument); 1980 Linn LM-1 Drum Computer—Roger Linn; 1983 MIDI specification—Dave Smith; 1985 Audio Precision System One test system; 1995 Yamaha 02R digital console.
The 2005 inductees will be honored at a champagne reception on Friday evening, October 7 in New York City at TEC Award-winning studio, Right Track Recording.
The 21st Annual TEC Awards will be held the following night, October 8, at the New York Marriott Marquis. During the show producer Arif Mardin will be inducted into TEC Awards Hall of Fame and musician/composer David Byrne will be presented with the prestigious Les Paul Award.
Established in 2004, the TECnology Hall of Fame recognizes products and innovations that have made a significant, lasting contribution to the advancement of audio technology. Inductees are chosen by a panel of more than 50 audio experts, including authors, educators, engineers, facility owners and other professionals. Products or innovations must be at least 10 years old to be eligible for induction. For more information, contact Karen Dunn at (925) 939-6149 or karen@tecawards.org
Rabito Signs with American Royalties Collector Canto Novo Music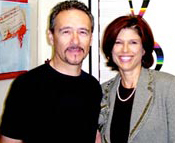 Christian artist and composer, Juan Carlos Fernandez, affectionately known by his fans as "Rabito" has signed an exclusive worldwide administration agreement with Canto Novo Music, the leading copyright royalty collection agency for the international Spanish music industry in the USA.
Born in Argentina, Rabito settled in America before the release of his 1999 album Sinceridad. Rabito has composed and recorded dozens of successful songs including his hit single "Vivir Sin Ti" from his album Viva la Vida, the first ever Christian release to cross over to the top of the pop charts in the U.S. Spanish music market. He is known and loved throughout Latin America and the U.S. performing in front of sold out audiences.
Canto Novo Music founder, entertainment attorney, Cheryl Hodgson, said in announcing the signing, "We are honored and thrilled to represent one of the finest Latin composers and artists alive today since he is a source of inspiration both to his fans as well as other composers throughout Latin America and the U.S." Hodgson added, "Canto Novo will work hard to protect his licensing rights and ensure that the entertainment industry recognizes and compensates Rabito for all the music he has written that is used in America." For more info contact CNM 310-449-1070

True For Golffinger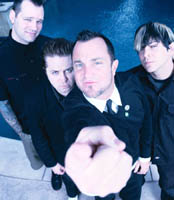 l-r: Darin Pfeiffer, Kelly Lemieux, John Feldman, and Brian Arthur. photo: David Goldman
John Feldmann, frontman for the L.A.-based pop-punk-ska band Goldfinger is also a producer, engineer, songwriter, A&R man, guitarist and vocalist who recently outfitted his home-based production facility with TRUE Systems Precision 8 mic preamps.

Originally purchased to help him obtain the guitar sound that he was seeking, the versatile eight-channel TRUE has since proved to be effective in many other applications, including on drum and room mics, according to Feldmann.
A longtime vegan, who somehow also finds the time in his busy schedule to be an ardent animal rights activist, Feldmann admits that he had no idea that Sennheiser distributed microphone preamplifiers. "I was looking to add some color to the guitar and not have it sound too spongy and warm, but still have that good upper mid-range grit to it. TRUE was perfect and exactly what I needed," says Feldmann.
The need to add another mic preamp to his collection came about when he changed his work methods last year, explains Feldmann, who has recorded and produced four albums in his private studio and is about to begin a fifth. "I ditched my Digidesign Control 24, because I don't mix with faders any more. I mix with the mouse in my computer. So I needed something to replace the Control 24's low-end Focusrite mic pres, which were fine for when I was doing demos, and being able to set everyone up and rehearse."
The Precision 8 certainly fit the bill for guitars, but its qualities have also made it perfect for room mics and drum overheads, he says. "I have a couple of Royer mics that I use for room sound and I use the TRUE mic pres for that, and for all the high-end, like the hi-hats and the ride cymbal. I'm using it a little bit on the toms, as well, and I really like it."
Goldfinger's fifth album, "Disconnection Notice," was released on Maverick in February 2005. Playing to an enormous fan base worldwide, Goldfinger racked up 385 shows and a Guinness Book world record in 1996, performing on the Vans Warped Tour and with bands such as the Sex Pistols, No Doubt and Reel Big Fish.
Working with Maverick Records, Feldmann has signed and produced The Used, Goldfinger, Showoff, Unloco, Story of the Year and Mest, also producing Good Charlotte and No Motiv. He has additionally written songs with many of those acts, as well as Ashlee Simpson, and co-wrote Good Charlotte's chart hit, "Anthem."

Golden Republic's self-titled full-length debut, produced by Peter Katis (Interpol) in early 2005

Farewell
Luther Vandross
1951-2005
Legendary R&B artist Luther Vandross, whose smooth, silky voice gave soul to songs about life, love and relationships, died at 54. Speaking of the song "Dance With My Father," he once said "It's not just about losing one's father, but about missing someone who is gone -- for whatever reason -- and the longing you feel for that moment in the past when you were together." He'll be missed.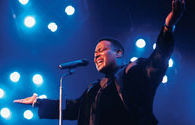 Beyond the Sound Barrier
"There is no such thing as a beginning and no such thing as an end."
-- Wayne Shorter (new Verve release Beyond the Sound Barrier)