Warner Bros. Records Executive Promotions. Chairman and chief executive Tom Whalley is leaving the company after a nine-year run and is being replaced by an executive team led by top-selling producer Rob Cavallo. Cavallo has served as WMG's chief creative officer since 2009, and will now head the Warner Bros. Records label group, which includes Warner, Asylum, Reprise, Nonesuch and Sire. The announcement was made earlier this month. Cavallo, who brought artists including Goo Goo Dolls and Green Day to Warner Bros., becomes chairman of the label after serving as chief creative officer of all of Warner Music. Cavallo has also produced records for Alanis Morissette, Sixpence None the Richer, Less Than Jake, Fleetwood Mac, Jewel, My Chemical Romance, Kid Rock, Avril Lavigne, Paramore, Dave Matthews Band, and Switchfoot, among others. Todd Moscowitz, who now heads Warner's independent label group and Asylum Records, becomes co-president and chief executive officer. Atlantic Records general manager Livia Tortella becomes CO-president and chief operating officer. Tortella brings with her a track record of growing digital sales at Atlantic, which became the first label to have greater digital revenues than physical sales in the US in 2008. Diarmuid Quinn is stepping down from his position as chief operating officer. Warner reported in June that third quarter revenues were down 16% from the same period in 2009, and while digital sales have been an area of growth, it's not one that's moving at a rapid pace, although that's not exclusive to WMG. Digital single sales for 2010 are relatively flat compared with those of 2009, according to Nielsen SoundScan, while digital album sales grew about 13% for the first half of 2010. In making the announcement, Lyor Cohen, WMG's Vice Chairman and Chairman and CEO, Recorded Music - Americas and the U.K. said, "...With Rob's creative brilliance, Todd's proven ability to develop and execute new business models and revenue streams and Livia's established track record of building lasting artist careers, we have in place a group of executives who are uniquely positioned to continue to strengthen the reputation of Warner Bros. as an artist-friendly haven with a visionary approach to discovering and nurturing new talent." "I'm so incredibly proud to have the opportunity to continue the legacy of the many great leaders of this company, from Mo Ostin to Tom Whalley, who exemplify this artist-centric mission in every aspect of their work. With Todd and Livia, and all of the great executives at the company, I'm confident that we can further enhance Warner Bros.' position as the preeminent home for artists, not just with respect to their work in the recording studio, but in all facets of their careers." says Cavallo. "Warner Bros. is one of the most respected brands in music, and with that comes a profound responsibility to insure that this company continues to be progressive and innovative in its approach to artist development, and treats its artists as true partners," says Moscowitz.


Get Signed Island Def Jam Music Group has partnered with TuneCore to launch www.idjfirstlook.com, a new web portal that provides unsigned artists with access to such coveted major label services as worldwide distributor and marketing. Through this new partnership, unsigned artists using www.idjfirstlook.com will not only be able to get their music distributed to such leading retailers as the iTunes Store, Amazonmp3 and eMusic, among many others, but may have the chance to gain the attention of Island Def Jam's hit-making creative staff for possible upstreaming and/or marketing and promotional opportunities. "We are delighted to team up with TuneCore, a company that shares our commitment to unsigned artists and to creating even more value for music on the Web," stated Christian Jorg, Senior Vice President of New Media & Commerce for Island Def Jam. "As the music industry continues to transition, we believe it's crucial to offer independent musicians real opportunities to be heard and possibly discovered."The Island Def Jam Music Group is home to a multi-cultural and diverse family of artists and has fast become one of the most successful labels in the industry. It is comprised of Island Records and Def Jam Recordings, and is in partnerships with Disturbing Tha Peace and Slip N Slide. The roster boasts an array of talented artists including Mariah Carey, Kanye West, Fall Out Boy, The Killers, The-Dream, Fabolous, Melissa Etheridge, LL Cool J, NAS, Chrisette Michele, Bon Jovi, Ludacris, Lionel Richie, Rihanna, Hoobastank, Jeremih, Sum 41, Rick Ross, Young Jeezy and Ne-Yo.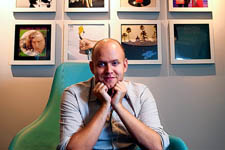 Spotify 7,000,000 & Growing. Like everyone in the music business, Daniel Ek worries about the young. "What scares me is that there's an entire generation that's grown up now that doesn't understand why you should pay for music at all," he says. The casually dressed, slightly rumpled Swede musing about how to make money from these youngsters is 27. Mr. Ek's solution has been to abandon the traditional industry model completely. The company he co-founded, Spotify, offers free legal file-sharing and music streaming and has seven million users across Europe. This month, it was named a "Technology Pioneer" by the World Economic Forum, but its most impressive achievement has been to persuade the big record labels to sign up to its model. "What's really interesting is what's happened the last 10, 12 years, since Napster," he says. "People listen to more music than ever, but the music industry has gone from a $50 billion industry to about $17 billion. The fundamental model of selling a record is broken." Mr. Ek argues that this sales decline has created the impression that there has been no migration to digital music. "It's not true; people enjoy content on YouTube, they share it with friends on Facebook and Twitter. But only about 3.5% of the US population is 85% of the digital revenue. And the US is a big digital market: half the market there is digital." Spotify, he says, still plans to launch in America by the end of the year, though it has been more complex than he anticipated. "Those figures tell me that selling music has become a niche product," he says. "But there's 200 million people in China with access to broadband and the number one thing they do on the Internet is music. A la carte music sales are a premium product, but listening to music is fundamental." His assessment is, that, while people are listening to more music, they buy only what they really care about. "It's moved from being about ownership to being about access," he says. "Spotify's model is monetizing access. Just having free music won't save the music industry." Not surprisingly, there has been scepticism. In February, Edgar Bronfman, chairman of Warner Music Group, one of the big three labels with whom Spotify has an agreement, said, "The 'get all the music you want for free, and then maybe with a few bells and whistles we can move you to a premium price' strategy is not the kind of approach to business that we will be supporting in the future."
Spotify's income is currently split 50-50 between subscriptions to the premium service and the advertising and direct sales from free streaming. He doesn't discount advertising. "Don't forget that there's $200 billion of advertising which has not yet moved to digital. But it will." But he is most pleased that, since Mr. Bronfman's remarks, Spotify's subscribers have doubled from 250,000 to more than half a million. The main reason for the sudden jump is mobile devices. Spotify is free at your own computer, but to take it with you, you must be a subscriber—at £9.99 ($15.58) a month. (source: The Wall Street Journal).

Download Royalty Victory. Eminem Wins Appeal Over Universal Music: iTunes Downloads Should Be Accounted Differently Than CD Sales The issue is a contractual one: as is standard in lots of recording industry deals, musicians make very little money from each album sold. However, when their music is "licensed" for other things -- such as a commercial, movie or video game, they make a much larger percentage. The reasoning, of course, is that there are a lot more "costs" that go into making and selling a CD, which the label is taking on. But here's where it gets tricky: what is a sale via iTunes? Is that a "sale" like a CD (meaning a small percentage royalty)? Or is it a "license" like for a movie (meaning a much bigger royalty)? From a technological perspective, it's really a lot more like licensing, since you don't have the same production, physical goods, shipping and distribution costs. The 9th circuit appeals court has just ruled the opposite way, saying that the contract is "unambiguous" that iTunes sales count as a license, for which the higher royalties apply. Universal Music is downplaying the ruling, saying that it's unique to Eminem's contract, and that the company plans to fight the ruling. Time to review your contracts!

Justin Bieber new music video "U Smile" worldwide debut exclusively on E! September 30th. "I put my singing videos from the competition on YouTube so that my friends and family could watch them," says the Canadian born. "But it turned out that other people liked them and they started subscribing to them. That's how my manager found me. He saw me on YouTube (over 10,000,000 views) and contacted my family and now I'm signed!" says the 15 year-old soul-singing phenomenon. Seven months after Justin started posting his videos online, former So So Def marketing executive Scooter Braun flew the then 13-year old singer to Atlanta, GA to meet with his elite colleagues. As if Justin's natural singing talent wasn't enough to impress Scooter's inner circle, Braun knew Bieber was also a self-taught musician who plays the drums, guitar, piano and trumpet. "Right when we flew into Atlanta, Scooter drove us to the studio and Usher was there in the parking lot," remembers Bieber. In October of 2008, Justin Bieber officially signed to Island Records. His debut album, My World is an intimate look into the mind of a budding young renaissance man. With production from star hit men like The Dream and Tricky Stewart who produced "Umbrella" for Rihanna and Beyonce's latest smash, "Single Ladies (Put A Ring On It)," Justin has everything he needs to achieve pop supremacy.

JLo Idol Negotiations Post Sony Splits. She was listed as the richest person of Latin American descent in Hollywood according to Forbes magazine, and parlayed the heyday of her media fame from 1999-2002 into fashion and perfume celebrity licensing ventures. I've learned that Jennifer Lopez had been negotiating for a guaranteed "go" motion picture and TV pilots at Fox to accompany an asked-for $15 million American Idol judging paycheck. She and manager Benny Medina wound up settling for $12M sans film/TV commitments. It was her manager Medina (whom she once fired) who first orchestrated the meeting with the Idol producers in June, and, by the end of July, J-Lo accepted the offer to be a new Idol judge. Since then, she, Medina and her producing partner Simon Fields have been trying to milk the gig for all they could get from the movie studio and broadcast network/television programmer to revitalize her film/TV career. One bargaining chip: Simon Cowell already asked JLo to be a judge on the US version of his The X Factor when it debuts on Fox in Fall 2011.
Among JLo's demands, "she was angling for an overall deal at Fox, including a put picture. But Fox said no," one insider tells me. "In the old days, these were called a 'vanity deal' for good reason. They simply don't exist today. Will Smith doesn't have put pictures. Another informant says she also was angling for TV development projects. Also, Team JLo was pissed that the Idol producers -- Fox, Fremantle, and 19 Entertainment --never discussed ahead of time their decision to offer a judging job to Aerosmith's Steven Tyler. Returning Idol executive producer Nigel Lythgoe denied these unconfirmed reports circulating that J-Lo was losing the job because of her diva demands. I've also learned that one reason the announcement of American Idol's new judges has been delayed is that JLo asked that it coincide with Island Def Jam's dropping her first single in mid-September. She signed with that label on March 19th and is reportedly working on new material for Love? with RedZone Entertainment (Kuk Harrell, The-Dream and Tricky Stewart). The actress had many hits with Sony Music Epic Records, so it was a shock within the recording industry when she departed Sony. It was announced that her contract period had ended, and Lopez had fulfilled it with her last two singles. But in February Sony then cancelled her 7th studio album titled "Love?", which was supposed to come out in April and has yet to be released. We hope Def Jam can help revamp her image.

Diller Exits Live Nations Barry Diller, the media mogul who claimed credit for the merger of Live Nation and Ticketmaster, will resign as chairman of the merged company after a boardroom power struggle with another media giant and director, John Malone, according to ABC News today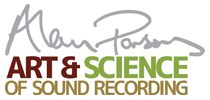 An Evening With Alan Parsons The GRAMMY Museum launched its flagship public program, "An Evening With…," in January 2009 with music legend Brian Wilson and continued its success with critically-acclaimed recording artists Ringo Starr, Annie Lennox, Dionne Warwick, Smokey Robinson, Herb Alpert, and Clive Davis, to name a few. The program regularly features award-winning and cutting-edge musicians live and onstage. Taking place in the Museum's state-of-the-art theatre, which screens the film "The Making of a GRAMMY Moment" during regular Museum hours, the program provides guests unprecedented access to their favorite musicians. On September 29th, The "An Evening With Alan Parsons" featured surprise stage performance by David Pack (Ambrosia) and friends. Parsons talked about his career as an engineer, producer and musician and discussed his new single and DVD with Scott Goldman, VP, Grammy Foundation. He took questions from a receptive audience and performed a few of his greatest hits (including Time, Eye In The Sky) at the museum's 200-seat Clive Davis Theater. A presentation of Parson's latest venture -- a series of instructional DVD's titled The Art and Science of Sound Recording -www.artandscienceofsound.com ($1.99 to stream and $4.99 to download says the home page) followed, which features ten hours of original video material, narrated by Billy Bob Thornton, that teaches viewers about music production - from the intricacies of studio acoustics to the history and progress of artificial reverb technology. Classically-trained Parsons started his music career as an assistant engineer at the famed Abbey Road Studios working on projects such as The Beatles' Abbey Road and Let It Be, and quickly became one of the most sought-after names in the recording industry for his engineering work on Pink Floyd's Dark Side of the Moon. After earning accolades for his work behind the glass, Parsons, also a talented musician, formed The Alan Parsons Project, a progressive rock band featuring Parsons, his collaborator Eric Woolfson and a rotating cast of studio musicians. Parsons who produced the hugely successful Year Of The Cat album with Al Stewart and two albums with American progressive rock band Ambrosia, recently released a new single, All Our Yesterdays, featuring some of Los Angeles' finest musicians and a rare vocal performance by him.
Next "Evening With...." Rosanne Cash, Oct 5, 8pm. visit www.grammymuseum.org. .
"Evening With Yoko Ono" is old out, says Mr Goldman.
The Rock and Roll Hall of Fame released its newest round of nominees this morning. Many of them -- Darlene Love, LL Cool J, Donna Summer, the Beastie Boys, the J. Geils Band, Tom Waits, Chuck Willis, Chic, and Joe Tex -- have been up for induction before. Others are nominated for the first time, including Bon Jovi, Donovan, Dr. John, Alice Cooper, and Neil Diamond.

This year, for the first time, TEC Awards Are Held During NAMM, the largest international music products trade show, held in January annually at the Anaheim Convention Center. Smart move, considering engineers want to meet artists (their potential clients) as much as other engineers! This month TEC Foundation TEC Awards announced nominees for creative achievement with not too many surprises. Sources say the ceremony is expected to draw more than 1,000 top sound and music professionals, musical artists, NAMM members and exhibitors. The TEC Awards is sponsored by Harman, GCPro/Sterling Audio, NAMM, Shure, Broadjam.com and Hal Leonard Corp., among other leading companies in the sound and music industries. Go to complete list of 2010 Creative Achievement Nominees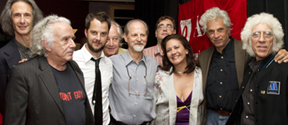 Standing l-t-r: Lenny Kaye, Bob Margouleff, Lee Foster, Tony Platt, Eddie Kramer, David Bialik, Janie Hendrix, John Storyk and Malcolm Cecil. photos by: Cheryl Fleming http://www.cherphotos.com/architecture Grammy-winning engineer/producer Bob Margouleff To Keynotes at The 129th AES Convention. His address "What The Hell Happened" will be delivered at noon on Thursday, Nov. 4 at SF's Moscone Center. Veteran engineer/producer and studio owner Margouleff (far left front) will bring his unique perspective of more than 40 years working in pro audio and plans to examine the influence of fast-paced technological developments on creativity - both for better and for worse - and the creative artist's needs in a technological world. "Yes, we've had a digital revolution in music and film, shifting power away from a few big companies and toward greater access," says Margouleff. "But we must not forget the importance of collaboration among talented artists, engineers and business people that built an entertainment industry that changed the world." Co-winner (with Malcolm Cecil), of the 1974 Best Engineered Album Non Classical Grammy for Stevie Wonder's Innervisions, Margouleff has has worked with such major artists as: Devo, David Sanborn, The Isley Brothers, Billy Preston and of course, Stevie Wonder. He now owns Mi Casa Multimedia Studios in Hollywood with partner Brant Biles. For the past 12 years, the studio has been a leader in surround audio for home theater, providing 5.1 and 7.1 mixing and mastering for hundreds of major DVD and Blu-ray releases and restorations. They are pioneering the use of 7.1 to enhance the 3-D experience in home theatre. Recent credits include: The restoration and 7.1 mix of The Sound Of Music, Six of the James Bond films, Hellboy, Rush Hour and the complete Lord Of The Rings cycle. "We are extremely pleased to have Bob Margouleff address the 129th AES Convention," said AES Executive Director Roger Furness. The awards are divided into two categories: Technical Achievement and Creative Achievement. 26th Annual TEC Awards Friday, January 14, 2011 NAMM Show Anaheim, CA. Highlights sessions this year include Stream Formats, Facility Design and new developments in the
on-going Loudness issue. On August 24, in NY, Audio Engineering Society NY Section hosted the 40th Anniversary Salute to Electric Lady Studios and the Jimi Hendrix legacy. The panel included Jimi's sister, Janie Hendrix, CEO/President, Experience Hendrix; Eddie Kramer, engineer of all the Hendrix recording sessions; studio architect/acoustician John Storyk who began his career by designing Electric Lady: Grammy-winning engineer/producers Tony Platt (AC/DC, Foreigner), Bob Margouleff (Stevie Wonder) and Malcolm Cecil ; Electric Lady Recording Studios manager, Lee Foster; and Lenny Kaye, Patti Smith's guitarist and frequent Electric Lady recording artist.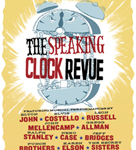 The Speaking Clock Revue with Stellar Musician Lineup. "The privacy and the intimacy of the studio afford artists the freedom to create, but something thrilling happens in getting away from the machines and into the live communication of real time storytelling in the larger community. The first tour I went on, my first job in show business, was on The Rolling Thunder Revue, and I've come back to that type of collaborative and extraordinarily rewarding experience from time to time. We are looking forward with great anticipation to getting The Speaking Clock Revue up and running this fall and continuing it in the years to come," says T-Bone Burnett of the multi-artist concert extravaganza he has conceived – on October 16 at the Wang Center in Boston and October 20 at the Beacon Theater in New York City. Both evenings of the Revue will feature performances by Elton John & Leon Russell, John Mellencamp, Elvis Costello, Gregg Allman, Ralph Stanley, Jeff Bridges, Punch Brothers, Karen Elson, and newcomers The Secret Sisters. In addition, Neko Case and Jim James from My Morning Jacket will join the lineup in Boston and New York respectively. The concerts will be presented in a revue format with a house band consisting of the players featured on numerous Burnett-produced recordings. This edition of The Speaking Clock Revue is presented with Participant Media in conjunction with the release of the documentary film Waiting For "Superman", from Academy Award-winning filmmaker Davis Guggenheim (An Inconvenient Truth, It Might Get Loud), which follows a handful of promising students through a US public school system and offers hope by exploring innovative approaches by education reformers who refuse to leave their students behind. All net proceeds from these shows will be donated to The Participant Foundation to support music and arts education programming in public schools. Ticketmaster


Rights To the Reggae King's Songs. The man who signed Bob Marley to Island Records, Chris Blackwell is blamed for presenting a bad contract to the legendary artist. Universal Music Group has now been declared the rightful owner of the copyrights to five of Bob Marley's albums, recorded between 1973 and 1977. Marley's family has refused to license any of his music for a biopic that the Weinstein Co. is prepping -- despite the fact that his widow, Rita Marley, is its executive producer. The reason? There is a competing Martin Scorsese documentary being produced by the Marley family-owned Tuff Gong Pictures and Steven Bing's Shangri La banner, the first theatrical documentary to license Marley songs. The family members involved in the Scorsese project claim they were unaware that the Weinstein project would be unveiled so soon and believe that its projected late-2009 release date would interfere with the documentary's February 2010 release, which is timed to Marley's birthday. "Martin Scorsese doesn't want to go out with a competing project, and Steven Bing has made deals with companies" that are now compromised, Blue Mountain Music president Chris Blackwell said. "The Weinstein project has put the documentary into jeopardy." Blue Mountain Music is Marley's music publisher. "All our efforts and support are currently directed toward the documentary," the untitled project's executive producer Ziggy Marley said. "We believe that this project is the best way to represent our father's life from his perspective, and any other film project pertaining to our father will be empty without his music to support it." "When I sold the film rights to my book," Rita Marley told the Hollywood Reporter, "the contract did not include any rights to use my husband's music."


artist expresso-- Ask Claris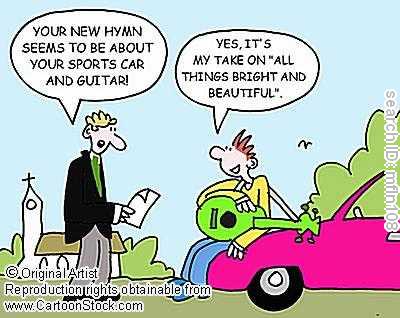 We hear from artists every day from all corners of the world -- France, Germany, Russian, Israel, Asia, Australia and Middle East asking how they can get heard or build their careers. We've decided to feature a letter or phone message each month and share our response with other new artists with similar needs or questions. Our goal remains to empower new artists and encourage them to find their voice and musical path. Most importantly, we're here to remind artists that it's a long journey, so enjoy the process. We encourage artists to provide a link to their music site when they contact us..this way, if a producer or manager is interested, they can be contacted directly.

Artist: You guys have a great site, how can we work with your producers? BandX
C: To check a producer's availability and /or interest kindly provide: 1. Number of songs to be produced, recorded/mixed
2. Delivery time and technical requirements 3. Specify your recording budget (studio, musicians, mixer/engineer and arranger, producer expenses). We can then check availability/interest based on the info you send.
Artist: My manager will contact you to go over details.
C: Meantime, visit production talent at studioexpresso We can recommend someone who fits your requirements or you may send your top 3 choice(s). Thanks.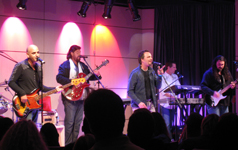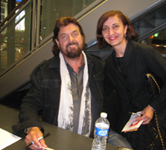 Alan Parsons and friends at the Grammy Museum onstage; studioexpresso's Claris congratulating Parsons post-concert for new DVD release: Art/Science
We found 1,740 videos inspired by Alan Parsons Project "TIME" on YouTube. "Time flowing like a river, Time beckoning me. Who knows when we shall meet again...." Parsons joked about his association with football and then raised his hands in prayer! Sirius, is perhaps best known today as the Chicago Bulls theme and more recently as walk-on music for The New Orleans Saints as seen at their triumphant Superbowl game in 2010. Good things come around or like Mr Parsons says:


"Talent wins at the end."
-- Alan Parsons

Stay inspired and hot. Until next month!
-- Claris