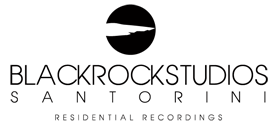 World-Class Studio Meets Luxury Villa in Santorini, Greece. Oppa!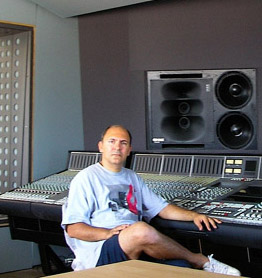 Welcome to the ultimate studio destination, Black Rock.
Studio owner and manager Kostas Kalimeris opened his remarkable residential haven to studioexpresso's production community in 2009. Kostas reports recent sessions completed by producer Kevin Shirley for Joe Bonamassa's new album ( The entire album was recorder and mixed in Black Rock ) and tracks for Lauren Harris Band.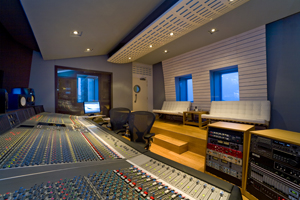 SSL Control Room at Black Rock
Walk to sandy black beaches of Greek Isles straight from your control room. Bask in the sun and take in the blue skies and Mediterranean air. Watch the sunrise and sunset from your suite while you create the most important work of your life - your next album or film soundtrack!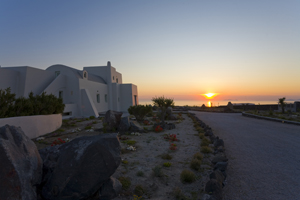 Designed by Roger D'Arcy of Recording Architecture, Black Rock studio offers a pristine SSL room with 9000J-series Ultimation/Total Recall console and Genelec monitoring. ProTools and a good selection of microphones (pair of Neumann U87s, KM184s, EV RE20s, etc) and outboard gear (Neve 1081s, Manleys, etc) are available. Visit the studio web site for detailed gear list where you can view the room diagrams for the ample recording spaces suitable for tracking as well as mixing. The main studio offers two recording booths for drums (below) and/or vocals.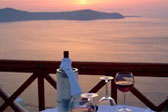 The villa is built on 6.700 m2 near the lighthouse of
Santorini surrounded by the Aegean sea. The facility boasts an exquisite studio with sumptuous accommodation. You might say Black Rock has everything a recording artists desires: complete luxury mixed in with full studio services.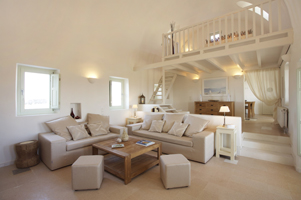 In keeping with its 5-star status, Black Rock provides daily concierge and housekeeping services to ensure the villa's premium standards are maintained during your stay.

A private chef and waiter can be made available upon request, as can arrangements for the collection and delivery of groceries. Other additional services include onsite massages, laundry and pressing, and the private transportation to and from the island's port and airport.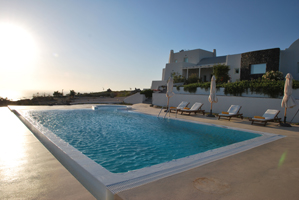 "A swimming pool with outdoor heated Jacuzzi and barbecue area was recently added," says Kostas
Guests will experience the true essence of luxury during their stay at this 5-star 5-bedroom villa situated on a sequestered section on the South Western tip of Santorini. The facility offers an inspirational environment to include: A large salon based on the lower ground floor, and two smaller lounges - along with an open-plan kitchen/diner - located on the ground floor of the house.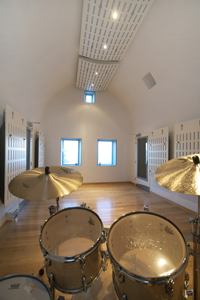 Drum Iso Booth

"Guests have access to a stunning 3-storey
Cycladic villa, boasting many tranquil living areas and several outdoor terraces," says Kostas.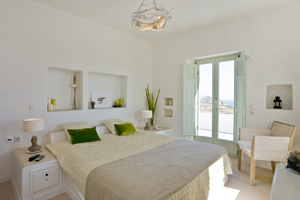 Living quarters
Each guest bedrooms comes with their own en-suite bathroom, satellite TV, CD player, direct dial phone and minibar. The bedrooms all enjoy stunning views and are flooded by sunshine throughout the day. "It's been a dream of mine to own and operate a studio of this caliber since I began engineering at 17. I wanted to have a space that would inspire musicians and artists to do what they do best. Create," adds Kostas.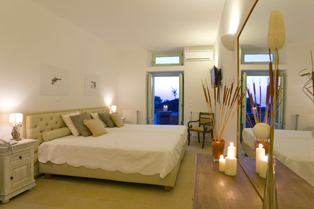 The outdoor areas at Black Rock are magnificent. Four decked terraces line different sides of the villa, where guests can relax, sunbathe or dine in complete privacy.
According to manager and co-owner Kostas, the studio has in-house Assistant engineers.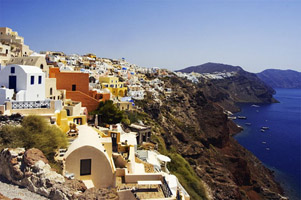 Sitting high on Santorini's incredible volcanic landscape and immersed by panoramic views of the sea and its beautiful historic settlements, Black Rock is truly a must visit/experience recording destination for the most discriminating artist. Recreation choices include: Water Sports, Horse Riding, and nearby Restaurants.

Ask for weekly packages that include studio services and lodging at this dreamy villa and studio.


Booking contact: Kostas Kalimeris, Mgr/Owner
Tel:+306946282724

Studio website: Black Rock Studios





Copyright 2009 studioexpresso