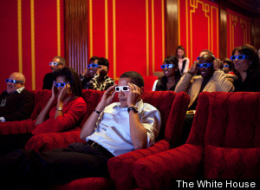 Hollywood In The White House The Feds are cracking down on websites offering pirated films. On June 30 the Homeland Security Dept.'s US Immigration & Customs Enforcement arm used a vacant sound stage at Walt Disney Studios (DIS) in Burbank, Calif., to announce the seizure of nine websites with names like NinjaVideo.net and thepiratecity.org that allegedly traffic in illegal movie downloads. The operation, which involved 100 special agents, follows a separate move by the Federal Communications Commission in May that opened the way for studios to offer cable viewers films at premium prices while the flicks are still playing in theaters. The lobbying group, which had pressed Washington for the last decade to crack down on piracy, says it costs the economy $20 billion a year. Federal officials say they will continue closing down offending websites. Hollywood may also get a big win in the pending financial reform legislation expected to pass later this summer that will reshape the regulation of derivatives. Among the guests to the White house theater: Actor Tom Hanks and director Steven Spielberg.

Nate "Danja" Hills Got Top Honors at SESAC 14th Annual New York Music Awards as Songwriter of the Year on May 12, at Manhattan's IAC Building.
Hills also took home the trophy for Song Of The Year for his Keri Hilson smash, "Knock You Down" which topped Billboard's "R&B/Hip Hop Songs" chart. SESAC Publisher of the Year honors went to Danjahandz Muzik, the publishing company for Hills. The award was in recognition of his astonishing array of hits in the last year including smashes by Hilson as well as "Sober" by Pink. Hills has also chalked up massive hits with Timbaland's "The Way I Are" and "Give It To Me", 50 Cent's "Ayo Technology" and Justin Timberlake's hit parade of "What Goes Around…Comes Around," "Summer Love," "Until The End Of Time" and "LoveStoned." Hills won a "Best Dance Recording" GRAMMY Award in 2008 for his production/songwriting work on Timberlake's "LoveStoned/I Think She Knows". One of the evening's many highlights was the presentation of the "Inspiration Award" given to artist/songwriter/producer Kasseem "Swizz Beatz" Dean in recognition of his humanitarian endeavors specifically on "Stranded (Haiti Mon Amour)", the song he CO-wrote and CO-produced with U2's Bono and also recorded by the Irish rock singer along with Jay-Z and Rhianna. The song, a moving call to action to aid the earthquake victims of Haiti, went on to become a top selling download on iTunes raising millions for the cause. Swizz Beatz has also worked with the United Nations to unite the entertainment community in its efforts to promote peace around the world.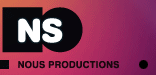 Warner France has acquired Paris-based Nous Productions, a live promoter whose roster includes the Red Hot Chili Peppers, Black Eyed Peas, Metallica and Robbie Williams. Salomon Hazot will remain president of Nous Productions according to a statement issued by Warner. The deal comes 30 months after the major bought Jean-Claude Camus Productions, the concert promoter of Christophe Maé and of French legend Johnny Hallyday
Warner France CEO Thierry Chassagne says Nous Productions is also strong on developing new domestic artists, adding that Warner and Nous CO-promoted the concerts of Sliimy and BB Brunes, both signed to the major.
"We are now able to produce [tours by] any kind of artist," Chassagne says, stressing that Warner's 360-degree strategy means providing all artists with the best service in each area. Nous Productions will continue to operate separately, as Camus Productions has done since its acquisition by Warner.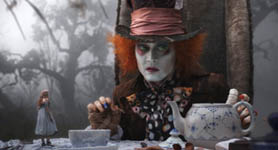 3D On The Rise. The success of 3D movies in 2009 resulted in 10% box office revenue growth in the US and Canada, the highest growth rate since 2005. The trend continues in 2010 with Disney's "Alice in Wonderland," which surpassed Avatar's opening weekend sales by generating revenues of about $116 million. Legend 3D is now the country's largest 2D to 3D conversion company. In less than one year, Legend 3D has grown from a staff of 40 to over 250. Legend 3D is now nearing the completion of converting three recent blockbusters to 3D for DVD release later this year, and already has several projects ready to enter it's pipeline. To accomplish these daunting projects, the company has installed Southpaw's TACTIC, a massive production and digital asset management (DAM) system, with the supervision of LA-based Integrated Media Technologies. "We were originally using an inflexible system that was forcing us to work within the confines of a complicated interface and toolset," said Barry Sandrew, founder, president and COO of Legend 3D. "What we really needed was a smarter, more flexible solution to keep our assets secure and our teams productive." "TACTIC is a combination of both production management and asset management all in one," explained Tony Lopez, Legend 3D's Director of Technology. With its roots in the successful frame-by-frame conversion of B&W films to color, Legend 3D is the creator of patented 2D to 3D conversion technology. Merging his expertise in graphic arts and neuroscience, Legend 3D's founder, Dr. Barry Sandrew, developed the process that integrates sophisticated technology with skilled artistry for the conversion of film, television, advertising, online and mobile content from 2D to 3D. The company is now deploying TACTIC across its San Diego studio to manage all of the digital assets in its conversion projects.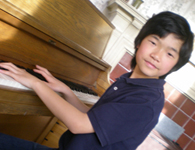 Meet The Jazz Dude Matt Wong will be turning 12 in August. The up-and-coming pianist rethinks standards and not-so-standards with youthful energy. "Matt sits in a lot - very impromptu, rarely planned - but always a blast," says mom, Janice Lee. The young SF Bay Area-based musician has performed with Jacqui Naylor (www.jacquinaylor.com) at familiar jazz clubs such as Yoshi's San Francisco and Oakland, Blue Note/Nyc and Jazz Alley in Seattle. Matt also plays in Jazz School ensembles (www.jazzschool.com), and the Oaktown Jazz workshops (www.oaktownjazz.org). He was recently awarded the 2010 Dick Conte piano scholarship through the jazz school. When Matt's not playing in jazz clubs, he participates in (and wins) science fairs at the school/county/regional fair levels. This last year, he placed 4th in his category at the state fair and received a special recognition award. "He also loves hanging out in studios/sessions. Go figure," says mom Janice who managed Automatt and Tarpan Studios in Bay Area during 80 and 90s.
This month Matt is celebrating his birthday by leading his own trio band in concert at the jazz school. Matt Wong Trio plays on Sunday 8/15/10 4:30pm at Jazz School -- 2087 Addison St. Berkeley CA 94704 (510) 845-5373. Tickets here
Happy Birthday Mathew! Here's looking at you kid, Jazz Dude!


Join the daughter of legendary Judy Garland in an intimate concert that will traverse Hollywood to Broadway as Lorna Luft brings you songs from her career and her mother's.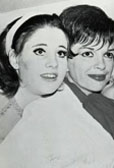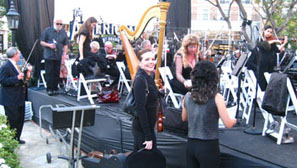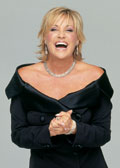 l-r: Luft, members of Glendale Renaissance Orchestra and Elliot Yamin

Steven Goldstein, artistic director/conductor.
Lorna Luft from her hit show, Songs My Mother Taught Me - tribute to Judy Garland -- BROADWAY MEETS HOLLYWOOD
Wear your Ruby shoes!
Thursday, September 16, 2010 at 7:30 PM
Alex Theatre tix here
216 North Brand Boulevard Glendale, CA 91203


Sunday, September 19, 2010 4:00 pm
Kavli Theatre, Thousand Oaks Civic Arts Plaza tix here
2100 East Thousand Oaks Boulevard Thousand Oaks, CA 91362-2996
A HOLIDAY CELEBRATION with American Idol Star Elliot Yamin coming in December!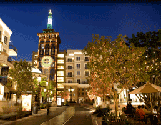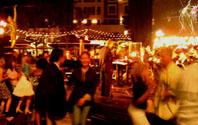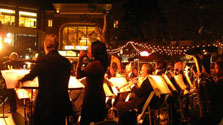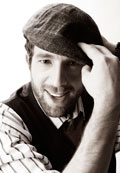 Pops at The Americana featuring The Glendale Renaissance Orchestra
35- piece orchestra and big band of the Renaissance Orchestra Kicked off its summer Independence Day outdoor concert, Red, White, And Blues The Star Spangled Rhythms of America, with that got-everyone-moving on Thursday, July 1st.
Next, it's Broadway with Lorna Luft, daughter of singer and actress Judy Garland and Sid Luft, and the half-sister of Liza Minnelli. Add to the fabulous shows great atmosphere provided by the Americana and you've got yourself an enjoyable evening! The signature "CarusoStyle" has become a recognized brand destinations that focus on people and places such as parks, promenades, fountains and plazas integrated with upscale retail. 16 acres featuring approximately 475,000 square feet of retail/commercial space, including 100 luxury condominiums and 238 apartment homes in the heart of downtown Glendale.
The shows are also repeated at the Kavli theater in Thousand Oaks, home of the orchestra that also doubles as New West Symphony with six masterpiece series classical concerts in Santa Monica at Barnum, Oxnard and Thousand Oaks.


Brownie At MIM! To guitar aficionados Brownie is the nickname of the 1956 Fender Stratocaster Eric Clapton purchased in London in 1967. Now one of the more popular exhibits at MIM (Musical Instrument Museum) where 10,000 plus instruments are showcased. Brownie is comprised of an alder body, maple neck and tobacco sunburst finish. It was used extensively by Clapton in the early 70's, most notably on classics like "Layla" and "Bell Bottom Blues." Though he's played Strats ever since, Brownie—his first—holds a special place in the hearts of Clapton fans. Brownie is on loan from the Experience Music Project (EMP) museum in Seattle, Washington through the end of the year. Don't miss your chance to see it at MIM 4725 E. Mayo Blvd. | Phoenix, AZ 85050 | 480.478.6000


Chris Blackwell's Hit Formula: Island Records founder- and man who discovered U2 - grew up in Jamaica, and when the country became independent in 1962, he went to England to sell the records he had made back home. "I didn't get U2's music—the sound was too trebly for me—but I signed them because I loved them as people. I talked to Richard Branson at a party and liked him so much that I helped him start Virgin Records," says Blackwell in an interview for Businessweek about his signing formula that focused on the artist Vs the hit song or idea. In 1972, Blackwell was criticised for giving Bob Marley money—without a contract—to record an album. "Everyone said I was crazy. Marley was known as a rebel; he had a reputation for being difficult, and when I met him, he was totally broke. I fronted him some 4,000 pounds—a fair bit then—which effectively said, "If you want to screw me, screw me." There was something about him, though, and I think he did trust me. But it helped that I trusted him first," says Blackwell of Bob Marley and his partners who came in like lions and didn't trust anyone. "I knew I had to show them I was an ally. Two or three months afterwards, I went to meet with them and we signed a contract," adds Blackwell.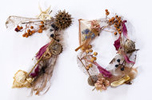 The Growing 70s Club. A rock 'n' roll septuagenarian was someone the gerontologist Robert Butler could have only dreamed of in 1968, when he coined the term "ageism" to describe the way society discriminates against the old. Ringo Starr, Al Pacino, Chuck Norris. Nancy Pelosi, Pele, Raquel Welch, Martha Stewart, Tom Jones, Aretha Franklin, Barbra Streisand, Paul McCartney, Stephen Hawking, Catherine Deneuve, Chevy Chase and Joni Mitchell have all joined the 70s club.
Bob Dylan ("May you stay forever young") and Paul Simon ("How terribly strange to be 70"), Roger Daltrey ("Hope I die before I get old") are also illustrious members of the 70 club. For most people, the 70s represents the end, not a beginning. Life expectancy in this country is still 78 - higher for white women, lower for men and blacks. It is rising, but not as fast, perhaps, as our expectations. As Gloria Steinem said of her 70th birthday in 2004, "This one has the ring of mortality." Yet with Clint Eastwood directing films at 80 and Betty White starring in a new sitcom at 88, the pressure for 70-year-olds is not to face mortality, but to kick up those slightly arthritic heels ever higher.
We might take a new model from musicians and other artists growing older. Creative types tend not to retire, but their later work often reflects their different stage of life. Dr. Cole cited the roles and films of Clint Eastwood, and the songs of Mr. Simon. "Old Friends" reflected on the strangeness of 70 from a young adult's perspective, but on an album released when he was 60, he sang of "growing old" from a first-person perspective. And let's not forget Mick Jagger who is reported to have said, several grandchildren ago, "I'd rather be dead than singing 'Satisfaction' at 45." Dr. Basting said, Mick Jagger might test the limits - can he really strut like that when he's 75? Go Mick, go! No pressure for our parents or grand parents who are turning 70 with arthritis and other common aging diseases!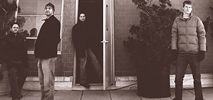 Rick Farman, Rich Goodstone, Jonathan Mayers, and Kerry Black, seen here on the roof of the Red Square building in Manhattan's East Village.
Have A Bonnaroo! Nashville festival Bonnaroo (which means "good times" in Creole) has become a thriving business according to a Bloomberg business report. Superfly Presents—the New Orleans-based concert promotion company Jonathan Mayers ran with three friends became a local success, staging some 120 shows a year and earning around $1 million. However, Mayers and his partners—Rick Farman, Richard Goodstone, and Kerry Black—were tired of the nightly grind, the razor-thin profit margins, and the battle with industry colossus Clear Channel Communications. They realized there was only so much money to be made staging rock and jazz shows for a few hundred people a night. "We saw there was a ceiling to what we were doing," Mayers says. "We had to take a risk." That decision led to the founding of the Bonnaroo Music and Arts Festival, a 100-band jamboree that has been the top-grossing music festival in North America for eight years running. This year, from June 10-13, 75,000 fans made the pilgrimage to a 700-acre farm an hour southeast of Nashville for what observers ranging from Rolling Stone to the concert chronicler Pollstar have called the best music festival in the country. Ticket prices range from $250 for a general-admission pass to $18,500 for a luxury package that includes an air-conditioned bus, on-stage VIP viewing platforms, and a chauffeured golf cart to shuttle between the two. Meanwhile, the promoters have 16 other profit centers on-site, including concessions, merchandise and, yes, paid showers. Last year the festival grossed around $30 million, approximately $18 million of which came from ticket sales. And since, according to Goodstone, Bonnaroo "funds itself on ticket sales," the other $12 million was profit. Now, that's Good Times in music business! "It's really as modern a music formula as you could have right now," says Ray Waddell, the longtime touring guru for industry publication Billboard. A captive audience of 80,000 for four days presents a hell of a marketing opportunity. Companies like Budweiser, Ford, Canon, and the Cartoon Network shell out top dollar for facetime with Bonnaroo's audience of tastemaking college kids and affluent young professionals. "Focuse on the live experience has branched off into other directions—licensing, media deals, the Web. That's called broaden the revenue stream. Meantime, scribbled on a dry-erase board at the headquarter offices is one of their mission statements—"selling authenticity." Despite their success, attempts at expansion have so far been ill-fated. A New York installment planned for 2003 was canceled at the last minute because of logistical troubles, while the Superfly-produced Vegoose festival, staged in Las Vegas, held on for three rocky years before folding in 2007. The following year the company launched Outside Lands—a sort of Bonnaroo West, held in San Francisco's Golden Gate Park—which turned a profit the first year but has since followed, as Goodstone says euphemistically, "a more traditional festival model" (i.e., it has lost money). This year alone, two major festivals—Michigan's Rothbury and New Jersey's All Points West Music Arts Festival—shuttered for lack of funds. For now, Bonnaroo's best hope for growth is monetizing what Farman calls its "curatorial voice"—expanding the Bonnaroo brand to include everything from television programming and mobile-phone apps to ad space on bonnaroo.com. "We haven't settled on a strategy yet," Farman says. Still artists who rule Bonano are the familiar names: Stevie Wonder and Jay-Z demanding $1,000,.000+; Dave Mathews Band $750,000+; Kings Of Leon $500,000+; The Black keys $50,000 and Morning Teleportation at $1,000 or less.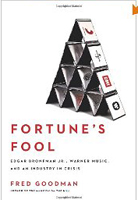 Fortune's Fool Fred Goodman tells the tale in his latest book entry in the music industry apocalypse genre, Fortune's Fool: Edgar Bronfman Jr., Warner Music, and an Industry in Crisis. According to the author, Bronfman may be the victim of his own genuine interest in entertainment. The book covers Bronfman's "dynastic destiny" from rebellious teen and anointed Seagram's heir to his move into the film industry and Broadway, gaining full access to a trust worth millions on his 25th birthday. It tells he transitions from LP to CD, the rap controversies, musicians, mergers and acquisitions, hustlers and heavyweights, this hefty, well-researched book traces the trajectories of such companies as Apple, MCA, and Vivendi as CD sales plummeted, and the music business became a world of iTunes, MP3s, and online marketing. In the mid-1990s Bronfman bought music companies—MCA, Interscope, and PolyGram. Thanks to Jimmy Iovine at Interscope, Bronfman experienced a quick gusher of music business success. Iovine's portfolio of rap artists delivered outrageous profits, but that revenue gutted the industry's venerable business model.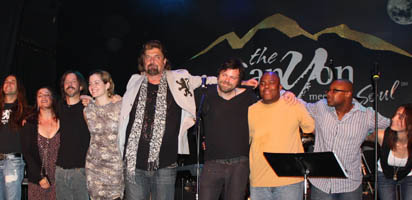 Pictured l-r: Robbie Gennet, Susan Sheller, Arlan Schierbaum, Merrit Lear, Alan Parsons, Nathan Khyber, J.V. Collier, La Mont Syndor, Kara Grainger
The stars were shinning bright at the Canyon Club, June 9th 2010, when Joanne Lara, founder of Autism Movement Therapy
(a nonprofit organization), brought together music's finest to help raise money for the cause. Legendary artist, Alan Parsons headlined with Nathan Khyber of The Good Listeners on vocals. Other performers included American Idol's Chris Golightly as well as Susan Sheller, Chadwick and Jack Dill. Autism Movement Therapy teams with the Canyon Club in hosting an autism awareness all-star benefit the 2nd Wednesday of each month.


artist expresso-- Ask Claris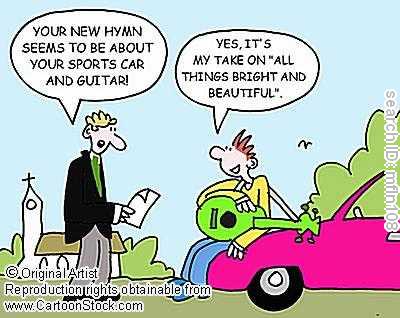 We hear from artists every day from all corners of the world -- France, Germany, Russian, Israel, Asia, Australia and Middle East asking how they can get heard or build their careers. We've decided to feature a letter or phone message each month and share our response with other new artists with similar needs or questions. Our goal remains to empower new artists and encourage them to find their voice and musical path. Most importantly, we're here to remind artists that it's a long journey, so enjoy the process. We encourage artists to provide a link to their music site when they contact us..this way, if a producer or manager is interested, they can be contacted directly.
Artist: Hi Claris, I'm a singer/songwriter currently looking for a manager, and also someone who can get my music to the key A&R execs in the industry. I'd be grateful if you could take the time to hear my demo songs on the 'Myspace' address below. Your help or advice would be greatly appreciated. http://www.myspace.com/musicdemolucas kind regards, Milan
M.Lucas
C: Thanks for the introduction. key A&R wants to hear track record/accomplishments usually achieved by artist and their support group – takes time. Do you feel you're ready to be presented to A&R?
Artist: Thanks for getting back to me, I know I'm ready to be presented to A&R, my track record/accomplishments are having a large catalogue of songs, which are produced and performed by myself, the quality of the material in my opinion is of high standard. I'm looking for support from a music label to progress further and get more exposure.
C: Are you published? If someone wants to purchase from your song catalogue, where and how? Any noteworthy artists covering your songs? Any licensing secured? Labels/publishers like to see fan base and/or demand for songs – that's what I mean by track record I know it may sound like catch22 but you've got the get the ball rolling before you get attractive offers.
Artist: Ok Claris thanks for your opinion and advice, will take it onboard.

Quotes
"I learned to sign artists not so much by listening to their music as through evaluating them as people. Intelligence is very important if you're going to have a long-term career. When you do have a hit, you go from a bum to a hero in a second, and you've got to be savvy enough to guide yourself through the maze."
-- Chris Blackwell, Founder of Island Records
"In the past, record companies developed careers and built catalogs. Now the business was moving toward the cocaine model: hit, hit, hit."
--Fred Goodman, author of Fortune's Fool


Misinterpreted Songs
Inspiration for song lyrics can come from an infinite number of places, but sometimes the ambiguity of their meaning is the best part. Each month we'll bring a well known songs that fans have misinterpreted over the years.

Bob Dylan
Mr. Tambourine Man
Misconception: A song about drugs
As evidenced in the movie Dangerous Minds, this song has widely been speculated to be an ode to mind-altering drugs, with Mr. Tambourine Man supposedly representing Dylan's drug dealer. The song's abstract, surrealistic imagery has fueled the idea that LSD was responsible for some of the lyrics, although Dylan claims to have been introduced to the drug after the song had been written. Dylan insists the song was never about drugs, but rather the search for inspiration. He claims the title character of Mr. Tambourine Man was actually inspired by musician Bruce Langhorne, who played a large Turkish tambourine during many of Dylan's previous recording sessions.
Stay inspired and cool. Until next month.