Grow Your Business In Tough Times
Five Tips to Help You Keep Your Connection to Customers & Opportunities
During tough economic times, most people will say: Time to do some housecleaning and cut expenses.
When you want to grow good crops in your garden, you start with good healthy soil and cover the plant bases with mulch to cut down on watering. ... good results are guaranteed when you take the time to learn how to grow plants.
Your business is not much different!

During World War II when times were tough and money was tight, most businesses around the world were forced to make immediate cost-cuts. The first thing to go was their marketing budget. However, surveys conducted a few years later found that those businesses that had continued to advertise during the war became the market leaders. A downturn in the economy doesn't mean a downturn in business - think smarter, be creative and don't cut your marketing budget - you too could be tomorrow's market leader. You do, however, have to become a great deal smarter on how you spend your advertising dollar.
To summarize an article by Tony Eades, 20-year veteran of business and marketing, he reminds us how you can use certain resources (studioexpresso gets a shamelss plug here) to connect to artists and service providers and manufacturers that can offer a healthy niche --meaningful and direct reach to your target audience. .Here are five things you can do right now:
1. Ignore Conventional Wisdom. Don't be Conservative.
When creating strategies in times of recession, conventional wisdom should be thrown out the window. Instead of locking up your assets and stopping growth activities, you need to create new strategies that foster growth. Because finding the right opportunities during economic downturn can propel your company ahead as a market leader. Instead of hunkering down to weather the recession, look for opportunities to grow and acquire.
2. Increase Marketing Expenditures
Take advantage of connecting to online communities & niches that are proven good values. In an economic downturn people become hungry for information, so they read more, watch more and browse the Internet more. This means your advertising has a better chance of being seen and absorbed. You can make actual cost savings by looking at less expensive alternatives for marketing your business like having strong presence in online communities. Industry leaders actually spend more money during a recession. Marketing is an important component to growing business. So don't be afraid to ramp up your marketing budget.
3. Think Outside the Box - define your ideal target market and work with organizations that cater to these audiences.
4. More Bang for Your Buck. Measure what works and what doesn't. Sophisticated online marketing can give you real-time results like who has received your e-newsletter, etc. Focus on a large amount of small deals.

5. Build and Enhance Customer Relationships. There's no substitute for getting your customers to know and like you. Learn what they want and how you can help them better. Stay visible so they recognize you as an expert and remember to call you in time of need.


Come Together
Tamar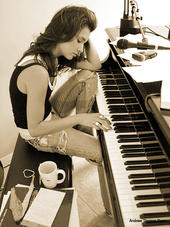 Ok. This is what fans need to say about you: Astonishingly good looking or captivating, Incredible voice, writes good music
Tamar has all the qualities with an Interscope debut out this Fall. We add star power! Tamar at MySpace
Berklee's Online Music School Opens its Doors in the UK
Over $45,000 in Celebrity Honoree Scholarships Announced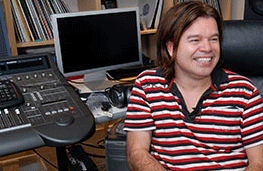 Pictured in his Los Angeles studio is London-born Paul Oakenfold, a Berkleemusic UK Scholarship Honoree. Photo by David Goggin.

Berkleemusic is also releasing a unique music scholarship program that will award 50 UK-based students the opportunity to study online with some of the most notable music instructors in the world. An illustrious list of patrons including Sir George Martin, Jeff Beck, Paul Oakenfold, Simon Napier-Bell and Steve Vai join Berklee in bringing online education opportunities to the UK. Each patron's scholarship will be awarded to two outstanding students every year for five years.
Debbie Cavalier, Dean of Continuing Education at Berklee, said, "Berkleemusic has a unique global approach to online music education, bringing world-class musicians and instructors together in a creative and collaborative environment. The British contribution to music has been remarkable, and our UK launch is designed to expand on our commitment to nurture and develop the world's greatest talent. Applications for the scholarships are being taken now with a deadline of July 27, 2009. Berkleemusic's summer term will begin on June 29, 2009.
Berkleemusic's online course catalog currently features more than 80 individual courses in music production, music business, guitar, bass, voice, theory, technique and songwriting courses. Each course is 12-weeks in length and combines a number of interactive digital demonstrations and video instructions to support the lesson content.
Visit http://www.berkleemusic.co.uk to apply for a scholarship and learn more about Berklee's online school.

Sanken in "Expedition Africa"
Sound Supervisor Jacob Smith Praises COS-11D Lavaliers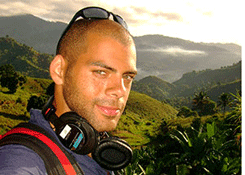 Explorers in the 19th century were the rock stars of their day - and Dr. David Livingstone was the biggest of them all. A true hero of his time and perhaps the greatest explorer ever, he dedicated his life to stamping out slavery. Then, he disappeared. To recreate this journey we had to have complete concealment of the mics," remarks sound supervisor Jacob Smith. "The vertical design of the Sanken mic capsules allowed us to use a rubber band around a Rycote softee and hide it in the clothing in a way that there was no clothing noise, even with quick-dry synthetic fabrics.
"Expedition Africa: Stanley & Livingstone," a new 8-part History Channel reality/documentary series, employed Sanken's rugged COS-11D lavalier microphones during the arduous 970-mile journey through unforgiving rainforests and desert terrain. The four elite modern-day explorers in EXPEDITION AFRICA relive Henry Morton Stanley's perilous journey to find Dr. David Livingstone. They are: navigator Pasquale Scaturro, wildlife expert Mireya Mayor, survivalist Benedict Allen, and journalist Kevin Sites. Using only compasses and period maps, they confronted obstacles and dangers similar to those encountered by the great explorers before them."We had 11 Sankens for the journey equipped with Lectrasonic MM-400 waterproof transmitters," Smith continues. "We never had any humidity problems - the mics were even doused with water a few times but they came right back to life. We had a few other brands of mics as backup but they did not hold up under these conditions at all." Sound supervisor Jacob Smith was contracted from Adrenaline Films for the Mark Burnett Production. Superb audio was recorded by sound mixers Rian Engelen (South Africa), Mark Krupka (Canada), David Tofler (Australia), and Michael St. Hilaire (USA). For info about Sanken, visit distributor plus24: http://www.plus24.net
or phone 323.845.1171

Expresso Reads -- Books Recommended by studioexpresso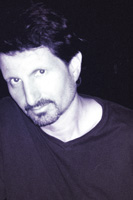 The Reel World: Scoring For Pictures
by Jeff Rona
For aspiring composers looking to break into the field of film scoring, it's a long road from the blank page to hearing your music come alive on the big screen. Author Jeff Rona draws on his wealth of experience writing music for such films as Traffic, Blackhawk Down, Mission: Impossible 2, Gladiator, Thin Red Line, and more with his offering of this expanded Second Edition. The technology changes at breakneck speed, and the relationships between all parties involved—from music directors and screenwriters to editors, producers, and agents— can be difficult for beginners to navigate. Rona is a seasoned veteran of film and television scores. He has worked with Steven Soderburgh, Barry Levinson, Robert Altman, Steven Spielberg, and many others. Rona can be reached on the web at www.jeffrona.com.
In this new and fully revised edition of The Reel World, Jeff Rona—one of Hollywood's busiest composers—details the technical, business, and creative aspects of becoming a successful film scorer. He shows how to work with the many different professionals involved in filmmaking while never diluting your own creativity. The book includes a wealth of new interviews with some of Hollywood's top film scores including John Williams, Carter Burwell, James Newton Howard, Hans Zimmer, Mark Isham, Wendy and Lisa and more.
Covering everything from setting up a studio and managing the business side of a film career to learning how to write music that shapes the tone, character, and pacing of a film, The Reel World is packed with case studies and practical tips.
Behind The Glass Volume II
Top Record Prdoucers Tell How They Craft The Hits
by Howard Massey
Foreword By George Massenberg
This companion volume—an essential read for both veteran and aspiring producers—features over 40 all-new, exclusive in-depth interviews with many of the world's top producers and engineers. The host of topics ranges from the future of digital platforms to commanding the right vocal inflections out of Amy Winehouse; from capturing the perfect amount of low end to the current state of the music industry. Massey's interviews mix practical advice on the day-to-day minutia of recording sessions with more esoteric philosophical concepts that any good engineer should keep in mind.
Forefathers such as Bruce Swedien, Daniel Lanois, and T-Bone Burnett share their studio-tested secrets on how to craft their signature sounds while the next generation of young upstart hit-makers, guys like Michael Bradford and Rafa Sardina, Mark Ronson, Darryl Swann, and Patrick Stump, talk shop about current techniques and where we are headed.

With Forward by George Massenburg, this book offers firsthand interviews with the world's top record producers and engineers, sharing their creative secrets and hit-making techniques - from the practical to the artistic. In these pages you'll find Daniel Lanois (U2, Bob Dylan) discussing the future of digital recording; T-bone Burnett (Robert Plant and Alison Krauss) sharing his unique view of creating complex low end; and Hugh Padgham (Police, Genesis) analyzing the state of the business today.

"The recording quality is no more important than the monitoring quality you achieve in the headphones, because that is what truly excites and inspires an artist."-- Rafa Sardina, Behind the Glass vol II
"My favorite mic technique is, first, picking a studio with a decent-sounding room--you'll save a lot of time and money in the long run!" --Michael Bradford, Behind the Glass vol II

FACES OF SUNSET BOULEVARD by Patrick Ecclesine
Iris Nights at The Annenberg Space For Photography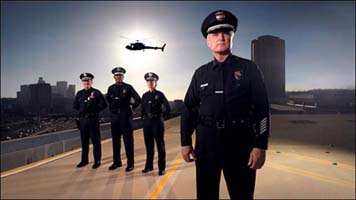 City of Angeles. Boulevard of Dreams. When Patrick graduated from college, he set out to discover his passion with few cameras and a vision.... the chief of police with a helicopter silhouetted against the sun behind ... the 31-year-old LA photographer Patrick Ecclesine knows how to combine talent and composition to create a unique style that spells Ecclesine! He stages scenes to capture the drama of a subject's life or job.A commercial photographer whose images for DreamWorks, Fox, Warner Brothers, TNT, TBS, CNN, CBS, and CW have appeared in newspapers, magazines, and on billboards and bus benches around the world, Patrick currently lives in his hometown, Hollywood, just around the corner from the street on which he was born—Sunset Boulevard. We met up with Patrick at The Annenberg Space for photography early June during Iris Night where he spoke about how Faces of Sunset was conceived.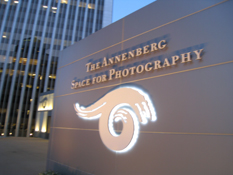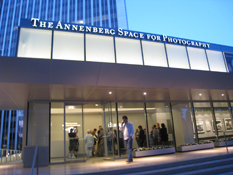 For the past three years, Ecclesine has been shooting portraits of Angelenos who live and work along Sunset Boulevard: plastic surgeons, crack addicts, illegal immigrants, movie producers and city officials, including Police Chief William Bratton and the recently separated Mayor Antonio Villaraigosa. The project is a work in progress. He estimates he has shot more than 170 portraits so far and has 100 more to go. He's financed the ambitious project himself, working as an on-set still photographer for shows like The West Wing, Gilmore Girls and E.R. Though he says 50 percent of his images are spontaneous moments, many of his cinematic photos are heavily influenced by the industry in which he earns a living and require storyboards, crews and a massive amount of supplemented light. \
James Newton Howard Studios Get a studio bau:ton Make-Over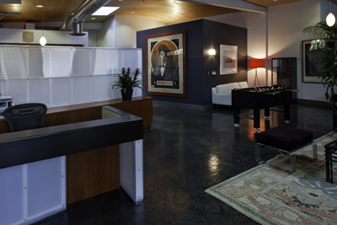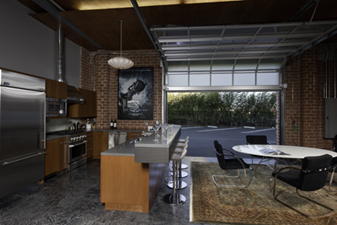 Peter Grueneisen who was elevated to the American Institute of Architects' prestigious College of Fellows (inducted at the 2009 AIA National Convention, May 2009, in San Francisco) has been busy with rewarding projects that includes composer James Newton Howard's studios (Photos above by Juergen Nogai) .
After the complete remodel of Studio A in Howard's Santa Monica facility, the common areas also underwent a renovation. The facility had originally been designed in 1996 by studio bau:ton. The main entrance, reception and lounge areas received a make-over while maintaining their generous layout and wide open spaces (left and bottom). The more private lounge in the rear of the building was outfitted with a kitchen area and bar, lit through a glazed overhead door (picture below). Mr. Howard, who, together with Hans Zimmer, won a Grammy for the score for 'The Dark Knight' and was nominated for an Oscar for last year's movie 'Defiance', recently premiered his concerto 'I would plant a Tree' with the Pacific Symphony at the Segerstrom Concert hall in Orange County. Current clients include the City of Santa Monica CityTV, Hans Zimmer's Remote Control Productions, 740 Sound Design, 9WG Red Amp Studios in Richmond, VA, as well as several private project studios and residential projects. Dakota Pictures: A facade renovation and facelift for Dakota Pictures in North Hollywood was completed late last year. The design incorporates sustainable tropical hardwood, stainless steel and aluminum and has completely transformed the building and its surroundings. At night, blue neon light accentuates the corner and the entrance. Dakota is well known as the producer of HBO's hilarious series 'Flight of the Conchords'. Check out nonzero\architecture on Facebook! Now featuring a selection of residential projects, with more building types and projects constantly being added. Click here for more information about nonzero\architecture or studio bau:ton, or call 310-453-8000 for a free initial consultation.
Bottle Village
Endangered American Folk Art in Simi Valley, California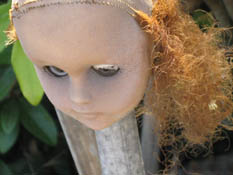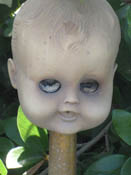 Monuments within Bottle Village gained cult status. Her Dolls Head Shrine, for example, was reproduced on the cover of Wall of Voodoo's chart-topping single. Call her an early recycling queen, green dame or rock'n roll inspiration.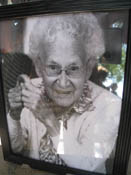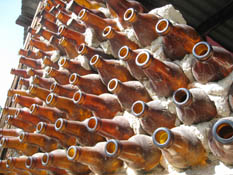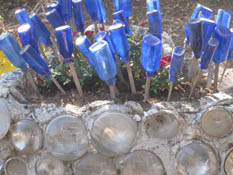 Tressa "Grandma" Prisbrey began building the Bottle Village in 1956, when she was sixty years old. During World War II, she was employed as a parts assembler for Boeing Corporation in Seattle. She and her husband had moved their trailer onto a 1/3 acre lot in Simi Valley, California. Prisbrey had not meant to become a cult icon. Nor had she intended to build what would become Simi Valley's most popular tourist attraction. Her original idea was to build a wall to keep away the smell and dust of the adjacent turkey farm and to simply create a structure where she could store her commemorative pencils, all 17,000 of them. Since there was no money left for construction materials, Grandma Prisbrey drove her Studebaker pickup truck to the town dump and came back with a truck full of bottles. She just kept on building – some 23 buildings and structures made of glass and other odd materials, a mosaic sidewalk throughout her village. Other buildings soon included the Leaning Tower of Bottle Village, the Dolls Head Shrine, Cleopatra's Bedroom, the surround house, and many more. She even gave visitors a tour which would end in the Meditation Room where she would play the piano and sing risqué songs from the 1920s. In February, 1981, Bottle Village was declared a California State Historical Landmark. At the age of 92, Tressa "Grandma" Prisbrey died in a nursing home outside of San Francisco, California.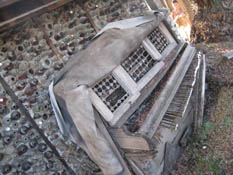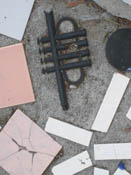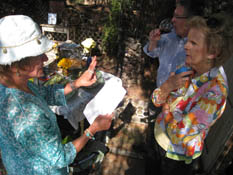 A reporter who talked to her just the day before she died reported that Grandma had this to say: "I'm going home to my Bottle Village". Damaged by the Northridge earthquake, Bottle Village is need of repair. Grandma's Bottle Village is part of the "Visions of Paradise" series on contemporary folk artists directed and produced by Irving Saraf and Allie Light. The film is an exploration of Grandma Prisbrey's creativity, pizzazz and sense of the absurd. Watch it here Just goes to show you there's life after 60! I'm told when the wind blows at dusk, you can hear the bottles chiming. Rumor has it that Beck camped out at Bottle Village for few days. Maybe "Ship In A Bottle" was inspired there? Few good Samaritans have gathered to save the village, a true California Twentieth Century Folk Art endangered. Write to studioexpresso, to learn more about Preserve Bottle Village. Or you may write to: Preserve Bottle Village PO Box 1412 Simi Valley, CA. 93062


Sade (full name Helen Folasade Adu) has reunited with her former band members and is in the studio cutting new tracks. She hasn't had a new release since 2000's 'Lovers Rock,' which sold 3.8 million copies in the U.S. Band member, Stuart Matthewman, also known as Cottonbelly, confirms that new material is being recorded and that the process was still in its "early days" and won't be close to being finished until "later in the year."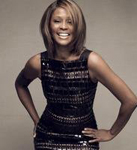 Arista, announced that Whitney Houston will release her seventh studio album on Sept. 1, the much-buzzed-about video clip – of her live performance in Kazakhstan during an anniversary concert in July of 2008 – is a classic that continues to generate commentary daily.
Artists & Radio
U2's album, "No Line on the Horizon," was released in March with its leadoff single, "Get on Your Boots."
In April, Bono issued a statement on behalf of pay for musicians, saying, "It's only fair that when radio makes money by playing a recording artist's music ... the recording artist should be compensated just as songwriters are already." Soon after, it said, "several stations within a major radio broadcast group notified the artist's label that they would no longer play his single on the air." The controversy centers on legislation in Congress that would require radio stations to pay musicians royalties. Satellite radio, Internet radio and cable TV music channels already pay fees to performers and musicians, along with songwriter royalties. AM and FM radio stations just pay songwriters, not performers. The National Association of Broadcasters http://www.nab.org opposes the bill, called the Performance Rights Act. The NAB says it amounts to a tax on US radio stations and threatens thousands of jobs.
The filing by musicFIRST http://www.musicfirstcoalition.org , made late Tuesday, also said: A Delaware radio station boycotted all artists affiliated with musicFIRST for an entire month. Other artists involved with musicFIRST include Don Henley, Celine Dion, Christina Aguilera and Wyclef Jean.
R.I.P. King of Pop -- Michael Jackson
1958-2009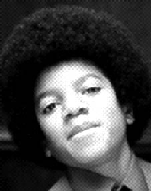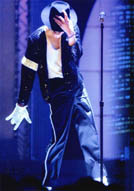 The sad news of Michael Jackson being rushed to Ronald Reagan UCLA Medical Center Thursday afternoon by Los Angeles Fire Department spread on the Internet in matter of minutes. He was reported not breathing when paramedics (Capt. Steve Ruda) arrived at 100 block of Carolwood Drive off Sunset Boulevard (his rented Bel-Air French chateau estate)
Jackson, 50, was planning a comeback (including 50-city European tour) after years of tabloid headlines, most notably his trial and acquittal on various charges. Ne-Yo and Will.I.Am were to complete Michael's album.

"Very sad. I spoke with Bruce Swedien and some people working on the concert prep for London. Everyone is in shock, so unexpected, so tragic," says Matt Forger who worked on Michael Jackson 'Special Edition' albums; 'OFF THE WALL', 'THRILLER', 'BAD', and 'DANGEROUS'. His label, Sony/Columbia posted "We express our deep sadness and sorrow at the unexpected passing of Michael Jackson and extends wishes of sympathy and condolences to all of Michael's family, friends and fans around the world."
"Michael will be remembered as one of the greatest entertainers of our time. He was born with a talent that had no racial or cultural barriers. Michael's legacy will live on. I have no doubt that he's up there with his beloved Fred Astair; and they're dancing up a storm," says studioexpresso's Claris Sayadian-Dodge.

The millions of fans in mourning worldwide have taken comfort in his music. Social networking sites such as Twitter and Facebook have been flooded with tributes, while Jackson's videos on YouTube are being inundated with emotional user comments. This footage from Sonny & Cher Show is our pick.
Watch Michael Jackson & Jackson 5
Watch Billie Jean - Motown 25 (Moonwalk) 2,078,460 views
His philanthropy and goodwill were unrivalled, and grew in correspondence with his wealth. Quincy Jones, not only Jackson's producer but a friend and one of his biggest supporters, saw his emergence as a beacon of hope for the black community, whose music "had to play second fiddle for a long time." "Michael has connected with every soul in the world," Jones said.

His musical legacy will not tarnish -- not in the years to come, not likely ever.
Gone too soon. Farewell, dear Michael. May you watch over Michael Jr, Prince and Paris.
"The Love You Take Is Equal To The Love You Make." -- John Lennon
You are subscribed as %Email% Please click here -- http://www.studioexpresso.com/MailListForm.asp to unsubscribe or subscribe from any future mailings. We respect all requests. Thank you