Expresso Walk And Talk... .



In The Studio With Michael Jackson
By Bruce Swedien
With Forewords By Quincy Jones and Rod Temperton
Five-time Grammy award winning engineer Bruce Swedien's long-awaited In The Studio With Michael Jackson (left - from Amazon) has just been published by Hal Leonard Books. "Though the book was in production for many years we did not anticipate its release coinciding with the events of the last few weeks," says the publisher. Swedien and producer Quincy Jones are the creative partners and architects of Jackson's sound. The book is part anecdotal memoir, part technical reference, and paints a vivid portrayal of Michael Jackson as an artist. Swedien's memoir Make Mine Music was published by Hal Leonard earlier this year. Swedien provides the perspective that only an insider can, sharing recollections from personal experience of what it was like to ride shotgun alongside one of music's most celebrated icons. In The Studio With Michael Jackson includes over 100 photos—many of them candid and intimate shots of Jackson at work in the studio—as well as numerous other artists and collaborators that worked on these amazing records. Additionally there are scores of Jackson's handwritten notes and other never-before-seen ephemera pictured throughout.

Webcasters Agree to Pay. Earlier in July it was reported that labels, SoundExchange and "pureplay" webcasters (those whose sole business activity is streaming music online) reached an agreement on royalty rates. The agreement covers 2006-2015 and includes a "discount" from the rates set by the Copyright Royalty Board for large webcasters. The agreement divides pureplay webcasters into "large," "small" and "those with bundled, syndicated or subscription services." Large webcasters (those with over $1.25 million in revenues annually) pay a per-performance rate that is minimally $25,000/year. Small webcasters (any with less than $1.25 million in annual revenues) pay a percentage of total revenues or a percentage of total expenses. Those falling into the third category pay the same rates previously agreed upon between SoundExchange and the NAB. That rate will increase until reaching 0.14 cent in 2015. "This is good for music," said Dennis Wharton, the executive vice president of the National Association of Broadcasters. "It sets a rate where artists will receive royalities for the music they produce." Wharton said although these "pureplay" webcasts are popular, he doesn't see this decision affecting local radio stations. He said the 235,000,000 people who listen to the radio every day will probably stick with it. "It's hard to beat a free and local option," he said. Pandora, the poster child for the idea that the new rate could kill businesses, is pretty pleased even though founder Tim Westergren says the rates are "quite high" and that the free service's top listeners face limits. Pandora creates personal radio stations for users built around what it knows about their tastes. The agreement calls for large ad-supported radio services, such as Pandora, to either share 25 percent of revenue with the music industry or pay a per-stream rate of 0.08 cent retroactive to 2006, whichever is greater. That rate will increase until reaching 0.14 cent in 2015. Lower rates were vital to the survival of Internet radio stations, Tim Westergren (photo above), Pandora's founder, said in September. The Copyright Royalty Board set a performance rate at 0.19 cent but Webcasters argued that the rates would drive them out of business. Paul Krasinski, chief executive of Ando Media, which provides audience measurement and online advertising services to several of the companies affected by the agreement, said it could herald "dramatic" audience growth. "With that comes the ability for advertisers to access that audience, and the long tail of [niche] broadcasting becomes a reality," he added.


Leslie Ann Jones, President of the Board of Directors of the Society of Professional Audio Recording Services (SPARS) recently announced the appointment of Paul A. Christensen as Executive Director of the Association. Mr. Christensen served as a Director of SPARS from 1989 to 2000 in various capacities, including President from 1997-1999, SPARS 20th Anniversary. He is President of Omega Productions, www.omegalive.com, a 36 year old award winning Entertainment Production Company specializing in live concert DVD, HD and CD recordings. A new, enlarged web site, www.spars.com, has been built to encourage networking, community, education, as well as free lance opportunities. studioexpresso is pleased to be associated with Spars.

Joe D'Ambrosio is a 27-year veteran of the Sports and Entertainment industries who heads his own talent management/events production company. Previously, Joe was involved in various productions including Lucent Technologies' worldwide showcase event in Geneva, Switzerland featuring Ms. Natalie Cole and Sir John Barry with the Suisse Romande Orchestra, Depeche Mode: 101 worldwide film premiere in Los Angeles, radio promotions with BBC One, the grand opening of Psycher, Tokyo's largest nightclub, starring Soul II Soul and Grace Jones, as well as impromptu live club performances featuring Brian Wilson, Prince, Elton John, Bruce Springsteen, Don Henley and Sting at the legendary China Club. More recently JD has added to his impressive roster: Grammy-winning Mixer Joe Zook (OneRepublic, Modest Mouse, Katy Perry), Grammy-winning arranger Larry Gold (Kanye West, Justin Timberlake, Jay-Z, Mary J. Blige), Producer/Writer/Mixer Dru Castro (India.Arie, Musiq Soulchid, K'Jon), Producer/Mixer Thom Monahan (Little Joy, Vetiver, Devendra Banhart, Au Revoir Simone) and Producer/Writer Marc Jordan (The Cult, Velvet Revolver, Rock Kills Kid).
studioexpresso caught up with Joe this month with a brief interveiw.
SE: How have client(s) --label, artist mgr, etc-- changed over the years?
JD: Clients have demanded more, labels have paid less, artist managers have pushed for better deals and the economy is kicking everyone's backside. I remain upbeat, hopeful and positive toward success in the future. Every day, on the drive in to work or the train into NYC, I think how we can do things more efficiently, more economically, smarter and realize that you can't have it quick, cheap and good. Pick two of three as they say. I rep great talent and they need to earn a certain wage and spend a certain amount of time to get things exactly the right way. When Mick Guzauski mixes something, he's not rushing. When you ask Larry Gold to arrange something (listen to Kanye West's "Flashing Lights" single), he's not rushing.
SE: What was your big 1st break in the industry?
JD: Phil Ramone. I owe it all to Phil. We met when I was working in publicity at the New York Yankees and became fast friends. We both love music and sports. It's the great connection, really. It's where I met Jimmy Buffet, Meatloaf, Billy Joel, Paul Simon and so many others. But Phil gave me a chance. I owe him everything.
SE: What's the hottest news of this year for music and how does that help/hinder what you do?
JD: The hottest news of the year for me is foreign business. We do quite a bit with Germany, UK, France, Belgium, Switzerland, Italy, Canada.
SE: What new trends, if any, can you report from your daily negotiation or contractual work for your clients. What would you like to see in client Agreements?
JD: Trends are everyone asking for a better deal. And don't be fooled: most good managers are making those deals. I have always felt you do not leave money on the table but today that first 'ask' is much less than a traditional negotiation, so be ready to make a good deal. We still pass on certain things but we have become much smarter in how we do business. As for 360 deals, I have gotten some producers and mixers a piece of publishing and other incentives, but I've yet to see them pay off. They will, just not yet.

United Breaks Guitars! United Airlines passenger Dave Carroll had his Taylor guitar destroyed by the airline's baggage handlers during a flight last year. After United repeatedly declined to reimburse him for the damage, he wrote a now-famous song decrying their customer service and their brand. It was funny, justified and smart. The damage to United's brand was undeniable. But perhaps the craziest claim to come surface during the the entire United Breaks Guitars episode comes from Chris Ayres of The Times Online in the U.K. In a column earlier this week, Ayres claimed the Carroll mishap actually cost United $180 million, or 10 percent of its market cap: "..within four days of the song going online, the gathering thunderclouds of bad PR caused United Airlines' stock price to suffer a mid-flight stall, and it plunged by 10 per cent, costing shareholders $180 million. Which, incidentally, would have bought Carroll more than 51,000 replacement guitars." 4,084,746 views on Youtube!
After the video went up, United gave $3,000 to charity at Carroll's request (It chose a music institute.) The ariline, which is using the video to train service reps, says it had declined to pay Carroll because he didn't report the damage within 24 hours. Now, it says, it will "do a better job" of figuring out when to bend the rule! Carroll is working on song #2!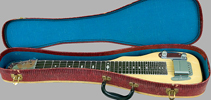 Fender For Sale Lap steel guitars were the first instruments produced by the company founded by Leo Fender and Doc Kauffman in 1945. Following Kauffman's departure in 1946, the company, K&F, was renamed Fender Electric Instrument Co. The Champion/Student model was introduced in late 1949. Unlike the company's higher-end lap steels, which had stained wooden bodies, the Champion's was covered in pearloid. A year later, Fender made history with the introduction of the electric solid-body Spanish guitars, the Esquire and Broadcaster (Telecaster), whose success prompted Gibson to bring the Les Paul model to market in 1952. Serious offer requests, please contact 818-990-3031 and we'll be happy to share the private party details including complete specs.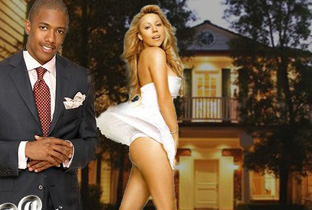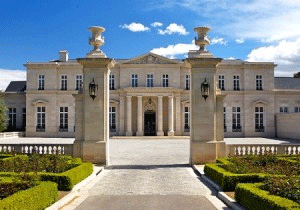 Mariah Carey and Nick Cannon are celebrating their first wedding anniversary with a new home - they've splashed out a reported $7 million on Farrah Fawcett's former mansion (studio owner, Allen Sides had previously purchased it from Fawcett). The mansion was initially put on the market with an asking price of $9.5 million. Mariah and Nick have been hunting for the perfect California estate for the last few months, and they reportedly put in an offer to buy one of Los Angeles' most prestigious homes, the Holmby Hills estate (right) in March. Experts priced the Holmby Hills estate at $125 million. It sits in five acres of grounds, has 15 bedrooms, and comes with a library, two kitchens, and a screening room. The couple has now settled on a smaller property - a five bedroom, eight bathroom home in Bel Air. Oscar party sans theater, but who says small can't be beautiful!

The Festival Racket CMJ Music Marathon 2009 Music Festival extended its artist submission deadline until Monday, July 27. "Last chance to play CMJ '09," says the web site. Artist submissions are open exclusively at Sonicbids, for $45. The promise: Get seen and heard by over 120,000 fans and pros and play New York's most venerable venues - boweryballroom.com, cake-shop.com, terminal5nyc.com, mercuryloungenyc.com. The burning questions: Just how many submissions do they get? And who gets promoted by the New York Times? Mickey Hart who has a career dating back to the 1960s (when he started playing drums in the Grateful Dead) and majors like Maya Arulpragasam, better known as M.I.A and SPOON . Then there's the more privilaged badge holders (the industry). Come on! Good business model, yes. But, music for art's sake. I think Not. See this blog on facebook and let us hear your thoughts. In contrast The Woodstock Festival was a music festival, billed as "An Aquarian Exposition", held at Max Yasgur's 600 acre dairy farm in the rural town of Bethel, New York from August 15 to August 18, 1969. Thirty-two of the best-known musicians of the day appeared during the sometimes rainy weekend in front of nearly half a million concertgoers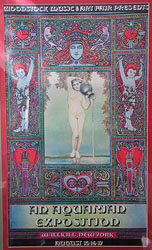 Woodstock was initiated through the efforts of Michael Lang, John Roberts, Joel Rosenman, and Artie Kornfeld. It was Roberts and Rosenman who had the finances. They placed the following advertisement in the New York Times and Wall Street Journal under the name of Challenge International, Ltd.: "Young men with unlimited capital looking for interesting, legitimate investment opportunities and business propositions." Lang and Kornfeld noticed the ad, and the four men got together originally to discuss a retreat-like recording studio in Woodstock, but the idea evolved into an outdoor music and arts festival. Woodstock was designed as a profit-making venture, aptly titled "Woodstock Ventures". It famously became a "free concert" only after it became obvious that the event was drawing hundreds of thousands more people than the organizers had prepared for


Tribute concerts Raise Thousands for Grand Rapids Singer-Songwriter Diagnosed with Cancer
Rawlston Bowles Family Fund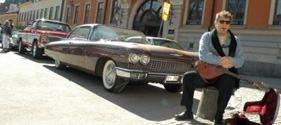 Grand Rapids-based singer-songwriter Ralston Bowles is recovering. He was just coming off the European tour and a well-received show at Frederik Meijer Gardens when he started feeling pains in his lower abdomen. Doctors detected colon cancer and operated soon after. Benefit concert has raised over $7,000 to assist Bowles with medical and insurance costs. Hosted by One Trick Pony owner Dan Verhil and his wife, Lisa, and organized by former WYCE-FM station manager Michael Packer, more than 120 people attended each of two Sunday shows by Mulvey and Speace, longtime pals of Bowles.
Friend musicians Amy Speace and Peter Mulvey performed on June 28 benefit. Bowles, often referred to as the "ambassador" or "godfather" of West Michigan's acoustic music scene, may next be headed for a performance at the upcoming Rothbury music festival being held next weekend on the Double JJ Ranch north of Muskegon.We reviewed Rawlston's Car Wreck Conversation produced by Marvin Etzioni in studioexpresso. His latest CD, "Notes from Elsewhere" on Signature Sounds, is a retrospective of songs from his 15-year career. Listen to Rawlston here and wish you health. Donations to the "Ralston Bowles Family Fund" can be made at Macatawa Bank, 3177 Knapp St. NE, Grand Rapids, MI, 49525.
Summer Is Fireworks at the Bowl With Memorable Mancini Music!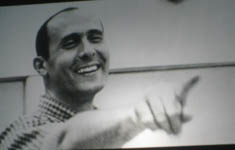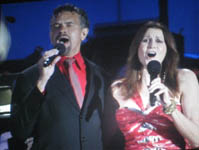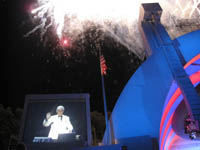 LA Phil Presented Ultimate Mancini on July 10-11 at the Hollywood Bowl Featured Artists included:
Los Angeles Philharmonic Bill Conti, conductor, Dave Grusin, piano, Brian Stokes Mitchell and Concord Record recording artist and 2005 Double-Grammy nominee Monica Mancini, vocalists and special guests. From "Moon River" to "Days of Wine and Roses," from Charade to Victor/Victoria, from The Pink Panther to Peter Gunn...this was a fitting celebration of the unforgettable legacy of music for film, television and orchestra by four-time Oscar- and 20-time Grammy winner, legendary Hollywood Bowl Hall-of-Famer Henry Mancini!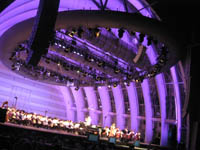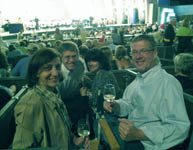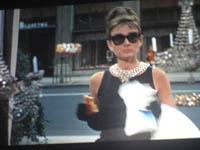 You are subscribed as %Email% Please click here -- http://www.studioexpresso.com/MailListForm.asp to unsubscribe or subscribe from any future mailings. We respect all requests. Thank you