The Elementary Choice -- Soundfield for Holmes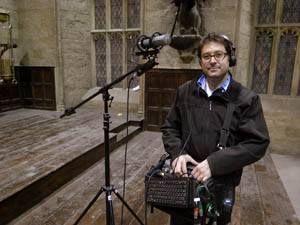 Christmas day 2009 is the planned release date for the latest filmed addition to the Sherlock Holmes canon, starring Robert Downey Jr. and Jude Law in an almost irreverent take on the story of Baker Street's most famous detective. Downey Jr.'s clumsy, tousle-headed, slightly risqué version of Holmes is far removed from the calculating, ice-cool character portrayed by the likes of Basil Rathbone and Jeremy Brett in the past, and yet somehow, it all works brilliantly.

Exterior filming for the new Holmes film began in early 2009 in suitably old-fashioned locations in Liverpool, London, Chatham, and Manchester, with Second Unit sound recordings being overseen by freelance sound mixer John Casali. His recent credits read like a shopping list of UK-themed Hollywood blockbusters, with work on two Harry Potter films and on the recent James Bond film prior to Sherlock Holmes. Having borrowed a SoundField ST250 microphone as an experiment for the first Bond film, Casali bought a more up-to-date portable ST350 system to capture on-set surround ambience when he worked on his first Harry Potter two years ago, and has been using it ever since.

Like all of SoundField's other microphones, the ST350 captures audio in the four-channel SoundField B-Format, an output-independent format from which phase-coherent audio can be derived in mono, stereo, M&S or 5.1 surround sound can be derived using proprietary SoundField processing, and all from a single lightweight, portable microphone.


"I used the ST350 a lot on crowd scenes and in the Great Hall at Hogwarts on the Harry Potter films, and on Sherlock Holmes it's been great for capturing the sounds of the period horse-drawn carriages on the streets,"

"I use Altiverb a lot to capture the impulse response of acoustic spaces we're recording in, and the ST350 has been brilliant for that, too. Now, whenever we're working in a location with a recognizable acoustic, I take an impulse response, because you can use it to recreate the ambience later in post. It's very handy for realistic dialogue replacement in post-production."

With shooting complete on Sherlock Holmes, John Casali is already working on his next projects, together with his ST350. "When I first tried out the ST250, it was a bit of an experiment," he admits. "Then I purchased the ST350 and started using it more often and now I never leave for a job without it!"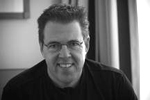 Participating manufacturers of highly respected gear included: L.A. studio musician and pro audio developer PETER MONTESSI of A DESIGNS ; UK's Hi-end monitor manufacturer BEN LILLY of ATC LOUDSPEAKERS ; One of the brightest minds in handmade microphones of our dayDAVID BOCK of BOCK AUDIO; Blues Magoos drummer/engineer/pro audio designer GEOFF DAKING of DAKING; Creator of The new bridge between tape machines and DAWs CHRIS ESTES of ENDLESS ANALOG; Inventor/Producer GEORGE MASSENBURG (Lyle Lovett, Aaron Neville, Dixie Chicks) of GML, Lehmann Audio, Soundfield and boss man at Legendary all-tube recording equipment from Denmark, JESPER B. NIELSEN of TUBE-TECH Well done, James!
Superlitio
Califosound
Rafa Sardina (Producer, Mixer, engineer)

Superlitio has performed with artist such as Juanes, Café Tacuba, Molotov, to name a few. They won Colombia's biggest awards, THE SHOCK AWARDS, for RECORDING OF THE YEAR.
Sometimes, the best holiday albums, are actually not holiday albums! Take the Colombian band Superlitio for instance, who brings a masterful fusion of jazz, funky-rock, reggae, salsa, freestyle punk in its fourth album "CALIDOSOUND" produced by Rafa Sardina.
Call the six musicians whatever you want, but these Latin Grammy nominated band (best new artist) makes you groove to polyphonic rhythms with polished pop melodies reminiscent of Beatles (Te Lastime) to Prince like (Feeling Funky) or Bowie (Lo Fi). Romantic and danceable, the mood is happy go lucky. Just what the doctor ordered for this holiday season!
"As challenging as it might seem to record abroad, it was a blast to produce one of the most versatile bands I have been involved with.
They display an eclectic style but making it very cohesive and classic structured with a modern twist. This guys really shine live!" says the producer, Rafa Sardina. Watch this band - they truly cross the language barrier and though Superlithio is largely in Spanish, it's hard to label it Latin or world music. Rather it's music made for our world.

Avatar Studios reports a busy month. John Mayer mixed in C. The session was produced by John Mayer with engineer Joe Ferla assisted by Justin Gerrish Angelique Kidjo and John Legend recorded in B. The session was produced by Angelique Kidjo with engineer Justin Gerrish assisted by Aki Nishimura Aaron Neville recorded in G with producer / engineer Steve Ivy assisted by Rick Kwan -asst Bolden! film music recorded in A with producers Delfeayo Marsalis & Dan Pritzker, engineer Ed Cherney assisted by Justin Gerrish Chimene Badi recorded in Studio A with producer Scott Jacoby, engineer Neil Dorfsman assisted by Justin Gerrish. The Broadway Boys recorded in A with producer Jesse Nager, engineer Rob Killenberger assisted by Fernando Lodeiro. Afro-Peruvian Sextet recorded in Studio C with producer Gabriel Alegria, engineer Jim Anderson assisted by Fernando Lodeiro. Jessye Norman recorded in C with producer / engineer Adrian Von Ripka assisted by Rick Kwan


Add Some Sun To Your Chrismtas List....How would you like to wake up in the morning, have breakfast with your mates, and take a short walk across a Sonoma County ranch to your studio session? Prairie Sun's Studio C hosted band Everest who moved in for a couple weeks to track their next full length release for Vapor Records. Having built a buzzworthy rep touring with Neil Young and Wilco, Everest is made up of a group of veteran musicians, producers, and engineers (including Eli from the Delta Spirit sessions on bass). Everest brought along journeyman Fritz Michaud (Silversun Pickups) to manage the Neve/Studer/Pro Tools side of things, freeing the members to concentrate on their roles as players. Look for the results early next year.
For a limited time, Prairie Sun Recording is offering a holiday special for musicians. 10-hour lockout days in Studio B (30 years history with Pete Townshend's old Neve console and where Tom Waits' Mule Variations was recorded). $400/day (up to 5) without engineer. Rent a Prairie Sun guesthouse (up to 5 nights) for $50 a night with some Terms and Restrictions. "Want analog color and tone with the convenience of recording direct to Pro Tools? Track through this Neve, and hear the difference. Better yet, rent or buy a reel of 2-inch tape, we'll dump it to Pro Tools, and get ready to be awed when you pull the tracks up at home to overdub or mix," says owner Mooka Rennick.



Legendary rock duo Air Supply recently tracked their 2010 release entitled Mumbo Jumbo at Odds On Records & Studios A (which houses one of the largest consoles in the country, a 96-input SSL Duality console), and mixed it in Studio B's SSL 9000K room. Air Supply The band also recorded three new tracks at the studio after it thought the album was completed. "I just keep writing so we recorded three more tracks from scratch ? the tracking rooms are just fantastic," explains Russell. Air Supply also turned to the Las Vegas Philharmonic, the first string session to perform in Odds On's live room, to contribute to the recording process. The Las Vegas Philharmonic was incorporated into four tracks on the new album. Award-winning independent and part-time staff engineer James 'Bonzai' Caruso mixed the entire record and also engineered several tracks. The album was produced by Air Supply with guidance from Bonzai."We wanted continuity to the album and Bonzai just brought this beautiful sound to the record," continues Russell. "We trusted him completely and he brought new life to the project." As avid performers, Air Supply does about 130 shows a year. The band will be on the road touring for the remainder of 2009 – currently on a month-long Asian tour, and then heading to the Middle East, Canada and Mexico. When it returns to the states, the band will be gearing up for its new 2010 release.
Songwriter, singer, pianist, multi instrumentalist and Las Vegas resident Frankie Moreno recently turned to Odds On Records & Studios, the newest high-end recording facility in the area, to mix several tracks for his new full-length album "Unknown Artist," expected to be released in 2010. With a musical style that mixes rock/funk with classical, Moreno's newest album incorporates plenty of classical orchestrations, from flute solos to a 14-piece orchestra. While Moreno did record a few of his solos from home, Odds On's 12,500 sq/ft acoustically-pristine live room, which is directly adjacent to Studio A, was the perfect fit for these larger orchestra sessions. Working with Odds On's engineer and long-time friend, Matt Salveson throughout the mixing process, Moreno has tracked and mixed songs in the studio's SSL Duality room (Studio A) as well as in the SSL Matrix room (Studio C). He will be playing at Las Vegas' famous Golden Nugget Hotel & Casino for the remainder of 2009 and will be back in studio between performances to work with Salveson to finalize his 2010 release.
Congrats to Black Rock Studios who won the best new studio award in this years Audio Pro International excellence awards!! "We are very happy with the win, it is very nice to see all the hard work that went into building our dream studio being recognized on an international level," says owner, Kostas Kalimeris. You can check out the winners here

Renowned rapper/producer will.i.am booked Bernie Grundman Mastering for sessions with mastering engineer Chris Bellman for the Black Eyed Peas album from Interscope, The E.N.D. (Energy Never Dies), which has been nominated for the Album of the Year by The Recording Academy.



Flutist/Saxophonist Najee will perform the National Anthem at the Orlando Magic's home game on December 25th, Christmas Day. ESPN is airing a double header that day with the second game being the Boston Celtics versus the Orlando Magic. This should be a huge game because it will be nationally televised, and also because Boston is a conference rival and this will be their only trip to Orlando this season. Najee recently released "Mind Over Matter" on Heads Up International.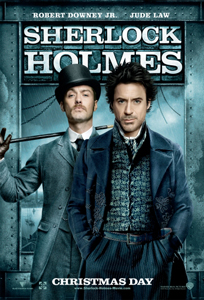 "The ST350 has been brilliant for capturing the basic 5.1 beds that the post-production guys use to build up the surround mix from scene to scene," explains Casali. "It creates very realistic soundscapes. Sometimes I still can't believe it's all from one mic."
John is currently working on both parts of the forthcoming 'Harry Potter and the Deathly Hallows'.
TransAudio Group, the U.S. distributor for ATC (Acoustic Transducer Company) audio reference speakers, will introduce the U.K. manufacturer's first ever compact active three-way studio control monitor, the ATC SCM25A Pro, at the 127th AES Convention in New York.
Designed for positioning on a meter bridge, or rack-mountable for broadcast applications, the ATC SCM25A Pro offers very high-performance in the most compact possible form factor.

The SCM25A Pro incorporates ATC's proprietary short coil seven-inch carbon-paper woofer, a three-inch soft dome midrange driver and a one-inch silk dome tweeter in a ported enclosure that measures 10.4 inches (264 mm)
(H) x 16.9 inches (430 mm) (W) x 16 inches (408 mm) (D). The integrated tri-amplifier generates 150 W RMS for the woofer, 50 W RMS for the midrange and 25 W RMS for the tweeter. The passively cooled amp pack also features FET limiting. The crossovers are all 4th order, critically damped with phase compensation.

For more information on Soundfield contact Brad Lunde or Phone (702) 307-2700 or visit www.transaudiogroup.com



LasVegasProAudio.com, LasVegasProAudio.com, a division of TransAudio Group, is the launch pad for the brands of tomorrow. The goal of LasVegasProAudio.com is to provide unique equipment, useful information and long-term support to their clients.LVPA product line includes: Accusound Cable, Economy 50mm Shockmount,Enhanced Audio (Ireland), PAULY Superscreens (Germany)Sonodore Microphones (Holland)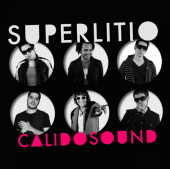 Mauricio Campo : Vox Lider
Pedro Rovetto : Bass
Alejandro Lozano : Guitar
Felipe Bravo : Vox, Key and Guitar
Dino Leandro : Turntable and Machines
Armando Gonzalez : Drums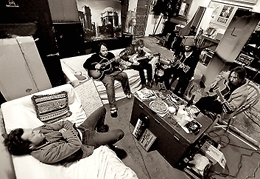 Prairie Sun Recording Holiday Special in Studio B
Call the studio today (707) 795-7011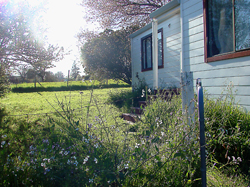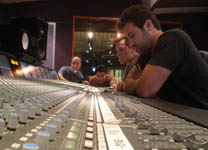 Pictured from left to right at Odds On Records & Studios in Las Vegas, Nevada is Mike Zerbe, Frankie Moreno, Matt Salveson and Tony Moreno.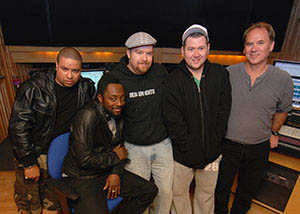 Pictured (L-R) during mastering sessions at Bernie Grundman Mastering are Dante Santiago, A&R creative executive producer; will.i.am, artist/executive producer; Dylan "3D" Dresdow, mixer; Padraic "Padlock" Kerin, recording engineer; Chris Bellman, mastering engineer. Photo by David Goggin.