Downright Neighborly
SoundField MKV Lands On Hell's Half Acre from Legendary Guitarist Martin Stephenson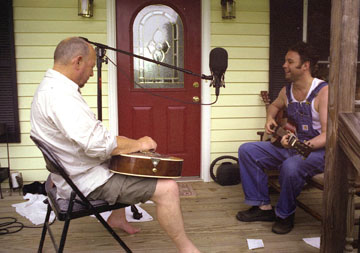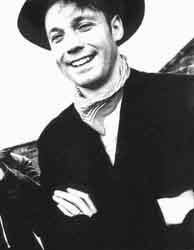 Dolph Ramseur's "Hell's Half Acre" with Martin Stephenson (left) and Jim Hornsby utilized SoundField MKV for extraordinary location recording authenticity; Stephenson of Dintees
The locals in and around the one-stoplight town of Midland, North Carolina know it better as "Hell's Half Acre." It earned its colorful name during the 1930's, when an unusually large concentration of moonshine stills attracted a rough bunch of hellions to the town. The old hellions begot little hellions, and Midland stayed true to its nickname for decades after prohibition ended.
It was against that storied backdrop that the legendary English guitarist Martin Stephenson decided to record an album on the porch and in the kitchen of Ramseur Records owner and engineer Dolph Ramseur's Midland home. The album is called "Hell's Half Acre."
Stephenson is perhaps best known for his post-punk band, the Daintees, which were contemporaries of U2, Echo & the Bunnymen, and The Smiths, but he is most loved for his quieter, more intimate work that continues to this day.
In recent years, Stephenson became enchanted with the endemic music of North Carolina and wrote a beautiful album's worth of songs inspired by the region.
North Carolina native Ramseur was happy to release the album on his label, which is distributed by Sony Red, provided they could record it with an authenticity that no studio production could deliver. A location-recording enthusiast, Ramseur suggested they use the ambience of his rural home, and Stephenson happily agreed.
With the location set and passion for the project running high, Ramseur researched stereo microphones with the hope of upgrading his system. "I only do location recordings, and I wanted a single microphone that sounded amazing and that would be simple to set up," he explained. "Everything pointed to the SoundField MKV. The reviews were great so I arranged to get a demo from SoundField."
While its use is simple, any explanation of the SoundField MKV tends toward the technical. The single microphone actually contains multiple capsules that capture all three dimensions of an acoustical event and transmit that information to a proprietary decoder in SoundField's "B-Format." The B-Format signal contains ALL of the sound source's dimensional information.
Since every microphone pattern and stereo/surround format is simply a special case where some dimensional information is kept and some is discarded, the B-Format signal can be processed after the fact (by discarding some of its information) to generate any microphone pickup pattern or stereo/surround output that the user desires.
While the possibilities of the SoundField MKV system are heady, Ramseur used a more important organ to find his sound. "I know that the MKV has a lot of different capabilities, figure-8, cardioid, surround, and so on, but I threw all of that out the window and let my ears guide me. I moved things a little bit while they were setting up, but I quickly found what sounded right and didn't need to tinker with it after that."
Stephenson and his musician friends (including famed UK acoustic guitarist Jim Hornsby) first gathered around the MKV on Ramseur's eight-foot by forty-foot front porch. Ramseur set up his Alesis Masterlink two-channel recorder with a pair of trusty headphones about twenty feet away and let the feel of the place wash over the musicians and into the recording itself.
Recalled Ramseur, "We taped birds, bugs, cars going down the road, and even a thunderstorm. All of those ambient noises were absolutely beautiful in the SoundField. There are five or six cars going by on the record and you definitely hear them. The recording has a context that you can practically feel."
But not all ambient noises proved a blessing. "The recording was made in the summer of 2004, which coincided with the hatching of 17-year cicadas,"
Ramseur laughed. "I don't know if you've ever heard those cicadas when they get going, but there were times that it felt like we were recording in a jungle! We had to stop seven or eight times and wait for them to quiet down."
Since everything was recorded in one pass with no overdubs, Ramseur effectively mixed each song by moving the musicians around the MKV.
Depending on the effect they were going for, it only took a shift of a few feet closer or farther to achieve a pleasant, natural balance. "Martin and Jim have recorded in some of the best studios in the world," said Ramseur, "and they could tell right off the bat that the sound was authentic. We had the sweet spot, and it wasn't hard to find. I couldn't believe how easy it was to pull Martin in just a little bit and bam, we had it!
"I'm no sound guy," he continued, "but everyone who hears this recording thinks it's out of this world. I think that's what's so great about the SoundField MKV system - it can be so technical, but all you have to do is trust your ears and you'll get something spectacular. If I can achieve success with this format, then anyone can achieve success with this format. It's really just point and click!"

For more info on SoundField MKV system, contact Brad Lunde at www.lasvegasproaudio.com or Phone (702) 307-2700 or visit SoundField Microphones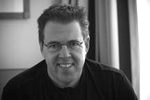 TransAudio Group's product lines include A-Designs (USA) AEA ribbon microphones (USA), ADT Toolkit, AEA, ATC Loudspeakers (UK), Brauner microphones(Germany), Drawmer (UK), Geoffrey Daking & Co. (USA), Enhanced Audio (Ireland), George Massenburg Labs (GML) (USA), Heil Sound (USA); Mercury Audio (USA) Mission Audio (UK) Phoenix Audio (UK), PAULY Superscreens(Germany), SABRA SOM(Brazil), Soundelux (USA), SoundField Microphones (UK), Z-Systems (USA) and Weiss Engineering (Switzerland) and Z Systems (USA).

Las Vegas Pro Audio is the direct sales division of TransAudio Group. The goal of LasVegasProAudio.com is to provide a personal long-term relationship with top engineers delivering insightful and accurate advice, unique equipment and long term support.TransAudio has quickly become the premier US importer/distributor for high-end audio. visit the web sites at: www.lasvegasproaudio.com

Production AWS At Chalice!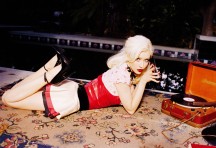 Christina Aguilera picked up the 'Best Female Vocal Pop Performance' award for 'Ain't No Other Man' at the 2007 Grammy Awards earlier in February. Co-written by Aguilera, the album's sexy, upbeat first single 'Aint No Other Man' was produced by Christina and DJ Premier. Recorded at Chalice Studios in Los Angeles, it strikes a vintage sound, which perfectly balances the old and the new and features mixes from Kardinal Beats (Destiny's Child, Pink) and FULL PHAT (Rhianna, Usher).
"This is a concept album that follows a bold, set vision," says Christina. "The touchstones are Billie Holiday, Otis Redding, Etta James and Ella Fitzgerald.... what I used to call my 'fun music' when I was a little girl."
Hugely successful among top producers, engineers and independent record labels, Solid State Logic's AWS 900+ Analogue Workstation System is also a hit among commercial recording studios
One of Southern California's busiest and fastest-growing facilities, Chalice Recording Studios recently chose a Solid State Logic AWS 900+ Analogue Workstation System for its new Studio F, an overdub/mix studio scheduled to open in March 2007. According to manager Stacey Dodd, Studio G has been open for a month now, and so far we have had Kelly Rowland, Beyonce & Shikira, and coming in this week is Alan Moulder mixing one song for Arctic Monkeys followed by two weeks with mixing Queens of the Stone Age. We wanted to have a console in the room that was usable for more than just controlling Pro Tools," explains studio manager Stacey Dodds. "Solid State Logic consoles have a sound about them. We have three other SSLs and wanted to maintain that sound."
Additionally, Chalice North has had Nine Inch Nails for the last month mixing with Alan Moulder mixing in Studio B, as well as Brian Michael Cox producing tracks for the upcoming Chris Brown album in Studio A.
Westlake Recording Studios has also installed two AWS 900+ consoles. The consoles are housed in Westlake's Production Rooms 1 and 2, which are used for overdubs, pre-production, writing and, now, mixing. "We've heard such good things about the console," says Westlake Recording Studios co-owner Steve Burdick. "Jimmy Jam and Terry Lewis's production facilities have five AWS 900 consoles. We have a lot of history with them, and if they felt it was a good console, so do we," adds Burdick (West LA Music/Westlake Audio Are The New Dealer For AWS 900+).







Expresso Cat Walk On The Red Carpet With Grammy Moments You Didn't See or Hear...
The Staple center in Los Angeles was transformed into a multi-mega-studio on testosterone in preparation for the 49th Grammy® Award broadcast on Feb 11. All of us witnessed Dixie Chicks become toast of town by taking five Grammys for "Record...," "Album..." and "Song of the Year."
"My Grammy Moment" winner, the new music darling, Robyn Troup revealed backstage that it's her birthday and added that she looked at Blige the entire time she was performing with Timberlake to avoid getting nervous. "Blige's face was warm and welcoming," she says. Everyone enjoyed the reunion performances by the Police kicking it off in high gear with the Chicks, Mary J. Blige, Red Hot Chili Peppers, Gnarls Barkley; medleys by Corinne Bailey Rae, John Legend and John Mayer; Carrie Underwood and Rascal Flatts (in tribute to Bob Wills and The Eagles) and more....
What was not seen by most, however, is how the largest night of music goes on the air. studioexpresso went behind the scene to bring you the stories not seen or heard.

While the star-studded performances, the party atmosphere and swag bags provided by sponsors took center stage, we decided to put the spotlight on the men and women of sound and picture who lift the heavy weight. Oh yeah, we had to climb into remote trucks, high-strung production rooms, roam the green and red artist lounges and even got close and personal with the colosseum-scaled stage and hall to bring you the knots and bolts of what it takes to blast off a Grammy show into the stratosphere.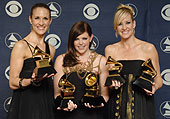 High Five To Dixie Chics; Party vibe and Giselle Fernandez with the contents of the 7th Annual Latin GRAMMY Awards Gift Bag; "My GRAMMY Moment" competition winner Robyn Troup and Neil Portnow, President

First of all, this year The Recording Academy®, CBS Television Network, and Cossette Productions combined forces for the three-hour-long broadcast, utilizing the latest in technology to provide television viewers worldwide with a cutting-edge, high-definition surround sound event. "The 49th Annual Grammy® Awards marks the fifth year that the telecast has been broadcast in HDTV/5.1 surround sound," states Neil Portnow, President of The Recording Academy®. According to Portnow, each year the bar is raised on the overall production, particularly on the audio quality of the telecast. "We are moving to total HDTV/5.1 broadcast in 2009, so this year's show once again helped set the stage for that transition and further extended the boundaries of broadcast television," says Portnow.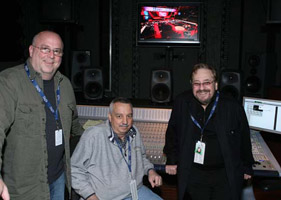 L-R: Maureen Droney, Executive Director of the P&E Wing; Phil Ramone, who also won a GRAMMY for his production work with Tony Bennett; Ron Fair, Chairman - Geffen & President - A&M (conducted orchestra for Mary J. Blige); Ken Ehrlich, executive producer; Glenn Lorbecki, P&E Wing Co-Chairman; Jack Joseph Puig, VP A&R - Geffen/A&M and a multiple award winner producer/engineer. Music Mixers John Harris, Eric Schilling with Phil Ramone, Chairman Emeritus of the Recording Academy's Producers & Engineers Wing (P&E Wing), who supervised the broadcast audio right before airtime. Courtesy of The Recording Academy® Photograph by John Shearer /WireImage ©2007
At the helm of the Grammy Awards' technical staff are two audio pioneers, co-supervising the audio broadcast -- multi-Grammy producer, Phil Ramone (Chairman Emeritus of the Recording Academy's Producers & Engineers Wing) and Hank Neuberger (advisory council member of the P&E Wing).
"We are very proud that our members help contribute to the overall production of the show," says Portnow. Ramone and Tom Holmes, the production sound mixer (Ed Green handled this last year) sit in the production truck. Holmes is the last person in chain before the sound goes out to the masses for the LT/RT feed. He does the mix for all the production elements -- dialog, music stems ATPB & audience reaction and sweetening. "We created the 18-hours of rehearsal format which helps us manage the complex operation and enhance the audience listening experience in stereo and surround," says Neuberger.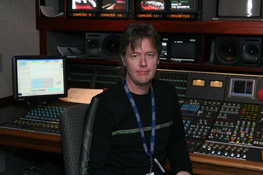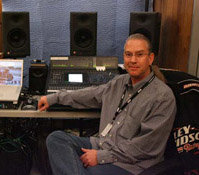 Tom Holmes, Sound Mixer; Audience Reaction Mixer Klaus Landsberg
Most technicians we spoke to said that the 49th Annual GRAMMY Awards was the most complex show to date and featured expanded staging employing more than a 1000 microphone inputs, a new level of multi-channel wireless complexity, and elaborate set changes.
Numerous remote trucks including the production truck where Walter Miller sits to direct the show and the XM truck (L7 truck utilized Genelec 8200 Series DSP Monitoring Systems) where the tag-team of music mixers, John Harris and Eric Schilling sit are linked from the parking space via miles of snakes to the stage. Here's a sample of audio professionals who make it all come together. Klaus Landsberg's job is to capture the audience reaction to events throughout the show and generate a full surround audio feed (for the XM Productions 5.1 truck) and front and rear feed for the LT/RT mix. Klaus who also works on the Emmys and Oscars says next to VMA's this is the biggest music show to produce. "Anytime, over 110 decibel of sound is pushed onto the stage floor, you have a lot to watch for," says Landsberg.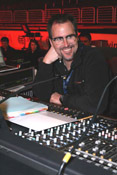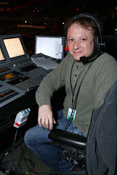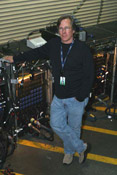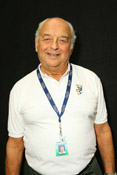 Front-Of-House (FOH) Production Mixer Mikael Stewart ;One of the lighting team; Grammy Michael Abbott of Splitzville; Music Man Jules Chaikin -- Courtesy of The Recording Academy® Photograph by Alexandra Wyman/WireImage ©2007
Joel Singer sits in the ORB (a dedicated "mirror image" broadcast truck) and does the sub-mixing of overflow inputs of orchestra that will be passed to the music and house mixers. Paul Sandweiss in the XM production OSR 5.1 truck handles all the surround sound mixes. Don Worsham is in charge of real-time music playback, pre-records, music and nominee packages. Mikael Stewart and Ron Reaves (ATK Audiotek) are FOH production mixers. Mike Parker (stage right "A") and Dave Velte (stage left "B&C") handle the monitor mixing and Andrew Fletcher & Jeff Peterson are ATK system managers.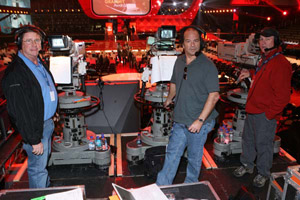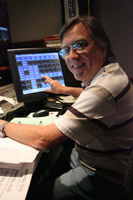 Part of the 49th Annual Grammy HDTV crew during rehearsals; ATPB Mixer Don Worsham ourtesy of The Recording Academy® Photograph by Alexandra Wyman/WireImage ©2007
According to consulting engineer and Recording Academy P&E Wing member Doug Mountain, the amount of gear used to produce the show is astonishing. Picture 150 tons of lighting on chained motors suspended from the ceiling hall illuminating the two-sided stage. Two-weeks of "pre-hang" or set up is required for the lighting alone. The 11 riggers are actually experienced (presumably well-insured) climbers who wear bungee-jumping type harnesses to install 13000 amps that light the performers and the hall. Fiber optic and LED technology is everywhere in sight.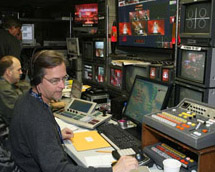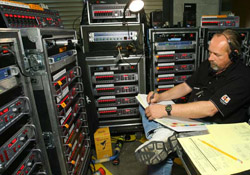 Ateam of graphic artists provide images for the broadcast; Grammy XML media feed Courtesy of The Recording Academy® Photograph by Alexandra Wyman/WireImage ©2007

Imagine 10 large screens, 19 high-DEF cameras, 23 stage managers, 150 technicians, and 500 plus microphones all going on-line live! Backstage, you can bottle the energy...there's continues flow of cartage crew transporting the prized musical instruments on drum risers with grace and elegance of a well-choreographed ballet. Much like Captain Kirk of the Enterprise, exec producers Cossette and Erlich are strategically situated below center stage in a private control booth where they can monitor the entire production during the broadcast. Michael Abott makes audio recommendations and is the overall audio coordinator for the broadcast working closely with Erlich and Cossette.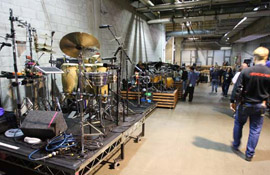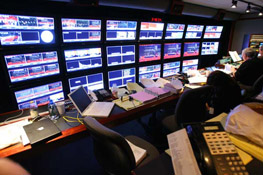 Backstage with all the drum risers set, ready to go onstage Courtesy of The Recording Academy; TV Production Truck where Walter Miller sits -- Photograph by John Shearer /WireImage 2007
Then there are extended shows like Musicares. Elliot Scheiner who has received 16 Grammy Award nominations (five wins; first took a job working for Phil Ramone in October of 1967) was in LA helping record Musicare's Person of the year, Don Henley at the convention center. Elliot's list of credits reads like a Who's Who in the music business, from Aerosmith to Grover Washington, Jr. and of coursre, Steely Dan and Donald Fagen. Most will agree that he's breathed 5.1 life into such great recordings as The Eagles' Hell Freezes Over and Sting's Brand New Day. We spoke to super engineer/mixer, Scheiner who was in town to mix the new Eagles album at Glen Frye's studio in LA. Elliot is also busy producing couple of unsigned jazz acts back in his private studio which we'll bring to you as soon as completed.




Steve Vai and Tony Benett Backstage; Phil Ramone, Tony Bennett, winner Best Traditional Pop Vocal Album for "Duets: An American; ;
Darcy Proper and Elliot Scheiner, winners Best Surround Sound

When asked what type of preparation is required to get such a huge show off the ground, Elliot says:
"Hire a good crew and let them do the work." Actually, according to the vet engineer, he's somewhat new to the live production scene and that's exactly why he's interested. "We anticipate there will be breaks in between star studded guest performances. Each act gets to sing a Henley song with him joining later. Then there's auctions and other activities around the show. So, it should keep us nice and busy," says Scheiner. And with Elliot getting a helping hand from friend, Guy Charbonaugh and Le Mobil remote truck, you know it's smooth sailing.
The Recording Academy's Producers & Engineers Wing puts out Recommendations For Surround Sound Production which makes interesting reading for those of you interested.

Music Man Jules studioexpresso met up with music vet/contractor Jules Chaikin in the green room. Jules is a familiar name to stage and studio managers and ace players in Hollywood. He just finished work on Michael Buble' CD due out later this year. Jules continues work with many arrangers and music directors to include: Jeremy Lubbock, Johnny Mandel, David Foster, Randy Kerber, Michael Melvoin, Roger Kellaway. You could say that over the past 53 years in the biz Jules has worked with more artists than you can imagine --from Sinatra , Bennett, Striesand, Ella, Sass, Carmen, Gerald Wilson, Bacharach, Herb Alpert, Kenton, Harry James, Beach Boys, Van Dyke Parks, Jefferson Airplane to so many more it would fill these pages. "Suffice it to say I have had a very long, productive, successful and fortunate career here in L.A," says Chaikin who provided the musicians for the "Gnarls Barkley" Orchestra on the Grammy show accompanying, Beyonce (strings), John Legend, John Mayer, Corinne Bailey Rae, Justin Timberlake (strings), Smokey Robinson, Christina Aguilera, Lionel Ritchie, Chris Brown, Dixie Chicks (strings). Jules was the man in contact with all of the musicians and groups that performed. "This was the greatest number of musicians on the Grammys since I became the show's orchestra contractor some 17 years ago. Three of the performances required big orchestral set ups (65 + mic inputs) with a dedicated orchestra mixer. The miking and management of the audio alone is a monumental task in itself. We had over 200 musicians not including the principal performers, e.g. The Police, James Blunt, Dixie Chicks, etc," says Jules according to whom the coordination of rehearsal times was a monumental job handled by the talent executives. "You can imagine what had to be done in order to reconcile the various schedules of the performing artists. And whenever there was a slight schedule change I had to contact all the musicians that were accompanying any particular act. It was a very exhausting challenge, especially in light of the size of the Staples Center and Center Staging, where most of the rehearsals took place," says Chaikin.
Even after all of these years Jules is still amazed at how well everything comes off, on time and on budget. "Hail, hail professionalism!!" he shouts with enthusiasm.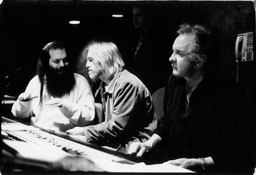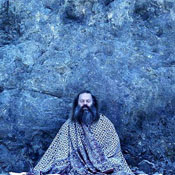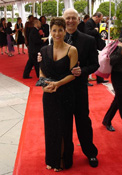 Rubin with Johnny Cash & Tom Petty photo: Kevin Estrada Courtesy of The Shooting Gallery 11x14 Silver Gelatin Photograph Call For Prints (323) 882-8340; The record industry titan meditates on a Malibu beach. (Béatrice de Géa / LAT); Elaine Martone and her husband Telarc President Bob Woods at the Grammys.


Best Produced And Engineered...The Flaming Lips & Dave Fridmann both won for "Best Engineered Album" for At War With The Mystics. Jim Scott and his coconspirators, Richard Dodd (mastered the album) and Chris Testa got Grammys for their work on Dixie Chicks' "Not Ready to Make Nice" and Taking The Long Way. Donald Fagen's Morph The Cat--Elliot Scheiner (Darcy Proper was surround mastering engineer, with Fagen serving as surround producer) who won the "Best Surround Sound Album." Jacques Lu Cont won "Best Remixed Recording" (Thin White Duke Mix) remix of the Coldplay single, "Talk." Versatile super-producer, Rick Rubin (JayZ, Johnny Cash, System of A Down, SemiSonic) who was nominated four times won this year's producer award for his work with: Taking The Long Way by Dixie Chicks; Stadium Arcadium by Red Hot Chili Peppers; American V: A Hundred Highways and God's Gonna Cut You Down by Johnny Cash; 12 Songs by Neil Diamond and Justin Timberlake's Future Sexy/Love Sounds.

According to a recent Times article Rubin has such major presence in the industry that Columbia Records has offered him co-chairmanship of the label, which would add immense credibility to the company in the competition for quality artists. Rubin is considering the move, but no decision has been made, says someone close to him. For now Rubin is back home after working with U2 in England on two tracks for the band's latest greatest-hits album and three weeks vacationing in Hawaii with his fiancée, model Amanda Santos. Plans had also just been announced for Rubin to team with Kanye West, the most compelling figure in hip-hop since Eminem, and writer-director Larry Charles, whose credits range from "Seinfeld" to "Borat," to develop a fictional comedy series for HBO based on real incidents in West's life. Also on his immediate schedule: going in the studio with best-selling rock-rappers Linkin Park and heavy-metal marvels Metallica.
Congrats also to Elaine Martone, Senior Vice President of Artist Relations and Production at Telarc who won a Grammy for Classical Producer of the Year. "I share this honor with the remarkable artists I have the privilege of producing in classical and jazz, especially the visionary Robert Spano and the Atlanta Symphony Orchestra and Chorus, Paavo Jarvi and the Cincinnati Symphony (both ensembles are our longtime partners), Ben Zander and the Philharmonia, classical guitarist David Russell, and jazz pianist Michel Camilo who lends his amazing talents to Gershwin's 'Rhapsody in Blue' – these are the artists that are represented by this award," says Martone. Michael Bishop won for Best Engineered album, classical (Elgar: Enigma Variations; Britten: The Young Person's Guide To The Orchestra, Four Sea Interludes [Telarc]. Congrats everyone!


Happy Birthday John Williams He turned 75 on Feb 8th and won two Grammy awards in the Best Soundtrack category for his score to Memoirs of a Geisha, as well as for Best Instrumental Composition for "A Prayer for Peace" from Munich.
Of Music Directing: From Idol To the Grammys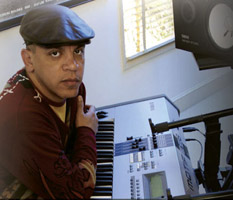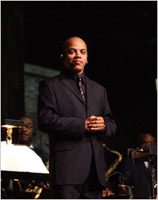 For bassist-turned-music director Rickey Minor The Grammy Awards is a piece of cake. Best known for being the music director for the smash American Idol series, Minor toured the world as Whitney Houston's musical director and produced her Super Bowl national anthem performance. He received an Emmy nomination for music direction in 2005 for "Genius: A Night for Ray Charles," a concert tribute featuring Elton John, Stevie Wonder and Norah Jones. He has helped assemble bands for artists like Usher, Christina Aguilera, Britney Spears, and Mary J. Blige.
Mr. Minor's path to "Idol" started in South Central Los Angeles, where he moved from Louisiana with his family when he was 9. "It was a low-income, drug-infested situation," Mr. Minor, now 47, said. But a high school music program, in which he played bass, "enabled me to move forward in life, not just career but in life."
At 19 he abandoned studies in math and computer science at the University of California, Los Angeles, to tour Europe with Gladys Knight. He had never flown before. He said: "I sat on the plane thinking: 'They're paying for the plane and the hotel room, and they're paying me to play this piece of wood and these metal strings. I can do this.' "
Back in Los Angeles, he was working in the pit of the musical "Dreamgirls" when he received a career-changing call from John Simmons, then music director for the singer Stephanie Mills. Mr. Simmons asked him to put together a band to back a singer from his church who was seeking a record deal. That singer turned out to be Whitney Houston.

The 49th Annual GRAMMY Awards are produced by Cossette Productions in association with Ken Ehrlich Productions for The Recording Academy. John Cossette and Ken Ehrlich are executive producers and Walter C. Miller is producer/director.
Music Honorees, Herb Alpert & Jerry Moss
More Awards For Two Legends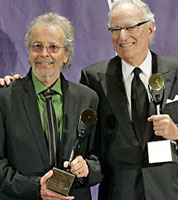 Dynamic duo: Herb Alpert, left, and Jerry Moss (Stuart Ramson / AP)
Music legend, Herb Alpert with partner Jerry Moss were honored earlier this month by The Recording Academy with the President's Merit Award. "We are proud to pay homage to this amazing duo and celebrate their incredible accomplishments as one of the most respected and revered executive teams in music history," says Recording Academy President Neil Portnow.

Alpert's artistic vision reverberates one note comprised of three simultaneous chords: curiosity, integrity and excellence. An extraordinary musician, Alpert's trumpet playing earned him five #1 hits, eight Grammy Awards, fifteen Gold albums and fourteen Platinum albums.

Alpert and partner Jerry Moss started A&M Records out of Alpert's garage in the 1960s, nurturing it into music's largest independently owned label with a roster that included The Carpenters, Cat Stevens, Joe Cocker, Sting, Sheryl Crow and Janet Jackson. Alpert and The Tijuana Brass was the label's first signed act, selling more than 700,000 copies of "The Lonely Bull" to put A&M on the map. Alpert and Moss sold A&M Records to PolyGram for $500 million in 1989 and continued to run the label until mid-1993.
The duo received The Recording Academy's Trustees Award in 1997 for their contributions to the field of recording. They also received a lifetime achievement award in the non-performing category from the Rock and Roll Hall of Fame.
Art Of Alpert
Supporting Music Education For The Kids
During the last two decades, Music legend, Herb Alpert has emerged as a talented abstract expressionist painter with international exhibitions. His canvasses are characterized by flowing shapes, bold brushstrokes and exploding colors. Alpert and partner Jerry Moss received the President's Merit Award on Feb. 11 at the 49th annual Grammy Awards. The executive duo were recognized for their impressive four-decade career in popular music.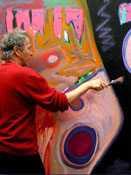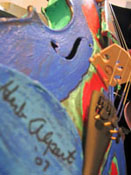 Herb Alpert painted a violin For The (New West Symphony) Kids; February concert at the Wadsworth theater in Brentwood. l-r: Alpert; Alpert violin shwon with singer/songwriter, Victoria Robertson, producer/mixer Al Sanderson (Rolling Stone), and studioexpresso's Claris Sayadian-Dodge
"For those of us in the industry, Herb Alpert represents what's known as A Class Act," says studioexpresso's Claris Dodge who got Mr Alpert to paint and autograph a violin for a local symphony fundraiser this month. Alpert became one of the confirmed artists For the Kids. New West Symphony's live and silent auction fundraiser on April 27, 2007 at Hotel Bel-Air allows very special guests the opportunity to bid on one-of-a-kind collectibles, including hand-painted violins and guitars signed by music and television celebrities to benefit the New West Symphony education programs.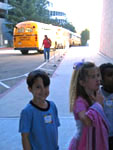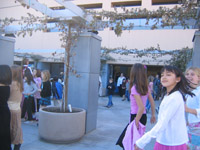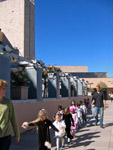 New West Symphonic Adventures at Thousand Oaks, 2007

"The experience of a live performance, from the powerful sound of the music to the foreign shapes of the instruments, is magical for third, fourth and fifth graders. Our symphonic adventures each year transform lives and educate and inspire children with great perfomances by New West Symphony musicians under the leadership of Boris Brott," says Nelson Dodge, executive director of NWS.
Did you know that Los Angeles Mayor Tom Bradley proclaims June 22 "Herb Alpert Day"?!
"We salute you Mr Alpert and send our heartfelt congrats on inspired living and giving," says Dodge.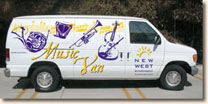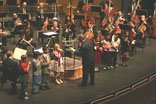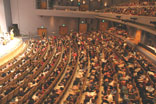 Above: The NWS Music Van and February's symphonic adventures at Thousand Oaks.
The New West Symphony is the resident orchestra of the Wadsworth Theatre in Brentwood, the Oxnard Performing Arts Center, and the Countrywide Performing Arts Center at the Thousand Oaks Civic Arts Plaza. Celebrating its 12th season, NWS is one of the preeminent orchestras in Southern California, and continues to thrill audiences with its virtuosity, richness of sound and outstanding artistic excellence under the leadership of Music Director Boris Brott. NWS supports educational programs to include: Symphonic Adventure concerts for over 100,000 school children, NWS's music education DVDs reach 400 classrooms. NWS's Music Van, a nationally acclaimed program, offers third grade classrooms "hands-on" experience with orchestral instruments worth thousands of dollars. The 2006/07 Masterpiece Series Performances offer virtuoso guest artists to include: Pepe Romero (guitar), Jon Kimura Parker, Christopher O'Riley, Antonio Pompa-Baldi (piano), Elmar Oliveira (violin), Cynthia Jansen (mezzo-soprano.) For concert schedule and tix visit www.newwestsymphony.org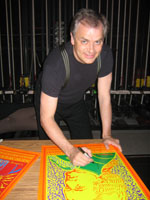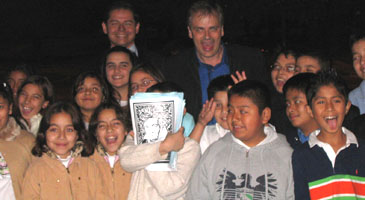 Above: Kids from LA unified school attend the February New West Symphony concert in Brentwood with guest soloist and trumpeter, Jens Lindemann autographing program books and NWS posters.

To participate or Support For The Kids program, contact Carl Schurtz, General Manager, New West Enterprises directly via email carl@newwestsymphony.org or call (310) 694-3550


Zenon Schoepe, editor chief of Resolution invites studioexpresso readers to subscribe to Resolution's digital version -- you may simply click here to sign up and review the digital copy of the current issue http://mag1.olivesoftware.com/am/welcome/RSL/RSL-2007-01.asp
Fashion Week In London
Manish Arora: OM The Absolute
TheAutumn/Winter 2007 collection brought patterns and colors out and gave "painted ladies" a new meaning with bold intricate makeup lines that would make some Australian or African tribes blush.







models show a creation from the Autumn / Winter 2007 collection of Indian designer...photos courtesy of wireimage
studioexpresso brings you the Manish Arora - Runway from the February 12, 2007 - at BFC Tent, Natural History Museum in London, Great Britain. The Indian fashion designer presented a vibrant autumn-winter 2007 collection, a futuristic vision set out in technicolor that wowed the audience. With a rich set of embroidered and psychedelic prints, the designer played with materials to add a sense of relief and optical illusions to dresses structured in a slight trapeze or tulip, inspired by the 1960s.
"To achieve the effect, fabrics chosen are stiff and glossy, such as lurex, satins, wool and silks printed with metallic and luminescent dyes," Arora said. The colors were bright and reflective, employing every hue of the rainbow to color the black base of all the garments. It was Arora's fourth show in London, and having launched his line of fashion in 1997, he is now set to design a line under the Levi's brand. View At Telegraph UK
An Artful Afternoon With Eddie Kramer & Friends
studioexpresso and Learning Annex presented Succeeding In Music In Santa Monica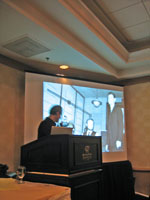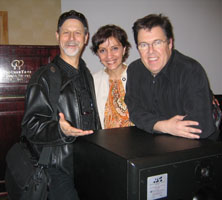 studioexpresso and Learning Annex present Music Making For Success l-r: Eddie Kramer, Sayadian-Dodge and LVPA's Brad Lunde who provided the ATC monitoring for the playback sessions

Music making and marketing was the topic of a 1/2 day seminar and networking event on Sat Feb 10. A roomful of attendees -- artists and managers -- gathered at the Double Tree hotel in Santa Monica and got plenty of networking opps with music experts presented by studioexpresso and the Learning Annex. The audience took home inspired advice and even few door prizes (autographed book by marketing guru John Stiernberg, A&R and Film directories and more). The day ended on a high note with a presentation of fine art photography with producer and legendary engineer Eddie Kramer (Hendrix, Zeppelin) telling his behind-the-photograph stories. The highly sought-after collection taken of rock royalty during 67-72 are available at Kramer Archives and perfect for adding that extra vibe to your home, studio, music office or club. "We ran out of time due to attendees' wish to spend more one-on-one with our music guests who answered questions from the audience and offered to listen to artists' music," says studioexpresso's Claris Sayadian-Dodge, who moderated both sessions.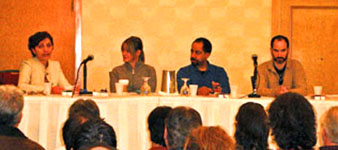 studioexpresso & Learning Annex Present Succeeding In Music l-r: Claris Sayadian-Dodge; Anne Litt; Tim Reid, Dean Serwin at Double Tree Hotel Santa Monica, CA
The two-session panel included: Session I - Marketing Music with attorney Dean Sheldon Serwin (BMI, Capitol); KCRW host and music supervisor Anne Litt, and Geffen Universal Music Group Marketing exec, Tim Reid (Snoop Dogg, Common, Mos Def). Session II - Making Music with:
Ten-time Grammy winner, mixer/engineer, producer Rafa Sardina (Macy Gray, Stevie Wonder, Alejandro Sanz); mixer/engineer Robert Shahnazarian JR. (All American Rejects, The Killers, Kelly Clarkson); Brad Lunde, president of LasVegasProAudio.com who provided superb ATC monitoring for the playback sessions." The goal of LasVegasProAudio.com is to provide a personal long-term relationship with top engineers delivering insightful and accurate advice, unique equipment and long term support," says Lunde.

The playback session began with a selection by Kramer who surprised everyone with a recent production of Zeppelin. Say what...Recent?! Then Eddie introduced the all-girl tribute band from NY, Lez Zeppelin who recorded the LED covers and drive club audiences to a frenzy, now successfully touring in US and Europe.
SSL's Lure For Lohr
Acclaimed Composer's Studio Maintains SuperAnalogue™ Sound with DAW Integration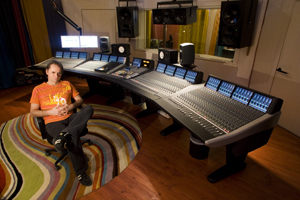 Pictured at the SSL Duality is Bernard Lohr, Mono Music's studio manager
Mono Music Studios, owned by legendary composer/producer Benny Andersson, has installed a Solid State Logic Duality console. The 96-channel Duality allows the studio to maintain the classic SuperAnalogue™ sound of SSL consoles and take advantage of full integration with the latest digital audio workstations (DAWs).
Mono Music is integral to both the domestic music scene and the recent Swedish phenomenon of recording international hit records for major stars. Lohr, for example, works with major pop artists at Mono Music, having recorded and mixed singles for Britney Spears, Backstreet Boys, Westlife and Céline Dion, among others.
"Recently, I've also been doing some special Abba projects," he adds, "like the Abba In Concert DVD and the new release of Abba: The Movie, which we've remastered in 5.1. One of the reasons we needed a newer desk was 5.1-channel audio, and the surround facilities on Duality are terrific. The new surround panning is great-no other desk has anything like it. "I've been working on SSLs since 1985," Lohr concludes, "so I know them really well. Duality compares so well, with its sound and also the EQ and dynamics. Even if I hadn't tried it before buying, I knew that it would be top quality."
Duality At Archon
Duality Console At North America's first Solid State Logic Studio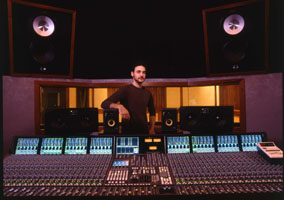 Producer/engineer Aris Archontis has taken delivery of North America's first Solid State Logic Duality console. The large-format Duality, which combines the analogue sonics of legendary SSL E, G & K Series consoles with extended Digital Audio Workstation integration capabilities, is housed at his new, Chris Pelonis-designed private recording studio, Archon.
Archontis has been working with recording artists and independent bands since relocating from London to Boston, where he graduated from Berklee College of Music. Migrating to Los Angeles, where he worked for two production companies, he has now completed his personal studio and resumes music production with SSL's next-generation Duality. "It was like someone had finally answered my prayers. Groups, plenty of busses and sends, automation, unparalleled routing, DAW control and a great master section-all under one hood with incredible sound quality, and no giant power supply in sight," says Archontis.
Othe News From SSL Solid State Logic recently-introduced XLogic Delta-Link MADI HD, a professional MADI converter for studio, live and broadcast applications, now shipping worldwide. Delta-Link MADI HD facilitates direct interconnectivity between Digidesign Pro Tools|HD® systems and MADI-enabled audio equipment.
The World's Greatest Rock 'n' Roll Band
Subject Of Upcoming Scorsese Doc; Clearmountain at the Helm Of The Remote Recordings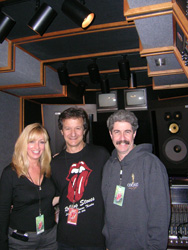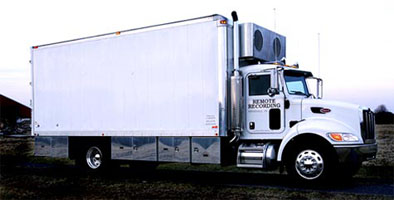 Pictured in Remote Recording's Silver Studio are (l-r) owner/manager Karen Brinton, legendary engineer/producer Bob Clearmountain, and Remote Recording's Phil Gitomer.
New York's Remote Recording was on hand at New York's Beacon Theatre for the Rolling Stones' Oct. 29 and Nov. 1 concerts, filmed by director Martin Scorsese for an upcoming documentary.
Most recently, Remote Recording's renowned Neve VR-equipped Silver Studio rolled up to New York's venerable Beacon Theatre for the Stones' historic, celebrity-laden Oct. 29 and Nov. 1 performances. Former president Bill Clinton and a huge contingent of his guests were on hand to celebrate his 60th birthday at the Oct. 29 performance, while legendary director Martin Scorsese filmed both nights for an upcoming documentary on the World's Greatest Rock 'n' Roll Band.
Elite engineer/producer Bob Clearmountain, who mixed the Stones' Tattoo You, Still Life and Stripped albums as well as individual tracks from their storied catalog, was at the helm in the Silver Studio to record the latest performances on the band's A Bigger Bang tour, as well as the many afternoon and evening rehearsals in the preceding days. Clearmountain estimated that he has recorded and mixed over 30 Rolling Stones concerts since his first in 1981-the Still Life/Let's Spend the Night Together concerts that also heralded Remote Recording's long association with the band. "This is the second Stones movie that David [Hewitt, Remote Recording founder] and I have done together," he noted, along with several pay-per-view broadcasts. "I was a big fan of The Last Waltz and of the Band," Clearmountain summarized, "and just watched it recently. If this comes out half as great as that film, it will be really special."
"Working with the Rolling Stones is always exciting, but having the opportunity to work with them in such an intimate environment at the Beacon made it even more amazing," commented Karen Brinton, Remote Recording owner/manager. "Throw Martin Scorcese on top of that, and you've really got something special. Having Bob Clearmountain on the truck was fantastic as always, and I'm grateful for the experience. I wish it happened more often!"


ELAN's 9 Lives
New Music Video from At This Point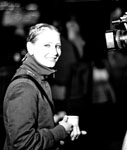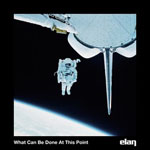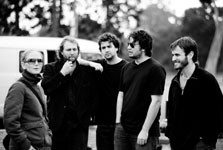 Singer-songwriter, Elan may just be one of the most successful independent Latin artists around. At age 4, she started writing her first songs and her father recorded them in their makeshift-home studio. The story goes that BMG International, Vice President of A&R, Richard Sweret (Sarah McLachlan) flies Elan and band mate/producer Jan Carlo to meet then, Arista Records President & CEO Antonio LA Reid. After a private showcase in which Elan played "Perfect Life, LA Reid stated that the song was "the story of my life" and offered her a record deal. In 2003, after leaving Arista, Elan released her first single Midnight in Mexico on her own label, Silverlight Records (licensed through Sony Music Mexico) to unexpected and overwhelming response. Midnight climbed the "Pepsi Chart" to #1. She had success with MTV Latin America and Australian radio. Her second self-released album, London Express finds its roots in the music of The Beatles, which Elan has described as "the only band that really changed everything." This Fool's Life" was the second single released from Elan's latest album. It had the highest rotation on the radio in many Latin American countries.The video for "This Fool's Life" was also an outstanding success.

Now the band has finished shooting (release date TBD) the video for her upcoming single from the New Album "What Can Be Done At This Point," directed by Gulliver Parascandolo. This is Elan's ninth released video. Six of the videos previously released have had active fan votes and chart and digital download activity. Visit Elan at myspace or at elan.com Elan's NEW album "What Can Be Done At This Point" is available NOW for pre-order!




Recording Dave Matthews Band At Haunted Hollow
New Album Employs Matched Pair of Telefunken M16 MkII Tube Mics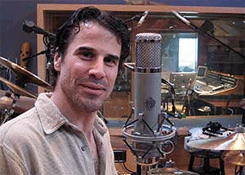 Miller at Dave Matthews' Haunted Hollow Studios is engineer Steven Miller with the Telefunken | USA R-F-T M16 MkII large diaphragm tube microphone. photo: Goggin

According to engineer and producer Steven Miller, before recording at Matthew's Virginia studio, he
went through all the mics, including some very rare mics from Dave's collection. "But when I put up the pair of M16s as room mics, it was the perfect sound. Less cymbal splash, more low end and a rock bottom that worked exactly the way I wanted in that room. I immediately knew I had it." After completing four tracks with the Telefunken | USA stereo matched pair, Miller brought the band in for playback. "There was one tune that really needed a rock drum sound," he continues, "and when I brought up the sound of those two mics, the band was amazed at the sound we got in their studio. 'Whoa, what's that? How did it turn into a rock sound,' they asked. I pointed out into the room at the two mics -- which ended up giving me about 80% of the total sound I wanted for the record," Miller says.

Virgin/HBO Deal
Virgin Media inked a deal to deliver on-demand content for a selection of HBO hits, including "The Sopranos" and "Six Feet Under" to the U.K. market. Former Vice President Al Gore also will make his user-generated content channel, Current TV, available through Virgin. Further award-winning series and mini series will include Curb Your Enthusiasm, Band of Brothers and From the Earth to the Moon. The HBO subscription service will be available as part of the standard monthly charge for Virgin Media customers taking the top 'XL' TV package. The agreement sees Virgin Media strengthen its TV-on-demand offering with further compelling content, following recent deals with Channel 4, The Walt Disney Company's Buena Vista International Television and Alliance Atlantis.
Ernie Cormier, chief commercial officer of Virgin Media, said: "We are making a serious investment in the range of on-demand programs we offer and HBO has a reputation for producing some of the most original and entertaining shows of recent years

Record It Today; Sell It Tonight!

Will.i.am's New venture, Musicane promote and sell your own songs, films, ringtones, and other content online. The best part: You set the price for your content. Keep up to 80% of whatever you sell. Plus you can drag & drop the Musicane Player onto your social networking profile homepage or blog, like Myspace, Tagworld or Friendster. You can even manage your fanlist and send out custom email blasts... all from one site
In The Game with Noize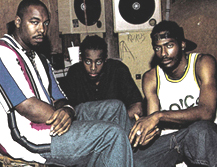 His US-based music-distribution company Sumthing Else Music Works had an inauspicious start until founder, Nile Rogers discovered video-game soundtracks.
"For a while, we just had a few titles; then Halo came into the office," he said of the video game that made Sumthing Else's fortune. "Then, we started talking. The composer was great, the music was magic." Sumthing Else got the distribution rights to American composer Marty O'Donnell's work on the sequel Halo 2. The two are now collaborating on the soundtrack for Halo 3.
Rodgers encourages budding game composers to be prepared to go into movies as well. He cites hip-hop act Organize Noize as video-game composers who ended up producing the score to Hollywood movie Miami Vice. "This year, we are aggressively going after more game composers. I want to get these composers out there," he said at a Midem conference this year.
Organized Noize Productions Members: Patrick "Sleepy" Brown, Ray Murray, Rico Wade
have their origins in Wade's Dungeon-esque basement studio. It was there that their first string of classics was recorded, seeping with ONP's trademark murky Southern soul. Additionally, the trio has blessed more than a few artists outside the camp with hits, including TLC ("Waterfalls"), En Vogue ("Don't Let Go") and Ludacris


WMA Adds Agents New William Morris Music agents will work alongside WMA's existing literary and television agents in the London office, which is overseen by Managing Director Caroline Michel. Among them: Ed Bicknell – former manager of Dire Straits, Mark Knopfler, Bryan Ferry, Gerry Rafferty and The Blue Nile – will serve as Worldwide Head of WMA's International Music division. Bicknell will be joined by David Levy, from I.T.B.; as well as Adele Slater and Russell Warby, from The Agency Group; Nick Cave, Steve Hogan, and Solomon Parker from Concorde International Artists; Diana Richardson, from Sensible Events; and Hamish Crombie, who was already atWilliam Morris. "Under the leadership of music industry veteran, Ed Bicknell, WMA is now poised to provide an all-encompassing range of services to managers, artists, andpromoters around the globe," said Worldwide Head of Music, Peter Grosslight. "I am delighted to announce a significant expansion of the William Morris Agency in London, which underscores our commitment to the importance of the international marketplace and gives the agency global depth and breadth," said Chief Executive Officer Jim Wiatt.



l-r: Jim Wiatt; Gorsslight;

Founded in 1898, the William Morris Agency is the largest and most diversified talent and literary agency in the world, with principal offices in New York, Beverly Hills, Nashville, London, Miami Beach and Shanghai. The Agency represents clients in all segments of the entertainment industry, including Motion Pictures, Television, Music and Personal Appearances, Broadway Theatre and Theatrical Touring, Book Publishing, Commercial Endorsements, Sports Marketing and Corporate Consulting
Capitol +Virgin = Capitol Music Group
The new merger promotes Jason Flom as Chairman and CEO


Flom (BMI News)
It's no secret that the A&R shuffle continues to accelerate. Ron Laffite exits Capitol, Brian Postelle exits Virgin, Cliff Audretch III joins Universal South, Caroline Records is reactivated with Jeff Rougvie as GM and Jermaine Dupri joins Island as President/Urban. Former V2 President Andy Gershon has moved to Epic and former Virgin President Matt Serletic has opend a new label. In the Publishing world, Industry veteran Steve Smith has formed Anthem Entertainment, EMI Music Publishing names Stephen Dallas, Sr. as Director of Business/Legal Affair and in the Film & Television Music world, Paramount TV and CBS TV Music Departments have merged and moved to a new location.
As for the new Capitol Music Group, Flom, who joined EMI as Chairman and CEO of Virgin Records America in November 2005, now reports directly to Eric Nicoli, the Chief Executive Officer of EMI Group and will now oversee the combined Capitol and Virgin rosters in the United States.
Nicoli said: "The music business shows exciting growth potential, but the environment remains extremely challenging. In order to thrive and meet the demands of a rapidly evolving and dynamic music market, we must re-think our operations, not only to make them efficient, but also more effective and focused on creative excellence. By bringing Capitol and Virgin into one label group, we will be better equipped than ever to promote and nurture artistic talent. We remain strongly committed to developing artists in the US.
Andrew Slater, who has been President and Chief Executive Officer of Capitol Records in the US since 2001, has stepped down from his post. "I would like to thank Andy for his contribution to Capitol and EMI over the past six years and wish him well in all that he does in the future," said Nicoli.
The formation of this combined label group is part of EMI Group's recently announced restructuring program, designed to deliver £110m ($217 million) in annual savings across its business.
Bruce Lundvall, President and CEO of The Blue Note Label Group, will continue to report directly to Nicoli, as will EMI Music North America Chief Operating Officer Ivan Gavin and EMI Music North America Chief Financial Officer Colin Finkelstein.
EMI Music Marketing President Ronn Werre, Capitol Nashville President and CEO Mike Dungan, EMI Christian Music Group Chairman/CEO & President Bill Hearn and Caroline Distribution General Manager/SVP Bill Hein will all continue to report to Ivan Gavin.
"The combined Capitol Music Group under Jason Flom will become part of a portfolio of labels that position us to be best-of-class in all genres in the US market: the new Capitol Music Group, our very successful Capitol Nashville label, the market-leading EMI Christian Music Group, The Blue Note Label Group aimed at the adult music buyer, our US Latin label EMI Televisa Music, EMM's terrific catalog business and Caroline as a full service distribution and marketing arm for the independent label area," said Nicoli.

Polar Express & Scheiner Capture 40th CMA Awards
New Digital Truck Handles 5.1 Mix for "Country Music's Biggest Night"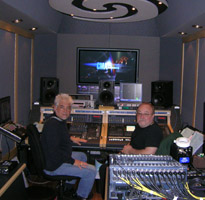 The 40th annual CMA Awards was broadcasted live on Nov. 6 from the Gaylord Entertainment Center in Music City. Legendary engineer/producer Elliot Scheiner served as the broadcast's Audio Producer and oversaw all aspects of the production's audio from Remote Recording's Polar Express, the newest truck in its fleet. The Polar Express is equipped with two Yamaha DM-2000 digital consoles, a pair of 128-track AMD 64-bit Dual Processor Nuendo systems, and Pro Tools|HD rig. This year, the CMA Awards were broadcast in surround sound for the first time. The multichannel mix was created in the Polar Express, Scheiner explains. "ABC was sending viewer feedback to us while the show was on the air," he recalls.Vocal mics, as well as all announcers' microphones, were handled in the Polar Express, which also hosted the audio sweetener. The live bands' audio came from the MTV Nashville truck, which was also on hand. "It's a lot to oversee," says Scheiner. "There's so much going on."
Scheiner is a frequent presence in Remote Recording trucks, often recording or mixing in the Neve VR-equipped Silver Studio. He has also worked with Remote Recording founder David Hewitt on literally dozens of projects. "I've worked with Dave since he had the Record Plant truck," Scheiner recalls. "We've been working together for some 30 years.
The prestigious CMA Awards add to the long list of high-profile events Remote Recording handled in 2006, including the Rolling Stones' first-ever concert in Austin, TX, recorded by Ed Cherney for an upcoming DVD, and the band's two-night stand at New York's historic and intimate Beacon Theatre, recorded and mixed by Bob Clearmountain for Martin Scorsece's upcoming documentary on the World's Greatest Rock 'n' Roll Band.
Remote Recording's Karen Brinton said, "We started the year with the Academy Awards, and rounded out the year with the Rolling Stones and the CMA's. David being inducted into the TEC Hall of Fame at the AES Convention by Ed Cherney and Elliot Scheiner was the cherry on a hot fudge sundae of a year!"
Tony Brown And Tim DuBois Exit Universal South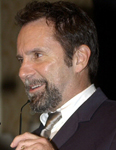 Brown and DuBois founded Nashville's first major startup label in 2002. During Brown's RCA years, he signed the super group Alabama. Tony resigned as president of MCA Nashville, a post he held for 17 years prior to RCA. Brown began his music career as a 13-year-old piano player with his family's gospel group. From there, Tony performed for seven years with the legendary Stamps quartet as well as the equally famous Blackwoods. In 1966, Tony moved to Nashville, where he joined the Oak Ridge Boys, who were then beginning to move out of their gospel roots and into what would become an enormously successful country career. Perhaps his most celebrated music gig was being the piano player for Elvis Presley from 1975 to 1977. Brown was Elvis' last pianist. When Elvis died, Tony thought his career was over. After Presley's death, Tony toured as keyboardist with Emmylou Harris' now legendary Hot Band, making key relationships with people like Rodney Crowell, Ricky Skaggs and Vince Gill. Tony Brown has won every award in sight: Grammies (including a nomination for the prestigious Producer of the Year award), CMA awards, etc. Entertainment Weekly named him on of the "100 Most Influential People In Show Business". GQ profiled him. He journeyed to LA to produce, at the singer's request, Barbra Streisand. Tony Brown has produced or CO-produced almost 150 albums ranging from Gold to Septuple-Platinum in sales. He has produced almost 100 #1 singles.
Universal South was a joint venture with Universal Records in New York with Brown and DuBois having autonomy to sign artists. Artists signed included: Dean Miller, Holly Lamar, Allison Moorer, Bering Strait and Joe Nichols
Brown — who is largely credited with the early '90s resurgence in country music, producing hit records for Vince Gill, George Strait, Reba McEntire, Trisha Yearwood and Wynonna Judd, among many others — said he was open to continuing to produce those MCA acts. He expects to produce records for Universal South once the new company is "fired up." He produced the single of the Year
"Believe" for Brooks & Dunn with Kix Brooks and Ronnie Dunn for Arista Nashville which won a CMA Award last year.
Forplay™ Inc., a leading designer and manufacturer of ultra-sexy women's lifestyle fashion and apparel www.forplayonline.com; and Water Music Records™, a leading dance and chill-out record label distributed by the Universal Music Group™ www.watermusicrecords.com, have announced a joint-venture to produce Forplay™ branded music for worldwide distribution. The announcement was made by Houman Salem, the CEO of Forplay™ and Brad Pressman, the President of L.A.-based Water Music Records™.
Under the terms of this multi-year agreement, Forplay ™ and Water Music Records™ will produce, market, and distribute two separate collections of Forplay™ branded CDs simultaneously. The first collection titled "Club Forplay" will feature a compilation of all dance music, while the second collection titled "The Forplay Sessions" will feature tracks of down-tempo, lounge, and chill-out genres of music.
"Combining music with our particular style of fashion is an essential component of our global brand strategy," commented Salem. "Music adds a third dimension to Forplay™ by giving it a voice and personality that will allow consumers to align with our brand. In addition, we will now have the vehicle to exploit fast emerging digital technologies such as YouTube, iTunes, and MySpace to create awareness and further reinforce the Forplay™ brand," concluded Salem.
Water Music Records is an L.A.-based recording company operating under the Universal Music Group family of companies. Founded in July of 2000 by record industry veteran Brad Pressman, Water Music Records releases, markets and distributes music in various sub-styles of Electronica including Chill Out, Lounge and Down-Tempo music. Its sister label Water Music Dance releases CDs, EPs and Singles in the Trance, Dance and Techno genres. Considered one of the leading Dance and Chill Out labels in the Unites States, Water Music Records has achieved over 15 Top 50 albums and 2 Top 25 singles. Since its inception, Water Music Records has released over 110 projects, both artist albums and various compilations. For more information about Water Music Records.
City Rats By Banksy



Think Tank is the seventh studio album by English rock band Blur, released in US and Uk in 2003. Freehand graffiti artist turned stenciller, Banksy was responsible for the cover art who is best known for featuring striking and humorous images occasionally combined with slogans. The anti-war messages include animals such as monkeys and rats, policemen, soldiers, children and the elderly. He also makes stickers (the Neighbourhood Watch subvert) and sculpture (the murdered phonebox), and In 2006, Banksy held an exhibition called Barely Legal, billed as a "three day vandalised warehouse extravaganza" in Los Angeles on the weekend of 16 September. The exhibition featured a live 'elephant in a room', painted in a pink and gold floral wallpaper pattern. After Christina Aguilera bought an original of Queen Victoria as a lesbian and two prints for £25,000 [5], on 19 October 2006 a set of Kate Moss paintings sold in Sotheby's London for £50,400, setting an auction record for Banksy's work. The six silk-screen prints, featuring the model painted in the style of Andy Warhol's Marilyn Monroe pictures, sold for five times its estimated value. His stencil of a green Mona Lisa with paint dripping from her eyes sold for £57,600. Banksy somehow managed to place one of his pieces into New York's museum of modern art. The gallery's security don't have the slightless clue how the artist did it. Guerrilla artist", "art terrorist" or "prankster" it's Banksy and you can ck it out here Artificial Gallery
Moments Before and After The Grammy Show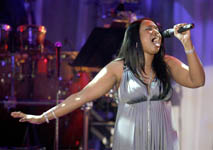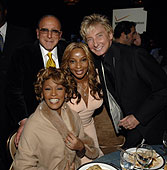 Jennifer Hudson; Clive Davis, Chairman and CEO BMG US Pre-GRAMMY Awards Party - Reception and Dinner in Beverly Hills with special guests Houston, Manilow and Mary J Blige

Music's second biggest night, the Clive Davis pre-Grammy gala at the Beverly Hilton, was the traditional glittering affair this year, where nominees, presenters, record industry executives and
celebrities rubbed shoulders as a string of A-list music performers took to the stage. The Oscar-nominated, Jennifer Hudson thrilled the Clive Davis party-goers with her performance of "And I'm Telling You" and "I Am Changing" from "Dreamgirls" using a Sennheiser Evolution SKM935G2 wireless handheld microphone. Delicate Productions of Camarillo, California once again provided the sound equipment for the annual event, outfitting the stage with Sennheiser wired and wireless microphones for performances by Smokey Robinson, Black Eyed Peas, Akon and, the night's highlight, Jennifer Hudson. Accompanied by an acoustic guitarist, Pink gave a rousing rendition of "Me
and Bobby McGee," made famous by Janis Joplin, but the star of the night was
Jennifer Hudson. Davis will executive produce her debut album.








l-r: Nancy Wilson, winner Best Jazz Vocal Album for "Turned to Blue"; Rihanna and Antonio "LA" Reid; Rodney Jerkins and wife Joy Enriquez; Wyclef Jean; Berry Gordy






l-r: Michael Bishop, winner Best Engineered Album, Classical; People Magazine Post GRAMMY Party Hosted by Beyonce; Jason Flom, CEO of Capital Music; Lee Trink, President of Capital Music; Eric Nicoli, Chairman, EMI; Trish Sie, Director of OK Go's 2007 Grammy winning Best Short Form Music Video "Here it Goes"



Warner Music Group After Party - Arrivals, February 11 - l-r Sting and Trudie Styler with Don Henley; Scarlett Johansson; Joe Satriani and Steve Vai perform; Stevie Wonder with Sting and Trudie Styler







Espresso Time -- 49th Annual GRAMMY Awards Gift Lounge: l-r: Natalie Cole; Nicole Scherzinger of the Pussycat Dolls; Jennifer Love Hewitt; Joe Don Rooney and Gary LeVox of Rascal Flatts; Dawn Richard of Danity Kane courtesy of wireimage
Shinoda Art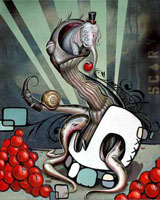 Mike Shinoda can trace his roots as an artist back to age 3. "When my parents would take me to dinner, they would give me a napkin and pen when I was done eating so I wasn't squirming around," he recalls. Now, approximately 25 years later, Shinoda hosted the first exhibition of his visual art, Diamonds Spades Hearts Clubs last November at Gallery 1988 in Los Angeles.
I first heard rock and soul songs on a tiny crappy-sounding transistor radio, and it changed my life completely. It was sonic, but it was also a social and cultural message that electrified me. Now I'm not saying that tinny sound should be considered satisfying or desirable, but it's amazing how lo-fi or lo-rez information can communicate a huge amount.
--David Byrne
"People love things like Myspace and YouTube, but the essence of it to me is: OK, just play the song,"
-- Ron Fair


"I don't try to find great new styles. I'm just being true to what I like."
-- Rick Rubin
Rubin Rule No. 1 in the studio: Relax.
Rule No. 2: Keep an open mind.
"As soon as music videos came along, people started listening with their eyes as well as their ears. It's (today's music) ...lot more lawyer and quarter-to-quarter-driven...Now people just want a song or two for their iPods. It seems like it's just piecemeal. But the good thing is that does entice people to explore catalogs."
--Herb Alpert

"...Science serves the arts, arts serve ideas and ideas change the world."
--Ray Feeney, winner of 2007 Gordon E. Sawyer Award (former Head of the Sound department at Samuel Goldwyn Studios)
Betty Comden
May 3, 1919 -November 23, 2006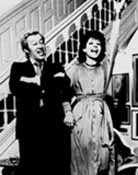 "Singin' in the Rain," "New York, New York." Comden collaborated with Adolph Green on some of the greatest stage and screen musicals and won seven Tony Awards together. A salute to women writers.
Factory Girl
George Hickenlooper directed MGM film



Before Paris Hilton, there was Edie Sedgwick (1943-1971), the original "celebutante" who briefly took the world of '60s pop culture by storm. She received her 15 minutes of fame courtesy of the man who coined the concept. Andy Warhol's downtown loft, The Factory, was a place where musicians, artists, actors and all types of misfits gathered to create art and movies, and to throw fabulous parties at night! It was here that Edie takes her place as the Factory's most alluring and irresistible Superstar. The Cult wrote a song about her life called "Edie (Ciao Baby)" which was on their Sonic Temple album released in 1989. The Velvet Underground song "Femme Fatale" (on the album The Velvet Underground and Nico) was written about her at Andy Warhol's request. She is rumored to be one of the inspirations behind Dylan's seminal 1966 opus Blonde on Blonde, "Just Like a Woman" and "Leopard-Skin Pill-Box Hat." It's been told that the song "Like a Rolling Stone" was also inspired by her. Here's to the poor little rich girl who had it all and lost the most important part of the equation. Herself. Now the filmmakers have taken her, the object of the underground fascination for forty years and turned it into a film. George Hickenlooper directed "Factory Girl", released this month from MGM with Guy Pearce (Worhall) and Sienna Miller (Sedgwick) may not capture the magic of the muse but it details her human side. Watch a short on YouTube The Ciao Manhattan Tapes
Sedgwick who had a brief modeling career appeared in Vogue (1965 and March 15, 1966) and LIFE (September 1965)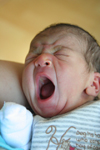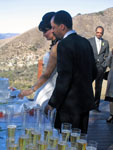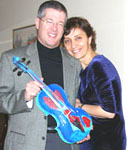 A birth (Happy Birthday Ani), A marriage (congrats Mr & Mrs Reid) and A gift of music.
All you need is LOVE!