Soundfield Takes Centerstage At World Cup
HDTV Surround Broadcast
AES BOOTH #1313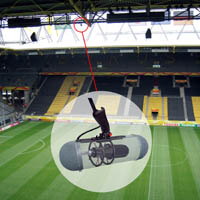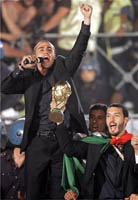 The new SoundField digital DSF-2 broadcast microphone system was used for
5.1 surround broadcasting during the recent World Cup held in Germany.
The new SoundField Digital DSF-2 broadcast microphone system was specified by Host Broadcast Company as the official World Cup surround sound microphone for live global 5.1 surround HDTV broadcasting. The system also provided simultaneous stereo audio delivery for SD (standard definition) broadcast.
A single DSF-2 system was installed in each of the 12 stadium venues across Germany during the four-week event and provided HDTV/SDTV audio to an estimated viewing audience of more than 30 billion people during a total of 64 matches.
Housed in a Rycote Windshield, the DSF-2 microphone was located centrally at each stadium high above the crowd, and as close to the main wide-shot camera position as each stadium would allow. The DSF-2 microphone was situated up to 250 meters from its DSF-2 control unit, which directly outputs the surround and stereo information digitally on AES-75 ohm outputs. These signals were then sent down up to one kilometer of coaxial cable enabling the OB trucks to be situated 1.25 kilometers away from the microphone if necessary.
The DSF-2 stereo output was sent to the on-site OB truck for SD broadcast, while the digital SoundField B-Format signals were sent to the IBC (International Broadcast Centre) in Munich. There a SoundField SP451 surround processor was used to decode the B-Format to 5.1 surround for HDTV broadcast.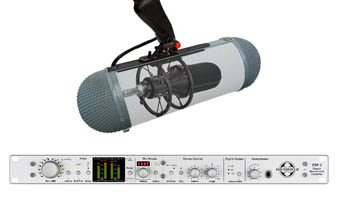 Audio consultant to the World Cup, Robert Edwards of VSS Ltd., comments, "We specified the DSF-2 for the World Cup because it's the only system that fulfills our requirements for HD broadcasting - the World Cup was our most technically challenging project to date. A single DSF-2 system installed in each of the 12 German venues generated both digital surround sound and stereo which was sent simultaneously to the International Broadcast Centre in Munich for Hi-Def transmission and also to the on-site OB vehicles. The DSF-2 microphone was positioned centrally above the crowd in each stadium and performed flawlessly under diverse weather conditions ranging from high temperatures, heavy rain and humidity. Another aspect of its appeal is it's so easy to rig."
The DSF-2 broadcast microphone system has been specifically designed to provide both the surround and stereo soundscapes at large scale outside broadcast events, such as the World Cup. Its advantage over alternative methods is that the multi-channel audio it generates from a 'single point' source is completely phase coherent. This enables the broadcaster to collapse the surround to stereo or mono for TV and radio feeds without loss of information, frequency imbalance or any of the other phase problems associated with spaced microphones or 'dummy head' arrangements with spaced capsules.
The DSF-2 outputs stereo left/right (digital and analog), stereo M/S
(digital) and four channels of SoundField B-Format called W, X, Y and Z
(digital) which is the surround sound information. All microphone parameters can be remotely adjusted from the DSF-2 controller's front panel while monitoring the results on the provided headphone monitoring.
For more info on SoundField Digital DSF-2 broadcast microphone system contact Brad Lunde at LVPA or Phone (702) 307-2700
ATC Showcases At Blackbird Studios And During AES
(Demo Room #270)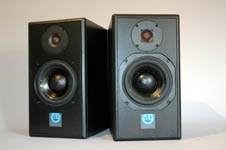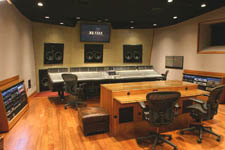 Nashville's Blackbird Studios, recently installed a custom ATC 5.1 surround system featuring twin 15-inch 300ASLs for the left, center and right and a pair of the single 15-inch 150ASL subwoofers all across the front wall of the studio and delivering response below 20Hz

MSRP: $3,500/pair
Co-owned by seasoned engineer John McBride and his country superstar wife Martina, Blackbird Studios in Nashville offer a total of six recording and production areas, plus several pre-production suites. All tracking and mix areas are equipped with ATC (Acoustic Transducer Co. UK) self-powered loudspeakers, a high-end brand specializing in recording, mastering and live sound throughout the world.
"My goal has always been to offer the finest audio recording environment on the planet" confides John McBride. "We feel that the engineers, producers and artists are painting their individual pictures, and we want to offer all the colors on the palette. When the time came to outfit our newest room, Studio F, we turned once again to ATC, whose SCM300ASL and SCM150ASL Pro systems can be found in all our other rooms. Since this room was being designed specifically for use by Justin Niebanks, one of our city's most successful recording engineer/producers, we consulted with him and chose this system together. One of the requirements of the room was to be able to deliver a high SPL without distortion, because of the wide variety of musical projects that come into the studio."
Having retained studio designer Mike Cronin to build Studio F, it was during a visit to Blackbird that ATC owner Billy Woodman and transducer/R&D engineer Ben Lilly finalized John's idea of a custom subwoofer. The new room is rectangular with a 750 square-foot floor control room area within a 30 x24 x 23 foot shell. "We soon realized," Lilly recalls, "that to achieve the performance to 20Hz in Blackbird's new room with high SPLs we needed to develop a custom subwoofer system. John [McBride] already knew he wanted our twin 15 ATC 300ASLs for the front left, center and right speakers and the single 15 version (150ASLs) for the rear surrounds. The room also required an esthetic solution, so we came up with a custom design that included a pair of left and right subwoofers that feature the same baffle dimension as the 300s. They are mounted in soffits, close to the floor, within the concrete-filled front monitor wall." A front-wall location was chosen so that the subwoofers would be equidistant from the mix position, in relation to the LCR mains, and to provide some room loading, therefore increasing low-frequency extension and efficiency.
"We looked at vertical and horizontal arrays," Lilly continues, "but soon realized that for reasons of limited space and symmetry, a horizontal configuration with three 15-inch drivers arranged in a line would be the best solution." Each 15-inch ATC SL(r) sub driver is housed in its own individual enclosure within the overall sub cabinet and is driven by a dedicated ATC built monoblock amplifier rated at 650 W into eight ohms.
"That's what makes ATC so different. We have the ability to engage personally with our customers to achieve exactly what they need for their exact situation. The science behind loudspeakers is inescapable, and we develop solutions that enable the customer's goal to be reached but without compromising our acoustic design specification."
"The new 5.1 system sounds outstanding," McBride enthuses. "We have a very accurate, very smooth low-frequency response down below 20Hz and great accuracy up to 20K. The room sounds great and also translates extremely well to other listening environments. Justin has mixed a large variety of projects in this room with great success."
"The room measures down to 16Hz!" stresses Bob Hodas of Bob Hodas Acoustic Analysis, the firm that regularly voices Blackbird's main production areas.
"We used a 50Hz crossover frequency to the main five-channel ATC system and installed a Meyer CP-10 Complementary Phase Parametric Equalizer. The pair of custom subwoofers ensures a seamless integration with the other loudspeakers, and offer excellent phase and frequency response at the crossover frequency. The new system provides an effortless presentation of bass frequencies. It sounds very, very good."
"We knew from our own experience that the SCM300s go low, but we needed 115-120dB levels at 20Hz," McBride recalls. "The new system delivers that for us. Bob Hodas added very little room EQ and mixes translate very well from the control room to the car to the house. We couldn't be happier with the results from this new ATC system."
ATC drivers are manufactured in-house to exacting tolerances and are legendary for their many design innovations, such as the innovative SL magnet system and the company's renowned Soft Dome mid-range driver, which achieves exceptionally broad and even dispersion to produce a flat response anywhere in the room. Situated in Aston Down in rural Gloucestershire, England, ATC was established in London in 1974 by acoustics engineer and musician Bill Woodman.


ATC (Acoustic Transducer Company - UK) is introducing the new ATC passive SCM20SL loudspeakers at AES 2006 San Francisco (Demo Room #270).
For more info on ATC Loudspeakers (UK) contact Brad Lunde at LVPA or Phone (702) 307-2700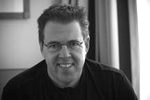 Las Vegas Pro Audio is the direct sales division of TransAudio Group. The goal of LasVegasProAudio.com is to provide a personal long-term relationship with top engineers delivering insightful and accurate advice, unique equipment and long term support.TransAudio has quickly become the premier US importer/distributor for high-end audio. visit the web sites at: www.lasvegasproaudio.com
TransAudio Group's product lines include A-Designs (USA) AEA ribbon microphones (USA), ADT Toolkit, AEA, ATC Loudspeakers (UK), Brauner microphones(Germany), Drawmer (UK), Geoffrey Daking & Co. (USA), Enhanced Audio (Ireland), George Massenburg Labs (GML) (USA), Heil Sound (USA); Mercury Audio (USA) Mission Audio (UK) Phoenix Audio (UK), PAULY Superscreens(Germany), SABRA SOM(Brazil), Soundelux (USA), SoundField Microphones (UK), Z-Systems (USA) and Weiss Engineering (Switzerland) and Z Systems (USA).
Congrats to LVPA and Trans Audio Group for all four 2006 Tec Award Nominations for The A Designs Pacifica, ATC SCM110ASL, Heil PR20 and Soundelux E251C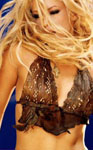 Shakira Leads Latin Grammy Noms
Shakira received six Latin Grammy nominations, including Album Of The Year and Best Female Pop Vocal Album (both for Fijación Oral, Vol. 1), and Record Of The Year, Song Of The Year and Best Short Form Music Video (all for "La Tortura," the duet with Alejandro Sanz which broke the record for weeks at No. 1 on the Billboard Hot Latin Tracks chart). Coming in behind Shakira are Ricardo Arjona, Gustavo Cerati and Julieta Venegas, with four noms apiece. The Puerto Rican group Calle 13 garnered three noms, including Best New Artist. There are plenty of Spanish artists nominated this time round, including Pastora, Joaquín Sabina, Alejandro Sanz who has a new single out shortly, Rosario, La Oreja de Van Gogh, and Niña Pastori.
A complete list of 7th Annual Latin Grammy Nominations can be found here.
The nominations were announced this week at a press conference held in the Theater @ Madison Square Garden, New York City. The Latin Grammys will air live Nov. 2 from Madison Square on Univision.
"These Days" It's Daking For Nashville's Neal Cappellino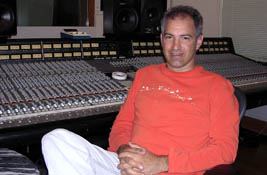 Grammy award-winning engineer, Neal Cappellino (Vince Gill & Diana Krall) says Daking gear delivers classic Trident A Range Sound.
A busy recording engineer around Music City USA, Neal Cappellino likes his favorite microphone preamps to be close at hand when he's on a tracking or overdub session. For recent projects with Vince Gill, Joan Osborne and Mindy Smith, Cappellino has relied heavily on the latest version of the Mic-Pre/EQ from Geoffrey Daking & Co. The Vince Gill project (which includes a duet with Diana Krall) will be featured on Gill's forthcoming four-CD box set of all-new material, "These Days," due on MCA Records in October. "These Days" was produced by engineer, Justin Niebank and keyboard player, John Hobbs. Osborne's album, her first for Vanguard, will be released later this year or in early 2007.

Aappellino's discography includes engineering for Brad Paisley, Alison Krauss, Dolly Parton, and India.Arie album projects. He also engineered and mixed "The Company We Keep" by the Del McCoury Band, which won the 2005 Grammy Award for Best Bluegrass Album. Indeed, he shares, "I do my share of bluegrass and acoustic-based music in Nashville. The Daking Mic-Pre/EQ has a real clarity and responds well to transients, but also offers a robust low-end so it's great on everything from drums to mandolin to vocals. Really very versatile, and the EQ section is responsive and musical."
An admirer of legendary engineer and producer Ken Scott, Cappellino counts himself among enthusiasts of the A Range sound. "I read an article where Ken Scott talked about Trident Studios and the Trident console, and what that meant to him in recording. What he had to say resonated with me. It coincided with why I reach for a preamp like the Daking - Class A, transformer-balanced, fast, high gain - that's all a big part of it. I have been such a fan of Ken Scott's work, so it was a moment of synchronicity."


Mr Analog Meet Mr SSL
DAKING PLUS: THE NEXT GENERATION OF ANALOG
(AES booth #1320)



Geoff Daking and Dave Thibodeau have created a new joint venture - DakingPlus - that is producing the next generation of high-end recording equipment through the application of digital control and automation to analog tone and circuitry. DakingPlus will be initially available throughout North America from LasVegasProAudio. The processing modules allow true analog character to be introduced into the workstation workflow in place of modeled representations. The initial product is the DakingPlus EQ500, an adaptation of the famous four-band "A Range" equalizer for which Daking is famous, that will be available in versions to fit various manufacturers' rack-mount module frames. Next will be a rack-mountable DakingPlus Stereo Compressor, which will offer higher performance than the current Daking FET II mono compressor by providing remote digital control of the analog circuitry. Additional products, including microphone preamplifier and auxiliary buss modules, are planned to follow.

Noted Daking, "Dave came to me and said, 'Let's take your line of products and computer control them.' It appears that everybody is convinced that they have to have an SSL console for a great signal path, so why not start building a system that bridges the gap between analog processing and digital workstation plug-ins and offers the best of both worlds?"
"I have always liked Geoff's designs and his approach to audio," said Thibodeau. "He has an excellent sense of what people want and he is very adept at producing good equipment for low costs. Soon after I met Geoff I remember sitting in his backyard having a barbecue and talking about gear design and realizing that we think in similar ways. It was quite a geek conversation. So I approached Geoff about designing gear together and the rest is history - or, should I say, WILL be history!"
www.lasvegasproaudio.com is a division of TransAudio Group and is the exclusive U.S. source for Daking products.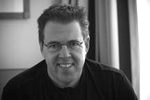 LasVegasProAudio.com offers a select group of imported lines, including ATC loudspeakers, Daking pro audio gear, and Brauner and SoundField microphones. LVPA is dedicated to providing their customers with a long-term partnership that delivers, not only direct pricing but timely, accurate product information and unparalleled personal customer service.. Visit the web sites at: www.lasvegasproaudio.com Phone (702) 307-2700
Founded by industry veteran Brad Lunde, TransAudio Group has quickly become the premier US importer/distributor and/or US sales and marketing representative for high-end audio. Success hinges on TransAudio providing dealers and end users with a higher standard of product expertise and support far beyond the norm. TransAudio Group's product lines include A-Designs (USA) AEA ribbon microphones (USA), ADT Toolkit, AEA, ATC Loudspeakers (UK), Brauner microphones(Germany), Drawmer (UK), Geoffrey Daking & Co. (USA), Enhanced Audio (Ireland), George Massenburg Labs (GML) (USA), Heil Sound (USA); Mercury Audio (USA) Mission Audio (UK) Phoenix Audio (UK), PAULY Superscreens(Germany), SABRA SOM(Brazil), Soundelux (USA), SoundField Microphones (UK), Z-Systems (USA) and Weiss Engineering (Switzerland) and Z Systems (USA)




Hollywood Cat
write HC for news from your music and audio world...this month:
Prairie Sun Studios Shows Off A Busy Summer & Cool Gear





l-r: From Sun's guitar collection, Heavyweights Dub Champion, 16Down,
For a fair portion of July, Prairie Sun's Studio A was occupied by Heavyweight Dub Champion, a mountain of both Prairie Sun and HDC gear, a web of cables, and somewhere in the middle our good friend, master mix engineer Oz Fritz. Hailing from Amsterdam, 16 Down came to record at Prairie Sun for the same reasons local artists often choose the studios - great rooms, excellent vintage gear and instruments, and of course on-site lodging in rural Sonoma County, CA. The hard-rockers tracked with staff engineer Jason D'Ottavio in studio B. After a day in Studio C tracking a live drummer, Oz and the HDC gang spread the mixes out across nearly every fader of the 80-channel SSL in Studio A for the upcoming Heavyweight Dub Champion release "Rise of the Champion Nation." Featuring contributions from KRS ONE, Killah Priest, Dr. Israel and Lady K, the new record will be available this fall.
The Kehoe Nation was mixing "Devil's Acre Overture" with Oz Fritz manning the SSL. The record was inspired by the Barbary Coast era of San Francisco, and was tracked entirely on analog tape in Studios B and C. Preceding Kehoe in Studio A was rockabilly guitar-slinger Jinx Jones with engineer Steve Counter taking full advantage of our brand-new Fulltone Tube Tape Echo, on the studio's Ampex 1/4" machine, and their classic EMT plate reverbs for a truly authentic mix.

Audrye Sessions tracking in Studio C recently with emminent producer/engineer John Kurzweg for VelvetHammer management. Also in Studio C in recent weeks were Yardbird's tribute artists The Rave Ups, tracking to 16-track 2" tape with Allen Sudduth engineering. Volker Strifler recently completed his project with some final mixes in Studio B with staff engineer Timin Murray. Volker has also been in for further work on the Linda Ferro project as it continues under the guidance of producer/engineer Mark "Mooka" Rennick. Prairie Sun has also hosted a number of metal records this summer, including Reason One and Pandemic , each working with engineer Jason D'Ottavio, and CMYK, with Jason engineering and Jeff Fogerty producing.

Northern Cali's Prairie Sun proudly offers a collection of prized vintage (and some recent model) guitars and basses. Most of these instruments are available to artists in session. The folks at Prairie Sun have taken great care in selecting these instruments with the help of guitar guru Dan Alexander, luthier Michael Dolan, and luthier Frankie Montuoro. Also, construction of a new Iso booth was completed with the help of Jeff Fogerty and Gary "Doc" Shaffer. Last but not least, Mooka reports that Prairie Sun will soon offer an API 1604 sidecar! "All the key ingredients have already been purchased, and are being collected for reconditioning, rebuilding, and reassembly by Old School Audio. When the board makes its debut at Prairie Sun it will be outfitted with eight mic preamps and eight EQ units, with the necessary infrastructure to eventually deck it out a full 16 channels," says owner, Rennick.
Sage & Sound Open With A New Studio A and Manager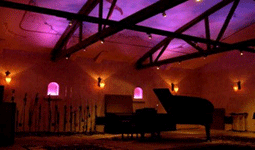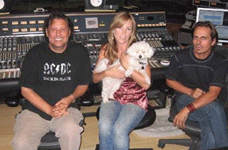 l-r: Don Smith (Rolling Stones, U2), Michelle Moore, Rocco the dog, & Producer Billy Cassis in Sage & Sound Studio A.
Legendary Engineer Don Smith (Rolling Stones, U2) was recently in studio A at Sage & Sound with producer Billy Cassis mixing "Supernova" contestant Patrice Pike's album. When people think of Sage & Sound Recording, it is the venerable Studio B that comes to mind. In close proximity to Ocean Way, it has been a tracking or overdub room for so many great artists since its inception in the 70s. More recently, Sage & Sound owners Marc and Steffan Fantini completed the construction of the studios new "A" room, and enlisted the services of recording industry veteran Michelle Moore, who has worked in the administration and management of several Hollywood studios over the past 15 years. For Booking, please call Michelle at 323.469.1527
Curb's $10 million Pledge to Northridge University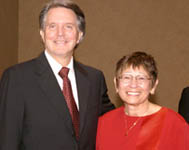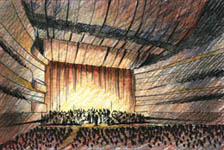 Mike Curb and Cal State Northridge President Jolene Koester, Imagine the Arts Center Project
Curb Records Chairman and former California Lt. Gov. Mike Curb has pledged $10 million to California State University, Northridge to endow his alma mater's nationally renowned arts college and provide a lead gift for the university's planned regional performing arts center that also will serve as a "learning laboratory" for students.
Curb - an award-winning songwriter, music producer and record company owner - launched his 40-plus-year career as an 18-year-old student composing songs on the Northridge campus. Cal State Northridge President Jolene Koester, in announcing Curb's gift, said it is the university's largest single cash contribution and the largest gift by a Northridge alumnus.
In recognition of the gift, President Koester said she will ask the California State University's Board of Trustees to rename Northridge's arts college as the Mike Curb College of Arts, Media, and Communication. The trustees will meet September 19-20 in Long Beach. "I was really moved when I walked through the music building where I had launched my company," Curb recalled.

Curb was as a freshman on the Northridge campus, working in the music building, that Curb wrote the breakthrough song that helped launch his career - "You Meet the Nicest People on a Honda (Go Little Honda)" - and founded his first record company, a predecessor to Curb Records, nation's largest and oldest independent record labels. His Nashville, Tenn.-based company has produced more than 250 No. 1 records and launched the careers of scores of stars, including LeAnn Rimes, Tim McGraw, Wynonna Judd, "American Idol" finalist Kimberley Locke, Hank Williams Jr. and the Osmonds.
Curb himself has written more than 400 songs and composed or supervised the music for more than 50 motion picture soundtracks. Those have included the hit "Wild Angels" staring Peter Fonda and Nancy Sinatra, the Billy Jack movie "The Born Losers," the Clint Eastwood movie "Kelly's Heroes" and its theme "Burning Bridges," and other films featuring Frank Sinatra, George C. Scott, Bette Davis, Jennifer Lopez, Gwyneth Paltrow and Mike Myers, among others.


New TV Reality Show Chronicles Pop/Rock Group Nemesis
Jacob & Joshua: Nemesis Rising' to premiere October 2006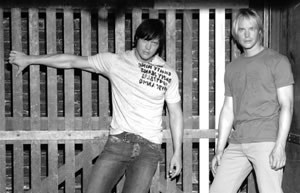 Logo, a division of Viacom Inc.'s (NYSE: VIA and VIA.B) MTV Networks, has pickup of original reality series Jacob & Joshua: Nemesis Rising, which follows Curb Records recording artists Jacob and Joshua Miller, identical twin brothers from Montana, who make up the pop/rock group "Nemesis."
The series, which is currently in production and set to premiere October 16 @ 10 PM ET/PT, chronicles the twins as they attempt to make it in the cutthroat music industry and, at the same time, come out publicly about their sexual orientation. After uprooting themselves from their country home in Montana to Los Angeles, the twins find themselves at a critical crossroads professionally and personally. They need a hit record or they face being dropped from their label. Breaking new ground in the pop music world, the twins will be marketed as openly gay artists necessitating their "coming out" to their family, friends and fans.
Complementing the series will be significant digital, wireless and online features, including episode availability on download-to-own services and interviews, diaries and other behind-the-scenes videos at LOGOonline.com. In addition, the series' first episode will be made available via streaming video at LOGOonline.com at no cost. Providing Logo's audience with broad multi-platform content is part of MTV Networks' and Logo's strategy to give viewers access to entertainment wherever and whenever they want it.
The production comes from Logo (nation's leading 24/7 channel and source of entertainment for the lesbian, gay, bisexual and transgender audience) and STILETTO Television. The series isexecutive produced by Mark C. Grove, Garry C. Kief, and Troy P. Queen of STILETTO Television.
Six Degrees of Jakob Dylan

Wallflowers leader Jakob Dylan joined Columbia Records (his father's label) this month, and is busy recording tracks for use on the new J.J. Abrams-produced ABC drama "Six Degrees." Dylan's rendition of the show's theme, "Here Comes Now," was produced by Steve Lillywhite and debuted on Sept. 21 during the season premiere. Additional tracks will be utilized regularly on the show; Dylan has been recording material in Santa Monica, Calif., with such musicians as guitarist Lyle Workman, former Soul Coughing bassist Sebastian Steinberg, keyboardist Patrick Warren and former Gigolo Aunts drummer Fred Eltringham.
As for the Wallflowers, the group parted ways with longtime label Interscope last year but has yet to announce future plans. Dylan is also in discussions with T Bone Burnett, with whom he toured earlier this year, to reunite in the studio, although sources say details are still being worked out.
Love & Davis Team Up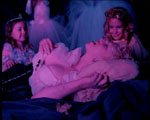 When Kurt Cobain ended his life with a shotgun blast 10 years ago this April, he left behind a musician wife with a career-making album under her belt and a drummer without any apparent employment prospects. Courtney Love hasn't shown much interest in her best role during the past several years. She has pursued celebrity via supporting gigs in tepid films (Man on the Moon, 200 Cigarettes, Trapped) and by cavorting like a Banger sister with Winona Ryder, et al. There's the tawdry legal battle over her late husband's legacy. The public spitting match with producer/ex-boyfriend Jim Barber. And the continuing drug problems--daughter Frances Bean was taken into custody after Mom overdosed in front of her.

Now rumors have it that Love who recommended that Whitney Houston work with her own addiction coach (Warren Boyd) has teamed up with exec Clive Davis to revive her troubled career.
I see a reality show in the works! The legendary artist admits he wants to overhaul his sound and I'm sure there are plenty in line who would want to collaborate.
Sir John Wants The Beats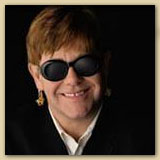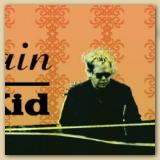 "I want to work with Pharrell , Timbaland, Snoop, Kanye, Eminem and just see what happens," Elton John says. "It may be a disaster, it could be fantastic, but you don't know until you try." The 59-year-old says he is a fan of Blackstreet's "No Diggity" and Tupac Shakur's "California Love." "I want to bring my songs and melodies to hip-hop beats," John says. "I love these beats, but I have no idea how to get them."

He just released a new - his 44th - album "The Captain and the kid" on September 18, with Matt Stills CO-producing, a sequel to his 1975 seminal classic album 'Captain Fantastic And The Brown Dirt Cowboy'. Along with partner David Furnish, he's just finishing on a new film produced by Rocket Pictures - "It's a Boy/Girl Thing", Elton has also written songs for their planned animated movie "Gnomeo & Juliet". And he'll doubtless celebrate his 60th birthday with characteristic bravura when it arrives next March, but there are too many exciting deadlines in his present and future for him to wallow in the past. Give this man a beat!

Free Music From Universal Rival To iTunes
The Music Giant To Unveil Spiral Frog in Dec 06


Despite the rising success of iTunes, an International Federation of Phonographic Industries report shows that approximately 40 illegal downloads exist for every legal one with consumers queuing up for peer-to-peer networks. Late August came the announcement from the world's largest music company, Universal Music, who has agreed to support a new venture enabling consumers to download songs free of charge; the scheme will rely on advertising for its revenues.
Songs of artists like Eminem and Gwen Stefani, Elton John and Gloria Estefan, Count Basie and Hank Williams will be available to users free of cost. SpiralFrog will use the Windows Media format for the service. Robin Kent, who is SpiralFrog's chief executive and the former head of the Universal McCann advertising agency told The New York Times, "Offering young consumers an easy-to-use alternative to pirated music sites will be compelling... SpiralFrog will offer those consumers a better experience and environment than they can get from any pirate site."
It's important to point out that it will take some 90 seconds to download a song from SpiralFrog; 15 to 20 seconds longer than iTunes. Additionally, there will be measures in the form of software to prevent copying the songs or sharing them with others, and there will be the question of device compatibility (ie: not possible to use the popular iPod).
Confirming that it is in talks with SpiralFrog, EMI said it is experimenting with a number of different business models and that advertisement-supported model is one that it is certainly pioneering.
Warner Music Group confirmed it has held discussions with the firm but did not give out details.

At the core of the venture is the fact that young consumers are willing to "endure advertising as the price for their music. " Research shows that the young-adult group is receptive to the idea as long as the brands and products that were advertised were relevant to the audience.
SpiralFrog has competition from Napster, the former file-sharing firm, which has already introduced a free music service supported by advertisements. Napster streams the songs to the users instead of allowing direct download. Possibly, at a later date, it may allow download. Then there is Kazaa, another digital file-sharing network, which is also coming out with a free music download service, again supported by advertisements.
Others in the music download domain are retailers HMV and Virgin, which have such services. Music television channel MTV has recently opened its online shop Urge. Software major Microsoft too is launching its own music store and promoting Toshiba-made Zune music players.
The new venture known as Spiral Frog is a move away from the 99-cent per-song business model popularized by Apple's iTunes store. Spiral Frog is set to begin in December.

Gramercy Park Chic
Ian Schrager Transforms The Famed New York Hotel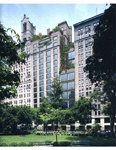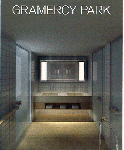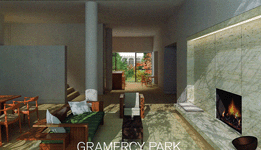 Humphrey Bogart was married here. Legendary Yankee Babe Ruth liked to drink at its famous bar. Designed by Robert T. Lyons and built in 1925 by the famous developer brothers Bing and Bing, the Gramercy Park Hotel's Haute Bohemian heritage has been honored and renewed in the transformation by Ian Schrager.
Its 1600 square foot/148.6 square meter Penthouse sports a mahogany wood ceiling, an original Stanford White fireplace and mantle, carefully chosen antiques from around the world and a series of photographs curated by artist, Julian Schnabel. The 185 guest rooms are generously scaled and beautifully appointed. Each is different with its own unique layout, vivid Renaissance color palette inspired by Raphael and distinctive collection of art and objects. The Private Roof Club and Landscaped Garden offers a more personal and intimate version of the lobby as a new kind of gathering place as introduced by Ian Schrager at the Royalton Hotel in 1988

It was built on the site of flamboyant architect Stanford White's home, where previously the townhouse that Edith Wharton was born in had stood. It was the headquarters for high bohemia, where artists, writers and musicians and bonvivants rubbed elbows.
The Record At Capitol Hill
SSL, GcPro, Advanced Audio All Chip In To Create A Temporary Studio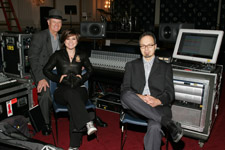 Pictured at the AWS 900 in the temporary recording studio set up in the Cannon House Office Building Caucus Room are (l-r) producer/engineer Malcolm Harper, Clarkson and producer/engineer Glenn Lorbecki.
The Recording Academy®'s Producers & Engineers Wing (P&E Wing) presented "Making The Record," a highlight of the event, to an audience of over 200 people including members of Congress. The session, a demonstration of the recording process including the roles of the producer and engineer, took place in a temporary recording studio set up in the Cannon House Office Building Caucus Room.
The studio was constructed with the help of companies including SSL, Los Angeles-based equipment rental firm Advanced Audio, and GC Pro, the professional audio division of Guitar Center.
SSL (Booth #610 at AES) is recognized with four nominations at this year's TEC Awards, to be held Oct. 7 at the Hilton San Franciso for the C300 Master Studio System; the E Signature Channel; the XLogic X-Rack; and the LMC-1 Listen Mic Compressor Plug-In. co.

Warner Partners With YouTube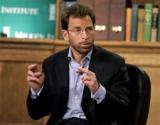 Edgar Bronfman


Partner or Infinger?
It was mid September when Universal CEO, Doug Morris called YouTube and MySpace copyright infringers of its artists' music videos! Can't build successful business model giving away free products? Warner Music thinks you can and has partnered with the new media darling, YouTube.
YouTube, which hosts more than 100 million videos viewed every day, and Warner Music, said that the deal would help Warner distribute music videos, behind-the-scenes footage, artist interviews and original programming. WMG will have the opportunity to authorize the use of its content by the YouTube community. YouTube and WMG will share revenue from advertising on both WMG music videos and user uploaded videos that incorporate audio and audiovisual works from WMG's catalog. Halleluliah! Happy attracting those coveted eyeballs!
Think different
WMG isn't creating a centralized database of songs for YouTube users. Rather, the label is giving its blessing to YouTube users who take WMG songs they already own and feature them in videos posted to the site. Think a wedding video with the happy couple swaying to "Time of Your Life" by WMG act Green Day.
Then think again
While WMG is signing off on its master rights for recordings, two other rights -- performance and synchronization -- are triggered by YouTube usage. For the right to perform, or stream, the songs, YouTube already has obtained a license from BMI. Of the other two performing rights societies, ASCAP (American Society of Composers, Authors and Publishers) says it is "in sensitive negotiations" with YouTube, and SESAC (Society of European Stage Authors and Composers) declined comment.
BMI's blanket license covers the right to stream all of the society's compositions for undisclosed percentages of certain defined revenue that YouTube generates. But until SESAC and ASCAP are onboard, YouTube technically doesn't have the right to stream roughly half of the available songs they represent -- sad news for our now less-happy wedding couple, because "Time of Your Life" is an ASCAP song.
No small task
Meanwhile, synch licenses, or the right to synchronize the recorded composition with a visual image, still need to be cleared with music publishers. This means more woe for wedding videos. A company source familiar with the situation says WMG has a framework in place between its recorded music division and its Warner/Chappell Music publishing unit to facilitate the sign-off of artists with all WMG deals. That covers acts like Green Day. But WMG hit songs like "Crazy" by Gnarls Barkley, "(When You Gonna) Give It Up to Me" by Sean Paul and "I Write Sins Not Tragedies" by Panic! at the Disco are not controlled by Warner/Chappell.
For the WMG/YouTube deal to really work, the label will have to establish a standardized rate for digital synch rights with all publishers.
Good News, Bad News
"By providing a new distribution opportunity, we are paving the way for media companies to harness the vast financial potential of user-generated content on YouTube. We are thrilled that WMG had the vision to be the first music company, in partnership with its artists, to support the use of their content within user videos and to allow our community to interact with WMG music in new creative ways," says Chad Hurley, CEO and Co-Founder of YouTube.
Still, some say that some record companies are keen to avoid repeating the mistake they believe they made when Viacom Inc.'s MTV was set up 25 years ago — allowing their artists' music to be aired for free. Morris in his remarks to investors said MTV "built a multibillion-dollar company on our (music) … for virtually nothing. We learned a hard lesson."
What about the American soldiers who are filming amateur videos in Iraq and posting on YouTube? This creates more competition for major networks like CNN and Fox. I can understand the major network or label perspective of "copyright infringement" but it's not realistic especially in the internet age. Legal action won't stop the basic laws of technology advancement and free competition -- freedom from physical force to produce for ones own profit.
Just this week Warner Music yanked it's videos from Yahoo Music according to the Wall Street Journal. According to reports Warner became concerned that Yahoo was not promoting its videos heavily enough. Stay tuned!

YouTube Leverages New Technology
Build a site that is 'user friendly" with a simple search button, no signups, no pop-up advertisements, and a simple search for your favorite video. One would have thought that labels would have come up with ideas and platforms to expose 'artists'. Some do.

Edgar Bronfman, Jr., Chairman and CEO of Warner Music Group, said, "Technology is changing entertainment, and Warner Music is embracing that innovation. Consumer-empowering destinations like YouTube have created a two-way dialogue that will transform entertainment and media forever. As user-generated content becomes more prevalent, this kind of partnership will allow music fans to celebrate the music of their favorite artists, enable artists to reach consumers in new ways, and ensure that copyright holders and artists are fairly compensated.
Of Exit Strategies
Earlier this year Warner Music was locked in a $4.6-billion takeover battle with EMI, with each company trying to buy the other, but hopes of a deal were quashed in June when a European court annulled approval of the 2004 merger of Sony Corp.'s (6758.T: Quote, NEWS, Research) Sony Music and Bertelsmann's (BERT.UL: Quote, Profile, Research) BMG.


The Down Home Gospel Showcase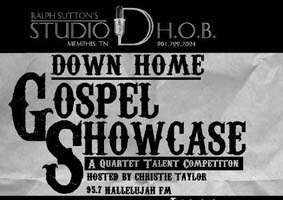 Grammy Award winning producer/engineer and owner of Studio D at House of Blues Memphis Ralph Sutton (Motley Crew, Marvin Gaye, Stevie Wonder) is tapping into the gospel community with a love for indigenous music. This American Idol-styled quartet talent search will hold auditions on Saturday, October 7, 2006 at Union Baptist Church at 102 East Brooks Road.
Eight (8) finalists will be selected to perform at the "Down Home Gospel Showcase" hosted by Christie Taylor of 95.7 Hallelujah FM. The top finalist of the showcase will win a recording session with Sutton. The Recording, Mixing, and Mastering package is valued at $1,000.
The registration fee is $25.00 (non-refundable) and the application deadline is September 27, 2006. For more information contact KB Lifestyles at 901-331-9711.

Telefunken For Vertical Horizon Man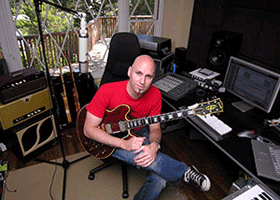 Pictured in his LA studio is Matt Scannell of Vertical Horizon. Photo by David Goggin.
Matt Scannell, songwriter, lead vocalist and guitarist for Vertical Horizon, has purchased the new Telefunken | USA Ela M250 for the recording of the band's upcoming album. "It's the best mic I've ever sung through, and I've sung through original Telefunken microphones which can cost $30,000," says Scannell. Vertical Horizon, formed in 1992, achieved double-Platinum sales for their major label debut, 1999's "Everything You Want." The album spawned numerous hit singles, and was followed in 2003 with the equally impressive "Go." Matt Scannell recently set up his new LA recording studio, which houses a Pro Tools HD Accel system and a treasure trove of vintage guitars and guitar amplifiers. Visit AES Booth # 1433 www.telefunkenusa.com or call 860.882.5919
Friday, October 6th at 8pm, Telefunken | USA™ hosts a listening session at Studio Paradiso in San Francisco, CA -- located just one block from the Moscone Center

Letters to Editor

"Thanks for the great story on Alex Patsavas and The Chop Shop. Alex is the best and brightest Music Sup. around, and I've loved working with her on many projects. She's a true pro, and darn nice gal on top of it!"

---Brady L. Benton
Vice President of Film, Television and Special Markets
Peermusic - Los Angeles
"I like what you guys are doing, but I have a feeling some of us "indie folks" aren't feeling quite connected to most of the topics and the major label/major artist focus of the studio expresso newsletters. If you guys could balance it out with some more indie producers, engineers and bands and smaller studios doing good things, I think it would be a real boost. Thanks for listening.
--Dylan Magierek, President
Badman Recording Co., Portland, Oregon



Butterfly In Yosemite photo: by the C 2006
Thank you for writing - we will keep your ideas in mind. Keep it coming!-- studioexpresso
"They signed me just off my freestyling. Once again, there were no contracts, no demo, no lawyers, or any of that dumb shit. I got fucked in the long run, but it started out well."
-- Will I Am (speaking of his experience with Ruthless Records in an interview with Nathan Rabin of AV club)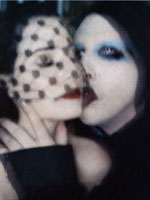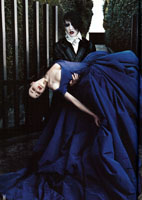 Manson & Dita Von Teese Wedding Kiss, Vogue 2006 - The bride wore purple. More photos here including an interview with Manson on his multi-faceted Celebritarian movement and the forthcoming
Phantasmagoria films.
"I want to be heard and seen this way and I can do it right here and you guys can come here and see it." No one is going to stop you; no one is going to stop me. That kind of freedom is rare and worth fighting for nowadays. It has made me have a different appreciation for the internet and what it can do." -- Marilyn Manson
Happy Rosh Hashanah!

The Torah refers to the day as "The Day of the Blowing of the Shofar", and rabbinic literature and the liturgy itself describe Rosh Hashanah as "The Day of Judgment" and "The Day of Remembrance".