Get REDDI For Session Perfection
Reggie Hamilton Talks DI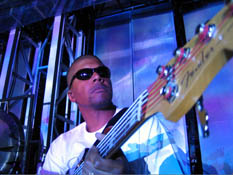 |
Whether it's pop, rock, R&B or jazz, in-demand bass player Reggie Hamilton chooses A Designs REDDI DI.
In-demand bass player Reggie Hamilton discovered a piece of equipment this year that helps him overcome the limitations of the hi-Z instrument input signal chain in the average studio. Since first trying the A Designs REDDI all-tube direct box last July, it has been his constant companion, reports Hamilton. The REDDI ensures that he can consistently deliver exactly the sound for which he has been hired as he moves from session to session.
"The first four days I had it at four completely different sessions - pop, rock, R&B and acoustic jazz bass. Honestly I found it to be exceptional, and that's without blowing smoke. I really, really like the box and take it with me everywhere I go. I love the tube sound. It's so natural and warm," says the busy musician, whose resume of live and recording session work includes such diverse artists as Boyz II Men, Ricky Martin, Kelly Clarkson, Seal, Whitney Houston, Warren Zevon, Johnny Hallyday, Bette Midler, Randy Newman, and his mentors, Stanley Clarke and George Duke, among many others.
The challenge, Hamilton observes, is that not all studios pay as much attention to the high-impedance instrument input chain as they do to the vocal path. Even some of the high-end preamplifiers most commonly found at many studios come up short due to manufacturing and design compromises. "They're really concerned with how it sounds with a microphone. They're not thinking about how it sounds for a bass guitar or a transducer for an acoustic bass or a keyboard for a synth bass."
Carrying the REDDI from one gig to the next eliminates that problem, he says, and allows him to do his job. "A lot of people I work with have nice home studios but there's often little thought for the inputs they're getting from somewhere else. Some people have a signal path that's pretty poor. You could have bad cabling in the patchbay and lose 4dB, which is a pain. Taking the REDDI to a session, especially having 16dB of gain, really helps a lot."
He adds, "I know from my bass and the cabling that I use, down to the DI, that after that it's on them - I've fulfilled my part. It's nice to have a DI that I like and trust as much as my bass."
Years of recording in a wide variety of locations, from the top commercial facilities to high-end home studios have exposed Hamilton to nearly every DI box available. Compared to some of those high-end boxes, he says, "This is significantly better. Having used all those DIs, I'm really happy with the REDDI."
"It might not have the tonal variance that I might have with some units," he continues, "but that's made up by the fact that it's all natural tone, and it sounds excellent. I like the way my sound saturates the tape - or the hard disc, as it were. You can bring a great sound to the table automatically. You don't need anything to polish it up. It's just true, which I like."
Not surprisingly, engineers at Hamilton's sessions have also been impressed.
"So much so that a friend of mine, Tony Shepperd, who has a studio, Tonysound, now has a REDDI also. Each guy I've worked with has been really pleased with it. They like that there's control. And everybody likes the really shiny light!"
A Designs Audio is distributed by TransAudio Group, founded by industry veteran Brad Lunde For more info, please email Brad Lunde at LVPA or Phone (702) 307-2700
ATC Loudspeakers Do Stand The Test Of Time
Film score engineer and mixer Frank Wolf Gets ATC upgrades from Las Vegas Pro Audio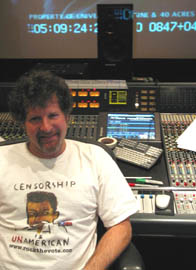 Frank Wolf uses his twelve-year-old upgraded ATC loudspeakers on Pixar's upcoming blockbuster "Cars" and Mel Brooks "The Producers."

With continual new developments and built-in obsolescence consigning any number of professional audio products to the storage closet, or even the scrap heap, it's reassuring to discover that at least one company offers its customers an upgrade path that extends over 25 years of manufacturing. ATC (Acoustic Transducer Company) Loudspeakers, distributed in the U.S. by Las Vegas Pro Audio, offer driver upgrades and amplifier overhauls that extend the working life of their products, in production since 1980, allowing customers to maximize their investment in the essential tools of their trade.
Hollywood film score and music mixer and recordist Frank Wolf first heard about the ATC upgrades from Las Vegas Pro Audio president Brad Lunde, and, having changed out the subwoofers in his twelve-year-old ATC SCM100 reference monitors for the company's new Super Linear drivers, could not be happier with the results. "They're dramatically improved," says Wolf.
It's an easy do-it-yourself job, he reports. "I pulled them apart myself, replaced the ports, and put the new speakers in." ATC also offered to service the amplifier modules, he adds. "They suggested that if I wanted to pull the amp packs out and ship them they would check them and tweak them and make sure they were up to snuff, which I did. They turned them around fast and didn't keep me off the air for long at all. That's about as good customer service as you could ever hope to get."
With his LCR setup of SCM100 monitors sporting new woofers and fresh components in his amplifier modules, Wolf was able to get back to work as one of the top music mixers in Hollywood. "What I've done since the upgrade is recorded and mixed the new Pixar movie, "Cars," which is coming out next summer. I mixed the album for "The Producers," the new film of the Broadway production inspired by the original Mel Brooks film. And I'm just now working on a Spike Lee movie with composer Terrence Blanchard."
The hotly anticipated new Pixar Animation Studios feature, "Cars," "looks like it's going to be great," says Wolf. "I've done four other movies with Pixar. I did "Toy Story" and "Toy Story 2," "A Bug's Life" and "Monsters, Inc." with them and Randy Newman, so this was my fifth one with Pixar. They're a great group of guys to work with."
Pixar's animated features have garnered multiple nominations and awards worldwide, and have won many Oscars. Wolf's busy career also includes such movies as "Meet the Fockers," "Seabiscuit," "Tarzan" and "Mulan."
These same ATCs were used for scoring "The Producers." This task was arduous, Wolf reports. "I spent four months this year working on 'The Producers.' There are 25 songs plus an underscore, so it was a lot of work.
We cut the tracks at the scoring room that Right Track built in New York, and mixed it at Sony."
ATC reference monitors are a longstanding and firm favorite with many music mixers. Wolf is happy to report that he was able to find a pair in New York.
"Sony has an interesting pair of ATCs that they had custom made for [former Sony Music label boss] Tommy Mottola some years ago. They're pretty amazing."
ATC's drivers are manufactured in-house to exacting tolerances and are legendary for their many design innovations, such as the innovative SL magnet system and the company's renowned Soft Dome midrange driver, which achieves exceptionally broad and even dispersion to produce a flat response anywhere in the room. Situated in Aston Down in rural Gloucestershire, England, ATC was established in London in 1974 by acoustics engineer and musician Bill Woodman.
LasVegasProAudio distributes ATC in the USA. For more info, please email Brad Lunde at LVPA or Phone (702) 307-2700


Josh O'Connor And The LA Connection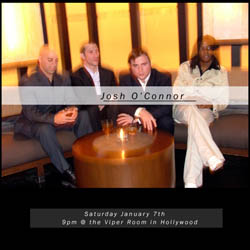 Las Vegas artist whose vocal talent and songwriting skills combine the fantasy of Sade and Roxy Music with the soul of Simply Red and the drive of Smashing Pumpkins was in Los Angeles for a gig at the Viper Room on January 7th. O'Connor checked into the Mix Room to work on some new material with producer/mixer Eddie Kramer afterwards. Look for Victorian, the new album out now.


Glassman's Go-To Mic Preamps
Daking Quality Paired With Las Vegas Pro Audio Service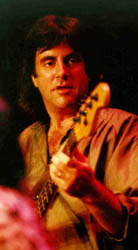 Longtime Daking aficionado, Seth Glassman, owns two of the original Daking mic-pre/EQs and two of the compressor-limiters.

During his busy career as an engineer-producer, songwriter, arranger and studio musician, Seth Glassman has had the opportunity to use some of the best signal processing equipment available. Regardless of whether it is expensive or not, or if it is solid-state or classic tube, what is important is that it must be useful, says Glassman. And experience has taught him that the most useful items in his well-equipped personal studio are made by Geoffrey Daking & Co.
"I have two of the original Daking mic-pre/EQs and two of the original compressor-limiters," reports Glassman, who, as a session bass player, first met Geoffrey Daking many years ago when he was working as a recording engineer. "I have a lot of equipment in my studio. Some of it is very specialized and much of it is very expensive, but Geoff's stuff is just better, and I use it much more often. The Daking equipment is just more useful and sounds great."
Elaborating on why the Daking units have become his go-to mic preamps, he continues, "Sometimes, in the heat of things, when there's a limited amount of time and people's focus is fragile, you don't always have the luxury of comparing different pieces of equipment. It's got to be good immediately, so you have to make up your mind pretty quickly."
"The Daking compressor-limiters are equally practical," adds Glassman, "and are also very versatile. They can be transparent. You can put some very light compression on the stereo bus on something that's very sensitive and get the effect that you want. Or, you can use them almost as an effect and squash something amazingly hard and still make it usable."
As a bass and guitar player, songwriter, engineer-producer and arranger, Seth Glassman has worked live and in the studio with a truly impressive list of artists, including James Brown, Paul McCartney, Cher, Diana Ross, Aaron Neville, Brian McKnight, Hall and Oates, Cyndi Lauper, Kenny Rogers, Carole King, Jennifer Warnes, and many, many others. A musician with plenty of experience working the Great White Way in Manhattan, Glassman recently wrote and recorded several songs with Broadway star Darlene Love.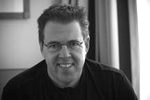 LasVegasProAudio (www.lasvegasproaudio.com) distributes Geoffrey Daking & Co.
For more info, please email Brad Lunde at LVPA or Phone (702) 307-2700

Las Vegas Pro Audio is the direct sales division of TransAudio Group. The goal of LasVegasProAudio.com is to provide a personal long-term relationship with top engineers delivering insightful and accurate advice, unique equipment and long term support.TransAudio Group, founded by industry veteran Brad Lunde, has quickly become the premier US importer/distributor for high-end audio. visit the web sites at: www.lasvegasproaudio.com
TransAudio Group's product lines include A-Designs (USA) AEA ribbon microphones (USA), ADT Toolkit, AEA, ATC Loudspeakers (UK), Brauner microphones(Germany), Drawmer (UK), Geoffrey Daking & Co. (USA), George Massenburg Labs (GML) (USA), Heil Sound (USA); Mercury Audio (USA) Mission Audio (UK) Phoenix Audio (UK), PAULY Superscreens(Germany), SABRA SOM(Brazil), Soundelux (USA), SoundField Microphones (UK), Z-Systems (USA) and Weiss Engineering (Switzerland) and Z Systems (USA).
"Crazy Hair Day" at Cups 'N Strings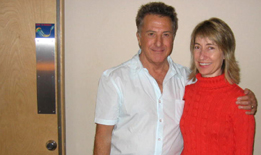 Pictured at Cups 'N Strings Studios are Dustin Hoffman and recording engineer Sabrina Buchanek.

Acclaimed actor Dustin Hoffman recently stopped by Cups 'N Strings Studios to record the audio book of "Crazy Hair Day." The popular children's book was written and illustrated by Barney Saltzberg, who is also a singer/songwriter who has performed at numerous schools, bookstores, libraries and children's hospitals nationwide.

Hoffman lent his voice talents to support the Crazy Hair Day Literacy Campaign, a continuing community initiative designed to celebrate and promote the power of literacy. In 2006, More than 2500 books will be donated, distributed, and read by more than 2500 volunteers to more than 50,000 children and adults in more than 500 locations in more than 10 cities throughout the US.
For an express tour of Cups 'N Strings, or call 310.656.9356 to schedule a reality tour.

Firehouse Sessions
And Friendly Tours
On the outside, Firehouse Studios preserve the rustic charm of the original structure, a circa 1889 fire station near downtown Pasadena, California. On the inside, however, the facility takes a quantum leap into 21st century audio technology.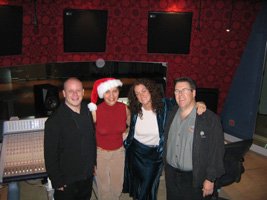 Ed Wooley, chief engineer-Firehouse Recording Studio; studioexpresso's Claris Sayadian-Dodge; Firehouse manager Candace Stewart and Las Vegas Pro Audio's Brad Lunde during holiday festivities at Firehouse. Recent projects at Firehouse Include: Oscar Castro-Neves' self-produced CD, Playful Heart. Oscar also produced Patty Clark. Foreplay with Nathan East, Yellowjackets and Mark Mancina (Disney) TV - Haunted Mansion and Brother Bear were all recorded and/or mixed at Firehouse. Call Candace to get a tour of this fab facility with its Icon and 20 chl of neve and APIs that's sure to please the audiophiles.
Avatar Duets
Columbia University To Terlarc Artists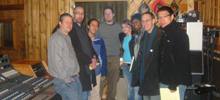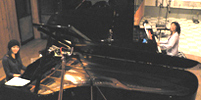 Studio C hosted a session for Telarc recording artist, Hiromi Uehara (right), recording a piano duet with Akiko Yano. Sushi Kosugi produced and James Farber engineered, assisted by Brian Montgomery.
Recently during AES in NY Student Chapter from Columbia University visited Avatar Studios. The group was given a tour by Roy Hendrickson, Chief Engineer of Avatar. Seen here in Avatar's Studio A are Roy Hendrickson (far left) and the student group, headed by Chapter Chair, Suman Ravuri (third from right).
Parr Excellence!
Steve Parr Win at Surround 05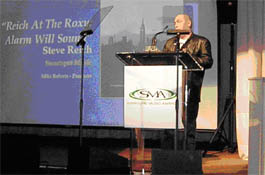 At the Surround Music Awards at the Beverly Hilton in Los Angeles on 15th December, Steve Parr (pix above) was announced the winner for Best Orchestral Mix for 'Reich at the Roxy'.
'Reich at the Roxy' is a DVD of a concert by Alarm Will Sound playing the compositions of Steve Reich at the eponymous venue in the meatpacking district of New York in February 2004. The concert was filmed in high definition video and recorded at 96k directly into Digital Performer by Parr. After editing by producer Mike Roberts, Parr and Roberts mixed the concert in both 6.1 surround and stereo at Parr and partner Sharon Rose's Hear No Evil studio in London.
Parr commented 'this was probably the most difficult mix I have ever had to accomplish. It was like rescuing a child from a burning building; the material was so complex and demanding on the ears that Mike and I could only work for very short periods of time before audio fatigue would set in; it took the best part of a year before we were happy with the mixes.' Roberts added 'It was always my intention to combine the controlled environment of a studio recording with the excitement of a live performance'
Steve Reich added that he considers it the best performance and recording ever of his work.
Sweetspot Productions released the recording as the first of a series of high resolution recordings of contemporary music. Parr previously won the award for Most Adventurous Mix for 'The Orchestra' in 2002 and had also been nominated for his 5.1 mix of 'Who Are You' for the CSI title theme and for the movie soundtrack for 'Hound of the Baskervilles'. He was the only European to win an award , other winners include Brant S Biles for NERD, Greg Penny who took Best Multichannel Reissue for Elton John's Captain Fantastic, and Jerry Harrison for Talking Heads.
Surrounded By Faces of Music
Guests Take A Book Signing Break
Faces of Music: 25 Years of Lunching with Legends by Mr Bonzai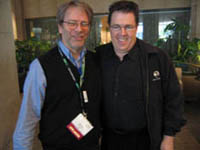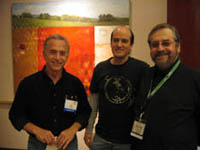 l-r: George Massenburg, Brad Lunde of Las Vegas Pro Audio, David M. Schwartz of M Powered Ideas, mixer/egnineer, Rafa Sardina,
producer Phil Ramone who won the Surround pioneer award
In a gala event, the 2005 Surround Music Awards announced this year's winners at the Beverly Hilton Hotel past December. The event, hosted by Ed Cherney and Elliot Scheiner – along with some help from past host Al Schmitt – was highlighted by the presentation of the 2005 Surround Artist of the Year to Jackson Browne by the members of his Running On Empty band, Russ Kunkel, Leland Sklar, Craig Doerge, and David Lindley. Following Browne's acceptance speech, singer/songwriter Andrew Gold and Jeffrey Foskett from the Brian Wilson Band acoustically performed two Jackson Browne hits – Running On Empty and Stay. Congrats to all the winners!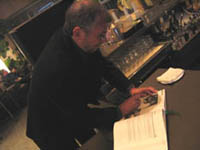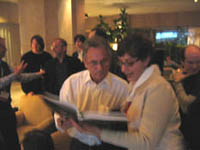 l-r: Elliot Scheiner, Al Schmitt with studioexpresso's Claris Sayadian-Dodge
While waiting for the award show, there was a frenzy of book signing when a copy of Mr Bonzai's book Faces of Music: 25 Years of Lunching with Legends resurfaced at the Beverly Hilton Hotel.
Pick up your copy today!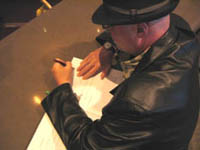 Mr Bonzai authographing his book for studioexpresso
Pop Up The Poster & CD Covers
Art of Van Hamersveld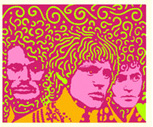 L-R: John Van Hamersveld; Poster of Endless Summer; Cream CD art; Hendrix poster
On the heels of four hugely successful nights at London's Royal Albert Hall, the eagerly anticipated Cream reunion arrived on DVD (from Rhino) and CD (from Reprise Records) October 2005. In what was billed the must-see show of this decade, legendary rock group, Cream -- Ginger Baker, Jack Bruce and Eric Clapton -- reunited for their first concerts in more than 30 years. These triumphant reunion performances were brilliantly captured on HD and 5.1 surround sound for the DVD and CD releases. The DVD features alternate takes of favorite songs, along with the only band interviews about the historic reunion. The last time the band played together was in 1993 when they were inaugurated into the Rock and Roll Hall Of Fame in Los Angeles.

The DVD cover features John Hamersveld's wonderful psychedelic art with updated design much similar to Warhol. January 1964, Van Hamersveld, then a famous surfer known as the "Hammer", is riding one of the first Makaha Skateboards out front of Surfer Magazine. Later that year John designed the iconic film poster for The Endless Summer (John pictured above with the poster).
Van Hamersveld was recently surprised to find a demand and renewed interest in his posters like the classic Hendrix/Shrine (which he has recently done a fourth re-printing of). The original first printings of the posters now go for $3,500 to $5,000, he says. Not everyone can fork over that kind of money, however, even for a piece of rock history. Apart from avid poster collectors intent on amassing the original pieces, the '60s artists have also found a new audience in the youth of today's renewed interest and veneration of classic rock-their vehicle, the significantly cheaper, more accessible re-prints. Clearly, as long as rock is around, there will be an interest in the genre's posters.

"Artwork of that era harkens back to a time when rock and roll was visually exciting and musically inspiring. It was collectable, something you could own or hang on your wall-a bit more than just web code," says musicians Dave Navarro who recently opened the doors of his night venue Rokbar in Hollywood with partner Tommy Lee.

Look up John Van Hamersveld's original prints and collection of Hand-Pulled Limited Edition Signed Silkscreens at Post Future.
News From Sundance
Big 'Sleep' for WIP: $6 mil buy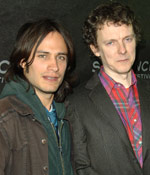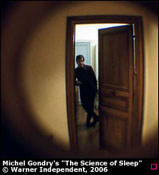 Warner Independent Pictures jumped into the big-buy arena Monday at Sundance with the $6 million acquisition of all North American and U.K. rights to writer-director Michel Gondry's (pix above) "The Science of Sleep." WIP moved swiftly to buy the visually dazzling fantasy starring Gael Garcia Bernal and Charlotte Gainsbourg right after its 9:30 p.m. screening Sunday and closed the deal with Gaumont and Partizan Films at 3 a.m. Monday. "There were six of us who saw it," WIP president Mark Gill said. "We never agree on anything, but we all loved this film. It's breathtakingly original." "Science of Sleep" is produced by Georges Bermann and Frederic Junqua and marks WIP's first Gaumont film. WIP plans to release the film in the second half of the year.
In other acquisitions activity, Ryan Fleck's addiction drama "Half Nelson," starring Ryan Gosling, and the puzzle docu "Wordplay" are expected to sell imminently. The Yari Group's "The Illusionist," starring Edward Norton, also played well Sunday night and is being screened "all over Hollywood," according to one distributor interested in the film, which the filmmakers would like to release wide.

Naked Eyes Live And On CD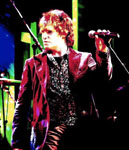 Pete Byrne of Naked Eyes
Photo by Roger L. Miller

If you're fan of great 80s classics, see the real deal with Pete Byrne taking acoustic Naked Eyes on the road coming to a neighborhood near you. Florida and California dates planned in Jan. Catch tour details at Naked Eyes web site

The new CD, " Fumbling With The Covers " features Naked Eyes acoustic version of the hits, along with covers of Dylan, The Beatles and more.
Naked Eyes T-shirt, the new song " Diamond Eyes" and all available at Pete's web site. Click here to read and hear Pete's profile on Studio Expresso and record production.
Pete has taped an in-studio video for VH1 Classic. Always Something, Promises and a Dylan song were performed.

The Naked Eyes original dance mix and b-side collection "Everything and More." is out!! This long awaited CD features unreleased mixes, including "Promises Promises" with Madonna in both 7" and 12" versions. None of the tracks on this album have ever been on CD before. Some have never been released... All the 12" dance mixes, the early UK b-sides, the early singles when they were known as Neon, the lost album tracks. This is the definitive rare tracks CD, featuring "Always Something There To Remind Me", "Promises Promises", "In The Name Of Love" and much more...

MTV's Twentieth Anniversary video collection "MTV 20" includes the "Promises, Promises" music video. The DVD version also includes a bonus interview clip with Pete and Rob. Watch Pete Byrne's interview with studioexpresso's Claris for Record Production and hear Pete singing one of his hits.
Coachella, The Film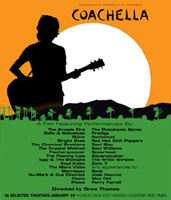 Directed by Drew Thomas, Coachella will feature two-hours of highlights from the previous six years of the Coachella Valley Music and Arts Festival.
On January 24 there will be a sneak peek one night only event. Click here for a list of local theatres. You can purchase tickets online at www.bigscreenconcerts.com or in person at select theatres. Tickets are $10 advance or $12.50 day of event. No refunds. This film is rated R. Featured performances by: The Chemical Bros, The Polyphonic Spree, Radiohead, Red Hot Chilllie Peppers, Beck, Bjork, Perry Farrell, The White Stripes, Mars Volta, to name a few.



Make Some Noise!
Mix of music, celebration and action in support of Amnesty International
There are approximately 639 million small arms in the world today. Eight million new weapons are produced every year. Nearly 60 per cent of small arms are in civilian hands. The annual number of bullets produced is more than double the world's population. Every year roughly half a million men, women and children are killed by armed violence - that's one person every minute.
On December 10th, International Human Rights Day, the first four tracks of the compilation were made available on amnesty.org/noise as 99 cent downloads.

Make Some Noise is a global venture by Amnesty International that mixes music, celebration and action to protect individuals wherever freedom, justice and equality are denied. What's their New Year's Wish list: To attract one million new supporters worldwide. With Yoko Ono's gift – the recording rights to "Imagine" and John Lennon's entire solo songbook – MSN is harnessing the power of music to inspire a new generation to stand up for human rights. Black Eyed Peas, Maroon5, Snow Patrol, The Cure, Postal Service and Avril Levine are all involved in the MSN campaign doing John Lennon covers.
Let The Games Begin
XX Torino 2006 Olympic Torch Relay


According to Greek mythology, Prometheus stole the sacred Fire from the Gods and brought it to Earth, where it soon became the symbol of human reason, freedom and creativity.
The 2006 Olympic Torch Relay started in Rome on the 8th of December and for two months will travel across national territory. The celebrations will expand through 600 communities of all the Italian regions until February 10, 2006, when the last torchbearer (open to public) will light the XX Olympic Winter Games' cauldron. The Olympic Flame has passed through Italy twice, bearing its wealth of heritage and enchantment: in 1956 for the Cortina d'Ampezzo Winter Olympics and in 1960 for the Rome Games. 50 years later, Italian passion is being ignited for an extraordinary event: Torino 2006 Olympic Torch Relay.






Andrea Bocelli, Lou Reed, Ricky Martin, Avril Lavigne and other musical stars will perform in the downtown medal plaza during the Turin Games. Opera singer Bocelli will open the festivities in Piazza Castello on Feb. 11 after the first day of competition. Organizers expect 8,500 spectators each night. Fifty-five of the 84 medal ceremonies will be held in the plaza, with Alpine ceremonies held at competition venues. To purchase tix click here

Laying It Down
Kenny Aronoff New DVD & Address

Kenny Aronoff's "Laying it Down: Basics of Rock Drumming" is now available on DVD. It includes exclusive, never-before-seen footage along with many other special features including a candid recording session with Kenny, drum solos, photo galleries, and printable PDF files of the onscreen examples. Click here to order. studioexpresso caught up with the legendary drummer during a session with Ken Allardyce in Los Angeles. "Yes it was great working with ken. He is amazing as an engineer and I love him as a person. I have had a place here in LA for 3 years now, so as always I'm available for sessions on both coasts," says Aronoff who can be reached at 818-990-3031 or visit Aronoff web site here.
Microsoft Unveils Windows Vista at CES
Keynote Remarks (edited) by Bill Gates, Chairman and Chief Software Architect, Microsoft Corp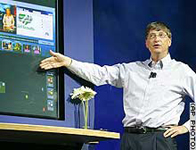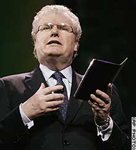 Microsoft Chairman Bill Gates points towards future products; Stringer holds the new Sony Reader e-book during keynote addresses at the Consumer Electronics Show in Las Vegas.

"The software is where the magic is. Software is providing power, but software has got to provide simplicity. And that's why our investment levels are going up in the toughest problems: security, privacy, speech and video recognition, and all of those things will fold into this platform," said Gates in his closing remarks during Microsoft's unvailing of its Windows Vista this year.
With more than 90 per cent of personal computers running Windows, security represents the biggest target for hackers.

Focussing on average consumer needs Vista is featured with new photo-editing tools, a revamped media player designed specially to improve the way that Windows tackles media files and improved remote-control experience.

Highlights from the keynote address included: Van Toffler, MTV Networks (the music group) president jokingly handed Gates a massive $50 royalty check for being the inspiration for MTV film "Napoleon Dynamite" as part of their new venture together called URGE!

URGE promises to offer a customized relationship with music, a sense of musical discovery, along with access to millions of songs from major labs and indies, an opportunity to listen to over a hundred radio stations, a chance to learn about the roots of songs and lyrics, plus interaction with hundreds of artists and access to their playlists of must-haves. You can also take URGE and make it your own and personalize your own soundtrack and make it for any mood or event. Subscribers will customize and drive this service, they will tell what sucks and what they hate about the service, they will customize it, program it, share it, change it and move with it. When URGE music service launches, they're going to have over two million tracks available for individual song or album purchase or as part of an all you can eat subscription.
A cameo appearance by Justin Timberlake who plugged his new album ended the introduction of URGE. " URGE offers artists like myself a new way to specifically reach our music fans with a ton of options to play, interact and buy music. I want to let the cat out of the bag; when I release my new album this year, which by the way features Mr. Gates's singing debut, we'll be doing a duet -- (laughter) -- [singing] "Artistry and technology" -- no? (Laughter.) Whatever, " Says Timberlake.
Windows's Xbox 360 took the ceterstage once more. According to Peter Moore who leads Xbox and gaming, the Xbox has achieved an unprecedented global launch for the world of videogame consoles. In the first 90 days we will have launched Xbox 360 in nearly 30 countries, and Xbox 360 is on track to ship between 4.5 and 5.5 million consoles by the end of June.
Key partnerships with Verison, MCI, Motorola (the Q) and Phillips were announced promising connecting phones to broadband services and offering richer consumer experience.
New TV software packages promise more interactivity, choice and personalization. In this area watch for Vive (rhymes with "five" and "live,") a partnership with Intel. Combined with the Windows Media Center, it's like the 7.1 surround sound. Another partnership with DIRECTV video onto the Windows Media Center PC. "We'll also connect up to our portable devices, connect up to Xbox 360, and so these Media Centers will let you enjoy the high definition and normal definition DIRECTV content and take that away on a portable media device, so a lot of flexibility there," says Gates. BSkyB, is sort of a sister company of DIRECTV over in the UK who has over 8 million subscribers and will be able to do those downloads and use those great capabilities.
As for High-def DVDs coming online this year, the Toshiba HD-DVD player will be available in March for $499 as a device that consumers can get to start watching HD-DVD disks. Its A user might get benefit out of interactivity and compelling content running on a WindowsVista Media Center PC with tthe HD-DVD player by changing the viewing experience. Media Center is a platform that enables content providers and software developers to create all kinds of compelling application experiences and services that work with a remote control either on your PC, your Media Center PC, or streaming through extender devices like the Xbox 360.

Let's hope Bill is right and we're all going to have a lot of fun and productivity in the new year.
Sony Corp. Chief Executive Howard Stringer, in his keynote at CES,"Content is no longer pushed at consumers, it's pulled when they want it and how they want it," Stringer said, who added that the transition to high-definition television would shake the industry. "The scale of the transition from analog to HD (high definition) will make the shift from black-and-white to color small by comparison," Stringer said.
Sony BMG, a joint venture of Sony and Bertelsmann AG, was sued last year after 5.7 million of its CDs were shipped with anti-piracy technology that required a new software patch to plug a potential security breach in computers used to play the CDs. They entered a preliminary agreement to settle a class action lawsuit brought against the company here for its use of copy-protection software that allegedly behaves like spyware. The move signals a setback to major-label efforts to control consumer copying of CDs.Sony CEO Stringer said the experience highlights the conflict at Sony between the electronics division that wants to make products with features consumers want, such as the ability to copy music and films to devices, and the creative units of the company concerned with protecting copyrights. "We have to walk the line at Sony between the needs of technology and the consumer, and the rights of the artist, which we feel very strongly about," said Stringer who highlighted Sony's upcoming product line, which includes an electronic book reader, a device that allows TV shows to be streamed live to a PlayStation Portable handheld unit, and a new digital movie projector. He said his efforts at cutting costs and reorganizing the company around several core units is progressing slowly but steadily. Company executives intend to meet next week in Hawaii to assess the restructuring. The company is planning to cut 10,000 jobs.

The Pandora Box
Helping Find New Musical Favorites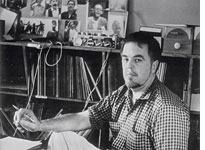 Lomax puts a dime in the Global Jukebox

As the Savage Beast Web site points out: "In an industry where less than 3% of all releases currently account for over 80% of all revenue, Savage Beast is ideally positioned to unlock an enormous lost revenue potential." That's where the Music Genome comes in.
Those of you familiar with Alan Lomax's legacy and his Global Jukebox can see the similarities. Lomax's Jukebox was based on a music notation system he called his "cantometrics," a made-up word he defined as meaning "song as a measure of society." It consisted of 36 parameters that could be used to compare musical performance styles across cultures. And, just as the Music Genome would, Lomax employed an army of rigorously trained research assistants to code and input thousands of songs into a central database. There are 4,400 in all, spanning 400 cultures, everything from Pygmy recordings to American pop tunes. This is only a portion of what Lomax intended. A series of strokes in the 1990s prevented him from getting the Jukebox past the prototype stage.
Despite their many similarities, the two projects have very different ambitions. The Music Genome is primarily a commercial venture, designed to take advantage of something called the Long Tail—an economic concept with new implications in the Internet age. It holds that in an environment of limitless selection and easy distribution—as created by businesses like iTunes and Rhapsody—there's money to be made by driving people beyond the blockbuster hits to the more obscure, deep catalog stuff. As the Savage Beast Web site points out: "In an industry where less than 3% of all releases currently account for over 80% of all revenue, Savage Beast is ideally positioned to unlock an enormous lost revenue potential." That's where the Music Genome comes in.
To date, the system has been used exclusively by in-store kiosks and online recommendation engines for clients like AOL, Tower Records, Best Buy, and Barnes & Noble. But in the next few months, Savage Beast plans to unveil a public interface that will enable listeners to, in CEO Tim Westergren's words, "have a full music genome conversation on the web": query it, input songs, and listen to music.
The next step for the project is to expand the catalog to include commercial recordings from around the world. The enthusiastic CEO also talks about a recent visit to Japan, where he encountered a local band that sounded like Counting Crows. "It would be awesome to be able to connect someone in America with a Japanese band where the music is the same," he said. Ironically, this is precisely what Lomax feared most: a day when America turns its ears to the world and hears only echoes of itself! (courtesy of Slate and Martin Edlund).


Proud John
Concord Records Builds A Bridge Back To John Fogerty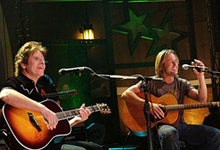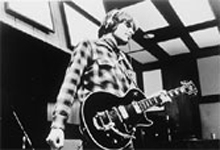 Soon we'll hear more from the somewhat forgotten but brilliant songwrter, John Fogerty who penned Proud Mary, Bad Moon Rising and Born on The Bayou in the 60s. Just where has Mr Fogerty been all these years? The 60-year old rocker became a solo artist after the immensely influential Creedence Clearwater Revival split up. With a spotty solo career and large gaps in between album releases, he agreed to forfeit virtually all his royalties from the music he'd written and recorded on Fantasy Records with Creedence. After spending a decade in legal and business battls with the label and its owner, Saul Zaentz, Mr Fogerty's new label Concord is unwailing a new campaign to reintroduce the legend.
Now, look for a series of album releases designed to reassociate John with the far more successful music of his old band which will continue through 2007. John's new label, Concord Records, which is owned by television producer Norman Lear, bought Fantasy for $80 million from its long-time owners, led by Mr Zaentz. Concords 3-5-year album release and promotional plan aims to put Mr Fogerty on par with other icons of '60s rock. "We wanted to build a bridge back to John so that we could reconnect him to the Creedence catalog. We wanted to celebrate his work with the band, and move forward with him so that he could create new music," says Concord's Mr Barros. "After meeting with Norman Lear, Hal Gaba, and Glen Barros (President of Concord), I'm happy to say that the new Fantasy is very enthusiastic about my body of work...They are honoring my songs that hold an important place in the history of American music," says John Fogerty. "It's a happy coincidence that when we bought the Fantasy catalog we were also able to sign one of the most relevant and talented singer/songwriters of our generation. We're all enormous fans of his music. He's a big hero here," says Mr Lear.

To reach Mr Fogerty's aging fan base Concord will also promote the album in-flight entertainment systems of several airlines and JF's music will play as part of the pre show music in movie theaters. Concord will spend over $1million on direct-response TV advertising to promote "The Long Road Home. Many of Creedence's best-known recordings with a handful of hits from Mr Fogerty post Creedence solo career are compiled on this new release which has sold 159,000 copies since November and debut at No. 13 on the SoundScan album-sales chart. A liveDVD, taped September 15 at the Wiltern Theater in Los Angeles, is due for an early 2006 release. Let's hope Mr Fogerty is proud.
UCLA Course On Today's Biz Gathers Industry's Who's Who

HITS Editor Lenny Beer, The Doors' Manager Jeff Jampol and Universal Music Publishing EVP Tom Sturges Will Instruct 12-Week "The Music Business: Now," Started on Jan. 11.
It's a great course to learn about what's happening right now in the business," says Beer, who will host the class' overview and analysis of the most compelling events in the record industry, 'What Happened This Week.' "It's about what's going on right now. Part of the curriculum is the day's current events. It's as valuable for people just breaking into the business as it is to those looking to get ahead in their careers by networking with some of the most important executives in our industry."
Each student will receive free online access, good for the duration of the quarter, to MIS/MediaBase, the industry standard for radio and video performance/chart monitoring.
Confirmed guest speakers include: Andy Slater, President, Capitol Records; Polly Anthony, Co-President, Geffen/Dreamworks Records; L. A. Reid, CEO, Island/Def Jam Records;
Scott Pascucci, President, Rhino Entertainment; Danny Strick, President, Sony/ATV Music Publishing; Irving Azoff, CEO, Azoff Music Management (Christina Aguilera, Van Halen, Jewel, The Eagles); Jeff Kwatinetz, CEO, The Firm (Snoop Dogg, Korn, Ice Cube, Kelly Clarkson, Leonardo DiCaprio, Vin Diesel, Cameron Diaz); Jim Guerinot, President, Rebel Waltz Management (No Doubt, Social Distortion, The Offspring, Nine Inch Nails, Hot Hot Heat);
Kenneth Crear, Partner, Wright/Crear Management (Backstreet Boys, Janet Jackson, Chingy);
Arthur Spivak, Stu Sobol, The Firm (Three Days Grace, A Perfect Circle, Yellowcard);
Rick Sales, Sanctuary Music (Slayer, Morrisey); Rob Light, Head Of Music, Creative Artists Agency (CAA); Kevin Weatherly, Program Director, KROQ-FM; Nic Harcourt, Program Director, KCRW, Geo Bivins, Senior Vice President, Urban Promotion, Capitol Records
Peter Baron, Head Of Programming, MTV Networks; Jay Frank, Head of Artist/Label Relations, Yahoo Music; Mark Williams, Head Of A&R, Interscope Records (Manson, Queens of the Stone Age, Beck, No Doubt); Ron Laffitte, Senior Vice President, A&R, Capitol Records (Coldplay, Radiohead, Yellowcard); Jeff Gelb, MIS/MediaBase

Course Name: The Music Business NOW: How It Really Works, and the People and Events that Influence It
X 448.75 Music 4 units $515
Reg# R7754U
UCLA: 39 Haines Hall
Wednesday, 7-10pm,
January 11-March 29, 12 mtgs.
For registration information, e-mail entertainmentstudies@uclaextension.edu, call (310) 825-9064 or access http://www.uclaextension.edu.


Extreme Makeover with Auralex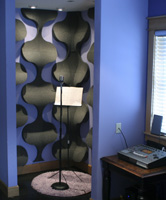 Photo courtesy of ABC photos and photographer Michael Desmond
Every Sunday, millions of viewers watch as ABC's Extreme Makeover: Home Edition, undertakes the monumental task of completely rebuilding a home in a one-week timeframe. When a recent renovation called for specialized acoustical treatments, Auralex recommended its new AudioTile and assisted the crew during the installation of the product in a vocal recording booth.


Guilty Pleasures With AWS 900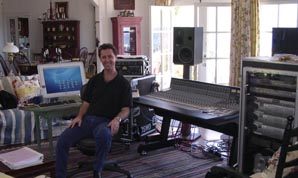 Twenty-five years after her multiplatinum Guilty, Barbra Streisand's Guilty Pleasures, which debuted at No. 5 on the Billboard 200 album chart, is another artistic and commercial triumph for the legendary singer. The long-awaited Guilty Pleasures once again pairs Streisand with producer Barry Gibb. For engineer and producer John Merchant (pictured above), the Solid State Logic AWS 900 Analogue Workstation System was indispensable in the creation of Guilty Pleasures at two critical stages of the process-Streisand's vocal overdubs and mixing. Basic tracks for Guilty Pleasures were recorded through the SSL 9000 J Series console in Studio A at the Hit Factory/Criteria in Miami, with overdubs recorded to Pro Tools at the Bee Gees' Middle Ear Studios, where Merchant served as chief engineer for more than 10 years. "Barbra really wanted to do her vocals at home," said Merchant. "She gave us this beautiful cottage with sweeping views of the cliffs of Malibu, looking out at the mighty Pacific. But we needed to create a studio, so we rented an AWS 900 from Advanced Audio and Pro Tools rigs from Design FX.
Hollywood Cat's Music Notes

• The top pre-order at Amazon.com is Tony Bennet: Tony Bennet Sings for Lovers (Concord)

• Poison the Well talks about their leaked demos (roughly seven of them): "...those where the first songs we had wrote when we started writing for the new record and ... We did them about a year and 2 months ago at Steakhouse. ... So, if you happen to come across them, don't think that they are the final versions or songs that will make the cut." (Punknews)
• Not only are the Black Eyed Peas setting up for a Honda Civic-sponsored tour -- which will launch in Fresno in March -- but all four core members are working on solo albums.
• Do you like Rock 'n Roll? How about wine? If so - here's a unique and tasty collection from the drummer and cofounder of Fleetwood Mac - two new wine releases and a brand new CD!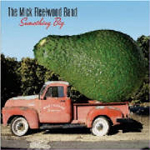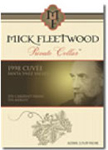 Mick Fleetwood says he isn't a connoissier - but he does know what he likes - and hopes you will share his tastes. "I want this to be fun" he says. We think that both wines - sourced from artisanal producers from California's Central Coast, are pretty dang tasty. The CD is great classicly styled rock as well - a mighty fine combo if you ask us.
This Wine.com exclusive Mick Fleetwood Private Cellar Collection contains one each of:
Mick Fleetwood 2001 Chardonnay
Santa Barbara, California
Mr. Fleetwood's taste in a classic Santa Barbara style Chardonnay. Carefully selected, produced and bottled according to Mick's standards. Lightly oaked, this medium-bodied wine maintains its crisp character while showing flavors of tropical fruit and citrus aromas.
Mick Fleetwood 1998 Cuvee
Santa Ynez, California
Mr. Fleetwood's selected blend of 25% Cabernet Franc and 75% Merlot grapes from Westerly Vineyards in Santa Ynez is a distinctive, all-occasion wine. Aged for 30 months in French Oak casks and 18 months in the bottle for optimal flavor development and structure, this is a rich, supple and tasty all-American red.
Something Big Mick Fleetwood CD
For decades, Mick Fleetwood has proven to be not only one of rock's greatest drummers but also an astute discoverer of great talent. "It's basically what I've been doing with Fleetwood Mac for 35 years," the Rock and Roll Hall-of-Famer says. Fleetwood, co-founder of the legendary rock group Fleetwood Mac, continues his stellar track record in his newest venture, The Mick Fleetwood Band.
• Rumor has it that Columbia let go of a slew of people on the east and west coast including high profile A&R's including Matt Pinfield, Mitch Cohen and Ken Komisar (leave an email or call us if this is not true please!) According to Billboard.biz Sony BMG laid off 42 people and Sony Music Label Group laid off 19.
•Sucessful model, actress, designer, and now musician, Paris Whitney Hilton, is thrilled to release her debut album "1 Crazy Party" on her very own label, Heiress Records. Ms. Hilton's first single "Turn It Up" is a sassy slice of electro pop produced by famous writers/producers including Scott Storch (Snoop Dogg, Beyonce) she has been working with over the last year. "I wanted to record something personal, something that has meaning to me, and I think this CD will show my fans that singing has always been one of my huge passions," says the socialite who was one of the VIP guests at openning party of Studio at the Palms back in December. Hilton's book — "Confessions of an Heiress: A Tongue-In-Chic Peek Behind the Pose" came out via Simon and Schuster last September.
Peace Baskets for 2006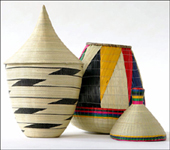 Baskets, made by Tutsi and Hutu women who came together after Rwanda was devastated by the war between their tribes, are for sale at Macy's in New York. Woven with papyrus, banana leaf, sisal or bamboo, the collection, $30 to $80, includes a delicate black-and-ivory version of a centuries-old basket shaped like an acorn and traditionally used by brides for keepsakes ($60), far left. It has been renamed the Peace Basket. "People just imagine Rwanda as being a sad and troubled place, and we wanted to get a positive story out," said Kaliza Karuretwa, a trade counselor at the Rwandan Embassy in Washington, who helped link the women to Macy's (www.macys.com/rwanda): 151 West 34th Street or (212) 494-4181.
Farewell

Soul singer Lou Rawls died on Jan 6th from lung cancer. He was 72 with a 40-year career that earned three Grammys.
Wilson Pickett, famous for R&B hits like Mustang Sally and In the Midnight Hour, died on jan 22 of a heart attack. He was 64.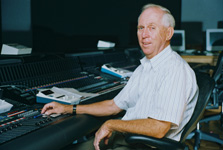 The Todd-AO family mourns the passing of Academy Award-winning Re-recording mixer Robert "Buzz" Knudson who joined the company in 1960. His extensive list of diverse credits included E.T., Who Framed Roger Rabbit, Close Encounters of the Third Kind, The Exorcist, Ghost amd Cabaret, to name a few. Clients like Spielberg, Landis, Streisand, Beatty, Fosse were just a few of the names Buzz worked with – great directors who sought him out to bring his artistry and creative instincts to their films. Buzz served as President of Todd-AO from 1982-1990 and then served as Vice Chairman and as a consultant to the company until he retired in 2003. During his long and distinguished career, Buzz garnered 10 Oscar nominations and took home three wins.

Terry Becket Boyle
5.20.1950-12.19.2005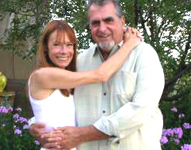 Terry Diane Becker Boyle married engineer Tim Boyle June 2005. Most knew her as a recording engineer who worked with Bonnie Raitt, Jackson Browne, Paul Kelly and Kansas. She won a Grammy in 2000 for her engineering work with Taj Mahal. Terry was also an Associate Professor at the Berklee College of Music in Boston and became the Assistant Director of Special Projects for Berklee upon her relocation to Los Angeles in 2003. Her warm smile will always be remembered.
We invite you to visit the beautiful memorial site for Terry and light a candle The official memorial for Terry was on January 7. "quote.....," says Terry's friend Lenise Bent.


To California Dreaming!

Photo courtesy of world traveller/architect Isabelle Ulrich & Duke Sakiyabu