8 Tips to Reboot or Get Your Mojo Back! Popular author David Cottrell spells out "eight simple truths" to follow to achieve career and life success. Acknowledging that at times we all need to reboot, Tuesday Morning Coaching offers simple, memorable, time-tested precepts for finding your best self. Eight is the magic number but the ideas are not new. Here's a quick summary: 1. No Matter What ... accept responsibility and move forward . 2. And Then Some ... give more than is expected 3. Consider it Done ... do what you say you will do. 4. Above All Else ... hold fast to your values. 5. From Now On ... learn from mistakes and welcome change. 6. See It, Feel It, Trust It, Do It ... set, envision, share and take action on your goals 7. Focus Inside Your Boat ... invest your time in things you can control 8. Knowledge is Power ... read, listen, observe and learn. Available in Kindle, paperback or audio cd from Amazon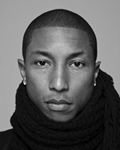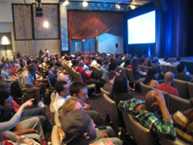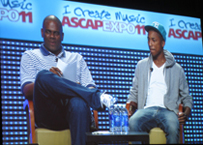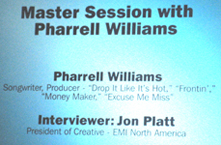 Ascap Expo I Create Music studioexpresso attended ASCAP "I Create Music" Expo (April 28-30 in Hollywood) to hear what producer-musician-designer-entrepreneur-style icon Pharrell Williams had to say on Music Creation.
He spoke of a "Devine Fire" that jump started his humble beginnings. He spoke of the importance of music mentors like Ted Riley and Puff for him. He emphasized the value of curiosity, knowledge and working at what he calls the "fourth dimension."
"It's like not knowing what shoe you want to wear until you see someone wearing it well. Then you got to have it. Music is the same." Pharell spoke of the new industry where margins are different. "Now you can make music videos that cost 1million for $80-300K. This allows more creative people to get involved," Pharell as part of The Neptunes, has produced numerous hit singles for various artists, earning three Grammy Awards for his work, including Producer of the Year.
He has written and produced records for a Who's Who of musical stars across the spectrum, including Nelly, Britney Spears, Justin Timberlake, Gwen Stefani, Kanye West, Daddy Yankee, Snoop Dogg, Madonna, Maroon 5, Shakira, The Hives and the Gorillaz, among others. Not content to work in one genre, he has created hip-hop, R&B, pop and funk-rock with his own group, N.E.R.D. A savvy businessman as well as an accomplished music creator, he is the co-founder of the clothing brands Billionaire Boys Club and Ice Cream Footwear. Ascap session with Pharrell on April 30th at the Renaissance Hotel grand ballroom explored what can be accomplished when you have talent, ambition, vision, a knack for collaboration, and the knowledge of how to focus those gifts into a smart and successful career. For those of you who missed the show, consider purchasing an Online EXPO Panel Video Access Passcode for $149 to view the panels for yourself at http://www.ascap.com/eventsawards/events/expo/
New projects: Pharell is working with an iconic bike company that's over 10 years old, located out in Brooklyn. "They do a lot of dope collaborations. We did one with Supreme," says Pharell who has also created an art site through which he showcases emerging artists, Artst.com and continues work with Takashi Murakami. NERD's new album "Nothing" is out now! Pharells advice to musicians "Just record it and be different. It lasts longer." Someone from the audience asked how he has built an empire. "Do it becasue you want to do it, not becasue you want to build an empire," Pharell said.


Len Blavatnik, Chairman and founder of Access Industries is officially acquiring Warner Music Group in an all-cash transaction valued at $3.3 billion. The purchase includes WMG's entire recorded music and music publishing businesses. The purchase price of $8.25 per share represents a 34.4% premium over the volume-weighted average share price of $6.14 over the previous six months. "Access supports Warner Music's commitment to our recording artists and songwriters who are the foundation of our current and future success," said WMG's Chairman and CEO, Edgar Bronfman, Jr. Since a class action has now been filed on behalf of unhappy WMG shareholders. New York-based law firm Brower Piven, alleges that a number of unfair advantages are falling in Len Blavatnik's favor. That includes a longtime personal relationship with Edgar Bronfman, Jr., as well as a longtime position on the Warner board. The case has been filed with the New York State Supreme Court. Higher offers include: $8.50-per-share proposed offer from a "Consortium B," alleged to be Sony/ATV, Guggenheim Partners and Ron Perelman by Bloomberg. Billionaire brothers Tom and Alec Gores were also back with offers.


Live Nation Goes UPS. As an 'Official Sustainability Partner,' UPS will help Live Nation focus on carbon neutral shipping and event-based logistics. That includes shuttling equipment and band members from place to place, and helping bands reduce waste. UPS is the exclusive global package, shipping and logistics sponsor of Live Nation Entertainment and select Live Nation tours and venues. So, initiatives can be rolled across different gigs and tours with some scale. Smart!


Photo: Phil Spector, the early years.
Spector's Legacy As Producer Honored at The 130st Audio Engineering Convention held at the Novotel London West Convention Center during May 13-16, 2011.
Hosted by AES, the APRS and producer/musician Barry Marshall, the session offered a presentation on Phil Spector And The Legacy of The Svengali Producer.
As influential as he is controversial, Phil Spector created an unrivaled legacy of innovative music production techniques and, a priceless treasure of unforgettable music performances. This in-depth exploration of Spector's genius, credited him for literal creation of the role of the record producer. Marshall traced Spector's evolution, from his early career as an artist, his apprenticeship with Atlantic Records and Leiber & Stoller, his flowering as a producer-mogul with his Philles record label, his initial "retirement" in 1967, his reinvention as the producer of John Lennon and George Harrison and his later work with artists like the Ramones. The lecture emphasized Spector's evolution from the initial creation of his "Wall of Sound" through his Svengali-like approach to artist development.







Barry Weiss, Larry Jackson and Lucian Grainge at Universal, Doug Morris at Sony and Roger Flaxton of EMI.

The Executives Shuffle - Universal, Warner and Sony In a high-level corporate talent swap, a number of Sony executives are expected to move to Universal in the coming months, including Barry Weiss, the chairman of Sony's RCA/Jive Label Group, who is expected to head up Universal's operations in New York. Earlier this year New York Times reporter Ben Sisario wrote about the ensuing executive moves. Six months later changes are taking place. First Universal hired Larry Jackson, former executive vice president of A&R at Sony (its rival company) as executive VP of Interscope Geffen A&M, a family of labels whose artists include U2, Eminem and Lady Gaga. At Interscope, Mr. Jackson works under Jimmy Iovine, Interscope's chairman, who recently took on an additional public role as an in-house talent coach on Fox's "American Idol." Another top Universal executive, Ron Fair (Black Eyed Peas and the Pussycat Dolls) is leaving his post as chairman of Geffen Records and move into a new position on "American Idol." Last year that show signed a distribution deal with Universal, ending a long association with Sony. Mr. Jackson, 30, started his career in radio as a teenager in San Francisco, was hired by the music mogul Clive Davis of J Records in 2000, and he has since worked with Jennifer Hudson, Alicia Keys and Britney Spears, among others Antonio Reid, chairman of the Island Def Jam Music Group — another cluster of Universal labels, whose acts include Kanye West, Justin Bieber and Rihanna — has declined an offer to run a new boutique label for the company and is said to have a year left on his contract with Island Def Jam. In January Lucian Grainge, 49 became the chief executive of Universal Music Group. Amy Winehouse, U2 and the reformed Take That. When Amy MacDonald, the singer, went to see him, Mr Grainge persuaded her to sign to Universal by sending a chair to her manager, who had admired it in his office. The chair came with a note: "Sign with us and you get the set." She did. Mr Grainge, who started out as a teenage talent scout for April Music in 1978, says that his aim is to make Universal Music, in his words, "the hostess with the mostess". That means working with as diverse a range of distributors as possible. One of his first decisions when he takes over will be whether to support Spotify's move to America. The announcement was made in March by Sir Howard Stringer, Chairman, Chief Executive Officer and President, Sony Corporation that Doug Morris, 72 will start as CEO effective July 1, 2011. Morris began his music career as a songwriter and music producer in 1965 after graduating from Columbia University. He sold his first record label, Big Tree Records, in 1978 to Atlantic Records. Two years later, he was named CEO of Atlantic. Morris heads to Sony as the company's music revenue erodes. In the quarter ended Dec. 31, Sony Music sales were $1.7 billion, down 14.5% from a year earlier. The unit's operating profits slumped 15.7% to $241 million in the quarter. Sony blamed the decline on deteriorating CD sales. Barry Weiss, the RCA chief executive was also signed by Universal and is to start the undisclosed job after his contract with Sony ended in April. In the midst of all its high-level executive changes, Universal is also trimming 60 administrative and technical jobs as part of broad cost-cutting measures. "The current economic climate dictates that we continue to look for more efficient ways to run our business," a Universal spokesman, Peter LoFrumento, said in a statement confirming the layoffs. "So we are taking steps to reduce costs while increasing our creative investment in a number of new areas and new businesses."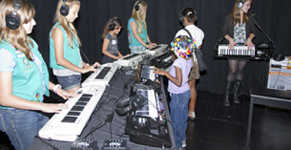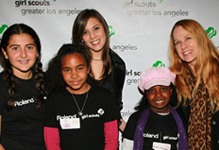 Life Is Better with Music." Girl Scouts Rock! Powered by Roland will reach thousands of Girl Scouts and their parents across the country, delivering the message that you can have a "Better Life with Music." The fun, interactive curriculum co-developed by Roland and Girl Scouts of the USA gets girls pumped up about making music and music education. Girl Scouts Rock! is designed to provide girls ages 8-14 with a hands-on experience playing popular music, an opportunity fewer girls are receiving due to school music budget cuts. Former Girl Scout and Disney star Shelby Spalione, previous lead singer of the all-girl teen rock band KSM, will also be on hand to sing with the Rockin' Roland Girl's Band. Spalione, 17, who opened for the Jonas Brothers and Demi Lovato last year as lead singer of KSM, is currently working on a solo project.


artist expresso-- Ask Claris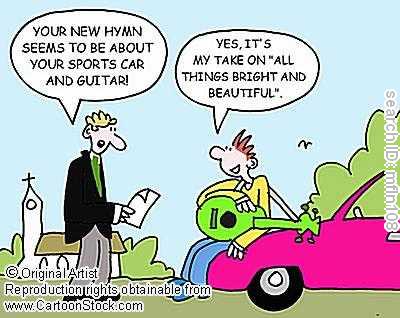 "Please Listen to My Song" says a musician with a tongue and cheek sign at ASCAP Expo 2011

Artists write or call us every day from all corners of the world -- US, France, Germany, Russian, Israel, Asia, Australia and Middle East. Most are interested to get heard or build their careers. Now and then we'll feature a letter or feedback and share our picks. Our goal remains to empower new artists and encourage them to find their voice and musical path. Most importantly, we're here to remind the artists that it's a long journey, so enjoy the process and grow your fan base.
We encourage artists to provide a link to their music site when they contact us...if you're interested to have a producer or mixer involved, specify number of songs, budget and desired delivery date. Meantime, visit production talent at studioexpresso to find the right production partner for you.
Let us know if you would enjoy having us host pre-production sessions from host studios where industry can hear your music and offer suggestions and resources. Send an email with "I want to get heard" in the subject line to claris@studioexpresso.com
Gary Clark Jr Signs to WB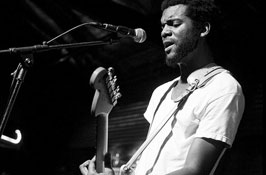 It's summer time. You're taking a traditional Bavarian boat trip on the Isar river and suddenly your toes are tapping following the blusy guitar riffs of Gary Clark Jr. Who? Remember you heard it here. Soon fans across the world will go to hear this 27-year old singer, songwriter, and guitarist who hit the road earlier this year with shows at SXSW and at the first annual Bonnaroo Buzz Tour from May 17th -June 9th before taking the stage at the Bonnaroo Festival in Manchester, TN, on Saturday, June 11. New EP, Bright Lights is due out this summer. The Austin High graduate is getting plenty of attention from new management and newly inked Warner Brother signing.

Local Kid Live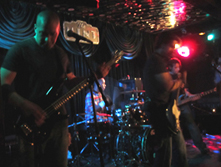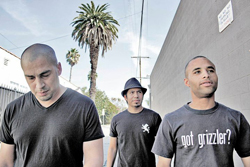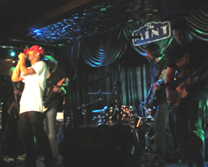 This month we caught up with Local Kid in LA's Whisky a Go Go and The Mint. Manager Sean Sebastian says he's planning a 50 show-tour before the end of 2011. The band offers sense of humor, plays tight with expert communication between band mates and their audience. They blasted the song Bullshit following a joke on Rapture. The music is melodic, textured with solid arrangements backed by colorful lyrics and chorus lines. Packed with emotion and energy, the music of Local Kid (above) is contagious. LK is Larry Anderson ("Junior") - Vocals, Bass; Michael Amaya ("AmayA") - Vocals, Guitar, Drums, Bass; Damon Byers ("Sho") - Vocals, Guitar. New Kids: Lynyrd Skytso "Skytso" on guitar, Jay Puente "Deathrayjay" on bass guitar/vox, Bryce Kelley "Kyd-Komob, Domo" on Drums. The band has been writing since 1986 with influences from Linkin Park and N.E.R.D to a mix of classical and jazz. In the beginning, there were two 10-year old kids who started writing and performing music in the suburbs of Boston, MA - their way to express joy and frustration of their generation while entertaining family and friends. Fast forward in the winter of 2009, Junior and AmayA welcomed Sho (Shopan)- a vocalist already known in Los Angeles. The resulting collaboration caught the attention of 11-time Grammy winning producer Rafa Sardina (Stevie Wonder, Shakira) and an aggressive new label, Ram Jet Records.
Look for the Kids coming to your local hotspot. Better yet, own the tracks for 99 cents off the band's web site. Run, Run!
RIP Steven "Goldy" Goldstein
-May 9, 2011
Mount Sinai Memorial Parks, Simi Valley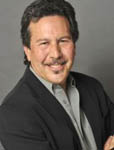 Goldy is missed and loved by his family and friends. He was 59. Some of you know him from the many years of work he did in the LA studio scene. Most recently he conducted The New West Pops. Steven Goldstein produced, composed, played (keys) and arranged for numerous albums to include: Dolly Parton, Sarah Brightman, Santana (allmusic). He played keyboards for Debbie Harry. Known to his friends as Goldy, he is listed among the soundtrack album producers "For Love of Liberty, " a film that chronicles Untold Story of African – Americans' Courageous Service to their Country. Our thoughts are with his wife Patricia, also a fine musician and sons Oliver and Aaron. Leave a message for his family in the LA Times tribute page here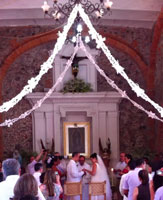 Royals were not the only couple tying the knott this month. Congrats to Mr & Mrs Castro who were married in Mexico in May. Carlos is the owner of Watersound Studios in Studio City.



Born this Way and Ageless at 70... Say hola to baby Marco... Congrats to proud Dad Cheche Alera and Alera family!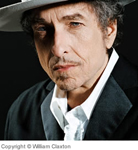 Happy Birthday Mr Dylan! Where were you when you first heard of Bob Dylan? I must have been 12.
Our 20 something English teacher in Tehran had just arrived from London. She was a huge Bob Dylan fan. She entered the classroom of this French Catholic school I attended with much excitement. She carried a stack of loose papers with Bob Dylan lyrics in hand. She quickly distributed to the class of about 30 students. Then she asked each of us to stand and read a verse. Just like I had seen picture of Beetles before hearing their music, Dylan's words made a lasting first impression.
What's your story? In April 2008, Dylan received a Special Citation Pulitzer Prize 'for his profound impact on popular music and American culture, marked by lyrical compositions of extraordinary poetic power'. Little that I knew then this was a man who started a movement. He was the man who brought folk to the major rock and roll scene in the American 1960's, and gave other singer songwriter a voice. Today, Dylan's songs remain ageless. "Bob is ageless because he keeps turning new corners, beating down new paths, redefining himself and his art as he goes," says Scorsese, who previously directed a documentary called No Direction Home about Dylan's life from 1961 to 1966. The Red Hot Chili Peppers frontman describes Dylan as a wave. "He's a moving body of energy built of melodies, words, rhythms, ideas, and attitudes that have swept over the world since the year of my birth." U2's Bono adds: "All my life, Bob Dylan has been there for me," while Bruce Springsteen described Dylan as "the father of [his] country". In 1991, as he presented Bob Dylan with a Grammy for lifetime achievement, Jack Nicholson said, he's been called everything from the voice of his generation to the conscience of the world. He rejects both titles and any others that try to categorize him or analyze him. Bob, Thanks for your wonderful music and many more!
And here's a salute to my English teacher, wherever she may be today!
Ah, but I was so much older then
I'm younger than that now
-- Dylan from "My Back Pages" covered by artists as diverse as The Byrds, The Ramones, The Nice, Steve Earle, and The Hollies. At the 30th Anniversary Tribute Concert to Dylan at Madison Square Garden in 1992, Dylan performed "My Back Pages" with George Harrison, Eric Clapton, Tom Petty, Neil Young, and Roger McGuinn
"There's no one in the record industry that's a technologist," Morris explains. "That's a misconception writers make all the time, that the record industry missed this. They didn't. They just didn't know what to do. It's like if you were suddenly asked to operate on your dog to remove his kidney. What would you do?"
-- Doug Morris, incoming CEO Sony Music who once called iPod Users Thieves.
"We strongly protest this decision and we ask you to represent all of the colors of the rainbow when it comes to music and give ethnic music a place in the heart of music lovers everywhere."
--Carlos Santata (open letter to NARAS protesting proposed 2015 catagory elimination of contemporary jazz, Native American, zydeco, cajun, classical, Hawaiian, Mexican and world music as well as contemporary blues, Haitian, polka

Until next month...EXPRESS YOURSELF.