Expresso Walk And Talk with... The Dream, Perry & Lil Wayne



Extended.Admin Deals With Warner Chappell for Grammy Award-winning, chart-topping R&B singer/songwriter and producer, Terius "The-Dream" Nash , renowned pop songstress Katy Perry who ascended to household-name-status since her 2008 hit "I Kissed a Girl," and rap heavyweight Lil Wayne.
The-Dream has worked with countless megastars in his young career, and is one of the most sought-after songwriters in the business. His modern classics include Rihanna's "Umbrella," Justin Bieber's "Baby" and the 2010 Grammy award-winner for "Song of the Year," Beyoncé's "Single Ladies (Put A Ring On It)," among many others. He's back in the studio working on a new album, titled The Love IV slated for a Summer 2011 release
In May of 2010, Katy Perry released her second No. 1 Single, "California Gurls," and in August 2010 issued the album Teenage Dream. All three of her album's singles so far, "California Gurls," "Teenage Dream," and "Firework," have reached No. 1 on the Billboard Hot 100 chart, catapulting the album to the top of the Billboard 200. Perry is currently on tour in Europe and will return for a stateside tour this summer alongside fellow Warner/Chappell artists Marina & the Diamonds, as well as pop star Robyn Lil Wayne co-publishing agreement includes Wayne's back catalog and future recordings. Born Dwayne Carter and raised in the infamous New Orleans neighborhood of Hollygrove, Lil Wayne began his millions-selling, prolific rap career at just 14 years old with the famed southern rap label, Cash Money. Lil Wayne, then referred to as Gangsta D, partnered with B.G. to form the duo The B.G.z and released their debut album True Story in 1995. Wayne later joined the hardcore rap group The Hot Boys—consisting of B.G., Juvenile and Young Turk—who released their debut album Get It How U Live! in 1997. The Hot Boys' next album, Guerilla Warfare, reached No. 1 on Billboard's Top R&B/Hip-Hop Albums chart.


RO$$ Maybach Label Partnership. Warner Bros. Records announced a partnership with Maybach Music Group, the label imprint founded by best-selling hip-hop artist and entrepreneur Rick Ross. Maybach artist roster include the rappers Wale, Triple-C, and Meek Mill, who will become part of Warner Bros. Records roster. "We are thrilled to be in business with Rick Ross. He is an entrepreneur who built his company from the ground up... a music magnate, a lightning rod, and an empire builder," says Warner Bros. Records Co-President and CEO Todd Moscowitz. Ross who spells his last name w/ $$ signs rose from ruling Miami's underground rap scene before coming out of the shadows to release the three biggest scores of his career: 2006's Port of Miami, 2008's Trilla, and 2009's Deeper than Rap, which each debuted on the SoundScan chart at No. 1. Ross is known for his hit singles "Hustlin'," "Aston Martin Music" featuring Drake (which went to No. 1 at urban radio), "The Boss," and "BMF." He is currently recording God Forgives, I Don't, the follow-up to his fourth studio album, 2010's gold-certified Teflon Don. Ross is also preparing to hit the road with Lil Wayne, Nicki Minaj, and Travis Barker for the I Am Music II Tour, which kicks off March 18th in Buffalo, NY, a 24-date trek across North America that kicks off Mar. 18 in Buffalo, N.Y., and wraps May 1 in East Rutherford, N.J., with a headlining set at Bamboozle. Ross and blink-182 drummer Travis Barker will perform a DJ/drummer set with Mixmaster Mike. Ross dropped a new album. The 12-track TEFLON DON arrives June 29th on the Boss' Maybach Music label, bringing some serious fireworks to the Independence Day blow-up. The album's first single pick, "Super High" featuring fellow Def Jam artist Ne-Yo, and members of the Miami-based Triple-C (Carol City Cartel). The A-list guests featured on TEFLON DON include Jay-Z, Kanye West, Chrisette Michelle, Drake, T.I., and Raphael Sadiq. "Super High" was produced by DJ Clark Kent, who leads a squad of producers including J.U.S.T.I.C.E. League, the Runners, the Inkredibles, (all of whom worked on Deeper Than Rap) and the Olympics. The players all come together on Teflon Don: The Movie, a documentary film that probes the making of the new album. Mr Ross says: "God fogives. I don't."


Two Signings Warner/Chappell Music has signed a worldwide administration agreement with renowned modern folk musician Sam Beam of Iron and Wine. As part of the agreement, Warner/Chappell will administer his entire catalog and future works. Iron and Wine was formed by South Carolina-born, Texas-based front man Sam Beam. His latest and fourth studio album, Kiss Each Other Clean, was released on January 25th, 2011, and debuted at No. 2 on the Billboard 200 chart. This is Iron and Wine's highest-selling debut, having sold 39,217 copies in its first week, and its first released on Warner Bros. Records Warner/Chappell has also signed a worldwide CO-publishing agreement with singer/songwriter John West for his existing and future works.Born in Baton Rouge, Louisiana, John West began honing his craft while in high school. He later moved to Chicago, enrolled in Colombia College—a school for visual, performing, media and communication arts—and continued playing guitar with a number of bands in the area. After college, West moved to Los Angeles and began performing on the 3rd Street Promenade in Santa Monica where he ended up selling more then 35 thousand self-released CDs. Soon, he began selling out popular LA venues like the Roxy and the Troubadour. West is currently in the studio at work on his major label debut with industry heavyweights like Ari Levine, Kevin Rudolf, Jerry Wonda, Benny Blanco, and Mike Elizondo, and recently collaborated with Pusha T from the Clipse. John West is headlining the Key Club Hollywood on April 8th and is scheduled to open for Travie McCoy on a number of upcoming tour dates at colleges across the country.
Seven Facebook Management Tools For Your Fan Base According to British anthropologist Robin Dunbar, human brain has 150 cognitive limit to the number of people you can be friends with. Remeber this when you add a new friend to your facebook page! Now if you're an artist, the game changes. You need an army of fans and it's a big world. Social networking allows the world to keep going in a massive conversation, but you might find that your band is having a bit of problem staying in touch with its fan base. So, here are seven customer service applications that allow you to quickly respond, stay in touch, and continue to enhance your brand's presence on Facebook. We will look at these tools in the two issues of studioexpresso.
Feel free to test drive them and see which one serves your fan base best.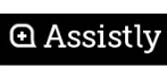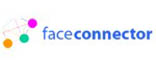 Tool #1 --Assistly
Announced last month, Assistly has enhanced and improved its ability to offer customer service support for businesses' Facebook pages. Control and monitor the conversation — as well many other digital services — directly your desktop with their product. The desktop application works in real time, providing the opportunity to interact and be more available for their customers. Any member of a company can connect to offer assistance on a particular question. With prices ranging $39 to $99, Assistly serves as a customer relationship management product that helps your fan base be an arm's length away to ensure you are offering the best quality customer service for them.
Tool#2 --Buddy Media
Buddy Media designs Facebook pages and does a lot to continue to engage your fan base after your brand's finished site is up and running. The company is the popular choice for many reputable to be a one-stop shop for all social marketing, including customer relations. The tools offered by Buddy Media track responses, monitor mentions of rival companies, and quickly connect your fans when any issues may arise. Utilizing these tools can help you post the best possible content that will engage your fans by analyzing exactly what is working. While the brand does not specifically offer a product labeled as customer relationship management, the company's solutions cover just about all areas to help you have the most mutually beneficial relationship with fans possible.
Tool #3 --Faceconnector
If you simply can't wait for Salesforce.com to make its own Facebook CRM product available, here's something you can use right now. Formerly called Faceforce, Faceconnector is a third-party application that plus into Salesforce.com for enriching and growing your professional relationships.It's somewhat similar to LinkedIn in prompting you to search your personal network for professional leads and potential new customers — find someone who could make an introduction, reach out to a new customer based on shared interests, and aim for an improved customer relationship by taking the time to learn a little more about specific target audiences. Faceconnector is an interesting integration option for Salesforce.com. I question just how useful it might be to access to my entire personal network in the interest of maintaining and growing any business relations. I guess you never really know who may be a friend of a friend.
Tool #4 Get Satisfaction
This company is the customer service support software of choice for many reputable brands, and the Facebook-enabled plans sold by Get Satisfaction begin at $49. A support tab will be installed directly to your Facebook page, similar to the feature offered by Parature. Obviously as plan price increases, more features become available including: more moderator seats, improved widgets, and an integration of help CRM and helpdesk tools. They offer specific details of their plans and examples of companies that would fit into each category. They also have a Price Genie, and their staff is readily available to answer questions. Overall, from the basic plan forward Get Satisfaction offers widgets, Google analytics integration, a statistics dashboard to keep track of what is working, and so much more to help build a quality presence in the interest of attracting loyal fans. Begin searching their page today to see their wide range of capabilities to help continue to grow your brand.
Next month we will review three more. Stay tuned!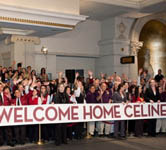 Can Celine Dion Save Las Vegas?" She's been called a one-woman stimulus bill, projected to generate thousands of jobs for Las Vegas. Expecting one person to turn around a "sluggish" $18 billion economy is optimistic.
Hey, it's a start: Resurrecting Vegas is "a lot of weight to place on one diva's bony shoulders," says Joe Brown at Las Vegas Weekly. And yet, the one million tickets Celine Dion is likely to sell over three years "has already meant the addition of hundreds of jobs, including an orchestra of 30-plus union musicians and singers." But if Dion's fan-base — middle-class men and women who are not hardcore gamblers — returns to Las Vegas, the hope is that it could make up for the crowds lost to bad economy. Caesars Palace has signed Dion through 2014, promising her a reported $100 million to perform 70 times a year in its 4,082-seat Colosseum . Ticket sales have been brisk, at $55 to $250 a seat, but can Dion really salvage an entire city?

Nic Harcourt New Podcast At Guitar Center . Hosted by music tastemaker and music journalist Nic Harcourt the podcasts feature interviews and intimate performances with some of the biggest names in music. The podcasts are available now on the iTunes, Zune and Blackberry networks. Past sessions have presented Weezer, Cake, Peter Gabriel, Jane's Addiction, Buddy Guy and The Cult.

Brandon Green Wins Yes, the same Brandon Green who won an American Idol audition in 2008 and claims to collect his clipped nails in a bag. Eew! You could say he's rediscovered by Guitar Center. Yes, talent across the United States are invited to submit their music at YourNextRecord.com for a chance to win a thrilling prize packages to include $10,000 in new gear from Guitar Center and TuneCore distribution. OurStage.com is to collect and present each music artist's submissions and allow music fans to rank them. "It is harder than ever to get noticed as a musician, even if you are producing really great material. That's what Guitar Center and I hope to change for one talented artist or group that's ready to go to the next level," says Barker who teamed up with the retail giant to give one undiscovered artist the opportunity to record with the acclaimed drummer and producer Dan Huff at Red Bull Studios in Los Angeles.


artist expresso-- Ask Claris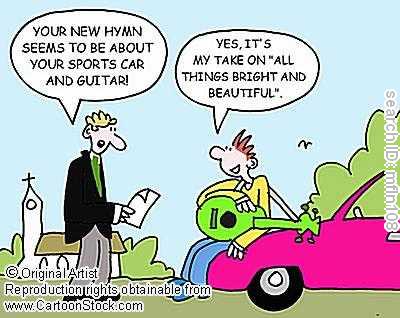 Artists write or call us every day from all corners of the world -- US, France, Germany, Russian, Israel, Asia, Australia and Middle East. Most are interested to get heard or build their careers. Now and then we'll feature a letter or feedback and share our response. Our goal remains to empower new artists and encourage them to find their voice and musical path. Most importantly, we're here to remind the artists that it's a long journey, so enjoy the process and grow your fan base.
We encourage artists to provide a link to their music site when they contact us...if you're interested to have a producer or mixer involved, specify number of songs, budget and desired delivery date. Meantime, visit production talent at studioexpresso to find the right production partner for you.
Let us know if you would enjoy having us host sessions given by our community where your music will get heard and you can have direct access to industry. Send an email with "I want to get heard" in the subject line to claris@studioexpresso.com

Art & Revolutions On March 12th studioexpresso dropped in Robert Berman Gallery (2525 Michigan Ave Santa Monica, CA 90404) to enjoy a reception presented by Subliminal Projects and view REVOLUTIONS, The Album Cover Art of Shepard Fairey. The exhibition continues through April 23rd, 2011.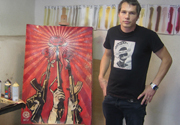 A star in the world of street art for nearly two decades (his stickers of the wrestler Andre the Giant earned him an A on an assignment at the Rhode Island School of Design), Mr. Fairey has parlayed his stark imagery into a successful design and marketing company, Obey Giant, with corporate clients like Pepsi. The parking lot of the gallery was filled with lines of fans who stood in the cold to get a glimpse of the collection. Wait, this looked more like a rock concert than an art exhibit! The gallery featured over 80 pieces of Punk, Rock, New Wave, Jazz, and Hip-Hop inspired artwork based on the 12" record cover format. To mark the occasion, two special Limited Edition Album Cover Print Box sets were released for the exhibition. Performances by bands OFF! and The Nichemakers made the parking lot look more like a big party!
In 2008 Mr. Fairey earned a new level of mainstream attention. His stylized "Hope" poster of Barack Obama became one of the most highly visible, though unofficial, images of the presidential campaign. Mr. Fairey's 2008 show "Duality of Humanity" at the White Walls Gallery in San Francisco, his third and largest there, sold out before it opened, with some pieces going for as much as $85,000. (On obeygiant.com, prints go for $75; studio pieces are normally around $20,000.) Perry who is diabetic and married with two young daughters is often arrested for putting up his posters. Because the charge usually amounts to a misdemeanor, expunged after six months, Mr. Fairey typically pleads guilty and pays a fine. "He's raising important issues about consent and who decides what we see in public spaces," said Jill Medvedow, director of the Institute of Contemporary Art. ''It's Norman Rockwell crossed with the Dead Kennedys crossed with Communist-era propaganda,'' says Fairey of his art.

RIP Eruarc Ernesto "Seco" Uribe Alpizar
1958- 2.23.11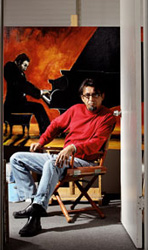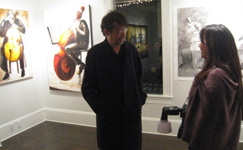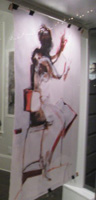 Portrait of Seco (1958-2011) Portrait by Donna Granata FOTM Portrait Series 2004; Seco at an exhibit in Ventura with portraits of musicians including LA Phil's Maettro Dudamel

Mexican-born Ojai resident artist Seco died on the 23rd of February, 2011. He was 58.
In spite of his successful initiation as a promising writer and journalist, Seco found himself as a visual artist. At the age of 33, after five years of studying human anatomy, he had his first solo exhibit at the Jardin Borda Museum. In '96 Seco came to the United States creating a large and impressive body of work based on classical music and the musician.
In '98 he was the guest of the Los Angeles Philharmonic Orchestra where he sketched the orchestra with Gustavo Dudamel conducting during their closed-door rehearsals. Seco´s gesture and brushstroke capture the movement and the energy of his subject, drawing us close to his passionate vision of life. "Ernesto was generous...he did not hesitate to donate his time and talent to benefit local musicians. His art will live long but he'll be missed," says Claris Dodge.

He is survived by his sons Jorge, Olmo, Omar and Emilio.
A memorial service is planned for Sunday, May 1, 2011 at 2 p.m. at the Stoneworks Studio
300 Ventura Avenue (back unit). The public is welcome.
RIP Joe Willie "Pinetop" Perkins
July 7, 1913 - March 21, 2011


One of the last great Mississippi bluesmen, Pinetop enjoyed success as a solo artist since the 1980s, and is known for holding down the piano chair in the great Muddy Waters Band for twelve years. The great irony of Pinetop's career is that he didn't blossom as a headliner until his eighth decade – a phenomenon that resulted in the release of 15 solo records in 15 years, beginning in 1992. Aside from his well-deserved GRAMMY® recognition, Pinetop also received a National Heritage Fellowship in 2000 from the National Endowment of the Arts. He has been featured in the documentary Piano Blues, directed by Clint Eastwood for the Martin Scorsese PBS series, The Blues. Most recently, Pinetop received a Grammy in 2010 for his work with Willie "Big Eyes" Smith for Best Traditional Blues CD for Joined at the Hip with Telarc Records.

The Pinetop Perkins Foundation is a tax exempt non-profit organization. It's mission is to provide encouragement and support for youth and young people at the beginning of their musical career; and help provide care and safety for elderly musicians at the twilight of their career.
Celebration of Life Monday, March 28, 2011 - 8:00PM Antone's Blues Club 213 W 5th St Austin, TX 78701


RIP Elizabeth Taylor
February 27, 1932 – March 23, 2011


Taylor defined Hollywood glamour and became an icon crossing cultural and language barriers. Warhol's 'Liz #5' is currently owned by hedge-fund manager Steve Cohen. Sources say he has enlisted Phillips de Pury to auction off a turquoise Andy Warhol portrait of the screen star for at least $20 million at its major sale of contemporary art on May 12 in New York.
And yes, Taylor really did have violet eyes.
A private funeral service for legendary actress Elizabeth Taylor will be held at Forest Lawn in Glendale
Last Time I Saw Her In Paris
The Award for Fearless Self-Expression Goes to Tom Waits


Watch Tom accepting 2011 Rock 'N Roll Hall of Fame award and comparing it to the City "...key that fits nothing!" Congrats Tom for your fearless self-expression.

"At our humble studio in the hills of Sonoma County we're expressing the gratitude we feel for the opportunity to work with such an iconic artist. We want to thank Tom Waits for forging a unique path in music and maybe imparting some of that same courage onto everyone. Irreverence and a sense of humor is another aspect of Tom's work that has continued to inspire and remind us of what we are here to do.... defy the laws of convention and maintain integrity."
--Mark "Mooka" Rennick of Prairie Sun Recording Studios (Tom Waits' Discography at PSR)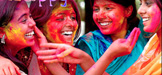 Happy Holi, Happy Spring!
What's Bhang? An intoxicating white drink (cannabis or marijuana mixed with milk, almond, spices and sugar) served by people in north Hndia on the festival of Holi. We recommend espresso. Your choice!
Watch the Hindu celebration of color

EXPRESS YOURSELF! Until next month... celebrate, because you are the key!