No Doubt, It's Love
No Doubt's Guitarist On Daiking Toys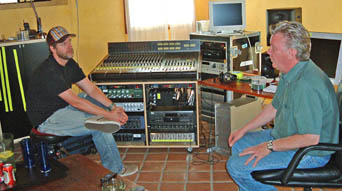 Famed No Doubt guitarist Tom Dumont and Geoff Daking discuss Matt Costa's "Songs We Sing" which was engineered by Dumont using the Daking Mic Pre/EQ.
Tom Dumont has experienced success in the pop music world that only a small percentage of musicians can realize. Since 1988, Dumont has been a guitarist and principal songwriter for the unique pop/rock band No Doubt. As such, he participated in penning and performing some of the past decade's biggest Billboard successes.
Now Dumont, having evolved into a multi-instrumentalist as well as a producer/engineer, is touring as a bass player with Matt Costa, a young singer/songwriter supporting Jack Johnson for 35 amphitheater dates throughout America and Canada this summer. Oh, and yes, Dumont also happens to be the producer and engineer for Costa's debut full-length CD entitled "Songs We Sing." There's no doubt that Dumont prefers to stay busy.
"Last year, No Doubt released a bunch of stuff and toured the U.S. for 20 shows in the summer," Dumont recalls. "We put out a greatest hits CD, a rarities CD, and a live concert DVD." It was up until then that the musical activities of No Doubt always filled Dumont's plate. Soon after, Dumont expanded the realm of his career by producing and recording Costa, whose indie-credible and legitimately buzzed-about music is drawing fans like flies to flypaper.
Even in the early days, Dumont was the band's unofficial recording studio enthusiast. "I've always been the guy interested in the studio side of things," he explains. "As we started to work on our breakthrough album "Tragic Kingdom," our record label bought us a small studio setup for demo purposes. We soundproofed the garage and bought a Fostex half-inch 16-track machine and a little Tascam 16-input mixer. We spent hours in the garage recording demos. I really enjoyed all aspects of the recording process and especially enjoyed hearing a song take shape in recorded form."
Ten million albums sold and a couple of years later, Dumont came off the road and became enamoured with hard disc recording. "Since then I have built up a cool little home studio with just enough nice gear to make good recordings," he modestly offers. "Our last studio record "Rock Steady" was originally demo'd in my home studio and many of those recordings were in the final mixes. That's something I'm proud of."
Dumont's studio is built around a Digidesign Pro Tools|HD workstation and features an "old but nice" RAMSA mixing board used for monitoring purposes.
While there are plenty of less expensive microphones and gear that, according to Dumont, "can sound great for certain things if used correctly,"
the integral recording signal paths of vocals and guitars almost always feature a Manley Reference Microphone and Dumont's beloved Daking Mic Pre/EQ and FET Compressor II.
Upon a suggestion from a friend - a knowledgeable "studio gear head" - Dumont tried his first Daking gear. "Usually all the best stuff is spread through word of mouth." In this case, his friend's word was right on the money. "It's difficult for me to be descriptive about the Daking gear without resorting to the usual clichés," warns Dumont. "Cheaper stuff can be made to sound warm and crisp. The Daking stuff is warm and crisp, but with a certain smoothness and character that sounds like great old records to me.
Housed in a sturdy steel chassis, the Daking Mic-Pre/EQ is a mono microphone pre-amplifier featuring all-discrete transistor circuitry, transformer-balanced inputs and outputs, and Class A amplifiers. Each EQ band offers five stepped frequencies and continuously variable boost and cut. All relay switching is provided via gold bi-furcated contacts, and mute and bypass controls are remote-controllable. Switchable phantom power as well as a 20dB pad is available.
Updated from the original Daking FET Compressor, the mono FET Compressor II includes a new internal switch to allow active gain makeup through console applications as well as bypass ability in line level rig applications. The Class A compressor also features discrete transistor circuitry, transformer-balanced inputs and output, switch selectable and repeatable parameters, seven release time constraints, and a three function Vu meter. A link feature for use with stereo units is also included.
"The Daking Mic-Pre/EQ gives a very appealing edge to the music," Dumont explains. "When I dial in a frequency, I can really hear it interacting with the sound at hand. It reacts just as I want it to, and it's smooth while still having a ballsy rock edge to it. With the compressor, I really like that I can easily use the bypass to check what it's doing to the sound and love having the flexibility of the makeup gain knob at the end of the line."


For more info on Daking products, please email Brad Lunde, at Las Vegas Pro Audio/Trans Audio Group or Phone (702) 307-2700 or (702) 365-5155 or Fax (702) 314-2764
Katrina Relief
Heartfelt performances by Aaron Neville, Harry Connick, Faith Hill help raise funds for victims




Wynton Marsalis (second from left above), and a jazz band joined Harry Connick Jr. to perform "Bourbon Street Parade" to open NBC's benefit concert. September second's program was the first of several TV benefits planned through Sept NBC and the five other major commercial broadcast networks, along with PBS, plan to unite on September 9th for a special. The same night, BET aired a benefit. And on Sept. 10, the MTV networks aired a special.
A Concert for Hurricane Relief," a heartfelt and dignified benefit aired on NBC and other networks, took an unexpected turn thanks to the outspoken rapper Kanye West. Appearing two-thirds through the program, he claimed "George Bush doesn't care about black people" and said America is set up "to help the poor, the black people, the less well-off as slow as possible."

The show, simulcast from New York on NBC, MSNBC, CNBC and Pax, was aired live to the East Coast, enabling the Grammy-winning rapper's outburst to go out uncensored. As the show came to a close, host Matt Lauer noted that "emotions in this country right now are running very high. Sometimes that emotion is translated into inspiration, sometimes into criticism. We've heard some of that tonight. But it's still part of the American way of life."
Get on board with Rufus
Nov 2, 2005 two shows




During the 2005 Home Theater Cruise will be stopping at several locations in the Eastern Caribbean. The cruise was conceived by David Bott, a home theater enthusiast, and this year is being produced by Home Theater Cruise, LLC., a company formed by Bott, co-founder of AVS Forum, and Gary Reber, founder, publisher, and editor-in-chief of Widescreen Review.
What can you expect? First and foremost-a deluxe cruise aboard Carnival Cruise Lines magnificent superliner MS Carnival Glory. In addition to luxurious cabins and fine dining, you'll find no less than 20 bars and clubs with venues from Jazz to a Piano Bar. This beautiful ship also offers you use of a full health club facility with a complete range of equipment at no extra charge! If you find yourself in need of some special pampering, there is an onboard spa offering, at additional charges, a variety of services which include massages and our fave, mud baths!
All your meals are taken care of and exotic drinks are only a "snap" away. Evening entertainment includes first-rate shows and nightclubs that line the main deck. This year entertainment is offered by non other than the original pop/funk masters, Grammy Award winning R&B Super Group, Rufus.
Best known for their Gold & Platinum chart topping hits "Ain't Nobody," "Tell Me Something Good," and "Sweet Thing" with vocalist / diva, CHAKA KHAN, is touring with original Founding Musicians and Grammy Award Winners; Andre Fischer & Bobby Watson. Also included are Niki Haris, Jeff Leib Lee Curreri, Fred Jenkins, Donna Taylor, Kandace Lindsay and Romeo Johnson who continue the RUFUS musical legacy of original Neo Soul, bridging old school with hip-hip, jazz, pop, and funky rock.
Andre Fischer (Natalie Cole, Brenda Russell and Michael Franks); Bobby Watson (Michael Jackson, Rene Moore and Angela Winbush) are joined by ALL-STAR Performers: Niki Harris: fantastic vocalist who has extensively recorded and toured with Madonna and was featured in her film Truth or Dare; Romeo Johnson (Janet & Michael Jackson vocalist), Kandace Lindsay (Super vocalist who appears regularly with Marc Anthony), Donna Taylor (Chanteuse, vocalist with Burt Bacarach and Elvis Costello), Lee Curreri (Gifted film composer, keyboardist, producer who regularly appeared and performed on the television series Fame), Fred Jenkins (Groove master & original recording' with the Gap Band) and Jeff Leib (Master keyboardist formerly with Keb Mo).
Register here!

Glenwood Studio Reopens A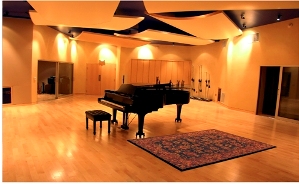 Glenwood Place's Studio A got a complete floorplan remodel, according to manager Kit. They raised the ceiling, opened it up, retained the 3 iso booths with a Yamaha C7. The control room still offers a SSL 9K with a full ProTools HD rig. Recent clients include: Nathan East, Prince, John Fields, D'Angelo and Mandy Moore. Glenwood is also pleased to announce that Abe Senna, formally of The Enterprise, has joined the studio as Chief Tech. For availability please call Kit Rebhun, Studio Manager Glenwood Place at 818 260 9555 or email kit@glenwoodstudios.com

Avatar Sounds



Avatar Studio A (NEVE 8068) hosted Clear Channel's Stripped- with Kanye West. Engineer/Producer Steve Remote and Verve Records' Liz Wright recently overdubbing with engineer Kevin Killen. Pat Martino recently recording for Blue Note.
STUDIO B- (SSL9000J) -- Russ Titelman recently in overdubbing with new artist Jim Campilongo. Avatar's Anthony Ruotolo engineered. Avenue Q cast recording mixed by Jason Stasium. Steve Oremus producer, assisted by Jim Keller. Jim Anderson mixing album by Gonzalo Rubalcaba, assisted by Brian Montgomery.
Studio C- (NEVE-VRP72) -- Elliot Scheiner has been busy mixing Donald Fagen, assisted by Brian Montgomery. Producer Luke Gottwald recently cutting tracks for Pink, with Avatar engineer Ross Petersen, assisted by Chad Lupo. Kim Burrell overdubbing a vocal for a Stevie Wonder album with Avatar engineer Anthony Ruotolo, assisted by Jim Keller. Stevie Wonder produced live via ISDN connection to Capitol Studios.
Studio G- (SSL4000G+) Engineer Dick Baxter recently in doing narrations for the Metropolitan Opera Guild. Producer Paul Gruber, assisted by Aya Takemura. Composer Frank Catanzaro overdubbing for ABC Football theme with engineer Larry Alexander, assistd by Chad Lupo. Jimmy Douglas doing overdubs and mixing with rapper Matisyahu for Epic Records.
Eddie Jackson assisted.
Kevorkian Mastering
Fred Kevorkian mastered an upcoming releases by Hillary Johnson and Ari Hest.


Enrollment for the winter semester at Berkleemusic.com begins September 19th



To learn more about interactive online courses, visit: http://www.berkleemusic.com
Student advisors are available at 866.BERKLEE (866.237.5533) to answer any questions.
Berkleemusic.com is Berklee's online music school, delivering online access to world-renowned music faculty, educational concepts, and time-tested curriculum, previously available only to on-campus students.
The remodeling of an existing run of the mill studio facility into one that can satisfy the demands of high-end users is a tricky business. Sound isolation needs to be improved, a difficult task when building from scratch, but even harder when incorporating pre-existing elements. Just as difficult is the enhancement of the acoustic performance inside built spaces with given proportions and dimensions. Also to be considered are the aesthetic concerns apparent in a facility that was apparently never designed with any architectural approach in mind.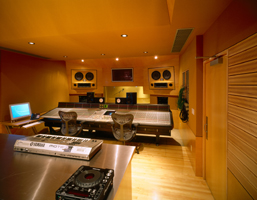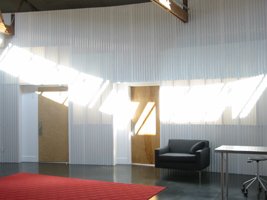 "The Boom Boom Room was facing these challenges, and the main concern was to find the right mix between keeping existing portions of the building, while rebuilding and remodeling other parts," says Peter Grueneisen, AIA nonzero\architecture. The final result is a complete interior and exterior renovation in an existing 5,000 square foot building which had previously been converted from a dry cleaning business to a medium level post-production and sound recording studio.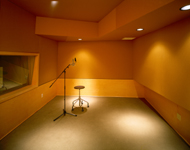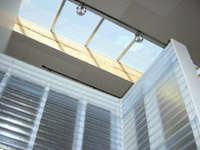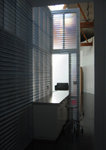 The remodeling of the common areas and lounges, and the addition of large skylights has led to a light-filled and pleasant interior environment. The creative application of corrugated plastic sheets and Homasote paneling allowed for various degrees of privacy and a unique appearance within a tightly controlled budget. A simple re-organization of the reception and main lounge area vastly improved security and user-friendliness of the entire facility.
The addition of solid block walls and landscaping around the building and the re-organization of the parking layout yielded a secluded and private garden court and an improved entrance sequence.
"The main Studio A needed particular attention, and the control and mix room was partially rebuilt, with higher ceilings, a longer footprint and a completely new acoustic design. As the studio's name indicates, the sonic properties of the main room were not meant for the faint-hearted. Both the room itself and its equipment are now able to handle very high levels and very low frequencies to please a demanding and discerning clientele. The recording space and the remaining studio suites were rebuilt within their shells, but with a revamped and improved acoustic interior and new finishes throughout," adds Grueneisen.
The result of all this work is a truly reinvented and reborn facility that can please and hold up to the standards of the world's best recording artists and engineers.
nonzero\architecture and studio bau:ton's expertise with audiovisual facilities and its fresh approach to architectural challenges are key factors in the successful designs for these complex and multi-faceted projects. Previous projects for the film music community include the Fox Newman Stage, studios for Patrick Williams, Dieter Meier, David Newman, and screening rooms for Disney and David Lynch among many others.
For more information please contact: Peter Grueneisen, AIA nonzero\architecture
studio bau:ton, LLC T. (213) 251-9791 F. (213) 251-9795


Real Estate Expresso!
Hot Properties With Recording Studios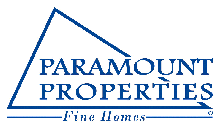 According to Christine Lloyd-Maddocks, Specialist Realtor to the Music Industry, inventory of Homes with Recording Studios....
Charming Mar Vista Home with Recording Studio - $839,000
Or $1,000,000 with equipment as listed below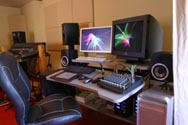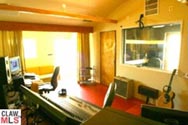 Home comprised of 3 bedroom, 2 bath home is bright with wood floors throughout and tiled kitchen. Landscaped yard with grass line stepping stones, lounge area and fire pit.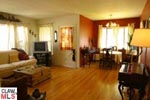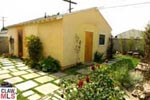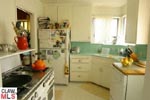 The studio is 500 sq. ft., air conditioned, sound proofed. Live room, 3 iso-booths. 4 x 6 control room glass, raised floor with hatch access for all cable runs. Professionally wired patch bay connects with all rooms via Ethernet and XLRs. Room within a room construction allows for loud tracking or late night sessions. Electrical upgraded to 200 amps. One100 amp panel dirty power – lighting, air, office, etc. Other 100 amp panel supplies clean power for all audio and visual equipment.

Home, Recording Studio with the following equipment : Pro-Tools HD2 workstation and Final Cut Pro HD Workstation. (email homestudios@christinelloyd.com for detailed list of equipment).
Commercial Studio in The Big Apple For Sale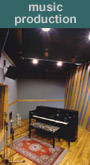 Located in the highly desirable NOHO area of Manhattan and Custom-designed by renowned acoustic designer Francis Manzella of FM Design, the studio was highlighted in MIX MAGAZINE's "Best New Rooms" issue since its construction in '94. . With its beautiful studio finishing and solid construction, the studio is considered world-class; yet its moderate size of 1,500 square feet allows an individual or small group to operate a profitable business without taking on the strain of a massive overhead. It provides music recording and audio post production services.
There are two sale options available. The facility can be purchased as without equipment, or it can be purchased as a Turnkey Studio Package.
The Turnkey Studio Package (reduced to $125K) equipment includes: Pro Tools 24 Mix Plus, Otari MTR-90 MKII 24-track 2-inch recorder, Soundtracs console, Tannoy & Yamaha speakers, Hot House amps, Neumann U87, vintage gear including Urei 1176LN Blackface, API rack, & DBX compressors; other gear by Lexicon, Sennheiser and AKG.
For price details and more information, call us at 818-990-3031.


Orchestra Sessions Made Affordable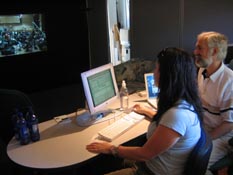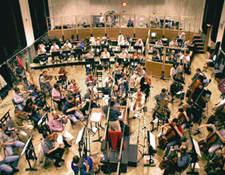 Want a real orchestra but don't have the budget to hire top players or a nice stage in the big city? Enter the new on-line age and do it real-time with a top orchestra/conductor from the heart of Prague, without having to leave the comfort of your home studio!
According to founder/composer/arranger, Steve Salani, budgeting and booking your recording sessions couldn't be easier. Simply call a few weeks in advance of your preferred scoring date to schedule your session time (typically one hour of session time is required for 3-4 minutes of finished music). You will be receive a session contract (PDF file) via email which must be returned with 50% deposit to hold the session date.
You may attend the session at OrchestraNet's Los Angeles studio, or work from any location of your choice using the SESSION application for Mac OS X (broadband internet access required). In either case, you can monitor the orchestra in stereo, view the orchestra during performance, and control the monitor mix in realtime, including up to 24 tracks of live orchestra plus click and prerecorded tracks. You will speak directly to the conductor during the session to provide instructions or make changes.
If you are using the SESSION application in your own studio you will speak with the conductor via phone call to Los Angeles. One week prior to your recording date, OrchestraNet will conduct a test to insure that your computer and network are properly configured for the application, then they will provide an FTP account for you to upload music and other files needed for the session. They ask to receive your scores and parts (PDF files) 48 hours before the session. Please refer to our online notation guidelines for very important music formatting information. Call Jennifer Goldstein
Orchestra.Net for more info 310-392-4756

Elfman's Corpse Bride Mastered By FourStar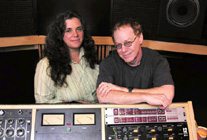 In session: Danny Elfman and mastering engineer Patricia Sullivan FourStar.
Photo: David Goggin.

Film composer Danny Elfman, recently mastered the soundtrack album for director Tim Burton's new film, Corpse Bride, at Bernie Grundman Mastering with Patricia Sullivan FourStar. Elfman has previously composed scores for Burton's Charlie and the Chocolate Factory, Big Fish, Planet of the Apes, Sleepy Hollow, The Nightmare Before Christmas, and Batman Returns. The film opened nationwide on September 23.Bernie Grundman Mastering -- 323.465.6264


Indie Bands Move Closer to the Mainstream
By Jake Coyle, AP





As the CMJ Music Marathon - the Sundance of rock 'n' roll - descended on New York late September, hundreds of unknown indie bands got their shot at fame.
Lately, their odds are a little better. With the success of groups like Death Cab for Cutie, Modest Mouse and Bright Eyes, indie rock is seeping into the mainstream - a mixed blessing for a genre that prides itself on being underground.
"There's been a real zeitgeist in the last couple years with kids and shy, quiet indie rock bands who are connecting with people en masse," says Death Cab guitarist Chris Walla.
Stephen Malkmus, who fronted the quintessential '90s indie band Pavement, is now a solo artist. "I started when it was still college rock," he says. "It seems to have become more institutionalized in big cities ... I'm glad to be a part of it."
"It" is blended into TV shows like "The O.C.," movie soundtracks like the upcoming "Elizabethtown" and a healthy amount of commercials. Unlike sellout-conscious Kurt Cobain wannabes, today's indie fans are mostly rooting for the success of the music - and often exasperated at the relative anonymity of their favorite band.
Like Natalie Portman says of the Shins in "Garden State": "They'll change your life."
"The entire independent scene has come to the fore," says Bobby Haber, founder and CEO of CMJ, or College Media Journal. "I think it's a watershed moment."
Death Cab's fifth album, "Plans," has sold 128,000 copies in two weeks after debuting at No. 4. Modest Mouse's "Good News for People Who Love Bad News" has gone platinum. Last November, singer-songwriter Connor Oberst's band, Bright Eyes, had two songs top the Billboard singles chart - knocking out a duet by Usher and Alicia Keys and sending the indie rock world into a tailspin.
"Universe reveals plan to self-destruct," wrote Ryan Schreiber of PitchforkMedia.com, arguably the critical epicenter of indie music.
Indie rock, like alternative music in the early '90s, is a vague term meant to characterize progressive, underground rock 'n' roll.
"It used to mean, especially in the late '80s, early '90s, that you were on an indie label like Matador or Sub Pop," says Sia Michel, editor-in-chief of Spin magazine. Now, she says, the term defines a specific sound, "this kind of smart, but tuneful and passionate kind of rock music."
Unlike alt-rock, which was focused on grunge and anti-corporate anger, indie rock is a much broader sound that can incorporate forms of folk, country and electronica - but is mostly in the tradition of groups like Velvet Underground and Talking Heads.
Current indie bands also rarely have the desire for cultural change like alternative acts did. "There is NOTHING about what we're doing that screams cultural revolution," Walla says.
There's also more acceptance of the corporate world. Though they still carry the indie flag, Death Cab, Modest Mouse and semi-indies like Franz Ferdinand and the Killers are all signed to major labels.
"Ten years ago, an indie rock band wouldn't have been caught dead being signed to a major," says Nic Harcourt, host of the influential radio show "Morning Becomes Eclectic" on Los Angeles' KCRW. Today, "the sensibility is more of an aesthetic than it is a manifesto."
Michel agrees: "It's almost seen as kind of cool to score an iPod commercial."
Speaking of which, iTunes and Internet downloads have made it easier for music fans to connect with underground artists. For Postal Service (a collaboration of Death Cab's Ben Gibbard and Dntel's Jimmy Tamborello) Sub Pop received more than 4 million downloads of "Such Great Heights" through MySpace.com. The album, "Give Up," has now sold over 650,000 copies, the label's biggest seller since Nirvana's "Bleach."
Then there are TV and movies, which are often being created by young people who like indie bands. The long-haired, reverb-heavy My Morning Jacket are featured in Cameron Crowe's upcoming film "Elizabethtown," and Aqueduct's quirky lo-fi can currently be heard behind pictures of plush Jaguars.
If there's one band iconic of the scene, it's Arcade Fire. Hailing from Montreal, a bastion of indiedom, their debut, "Funeral," blew away critics and has sold over 200,000 discs.
"I think they're like the best band, period," says Carl Newman, frontman of the New Pornographers, echoing the feelings of many indie rockers.
Some point to Arcade Fire as the obvious candidate to sell like Modest Mouse.
"It's not that (indie rock) is strange, it's not that bizarre - it's simply a little ahead of its time," says Haber. "In late 1978, the Police sounded pretty strange ... but six months later, it was on Top 40 radio with `Roxanne."'
Walla credits Death Cab's switch to Atlantic (from indie Barsuk) in part to the creative contract they were offered. He says some majors are starting to rethink their role, turning away from "producing" bands in favor of simply distributing them.
So are majors now trying to sign "the next Death Cab"?
"If all of a sudden, that becomes the flavor of the month and all the labels want to sign a band like Death Cab for Cutie, then we're onto the next cycle of alternative rock and it's dead as soon as they start it," says radio host Harcourt. "So I hope not."


Art, Religion, Music and Architecture


TEC Awards Music and Sound Auction
ebay 10/3-16 2005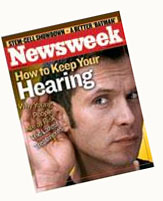 The Mix Foundation for Excellence in Audio will present the Second Annual TEC Awards Music and Sound Auction, scheduled to run on eBay from October 3rd to October 16th, 2005. The online sale will coincide with the 21st Annual Technical Excellence & Creativity Awards, to be held on Saturday, October 8 at the New York Marriott Marquis.
To donate musical instruments or pro sound equipment. please contact John Pledger at 415-453-8618, or e-mail jpledger@comcast.net. To donate tour memorabilia, artwork, gift packages or money, contact Kathy Peck at 415-409-3277, or e-mail hear@hearnet.com. Information about TEC Awards tickets or sponsorships can be found by contacting Karen Dunn at 925.939-6149, e-mailing karen@tecawards.org, or following the TEC Awards links on www.mixfoundation.org.
Will Lee of Letterman's Late Show to Host 21st Annual Tec Awards
Beyond his widely visible weeknight gig with Paul Shaffer and the CBS Orchestra, Will Lee is one of the music industry's most in-demand performers, having toured and recorded with many of the world's leading pop, rock and jazz artists. He has toured with Horace Silver, Bette Midler, Barry Manilow, the Brecker Brothers and others, and recorded with hundreds of artists, from Ringo Starr, Frank Sinatra, Carly Simon, and Steely Dan to George Benson, Mariah Carey, Natalie Cole and Luther Vandross. He has one solo project, OH!, to his credit, and has also recorded a tribute to Charlie Parker called BirdHouse, with his pianist father and other jazz artists.
"We are honored to have Will serving as the host of our upcoming show in New York," says Mix Foundation president Hillel Resner. "Not only is he a local luminary and one of the top bass players in the world, but his sense of humor and experience in the industry make him the ideal host for the TEC Awards." Resner points out that Lee has recorded no less than 26 projects with renowned producer Arif Mardin (Aretha Franklin, Bette Midler, Norah Jones), who will be inducted into the TEC Hall of Fame by Atlantic Records founder Ahmet Ertegun during the night's festivities. Also to be honored is Talking Heads founder David Byrne, who will receive the prestigious Les Paul Award from the legendary Les Paul, himself.
The TEC Awards, to be held on Saturday, October 8 at the New York Marriott Marquis, the world's foremost awards event recognizing achievements of recording and sound professionals.
Proceeds from the TEC Awards support hearing health programs of the House Ear Institute of Los Angeles and Hearing Education Awareness for Rockers (H.E.A.R.) of San Francisco, as well as numerous audio scholarship programs.
Hall Of Fame Inductees
Ceremony in NYC Pays Tribute To Eighty Years of Audio Innovations
The Mix Foundation for Excellence in Audio, presenters of the Technical Excellence and Creativity (TEC) Awards, will induct 15 innovations and products into the 2005 TECnology Hall of Fame. The awards will be presented on Friday, October 7, at the 119th Audio Engineering Society Convention at Jacob K. Javits Convention Center . "The 2005 TECnology Hall of Fame inductees exemplify some real revolutions in the way audio has been recorded and reproduced, from the introduction of microphones and electronics into the recording process in 1925 to the first affordable digital mixing boards some 60 years later." says Mix editorial director, George Petersen. Noteworthy innovations include the RCA 44 Ribbon Microphone, the Ampex ATR-102 Mastering Recorder and Dolby Stereo Theater Surround. There is also a high number of electronic musical instruments represented, including the Minimoog synthesizer, the Fairlight CMI (Computer Musical Instrument), the Linn LM-1 drum machine and the MIDI standard.
For ticket information call Karen Dunn at (510) 985-3263, e-mail Karen@tecawards.org, or visit www.mixfoundation.org.
The Nashville Music Machine: The Unwritten Rules of the Country Music Business
by Dan Daley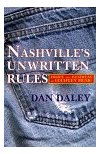 Producer, songwriter, and journalist Daley has written an insider's book that hits the nail on the head: country music is a big money maker, with Nashville as the focal point, but to succeed you must follow some "unwritten rules." Daley points out that in spite of dollar signs everywhere, Southern qualms about social propriety dictate that you don't talk about money, you just make it. To this end, successful songwriters, producers, music publishers, and musicians in Nashville have learned the rules he sets down here. Daley claims that even outsiders can learn to play this game. Order it from Amazon today!
Faces of Music: 25 Years of Lunching with Legends
Mr Bonzai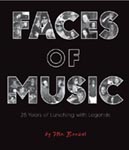 A must have for your studio lounge coffee table! Mr. Bonzai takes you through the inner sanctums of the recording industry to meet artists, producers, and engineers who have shaped some of modern music. Over 400 photographs, many never-before published, and 160 interviews with popular music artists and engineers/producers including Jimmy Buffet, Ed Cherney, Leonard Cohen, Devo, Geoff Emerick, Peter Gabriel, Herbie Hancock, Eddie Kramer, k.d. lang, David Lynch, George Massenburg, George Martin, Robert Moog, Willie Nelson, Phil Ramone, Carlos Santana, Red Hot Chili Peppers, Al Schmitt, Bruce Swedien, Don Was, Brian Wilson, Stevie Wonder, and Frank Zappa.

Order at Amazon.com today and hear an audio version of the Mr B's interview with Mark O'Devo and a new organcentric version of "Whip It!" Mr. Bonzai will be at the Thomson Course Technology PTR / Artist Pro booth, number 775, on Friday and Saturday October 7th and 8th at 2 PM to sign copies of the book at AES. Books will be on sale and will feature a 25 % discount for the duration of the AES show. Champagne will be served. Such a deal!

Tainted Blue

What used to be Quad Studio's Penthouse is now Tainted Blue Productions. The space was recently purchased by Andrew Koss and partner, Patrick Shaw. Tainted Blue hired Lawrence Swist and Evenfall Acoustics to balance the tracking room and create a phenomenon in live sound.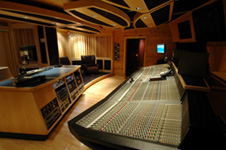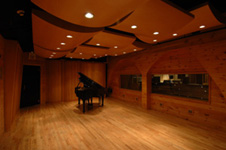 Koss and Shaw took a look at the space with its storied history (past clients include: Paul McCartney, Elton John, David Bowie, Mariah Carey) and decided to give it the sonic and aesthetic makeover it deserved, bringing back the big space intrigue with the cutting edge digital recording technology plus the vintage gear.

TEC-Award nominated studio in Lexington, KY
A unique outlook on the recording industry
The brainchild of Will Parks and his 26-year-old recording engineer son John, the Parks believe that "enhancing musicians creative output" is job one at the newly built studio that boasts guest accommodations akin to a luxury hotel. Saint Claire's "retreat" complex was completed at a cost upwards of $3 million. The center-piece of Saint Claire's spacious control room is an 80 input SSL 9000J mixing console. All- digital recording is done via industry standard Pro Tools HD3 and RADAR systems. Rounding out the studio's extensive equipment array are pieces from NEVE, Tube-Tech, Lexicon, API, and UREI. Equally impressive is the main tracking room which features 18 foot ceilings and 4 isolation booths. "I wanted to build a facility here in Kentucky to compete with major studios all over the country," says John Parks. "The people who reap the greatest rewards are those who stick their necks out and do the unbelievable," says John Parks.


The Hollywood Cat (THC) Spotted.. in Bankok, Thailand, USSR & back at Nashville?!


Thanks to our friends Marina V, Nick, Duke and Isabelle for the inspiring Intl. photographs.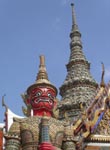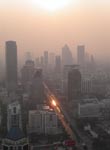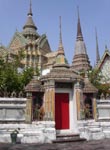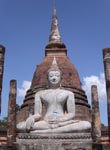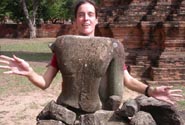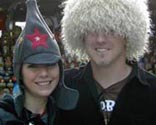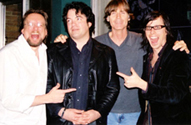 Ovodevichy Monastery in Moscos, MariaV & Nick, Big Star at Ardent, Nashville

"Deux GuitarViols" features guitar duo Jonathan "TogaMan" Wilson of Bowed Guitar (recently featured in Guitar Player Magazine Oct issue) and fellow GitViol Player Oscar Islas; literally two GuitarViols! "We are having a great time and adding drums, percussion & Bass, polishing our set and hope to record and gig in the near future. It is difficult to peg our music. It falls somewhere between Led Zep and smooth jazz," says the TogaMan.






Keith Maples; Granian, Chloe White, Hypnogaja
Keith Maples (above L), a young emerging guitar virtuoso in the tradition of Joe Satriani and John McLaughlin, wowed audiences with a TogaMan GuitarViol with his band at the Young Artist Awards April 30th 2005.
Garen of Granian has a new site and is even getting some podcast love..The Scene Zine, Accident Hash, and many many more podcasters have been playing Granian. NJ's Modern Rock Station G106.3 has begun spinning "Mark My Words"... Keep Calling 1-866-76-G-ROCK. Mark My Words was also added to several other Major Radio Playlists including WCIR-FM in Beckley, WV. Check Granian for tourdates and more...The guys even donate ALL PROFITS from CD Sales at CDBaby will for the next two weeks to the Red Cross to help the victims of Hurricane Katrina.

Chloe White self-produced CD, L'epanouissement's sales will go to the Red Cross disaster relief fund to aid the hurricane victims. Visit her at CD baby. You can find a list of all the musicians donating their profits to the RED CROSS by going to www.cdbaby.com and clicking "for Charity." "With thousands of artists coming together to make this effort, I believe it will help a LOT of people to put their lives back together after this disaster," says White.

Check two shows from Naked Eyes 10/23 San Francisco, CA. Red Devil lounge and
11/11 Hollywood, CA. Viper Room. Between shows, Pete is recording " Fumbling With The Covers " The Naked Eyes acoustic album. It will be released in January.

Hypnogaja recently taped an epsiode of the Pepsi/Yahoo! Music-sponsored Internet series "100 Concerts in 100 days," a show that follows the adventures of Dave & Shappy, a pair of buddies travelling across the US for 100 days watching concerts. Hypnogaja was featured in day 72 of the show. Visit the link below to view the episode, which features a live clip of "Normal on the Outside." The Below Sunset tour has been extended until early November. Check the tour page regularly for new dates.

Big Star was honored last year with the first annual Heroes Award presented by the Memphis Chapter of the Recording Academy. The band co-produced the new Rykodisc album with Jeff Powell (of Afghan Whigs fame), who also engineered with assistant Adam Hill. The CD recorded at Ardent is slated for release on September 27.




Weep not that the world changes - did it keep a stable, changeless state, it were a cause indeed to weep.
--William C. Bryant


Until next month, Dance Like Nobody's Looking