Phoenix Rising With ATC Monitors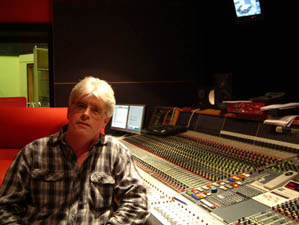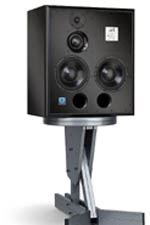 l-r: Pete Fielder at Phoenix; ATC SCM110A Compact Large Format Monitors

The first recording studio has arrived on the lot of Pinewood, the heart of the British film and TV production industry. Phoenix Sound has completed its first orchestral recording sessions just three months after moving into the empty sound stage that has been transformed into a high-end multi-track recording and mixing facility.

With its particular emphasis on music-to-picture work for film and television, Phoenix has taken great care in choosing a 5.1 surround system for its 40-sq. m. control room. Recording Architecture's Roger D'Arcy, acting as design consultant for the new room, and Pete Fielder, MD of Phoenix Sound, were in agreement that the best multi-channel monitoring around was ATC.
"Recording Architecture is accustomed to building around ATC monitors and, like us, have heard the ATC system proven in many different control rooms,"explains Fielder. "Most of the engineers that are going to use the studios like and prefer to use ATC, and we know that the system is popular with film people as well."
ATC SCM200ASL Pro three-way actives are installed as the main studio monitors L, C and R, with powered SCM20ASL Pro units for the rear channels. Two SCM 0.1/15 Pro subs built into plinths extend the extreme LF, delivering over 118dB at very low distortion down to well below 20Hz.
The control room is equipped with a Neve VR 72-channel desk recording to three multi-track formats - Pro Tools H/D, RADAR and Sony 3348 digital multi-track. The studio itself can easily accommodate up to 30 musicians.
With the involvement of David Ward (formerly of Gateway Studios) in the Phoenix enterprise, the studios will also host professional development courses for, among others, the film industry, and well as an extensive teacher training program.
Las Vegas Pro Audio is introducing ATC SCM110A Compact Large Format Monitors, now shipping. ATC far-field monitors are designed to be wall-mounted into the new generation of smaller mix room and 5.1 applications due to its shallow depth. The ATC SCM110As also break a price barrier at US $16,000 per pair fully powered, giving those who always wanted the distinctive ATC sound a cost-effective option. Designed with high-resolution sample rates and bit depths in mind for both stereo and multi-channel applications that feature a dedicated center channel and subwoofer system, the new low-profile SCM110A features twin nine-inch ATC SL bass drivers, an ATC three-inch soft dome mid and a soft dome one-inch tweeter. Maintaining the strict performance criteria of the taller models of ATC reference monitors, the SCM110A offers a low profile specifically designed for better sight lines through windows and below obstructions. Unparalleled functionality and dynamic range, and a +/-80 x 10-degree dispersion are combined in a monitor system that offers an amplitude linearity of 50Hz-20kHz (+/-2dB). The active design matches six MOSFET amplifier blocks with the drivers to deliver an excellent transient response and a maximum SPL of 115dB. Amplifier output is 50 watts for HF, 100 watts for MF and 200 watts for LF. An LF contour control provides 6dB of bass boost.
ATC Monitors Installed In Flagship BBC Studio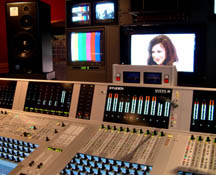 ATC 5.1 surround system installed in Studio One BBC Television Centre.

A 5.1 surround system comprised of ATC (Acoustic Transducer Company, West Gloucestershire, England) SCM Series Professional Monitor Loudspeakers has been installed in Studio One at BBC Television Centre in west London.
Studio One combines space of over 10,000 sq. ft. and audience seating for
384 people with technical capability for fast turnaround productions and live programs such as coverage of national elections, awards ceremonies and charity telethons.
The new multi-channel monitoring system uses a mix of large and small active three-way monitors from the SCM Series, a combination made possible by the dispersion and phase characteristics of ATC. Left and right speakers are SCM 150ASL Pro monitors, using 15-inch super-linear bass drivers to give extended bass, headroom and dynamic range. The center channel is an ATC SCM100ASL with soft dome mid-range driver and 12-inch bass driver. ATC SCM50s are used for the rear channel speakers.
The SCM Series monitors are designed to exhibit consistently low distortion, flat frequency response, controlled dispersion characteristics and large dynamic ranges, whatever the volume threshold.
ATC's drivers are manufactured in-house to exacting tolerances and are legendary for their many design innovations, such as the innovative SL magnet system and the company's renowned Soft Dome midrange driver, which achieves exceptionally broad and even dispersion to produce a flat response anywhere in the room. Situated in Aston Down in rural Gloucestershire, England, ATC was established in London in 1974 by acoustics engineer and musician Bill Woodman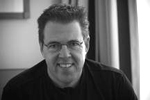 LasVegasProAudio (www.lasvegasproaudio.com) distributes ATC in the USA www.atc.gb.net
For more info, please email Brad Lunde at LVPA or Phone (702) 307-2700

Las Vegas Pro Audio is the direct sales division of TransAudio Group. The goal of LasVegasProAudio.com is to provide a personal long-term relationship with top engineers delivering insightful and accurate advice, unique equipment and long term support.TransAudio Group, founded by industry veteran Brad Lunde, has quickly become the premier US importer/distributor for high-end audio. visit the web sites at: www.lasvegasproaudio.com
TransAudio Group's product lines include A-Designs (USA) AEA ribbon microphones (USA), ADT Toolkit, AEA, ATC Loudspeakers (UK), Brauner microphones(Germany), Drawmer (UK), Geoffrey Daking & Co. (USA), George Massenburg Labs (GML) (USA), Heil Sound (USA); Mercury Audio (USA) Mission Audio (UK) Phoenix Audio (UK), PAULY Superscreens(Germany), SABRA SOM(Brazil), Soundelux (USA), SoundField Microphones (UK), Z-Systems (USA) and Weiss Engineering (Switzerland) and Z Systems (USA).

expresso@8 with Lennon
Remembering and Celebrating Life & Art of John Lennon
Soho Gallery, Studio City, Sat Dec 10, 8pm-9pm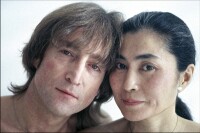 photo by: Allan Tannenbaum; from the Lennon collection

Join us on Sat. DEC 10th at 8pm -- studioexpresso friends will gather at Soho Gallery to enjoy a very special art exhibit to include some of Lennon's rare works.
25 years ago, on December 8, 1980, a mentally disturbed fan who had collected Lennon's autograph earlier in the day waited outside of the Manhattan's Dakota apartment building for John to return from a recording session. Chapman opened fire. The rest is history. John's legacy remains frozen in time and, like James Dean's or Kurt Cobain's, burnished by sudden death far too young. Lennon clearly had courage as an artist. He wasn't afraid to mess up, or to speak up. Lennon mocked Bob Dylan with a song, "Serve Yourself," when he didn't like "Gotta Serve Somebody."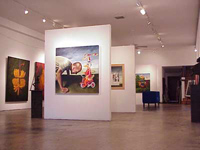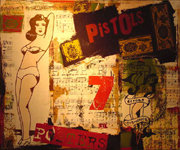 showroom, Gisela Colon, Jackie Stanton
Lennon told his truth and it connected to an entire generation. His death was a tragedy, but his life was an inspiration. His legacy is timeless.

A major exhibition of artwork by the late John Lennon will be held at the Soho Gallery on December
9 - 11, 2005. The complete exhibit features more than 120 serigraphs, signed lithographs, song lyrics, and original drawings by the legendary Beatle, and will include many very rare, older editions that haven't been exhibited in years. A complete portfolio of the 15 "Bag One" lithographs, each individually hand signed by John, is also on exhibit. This portfolio has become increasingly rare to find in its entirety. A complete set is in the permanent collection of the Museum of Modern Art in New York.

From generation to generation, John Lennon's artwork has a profound effect on everyone who has been touched by his music and his philosophies of life. Each drawing has both a personal and a universal meaning, full of wisdom, whimsy, and a clarity of artistic expression.
The exhibition is being produced by Pacific Edge Gallery, with the full cooperation of Yoko Ono and the John Lennon estate. Previous exhibitions produced by Pacific Edge Gallery have attracted excellent attendance, as well as extensive print, radio, and television coverage. There will be no admission charge to see the show. A catalog will be on sale and the artworks will be available for purchase.
Please RSVP by/before DEC 7th -- ph: 818-990-3031
Soho Gallery: 12202 Ventura Blvd, Studio City, CA 91604
What was John Lennon's middle name (at birth)? Go to the very end to find the ANSWER.


Gift of Musicianship For 3rd Graders
Have you ever tried to play: A French horn? A Cello? A Flute?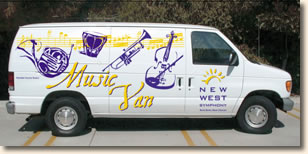 The Music Van is a nationally acclaimed program made possible by the New West Symphony where thousands of dollars worth of orchestral instruments are brought to individual third grade classrooms for "hands-on" experience.

Each school is asked to send 2 or more volunteers (teachers, parents, etc.) to a special workshop where they will learn the "care and feeding" of the instruments and discuss various ways to present the instruments to the students. The only requirement for volunteers is that they be enthusiastic and have a high tolerance for NOISE! How much does the Music Van cost? Absolutely nothing! When and where are the next volunteer trainingsessions?

• Saturday, February 18, 2006, 9:00 am to 12:00 noon
• The Camarillo United Methodist Church, 291 Anacapa Drive.
Maps available upon request. To sign-up for training call: Lynn Decker-Mahin, Director of Education (805)777-7886


Barefoot Servants' Live Dates To Support New CD
Jon Butcher, Ben Schultz, Leland Sklar, and Neal Wilkinson.


Collectively or individually, the members of Barefoot Servants have had a lasting and dramatic influence on modern pop music. Bassist Lee Sklar has been touring this past fall/winter with both Phil Collins [as he has for years] and Lyle Lovett, and is arguably one of the worlds most recorded bass players (James Taylor, Jackson Browne, Don Henley, BB King, Bonnie Raitt, Antigone Rocks, Willie Nelson ad infinitum). Drummer Neal Wilkinson's credits include Ultavox, Gang of Four, and Paul McCartney. Grammy nominated Jon Butcher fronted the Jon Butcher Axis, achieving critical and commercial success with 12 records, 9 MTV videos, film/ television scoring credits and worldwide concert performances over a decade. Likewise Ben Schultz has also recorded and toured as a solo artist and with music legends like Buddy Miles, Rod Stewart, Stevie Nicks to name a just a few.

The Barefoot Servants is hailed by many to be "the most famous unknown band in the world," and is
celebrating release of Barefoot Servants 2 with a CD Release Party and DEC appearances in LA.

Th Dec. 8th @ 9am "Mark & Brian Show" on KLOS FM
Fri, Dec. 9th @ 7:30pm Border's Books in Westwood on (1360 Westwood Blvd, LA; 310.475.3444).
Sat. Dec. 10th 7-9:00pm @ Genghis Cohen (740 N. Fairfax Ave., LA; 310.578.5591)
ReMixing With Berklee
New course and a lotta' students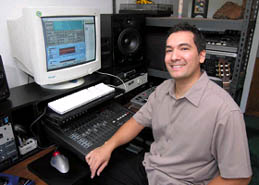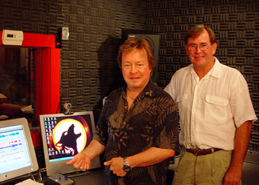 l-r: Berkleemusic's online Remixing instructor Erik Hawkins and Rick Derringer and Howling Dog Studios' owner Del Couch.
Photo: David Goggin
Berkleemusic.com, world's leader in online music education, has announced Remixing, a new course to launch in the upcoming Winter semester, starting January 9, 2006. Remixing will be taught by composer/producer and renowned educator Erik Hawkins, author of Studio-in-a-Box and the definitive Complete Guide to Remixing (Berklee Press).

"This new cutting edge course is particularly exciting because it covers the skill sets and production techniques that have come up through the underground and have just been introduced into mainstream music in the last few years," says Hawkins. "Think of it as being like an apprentice to a hot producer and getting the insight into the tricks not readily available to the beginner on the street."

In Berkleemusic's Remixing, students will produce four remixes based on different source materials: stereo master, a cappella, breakout tracks, and a multi-track ProTools session. Remixing utilizes Digidesign's new ProTools 7.0 and Propellerhead's Reason 3.0, the latest versions of the industry standards that today's top artists and producers use for editing, mixing and sound creation.
Berkleemusic's Remixing takes students deep inside the world of urban and electronic music, from Dance to Hip-Hop, to explore the highly disciplined craft of this worldwide musical phenomenon. Students will learn to master not only the technical and analytical side of remixing, but also the creative side - the ability to hear a song's possibilities beyond its original arrangement and musical style. By the end of the course, students will produce professional remixes ready for manufacturing and distribution.
"Who says an old dog can't learn new tricks?" says Berkleemusic.com student Del Couch. After 20 years as a successful real estate agent, the 56-year old enrolled online and now owns and operates his own recording studio in Florida, appropriately dubbed Howling Dog Studios. Last year, Del recorded with neighbor Rick Derringer, who first gained fame in the 60s with his band the McCoys and their hit, "Hang On Sloopy." In the following years, Derringer has produced artists as diverse as Bette Midler, KISS, Meat Loaf, Cyndi Lauper, Barbra Streisand, and "Weird" Al Yankovic.

Del followed up with Mixing and Mastering with Pro Tools and the Production Workshop courses. "Just having my certificates on the wall has really helped make the studio a success," he explains. "And studying online is the best way to keep up with the accelerated changes in technology. My next step is to upgrade to Pro Tools HD and to get Pro Tools Control to replace my Digi 002 console."

Before his career in business, Del was a gifted trumpet player and was accepted by Juilliard before being drafted and serving four years with the US Air Force Band. Years later, he has now returned to his first love, and fronts the very successful variety band Shaman, which plays 120 gigs a year for corporate and charity functions. His studio business is booming with local bands, and local players available for session work include musical greats Graeme Edge (drummer for the Moody Blues), Duck Dunn, (bass player with Booker T. and the MGs), and Dickie Betts of Allman Brothers fame.

Enrollment for the Winter semester at Berkleemusic.com ends January 5, 2006 Courses begin on January 9. To learn more about interactive online courses, visit: http://www.berkleemusic.com
Student advisors are available at 866.BERKLEE (866.237.5533) to answer any questions.
"Real-world" Classes Offered by World-Class Studio in Los Angeles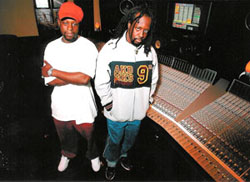 Wyclef Jean and Jerry Wonda pictured by Chalice studio A's SSL console during production of Tom Jones new album
photo: David Goggin
Designed for interns & runners entering the world of recording, the workshops are designed to further the education of young & old alike with emphasis on signal flow, mic techniques, studio etiquette, and DAW's and how it all integrates in the studio environment. Stacey Dodds, Technical Operations Manager for Chalice Recording in Los Angeles has designed the course to enable interns and runners to move up the chain in a faster, more efficient way.
The first workshop, signal flow, will be lead by Robert Breen (Career Development & Industry Relations – Ontario Institute of Audio Recording Technology as well as President AES – Toronto Chapter). Focus will be on signal flow in consoles, as well as signal flow in DAW's. Solid State Logic will be on hand to lend support as the console signal flow portion of the course will be conducted using the industry standard SSL 9000J series console.

Interns & Runners are encouraged to attend, as the workshops are free to any graduates of any recording school. The first workshop will be held on December 11th, 2005.
For more info Contact: Stacey Dodds (323) 957-7100


UCLA Course On Today's Biz Gathers Industry's Who's Who

HITS Editor Lenny Beer, The Doors' Manager Jeff Jampol and Universal Music Publishing EVP Tom Sturges Will Instruct 12-Week "The Music Business: Now," Starting Jan. 11.
It's a great course to learn about what's happening right now in the business," says Beer, who will host the class' overview and analysis of the most compelling events in the record industry, 'What Happened This Week.' "It's about what's going on right now. Part of the curriculum is the day's current events. It's as valuable for people just breaking into the business as it is to those looking to get ahead in their careers by networking with some of the most important executives in our industry."
Each student will receive free online access, good for the duration of the quarter, to MIS/MediaBase, the industry standard for radio and video performance/chart monitoring.
Confirmed guest speakers include: Andy Slater, President, Capitol Records; Polly Anthony, Co-President, Geffen/Dreamworks Records; L. A. Reid, CEO, Island/Def Jam Records;
Scott Pascucci, President, Rhino Entertainment; Danny Strick, President, Sony/ATV Music Publishing; Irving Azoff, CEO, Azoff Music Management (Christina Aguilera, Van Halen, Jewel, The Eagles); Jeff Kwatinetz, CEO, The Firm (Snoop Dogg, Korn, Ice Cube, Kelly Clarkson, Leonardo DiCaprio, Vin Diesel, Cameron Diaz); Jim Guerinot, President, Rebel Waltz Management (No Doubt, Social Distortion, The Offspring, Nine Inch Nails, Hot Hot Heat);
Kenneth Crear, Partner, Wright/Crear Management (Backstreet Boys, Janet Jackson, Chingy);
Arthur Spivak, Stu Sobol, The Firm (Three Days Grace, A Perfect Circle, Yellowcard);
Rick Sales, Sanctuary Music (Slayer, Morrisey); Rob Light, Head Of Music, Creative Artists Agency (CAA); Kevin Weatherly, Program Director, KROQ-FM; Nic Harcourt, Program Director, KCRW, Geo Bivins, Senior Vice President, Urban Promotion, Capitol Records
Peter Baron, Head Of Programming, MTV Networks; Jay Frank, Head of Artist/Label Relations, Yahoo Music; Mark Williams, Head Of A&R, Interscope Records (Manson, Queens of the Stone Age, Beck, No Doubt); Ron Laffitte, Senior Vice President, A&R, Capitol Records (Coldplay, Radiohead, Yellowcard); Jeff Gelb, MIS/MediaBase

Course Name: The Music Business NOW: How It Really Works, and the People and Events that Influence It
X 448.75 Music 4 units $515
Reg# R7754U
UCLA: 39 Haines Hall
Wednesday, 7-10pm,
January 11-March 29, 12 mtgs.
For registration information, e-mail entertainmentstudies@uclaextension.edu, call (310) 825-9064 or access http://www.uclaextension.edu.
World Café, BET Jam Sessions at StarCity Studios
Charlie Watts, Chick Corea & few Loggerheads!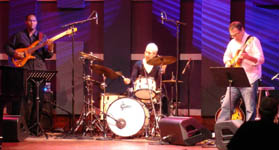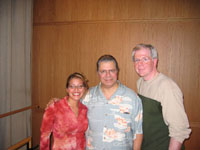 l-r: Watts BET Jam Sessions; Lily Salinas, Chick Corea, Tom Emmi, president of production company Ace Entertainment and education director at Philadelphia live music venue World Café Live

Recent Studio Jams (BET Jazz Network) Session features Rolling Stones drummer Charlie Watts with a group of A-list players including Rolling Stones sidemen Chuck Leavell and Tim Ries, guitarist Chuck Loeb and bassist Gerald Veasley. Cadden-James recorded the session in Philadelphia between the Stones' two dates at the Wachovia Center, and mixed at newly launched StarCity in Bethlehem, PA
Studio Jams is a series that documents the gathering of a diverse group of musicians who do not typically work together. The artists assemble and perform in StarCity's Studio A. After recording the session, StarCity Vice President of Engineering Carl Cadden-James mixes the tracks, relying on the facility's Solid State Logic XL 9000 K Series console for both elements of the project.
Tom Emmi, president of production company Ace Entertainment and education director at Philadelphia live music venue World Café Live, has selected StarCity Recording Company, the world-class recording and post-production facility based in Bethlehem, PA, for audio acquisition, mixing and post-production of the upcoming MusicLab at World Café Live. The program will be available from iN DEMAND Networks, the leading aggregator and supplier of video-on-demand, pay-per-view and HDTV programming.
StarCity's vice president of engineering, Carl Cadden-James, has already provided mixing and post-production of several episodes of MusicLab at World Café Live for high-definition delivery. Sessions have featured top artists including Rolling Stones drummer Charlie Watts, jazz legend Chick Corea, eclectic banjo player Béla Fleck and Jethro Tull frontman Ian Anderson.

"This is going to be all hi-def, distributed by in DEMAND," Cadden-James, a surround-sound specialist with extensive background in mix and audio post-production, explained. "I've mixed and posted the first two episodes, but we didn't do the tracking. From here on out, we'll be involved in the tracking in some capacity, whether it's audio supervision or physically being on the site capturing it ourselves."
Episodes of MusicLab at World Café Live are mixed in high-resolution, 5.1-channel surround sound on the Solid State Logic XL 9000 K Series console in StarCity Recording's Studio A. Housed in an 18,000 square foot complex, StarCity Recording was designed and purpose-built to accommodate 5.1-channel surround-sound production in each of its studios. All of the facility's control rooms contain soffitted monitors and automatic drop-down microperf screens with projectors to handle lock-to-picture requirements.
"I've been developing MusicLab on paper for a number of years," Emmi recalled. "When the World Café Live opened, I proposed doing them there, so we taped about 10 episodes in standard-definition. I sent one of those to in DEMAND Networks and they said 'This looks great, let's do a series.' StarCity Recording is fully equipped to provide high-definition and surround-sound mixing. I will definitely continue to work with them on MusicLab at the World Café Live."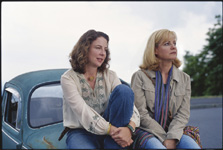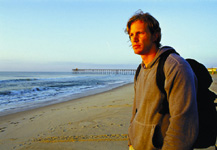 StarCity Recording Company adds Loggerheads to its growing list of credits that include film and TV post-production, audio recording and 5.1-channel surround mixing. The independent film which recently premiered in New York and Los Angeles after a Sundance Film Festival showcase, is earning rave reviews for its warm and touching portrayal of people of diverse backgrounds coming to terms with choices they have made throughout their lives. "Working at StarCity was seamless," Zelker added. "They were definitely willing the go the extra mile and get the job done. We were under very tight constraints in trying to get the film ready for Sundance, and they met the challenge, exceeding our expectations."

A world-class facility located in Bethlehem, PA, StarCity Recording Company offers clientele more than 50 years of combined professional recording experience and the state of the art in 5.1 surround sound. For more information, contact Lily Salinas at 610-865-9455.


MySpace and Interscope Launch A New Label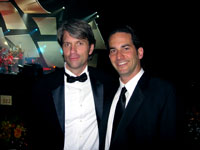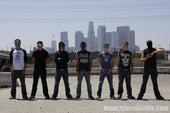 Myspace CEO Chris DeWolfe and COO Josh Berman; Hollywood Undead
Los Angeles-based social networking web site MySpace and Interscope Records said earlier that the two companies have launched a new recording label called MySpace Records. According to the companies, the new label will use the MySpace web site community to discover, sign, and market emerging artists.
The companies also said that the new label would use the online service to promote tour dates and allow fans to interact with bands. MySpace Records will have its own marketing, publicity, and A&R business units, and use Interscope for development, production, and distribution. The new label has signed Hollywood Undead, an unknown band discovered through MySpace.com with an expected release scheduled for the second quarter of 2006.

The social networking site boasts 35 million members and some 550,000 band pages are among the user profiles on MySpace where bands post songs and tour dates, while users can add bands as "friends" and communicate through blogs and message boards. Major label acts including Madonna, Coldplay and Nine Inch Nails have also used MySpace to promote new releases, often offering pre-release streaming samples. The first release on MySpace Records will be a compilation, "MySpace Records: Volume I," featuring tracks from Weezer, Fall Out Boy, AFI and Dashboard Confessional. "Radio has become less and less important...MySpace, by getting so huge, can truly move the needle in terms of musical tastes," MySpace CEO Chris DeWolfe says. He's currently talking to four additional bands about signing to the label.

A Comedy-Bio For HBO
Starring Wyclef Jean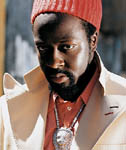 According to Hollywood Reporter, Haitian-born musician Wyclef Jean, frontman of the Grammy-winning rap trio the Fugees, has cut a deal with HBO to produce and star in a comedy series loosely based on his life.
The project, now in the early stages of development, will be penned by Jean along with writers Seth Rosenfeld and Danny Hoch (HBO's "Subway Stories: Tales from the Underground"). Jean also is set to write and produce original music for the series through his Platinum Sound studio.
The son of a minister, Jean absorbed the local Creole and folk traditions that would later influence his hip-hop and world music recordings. His family moved to Brooklyn when he was 9, and later to New Jersey. By the time he was a teenager, he had taken up the guitar and joined forces with Lauryn Hill and Pras Michael to form the Fugees.
The band had a hit in 1996 with the album "The Score," and recently reunited to lay the groundwork for a follow-up disc expected in early 2006. The trio will launch a European tour in Vienna on November 30.
During the Fugees' hiatus, Jean kept busy. He released his first solo album, "Wyclef Jean Presents the Carnival," in 1997 and has worked as a producer and songwriter with such artists as Destiny's Child, Mick Jagger, Carlos Santana and the Black Eyed Peas. He earned a Golden Globe nomination last year for penning the song "A Million Voices" featured in "Hotel Rwanda."
Jean has branched out into acting in recent years. He appeared in four episodes of the NBC drama "Third Watch" this year. He also has roles in the current indie features "One Last Thing," which screened last month at the Toronto International Film Festival, and "Dirty," set to debut at next month's AFI Los Angeles International Film Festival.

Lucky 13th Planet Records
2006 Releases From Revolting Cocks in Feb and Ministry album to follow in April
Industrial rock pioneer Al Jourgensen ventures into the record label business with the launch of 13th Planet Records, the new home of Ministry and Revolting Cocks. The imprint/boutique label is a joint venture with Megaforce Records for the US and Canadian markets, distributed through Sony/RED. Missi Callazzo, Vice President of Megaforce, excitedly relates, "It's great to be working with Ministry again. We had platinum success during 'Psalm 69' days and Ministry remains an iconic and pioneering band.With the recent release of Ministry's 25th anniversary collection Rantology marking the completion of his contractual agreement with Sanctuary Records, Mr. Jourgensen and Sanctuary amicably parted ways. The Sanctuary catalog of Ministry releases includes Sphinctour, Animositisomina, the critically acclaimed Houses of the Molé.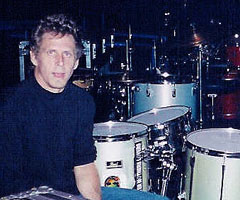 Rey Washam, Ministry drummer for nearly 10 years, recently moved to Los Angeles and is available for session work. Feel free to drop him a line with a Cali welcome.
Guitar Gods Watch Over Prairie Sun Studios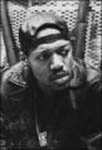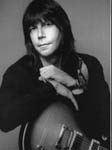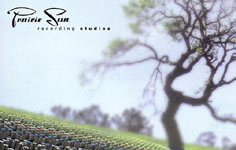 l-r: Eric Gales; Pat Travers

Studio manager Nick Von Tipp reports that Prairie Sun just finished the new Eric Gales record...after 3 1/2 weeks of blistering blues-rock guitar that made use of all three studios and nearly every piece of gear on the farm. Produced by Mike Varney for the Shrapnel Label Group's Blues Bureau Records, with Jason D'Ottavio as tracking engineer, the album was mixed by Prairie Sun founder "Mooka" Rennick and mastered by Tim Gennert and Mooka for Eugene Productions.

"The album is some of my best mixing work, allowing me to fully utilize the SSL and multitude of outboard gear in studio A. Eric's session was also the first to make use of one of our newest pieces of gear, our new Lavry Blue Analog to Digital (A/D) / Digital to Analog (D/A) converters. The unit was used as a master clock for tracking and mixing and as an A/D for the final 2-track transfer from 1/2" tape back into the digital realm. Not only does the Lavry provide superior sound through its converters, but as the master clock it also improves the sound of all the A/D - D/A in our Pro Tools system," says Rennick.

Dancehall artist RawSun worked in Studio A with engineer Adam Muñoz on an upcoming collaboration with international star Fiji for Island Records called Coconut Island, slated for release Jan 12th. RawSun's earlier work this year at Prairie Sun will also be heard on "Rated-R" from Jahnra Music Group/Hard Eight Records, out on DEC 6th. Soon afterwards Holy Mountain bass and drums duo OM, working once again with longtime engineer Billy Anderson (Mr. Bungle, The Melvins), started tracking thick fuzz bass and thumping drums through our vintage Neve consoles in studios B and C. Their Sabbath-esque project was also mixed in studio A.


Prairie Sun's studios have also been hosting the upcoming Phoenix Theater compilation, a benefit for the New Orleans Musicians Clinic brought about by Prairie Sun Recording and Tom Gaffey of the Phoenix Theater. The compilation features a single song, recorded at the studios, from each of a number of local artists who have played the Phoenix. This project is currently being mixed in Studio A by staff engineers Wain Hewlett and Josh Chaddock and will be mastered by Tim Gennert for Eugene Productions.

Finally, Prairie Sun was happy to welcome this week Shrapnel artist and classic rock-and-roller Pat Travers for the recording of a full-length covers album, with drummer Jeff Martin and bassist Steve Evans rounding out the power trio. The three began tracking basics with Jason D'Ottavio and Mooka engineering. Jason and Mooka took great care to properly capture the power of Jeff's drum sound (and giant drum kit!), trying out different room microphones, placing a Pressure Zone Microphone (PZM) on the control room window, and incorporating a number of Jeff's own novel techniques.

For more information, you may visit our website www.prairiesun.com, or please give us a call to ask us any questions, arrange a tour, or book time in one of our studios.

A Titanium-Driven Diva
New A'Diva Ti Utilized by Grammy Award-Winner Neal Pogue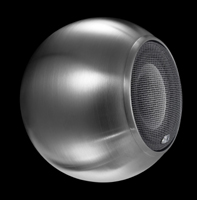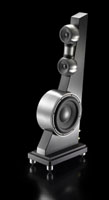 Anthony Gallo Acoustics (AGA), a high-end stereo and home theater loudspeaker manufacturer, introduces its award-winning speakers to the pro audio market. Of the company's high-quality product line, the all-new A'Diva Ti, the company's flagship Nucleus® Reference 3 and the Nucleus® Reference 3 Subwoofer Amplifier are most suited to the pro audio environment.
"I just finished mixing some of the new Stevie Wonder album on a pair of A'Diva Ti's," states Grammy Award-winning engineer Neal Pogue (Outkast's The Love Below), who was the first to use the A'Diva Ti's in a studio setting. "They are really smooth and great on the ears. I find that they are perfect for hearing certain details in a mix, things that I like to zero in on. I found myself referencing on them quite a bit. They also sound wonderful when turned up really loud, which I like."
"We designed these new titanium loudspeakers to mimic the incredible dynamics and transparency of our Reference 3 speakers," says Anthony Gallo, founder of Anthony Gallo Acoustics. "Though they are small, these new Ti transducers are true high-end drivers of a caliber never before seen - or heard - in affordable consumer or pro audio."
For additional bass boost, AGA recommends its Nucleus® Reference 3 Subwoofer Amplifier (SA), a high-end audio component that features a bridgeable stereo amplifier, a high-quality active crossover and a sophisticated equalization circuit in one single chassis. The numerous control settings allow a user to control and fine-tune multiple passive subwoofers. When used in its mono mode, the Reference 3 SA can generate 600 watts RMS. For more information visit: www.roundsound.com

NAMM You!
January 19-22, Anaheim Convention Center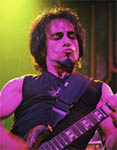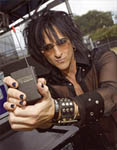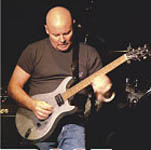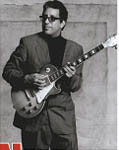 l-r: Spitz, Stevens, Montrose, Cane

Guitarists Steve Stevens (Billy Idol) and Danny Spitz (Anthrax) will be appearing at the Lectrosonics booth (#1206, Hall E) at the 2006 NAMM Show. The musicians, who both use Lectrosonics wireless instrument systems onstage, will be at the booth on Saturday, January 21 to sign autographs and talk about Lectrosonics technology. Spitz will appear at 11:00 a.m. and Stevens at 2:00 p.m.

Three of today's hottest six-stringers will perform on Saturday, January 21st right across the street from the convention center.
Starting at 7:00 p.m, Johnny Hiland will take the stage, followed by Chris Cain and then Ronnie Montrose, all at the Radisson Anaheim Ballroom in the Radisson Hotel on Convention Way.
NAMM favorite Johnny Hiland's playing can be found on records by Randy Travis, Toby Keith and Ricky Skaggs. In fact, Skaggs calls Hiland "the most versatile guitar player I've ever heard." Steve Vai signed Hiland to his own Favored Nations label after hearing a short demo left by Hiland's manager on Vai's voicemail.
At 8:30 p.m. Chris Cain brings his jazz-tinged bluesy guitar sound and B.B. King-style vocals to his enthusiastic audiences. Music critic Larry Nager says, "Cain is forging a unique style. With his own highly personalized songwriting, his album 'Hall Of Shame' is a giant step in the development of one of the most compelling young bluesmen on today's scene."
And at 10:00 p.m. guitar icon Ronnie Montrose will take the stage. Montrose has recorded countless records including those with Herbie Hancock, Van Morrison and Edgar Winter along with a number of his own solo projects.
Passes will be available on a first-come, first-served basis at these exhibitor's booths: Lectrosonics (Hall E, #1206) and Beyerdynamic (Hall A, #6500).
Since its formation in 1971, Lectrosonics has grown to become a premier firm specializing in the design and creation of professional audio technologies. Alongside creating audio processing gear such as the DM Series, Lectrosonics is a leading innovator of wireless audio technology with many professionals as ardent fans within the broadcasting, motion picture, and television industries.
NAMM has reinvested more than $19 million through its activities including grants and association-driven projects with the goal of increasing per capita spending on music products in the marketplace and growing the music products industry. To be considered for the 2006 grant money, the association is looking for programs and initiatives that meet certain criterias.
NAMM is currently accepting applications from Member companies, industry organizations, non-profit organizations and other groups. Interested parties may submit ideas to Sharon McLaughlin at sharonm@namm.com. Applications are due Feb. 1, 2006.
2006 Texas Guitar Show Schedule
Bay Area - Jan 14-15; Los Angeles- Jan 21-22; Bay Area - Jul 29-30; Los Angeles - Aug 5-6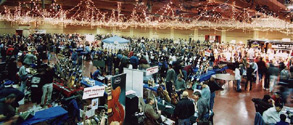 Texas Guitar Show is accepting booth applications from manufacturers, builders, retail shops and other music firms, as well as the usual vintage dealers and collectors who want to display their wares to hundreds of guitar people. Booths start at only $375. Contact Larry Briggs larryb@stringswest.com at 800-525-7273 for applications and booth info



TransAudio Group Shipping DRAWMER THREE-SUM
REVIEW UNITS AVAILABLE UPON REQUEST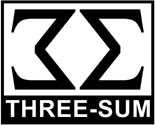 Drawmer's US distributor, TransAudio Group, is now shipping the new THREE-SUM Multi-Band Split & Sum Device. The THREE-SUM is a 1U device that enables individual processing of up to three bands prior to re-summing. The stereo signal is split into two or three frequency adjustable bands, which can be sent to external processors before returning to the THREE-SUM where they are re-combined.
The THREE-SUM employs a high-quality signal path culminating in a variable threshold, brick wall limiter section with bypass facility. To ensure transparency the limiter design is 'two stage,' applying different processing to the H.F. content of the material. In applications where the dynamics of the material need to be retained to create an open sound, the limiter is essential for catching peaks.
Designed for use in high-end mastering and general recording applications, it can transform a project studio, equipped only with 'single band' processors, into a serious multi-band facility. Each of the three bands has bypass and mute switches to allow independent band and effect monitoring.


MSRP: $1,200.00

Commented Brad Lunde, president TransAudio Group, "The benefits of multi-band processing have been apparent to sound engineers for quite some time, however, 'locking in' your audio to just one specific multi-band unit can restrict your options. Low-frequency energy, the vocal midrange and high-frequency detail can benefit from different types of processing. The THREE-SUM allows the engineer to apply his favored outboard to any particular 'slab' of the audio bandwidth."
TransAudio Group, founded by industry veteran Brad Lunde, has quickly become the premier US importer/distributor for high-end audio. Success hinges on Transamerica providing users with technical expertise extending far beyond the norm. TransAudio's product lines include A-Designs (USA) AEA ribbon microphones (USA), ADT Toolkit, AEA, ATC Loudspeakers (UK), Brauner microphones(Germany), Drawmer (UK), Geoffrey Daking & Co. (USA), George Massenburg Labs (GML) (USA), Heil Sound (USA); Mercury Audio (USA) Mission Audio (UK) Phoenix Audio (UK), PAULY Superscreens(Germany), SABRA SOM(Brazil), Soundelux (USA), SoundField Microphones (UK), Z-Systems (USA) and Weiss Engineering (Switzerland) and Z Systems (USA).


Minkler's Back Home At Todd-AO
Minkler, who left Todd-AO in 2003 to accept a position with Buena Vista Post Production Services, will team up with Re-recording Mixer Jon Taylor on Stage S at Todd-AO's Radford facility. "Todd-AO and the Ascent Media family are deeply committed to providing our clients with access to an attractive selection of top-tier creative talents within our facilities. As part of honoring that commitment, we are very pleased to welcome Christian back to the Todd-AO family," said Robert C. Rosenthal, Senior Vice President of Ascent Media Creative Sound Services.
"Jon Taylor and Christian Minkler both find themselves at points in their careers with a strong creative momentum. By pairing the two of them together, we are providing filmmakers with a unique opportunity to work with some of our most talented Re-recording Mixers on one of our largest and most advanced mixing stages," said Scott Millan, Senior Vice President of Studio Operations.
"It is great being back at Todd-AO. The company has always been very supportive of me and my work and I am very excited to be working together with Jon Taylor," said Christian Minkler. Jon Taylor added "personally, I would like to thank the Todd-AO management for their supportiveness in making this awesome pairing happen."
Minkler's recent credits include Chicken Little, The Great Raid and The Greatest Game Ever Played. Taylor's recent credits include The Dreamer, Bad News Bears and Into The Blue.
Established in 1954, Todd-AO recently renovated Stage S, located on the CBS Radford Studios lot in Studio City.
Rich Handley's Valencia Sound
Full Audio/Video package supplied by MW Audio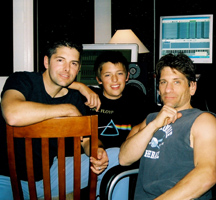 Picture right with Handley is his son Spencer, and business partner, director/producer Frank Addelia.

MW Audio recently outfitted a new audio-video production facility for leading composer/producer Rich Handley in Santa Clarita, north of Los Angeles. The equipment package for Valencia Sound includes an Apple G5 Dual-2.5 GHz PC running Apple Final Cut Studio HD Production Suite and a Digidesign Pro Tools|HD2 DAW system with 192 I/O, 192 AD Expansion, MIDI Interface and Universal Sync cards. A BlueSky System One powered surround system with bass management provides flexible 5.1-channel monitoring.
"I plan to handle a wide range of post and film work in the new room, so a fully integrated environment was very important," says Handley. The first projects at Valencia Studios include post producing a series of videotaped lectures by a local physician. "Eventually," Handley confides, "I would like to offer a full range of services, including one-stop video production for other musicians and film makers, including promo videos, 'behind-the-scenes' features, plus commercials for corporate and industrial clients."
Party Of 9 Million
First Latin Grammy Broadcast on Univision...High Fashion, Multi-Set Changes, All In Spanish
Laura Pausini, Bebe, Alejandro Sanz, & Luis Miguel among winners at the 6th Latin Grammy Awards...Sanz who won four trophies at last year's award show, picked up the song of the year and the record of the year awards for Tu No Tienes Alma. "I dedicate it to all of them who inspired me to do music. Thank you so much," Sanz said . Mexican singer Luis Miguel, known best for sultry ballads, picked up the Ranchero album prize for "Mexico En La Piel." Gustavo Santaolalla, who won producer of the year, said he hoped the English-speaking audience would tune into the show. "Music is the universal language," he said.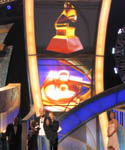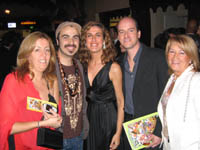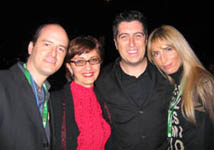 Gian Marco accepting Singer-Songwriter Album Resucitar, from KC Porter; Pre-Grammy visit with friends; Right: 9-time Grammy winner Rafa Sardina, Claris Dodge, musical director/arranger, Cheche Alera, and singer/songwriter Carina Ricco.


One of the strongest ovations of the night went to two Cuban veterans — bassist Cachao, who won the traditional tropical album category, and pianist Bebo Valdés, the Latin jazz album winner — as they led an all-star salsa band that included Arturo Sandoval, Orestes Vilato, Danilo Lozano, Generoso Jiménez and Johnny Pacheco in a performance of "Ahora Si!"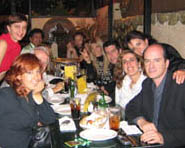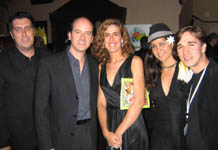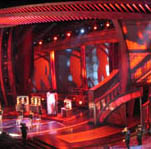 pre- and -post parties with friends and more colorful set changes

The 27-year-old singer Bebe took the Grammy for best new artist. She apologized for chewing gum and then let loose with a salty expletive that left even many native speakers hard pressed to understand. She won for her nominated song "Malo," an indictment of abusive men. Her lyric "Every time you call me 'whore,' your brain gets smaller," was censored on TV, another sign of the conservative slant of the 6th Latin Grammy show.

Among the night's 14 musical performances was a reggaeton segment featuring Los 12 Discipulos, a conglomeration including reggaeton stars Vico C and Tego Calderon, who traded vocals as they borrowed an old salsa theme, "Quitate Tú" (Step Aside), a Fania All-Stars anthem often used in the 1970s to highlighted great salsa singers of that period. Noticeably absent from the show was reggaeton's biggest star, Daddy Yankee, who won the urban album award for his acclaimed "Barrio Fino" album. Puerto Rican Don Omar strutted on stage wearing a boxer's robe to perform a reggaeton medley that brought the audience to its feet.
Los Angeles-based alternative rockers Ozomatli picked up the alternative music album award for "Street Signs," and pop star Marc Anthony's album "Valio La Pena" earned the singer the best salsa album award. Jiro Yamaguchi with Ozomatli said he was glad to see the show on Univision. "We get more exposure to crowds we don't normally play in front of," he said.

In awards presented before the telecast, Mexican rockers Molotov collected the best rock album by a group or duo. Brazilian singer-keyboardist Ivan Lins won album of the year for "Cantando Historias."

Italian vocalist Laura Pausini pulled off one of the night's biggest upsets when she beat out Bebe for the best female pop vocal Grammy.
And while this year's ceremony was lacking the star power of previous Latin Grammy Awards (Christina Aguilera and Santana have performed on the show in the past) Al Sanchez, the program director for Latino 97.7 FM in Fort Myers, thinks the move could prove to be a blessing or a curse.
"I don't think the English-speaking audience will go to Univision, but on the other hand, I don't think the Spanish-speaking audience went to CBS either," Sanchez says.
A full-page ad in the Wall Street Journal said it all: "The other night, 9 million of us got together for a Latin Grammy party." According to the station, on November 3rd, over 9 million people watched the Latin Grammy Awards on Univision, completely in Spanish. It was the most watched broadcast in the history of the event among adults 18-34, delivering almost four times th audience of last year's English broadcast. "With a night like that, imagine what our audience could do for you," says the ad.

Decked with Sennheiser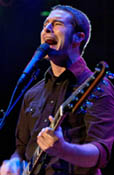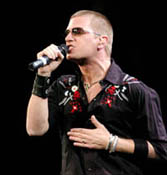 l-r: Mae's lead singer, Dave Elkins (photo: Lyle Waisman), finds the Sennheiser Evolution
865 easily cuts through the mix while delivering smooth top end.

Sennheiser 935G2 Wireless and 300IEMG2 monitors are the choice of Grammy Award Winner, Rob Thomas, front man and singer with matchbox twenty, for his current tour in support of his chart-topping CD "...something to be."


For more information please contact: Peter Grueneisen, AIA nonzero\architecture
studio bau:ton, LLC T. (213) 251-9791 F. (213) 251-9795

Real Estate Expresso!
Hot Properties With Recording Studios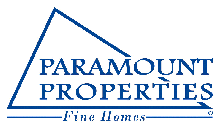 The Sunset strip area just got a little more hip with hip-hop mogul Russell Simmons and his wife Kimora Lee (who heads Baby Phat, a clothing line for women), moving in their gated Mediterranean home with 5 bedrooms built in '88. The house was purchased for $5.3 million is fully equipped for entertaining with an outdoor kitchen, a fireplace and a pool. The couple put their Manhattan penthouse on the market at $11 million in June. The 13-room, 7,000-square-foot property has media, meditation and game rooms and was once featured on the MTV series "Cribs."
Simmons announced in April the formation of Russell Simmons Music Group, a partnership with Island Def Jam Music Group which he co-founded and popularized with The Beastie Boys and LL Cool J. Simmons sold the label in '99 for $100 million.
For most people, selling their home is the biggest financial decision they will ever make; add a Recording Studio on top of that, and it is indeed the case. "To protect your interests and assure that you make the best possible decisions, it's important that you have an agent on your side who is a specialist Realtor to the music industry," says Christine Lloyd-Maddocks, Specialist Realtor to the Music Industry. Contact Christine at Paramount Rodeo Realty Phone: (818) 999 2030 Cell: (818) 437 0369 or visit her web site for various articles on Buying/Selling Homes and listings of Real Expresso!
WANTED: RECORDING STUDIO/POST PRODUCTION SPACE TO LEASE
Recording studio/post production space fitted with control room and Iso booth
Location: West Side
Size: 500 – 1000 sq. ft.
T erm: 12 months minimum
Parking: if available would be a plus
Preferably gound/1st floor location
Space only no gear
Sublease o.k.
Please contact Christine at Paramount Rodeo Realty Phone: (818) 999 2030 Cell: (818) 437 0369
This month's house with recording studio is located at: 19863 LASSEN ST , CHATSWORTH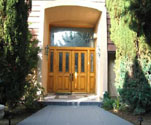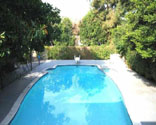 It has 5 bedrooms, 3 bathrooms and is huge at 4200 sq. ft. with gorgeous pool and spa!
Granite Kitchen with breakfast bar opens to cozy den with fireplace. Spacious living room/dining room made for entertaining W/65" Phillips Surround Sound TV, Soaring Ceilings, Crown moldings and beautiful hardwood floors!
Game room, Recording Studio and Office
Priced to sell: $929,999


SoundField Surround Zone Update for Nuendo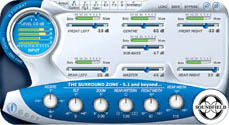 Las Vegas Pro Audio, the US distributor for SoundField microphones announces a new update for the Surround Zone plug-in Nuendo/VST version (1.02) for both Mac and PC platforms. This update can be downloaded from the SoundField website (www.soundfield.com) at no cost.
The updated software includes several bug fixes and improved localization for 5.1 usage.
LasVegasProAudio is the direct-sell division of TransAudio Group. LVPA acts as a much needed conduit between extremely busy pro audio professionals and boutique high-end equipment manufacturers including, A-Designs (USA) AEA ribbon microphones (USA), ADT Toolkit, AEA, ATC Loudspeakers (UK), Brauner microphones(Germany), Drawmer (UK), Geoffrey Daking & Co. (USA), George Massenburg Labs (GML) (USA), Heil Sound (USA); Mercury Audio (USA) Mission Audio (UK) Phoenix Audio (UK), PAULY Superscreens(Germany), SABRA SOM(Brazil), Soundelux (USA), SoundField Microphones (UK), Z-Systems (USA) and Weiss Engineering (Switzerland) and Z Systems (USA).
LasVegasProAudio.com provides clients with a long-term partnership delivering timely, accurate information and on-going customer service.

Sumo Man
Peter Katis of Tarquin Studios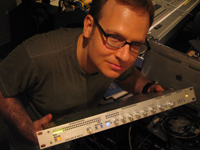 Producer and engineer Peter Katis, owner of Tarquin Studios, recently purchased an Audient Sumo High Resolution Balanced Summing Amplifier from Audio Exchange International (AXI). Katis, who also recorded and mixed both INTERPOL albums, is currently using the Sumo to record and mix an album for Dave "Zamboni" Schneider and Adam "Guster" Gardner's new band and side project, The LeeVees.



MEOW...The Hollywood Cat (THC) Roaming Vegas, Nashville, NY and LA
When studioexpresso met with manager Zoe Thrall late September, she told us how amazed she is to see the speed at which buildings are errected in Vegas. After managing top facilities like Power Station, Avatar and Hit Factory, Zoe was the natural choice for The Studios At The Palms.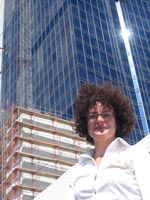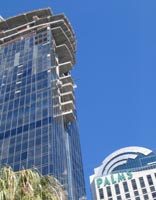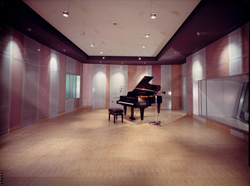 l-r: Zoe Scott, The Palms, Vegas Photo: By C; Firehouse studio A with Bösendorfer Grand Piano
Sin City's first world-class studio, The Palms opens officially this month. The 40-floor tower with twelve luxurious suites (featuring private pools) hopes to draw some of the world's top entertainers. The facility offers portable DAW based recording stations that can be brought to a guest's room for a more private recording experience. Look for more details on the Palm in an upcoming spotlight.

Candace Stewart (formerly of Cello, Sage & Sound Studios) is now managing one of the largest digital recording studios in North America, Firehouse Studios . Pasadena's top recording/mixing facility is owned by Producer/Songwriter Tena Clark (Betty Crocker, General Mills, Johnson & Johnson, Kellogg's, 7 UP, Target, Toyota, United Airlines and Victoria's Secret). Parent company, DMI Records released My Favorite Time of the Year with the legendary vocalist, Dionne Warwick, her first-ever collection of holiday songs, featuring Gladys Knight, gospel great BeBe Winans and Dave Koz adding his patented smooth jazz sax to "White Christmas," "Joy to the World" and "Winter Wonderland. The facility continues to offer combination of vintage/new gear (Icon + Neve/API cards) and top flight service including a fabulous Bösendorfer Grand Piano and technical and engineering services by chief, Ed Wooley. According to Candace recent projects include: Playful Heart, the latest release from virtuoso guitarist, composer, arranger and producer Oscar Castro-Neves who also produced Patty Clark's most recent album were recorded and mixed at Firehouse. Additionally, Foreplay with bassist extraordinair Nathan East came to Firehouse to put finishing touches on their album. Yellowjackets and composer Mark Mancina were also in the house. Mancina recorded and mixed material for Haunted Mansion and Brother Bear for Disney.
To make an appointment to visit or book your next project at Firehouse, contact Candace Stewart at 626-405-0411.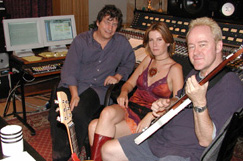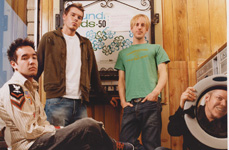 l-r: Producer/engineer, Ken Allardyce, Zoe Scott, Tim Pierce at Bay 7; Hoobastank
Bay 7 Studios where Ken Allardyce produced and recorded singer/songwriter Zoe Scott's debut, hosted many projects to include: Lullabies To Paralyze by Queens Of The Stone Age was mixed by Joe Barresi. Bay 7 regular, producer Howard Benson was busy on numerous projects to include: tracks for the New Hoobastank album on Island Def Jam and tracks for My Chemical Romance.
Jimmy Rip mixed and produced the latest release from rock legend Jerry Lee Lewis. Additionally, MTV favorite, All American Rejects recorded tracks for their latest albume with Mike Plotnikoff egnineering and Howard Benson producing.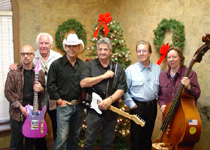 (L-R) At Ardent: producer Robert. A. Johnson, WS "Fluke" Holland, Doc Wooten, Bob Wootten, Tommy Cash, and Lisa Horngren.

Memphis' Ardent Studios hosted Producer Robert A. Johnson where he recorded the special Christmas EP entitled "Christmas Bells and Kitchen Smells," featuring Johnny Cash's original drummer Fluke Holland.


R. Kelly, Green Day and Toby Keith are among the headliners for this year's Billboard Music Awards, which will air live from Las Vegas' MGM Grand December 6 on FOX at 8 p.m. ET/tape-delayed PT. Carmen Electra, Bo Bice, Nick Cannon, Chingy, Hulk and Brooke Hogan and the Blue Man Group are slated to appear. ...

New York Grammy chapter Honors Mariah Carey, Jay-Z at a gala to be held December 7 at Gotham Hall. The event will also honor Yoko Ono, John Lennon and film composer Howard Shore. ...
On December 6, the White Stripes will release Walking With a Ghost, an EP featuring White's revved-up cover version of Tegan & Sara's tune of the same name and four live tracks, two of them recorded at the Teatro Amazones in Manaus, Brazil, hours after White tied the knot with model Karen Elson. The other two are from the Stripes' appearance on radio station KCRW-FM's "Morning Becomes Eclectic" program in September. The EP will also be available for download on iTunes November 14. ...
After bloggers flamed the action, Sony Music said that it will distribute a free software patch that reveals hidden files that are automatically installed on computer hard drives by some of its music CDs. According to an Associated Press report, the software was designed to block music piracy, but when a Windows expert reported that his CD drive was disabled when he tried to remove the hidden files, it unleashed charges that Sony was attempting to guard its intellectual property by secretly installing software on the PCs of unsuspecting users. The company said the patch was being offered as a precaution, not because of any security vulnerability, though computer experts cautioned that the software could be used by hackers to mask their programs. The copy-protection technology, which limits how many times a CD can be copied, was included on about 20 titles, including albums by the Bad Plus and Vivian Green. The patch does not remove the copy-protection software. ...

After offering fans to re-mix their fave tune of the Boys, what better way to capture the ultimate concert experience? That's what the Beastie Boys did when they handed 50 handheld cameras to a throng of concertgoers at one of their shows last year at New York's Madison Square Garden to capture the madness from each person's unique perspective. The end result is their documentary film called "Awesome: I F---in' Shot That," directed by the group's Adam "MCA" Yauch, who said of the film, "[It was shot by] a bunch of untrained camera operators, but that gives the film sincerity. The people that shot it were feeling it." Indie film distributor THINKFilm has confirmed that it has nabbed the rights to distribute the doc, which is tentatively set for a spring release. ...
When it came time to record 12 Songs for Neil Diamond's CD, Rick Rubin assembled a sympathetic ensemble of musicians to capture the essence of Neil's extraordinary new songs, each of them a soul-searching, yearning, and powerful. A core group of musicians made up of Mike Campbell (guitar) and Benmont Tench (piano/organ) from Tom Petty's Heartbreakers and guitarist Smokey Hormel (Beck, Tom Waits) and other musicians including the renowned Larry Knechtel (piano) and Billy Preston (organ) played on the album. Diamond has launched his own MySpace page, and he's chosen to debut his new album, 12 Songs, there too.
Napster has joined up with Clear Channel Entertainment's Instant Live program to offer new and cataloged live recordings by the likes of Bauhaus, the Allman Brothers Band and the Black Crowes. Instant Live, which records concerts on site for instant purchase, will provide full-length performances that can be purchased, downloaded or streamed as part of the deal. ...
Farewell
Richard Avedon
His sharply focused black-and-white images offered unsparing views of everyone from Marilyn Monroe and Andy Warhol to the Dali Lama. Richard Avedon, one of the most influential photographers of the 20th century, died on October 1 at the age of 81.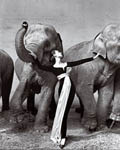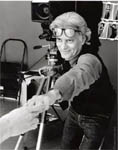 Dovima with Elephants, Evening Dress by Dior, Cirque d'Hiver, Paris, France; Avedon

His final project for The New Yorker was a photo spread called "On Democracy." For months, Avedon traveled the country taking pictures of delegates, politicians and voters. The photographs are scheduled to run before the election in November.
"I know that the accident of my being a photographer has made my life possible"
-- Richard Avedon
"Never aspire, always declare"
-- André Fischer


Be Merry!
To all a goodnight and Peace.
expresso kitty says: Live LARGE, LOUD and SCHWEET!


ANSWER: WINSTON