Owsley On Soundelux
UMe Digital artist --a vintage microphone fan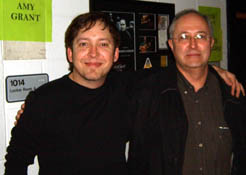 Singer/songwriter, Will Owsley and Richard Bowman, sales manager, TransAudio Group, the U.S. distributor for Soundelux meet backstage during a recent Amy Grant show.

Singer/songwriter Will Owsley, a multi-talented producer, engineer, session guitarist, and recording artist, is almost always in the recording studio. As a longstanding industry professional he's collaborated with the likes of Mutt Lange/Shania Twain, Amy Grant, Michael McDonald, Vince Gill, Charlotte Church, and the Neville Brothers and gained a Grammy nomination for the engineering of Owsley, his inaugural and dynamic solo release. And from these opportunities he's had countless occasions to use many of the world's best recording equipment.Owsley - a self-professed "vintage microphone adorer" - recently purchased a Soundelux ifet7 studio condenser, a microphone that he feels is the perfect combination of versatility, reliability and classic sonic characteristics.
"Long ago I had access to a FET 47, which I used to sing on several things,"
Owsley recalls. "Also, way back in the day, I was in a band called The Semantics on Geffen Records. For the record, I sang through a FET 47. In both instances, I remember how much I liked my voice through it. So when I saw that Soundelux came out with the first-ever quote/unquote 'copy' of the FET 47, I was immediately interested. I've also used a U87 a lot for voice, and since the ifet7 is a combination of a FET 47 and a U87 - it has a switch that selects between two settings - I had to hear it just for the concept alone."
The Soundelux ifet7 is a cardioid, phantom-powered, two-in-one re-creation of the U47 and U87 vintage FET microphones. The sturdy, high SPL-capable
ifet7 incorporates 1960s-era aural features of these two classic microphones, switchable by two completely separate sets of internal electronics - 'V' for vocal-friendly 87fet sounds and 'I' for instrument-friendly 47fet modes. The ifet7 comes with an integral stand adapter arm and has an optional shock mount.
So far, Owsley has recorded a wide variety of instruments and vocal sources via his beloved Soundelux ifet7 with phenomenal results. "I really love the way it sounds," he declares. "I've recorded upright bass with it, and we all know that FET 47s sound instantly unbelievable on kick drum. On the 'instrument' mode, it sounds very much like a FET 47, but it has a bit more gain, and it really captures bass transients well. Also in the instrument mode, I've cut bass drum, bass, and guitars. On guitars, the ifet7 has a very open sound, and it's a great combination with an SM57. I've also cut mandolin and acoustic guitar with it. Any kind of stringed instrument records fantastically with it in the vocal ("V") mode, too."
Owsley feels that the ifet7 especially shines in vocal miking applications.
In the vocal or 'V' setting, I've used it on my voice and lots of backgrounds," he explains. "It sounds huge and, to me, even better than a U87. The top end is really open, and it also has great controllable lows. I was instantly a fan of it in that mode. I feel that the vocal setting is similar to the instrument setting, but it has more of a defined top-end."
Owsley purchased the mic through Studio Tech Supply.
For his own productions, Owsley often uses his vintage Neve mic pre-amps, Urei 1176 and 1178 limiters, and Focusrite Red 3 compressor in conjunction with his ifet7. "For my console, I have an old, fully-discrete Soundcraft 1600 analog console," Owsley enthusiastically explains. "Its EQ and mic pre-amps sound unbelievable. I often use the Neve and 1176 for a front end to the ifet7, going into either Pro Tools or RADAR. If I go into RADAR, I usually transfer over to Pro Tools, just because it has the automation and all the editing capabilities that you could ever want. Plus, it's probably going to end up on Pro Tools anyway!"
According to Owsley, vintage microphone fans with budget and reliability concerns should have no reservations in considering the ifet7 as their next major purchase. "For anyone on a strict budget that needs a great condenser mic that does lots of things, this is really the only choice," he states firmly. "A lot of microphones do one thing, but not two things well.
Soundelux has really broken ground with a microphone that has two great sounds for the price of one. And as a consumer, I felt fantastic about investing in a microphone that was new versus something used. Having a vintage sound in a new package and the reliability of a new microphone was very attractive to me as well."
Currently, the super-busy Owsley is promoting a new full-length solo release entitled "The Hard Way" while staying busy with continual production, engineering, and session guitarist gigs. His groundbreaking 'digital record deal' with Universal Records - a great example of his progressive approach to the recording industry - is helping promote his new music to many new fans in an exciting new way. "It's the first-ever all-digital record deal,"
describes Owsley. "It means that Universal has the rights to my music in the digital domain. They market and promote my music on the Internet. I have pressings of my own at www.owsleymusic.com and virtual copies are available at iTunes Music Store. It's a new way of thinking for breaking artists.
Along with the engineering and producing side of things, that is what's exciting for me as of late."

For more info email Brad Lunde, at LasVegasProAudio.com Phone (702) 307-2700 or (702) 365-5155 or Fax (702) 314-2764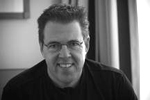 Las Vegas Pro Audio is the direct sales division of TransAudio Group. It was created to serve as a conduit between extremely busy pro audio professionals and boutique high-end equipment manufacturers. TransAudio Group, founded by industry veteran Brad Lunde, has quickly become the premier U.S. importer/distributor for high-end audio.
TransAudio Group's product lines include A-Designs (USA) AEA ribbon microphones (USA), ATC Loudspeakers (UK), Brauner microphones(Germany), Drawmer (UK), Geoffrey Daking & Co. (USA), George Massenburg Labs (GML) (USA), Mercury Audio (USA) Mission Audio (UK) Phoenix Audio (UK) Soundelux (USA), SoundField Microphones (UK), and Z-Systems (USA).
"TransAudio and LasVegasProAudio are dedicated to providing our customers with a long-term partnership that delivers, not only direct pricing but timely, accurate product information and unparalleled personal customer service," says Lunde.


Daking Console for NYU's Tisch School Of The Arts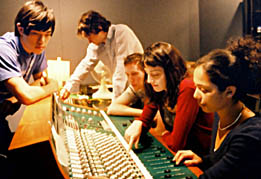 Students at NYU Film School get acquainted with the new Daking console

Any film buff knows that the video portion of a picture, no matter how wonderfully captured, is only a part of the overall viewer experience. Without high-quality audio, the film will have far less impact on its audience. And while digital audio has its benefits for many aspects of audio-for-video production, many filmmakers prefer the sound and feel of a high-quality analog signal path for their soundtrack, foley and dialog.

The school had gone through a number of consoles at a variety of price points before settling on the Daking. According to John Gurrin, who teaches Sound/Image and Studio Recording as part of the faculty of undergraduate film and TV, "A quality analog console can last twenty years and still be completely viable. It allows me to teach something that is still an integral part of the professional sound industry."
he Film School's Daking console features 16 inputs and eight output buses.
Among Gurrin's favorite features are "the discrete mic pres, the stepped EQ.
What can I say? It's a real console not a prosumer disposable toy."
Tahoe Private Home and Studio For Sale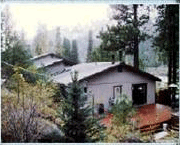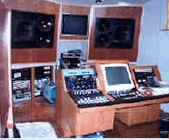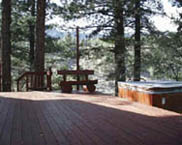 Own this property for under $600K. Sound Too Good to be true?
2361 square ft. Ranch Style; Beautiful wooded setting above the Truckee River with natural landscape
3 Bedrooms , 2.5 Bathrooms with full laundry room in half bath ; Living and Dining Room with Vaulted
Ceilings; Expansive Redwood Decks plus Stone Terrace and Pond with cascade Master bath has tiled dual sinks, vanity, and oversized, jetted bath tub plus extra-large glass, brass and tile shower
Carl Yanshire Design (Hilton Hotel chain, the Nordstrom family, Fox Studios, Cal state Fullerton)
Light debuzzing coils and voltage transformers
Custom bass traps, sound diffusors designed for the ultimate in sound response.
Dedicated Power --runs in steel conduit (not aluminum) with twisted pair power wiring for truly "clean" audio response
The concrete slab is de-coupled from the walls and floats on a one foot pea gravel base.
Dedicated and specially designed HVAC system
Solid oak and glass, neoprene sealed SOUNDPROOF door.
Liberal use of Oak throughout including oak flooring for beauty and warmth as well as optimal sound response.
The room could also be easily transformed into a wonderful SURROUND-SOUND home theater with a minimal amount of effort. The room is actually two rooms in one but the center wall is non-loadbering so it could be easily removed

We'll be happy to forward serious requests to Coldwell Banker Agent. 877-645-9777
CMJ
Cleveland, Ohio
June 8-11






Tickets to the Festival Village are $10 per day and can be purchased through Ticketmaster (www.ticketmaster.com or 216. VIP to All Access Passes avaialble $99-149
Guitar Player magazine will launch its first annual Guitar Heroes competition. The "big ten" guitar players. This event will take place on June 10 from 6:00 p.m. - 8:00 p.m. in the Museum's Fourth Floor Theater. The Top Modern Rock Poster artists featured in the book, The Art of Modern Rock, will display and sell art. This event is presented at the Rock Hall on
June 10 and 11. Performances include: Pixies, Misfits, Digable Planets, The Lab Rats, Futureheads, High Speed Scene, Spoon, The Clientele, Red Wanting Blue, Powerman 5000, El Pus, Whole Wheat Bread, Streetlight Manifesto, June , Gym Class Heroes, Chuck Prophet, From First to Last, Emanuel, Halifax, H is Legend, Nashville Pussy, Paybacks
Amps II Eleven, Keoki, Frankie Bones, Mushroomhead, Mindless Self Indulgence


No Fear Factor With Soundelux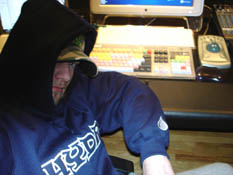 Belgium-born, Dutch guitarist and bass player Christian Olde Wolbers seems to be a good candidate for the title of the hardest working man in show business.Newly armed with a Soundelux E47 tube microphone, Wolbers is currently hard at work on a host of projects in his personal studio, from producing song demos for Pink to pre-production on the next Fear Factory album.
Wolbers, a longstanding member of Fear Factory, who also finds time for studio sessions, and even a band side project, Kush, is obviously very pleased with his new Soundelux mic. "It's very, very clear and present," he enthuses. A top-notch microphone is a critical component for a home-based Pro Tools recording environment, Wolbers believes. "As long as you have a good setup - a good mic, a really good mic pre - you don't need a lot more. That's what's so great about Pro Tools. You can do so much in post-production now. I just try to record a nice, clear, clean signal and you're golden for later." Wolbers purchased his E47 through Mike Nehra of Vintage King.
Soundelux Microphones recreate as closely as possible the sonic signatures of the most important vintage microphones, but without the associated price and high maintenance of the original classics, using modern materials and assembly, hand workmanship and a very critical ear. The E47 reintroduces the smooth response and big sound of the original 1950s tube mic, offering the same variable pattern operation with improved headroom and top-end.
Wolbers maintains a high quality front-end by pairing the Soundelux E47 with another modern update of a classic, Universal Audio's 6176 channel strip. "I have some nice outboard preamps," he continues. "I have some Vintech Audio X73s. They also sound really good with the Soundelux mic going into them."
Digidesign Pro Tools with Apogee Rosetta converters completes the recording path.
A seemingly non-stop music-making machine, Wolbers, who produces under the moniker "The Edgecrusher," says he has a lot of musical ideas waiting to be turned into completed songs. "I've been recording a lot at the house, so it's good that I have the mic, so that I can do everything right here," he says. "I have so many tracks sitting around, probably 500 different songs and beats and rough ideas. I've been making CDs and getting them into artists' hands."
What's currently top of the "to do" list? "I'm trying to write some demos for Pink, and I'm doing the Fear Factory album. We've got twenty-four Fear Factory songs that we're working on," reports Wolbers, who was originally the band's bass player, but has since switched to guitar. "We're doing pre-production now, so we'll probably be recording by the end of April.
We've started doing the demo vocals. We're trying to keep a lot of the demo vocals that we've created in pre-production because some of those turn out to be amazing sometimes."
Wolbers, who has also toured and recorded with Cypress Hill, has contributed to projects by bands such as Biohazard and Front Line Assembly, and additionally gets called for studio sessions with artists such as Snoop Dogg, Everclear and Ludacris. "I work with a lot of hip-hop artists. I'm connected with a lot of the producers that work in those circles. A lot of times I'll get hit up to play some guitar or play some bass."
Then there is the side project. "I also have another band, called Kush, with B Real from Cypress Hill, Stef [Stephen Carpenter] from the Deftones and Raymond [Herrera] from Fear Factory. Fieldy from Korn is going to be playing bass. We're probably going to be working on that later this year, too."
Meanwhile, Wolbers is working hard to complete some demo songs to submit to Pink. "I really hope to land a track on the Pink album," he shares. "That would be awesome. I wrote her some songs already but I have a load of ideas for more songs. I'm trying to put those songs together as well as possible for her to work with."
On top of all the studio work, Wolbers has still somehow managed to find some time to help design a guitar. "I have a signature guitar that just came out, from Jackson Guitars. There's a six- and a seven-string model," he says, adding, "I'm just so busy. I wish I could split myself into four people!"
TransAudio Group, founded by industry veteran Brad Lunde, has quickly become the premier U.S. importer/distributor for high-end audio. Success hinges on TransAudio providing users with technical expertise extending far beyond the norm. TransAudio Group's product lines include A-Designs (USA) AEA ribbon microphones (USA), ATC Loudspeakers (UK), Brauner microphones(Germany), Drawmer (UK), Geoffrey Daking & Co. (USA), George Massenburg Labs (GML) (USA), Mercury Audio (USA) Mission Audio (UK) Phoenix Audio (UK) Soundelux (USA), SoundField Microphones (UK), and Z-Systems (USA). For more info email Brad Lunde, at Phone (702) 307-2700 or (702) 365-5155 or Fax (702) 314-2764 or e-mail brad@lasvegasproaudio.com

Perlman, A-Designs Wow!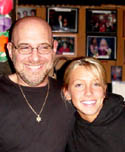 In the studio with teen singer/actress Katie Cassidy, daughter of pop superstar David Cassidy

Whitney Houston, Bob Dylan, Chicago, Burt Bacharach, Elton John, Dave Mason, a who's who of the recording industry, Ted Perlman has worked with them all. His skills grew to include guitar, bass guitar, keyboards and programming. He has his own studio, Buffalo Sound, in Los Angeles, CA where he provides arrangements, compositions, engineering, and production. Included in his extensive studio gear are A-Designs Audio's MP-1 all tube mono microphone pre-amp, REDDI all tube direct box and the ATTY passive line level controller.
Not only does Ted produce, engineer, and perform, he is an educator as well. Occasionally teaching classes at UCLA, he has also been brought in as a consultant at Duke University to educate young artists in "the business of music". The first time I heard the MP-1, it was like...oh my God...aural nirvana! "The sound of the REDDI all tube direct box on my bass and guitars is dramatic. When people come in and listen, they just go "WOW what's that? What did you do to get that sound?" He is looking forward to seeing the expression on the face of Earth Wind and Fire bassist, Verdine White when he plugs into the REDDI. Ted relishes the raised eyebrows and that single utterance: "Wow"!

Room With A View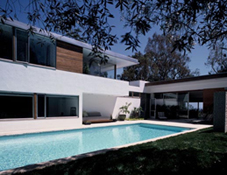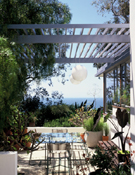 studio bau:ton has long enjoyed an excellent reputation for lasting and outstanding buildings for music, film, broadcasting and new media, for both professional and personal uses worldwide.
Maybe less known in the 'biz' is the closely allied nonzero\architecture, with its focus on more uniquely architectural opportunities and their potential to enrich and enhance people's lives. Projects handled by the architecture, design, planning and management organization include buildings and environments for residential, public, institutional and commercial clients.
With its designs based on functionality, sustainability, a social conscience and the generation of form through the exploration of space, material and technology, nonzero\architecture is well prepared for the complex challenges of today's built environment. Its quest for aesthetically delightful solutions is guided by the search for answers to program and site, economic realities and the evolving craft of construction. For more information please contact: Peter Grueneisen, AIA (213) 251-9791
nonzero\architecture - studio bau:ton
Back To School
CEO of Newbury Comics, Mike Dreese Cashes in on the New Internet Music Economy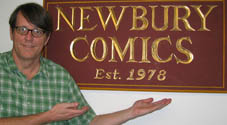 Newbury Comics employs over 400 people and operates 25 stores throughout Boston and the Northeast, selling a wide variety of records and CDs, as well as a large selection of pop-culture merchandise. The company has been named "Retailer of the Year" five times by NARM (National Association of Recording Merchandisers). Decades after Newbury CEO Mike Dreese had finished his marketing studies at M.I.T., he recently decided to enroll at Berkleemusic.com, the online extension school of the Berklee College of Music. And the course he chose? "The Future of Music."

As his class project, Dreese decided to set up an Internet company from scratch and bet the instructor that he would gross a million dollars revenue by the end of the 12-week course. "My project was to start a business on the web," says Dreese, "using Amazon to sell used CDs and DVDs, and generate a million dollar a year run-rate from revenue by the end of the class. I think it took me three weeks after the end of the class to hit that run-rate per annum, or about $20,000 a week. It's quite amazing to start something like this on the web and end up with that level of activity in just 12 weeks. I think it's running at $3 million a year now. It's tripled in size since the end of the class."

Berkleemusic.com's "The Future of Music" is taught online by Dave Kusek, VP of Berklee Media and co-author of the just-published "Future of Music -- A Manifesto for the Digital Music Revolution." The course immerses students from around the world in new methods of music production and career development, focusing on discovering successful strategies for future success in the music industry.

"At Newbury, we've been able to develop new profit centers like our online activities, and made our first profit there last September," concludes Dreese. "There is no reason it can't be a $50-million business in two years. The whole company is only $80-million, and I fully expect our web stuff to grow at anywhere from 300 to 500 percent a year. We are currently running 800 percent ahead of a year ago on the web. The growth rates are tremendous, and we are a part of the world that is changing. "The Future of Music" course helped us get there."

The summer semester at Berkleemusic.com begins June 27. To learn more about interactive online courses, visit: http://www.berkleemusic.com
Student advisors are available at 866.BERKLEE (866.237.5533) to answer any questions.


Dweezil Zappa Picks New Telefunken U47 For New Album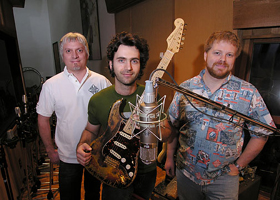 Pictured in Zappa's Utility Muffin Research Kitchen with the new U47 (L-R) Telefunken president Joe Sanborn, Dweezil Zappa, and Telefunken CEO Toni Fishman. Zappa is holding a slightly charred Fender Stratocaster given by Jimi Hendrix to Frank Zappa.
Photo by David Goggin

The new Dweezil Zappa album, Go With What You Know, is on the Sumthing Records label and is slated for late Spring release. Zappa, well known for his attention to sonic excellence, has chosen a new Telefunken NA U47 for the recording of his solo album of original material, which also includes music penned and previously recorded by Frank Zappa.
Zappa met with the company's founder, Toni Fishman, and president, Joe Sanborn, to examine and evaluate Frank Zappa's collection of vintage microphones, some of which have been unused since the early 90s. Fishman explained, "Frank Zappa had assembled a very original and complete collection of extremely rare and valuable German and Austrian microphones. We dismantled and carefully evaluated the condition of the mics, performed numerous minor repairs, replaced some of the tubes with NOS (New Old Stock) tubes, and then worked on mic systems integration by matching up the correct power supplies and cables. In total, we went through three Telefunken U47s, four Neumann M49s, and a beautiful matched pair of Neumann M50s, circa 1950 and four AKG C24s, circa 1960. We also worked on an AKG C-12A that was missing a cable and power supply and rebuilt a custom Telefunken Ela M251 using the existing capsule. It was an impressive collection, but if microphones are unused they tend to deteriorate, so we've given them a renewed life and got them up and running for Dweezil's upcoming projects."

Costumes Fit For Play and Stars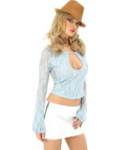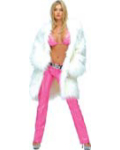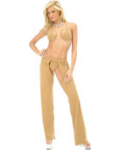 For Play, was recently featured on an upcoming episode of "The Fabulous Life" on VH1 (April 25th). The topic of the show is Britney Spears and how Forplay has designed many of her music video costumes and concert wardrobes. "I haven't yet seen the episode but VH1 interviewed me at our retail store in Hollywood. Britney, and her designers, have been Forplay customers for a long time," says Houman Salem, the new CEO of Forplay.




Forplay(TM) is known worldwide for its high quality and exotic line of lingerie, costumes, dancewear, swimwear, and accessories. Salem joined Forplay(TM) in early 2004 as the company's business strategy advisor and management consultant. During this period, Salem played an instrumental role in helping the company by increasing top-line revenues by 30%, reducing cost overruns, implementing new technologies, and transforming the company into a premier customer service oriented organization. "Everyone at Forplay(TM) is excited about these changes and I am confident in Houman's abilities to drive our vision into the future," stated Sean Rahim.
Prior to joining Forplay(TM), Salem was the managing director of Beverly Hills-based SMGI, a management consulting and strategic communications firm serving the entertainment, consumer products, and technology industries. SMGI's impressive list of clients includes such companies as BIDZ.com, XsunX, Inc., DH1 Studios, Inc., and Forplay(TM). SMGI will announce the appointment of a new managing director, while Salem will continue to serve the company as chairman. For more info visit: http://www.forplayonline.com/
Drummers For Jesus
Get a Boost by Aviom Monitoring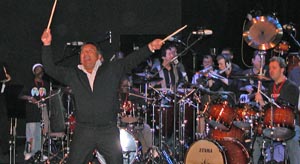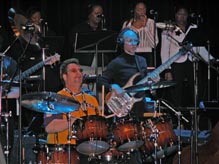 Some of the music industry's top drummers converged on the Dallas area for the second annual International Drummers For Jesus Celebration held at Lake Pointe Church in Rockwall, TX. The drumming festival included performances by artists Alex Acuña (Weather Report, U2 and Julio Iglesias), Richie Garcia (Diana Ross, Sting and Patti Labelle), Teddy Campbell (Christina Aguilera, Meredith Brooks, etc.), Russ Miller (Ray Charles, Toni Braxton and Nelly Furtado), John Blackwell Jr. (Prince), Sean McCurley (LeAnn Rymes, George Duke and Kurt Whalem) and many more.
Two Aviom monitoring systems were used on stage, for both the artists and band, with content generated from the church's 56-input Soundcraft Series 5 Monitor console with a Mackie SR-24 monitor sidecar."The Drummers for Jesus Celebration is a monumental production," says Carlos Benson. "There is no time for delays with sound equipment and the Aviom gear was there ensuring that there would be no delays. Everything worked great."
Drummers for Jesus is a world wide network of drummers and percussionists who use their drumming to spread the message of their faith. The organization was formed in Dallas, Texas in 2002 by Carlos Benson, a professional drummer and educator.

Visioneering 2G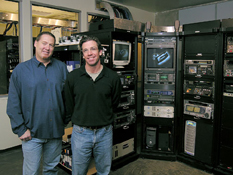 Visioneering Design's Ron Lagerlof (left) and 2G owner Chuck Filliettaz are seen in the new facility's central machine room, which feeds 6 HD/SD online bays, 2 QC bays, and an audio recording bay.
Photo by David Goggin.

Visioneering Design, leading turnkey audio/video/film design and integration firm, provided systems integration for high-definition edit suites in 2G Digital's new facility -- six Avid DS Nitris HD/SD editing bays and two QC bays. A Digidesign Pro Tools HD audio mixing suite and sound recording booth will be online shortly. The facility is also equipped with multiple Sony SRW 5000 HD and Panasonic AJ-HD3700 D5 video recorders. All bays have 5.1 monitoring systems, and are 96K capable with Yamaha O1V96 mixers.

Founded in 1993, 2G Digital delivers more than 300 titles every year for clients including MGM/UA, Sony Pictures Entertainment, 20th Century Fox, Paramount Pictures, Lions Gate, Warner Bros. Studios, Miramax, DreamWorks SKG, and other studios and distributors. 2G's HD/SD online services include editing, graphics, titling, ADR, 5.1 audio, and utilize a highly efficient all-digital workflow.

Visioneering Design Co., underpinned by Ron Lagerlof, has provided design and integration services for such clients as Pixar, Disney, Fox, Revolution Studios, Soundelux and Todd-AO. "When we were contracted by 2G, we knew it would call for a 24/7 type of schedule to make the grand opening," explained Lagerlof. "We did a majority of the cable fabrication, pre-wiring, and signal flow design in our shop to make the installation go as fast as humanly possible."

2G owner Chuck Filliettaz noted, "We built this facility from the ground up to deliver a level of quality and value that goes far beyond what the industry is used to. Ron and his crew did an amazing job in a very short time to help us get here, allowing us to make an extremely smooth transition to our new location and minimize our downtime."
For more info contact: Visioneering 818.882.7271 or 2G Digital 310. 840-0600
The Nervous Return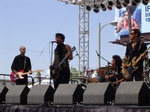 The latest addition to Blink-182 drummer Travis Barker's label, La Salle Records, is making waves with their pop-punk/glam sound and lyrical criticism of the Hollywood scene. The Nervous Return formed in early 2000 under the name Twig. Now, having toured with the likes of No Doubt and (of course) Blink-182, they have brought their sound all over the U.S. and even Europe.The Nervous Return skillfully combines the best elements of glam, punk, pop, discordant psychedelia, and other elements that don't have names yet. The Nervous Return had a show on April 11th at the Viper Room, as part of their regular monday night indie 103.1/filter mag presents show.

Your Pick
At The New Hard Rock Cafe on Times Square






Hard Rock Cafe is moving the NY Cafe from 57th Street to Times Square this summer.
They've asked us to forward artist guitar picks as display for their new floor.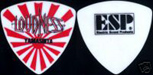 Donate your memorabilia for use in the design, send them to:
Picks at studioexpresso: 13351-D Riverside Dr. Suite 275 Sherman Oaks, CA 91423
We'll make sure the artist names and donors appear with the picture of the final design in studioexpresso's eletter.

Allaire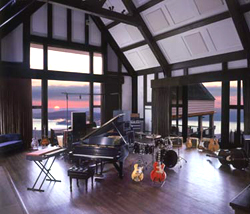 According to Allaire manager, Mark McKenna, the studio is enjoying some fabulous projects. Universal Music artists The Working Title completed a new project with producers Brad Wood and David Bryson in Allaire's Neve Room.
My Morning Jacket recorded a new record for ATO/RCA with producer John Leckie. Allaire's Matt Cullen shared engineering duties with Mr. Leckie in the Great Hall studio.
Dar Williams recorded a new record for Razor & Tie with producer Stewart Lerman and engineer David Darlington. Steuart Smith, Steve Holley, Rob Hyman and others made the trip to Allaire for the room and the view.
NY based band The A.M. just completed basics for their upcoming Storm Music cd with producer Hod David in the Neve Room. Tom Schick engineered the sessions.
Virgin Records CEO Matt Serletic produced Virgin artist Hope Partlow with engineer Greg Collins. Both the Great Hall & Neve Room were used for the project, which featured Rusty Anderson, Abe Laboriel Jr and Sr, Matt Rollings, and Heitor Perreia. The team also cut a few new songs with Matchbox 20 frontman Rob Thomas for Rob's new solo album.
Longwave spent part of last summer in the Neve Room with producer John Leckie and engineer George Shilling recording a new record for RCA.
Jason Mraz recorded his soon to be released Atlantic cd with producer Steve Lillywhite and engineer Carl Glanville. Steve and Carl had just finished U2's new record before arriving at Allaire.
Longtime Allaire client Craig Street visited us twice last fall: once to produce Verve artist Lizz Wright and again with NY singer/songwriter Chocolate Genius (Marc Anthony Thompson) for his project on Commotion Records. Husky Hoskulds engineered both projects.

Call Mark if you're planning to work in a magical place -- (845) 657-6553. You'll be in good hands.

Metric Halo Does The Bossa Nova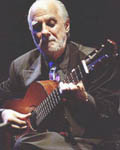 Oscar Castro-Neves, one of the founding fathers of the Bossa Nova, chooses Metric Halo's Mobile I/O for exceptional sound.
Music runs deep in Oscar Castro-Neves. The multi-faceted guitarist/composer/arranger/producer was there in Brazil as one of the founding fathers of Bossa Nova, along with Antonio Carlos Jobim, Joao Gilberto, and a few others. During his long career, Castro-Neves has led his own quartet, was featured with Sergio Mendez' Brazil 66 for fifteen albums, and has performed and recorded with such artists as Quincy Jones, Ella Fitzgerald, Herbie Hancock, Stevie Wonder, Dave Grusin, and countless others. His film credits include "Blame It On Rio," "Dirty Rotten Scoundrels," "L.A. Story," "Sister Act II," and many others.
Oscar relies on just one audio interface when he's working on his projects:
The Metric Halo Mobile I/O. "The quality of the sound is fantastic," he says. "Especially the preamps. The transparency is very, very good."Castro-Neves uses the two units for different applications. The ULN-2 is pressed into service for pre-production and two-channel recordings. "I use it often for pre-production. I record two inputs at a time, with perfect quality because of these excellent preamps. I can record at home, then burn a CD for the artist to take home and work with. In one case, the singer lived in Newport Beach, but the band was in New York. We used the ULN-2 to record at home, then converted the recordings to MP3 and emailed them with a PDF of the arrangement to the band. When the band came to record they were ready. We rehearsed on Sunday, then recorded the whole album in four days."
The 2882 is primarily used for TV and film scoring work. "For TV or where you have more tracks, the 2882 is perfect because you have the eight outputs to do a stem mix," he explains.
Portability is high on his list of features, but sound quality is his overriding concern. "The Mobile I/O is great because it's portable. There are a lot of computer interfaces on the market, but nothing beats the Mobile I/O. The others just seem to be copying."
As much as Castro-Neves appreciates his Mobile I/Os, he has as much praise for Metric Halo. "I like the liveliness of the company and the constant support and development," he says. He's also impressed with the dedicated community of Mobile I/O users.
At the time of this interview he was producing and arranging for famed jazz-stylist Diane Schuur, journeying to Tokyo to produce/arrange for Lisa Ono, working on his own upcoming release, and juggling several other projects, including directing and arranging a night of Jobim's music at the Hollywood Bowl.
"Life is good," he concludes.
Yamaha Cares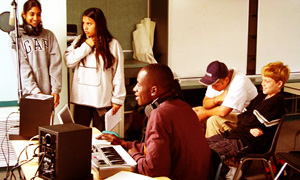 Guitars, drums and audio equipment make up the latest donation of musical gear from Yamaha Corporation of America to Sound Art, a contemporary music program that encourages creativity, responsibility and self esteem in underserved youth from its base in south central Los Angeles.
"This equipment will help Sound Art reach more kids who really can't afford music lessons," says John Conard, whose dual role is instrumental to Yamaha's relationship with the organization: he is a district manager for the company's Commercial Audio Systems Division, and also a member of the Sound Art Board of Directors.
Sound Art was founded in September, 2002 in partnership with the Berklee College of Music in Boston, Mass. The program currently brings music to more than 1,000 kids every week in schools all over Los Angeles.



"Our goal is to create an inner city location that's free of charge to the kids in the neighborhood where they can come and experience music," says Sound Art founder and executive director Catherine Goldwyn. In addition to the music-making activities at its headquarters, Sound Art's initiatives include a "Mobile Unit" that brings musical experiences to inner city schools and after school programs. Yamaha Corporation of America Vice President of Human Resources Carol Baker, who oversees the Yamaha Cares program, praised Sound Art for bringing music to a community in which other opportunities may be hard to come by. For more information on Yamaha Cares, write Yamaha Corporation of America, P.O. Box 6600, Buena Park, CA 90622-6600; telephone (714) 522-9011; or visit www.yamaha.com
Sennheiser On the Bus with Super DJ PVD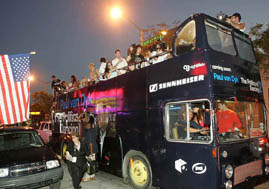 International DJ and producer van Dyk was voted "America's Favorite DJ" for 2004 by BPM Magazine and was the big winner at the 2004 Dancestar Awards. Last year he also partnered with the "Rock the Vote" campaign in order to encourage America's youth to exercise their right to vote in the 2004 presidential election.
German-born Paul van Dyk, an avid user of Sennheiser's HD280 headphones, enjoys a busy schedule that regularly takes him to major venues in London, Tel Aviv, Mexico, New York, Singapore and Berlin, while also looking after a record label (Vandit), a recording studio, and a radio show (Soundgarden). At The Winter Music Conference, van Dyk performed at Space as well as the all-day Ultra Music Festival at Bayfront Park and Amphitheater, the closing night highlight of the annual conference, which attracts attendees from around the world. According to Kurosh Nasseri, van Dyk's manager, the open-top double-decker bus, emblazoned with Paul van Dyk and Sennheiser artwork, was initially the platform for a press junket and land cruise on the third day of the conference. "Then, it served as a free fan shuttle to PVD's gig on Friday at Space, and was parked at the entrance to the Ultra Music Festival on Saturday," he reports.
Greg Ladanyi clocks with Lucid
five-disc drum loop collection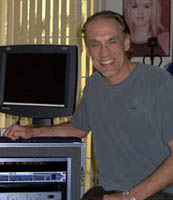 What do you get when you combine a prolific powerhouse percussionist, a legendary producer/engineer, and a world-class recording studio? In the case of Sony Media Software's "Drums from the Big Room" - a five-disc loop collection performed by Steve Ferrone and recorded by Greg Ladanyi at O'Henry Sound Studios - you get more killer, original, and royalty-free drum tracks than you can shake a drumstick at. "Drums from the Big Room" provides a multitude of multi-tracked drum kit performances in rock, pop, R&B, jazz, and reggae genres, each configured on its own disc in packets of traditional song structures: intros, verses, choruses, breaks, outros, and so on. Each layerable, 24-bit session packet allows for seemingly endless mixing options of kick, snare, toms, and hi-hats via three very different room sounds. Essentially, this collection is a watershed moment for recordists who have long desired a premier drum recording space and a virtuoso session drummer at their beckon call for a grand total of $249.95 MSRP.
Dave Chaimson, vice president of marketing for Sony Media Software, was more than happy to assist Ladanyi with his loopy idea. "A number of critical elements came together that resulted in the creation of a very powerful tool for producers, composers, and music makers who are in a variety of creative settings," he explains in regards to the loop collection.
For an engineer like Ladanyi, having a rock-solid, reliable master clock generator for his many digital recording components is an absolute must.
After trying a bevy of different clocks over the years, he finally settled upon the Lucid SSG192 and for good reason. "The Lucid is really stable with low jitter and a very strong connection to keeping everything in line," he insists. "It was running three mic pre-amps, three DD8s, and Nuendo. That's seven devices locked together with the Lucid clock."


Eisley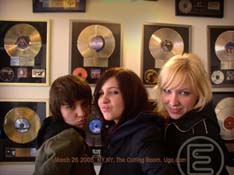 Sisters Chauntelle, Sherri and Stacy Dupree of Eisley at The Cutting Room Recording Studios
Underground Online (UGO) returned with indie/folk artists Eisley (www.eisley.com) and rockers Submersed. The acoustic sets were part of UGO Players, check out their site to see the performances. See attached photo (pictured: sisters Chauntelle, Sherri and Stacy Dupree of Eisley) For more information on The Cutting Room, call 212-260-0905 Patrick Ermlich, Studio Manager.
Slightly Stoopid Masters At Bernie Grundman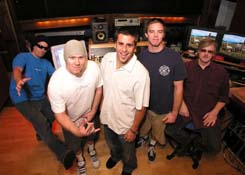 Pictured during maximum mastering creativity are (L-R) Miguel Skunk, producer; Kyle McDonald, guitar bass vocals; Ryan Moran, drums; Miles "Stoopid" Doughty, guitar, bass, vocals; and Brian "Big Bass" Gardner, mastering engineer. The Stoopid Records / Caliplates Recording album, distributed by Reincarnate/BMG, is slated for release on April 19.
photo by David Goggin.
Slightly Stoopid, the SoCal rockers who sing the praises of the beach, beer, and surfboards, in styles ranging from hip-hop reggae to unplugged acoustic balladry, recently mastered their new album Closer To The Sun at Bernie Grundman Mastering. For bookings, contact Bernie Grundman Mastering at 323.465.6264
B-52's At API-laden Ardent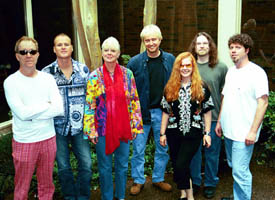 Taking a break in the studio gardens are (left to right) Fred Schneider, Keith Strickland, Cindy Wilson, producer/engineer Tom Durack, Kate Pierson, producer/engineer Pete Matthews, and assistant engineer Adam Hill.

Pete Matthews, one of the industry's most impressive young producer/engineers, has recorded and lived in such music hotspots as New York, Los Angeles, Chicago, and Nashville. However, he insists that not one offers anywhere near the inspiring artistic ancestry of his beloved home of Memphis and its legendary recording facility, Ardent Studios.
By having a 64-input 8200 summing mixing system, Matthews explains, he essentially has a complete API console at his fingertips. "For the 8200 system, master section and buss compressor, I had the tech here at Ardent wire up a patchbay," he illustrates. "I've have my own Pro Tools|HD Accel system with 48-outputs wired to the patchbay, which is normalled to the inputs of the API. So, along with all of my outboard gear, I basically have a console with the inserts and enough EQs and compressors to have an insert on every channel, not to mention plug-ins. As soon as I'm used to the room, I'm going to start mixing there."


Farewell
1943-2005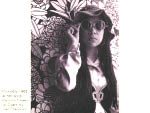 Judy Wong touched lives of many people in music. Recently she worked with the Yardbirds on their recent album, Birdland. She was very much a part of the pop/rock music history and culture of the '60's , '70's and '80's.

In the heady days of 1968 San Francisco she had a very cutting edge clothes shop in North Beach called "The Passionflower".
When she later moved to LA from London, Judy worked for Fleetwood Mac in their offices on Gower, and did many of their tourbooks.
Once married to Paris and Jethro Tull bandmate Glenn Cornick, Judy passed away late March in her home (heart failure). She is missed.
Glenn has put together a touching tribute page for her here


Welcome Keira!
Congrats to Clif and Michelle Norrell for the arrival of their second daughter,
Keira Lane, born April 9, 2005 4:33 A.M., weight: 7 pounds 9 ounces, length: 18.5 inches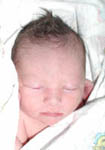 "I have no particular talent. I am merely inquisitive."
- Albert Einstein