Ana Pozas
Sin Querer
2.17


"Sin Querer" by singer/songwriter Ana Pozas is released on DRO. Her music is pop rock with American influences by artists Michelle Branch, Liz Phair and Lisa Loeb.
"I heard Ana's original demos and fell in love with her songwriting," says two-time Grammy winner Rafa Sardina (Sheryl Crow, Alejandro Sanz, Luis Miguel) who produced, mixed and engineered the album in Los Angeles.
National and international musicians like Michael Landau, Ricardo Urbina, Fran Iturbe, Guere and Rafael Padilla were brought in to put their magic touch on the record. Sardina recorded and mixed the record at his home studio, After Hours and at Watersound Studios in Studio City.

The fist single "De La Mano Del Deseo" is already getting a nice rotation on Spain's two top Radio Stations (40 Principales and Cadena 100). Another track, "Si Es Por Tí" features a duo with Ana and the new Latin pop sensation, Alex Ubago.

Hypnogaja
Kill Switch
Access Denied


Critically acclaimed L.A. indie rock band Hypnogaja unleashed their new sound with the release of the EP "Kill Switch" on Access Denied Recordings. The 7-song EP of all-new material is available at the Virgin Megastore, Tower Records and Amoeba Music, and online at Amazon.com, CDBaby.com, and the iTunes Music Store. It is also scheduled for service to college radio in the fall.

"Kill Switch" marks Hypnogaja's evolution into a guitar-driven sextet, balancing haunting melodies on a hard edge for a sound that is at once enchanting and explosive. Founding members ShyBoy on lead vocals and Nubar on keyboards are joined by Jeeve on lead guitar, Tim Groeschel on rhythm guitar, Daniel Wills on bass, and Bill Brennenstuhl on drums.

Hypnogaja has been widely embraced by Hollywood film and television. The song "American Boy" is featured in Touchstone Pictures release "Cold Creek Manor," starring Sharon Stone and Dennis Quaid and directed by Mike Figgis. The placement is the latest in a list that also includes the television shows "Sex and the City," "Roswell," and MTV's "Tough Enough." In addition, the band's logo has cropped up in movies and television, including the hit Showtime series "Dead Like Me."
Alongside the U.S. version of Hypnogaja's "Kill Switch" is a European version, a full-length CD titled "Bridge To Nowhere," slated for a fall release by Sony Music. The band plans to support the album with an overseas tour in early 2004.
Hypnogaja will back "Kill Switch" with several L.A. dates, including the Knitting Factory and Viper Room, and is scheduled to add Los Angeles area in-store performances. For updates, visit Hypnogaja.com.

AIR
"Talkie Walkie"
Astralwerks
1.27.04


The brand new album from the creators of the classic "Moon Safari" available as limited edition cd + bonus DVD AVAILABLE AS featuring a 35 minute film
of Air in concert with behind the scenes footage. Includes live versions of classic Air songs such as: "La Femme d'Argent" and Talisman"
"We think of our music as medecine," says the duo. The band will support the album with April/May Tour dates.
Throughout their impressive 5-year career and following a sold out tour of the U.S., their first ever broadcast TV appearance and the darkly fascinating new album "10,000 Hz. Legend", Air (JB Dunckel and Nicolas Godin), began to consider their next musical adventure.
Having produced 2000's acclaimed score for Sofia Coppola's debut movie "The Virgin Suicides, the band earned the reputation as a modern day Pink Floyd (or as some called them "Punk Floyd"), able to capture the imagination of music lovers of all persuasions, and destined to catch the attention of key figures in the world of film and literature.

Andy Narell
The Passage
March 23


Steel pan virtuoso Andy Narell's new release, The Passage is a showcase for the 30-piece steelband Calypsociation and three of the greatest soloists in jazz -- Michael Brecker, Paquito D'Rivera and Hugh Masekela.
The story began in 2001 when Narell travelled to Paris and discovered Calypsociation. He recalls, "I could hear after two minutes that I wanted to work with this band." The fit between Narell and Calypsociation was so tight that the band commissioned him to direct, compose and arrange two ten-minute pieces for the second European Steelband Festival in 2002 --
a collaboration that's documented on this CD.
For more info, please check out Heads Up e-presentation, which includes press release, bio and more..

The Passage, like all of Narell's music, is informed by a lifetime of experience in jazz, world music and the recording studio. The new CD was recorded on a Roland 2480 hard disk system.


WeedFiles Artist Spotlight: These four songs from Leiana's debut solo Ep confront the demons that lurk inside her with metallic crunch, neo-rock psychedelia and sharp lyrical images.

Weedfiles uses a revolutionary new file format to completely change the model of digital music file sharing. Weed files technology makes it easy and cost effective for independent artists to make money with their music on the web and currently looking to sign hundreds of hot indie artists.
Weedfiles and Studioexpresso are teaming up to help you get your music weedified! Just click through the link above and automatically save on your encoding fee (5 songs submission for price of 4). Download, Share and make money with your music. Find out more here!
What are you waiting for? The revolution has already begun...click on the weedfile banner above to check out how to upload your songs and sell - it's easy!


Thirsty?
Liquid launch in Los Angeles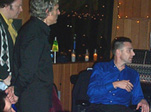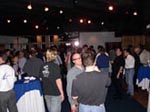 The great and the good of the LA music and post scene gathered at the world famous Village Recorder Studios in Santa Monica for the American premiere of Focusrite's new Liquid Channel. VIP guests and studioexpresso friends included: Dexter Simmons, Dave Rideau, Jeff Gross, Michael C Ross, Rafa Sardina, Jim Mitchell, Jeff Poe, Dave Reitzas, Ralph Sutton, Barry Rudolph and Robert Shahnazarian.
The Liquid Channel is a revolutionary professional channel strip that can precisely replicate any classic mic- pre and compressor. Combining radical new analogue pre-amp technology with Dynamic Convolution? techniques. The Liquid Channel fuses cutting-edge analogue design with lightning fast SHARC DSP. Augmented by fully digital controls and optional remote software, The Liquid Channel provides the ultimate fluid vintage collection.
Focusrite MD Simon Blackwood and Sales Director Chris Gooddie flew in specially for the event, hosted by US Sales Manager Dino Virella and the team from Digidesign, Focusrite's US distributor.
During the evening more than two hundred folks saw The Liquid Channel put though its paces in Studio 2's Neve 88R equipped control-room, with live female vocals using a Blue Microphones Bottle microphone in the main isolation booth.
The full range of The Liquid Channel's forty mic-pre and compressor replicas were auditioned with the presentation managed remotely via the OS X version of the brand new LiquidControl software, shown during the evening for the first time. LiquidControl will be available free at ffliquid.com when the product ships. You may download a demo version for Mac OS X - 1 MB from the site.

Digi People
Digidesign recently acquired the assets of Bomb Factory Digital, Inc. (a manufacturer of real-time audio DSP effects for the Digidesign Pro Tools® platform) and welcomed Rich Nevens (formerly of Euphonix) as Director of Worldwide Console Sales. Rich is based in Los Angeles, California and will oversee the sales for Digidesign's mixing solutions. In addition, he will contribute to marketing & development for the product line.



VIVE MIDEM 2004!
Uniting more participants and companies in an optimistic market





Palais des Festivals in Cannes bustled with numerous deals, product and service launches and live music. Despite the music industry's current difficulties, the 38th edition of Midem earlier this year (January 25 – 29) brought together 2.2% more participants (8811) and 4.4% more companies (4176) than in 2003 from a total of 94 countries and attracted a wider range of delegates.

To achieve this success, Midem dropped participants rates by 40% and froze exhibitors fees at 2003 rates. In addition to this, Midem organisers set out to bring new music industry players to Cannes who included newcomers from the sectors of online technology (Apple, Microsoft, OD2…), mobile device and content companies (NTT DoCoMo, Vodafone, Nokia…). Topics included: New revenue streams, fresh business opportunities while giving music industry professionals a better understanding of an imminent new era, when music will be available anywhere, at any time.
With a jam-packed calendar of high profile events, the five day market was a hive of activity where professionals met up in an optimistic and constructive atmosphere for business.

Show highlights included the 5th edition of MidemNet : not only was the Technology Forum sold out for the first time ever, but its first guest, interviewed by MidemNet chairman Ted Cohen, was the man behind Apple's groundbreaking iTunes Music Store, Eddy Cue, also on the agenda was their closest rival, Roxio, chairman, Chris Gorog and industry leaders OD2's Charles Grimsdale and EMI's John Rose.
Countless prestigious events attracted a flock of world-class stars to Cannes and included Madonna, Beyoncé, Britney Spears, Kylie Minogue and Christina Aguilera for the 5th NRJ Music Awards. Peter Gabriel, Brian Eno, Keziah Jones, Grandmaster Flash and the new British number one artist Katie Melua were also in on the action and leading rock band Placebo brought the house down with an exceptional concert. Vive MIDEM!
SOAD SOULS Benefit Concert
April 24, 2004, Los Angeles Greek Theatre



Multi-Platinum-selling group System Of A Down will headline "SOULS, 2004," a very special benefit concert to be held in Los Angeles on Saturday, April 24 at the Greek Theatre.
Proceeds from the sold out "SOULS 2004" will benefit organizations that work to eradicate the atrocities of all genocides across the globe, including the Armenian National Committee of America (ANCA) which supports legislation in the U.S. Congress to recognize the Armenian Genocide by the Ottoman Empire during World WarI. During the first genocide of the 20th century, 1.5 million Armenians were annihilated and hundreds of thousands deported from their ancient homeland. April 24th was chosen as the date for the concert as this year, it commemorates the 89th anniversary of the Armenian Genocide.

More than 100 organizations have endorsed the campaign to urge Congress to pass the Genocide Resolution. The Vatican and the European Parliament, as well as the French, Italian, Swiss, Russian, Belgian, and many other governing bodies have officially recognized the Armenian Genocide. "It's time for the United States to do the same. We are urging Congress to pass House Resolution 193 and Senate Resolution 164, measures that would reinforce America's commitment to prevent future genocides and crimes against humanity," says SOAD's Serj Tankian.

Members of System of a Down -- Tankian/vocals; Daron Malakian/guitars; bassist Shavo Odadjian, and drummer John Dolmayan -- are all of Armenian descent, and have been very active in supporting this cause for years. "SOULS 2004" is the most recent in the band's ongoing efforts to raise awareness of the Armenian Genocide and other global abuses of human rights.

"If not for my grandfather's memories, I would know nothing of my family tree before his lifetime. Most of my family was obliterated in the Armenian Genocide," says Tankian.

"So much of my family history was lost in the Armenian Genocide. My grandfather, who was very young at the time, doesn't know his true age. How many people can say they don't know how old they are? But, this is not just about the Armenian Genocide. This is about human rights abuse in all parts of the world," said Malakian.

Clive Is Back!
Arista lists Clive Davis As CDO


Legendary label exec Clive Davis has been tapped back by its parent company, the Bertelsmann Music Group, to be chairman and CDO of its North American division of Arista.

Nearly four years ago, Davis was inducted into the Rock and Roll Hall of Fame, where he told reporters, "Don't worry about me," in reference to his impending departure from Arista Records, the label he started and nurtured for a quarter century. Despite discovering and signing talent like Janis Joplin, Whitney Houston and Patti Smith -- while also resurrecting vets like Carlos Santana -- Davis, 67 at the time, fell victim to a mandatory retirement policy by Bertelsmann, a German multi-media conglomerate, which replaced him with younger brass, Antonio "L.A." Reid.
Reid's timing was poor. Despite launching the careers of Pink and Avril Lavigne, and enjoying successful releases by Arista artists like OutKast, the company -- like much of the industry -- hit the skids, losing an estimated $100 million during Reid's short tenure, which ended with his firing last month. Davis, meanwhile, had successfully launched a new label, J Records, in October 2000, and less than a year later, he showed that he still had an ear for new talent, as Alicia Keys' Songs in A Minor gave his label its first Number One. J has since had success with albums by Luther Vandross, Rod Stewart and members of the American Idol franchise.
In addition to J Records, Davis will again assume control of Arista as well as RCA and Jive Records, all of which fall under the BMG umbrella. (courtesy of Andrew Dansby, RS)
XL9000 for an Icon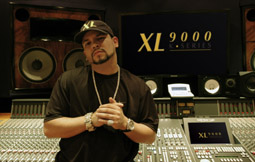 producer/songwriter Steve Morales at Icon Sound, Florida
When superstar producer/songwriter Steve Morales decided to build Icon Sound, a new state-of-the-art studio, the console of choice was the Solid State Logic XL 9000 K Series, the first in southeast Florida. Working with top engineer Fabian Marasciullo on the project, their combined discography literally reads like the Who's Who of industry superstars with acts from Celine Dion, Christina Aguilera, Enrique Iglesias and Britney Spears to Michael Jackson, J.LO and Clay Aiken. The K Series offers Icon the sound quality, automation flexibility and integrated surround mix capabilities worthy of the top shelf acts that will frequent the facility.
Cutting Room Sessions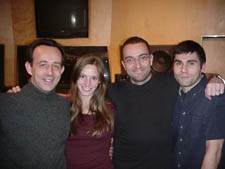 L-R: Engineer Kevin Killen, Maryanne Marino, Producer Peter Zizzo and Assistant Engineer Steve Rakidzioski
February was another mix heavy month at Cutting Room in New York (SSL 9080 J Ultimation & Total Recall and Yamaha DM 2000 Digital Consoles) that started out with Dead Prez mixing the track "Hell Yeah" featuring Jay-Z. Dave Dar engineered the sessions with Marco Bruno assisting.
Maryanne Marino (Lava Records) returned to Studio A this month to finish mixing her debut record for summer release with engineer Kevin Killen (U2, Elvis Costello) and producer Peter Zizzo.
Also seeing time in Studio A were hip hop stars Mos Def and Talib Kweli as well as renowned Venezuelan Producer Andres Levin (Chaka Khan and Tina Turner, Gladys Night).
The Beatnuts continued their lockdown of Studio B, finishing up tracks for their new record due out later this year.
Context Productions continued work in Studio B with various artists as part of our Artist Development program, Context Music Group or call 212-260-0905
Angel Mountain Moves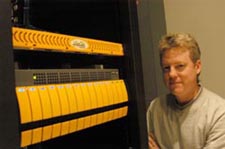 With the premium placed on the availability of high-profile studio space and time of producers, engineers and musicians, Angel Mountain Production & Sound, located in Bethlehem, PA, decided to install Studio Network Solutions A/V SAN PRO in their new facility to ensure the reliability of the studio's hard drive system.
Recent projects completed at Angel Mountain using the A/V SAN include 5.1 remixes of Marvin Gaye's "Lets Get It On," Ludacris' "Chicken and Beer", as well as The Allman Brothers' "Eat a Peach" and "Live at the Fillmore East." The next project, which is set to begin shortly, is Bob Marley's "Burnin'."
"Being a multi-room facility, the reason the A/V SAN PRO makes so much sense for us is that we can effortlessly cut a really large project over a number of rooms," continues Cadden-James. "We can have the same project migrating throughout our different rooms with none of the asset management headaches that are normally associated with a large project," says Angel Mountain's director of engineering Carl Cadden-James.
Menken Masters at Bernie's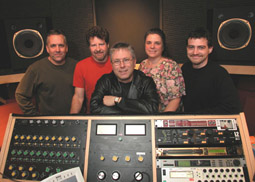 L-R: Earl Ghaffari, music editor; Frank Wolf, scoring mixer; Alan Menken; Pat Sullivan, mastering engineer; and Andrew Page, Disney manager of music production.
Photo by David Goggin

Composer Alan Menken mastered the "Home on the Range" soundtrack album for Walt Disney Feature Animation at Bernie Grundman Mastering. The film debuts in April with the voices of Roseanne Barr, Cuba Gooding, Jr. and the singers Tim McGraw, Bonnie Raitt, and k.d. Lang.

Visit NEVE at NAB -- April 17-22

AMS Neve debuts DFC Gemini™ and AudioFile SC/X™ technology -- At the 2004 NAB, AMS Neve will be showing the ultimate in Digital Mixing of sound for picture with DFC Gemini, further widening the lead of "the world's best console". Booth N1612

Welcome to Stubblebine Mastering
New web site and facility in San Francisco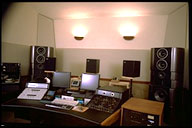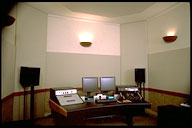 Camelia and Magnolia Rooms at PSM
Paul Stubblebine Mastering has recently moved and expanded. According to Janice Lee, the studio manager, here's why: "First, we wanted to offer all of our music clients mastering studios that are really dialed in, Second, we wanted to offer our clients all-purpose-built surround rooms to do the best possible work for the new surround-capable music formats (see the SACD and DVD sections of the site). Third, and perhaps surprisingly, in light of the music industry's well publicized struggles, we have been feeling an increased vitality in the grass-roots music scene, especially here in Northern California. For all these reasons we felt that a new facility was the best way to be ready for the coming changes," says Lee.
The beautiful rooms came together with the help of designer Nancy Irish and Bob Hodas Acoustic Analysis.
Paul began his mastering career in San Francisco in 1973. For eleven years he worked at a recording and mastering facility on Folsom Street which, originally owned by CBS, was later bought by David Rubinson and became known as The Automatt. During the CBS period, in addition to the CBS catalog, the studio also brought in outside work from the Record Plant and Wally Heider's including records by The Grateful Dead, The New Riders of the Purple Sage, Sly Stone, Santana, Joan Baez, Bill Evans, Tony Bennett and Jane Fonda's phenomenally successful workout record engineered by Leslie Ann Jones.
This is also where the mastering was done for the US releases of Rough Trade and Factory Records including Joy Division, and New Order. During this period, records mastered at the Automatt were on the charts continuously. Paul then went on to become chief engineer at Rocket Lab, also in San Francisco, where he worked until starting his own company, Paul Stubblebine Mastering, in 1997.

Paul Stubblebine recent mastering work includes: Two CDs for Acoustic Disc: Sam Bush/David Grisman album titled "Hold On We're Strummin" and Riders In the Sky: "Silver Jubilee," a double CD celebrating the 25th anniversary of the band. Holly Near & Cris Williamson's first full record together in a 25 year musical friendship, released on Calico Tracks. The Mountain Goats (produced by John Vanderslice for 4AD); Prokofiev's Ivan The Terrible for Mobile Fidelity (surround SACD recording of the St.Louis Symphony). Albums for Super Diamond, Steve Bahcall, The Kissers and Davey Pattison (produced by John Rewind; released on Rear Window Music). Also, artist Tim Janis's "Beautiful America" music accompanying a PBS television special on National Parks.
Janice began her studio career in 1980 at the legendary Automatt Studios in San Francisco. In 1985, she became Studio Manager of Tarpan Studios (owned and operated by Grammy award-winning producer Narada Michael Walden), and served as Production Coordinator for all projects produced by Walden through 1998. Following Tarpan Studios, Janice continued managing and consulting with facilities and production companies in the Bay Area before joining Paul Stubblebine Mastering in 2002.
For more info or to book a session with Paul, Michael Romanowski or John Greenham mastering engineers e-mail or call Janice Lee at 415.522.0108 or visit the new web site.

Designer Russ Burger addresses AES Guests in Atlanta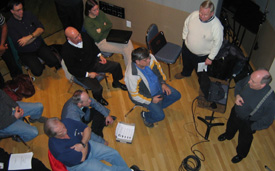 Russ Berger, owner of the world-renowned acoustical and architectural design firm Russ Berger Design Group (RBDG), recently paid a visit to the Atlanta chapter of the AES to deliver a lecture on a key issue for studio owners. Forty-two audio professionals packed into Studio 9000 at PatchWerk Recordings, an RBDG-designed facility in Atlanta, to hear Berger address the topic "Surround Challenges in Acoustically Small Spaces, or (fortunately) No One Ever Dies From Bad Sound." Well, depends on who you talk to!

Ray Charles Duets With A Cast of Music Legends
Concord Jazz Fall Release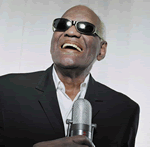 In Stores August 31, the Concord Records CD Features Norah Jones, BB King, Michael McDonald, Willie Nelson, Bonnie Raitt, James Taylor and more...


After a year in the making, legendary pianist and composer Ray Charles will release his first, new recording since 2001 on Concord Records this fall. Mr. Charles has teamed with the likes of BB King, Norah Jones, James Taylor, Bonnie Raitt, and Willie Nelson for what is sure to be an unforgettable duets record. During a career that spans nearly six decades, Mr. Charles has appeared on over 250 recordings, many of them top-sellers, across a variety of genres. And, while he has performed with various artists in the past, this Concord Records release will be his first full album of duets.

A Blink Break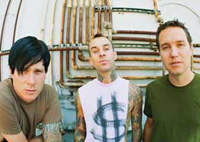 Blink-182 drummer Travis Barker injured his right foot on March 12th while on tour in
Australia -- an injury that resulted in the cancellation of the remainder of the tour. With the band in the midst of a world tour promoting their new untitled Geffen album, and preparing to play that night in Adelaide, Australia, Travis fell. After seeking medical attention, doctors put a cast on his foot. Travis then reversed his drum kit and played the show that night, however, the band was forced to return home.
Said Travis, "I am seriously bummed that we couldn't play for our fans in Australia, Japan and Hawaii. It was just a freak accident. But it'll heal and we'll be back." To that end, Travis will be meeting with specialists today. Blink-182's untitled platinum-certified album shipped last November, and features the singles "Feeling This" and "I Miss You." With their latest CD on target to be another multi-million-selling smash, the band kicks off their solo headline U.S. tour in late April. Their co- headlining tour with No Doubt begins in Indianapolis on June 1, and wraps up in San Bernardino at the Hyundai Pavilion June 26.

Katie knocks Dido off No. 1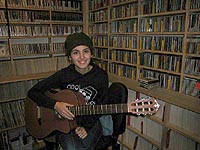 Chart topper Katie Melua
The hottest pop tip for 2004 is not an ex-soap star, but a shy 19-year-old from Devon with an album of old soul and R&B covers, her songs and a voice that's more Mavis Staples than Britney Spears. Katie Melua's debut Call Off The Search went platinum (shipments of 300,000 copies for UK) last month after its release on November 7, reaching the top spot. She knocked Dido off number one in the album charts. "Life for Rent" (Cheeky/Arista) lost its crown to Katie Melua's "Call off the Search" (Dramatico).

Melua completed her GSCEs at Nonsuch High School for Girls in Cheam, comes 18 months after she was discovered at the Brit School in Croydon by the man behind the Wombles song, Mike Batt. He heard her perform and signed her up for a five-album recording deal. Watch out Britney!
Starbucks' Latest Brew!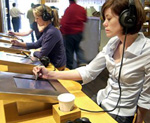 The coffee retailing giant will begin selling digital music downloads on CDs to customers at 10 of its stores in Seattle later this spring and to 2,500 of about 5,400 U.S. stores in the next couple years.
The company is betting the service, which debuts Tuesday at its revamped Hear Music Coffeehouse in Santa Monica, will draw interest from music fans among its legion of coffee-bean loving devotees. The Hear Music Coffeehouse, one of four combined coffee and music stores run by the chain, will have 70 stations for customers ordering music.
"It's a self-service experience ... that marries well with the time it takes to get your latte," said Don MacKinnon, Starbucks Corp.'s vice president of music and entertainment.
Patrons will be able to walk up to a counter and use a flat, touch-screen computer display to browse through a collection of about 150,000 tracks. They will be charged $6.99 for the first five songs and $1 for every individual track after that. Included in the price: a labeled CD and jewel case.
By comparison, popular online digital music services like Napster 2.0, MusicNet or the iTunes Music Store offer between 300,000 and a half-million tracks, which sell for 99 cents each or $10 for a full album.
Starbucks decided to give all customers, even those without access to computers, instant access to the music, MacKinnon said.
Music retailer Virgin Megastores recently announced plans to launch a similar service that would offer song downloads burned onto CDs or transferred directly to portable music players.
SXSW Always Draws A Crowd
Music Makers and Attendees- March 17-21 · Austin Convention Ctr




Roland Swenson, managing director of SXSW, is projecting that 7,000 (800 more than last year) people made the trek to Austin this year to hear, watch and mix. Opening SXSW party at Frog Design ( clients includes Macintosh, Disney, GE, and Microsoft) featured gambling, music, video games, and bon-bon girls! The true creator, the architect, the originator of rock and roll, Little Richard delivered keynote and was the headline performer along with Kris Kristofferson. New artists....Los Angeles Pop/Rockers All Night Radio (LA) and Anberlin (Orlando, FL), Bettie Serveert (Holland) -- Last album, [Log 22], in March 2003, got great reviews in [Mojo], [Rolling Stone] and other publications. Said the [Washington Post], "One of the finest rock records of the new decade." Hip Hop Alias, Folk Berkley Heart, Andrew Bird, singer/songwriter, and Electronic-pop-rock fusion trio with a futuristic edge, [a.i. Artificial Intelligence] were among performers. They released self-titled album,, in August 2002 on Dreamworks Records. Wrote score for independent movie, [Below The Belt]. Currently unsigned and working on new material. Listen to music showcases here!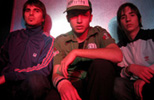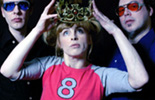 L-R: AI, Alias, Bettie Serveet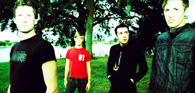 Andrew Bird, Anberlin, All Night Radio, Berkley Heart
Soundfield Surround Zone Software Plugs Into Nuendo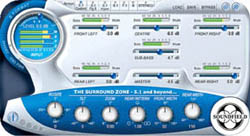 Once the SoundField B-Format is in the Nuendo environment the plug-in enables the user, either live or in post-production, to generate various surround mic-arrays with variable polar patterns. Specifically the Surround Zone provides a choice of three separate 5.1 arrays, individual 6.1 and 7.1 arrays, independently variable width of both the front and rear pairs, phase coherent LFE and individual level controls with Mute and Solo all with bargraph metering. The software also provides additional control over the sound such as: Rotate - 360 degree horizontal rotation; Tilt - adjust the microphone pick-up angle by plus or minus 45 degrees in the vertical plane; and Zoom - zoom in on sound sources. The Surround Zone can output mono, stereo, M/S, 5.1, 6.1, 7.1 or any future surround format.
Brad Lunde, president, Transamerica states, "The arrival of the Surround Zone software enables us to offer a complete surround recording package. Our microphones capture the realism at the front end and the software provides all the necessary post-production tools for the final surround delivery format."
Lucid Part Of DARP Family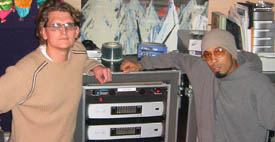 Rick Sheppard, chief engineer at DARP Studios with producer Dallas Austin and racks of Lucid gear.
Rick Sheppard has been with producer Dallas Austin and DARP Productions for 16 years now as chief engineer and programmer. He had met Austin in 1987 while working with Peabo Bryson. Sheppard and Austin's first big success came with Boys To Men and later with the youngsters of Another Bad Creation a.k.a. ABC that eventually led to work with TLC. Austin and Sheppard have since done records with Madonna, Michael Jackson, Kelis and Pink on Arista, Anastacia on Epic Records, and currently they are now working on a solo project for Gwen Stefani of No Doubt on Interscope, the Latina sensation Shakira, and a new album with Janet Jackson (who performed one of the album's songs at the 2004 Super Bowl). "We've been really fortunate since the Boys To Men project to just be able to keep on working constantly with great artists. Being together so long, Austin and I are like brothers. Most of the people around us have been with us for years so we're all family," says Sheppard.
Sheppard and Dallas built the two million-dollar studio complex at DARP housing two SSL rooms, a Sony Oxford room and various writing suites. "Jim Latimer was instrumental in our research of A/D/D/A converters for the Oxford room. We did tests and listened to a lot of boxes and our final choice was the Lucids," comments Sheppard. DARP has two Lucid SSG192 Studio Sync Generators, two AESx4 AES/EBU Distribution Amps, three CLKx6 Audio Clock Distribution Amps, six ADA 8824 eight-channel A/D/D/A units, a pair of SRC9624 Sample Rate Converters, and a few DA 9624 and AD 9624s stereo D/A and A/D converters. "We also discovered the GENx6 Word/Super Clock definitely improved the sound of things so we included one of those in our Lucid rack. This was a Jim Latimer suggestion as well," Sheppard says.
The Re-Mix 'Mash-ups'
Media Frenzy or Grey Forces against copyright laws?




This has to be the branding music event of the year! Most of us have heard the story.
Record producer Brian Burton aka Danger Mouse electronically blended tracks from the Beatles' "White Album" and vocals from Jay-Z's "The Black Album" into a CD called "The Grey Album."
''With underground hip-hop,'' said Jeff Antebi of Waxploitation, Danger Mouse's management company, ''it's traditional for an artist or D.J. or producer to drop his work to the street for other hip-hop aficionados to check out.'' The 26-year-old Los Angeles-based D.J/producer put out his first CD last year and started as an experiment, then as a kind of small-scale publicity stunt. And thanks to legal fracas at EMI (Beatles record label) and the internet, it must be the most-heard ''underground'' record ever! EMI's stance only stirred things up more, as a music-activism Web site called Downhill Battle organized some 170 sites to make the tracks available on the last Tuesday in February dubbed ''Grey Tuesday.'' Blogs touted the event.What's different this time is how many people actually heard it - 100,000 copies were downloaded, according to Downhill!

Here's select industry comments. You be the judge!

"I would always give the artist the chance to present to me what he wishes to do. I would not give permission if I felt the work to be morally or politically repugnant. I would expect to be compensated for the work used. Outside of that, I'm fairly easygoing, as long as there's some kind of communication between the artist and myself. I think that is the important part."
--David Bowie
"I don't see why that's so different than the Beatles listening to a Chuck Berry song or trying to copy a certain vibe of someone else's sound and put it through their filter to create their new sound." --Rick Rubin
Asked on how he would feel if someone mixed Offspring hit album "Smash" with, say, Dylan's "Blonde on Blonde, the Huntington Beach-based musicians says:
"Honestly, I'd be flattered. I would think that would be a good thing. That's a tough line, like exactly how can you control your music in all ways and all respects? Of course, if someone sold that re-mix, that would be a different story,. But in terms of just having it, putting it up for people to listen to, I think that's totally fine." --Dexter Holland, the lead singer of the Offspring
Anyone know where to download Nelly's "Work It" with the AC/DC sample? Sure, go ahead!


Sennheiser Lists With Sarah's Harem
Plus New Drum Mic an Dealer Opportunities



Classical-crossover singer Sarah Brightman has a busy year ahead, as she takes her ambitious Middle Eastern-themed "Harem World Tour" to North America, Russia, Europe over the next few months before continuing on to Asia and Australia. To accommodate several of her flying sequences used in the arena-sized stage show, which features two stages linked by a catwalk, Brightman has adopted Sennheiser and Neumann wireless microphone systems and, for the first time ever, is traveling with a wireless monitor system also from Sennheiser (with a newly launched web site).
Colin Boland, Brightman's front-of-house engineer for nearly nine years, has been impressed with the improved sound quality afforded by the change of microphones. "She's using the Sennheiser SKM 5000 with the Neumann KK 105-S capsule, which is wonderful," he reports. "It is an exceptional sounding microphone."
Most recently Sennheiser introduced the new Evolution e614 (MSRP: $399) drum overhead condenser microphone. This 600 Series mic addition further expands Sennheiser's impressive fleet of instrument mics while retaining the evolution line's exceptional value and excellent sonics (40Hz-20kHz).
Sennheiser is seeking qualified dealers to sell their DirectEarSAS Soundfield Amplification System for classroom amplification. The unique product uses the same reliable, award-winning, wireless technology that has become a staple on Broadway and television over the past 50 years. The Sennheiser SoundField system ensures that every student in the classroom or lecture hall hears the teacher's every word regardless of where they are seated.

Avatar Studios Launches 441 Records



Harvey J. Rosen, President/COO and Kirk Imamura, Chairman/CEO have announced the formation of 441 Rcords. Housed within renowned Avatar Recording Studios in New York City, 441 RECORDS promises to establish a solid foothold in the music industry by releasing top quality recordings of superior jazz, blues, R&B, dance and electronica music. "Our artists are real musicians playing real music," states Rosen.
Rosen who takes the reins of leadership for the new label explains: "For years, Avatar's management was astonished that dozens of great world-renowned jazz artists recorded at Avatar Studios were never made available for sale in the U.S. However, they did well in foreign markets. That said, 441 Records' initial mission is to market in the U.S. much of the aforementioned jazz music recorded or mixed at Avatar.
The first releases for the label are: Urban Grooves by heralded "post-Bop" jazz drummer Joe Chambers and his trio; Waltz For Debbie by critically acclaimed pianist Don Friedman and his Trio; Itacuruca by Brazilian jazz/AC vocalist Pamela Driggs; Rio de Janeiro Underground by Drigg's husband Romero Lubambo, himself a celebrated Brazilian jazz musician; Once I Love by the Ronnie Mathews Trio; Michel Sardaby in New York by jazz musician Michel Sardaby; and Live at the Village Vanguard by famed jazz group the David Murray Quartet. Now shipping are releases by former Tonight Show band drummer Grady Tate, internationally heralded jazz vocalist Marlena Shaw, a two-CD package Blues Is Black featuring some of the greatest blues songs performed by the original artists; and electronica CDs by groups such as Snocone, and Proteen. Furthermore, 441 will shortly announce the first artist signing to the label, with a CD release slated for October.
Imamura says: "441 Records is dedicated to maintaining the highest standards of quality in all aspects of the music business, including craft of artists and musicians, excellence of recording, fine artistic album graphics, full national retail coverage, professional principles of selling records, and ethics of business conduct. We hope music lovers everywhere will enjoy the music on 441 Records, packaged with such loving care."
Over 400 Gold and Platinum albums have been recorded in the Avatar Studios building, formerly known as The Power Station. February was a busy month with artists...Norah Jones, Alanis Morissette, Maroon 5, Fefe Dobson, Queen Latifah, to name a few.
They are located at 441 West 53rd Street, New York, NY 10019 (212-765-7500).

Stamped Pink!
New postal stamp and cd release saluting composer Mancini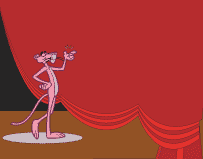 The legendary Henry Mancini is honoured on a commemorative stamp issued by the U.S. Postal Service this week. The stamp was painted by artist Victor Stabin and shows Mancini conducting one of his many scores.
Mancini has been a huge influence on music over the years. He composed classics like Moon River, music for Peter Gunn, and the music for the Pink Panther movies.
Mancini was born April 16, 1924, in Cleveland and was taught by his father to play the piccolo. He attended New York's Juilliard School of Music on a scholarship. At 18, Mancini was drafted into the Army Air Corps and assigned to a military band. After the war he became pianist for the Glenn Miller Orchestra and later moved to California where he began composing for film and television.
To celebrate THE YEAR OF MANCINI, Concord Records releases a CD entitled Ultimate Mancini. produced by Gregg Field. The album features Monica Mancini and special guest artists performing the greatest hits of the truly legendary composer. Hear many of the musicians who appeared on the original recordings plus Stevie Wonder on harmonica for "Moon River" with Take Six singing the vocals. The album will be available for distribution on the "Mancini at the Movies" tour starring Monica Mancini in January 2004, and will be in general release this month.

Favorite Quote:
"Science and art share a common mandate—to find surprise in the ordinary by seeing it from an unexpected point of view." --Howard Bloom, author/publicist