> home page
> more Producer/engineer
<![if !supportEmptyParas]> <![endif]>
Howard Shore
Film Composer/musician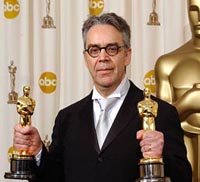 Photo: Jeff Vespa


History: Canadian Howard Shore studied in Boston at the Berklee School of Music and worked for a time as a musician playing sax in the rock group "Lighthouse."
Even when Shore worked with other directors his association with horror led to more work in that genre including "The Silence of the Lambs" and "Seven", or the offbeat "Ed Wood" when Tim Burton had temporarily fallen out with Danny Elfman. Within traditional orchestral scores he has mixed period styles and world music, as well as electronic instruments and sampled sounds. However, among all the many genre films he has scored with apparent freedom, there are now many examples where he has worked on more mainstream movies where the music requirements were no doubt more strictly specified. He can obviously work admirably under these conditions and has demonstrated a versatility previously only hinted at. He has done light-hearted family movies such as "Big", "Mrs. Doubtfire" and more recently "Cats and Dogs". The soundtrack to "Philadelphia" is extremely memorable (with a highly successful album release) including songs by Bruce Springstein, Neil Young, Peter Gabriel and an operatic track sung by Maria Callas. It is easy to forget Shore's contribution to this gem, with its sadness, comfort and quiet dignity, earning him the final track on the soundtrack album.
Despite this substantial career grounding, it must still have come as a surprise to some when Shore was chosen for the "Lord of the Rings" films. The surpise is greater when you look back to those early Cronenberg films where the music is often a mere backdrop to the eye-catching visuals and downright weird plots. In contrast the Tolkien epics demand a much more prominent position in the finished product. These long-awaited movies are certain to raise Shore's profile in Hollywood now that he has completed the mammoth scoring task - although still to come are the extended version of "Return of the King" and a possible prequel. The first in the trilogy, The Fellowship of the Ring introduces Celtic music for the Hobbits with song contributions from Enya, and much powerful, mystical choral cues winning Shore his first Oscar. The second soundtrack The Two Towers is more intense but equally worthy in musical terms with at least 95% new musical material. Given that each film is three hours long with music present for a good proportion of screen-time, the scoring task is considerable.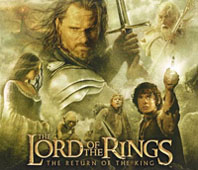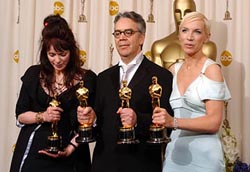 L-R: Fran Walsh, Howard Shore and Annie Lennox -- Best Original Song, Oscar 2004

Current credits: In 2004 Shore won a Golden Globe for best original score, motion picutrure - The Lord Of The Rings: The Return Of The King. He also wrote the winner for Best Original Song, "Into The West"--- Music & Lyrics By: Howard Shore, Fran Walsh, Annie Lennox. "Two things we really set to do right in the beginning was, one to create a sense of reality. That when you were in Lothlorien, it felt as real as possible. That's what Richard Taylor and Alan Lee were doing; you know they were creating the worlds as detailed as possible in the art design and the conceptual design. Peter and I were trying to do the same thing, Fran Walsh, as well. We felt the same way musically. If you were in Lothlorien, you would only be singing in Elvish or Sindarin or Quenya, based on the scene, whether it was old Elvish or newer Elvish. So we were detailing our work as carefully as possible, using the Tolkien languages 'cause we wanted to feel as realistic as possible," says Shore. The Oscars followed...Lord Of the Rings: The Return of The King won Howard Shore Best Original Score and Best original Song at the 76th Academy Awards on Feb 20, 04.



Contacts: 

copyright 2004 studioexpresso
<![if !supportEmptyParas]> <![endif]>