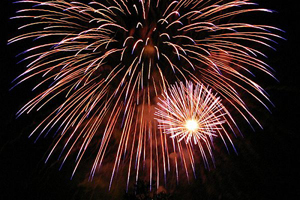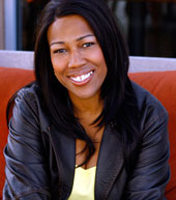 Summer is picnic on the lawn and Fourth of July Fireworks!
Red, White and Blues - The Star-Spangled Rhythms of America: With The Glendale Renaissance Orchestra Pops Concerts with Alexx Daye and more...
8 p.m on July 1st
At the Americana at Brand
Central Avenue, Colorado Street and Brand Boulevard. 818-243-2539. www.glendalearts.org.
Purchase tickets (starts at $69.50) by phone, website or at the Alex Theatre box office, 216 N. Brand Blvd.

Caffe Primo at The Americana at Brand is offering two dinner options the "to-go" package allows guests an opportunity to pick up their dinner on The Green and enjoy it at their ticketed seats or the "dinner service" option allows guests a chance to enjoy their meal in a separate dining area on The Green. A no host / cash bar will also be available on the Green. Hours of operation for dinner service are from 5:30 PM to 7:30 PM. Click here to view menu options or to place an order.
Grammy-Award winning conductor, arranger and pianist, Victor Vanacore leads the magical night of music that includes the Star Spangled Banner, Bandstand Boogie, Those Fabulous Fifties, Detroit Soul (Motown Medley), Nickelodeon at the Pops, King of Pop (Michael Jackson Tribute), Phunk at the Philharmonic (Earth, Wind and Fire Medley), Good Vibrations, In The Mood, Southern Comfort, South Beach Soul (Gloria Estefan Medley), Disco at the Pops and Stars and Stripes. Alexx Daye is one of the featured artists who has shared the stage with many artists including Patti LaBelle, Vesta Williams, Seal, among others. She has been the featured artist at Newport Jazz Festival and has shared the studio and stage with jazz, soul and gospel greats such as BeBe Winans and Harvey Mason. Read more about the performers here
2010 Lilith Tour Kicks Off with Stellar Line Up






Lilith co-founder and main stage headliner Sarah McLachlan announced the first set of artists for Lilith 2010 -- Beth Orton, Carly Simon, Cat Power, Chantal Kreviazuk, Colbie Caillat, Corinne Bailey, Rae Court, Yard Hounds, Emmylou Harris, Erykah Badu, Gossip, Heart, Indigo Girls, Ingrid Michaelson, Jenni Rivera, Jill Scott, Kelly Clarkson, Loretta Lynn, Norah Jones, Queen Latifah, to name a few! "The Women's National Basketball Association (WNBA) and the 2010 Lilith Tour -- one of the highest-grossing touring festivals in the world -- joins forces to celebrate female artists and athletes all summer long through special ticket promotions, appearances, and community activations. "Besides discovering new music everyday and sharing the stage with an incredible array of talented women, it's wonderful to see established and new artists alike have the opportunity to play in front of much larger or more diverse audiences than usual," says McLachlan. studioexpresso just lea that drummer extraordinaire, Curt Bisquera will be on the tour (with Ann Atomic in WA, San Fran,Boston and Los Angeles) that kicked off in Calgary on Sunday, June 27th. "It seems they keep adding more dates as we speak," says Curt.Tix/locations here
Zappa Rising in Ojai Ran into my guitar hero, Steve Vai at the Friday's concert, which also included two short works by Edgar Varèse ("Density 21.5" and "Octandre") -- the modernist composer who most inspired Zappa – started out with the "Yellow Shark" material. The two-hour fifteen minute show ended with Askin's arrangements created for Ensemble Modern (orchestra from Frankfurt, Germany) in 2000 and released on an album called "Greggery Peccary & Other Persuasions."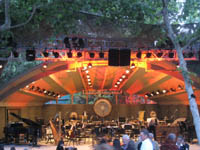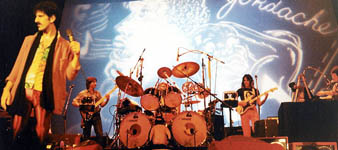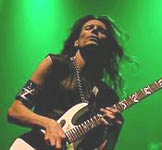 An afternoon panel of musicians included Steve Vai, Ian Underwood, the Synclavier specialist Todd Yvega and Ensemble Modern flutist Dietmar Weisner, who concurred: Zappa was a tireless experimenter with sound and form. The performances, brilliantly conducted by Brad Lubman showcased Zappa's orchestral works and offered a window into the creative soul of an icon who crossed musical genres. you can hear the urban jazzy cyncapaded humor that spells Zappa in Get Whitney or A pig with wings. Kudos to Ojai Festival to include his works alongside contemporary classics. Zappa remains a classic and who knows, maybe a few of the old-timers who showed up for Zappa (the Bowl and lawn were sold out) agreed. In "The Girl in Magnesium Dress," Zappa put two pianists through Boulezean paces and then moments later one of those pianists, Hermann Kretzschmar, reappeared on stage in a funky Uncle Sam outfit for "Welcome to the United States," berating the audience while the ensemble responded with instrumental flatulence. Vai mailed Frank Zappa a transcription of Zappa's "The Black Page," an instrumental for drums, along with a tape with some of his guitar playing. Zappa was so impressed that, in 1979, he hired him to transcribe a number of his guitar solos, including some on the Joe's Garage album and the Shut Up 'n' Play Yer Guitar series. These transcriptions were published in 1982 in The Frank Zappa Guitar Book. Subsequent to being hired as a transcriber, Vai did overdubs on many of the guitar parts for Zappa's album You Are What You Is. Thereafter he became a full-fledged band member, going on his first tour with Zappa in the Autumn of 1980.

Books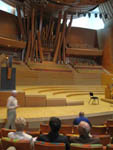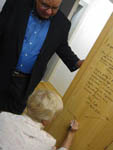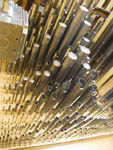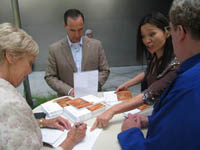 Disney Hall Pipe organ; Jennifer Zobelein, author of Forest of Pipes with organ tuner Nanuel Rosales signing inside the organ and book signing at the Disney Hall's rooftop garden
Forest of Pipes Jennifer Zobelein's dream was to write a book about the The Walt Disney Concert Hall Organ and present this marvel of instrument to the world. It took almost two years of perseverance and gusto to complete and publish her book, Forest of Pipes, now available at the Disney gift store and Amazon
The book has two pages dedicated to the anatomy of the pipe organ to include facts like: Total number of pipes: 6,134 The longest pipe: 32 feet, and the heaviest pipe weighs over 800 pounds. Mrs. Zobelein, who is member of the American Guild of Organists and the Organ Historical Society, is a freelance writer who plays piano and organ. Jennifer's book, Forest of Pipes includes a bonus music CD and fascinating interviews with key figures in the organ's design and construction, including organ designer Manuel Rosales, organ builder Caspar Glatter-Goetz, as well as architect Frank Gehry. Illustrations include drawings, construction photos, and magnificent portraits of the finished instrument by photographer Grant Mudford. Additionally there are interviews with World-famous organists who describe their experiences performing on one of the most significant new organs built in the last 100 years. Frank Gehry's Walt Disney Concert Hall is a stunning piece of architecture whose curved metal skin is known worldwide. The hall's rich wood interior allows musicians and listeners to dwell inside an instrument of exquisite craftsmanship. "The centerpiece of the auditorium is a skewed arrangement of organ pipes located behind the stage. This organ represents the culmination of 16 years of design, planning, and construction, and it has been a reverberating success since its inaugural concert in the fall of 2004," says Mrs. Zobelein whose book, Forest of Pipes, may as well be the go-to- book to Disney Hall's marvelous pipe organ.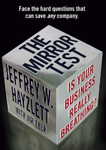 The Mirror Test -- Is Your Business Really Breathing? Jeff Hayzlett offers entertaining and timely anecdotes -- how to thoughtfully yet aggressively evaluate and reconstruct one's business. Chock full of inspirational business stories and insights told by the author who's the chief marketing officer at Kodak. Anyone who has a craving to start a business should read this book available on Amazon
The Craft and Business of Songwriting by John Braheny is in its 3rd edition. JIt's being released by Writers Digest Books as a PDF download edition (http://tinyurl.com/377y5tg) with e-book, Kindle and iPad digital editions soon to follow. It's already sold about 80,000 copies in all editions combined and is being used throughout the country as text in colleges and Universities including USC Pop Music Dept, Cal State Northridge, Loyola University (New Orleans), Austin Community College and many others. For some reviews go to: http://johnbraheny.com/book/reviews/.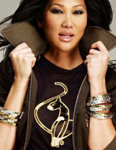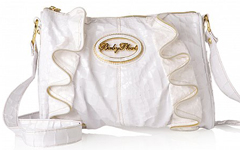 The Face Behind Baby Phat Savvy businesswoman, author, philanthropist, producer, Supermodel, television personality, Tony winner and according to Forbes- Kimora Lee Simmons is one of the top-ten "hardest working mothers in Hollywood." Her Baby Phat's slinky feline logo has become an internationally recognizable fashion symbol and is synonymous with the brand. Founded in '99 by Kimora Lee Simmons (X Mrs Russell Simmons), Baby Phat continues to take fashion to new heights - more than your average urban denim company - Baby Phat is a lifestyle for the glamorous woman who is everything hip-hop and everything fashion. Whether it's the eye-catching hip-hugging signature jeans, leather, outerwear, handbags, shoes, lingerie, jewelry, two limited edition Motorola mobile phones and a signature fragrances...Kimora's experience as a top fashion model, her innate sense of style and her affinity for the finer things in life, has put Baby Phat at the forefront of fashion.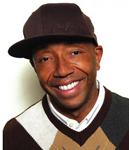 Simmons Aiming To Help The Little Guy ? Invoking low-income consumers, Russell Simmons won an exemption from legislation that could have hurt his debit-card business, UniRush. Best known for his Phat Farm clothing line and Def Jam music label, Russel Simmons is also the owner of UniRush, a Cincinnati company that sells a prepaid Visa (V) debit card called RushCard, with about 2.5 million users. Simmons has persuaded lawmakers to exempt his business from a measure that would shift more of the cost of debit-card processing from retailers to the banks. When a consumer uses a debit card, the retailer's bank pays a 1percent to 2 percent "interchange fee" to the card holder's bank. The merchant ultimately shoulders that cost, and it adds up. Retailers estimate they pay nearly $20 billion a year to debit-card issuers such as Citigroup (C) and Bank of America (BAC). If the interchange fee is capped, Simmons says, he would be forced to charge his low-income customers more, allowing retailers like Wal-Mart Stores (WMT) and Best Buy (BBY) to profit the most. Simmons' prime target, Richard J. Durbin of Illinois, the No. 2 Senate Democrat, has for years pushed to reduce interchange fees on behalf of retailers. Durbin won an amendment to the financial overhaul legislation that passed the Senate in May to cap the fees and let the Federal Reserve set the rates, instead of Visa and MasterCard (MA). Credit-card fees would not be affected. The end result means more profits for retailers and less for Simmons. Big card-issuing banks, unpopular with politicians after the $700 billion industry bailout, got nowhere in their effort to defeat the provision. Enter Simmons, who used his star power to open doors in Washington. He railed against Durbin's provision on a Huffington Post blog and a Twitter feed read by about 364,000 people. He argued that prepaid debit cards are essential for low-income people who can't afford checking accounts or would be turned down for credit cards. His customers load money onto a RushCard, which is accepted anyplace that takes Visa. In an open letter to lawmakers, published on the Huffington Post site, he says he aims only to help the little guy: "I don't work for Visa or MasterCard and I don't give a damn about the profits of the big banks. Regulation is long overdue." Unmentioned are the fees Simmons' company imposes for its card, including a $9.95 monthly charge, $3 for activation, $1 for every purchase if a PIN is used, $1 for online bill paying, and 50 cents to check your balance at an ATM. Direct deposits and online account management are free, as is a service that alerts customers when their balances are low. By comparison, check-cashing services can charge $50 to cash a $1,000 paycheck. Such fees have led some to ask whether Simmons is at least as interested in doing well as in doing good. Simmons is "marketing a product that is frankly exploitative of the poor and minorities," says Georgetown University law professor Adam Levitin, who specializes in banking issues. "He's no different than a bank." In the end, Durbin was won over: He announced on June 21 that he would exempt pre-funded debit products, including the RushCard, from the fee limits. (Source: Business Week)

UK's distinguished APRS (Association of Professional Recording Services) is presenting on June 30 a comprehensive demonstration of the PenteoSurround 3D Audio process at Mark Knopfler's British Grove Studios in London. Those interested in attending may email Tom Allom at tom@penteosurround.co.uk Demonstrations of film and TV with 5.1 audio converted from standard stereo will take place at British Grove, with 52-inch hi-resolution display and full Surround Sound. Attendees are encouraged to bring their favorite CDs for on-the-spot conversion to 5.1 audio. "It all started when we did a demo for Dave Harries, who built Mark's studio," explained Allom. "An APRS director and former manager of AIR Studios, Dave has been a mainstay of the British recording scene for nearly four decades. He loved the Penteo demo and suggested we should hold a private event to let the UK hear for themselves."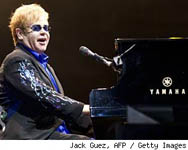 Fresh off a gig as Rush Limbaugh's wedding singer, Elton John performed in Tel Aviv this month, despite pressure from human rights groups and fellow artists to boycott Israel following the flotilla debacle off the coast of Gaza. "Shalom, we are so happy to be back here! Ain't nothing gonna stop us from coming, baby," John said with a fist in the air. The piano man then took a swipe at those artists, including Elvis Costello, Santana, the Pixies and Devendra Banhart, who have bailed on concerts in recent weeks. "Musicians spread love and peace, and bring people together. That's what we do," he said. "We don't cherry-pick our conscience."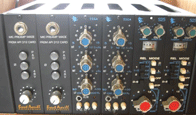 Neve, API Moving Sale..contact Steve in LA: dfwstudios@mac.com
Brent Averill 1073s $2500; Original Urei 1176LN $2999; API lunchbox all original... $7300; 312 mic pre x 2 $1300
550a x 2$1250; 525 compressors x 2.... $1100; Clear Sonic IsoPac B $800.; MOTU HD 192 PCI-424 card $900



artist expresso-- Ask Claris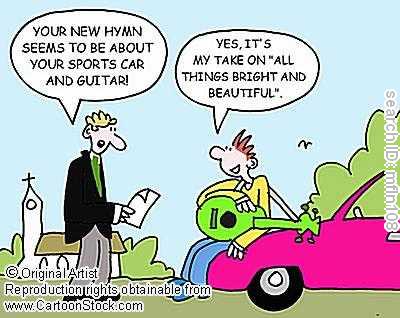 We hear from artists every day from all corners of the world -- France, Germany, Russian, Israel, Asia, Australia and Middle East asking how they can get heard or build their careers. We've decided to feature a letter or phone message each month and share our response with other new artists with similar needs or questions. Our goal remains to empower new artists and encourage them to find their voice and musical path. Most importantly, we're here to remind artists that it's a long journey, so enjoy the process. We encourage artists to provide a link to their music site when they cotact us..this way, if a producer or manager is interested, they can be contacted directly.
Artist: I need your opinion and a piece of advice. For quite a time I was trying to find a way to make my dream come true( to become a singer) but I only received false promises and nothing real. I will appreciate your advice because , as you see from my CV I've finished Medicine University and I didn't have much contact with people working in music lisen to my songs. I recorded myself in my room, at home , with the digital photocamera!
C: Educate yourself about the music industry -- it'll help you ask the right questions or give yourself a proper introduction.
we recommend the following links
http://www.studioexpresso.com/ArtistResources.html
http://www.studioexpresso.com/Books.html
Enjoy and keep in touch!
RIP
Doug Fieger
August 20, 1952 - February 14, 2010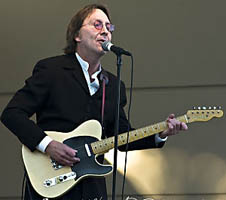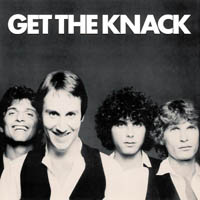 Doug Fieger, leader of the power pop band the Knack who sang on the 1979 hit "My Sharona," died at 57 early this year.
In 1994, "My Sharona" re-entered the Billboard chart when it was released as a single from the soundtrack of the Ben Stiller film "Reality Bites." The song gained attention again in 2005 when it was reported that George W. Bush had the song on the presidential iPod. Fieger said the song, with its pounding drums and exuberant vocals, was inspired by a girlfriend of four years. "I had never met a girl like her — ever," he told The Associated Press in a 1994 interview. "She induced madness. Fieger battled cancer for six years. He is survived by a sister, Beth Falkenstein, and a brother, attorney Geoffrey Fieger of Southfield, Mich., who is best known for representing assisted suicide advocate Jack Kevorkian


"It's important to have enough motivation to keep improving, enough drive to wake up on court and practice at your hundred percent. That's the way. That's what I did all my life."
-- Rafael Nadal six-time Grand Slam winner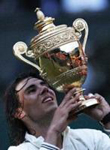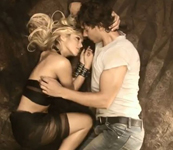 Rafa says he has no time to go to concerts yet he appears in the Gitana videos with Shakira! The video was shot in Barcelona, Spain and directed by Jaume De Laiguana. The song appears on Shakira's "She Wolf" album which was released in November.Watch and be the judge! Shakira's handsome co-star is nominated for 3 ESPY Awards, June 26 2010. The ESPY awards, produced with ESPN, is a Who's Who of sports celebrities. The athletes come to Los Angles to be honored and the most memorable moments from the past year in sports are shared.The ESPY Awards are hosted by Seth Meyers. 18thth annual ESPY Awards ceremony to air on ESPN live from the Nokia Theatre in Los Angeles on Wednesday, July 14, 2010.

How many "Soccer World Cup Themes" are there anyway? The official R. Kelly performance of "Sign of a Victory" with the Soweto Spiritual Singers at the opening ceremony of the 2010 World Cup in Johannesburg, South Africa or the "unofficial" Weezer's "Represent." Now comes yet another soccer World Cup Theme. Colombia's crossover diva Shakira recently released her "Waka Waka," a collaboration with South Africa's Freshlyground. The song is in English but it has a controversial "ethnic" chorus considered "infectious" by some and "infectious, but like a disease" by others. Shakira claims that the chorus is an homage to the African military song "Zangalewa," popular throughout the continent. Click the links to watch and judge for yourself.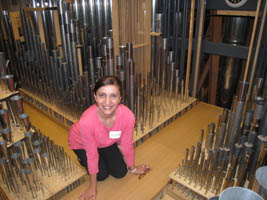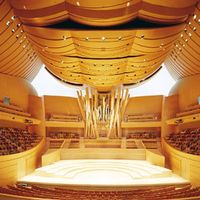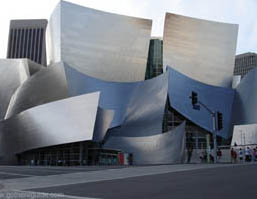 studioexpresso's Claris doing the Disney Organ Crawl; 2004 Glatter-Götz/Rosales organ at Walt Disney Concert Hall

Happy Independance Day America!