Annie Lenox
Bare
Ltd. edition album with bonus DVD
Release date: June 9 2003


The long awaited release of Annie's new album is the first in over seven years, and the third of her solo career. Her previous album "Madusa" is certified 2x Platinum. She's come full circle. After exploding onto the world stage in the early '80's as half of The Eurythmics, Annie Lennox is back together with partner Dave Stewart.
Jeff Trott
Dig Up The Astroturf
Released early 2003


"Even though I have a name from my songwriting, it doesn't mean shit," says Trott, being as blunt and to-the-point as one can get. Trott may be best known as Sheryl Crow's songwriter and musical collaborator. That is until he released his debut solo record earlier this year, Dig Up The Astroturf. Trott released it on his own Black Apple Records. And though the record hasn't established him on his own - yet - its layered, psychedelic pop textures and personable songwriting, the same found in the Trott-penned hits for Crow, are working to ensure that people refer to Trott as Jeff Trott, not Sheryl Crow's songwriter.


The Ataris
So Long Astoria
Columbia Records 2003

The Ataris, one of the most successful independent rock bands of recent years, have a brand new album, so long, astoria, the group's eagerly-awaited major label debut on Columbia Records. so long, astoria is the first full-length Ataris album in nearly two years. Conceptually, so long, astoria takes its inspiration from a concept expressed in punk pioneer Richard Hell's novel, "Go Now" (which also exists as a spoken word album): that memory can transcend the experience that generated the memory. "That really hit home with me," Kris points out. "That's how I try and structure my life: to try to do what will produce the best memories for later.
When it came time to find a producer for so long, astoria, the Ataris chose Lou Giordano (Sunny Day Real Estate, Samiam, Paul Westerberg, Hüsker Dü, Sugar). "I wanted this album to possess this kind of straight-forward powerpop rock vibe," Kris admits, "kind of what the Replacements always did. I wanted to make a record that spoke to a wide audience.
Hiroshima
The Bridge
Release Date: June 24, 2003


On June 24, Hiroshima, one of instrumental world music's most innovative acts, is set to release The Bridge, a blend of Asian and North American sensibilities that reflects both cultural and spiritual connections. "We looked at who we are when we came up with the title," says multi-instrumentalist Dan Kuramoto, the band's leader and producer. "For us, The Bridge has many different meanings, including cultural and artistic bridges. As a third generation Japanese, it's about growing up here and trying to integrate socially. Also, the music business has continued to change its complexion, and as a group we need to constantly reinvent ourselves while staying true to our artistic vision. We're bridging a lot of things right now."
"The Bridge is the most uptempo record we've ever done," continues Kuramoto, who also engineered the project. "It was essentially recorded 'live' in the studio, but with overdubs, odd loops and even scratch tracks. We're featuring different elements of the band, the koto, the keyboard - rebalancing the yin and the yang - to create a larger sound."
Toni Braxton
Mor Than A Woman
Arista/La Face
Release: 11.19.03
Producers: The Neptunes, Irv Gotti, Rodney Jerkins; 1st single featuring Loon.
Michelle Branch
Hotel Paper
Maverick Records
Release: 6.24.03
Pre-Order here
Just three years after Michelle Branch first picked up a guitar at the age of 14, she was signed to Maverick Records with an album in stores. The Grammy winner Branch is on tour this Summer with The Dixie Chicks.


During downtime for the Rolling Stones' Bridges to Babylon recording in 1997, fellow drummers Charlie Watts and L.A. session ace Jim Keltner slip into an adjacent studio for an impromptu jam. Keltner brings along a sampler and some sequences he has prepared, Watts brings a pair of sticks and his inimitable backbeat. The result is a swirling excursion into Techno/World Beat exotica with Charlie's "Start Me Up" grooves at the core. Digitally edited and enhanced more than a year later at a Parisian studio with co-producer Phillipe Chauveau, the Charlie Watts Jim Keltner Project stands as the drummer's most personal and compelling statement to date. The song titles tell the whole story; each named for a different Jazz legend. And though Charlie makes no attempt to imitate his heroes, he pays homage to them all on nine provocative tracks.
Kenna's New Sacred Cow
Kenna, who recently signed to Columbia, has a new cd and performed at The Roxy on June 16th. "Some people would say that I was a little bit impatient, but I felt like waiting two years after the record was done to put it out was incredibly patient," Kenna explained. "I went to Fred (Fred Durst's Flawless label) and I just basically said, 'If you let me out of my deal, I'll never make music again.' I mean, that's how frustrated I was and how willing I was to leave."
Fortunately for the singer, Durst acted, as Kenna put it, "noble." "He said, 'I want you to make music and I really respect you as an artist and I'm still gonna let you go. I just know that it's right for you to do what you need to do and maybe it's right for you to do it elsewhere,' " Kenna recalled. "It wasn't Fred's fault. For the most part, I think it was just bureaucratic bullsh--."
It took Kenna a few months, but he eventually signed with Columbia Records and released New Sacred Cow, produced by The Neptunes' Chad Hugo, on June 10. Read more...at MTV.com


Simple Plan gets 3 NMVA nominations and goes Warped with a new video!


When rambunctious rockers Simple Plan released their 2002 Lava Records debut, "NO PADS, NO HELMETS... JUST BALLS," the band more than just hit the ground running. Just inside of a year, Simple Plan crossed five continents and played over 300 shows.
Most recently the band was in LA shooting a video for their next single "Perfect" which
will premiere sometime this summer. The band is also scheduled to be on the entire Warped Tour, all summer long! Warped Tour is stopping in almost every major city in the US and Canada so this is your chance to see the boys, Pierre, Jeff, David, Sebastien and Chuck, play with a bunch of great bands like AFI, Rancid, Mest, The Ataris, The Used, Bowling For Soup, Starting Line... Also, SP picked up 3 nominations at the MMVA's, the canadian equivalent of the MTV awards vote here! The show airs: Sunday, June 22nd, 2003
Red Carpet Arrivals LIVE @ 7:30pm ET (90 min.) Awards Broadcast LIVE @ 9pm ET

Freshly Brewed, Vol. 1
Captures the essence of 8BallRadio in this compilation of former Artists of the Month - angeles drake, Karmacanic, Dr. Awkward, Peter Moon Band and Q*Ball, as well as 8Ball Fan favs Shades of Day, Beth Thornley, Rosewood Fall, American Rockstar, Damion Wolfe, Another Day Wasted, and Sonic Orange - it reflects the spirit of 8BallRadio.
Besides helping these emerging artists spread their wings and gain some global recognition, profits from this CD will go towards helping 8BallRadio stay on the air
XM Completes Debt Offering & combined with Sirius Could See Up To 48 Million Subscribers By 2012
XM Satellite Radio today wrapped up its $175 million offering of 12% senior secured notes due 2010. Additionally, XM granted the initial purchaser of the notes an option to buy an additional $25 million worth of notes to cover over-allotments. According to a study from satellite radio industry publication SkyWaves Research Report, even a conservative, minimum-growth scenario could give the two satcasters a combined total of 29.7 million subscribers by 2012. The quarterly newsletter also predicts that XM and Sirius will have nearly 800,000 subscribers by the end of Q2 (June 30) and at least 1.5 million subs by the end of 2003.
Robben Ford in the studio... with a little help from his friends



L-R: Niko Bolas; producer John Wooler, Robben Ford at Watersound
Blues and jazz guitar guru Robben Ford's upcoming release on Cocord Records is produced by John Wooler (PepesitoReyes, Johnny Lee Hooker, Hadda Brooks, Pops Staples) and engineered and mixed by Niko Bolas (Mary's Danish, Neil Young).
The team chose Groovmaster and WaterSound Studios for tracking and mixing. studioexpresso met up with Robben Ford (and his band, the Blue Line) who says: "Musically there's a tremendous opportunity, if you like blues music," to keep it fresh and alive," says Ford. "Probably the lion's share of my life's work in music has been doing exactly that." Ford's earliest musical steps were in the blues, playing with his brothers in the Charles Ford band and backing harmonica great Charlie Musselwhite.



The Mix Room Re-Openning Party!
celebrating install of new SSL XL and expansion of the studios



L-R: At the Mix Party producers/engineers mingle - Michael C Ross; Chaka Blackmon, Brad Haehnel; André Fischer

Mix Room owner Ben Grosse and SSL's Phil Wagner hosted the party with a packed house of friends who came to celebrate the re-openning of the renovated studios A & B with the new SSL consoles (XL and 9k). Vincent Van Hoff oversaw the new expansion and everyone enjoyed the fab vibe and Martinis served!


New York's Avatar surrounded by top artists/producers
JJP, Elliot Schiner, Kevin Killen among others...



L-R: Jack Joseph Puig (Producer / Engineer), Tino Passante (Avatar Studio Manager), John Mayer
Grammy winner John Mayer recently taking residence in Avatar Studio A (Neve 8068) with engineer/producer Jack Joseph Puig, recording for an upcoming Columbia Records release. Ross Petersen assisted the sessions.
Elliot Scheiner recently in with producer Rob Mounsey tracking for new Universal/Verve artist Sissel. Brian Montgomery assisted.
Engineer/producer Kevin Killen completed mixing of Elvis Costello's latest record tracked entirely in Studio A. Peter Doris assisted.
Also in the house were Producer/arranger Bob Belden recently in with jazz great James Moody tracking new Savoy Jazz record. Engineer Chris Shaw and producer Butch Walker (Avril Lavigne) recently in doing mixes for Jive artist Bowling For Soup.
Producer/Pioneer DJ Premier recently in mixing tracks for Arista artist Cee-Lo in studio D (SSL 9000). Eddie Sancho engineered the mixes with assistance from Anthony Ruotolo.

Northern Cali's Prairie Sun Recording upgrades to HD and Reports Session Activity

L-R: Mixer Jack Blades (Nightranger), Prairie Sun's Mark "Mooka" Rennick and engineer/musician Michael Lardie (Great White).

Prairie Sun Recording is excited to announce the installation of Digidesign's Protools HD3 system. According to owner Mark "Mooka" Rennick, the system comes fully loaded with 3, 192 interfaces, Sync Unit, and the capability to interface 24 in and 48 out. Monster Cable is handling the wiring and Studio Construction/Iso-box rack has provided a quiet and elegant solution to the noise. The computer is a new 1.42Ghz, dual processor Power Mac G4, with a 20" Cinema display."The HD system in conjunction with our 80 input SSL 4000 is an unbeatable mixing environment for the discerning client who wants to take advantage of Prairie's outboard Neve Eq's (24 class A), 2 award winning live echo chambers (Tom Waits, Hal Wilner etc.), numerous vintage compressors, and a large comfortable mixing space with acoustics by Manny LaCarrubba of SAW who's credits include the Plant Studios in Sausalito, CA. The word is out that this room really translates! Of course Plug Ins are available in all forms," says Mooka.

Recent Sun recordings include: Colin Blades' upcoming cd on Coinsurer records with Jack Blades (pictured above) mixing and Michael Lardie (Great White) engineering. Metal legends Exodus were in Prairie Sun Studio B tracking drums for their upcoming album. Andy Sneab (Machine Head, Testament) engineered the session, assisted by Wain Hewlett. U.F.O. guitarist Michael Schenker recorded and mixed his upcoming solo album with M.S.G. (Michael Schenker Group) for Shrapnel Records. The album was engineered by Steve Fontano and assisted by Josh Chaddock. Producer Khayree Shaheed (Mac Mall, Ray Luv) was in studio A with R&B group Big Bang Theory, mixing their debut album for Young Black Brotha Records. Steve Counter (2 Pac, En Vogue, Digital Underground) engineered the sessions with second engineers Jason D'Ottavio and Josh Chaddock. Americana singer/songwriter Natasha James was in studio A mixing her upcoming independent release. The record was engineered by Ronnie Rivera (Lisa Marie Presley, Rolling Stones) and assisted by Josh Chaddock. The San Francisco based Magic Christians finished recording and mixing their upcoming independent release. The band features Cyril Jordan of the "Flamin Groovies" on guitar. Paul Kopf on vocals, Prairie Prince playing drums and Alec Palao on bass. The record was engineered by Mark "Mooka" Rennick and assisted by Jason D'Ottavio.
Medeski, Martin and Wood Go DTS 6.1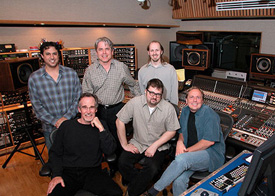 Pictured at the Neve 88R console are (foreground L-R) Joe Harley, surround producer; Scotty Hard, original Blue Note album producer/ engineer; Michael C. Ross, surround engineer; and (rear L-R) Jeff Goodman, Neve; Jeff Levison, DTS Entertainment; and Brian Vibberts, assistant engineer at Studio D at Ocean Way Recording in Hollywood.
Photo by David Goggin

Acclaimed jazz group Medeski, Martin and Wood created a 6.1 Surround mix of their "Uninvisible" album for DTS Entertainment.



David Benoit New Release on Verve

L-R: Benoit, Sykes and Braum

Castle Oaks Productions, in Calabasas, Ca was once again studio of choice for the elite duo of Rick Braun and David Benoit (winner of the 4th Annual National Smooth Jazz Award's Keyboardist of the Year) as they set the foundation for David's highly anticipated up-and-coming release for Verve Records tentatively scheduled for a 9/9/03 release.

The jazz legends paired up with long time engineer Steve Sykes and once again decided Castle Oaks for its incomparable atmosphere and ultra-punchy tracking rooms. Benoit, so fond of the room's silky tone himself, had his own Yamaha 7ft Grand Piano specially sent out to capture the rooms distinct and rich sound.
Performers appearing on the album where second to none with a performance cast that read like who's who of jazz then and now. Freddy Washington Jr, Lenny Castro, and Steve Feronne all stopped in to contribute to the bottom end of things while Tony Mayton stopped by to add his sweet chord work to the duo's production.
Even producer Rick Braun stepped away from his own home studio for once to spread his own share of the hit making pixie dust over David stunning piano work and new arrangements. Accompanied by long time engineer of choice Steve Sykes and 2nd engineer Frank Verschurren, the pair laid it all down through Castle Oaks' combination of Pro Tools HD summed through a Vintage 36 input 1083 series Neve with Flying Faders Automation.
DMT Rentals supplies high-tech systems to record scintillating "Terminator 3" score
Dennis Sands opted for ultra-precision DMT SUPER PRO TOOLS HD WORKSTATION to capture Marco Beltrami's dramatic music.

Pictured during scoring sessions for "Terminator 3: Rise of the Machine"
(L-R): composer Marco Beltrami, DMT's Eric Cowden, Jayce Murphy and Bryan Jackson, with Dennis Sands (seated).

Renowned music scoring mixer Dennis Sands ("Cast Away," "Contact" and "Forrest Gump," which received Best Sound Oscar nominations) once again called upon DMT Rentals for his most recent film, "Terminator 3: Rise of the Machines," to be released in mid-July. The DMT-supplied systems used to capture Marco Beltrami's score during dates at the Sony Scoring Stage, Culver City, and mixing sessions at the Warner Bros' Eastwood Scoring Stage, Burbank, included two custom-designed DMT SUPER PRO TOOLS HD RECORDING SYSTEMS.
Warner Bros.' highly anticipated third installment in the Terminator Series, this time out with director Jonathan Mostow, is certain to deliver an electrifying new chapter in the saga, as well as a powerful soundtrack that combines 128 synthesizer tracks and 64 tracks of live orchestra. "For the T3 scoring sessions we used two separate DMT Pro Tools systems," Dennis Sands explains. "One Pro Tools HD system was dedicated to capturing the orchestra, while another Pro Tools rig replayed the synthesizer elements, allowing me
to creatively handle the complex mix. With some of the projects I work on, it's not unusual to have over 200 channels going to the mix - you just run out of faders. One of Pro Tool's great features is that you have the ability to mix inside the workstation without taking up channels on the console.
The ever-busy Sands recently completed mixing the musical score for Universal' s "The Incredible Hulk" with composer Danny Elfman. His DMT Rentals rig included two DMT SUPER PRO TOOLS HD SYSTEMS and two additional 48-track Pro Tools HD with Pro Controllers, in addition to a DMT 16 CHANNEL RECORDING SYSTEM for the final film mix at Warner's' Eastwood Scoring Stage, and a DMT ULTIMATE MASTERING MACHINE for the stereo film score mix destined for CD release. Upcoming assignments include Danny Elfman's score for Colombia Pictures' "Big Fish," with director Tim Burton, and which will be
recorded at the end of August.
For more information:
EMail Dennis Sands or VOX 805.565-3020
DMT Rentals' equipment and consulting services EMail Doug Botnick or VOX 818.559.2272 Digital Music Technologies 273 West Alameda Avenue, Burbank, CA 91502, USA 818.559-2272
Mel Lambert Media&Marketing - Media contact



The Beat goes on!



Kenny Aronoff who just played "Willie Nelson and Friends: Live and Kickin'" on the USA Network on Memorial Day (May 26) is currently on tour with Michelle Branch in support of her new album "Hotel Paper" which is due June 24th on Maverick Records. Kenny performs on that album and played live with Michelle Branch on May 29 when she debuted the video for "Are You Happy Now?" at the MTV Summer Beach House on TRL. "I have been traveling with Michelle Branch all over the USA. We ( Michelle Branch) just did MTV Beach House with Carson Daley. We're off to Europe and then back with the Dixie Chicks in the USA," says Kenny.
And oh yeah, a song that Kenny played on won an Academy of Country Music Award (aired on CBS ednesday, May 21).
As one of the most in-demand and influential drummers in rock music Kenny Aronoff has worked with many of the world's top artists including: Melissa Etheridge, The Smashing Pumpkins, John Mellencamp, Jon Bon Jovi, Elton John, Bob Dylan, Waylon Jennings, Bonnie Raitt, John Fogerty, Joe Cocker, Mick Jagger, Alice Cooper, The Rolling Stones, Meat Loaf, Willie Nelson and many others. With a style of playing that combines power and finesse, Kenny was named the #1 Pop/Rock Drummer and the #1 Studio Drummer for 5 consecutive years by the readers of Modern Drummer Magazine.
Watch for Kenny playing with Michelle Branch on David Letterman on July 7th (he was on Jay Leno on June 6th).