Expresso Walk And Talk with...
Penny's Project: 13
You Can Bring Music Heroes to Life via Kickstarter Before June 5. Greg Penny Wants Your Support!

l-r: Rika, Eddie, Eiko, Greg and Nomoto @ STUDIO 4°C - Tokyo; Project:13 characters
Producer Greg Penny (Elton John, KD Lang) is using Kickstarter to raise $390,000 to launch 3 five-minute pilots for an animation show called - project : 13. "It's a music driven animation project done by one of the top studios in the world, Studio 4ºC in Tokyo. " It's driven by strong songs with global hit potential and larger-than-life characters who fight Evil," says Penny. The music is being created in California and Tokyo and will feature performances by new and known music artists. Temu is the handsome leader, an incredible musician who is master of transformation. He symbolizes the child in all of us who's born to change the flow of destruction, he is born through the union of the divine essence of the seven northern stars and he is the seed of the true human being. "Cool under fire", the beautiful Feris is trained in martial arts and sword dancing. She is the master at herbal healing and possesses an extremely fine tuned psychic ability. Lulu is a savvy goddess of soulful sound. Gen is the fusion of Samurai & Rock Star who can throw shapes to rival the greatest guitar gods, …and his "swagger" is legendary. Kokoto ("hardcore") lives up to the definition of his name in Swahili and is a master slam poet and a soulful funk bassist. Each "episode" has a different song, story, cast and location with one central character providing the common thread between the trilogy."We have already created part one - The Sound Of Hope - and we are about to go into production on parts two and three - but first we need your help to make this happen. The deadline for the funding project : 13 via Kickstarter is Tuesday June 5th at 9pm PDT -- countdown begins now!" adds Penny. Kickstarter funding is "all-or-nothing", meaning that every project must be fully funded before it's time expires or no money changes hands. It's EASY to become a "backer." The way that Kickstarter works is that a backers will receive goodies depending on the amount pledged ($5-10,000). It's easy to pledge via your Amazon account and you instantly become a backer and receive cool rewards. $5, you get A Wish For Success--- Your name inscribed on an Ema (small wooden plaque) and placed at the Hie Shrine in Tokyo. For serious animation fans, pledge $250 you get a delux DVD package, limited edition hard-back coffee-table edition of the - project :13 trilogy production art book -- includes storyboards, songwriting, recording sessions... You can pledge more? How about Associate producer credits, trip to Tokyo, or they can bring you to life in a cameo appearance (WARNING: You may be cast as a "Bad Guy / Girl)!
It's all here. "After you pledge, don't forget to tell your friends - forward this email, facebook it, tweet it, text it, phone it, whisper it, shout it, sing it, with bongos, guitars or smoke signals," says Penny
Do it before Tuesday June 5th at 9pm PDT. "I have a feeling this is the real test. Let's support our studioexpresso community members and get your projects rolling. right here! We hope to follow up with a success story! Good luck Temu, Feris, Kokoto, Gen, Greg! " says studioexrpesso's Claris.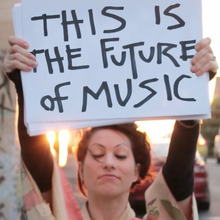 l-r: Amanda Palmer; Project:13 Good vs Evil theme Animation project by Greg Penny

Other success stories include singer/songwriter Amanda Palmer (above left) whose goal on Kickstarter was to raise $100,000. She exceeded her goal by raising $743,440 + with 15,160 Backers. Engineer John Congleton (Modest Mouse, Xiu Xiu), helped her make "her best fucking album to date!" what do you get for $300? Original artwork created for the record, plus an intimate acoustic performance by Ms P & The Grand Theft Orchestra. "This bundle includes "beverages/surprise gifts/whatever special San Francisco-based shit we can dream up at the event!" For $10k Ms P will draw you and invite you to have dinner with AFP. "I've never tried this before, but I'm hella excited to do it. if you're not the party type and just want to do something quiet & one-on-one, I'd like to paint/render you on big canvas format over the course of an afternoon/evening. We'll get together in a space that makes sense & I'll draw you from life, naked or clothed. If you're too ego-paranoid to sit, we can get together and fingerpaint while listening to very loud cathartic music, and perhaps engage in some primal screaming." Sorry foks, the $5k slot is sold out! You get the pix. And if that's not ambitious enough, recently, $3.5 million was raised for development of a game through crowd funding and over$8 million collected for development of a watch. Is this for real? Here's an opportunity to find out. Starting a project is free. Kickstarter will apply a 5% fee to the funds raised and Amazon will apply credit card processing fees of roughly 3-5%, once a project is successfully funded. No charges, in the event funding isn't successful. Is this the future of Music? Let us hear your success stories!
Frappuccino & Cheaper Beer from Live Nation Nylon and Starbucks Frappuccino Summer Music Tour with Neon Trees is on sale now! July 30th at the Wilthern in LA at 06:30 PM click here for TIX via Live Nation.
What's next... Cheaper beer? You bet! Just four dollars for a 12 ounce domestic draft beer (except for Toronto and Houston). All to enhance your concert going experinece from LiveNation who has also taken steps to reduce lines by opening more concession service areas as well as adding increased service in VIP club and in-seat areas to match demand. At select venues, Live Nation will be inviting food trucks and local food vendors to serve food on site

A Passing Fad? Facebook Inc. is the third-highest valued company to ever go public, according to data from Dealogic, a financial data provider. Only the two Chinese banks have been worth more. At $16 billion, the size of the IPO is the third-largest for a U.S. company. The largest US IPO was Visa, which raised $17.86 billion in 2008. No. 2 was power company Enel and No. 4 was General Motors, according to Renaissance Capital. Facebook priced its IPO at $38 per share last week, at the top of expectations. The IPO values Facebook higher than Amazon.com and other well-known companies such as Kraft, Disney and McDonald's Facebook's stock is expected to begin trading on the Nasdaq Stock Market sometime Friday morning under the ticker symbol "FB." CEO Mark Zuckerberg, who turned 28 this month, has emerged as the latest in a lineage of Silicon Valley prodigies who are alternately hailed for pushing the world in new directions. Even after the IPO, he will own 503.6 million shares, or 32 percent of Facebook's total shares. Facebook started out as a simple, fun place to digitally cavort and post silly, unflattering pictures of one another. It quickly transformed into threats to our personal security and safety, and a great way to get fired -- or worse, prosecuted for goodness-knows-what. Just ask yourself how many times you've hesitated to post some snarky remark because it might be misinterpreted by some FB "friends"? According to some there's already a "what's the next big thing?" vibe permeating its pages. Just wait until Netflix connects to Facebook and the company tries to track all the movies and programs you watch. Its rival, Path, a 'mobile-centric social network', limits its members to 150 friends, and was created by former Facebook employee Dave Morin in 2010. Last month Path came under fire after it emerged that the site was automatically uploading users' mobile phone address books and storing the information on its servers, without gaining consent from its members. Consequently Morin was forced to apologise and change the service's mobile settings. Path, which has two million users, also has yet to fully roll out a commercial model. The growth of Facebook and its potential threat to Google is one of the hottest topics. Many users now rely on their friends on Facebook—not just Google—to discover content and products they can purchase on the Internet. Wait. Instagram is… part of Facebook now! Even so, Instagram is still our favorite way to share square-cropped photos colored by fun, often retro-inspired filters. The $1 billion photo-sharing community is rich and active, and most of all, incredibly addictive. Once you start using Instagram, you start seeing the world in a different way — as moments you'd like to capture and enhance with a filter effect to amplify a particular mood.

The eighth annual MusiCares MAP Fund benefit concert will honor Alice In Chains co-founder Jerry Cantrell and certified interventionist and Sony/ATV Music Publishing Senior Consultant Neil Lasher at Club Nokia LA Live in Los Angeles on May 31. The GRAMMY Charity Online Auctions store is open now and features the chance to bid on an exclusive VIP packages to include two first-row balcony seats for the MusiCares MAP Fund benefit concert, a meet-and-greet experience with Alice In Chains, a VIP photo opportunity with the band, and a limited-edition autographed tribute journal. www.ebay.com/grammy. Hosted by television personality Steve-O, the evening will feature a special performance by eight-time GRAMMY nominees Alice In Chains featuring guitarist/vocalist Cantrell, guitarist/vocalist William DuVall, bassist Mike Inez, and drummer Sean Kinney. GRAMMY-nominated musician Moby will DJ live during dinner. For MusiCares MAP Fund benefit concert special dinner and concert ticket information, contact Wynnie Wynne 310.392.3777 or wynniew@grammy.com

Evolution of Latin Grammy® Categories and New Trustees The Latin Recording Academy® (www.latingrammy.com) recently held its spring Board of Trustees meeting and The Academy's Trustees voted to expand the Rock Field and the Tropical Field, restructure the Pop Field, and develop the four General categories to include 10 nominees each. This brings the total number of Latin GRAMMY® Categories that will be recognized at the XIII Annual Latin GRAMMY Awards on Nov. 15 to 47 (previously 46). Additionally, Auditorio Nacional Executive Coordinator Maria Cristina García-Cepeda (Mexico), four-time Latin GRAMMY®-winning composer Oscar Gómez (Cuba/Spain), producer/songwriter/composer/entrepreneur Cris Morena (Argentina), and Latin GRAMMY winner Johnny Ventura (Dominican Republic) have been elected to The Latin Recording Academy's Board of Trustees.
Those of you who did not attend Coachella missed on lot of interesting music and artists. No worries. Here's a partial list here. http://www.youtube.com/coachella webcast
At this year's Coachella Valley Music & Arts Festival Live music was featured courtesy of www.ziarecords.com Exchange (Arizona and Las Vegas), the official music retailer and Artist/Band signing tent for both weekends on April 13-15th and April 20-22nd.
Attendees chose from 1000's of new and used records & CDs and met their favorite bands. We decided to bring you some of the bands featured -- they're great!
Friday, April 13th & 20Th
M83
GIRLS
The Horrors
Yuck -- indie rock band that originated in London, England. The band features members Daniel Blumberg and Max Bloom, both of whom formerly played in the band Cajun Dance Party
Neon Indian
Dawes
The Black Angels
GIVERS -- Givers have been on the Jimmie Kimmel show. Music by: Kirby Campbell: Drums/Samples/Vocals; Taylor Guarisco: Guitar/Vocals; Tif Lamson: Vocals/Percussion/Ukulele; Josh Leblanc: Bass Guitar
Other Lives
Wolf Gang
EMA -- EMA is Erika Anderson of the recently broken up long running American west-coast band Gowns. Using solo guitar, piano, voice and tape collage
Ximena Sarinana
Dear Hunter
Hello Seahorse!
Atari Teenage Riot
Abe Vigoda
honeyhoney
Jimmy Cliff
Saturday, April 14th & 21st
Andrew Bird
fIREHOSE
Kasabian
AWOLNATION
Buzzcocks
Kaiser Chiefs
The Head & the Heart
tUnE-yArDs
Grace Potter & the Nocturnals
Black Lips
Childish Gambino
The Vaccines
Grouplove
Gary Clark Jr. -- studioexpresso featured this Austin favorite before he hit the KCRW airs and the festival circuits. He brings Hedricks and modern-day guitar fans together with a new blusy twist.
Borgore
We Are Augustines
Girl Talk
David Guetta
Miike Snow
Sunday, April 15th & 22nd
Justice
AVICII
The Hives
DJ Shadow
Wild Flag
Seun Kuit & Egypt 80
Fitz & the Tantrums
Real Estate -- This Pop / Psychedelic group from New Jersey, Un sports 8412 friends on MySpace
Le Butcherettes
Band of Skulls
First Aid Kit - Folk / Melodramatic acoustic sounds from Stockholm!
Oberhofer
Thundercat
Metronomy -- to support Coldplays North American tour starting on April 17 - expecct creative instrumentaion and videos
Wild Beast
House de Racket
Fanfarlo - Atlantic electronica artist now touring Europe with a new album (delux version retails $34.99)
Sleeper Agent
Kimbra
Company Flow
Lissie -- will be at Deer Lodge, Ojai, California June 2
For more information about Record Store Day, visit www.recordstoreday.com '

Meet Aron Leigh who is managed by Buzz Goodwin (former President at FDW Corp, Executive Vice-President-JBL at Harman International Industries, Executive Vice-President-Lexicon) along with his entertainment Attorney. "We are close to signing Aron to a major label deal. Very, very exciting," says Buzz. Leigh grew up immersed in the country songwriting world. He learned to play guitar and sing at the tender age of five, drawing inspiration from the songwriters who surrounded his life. His talent as a Country Rock Americana artist evokes the unique sounds of an old songwriters soul, with raw vocal emotion and energy that is familiar yet completely fresh. His powerful vocal range, rockin' high-energy songs and emotionally gripping ballads exemplify the versatility Aron possess. In 2008 Aron signed his first publishing deal with Watsky Publishing where he continued to hone his skills and craft as a songwriter, writing with Roger Cook, Marcus Hummon, Terry Shawchuk, Steve Dean, Pat Alger, Denise Matkosky, Charlie Colin, Jonathan Singleton, Arlos Smith and Travis Howard just to name some. Aron's song "Cowboys Duty" has been played on over 200-radio stations nation wide, and all over the world. His songs have also graced a number of film and TV shows on A&E as well as many other networks. Look for more from Leigh.
Katrina Stone takes us to her hometown, Denver, to give a sneak peek of her beautiful life and to tell us why she should be the next maurices Hometown Sound winner. Maurices is a division of Ascena Retail Group Inc. (NASDAQ – ASNA) is the leading hometown specialty store and authority for the savvy, fashion-conscious girl with a twenty-something attitude. Today, maurices operates over 800 stores in 44 states. PlayNetwork produces unrivaled media experiences for brands worldwide. PlayNetwork programs include music, messaging, video, web radio artist promotions and events, A/V systems, advertising networks, and commercial XM Satellite Radio. Founded in 1996, PlayNetwork is currently playing for over 75,000 media subscribers in 70 countries, reaching over 23 million people every day. "I want people to make memories to my music. Whether it is roadtrips or rainy days or renovating their first house, I want people to feel something amazing when they listen," says Stone. Producer John Wooler (Point Blank/Virgin) is the VP of Music Services and Licensing at PlayNetwork.


Cannes Amour
This week it's a film director's who's who at Cannes: David Cronenberg, Jacques Audiard, Wes Anderson (Moonrise Kingdom), Michael Haneke (Amour), Alain Resnais (You Ain't Seen Nothing) , Abbas Kiarostami (Like Someone in Love), Im Sang-soo (The Taste of Money), Thomas Vinterberg (The Hunt), Walter Salles (On The Road), Xavier Dolan (Laurence Anyways), Carlos Reygadas (Reygadas), Leos Carax (Holy Motors), Bernardo Bertolucci (Silent Light) and Matteo Garrone all screening their latest works.
What's the word on the street from the international press? The films have gotten mixed reviews at best with word like "conservative," "not especially brilliant," "disappointing," "bad," "No real masterpieces," "prestigious filmmakers but no striking films." Michael Haneke won the top prize for a second time with his stark film about love and death, "Amour." The Austrian director's powerful and understated film stars two French acting icons — 85-year-old Emmanuelle Riva and 81-year-old Jean-Louis Trintignant — as an elderly couple coping with the wife's worsening health.
Haneke who is known for his violent films said: "The film's style should match its subject matter, not its director. This film is about love." The festival jury awarded the second-place Grand Prize to Matteo Garrone's Italian satire "Reality," while Ken Loach whisky-tasting comedy "The Angels' Share" won the third-place Jury Prize. Best actress was won jointly by Cristina Flutur and Cosmina Stratan, as friends separated by faith in Romanian movie "Beyond the Hills." Cristian Mungiu's (Beyond the Hills) drama of love and faith in a remote Romanian monastery also won the award for best screenplay. The prize winners were chosen from among 22 contenders by a jury, led by Italian director Nanni Moretti, that included actors Ewan McGregor and Diane Kruger, director Alexander Payne and fashion designer Jean-Paul Gaultier.
Walk On The Red Carpet In Aruba! June 22-28 AIFF founder and executive producer Jonathan Vieira announced that award winning singer, songwriter, actor and producer Marc Anthony and Colombian rock superstar Juanes will perform at the Aruba International Film Festival's inaugural Concert Series taking place at the Harbor Concert Arena. The breathtaking Caribbean island of Aruba provides the backdrop for the film industry's newest marquee summer event. The first two editions of the festival collectively offered over 50 films from over 25 different countries and played host to an array of high profile talent and film industry guests such as Richard Gere, Kim Cattrall, Jonathan Demme, Curtis "50 Cent" Jackson, Guillermo Arriaga, Patricia Clarkson, Thelma Schoonmaker, Milcho Manchevski, Griffin Dunne, Rudy Rodriguez and Michael Kaplan, to name just a few. With 12 million albums sold worldwide Marc Anthony is ambassador of Latin music and culture. He's working with Jennifer Lopez and director-choreographer Jamie King on the Latin talent series created by Simon Fuller, called "Q'Viva! The Chosen." World's leading all-Spanish language rock artist, Juanes is a 17-time LATIN GRAMMY winner who sold over 15 million albums. "JUANES MTV Unplugged" had its US television premiere on Monday, May 28th on Tr3s: MTV, Música y Más followed by the album and DVD global release on May 29th . Tickets for AIFF 2012 will be available in a variety of price ranges, from a simple movie ticket to packages of multi-event attendance and tickets to the AIFF Concert Series are currently on sale and can be purchased at www.arubainternationalfilmfestival.com.

Silver Lake investment firm acquired a 31 percent stake in William Morries Endeavor earlier in May. Egon Durban, a Silver Lake managing partner, will join WME Entertainment's executive committee and help create a technology advisory counsel in the agency. Silver Lake has made its name with high-profile technology deals. Its most prominent — and perhaps most lucrative — investment was its purchase of a controlling stake in Skype for $1.9 billion in 2009, only to sell the Internet video service to Microsoft last year for $8.5 billion. WME's clients produce some of the highest quality and most valued content available across both traditional and new media," says Mr. Durban who was introduced to WME Entertainment's co-chief executives, Ari Emanuel and Patrick Whitesell three years ago. The man introducing the two companies was none other than the venture capitalist Marc Andreessen (owns over 10,000 music albums), whose investments include Facebook, Groupon and Zynga. "Partnering with Silver Lake aligns WME with the global leader in technology investing, and ensures that all of our clients across film, TV, music, literature and other genres can capitalize on the dramatic new opportunities emerging from the digital media revolution," Mr. Whitesell and Mr. Emanuel said in a statement. Patrick Whitesell's clients include Ben Affleck, Jessica Alba, Christian Bale, Matt Damon, Jennifer Garner, Jake Gyllenhaal, Hugh Jackman, John Krasinski, Jude Law, Joaquin Phoenix, Denzel Washington and Eddie Vedder of Pearl Jam, among others.
Real Estate Expresso
Candace K protects her clients' best interest and has an innovative approach that will make the home buying or selling process a smooth experience. She is an executive MBA graduate from Loyola Marymount University familiar with properties with a studio. You may reach her directly at Coldwell Banker, Tel: 323.559.0856 or Email


Session 2go
Songs are reviewed only for production purposes at studioexrpesso. This means you provide song titles/files, production schedule and budget before we can recommend someone suitable and available to work with you. studioexpresso is introducing a new service to artists who may not be ready for a production, but want a trusted professional to review your songs, or help strategize a production plan that can meet your long-term needs and goals.
Select producers can be reached via phone or email with hourly fees via a secure paypal link. Call or email us to schedule a Session2go info @studioexpresso.com
Michael Becker/FOX
The 11th season of American Idol produced a humble winner, Phillip Phillips, the 21-year-old singer from Leesburg, Ga. worked at his family's pawn shop before appearing on National TV and getting total of 132 million votes
America watched Jimmy (Iovine) offer his objective opinions, JLo's kid glove comments, and Randy's give 'em to you straight talk. And to clarify Steven Tyler's overly used term of "over the top" actually meant good! Regardless, the lesson is that Phillip Phillips stayed humble and worked hard to get his title. There was much Twitter chatter about just "another white guy with guitar" taking the title, but the persona was ostensibly a key factor in Phillips's win. He's the fifth consecutive white male singer to win the show, though The New York Times says he's "easily the best because throughout the season, "he became known for taking improvisational liberties with melodies and for reinterpreting rhythms," making him "the most innovative contestant in a strong field of singers this season." "I'm not a great singer," he told People magazine after winning, adding, "'I just love having fun up on stage and playing good music and getting the crowd into it." Doesn't hurt that he looks like he could be in a Gap or Calvin Klein commercial and who doesn't love a man who is not afraid to cry?! Congrats PP and speedy recovery! Phillips goes on a US tour early July and coming to LA at Nokia Theatre L.A. LIVE on July 23.


"Asa seemed to be struggling with his transition to LA from the Bay Area. He was almost broke and we knew the album we were making wouldn't really fit into what was popular or indie or whatever. I played early demos for all the labels I'd been working with and none of them wanted to sign it, so we didn't really know what was going to happen if and when the album was finished. But we went ahead and recorded in my small studio, a converted lawyers office with a bunch of keyboards and a small mixing desk. So from around 2009-2011 Asa would come in with song ideas, many times with instrumentation he'd already started on in his bedroom, and then Cornbread would come join in the studio to help flesh things out. They worked really well together and the album sound started to really take shape."
--Danger Mouse (Brian Burton)

RIP

Adam Yauch
August 5, 1964 – May 4, 2012

Rapper, activist, director and one third of pioneering Hip-Hop group Beastie Boys, Adam Yauch died on May 4 at the age of 47. Yauch co-founded the Beastie Boys with Mike "Mike D" Diamond and Adam "Ad-Rock" Horovitz in 1979. The band started off as a hardcore punk group, but soon began experimenting with hip-hop. When Yauch was 22, the Beastie Boys, then performing as a hip hop trio (via Rick Rubin), released their first album Licensed to Ill on Def Jam Records in 1986. Under the pseudonym "Nathanial Hörnblowér", Yauch directed many of the Beastie Boys' music videos. In 2002, Yauch built a recording studio in New York City called Oscilloscope Laboratories and called his independent film distributing company, Oscilloscope Pictures. Yauch directed the 2006 Beastie Boys concert film, Awesome: I Fuckin' Shot That!
The Beastie Boys had sold 40 million records worldwide by 2010. In April 2012, the group was inducted into the Rock and Roll Hall of Fame. Yauch was inducted in absentia due to his illness. In 2011, Yauch received the Charles Flint Kellogg Award in Arts and Letters from Bard College, the college he attended for two years. The award is "given in recognition of a significant contribution to the American artistic or literary heritage." A practicing Buddhist, Yauch married Dechen Wangdu la and became an important voice in the Tibetan independence and Feminine movements. A founder of the Milarepa Fund, Yauch was instrumental in the first Tibetan Freedom Concert in San Francisco's Golden Gate Park 1996, which drew 100,000 people. Yauch is survived by his wife Dechen and his daughter Tenzin Losel, as well as his parents Frances and Noel Yauch.

Donald 'Duck' Dunn
November 24, 1941 – May 13, 2012

Bass master Donald 'Duck' Dunn helped define the Southern soul sound. He put Stax Records on the map as the backing band for artists such as Otis Redding and Sam and Dave. As a member of Booker T. and the MGDunn later became a much sought after session player recording with Eric Clapton, Bob Dylan, and the late Levon Helm, among others. He died in his sleep after finishing his 5th double show at the Blue Note night club in Tokyo. He is survived by his wife, June; a son, Jeff; and a grandchild, Michael.

Donna Summer (LaDonna Adrian Gaines)
December 31, 1948 – May 17, 2012

"Queen of Disco", Ms. Donna Summer with a mezzo-soprano vocal range that expressed "Hot Stuff" was remembered last week on Wednesday at a funeral service for family members and close friends at Christ Presbyterian Church in Nashville. She died of cancer on May 17 at her home in Naples, Fla. She was 63. At the service, David Foster (he had worked with Ms. Summer since the early 1980s) sang "The Prayer" with Natalie Grant Guests included Giorgio Moroder, who produced several of Summer's songs, and singer Tony Orlando. Ms. Summer's sisters, Linda Gaines Lotman, Mary Ellen Bernard, Dara Bernard and Jenette Yancey, performed "We've Come This Far by Faith."
She won five Grammy Awards during a career that spanned some 30 years. The Library of Congress said that it was adding Ms. Summer's "I Feel Love" to its National Recording Registry.


Robbin (Hugh) Gibb
December 22,1949 – May 20, 2012

Robin Gibb, 62 (a vegan who did not drink alcohol) died "following his long battle with cancer and intestinal surgery," his family announced in a statement released by Gibb's representative Doug Wright. One of Robin's final projects was "The Titanic Requiem," a classical work he co-wrote with his son RJ, that the Royal Philharmonic Orchestra premiered in April to mark the 100th anniversary of the sinking of the Titanic. Robin Gibb remained emotionally attached to his birthplace, the Isle of Man, keeping a house there as well as homes in rural Oxfordshire, England, and Miami. He also became involved with numerous charities and worked to establish a permanent memorial to the veterans of Britain's World War II Bomber Command and recorded songs honoring British veterans. Gibb is survived by his second wife, Dwina, and four children, as well as his older brother, fellow Bee Gee Barry Gibb, and his sister Lesley Evans, who lives in Australia. You may send a message to Gibb family here
There are more than 6,000 cover versions of the Bee Gees hits, and they are still heard on dance floors and at wedding, birthday parties, and other festive occasions. Bee Gees sold more than 200 million records and had a long string of successful singles, making their way into the Rock and Roll Hall of Fame. "Saturday Night Fever," the 1977 movie soundtrack, remains BGs signature sound -- some called it "blue-eyed soul" -- instantly recognizable more than 40 years after its release. The Gibbs spent much of the 1980s writing songs and producing records for other artists, working closely with top talents such as Barbra Streisand, Dionne Warwick, Diana Ross and Dolly Parton.
Gibb brothers (sans Barry) must be up there singing "You Should Be Dancing." -- from their album, Children of the World, 1976.
What pivotal moment convinced Rosanne Cash of the healing power of the stage? Creativity is an elusive subject. We enjoy its fruits -- movies, novels, paintings, songs -- but rarely are we privy to what happens during the creative process. In Spark, author Julie Burstein, traces the roots of some of the twenty-first century's most influential and creative thinkers, including Joyce Carol Oates, Yo-Yo Ma, David Milch, Isabel Allende, and Joshua Redman. Julie pulls back the curtain to reveal the sources of these artists' inspiration and the processes that bring their work into being. Spark is an official Selection of the TED Book Club and WSJ Psychology Bestseller list.


A Tribute to Greg Ladanyi on Memorial Day
Summer is here! Nothing like listening to your favorite music in the car whether you're driving to work or taking a road trip...here's a popular cover: Boys Of Summer from Album: Building the Perfect Beast (1984) originally performed by Don Henley. We found these performances by The Ataris (where are they now?) and Lady Antebellum (probably recorded and uploaded to YouTube by a fan w/ poor audio quality). Quality? Does anyone care? This one by ?? has 721,666 views and someone is asking to FLAG it because it's so bad (as in BAD). We like this version by Green or Blue only with 21,026 views. Go figure! Now listen to the original Boys of Summer recorded by Ladanyi and produced by Danny Kortchmar at Val Grey's Record One, Sherman Oaks, CA; Bill Schnee Studio, Universal City, CA; The Villa, North Hollywood. The song won Henley numerous awards and became one of his most popular songs. Listen and Enjoy. Listen!

Until next month...EXPRESS YOURSELF
studioexpresso -- where you can find trusted names in music to work with
COME TOGETHER!

Your feedback is valued and welcomed - feel free to contact us via e-mail or phone
Thank you!