TRANSAUDIO GROUP INTRODUCES NEW DAKING MIC PRE ONE AT AES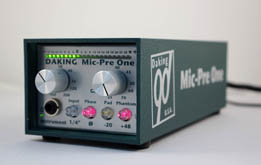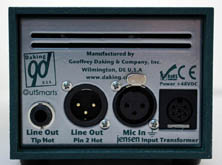 TransAudio Group, the US distributor for Geoffrey Daking & Co, Inc., announces the introduction of the high performance Daking Mic-Pre One single-channel microphone/instrument preamplifier at the 125th AES Convention in San Francisco. Sharing the gain structure and Class A, fully discrete transistor circuitry design of the popular Daking Mic Pre IV, the Mic Pre One additionally features a unique variable high-pass filter and ships in a freestanding 'DI-style' steel enclosure, ensuring both strength and noise immunity.

Essentially a single channel of the Mic Pre IV, the Mic Pre One features switchable phase, 20dB mic input pad and +48V phantom power, plus a selectable 1/4-inch line/hi-z instrument input, all utilizing relays with gold bi-furcated contacts. Two large knurled aluminum knobs control the variable high-pass filter (0-200Hz) and continuously variable input gain, which is complemented by a full-width, twenty-segment bi-color LED meter.
The rear of the unit offers a Jensen transformer-isolated mic input and fully-balanced XLR output, plus a 1/4-inch line output. A fourth connector introduces DC power from the external power supply to the unit.

Noted Brad Lunde, president of TransAudio Group, "This Mic Pre One is the very definition of value - a Daking-designed high-end mic pre for those who only need one channel. It's ideal for pros on tour and studios that seek to locate the mic pre in the vocal booth for short cable runs. Small project studios on a limited budget, can now use the same high-end sounding gear as the pros."

Made in the USA, Daking Mic Pre One MSRP: $850.00
Geoffrey Daking & CO is distributed TransAudio Group the premier US importer and distributor for high-end recording gear. Phone (702) 307-2700 or email Brad Lunde More info at www.transaudiogroup.com

AN AFFORDABLE SURROUND MIC AT AES
USD list price of $2,995.00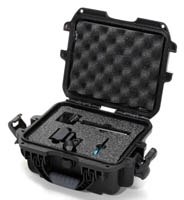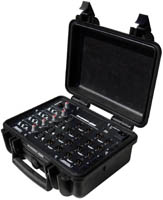 TransAudio Group, the US distributor for SoundField Microphones is showcasing their new SPS200 (top left) software controlled microphone at the 125th AES Convention is San Francisco. Perfect for both the broadcast and audio recording markets, the SoundField SPS200 is the most affordable mic in the line with a USD list price of $2,995.00. Production models of the microphone, resulting from a three-year R&D program, are shipping now.

The new SPS200 A-Format microphone brings the advantages of SoundField Technology to a wider audience and provides the perfect 'front-end' to capture both stereo and 5.1 surround. It is ideally suited to those working in the field on laptop based recording systems or in the studio on fully-fledged Digital Audio Workstations. The SPS200 A-Format microphone uses the same established SoundField multi-capsule technology as the high-end models in the SoundField range. This relatively lightweight microphone (approximately eight ounces) is powered by standard 48v phantom power and incorporates four low-noise, studio grade condenser capsules. A short break-out cable outputs the SoundField A-Format at mic level on four balanced XLRs, ensuring compatibility with all equipment.

The SPS200 A-Format microphone is the first SoundField microphone that does not require an accompanying control unit. All the processing - such as the A to B-Format conversion, stereo and surround sound decoding/manipulation - takes place in the Surround Zone software which comes packaged as standard with the SPS200 A-Format microphone.

The software is currently available for Pro Tools HD and all platforms supporting VST Multi-channel such as Nuendo, Cubase, Soundscape, etc. on both PC and Mac platforms. SoundField staff will be at the company's booth at AES 2008 in San Francisco (Booth #1416) to show the product to attendees and answer any questions they may have.
SoundField Microphones is distributed TransAudio Group the premier US importer and distributor for high-end recording gear. Phone (702) 307-2700 or email Brad Lunde More info at www.transaudiogroup.com
DRAWMER KICKBOX 4x4 DEBUTS AT AES
MSRP: $1,495

In response to pleas for durable, professional-grade mic/line inputs with multiple outputs for live sound, location recording, and broadcast, Drawmer has engineered the all new Kickbox 4x4 portable active splitter that will be showcased at the 125th AES Convention in San Francisco. Housed inside a rugged, road-ready carrying case, the Kickbox 4x4 accepts up to four XLR mic/line inputs and delivers them with uncompromised fidelity to up to 16 XLR line-level outputs. As with all of Drawmer's industry-leading products, TransAudio Group will import and distribute the Kickbox 4x4 in the USA.

The Kickbox 4x4's extremely high audio quality, robust build, and portability make it the ideal tool to provide multiple outputs for broadcast, press conferences, live sound, sports events, corporate events, or any situation where distribution of mic or line inputs to multiple outputs are required. Its four studio-grade mic/line preamps each provide phantom power, independent metering, and up to 66dB of gain. Its sixteen balanced output stages each provide a "transformer loaded" LED and the option of transformer isolation.

The Kickbox 4x4 gracefully configures to four practical routing schemes: one input to sixteen outputs; two inputs each to eight outputs; four inputs each to four outputs; and one input to twelve outputs simultaneously with one input to four outputs. The 4x4 supplies as standard in a road proof case with a removable lid for unhindered access to all controls and connections.
A headphone input with selectable source simplifies setup and monitoring.

"The Kickbox 4x4 is a unique solution offering much higher fidelity than you typically find in this size package," said Brad Lunde of TransAudio, US
Drawmer importer. "Sure, other routers exist, but none come close to matching Drawmer's beautifully engineered package and proven reputation for long-term performance on the road. The 4x4's simple controls ensure quick and reliable setup for the widest variety of users, providing a higher level of audio quality in a wide variety of locations."

Drawmer is distributed TransAudio Group the premier US importer and distributor for high-end recording gear. Phone (702) 307-2700 or email Brad Lunde More info at www.transaudiogroup.com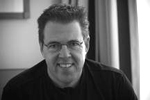 TransAudio Group, founded by industry veteran Brad Lunde, has quickly become the premier US importer/distributor and/or US sales and marketing representative for high-end audio. Success hinges on TransAudio providing dealers and end users with a higher standard of product expertise and support far beyond the norm. TAG product line includes Accusound, A-Designs (USA) AEA ribbon microphones (USA), ADT Toolkit, AEA, ATC Loudspeakers (UK), Brauner microphones(Germany), Drawmer (UK), Geoffrey Daking & Co. (USA), Enhanced Audio (Ireland), George Massenburg Labs (GML) (USA), Heil Sound (USA); Mercury Audio (USA) Mission Audio (UK) Phoenix Audio (UK), PAULY Superscreens(Germany), SABRA SOM(Brazil), Soundelux (USA), SoundField Microphones (UK), Z-Systems (USA), Sonodore Microphones (Holland), Tonelux,
True Systems and Weiss Engineering (Switzerland) and Z Systems (USA)
LasVegasProAudio.com, LasVegasProAudio.com, a division of TransAudio Group, is the launch pad for the brands of tomorrow. The goal of LasVegasProAudio.com is to provide unique equipment, useful information and long-term support to their clients.



Expresso Walk And Talk...

Walker Joins 615 Music library 615 Music has named Shelly Walker to the new position of Director of Licensing, Television Network Division. Walker comes to 615 from Megatrax Production Music where she served as Division Manager of Broadcast Network and Affiliate Licensing. In her new post, Walker, who reports to President and CEO Randy Wachtler, will seek new music placements from the company's extensive library-as well as possible original music composition placements– into feature films, trailers, TV programs, TV promos, videogames and TV commercial projects.

ICM Acquires MVO International Creative Management has acquired the Marsha Vlasic Organization (MVO), who's roster includes Elvis Costello, Neil Young, Iggy Pop, Ben Folds, The Strokes and Van Morrison among others.
Marsha Vlasic will sign with ICM as a Senior Vice President of Concerts where she will head up ICM's new contemporary rock division. Vlassic started on September 9th and will be based in the New York Office and report to the head of the concerts division, Steve Levine. Vlassic is at the forefront of creating package touring festivals such as Ozzfest and H.O.R.D.E. and organized Moby's One and Area Two tours, integrating audiences of rock, urban and electronic music in one venue.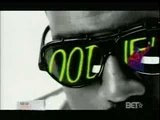 MVA Winners The highly anticipated 2008 MVA Awards presentation aired Sunday night on September 7, 2008 live from Hollywood. Paramount Studios in LA was chosen as the site for this year's romp complete with antics from the movie studio's backlots, sound stages, and surrounding city streets. British comedian Russell Brand hosted this year's awards with special appearances by nominees including the Jonas Brothers, Kanye West, along with Christina Aguilera and other top acts performing live throughout the night. And comeback kid Britney returned...taking home her very first VMA for Best Female Video award, followed by Best Pop Video AND Video of the Year! Among other winners: Erykah Badu's "Honey" Directed by Erykah Badu & Mr. Roboto is a black and white love letter to the bygone days of the record store adds Erykah Badu's face to classic album covers and brings them to life. So cool. Kanye West f/ T-Pain's "Good Life" with special Effects by SoMe, Jonas & Francois o versaturated graffiti pens come to life and chase Kanye around the screen in this whimsical feat of special effects, the video for 'Good Life.'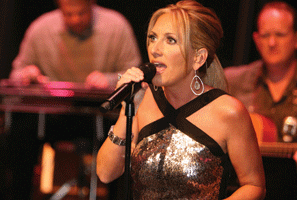 photo: Sylvain Gaboury
Johnson & Womack Songs Jamey Johnson is the co-writer of the CMA and ACM 2007 Song of the Year "Give It Away," recorded by George Strait. Trace Adkins, George Jones and Joe Nichols have also recorded his songs. But instead of sitting at home counting his royalty checks, Jamey Johnson recorded more than 40 songs during the past year. Producer Buddy Cannon was impressed with Jamey's soulful singing, as well as the direct honesty of his songwriting. Song publisher Gary Overton signed Jamey to EMI Music and joined Buddy in the effort to land him a recording contract. He lost his recording contract. "They thought I was a little too wild," Jamey reflects. "Losing my deal was a good thing. Because I finally had time to come home and get my life back in order. More than anything, I stayed home and just sat there dwelling on things. It takes an awful lot of thinking to get through something like a divorce." "The thing that really carried me through all of that was the writing success. Trace Adkins and George Strait kept money in my bank account and kept my name out there. They pretty much carried me on their shoulders through that period, and didn't even realize they were doing that. They just liked my songs." When he began to work on That Lonesome Song, Jamey says he felt a renewed sense of purpose and freedom.Word began to spread on Music Row. Two record companies approached Jamey. Both wanted him to either record the songs over again or have outsiders' songs included on the project. Jamey turned both down. Luke Lewis at Mercury Records was the first person who understood. He said, 'Man, I've just got one thing to say – don't mess with that sound. I don't know what y'all are doing in that studio, but just don't mess with that sound.' I said, 'Hell, I came here to tell you that.' Ever since then, it's been a great relationship." MCA Nashville released Lee Ann Womack's new single "Last Call", written by Erin Enderlin and Shane McAnally, to radio June 30. Her highly-anticipated seventh album, produced by Tony Brown and titled Call Me Crazy, will debut this fall.
Universal Music Group Nashville hosted an intimate evening of country-to-the-core performances by Mercury Nashville's Jamey Johnson and MCA Nashville's Lee Ann Womack in New York City. Guests sipped champagne and enjoyed the latest from Johnson's That Lonesome Song and Womack's forthcoming Call Me Crazy (Oct. 21) in the elegant Allen Room at Jazz At Lincoln Center.



The next bond theme for film Quantum Of Solace will be a collaboration between Alicia Keys and Jack White. The announcement follows speculation that the job would go to British stars Amy Winehouse and Mark Ronson (who contributed heavily on her five-time Grammy award winning album Back to Black), Duffy or Leona Lewis. The film's producers Michael G Wilson and Barbara Broccoli said: "We are delighted and pleased to have two such exciting artists as Jack and Alicia." Quantum of Solace, the 22nd official film in the 007 series, picks up from Casino Royale as the secret agent sets out to avenge the apparent death of his lover. It has a bigger budget than the last film and producers have promised more action. The title is taken from a short story published by Bond creator Ian Fleming in 1960. It will hit cinemas on 31 October in the UK, with the rest of the world seeing it from early November (14th in US).
David Arnold will compose the film's score, with the soundtrack to be released on 28 October. Visit Bond at Myspace for a behind the scenes. Ukrainian actress Olga Kurylenko is the lead Bond Girl #22. Listen to Another Way To Die

Five Recent Bond Themes
You Know My Name (Casino Royale, above, 2006) - Chris Cornell
Die Another Day (2002) - Madonna
The World Is Not Enough (1999) - Garbage
Tomorrow Never Dies (1997) - Sheryl Crow
GoldenEye (1995) - Tina Turner


Bruce Maddock's Cups 'N Strings mastering has moved to Woodland Hills
23281 Ventura Blvd. Tel: (818) 222 4600 Woodland Hills, 91364 Studios@cupsnstrings.com
Continuing to bake, transfer and master your tapes!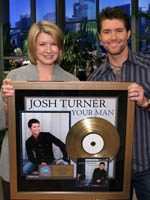 Music Finds Love On Martha Stewart. Universal country artist Josh Turner and Martha Stewart first met in March of 2006 when he performed on MARTHA and she surprised him with a Gold plaque for his album Your Man, which went on to reach double-platinum status. During the launch of his Everything Is Fine album in October of 2007, Stewart requested that Turner come back for an encore performance. "Firecracker" was the song that Turner performed on the show and evidently there were some sparks flying on the set… literally. Turner's utility player, Kevin Haynie, met Stewart's assistant, Liesl Menning, that day and he must have made quite an impression on her as their wedding ceremony took place in Nashville this past weekend. Stewart and Turner will both be in attendance. "Josh and his band were guests on my TV show last autumn, and that's when Kevin and Liesl first laid eyes on each other," says Stewart. The wedding will be filmed for a one-hour special to air on the Style Network in December. Photos from the big day will also be featured in the winter edition of Martha Stewart Weddings magazine.


820 Deal Here's the picture. Your band is building lots of momentum and starting to develop a little bit of a following. You have a MySpace page, you've uploaded a couple of entertaining videos on YouTube and you've posted your music for review at GarageBand. Where's the money? Where's the record contract? Groupies anyone? 820, the consulting company based in Las Vegas and Chicago, may just be what you're seeking. It's founded by three partners: Jason Kramer, CLO (Chief Label Officer), Emmett Gates a.k.a. "Iceberg Slick", Chief Marketing Officer and Corey Kauffman, VP talent Manager. The site is receiving around 150 "blind" song submission a day. "We've built a proprietary evaluation system that rates the song using 105 critiquing points. The song, the sound, the beat...it' as comprehensive as a credit score," says Kauffman. Artists that receive 80% score or higher are considered. 820 officially launched two satellite radio stations on XM/Sirius on guess what date...August 20! Music genres considered: Rock, Pop, Rap/Hip-Hop, R&B, Country, Alternative, Dance, Reggae, Electronic, and yes, even original mixes by DJs. 820 says technology has made it possible for any idiot with a few computer skills and a musical instrument to record and distribute music which has made discovery and evaluation of REAL prospects much more difficult. So, their hope is that the site becomes a label destination where they can find real talent. Where does the name 820 come from? A&R has long been a significant fixed expense for record labels where the 80/20 rule still applies - more than 80% of earnings come from less than 20% of the A&R talent. 820 is part A&R outsourcer and part artist developer. "Building a following, building a look, building potential hits is the backbone of music industry. We don't make a dime until the artist is signed," says Gates. Our business is simple - we are providing artists with a platform for turning their passion into a career," said Jason Kramer. Silent Armada, a San Diego, California-based rock band, has joined the firm's portfolio of artists.

Shake to Shuffle! Playing Music and Video with the Nano Chromatic allows you to enjoy the album cover art and with feature dubbed Genius you can find your favorite song with new ways to browse and makes suggestions of songs and albums missing from one's library. With the thinnest iPod ever made, and you're Nanos away from being Ihip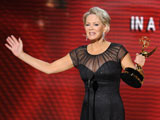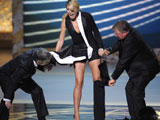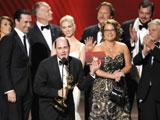 l-r: Jean Smart accepts the award for outstanding supporting actress in a comedy series for her work on 'Samantha Who?' Co-host Tom Bergeron, left, and William Shatner, clown with CO-host Heidi Klum; Madmen cast
Too Long, Too Low The 60th Primetime Emmy Awards took place on ABC, Sunday, September 21 in a brand new location, The Nokia Theatre. Ratings were the lowest they have ever been, only 12.2 million people watched the awards. This Emmys saw for the first time a basic cable win Best Drama Series. AMC's "Mad Men," about a 1960s advertising firm took the top prize even though many viewers have not yet embraced the show. Similarly, "30 Rock" on NBC, which suffers with an audience, took Best Comedy Series along with Best Actor and Actress in a Comedy for stars Alec Baldwin and Tina Fey (who won three awards in total), respectively. New shows did quite well overall, while Glenn Close took Best Drama Actress for her work as a hard-hitting lawyer, Patty Hewes, in FX's "Damages" and Best Actor in a Drama went to Bryan Cranston for his freshman series AMC's "Breaking Bad," which depicts the life of Walt White, a high school teacher turned drug-dealer. HBO also had a good night as two of their big films this year took Best Miniseries ("John Adams") and Best Made for Television Movie ("Recount"). "John Adams" was a seven- part series telling the life of the second President of the United States and "Recount" told about the 2000 presidential election mix-up. As mentioned, the new Reality Host award was given at the end of the night to Jeff Probst of "Survivor." Singer Josh Groban sang over 30 theme songs in a tribute to popular television series. Also, shows like "Seinfeld," "Dragnet," "Rowan and Martin's Laugh-In" and "M*A*S*H" were celebrated throughout the night with video clips and replicas of their well-known sets.Presenters included Lauren Conrad, Conan O'Brien, Kathy Griffin, Patrick Dempsey, Tina Fey and the cast of "Desperate Housewives."

Ann and Nancy Wilson of Heart condemned the song, Baracuda (then) and (now) used earlier in the Republican convention and have now gone beyond a whiter shade of pale - to rage against the machine! First Universal Music Publishing and Sony BMG who rep Heart sent a ceased-and-desist notice to the McCain-Palin campaign and now the Wilson sisters themselves have denounced the song's usage. "Sarah Palin's views and values in NO WAY represent us as American women," the Wilsons said in a released statement. "The song 'Barracuda' was written in the late 70s as a scathing rant against the soulless, corporate nature of the music business, particularly for women. (The 'barracuda' represented the business.). No response from McCain-Palin HQ as of yet but as Ann Wilson sang in "Barracuda", "If the real thing don't do the trick, you better make up something quick.''



Acquired by MTV Networks Santa Monica-based Social Project--which was once known as Tagworld--has been acquired by MTV Networks. According to MTV, Social Project and its 31 employees will remain based in Santa Monica. Social Project was venture backed by Draper Fisher Jurvetson and MTV, and originally started as a competitor to MySpace The Flux Publisher Network currently boasts more than 35 MTVN Web sites, ranging from its flagship destinations including MTV.com, ComedyCentral.com and Spike.com, to targeted vertical sites such as Jackassworld.com and TheDailyShow.com, to the recently launched ColbertNation.com, Atom.com and Soundtrack.MTV.com, among others. On MTV.com alone, the community has grown to more than 600,000 verified members, making it the largest Flux-powered site. In the five weeks prior to this year's Video Music Awards, MTV.com added more than 250,000 members to the site -- more than four times the average weekly rate prior to that period -- after offering the opportunity for fans to nominate artists for each of the award categories. As part of the announcement, MTVN named Joshua Dern Senior Vice President and General Manager of Social Media, a role in which he will oversee Social Project and Flux. Dern, who most recently served as Vice President of MTVN Social Media Strategy and Operations, will report to Kenny Miller, Executive Vice President and Creative Director of Global Digital Media, MTVN. TagWorld was founded in 2005 by Fred Krueger and Evan Rifkin and is still listed as beta; it has more than 3 million registered users, according to a press release from last year. "The web is fragmenting," said Mika Salmi (above), president of global digital media at MTV Networks in a press conference on Monday, describing Flux as an "open, flat, and connected" technology. "People are attracted to niches and to what they're really interested and passionate about, and we as a company have a history in the cable business of going after niches."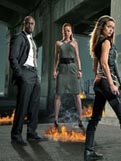 Shelly Manson of Garbage (middle) plays Catherine Weaver in TERMINATOR: THE SARAH CONNOR CHRONICLES American science fiction television series produced by Warner Bros. Television and C2 Pictures. Weaver is a shape-shifting Terminator disguised as the CEO of a high-tech corporation called ZeiraCorp. A model T-1001, her liquid metal form as she changes shape resembles that of the T-1000 seen in Terminator 2, but it is not yet known how her model differs from that one. "She is focused on developing artificial intelligence using The Turk, the intuitive computer believed to be a precursor to Skynet, and targets her fellow cyborgs in order to reverse engineer Skynet technology in the present She's very self-empowered, assured, singular. It's a very cool character to play," says Manson who's new to acting, and even though she likes exploring new territory, she says music remains a big part of her life (since she was 15) and looking forward to what's next. Terminator: The Sarah Connor Chronicles features incidental music composed by Bear McCreary. For financial reasons, the main theme of the Terminator film series, composed by Brad Fiedel, is featured briefly in the TV series - mainly during the title sequence.[Terminator: The Sarah Connor Chronicles features incidental music composed by Bear McCreary. For financial reons, the main theme of the Termin ator film series, composed by Brad Fiedel, is featured briefly in the TV series - mainly during the title sequence. McCreary began working on the score by recording metallic sounds, using "oil cans, whale drums, chains, anvils, brake drums, garbage cans, thundersheets, tin cans...", after which he edited the samples and created his own custom library of metallic drums. The episode, "The Mousetrap," features "Safe Within Your Arms" by Greg Garing. "Nocturne in C-sharp minor" by Frédéric Chopin was used in the first season episode "The Demon Hand". The record label La-La Land Records is expected to release the original television soundtrack for Terminator: The Sarah Connor Chronicles on November 18, 2008. The series has receive a second season, which began on September 8, 2008 in the Monday 8:00 p.m. ET timeslot.

Bands COME TOGETHER!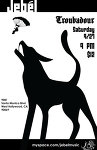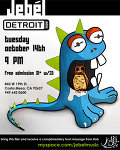 Band/location: Jébel, Irvine, California
Who Meets Who: Incubus meets Tool meet Deftones meet Rufus Wainwright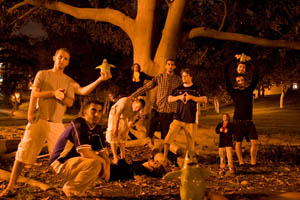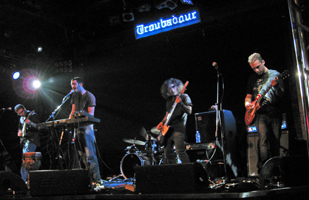 Major Milestone: Winner of the grand prize at the 2008 Battle of the Bands (The New University – "Battle for Wayzgoose Stage"), Jébel is announcing release of their debut full-length studio album, "Trip the Night Fantastic," a concept album that blends metal, hard rock and other musical styles with themes of subconscious thought and dreamy imagery.
Jébel played a respectably tight set of six songs from the album offering dynamic musical themes and expressive playing at Los Angeles' famed Troubadour on Sat, Sept 27 (photo above courtesy of studioexpresso) to a cheering audience.

Kevin, Shane, Josh, Rob, and Johnny (Curtis Marrero is the current drummer. Johnny moved on to pursue a career as an officer in the United States Air Force) are 5 friends who grew up together in the city of La Canada near Los Angeles and formed Jébel. "We were all music students eager to create and evolve a unique musical style based on our love of art rock, prog, grunge, and jazz," says Robert, the bass player who emotes a superb energy and stage presence. All the musicians contribute to the songwriting and arranging. The colorful and imaginative art of Nikolas Kazoura on the album jacket is a treat in itself evoking a dream-like Utopia with blue waters, green forests and lush life. The images that were originally conceived on the band's $15 Ikea table also appear on Josh's (lead singer) percussion instrument. Kazoura projects his oeuvre on stage during live performances and also creates Gig posters. The group recorded a 5-track EP - "I Mean You no Harm" - which was released through iTunes. Over the last 2 years, Jebél has built a strong following in Los Angeles and Orange County with gigs at The Whisky and The Roxy on Sunset Blvd. Jebél has opened for bands like Del the Funky Homosapien and People Under the Stairs.

Live/CD/Web: "Trip the Night Fantastic" the latest album from Jébel. is available for purchase through band's website, http://www.jebelmusic.com/ or at one of Jébel live shows. Catch Jébel next at The Detroit Bar on Tuesday October 12th at 9PM Free 21 and over 843 W 19th St. Costa Mesa, CA 92627 949-642-0600.

Art Of A Deep Purple
Roger David Glover took up the bass because it seemed an easier instrument to play than a regular six string guitar. Born November 30th, 1945 in South Wales, Roger got into numerous bands (The Madisons, Episode Six) from Grammer school on up to Hornsey College where he studied art. In 1969 Gillan was offered an audition with Deep Purple. It was during a recording session, the band liked his playing and writing skills and offered him a job as well. Glover stayed until 1973. During that time he became interested in production work, helping on some of the Deep Purple albums, as well as other artists on their new label Purple Records, eventually staying with them until the Deep Purple reunion in 1984. More recently, Glover cut a third solo album Snapshot. He also produced all the Deep Purple reunion albums until 2003.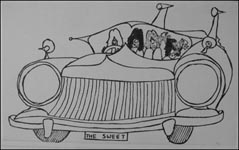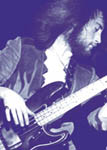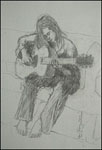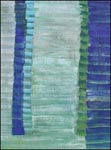 "I paint for my own amusement and do not sell or even exhibit. There are abstract and representational works, I enjoy both. Maybe I am seeking a particular form of expression although to my mind I haven't yet found one," says Glover.
Producer Fantastic, Greg Penny turns out to be a big fan of Elton John...just like me! We were taken back to our early days where we first felt John's music and it made our souls soar. We were buddies instantaneously. Call it power of music or synchronicity! Greg mixed and engineered the 2005, Universal reissue of Captain Fantastic and the Brown Dirt Cowboy as an expanded double-disc deluxe edition in 5.1 surround. SWEET!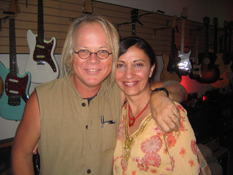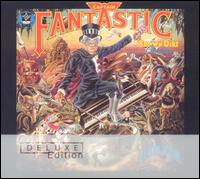 Flower Records A&R man & producer, Greg Penny at Zircon studio in Ojai with studioexpresso editor, Claris Dodge

"We're in an age where the measure for excellence has been eroded by the Idol & XFactor franchise. The notion that if you have a billion myspace plays, you're a great artist...If Picasso had employed some of todays perceived formulas for artistic success, as so many young artists do, he would never have been great. He would just be another poseur with a paint brush in one hand and a text message in the other. Work hard to be excellent at your craft."
--Greg Penny
You are subscribed as %Email% Please click here -- http://www.studioexpresso.com/MailListForm.asp to unsubscribe or subscribe from any future mailings. We respect all requests. Thank you