Evanesence
Fallen
Wind-Up Records

Certified 4X Platinum and winner of two Grammy Awards (best new artist and best hard rock performance) Fallen is by four-piece rock outfit from Little Rock, Arkansas who arose in the late '90s, escaping the town's stagnant soft-rock and death-metal scenes. Co-founders Amy Lee (vocalist) and Ben Moody (lead guitarist) met at a junior high summer camp, where Moody was so impressed by Lee's piano rendition of Meat Loaf's "I'd Do Anything For Love" that he asked the young talent to join him in a band; the two clicked instantly as songwriting soulmates, influenced by the likes of Bjork, Tori Amos, and Danny Elfman as well as classical and grunge music.

Evanescence added guitarist John LeCompt and drummer Rocky Gray to their lineup, giving them more leverage to deliver the intricate harmonies and dramatic orchestration displayed in their enchanting major-label debut, Fallen, which was produced in Los Angeles by former Ugly Kid Joe guitarist Dave Fortman (who has also produced Eyehategod, Stereo Fuse, Soilent Green). The album's first single--a beautiful, post-industrial rock track against a piano ballad backdrop called "Bring Me To Life"--also appears in the blockbuster movie Daredevil and its accompanying soundtrack. Catch them on the Letterman Show 2/26! Congrats guys!

The G-Man
Delvian Records

This new release from the winner of 2002 Electronic album of the year by Los Angles artist, Scott G features mixes by: Matt Forger (Michael Jackson, Paul McCartney) , F. Troy (Mortal Loom and "Blade" remixes). RD (#1 in Russia with a G-Man remix) DJ Insane (#5 in Europe with a G-Man remix)
William Morosi (jazz artist "like George Duke on acid"). You may download Scott G on Itunes.



Lagoona

With over 6 million downloads over the years, the Swedish duo Lagoona have been thrilling digital music fans since '96. These amazing electronic tracks feature the Kaveh Azizi remix of "Into My Dream" has had the #1 spot on the top10 WeedFiles Download.

Weedfiles uses a revolutionary new file format to completely change the model of digital music file sharing. Weed files technology makes it easy and cost effective for independent artists to make money with their music on the web and currently looking to sign hundreds of hot indie artists.

Weedfiles and Studioexpresso are teaming up to help you get your music weedified! Just click through the link above and automatically save on your encoding fee (5 songs submission for price of 4). Download, Share and make money with your music. Find out more here!

What are you waiting for? The revolution has already begun...click on the weedfile banner above and have fun!

Hey Ya!
Npogue on ssl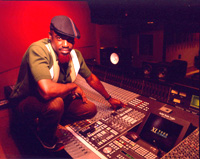 Photo: Edward Colver
Acclaimed mix engineer Neal Pogue has been working with the Grammy Award-Winning duo Outkast for 10 years. Pogue most recently mixed seven tracks on Andre 3000's "The Love Below" (one-half of Outkast's latest release) including the smash hit of 2003/2004 "Hey Ya!"
The recent Grammy Award-winner mixed six of Andre's creations at Larrabee North Studios in Universal City, CA on an SSL SL 9000 J Series SuperAnalogue console, while he traveled to New York's Hit Factory to use an SSL XL 9000 K Series SuperAnalogue console for "Hey Ya!"
Pogue, who has worked with many other artists including TLC ("Waterfalls"), Beyonce & Bilal ("Everything I Do" from the Fighting Temptations Soundtrack), Res ("Ice King") and En Vogue ("Don't Let Go (Love)"), explains his reasoning for choosing SSL, "I love the SSL EQ's, which are perfect for making synths edgy. Also, I am a compression fiend when it comes to my kick and snare drums, and I will only use the SSL compression for those as well. Pogue explains about XL 9K, "SSL created a new panning system in the 'K' called Ulti-Pan, which can be automated and it is superb. I have a blast using the SSL pen to create my ideas." In addition to "Hey Ya!," Pogue also mixed "She Lives in My Lap," "She's Alive," "Prototype," "Take Off Your Cool" (featuring Grammy Award-winner Norah Jones), "Spread" and "Vibrate." Just like "Hey Ya!," these tracks are quite "fresh and clean" as well, with SSL again providing the clarity and precision.
"The filters on the SSL consoles are wonderful as well," states Pogue. "I get a lot of recorded tracks that sound really muddy. So, it's great to use the low-pass filter and make it sound cleaner. I am a self-proclaimed nitpicker when it comes to mixing, and SSL consoles help me create the mixes I envision in my mind."
Grammy Awards in 5.1/HDTV


Pictured in the Effanel L-7 truck minutes before showtime... L-R:Eric Schilling - Member of the TV Committee, Hank Neuberger - Supervisor of Broadcast Audio, Jay Vicari - Music Mixer, John Harris - Music Mixer, Randy Ezratty - 5.1 Sound Designer, Phil Ramone - Chairman of the P&E Wing for The Recording Academy and Supervisor of Broadcast Audio, Leslie Lewis - Director of the Producer & Engineer Wing and Producer of the 2004 Grammy Nominee CD.
Photo: Lester Cohen/WireImage

It takes an army of pro's behind the scenes to make the 46th Grammy® Awards
5.1/HDTV Telecast look and sound so amazing. And this was the first year that the Grammy Awards were available to every home in America in surround sound and Hi-def TV.
Brubeck and Jones in the House at Avatar Studios
Nine Grammy nominees recorded their works at Avatar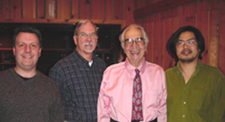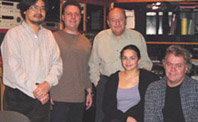 Dave Brubeck sessions that took place in Avatar's Studio C. L-R: Tino Passante (Studio Manager, Avatar), Jack Renner
(Engineer), Dave Brubeck, Kirk Imamura (President, Avatar) Jones: Kirk Imamua, Tino Passante, Arif Mardin (producer),
Norah Jones, Jay Newland (engineer)

Norah Jones who recorded her highly anticipated follow up album, "Feels Like Home" at Avatar. Over eight songs from the album, released on February 10th, were recorded at Avatar's Studio C. Telarc Records recently recorded Dave Brubeck in DSD for 5.1 Surround. The recording featured a live interview by Walter Cronkite in the Studio. Jack Renner engineered with help from Peter Doris. Russell Gloyd produced the record. Metal band Anthrax recently camped out in Studio A recording their new greatest hits album. They took over a second room at Avatar to work on a live DVD for Sanctuary Records. Hank Neuberger and Anthony Ruotolo engineered the sessions with help from Peter Doris. Neil Dorfsman recently in recording with producer/percussionist Mino Cinelu for French artist Bernard Lavillier. Aya Takemura assisted
Digidesign Gives Back



Winner of 2004 Academy Award® of Merit for Pro Tools design, development, and implementation, Digidesign offers free Bomb Factory plug-in downloads at digidesign.com. Get Seven full-featured Bomb Factory plug-ins — Bomb Factory BF76 (formerly Bomb Factory 1176), Bomb Factory BF Essentials (five plug-ins), and Funk Logic Mastererizer — now available to download for Pro Tools® TDM and LE systems running on Windows XP or Mac OS X.
Additionally, from now to June 30, 2004, owners of a Pro Tools®|24 or Pro Tools|24 MIX system can exchange their system for a Pro Tools|HD 2 or 3 Accel system and save an additional $2,000 off the regular Hardware Exchange list prices or exchange for a Pro Tools|HD 1 and save an additional $1,500. For more details, e-mail Chandra Lynn phone 650-731-6688 or visit Digidesign web site.

Yamaha d. Fly!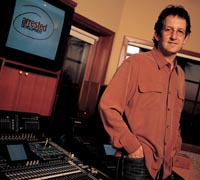 David Schwartz is known in some circles as d.Fly. Regardless of the nickname's background, the composer has the well-earned reputation for being able to deliver a unique brand of quirky, original music while remaining true to the needs and demands of the projects he scores.
Schwartz recently upgraded his workspace with two new Yamaha 02R96 digital mixing consoles just in time for his latest project-scoring and writing original music for the critically-acclaimed Fox television series Arrested Development. Ron Howard serves as one of the show's executive producers and narrator. "It's a very funny, smart show," Schwartz explains. "We often have upwards of fifteen minutes of music for each half hour episode."

Artsist Jaryd Burton signed from cd produced by Jeff Gross
Viastar Records Signs L.A. Based Singer-Songwriter Jaryd Burton to Multi-Album Recording and Merchandising Agreements
Discovered by Viastar Director of A&R Shiva Baum, Jaryd was a finalist at the popular breeding ground for undiscovered talent, Acoustic Live.net contest, sponsored by L.A. taste-maker web-site The L.A Music Scene . Directly following the competition Jaryd went into the studio with producer Jeff Gross (http://www.jag144.com) and recorded a live 10 song cd which captured jaryd in his purest form. It was this CD that caught the ear of Viastar Records. Congrats Jeff and Jaryd!

SCS Sessions
Clients fight to get into SCS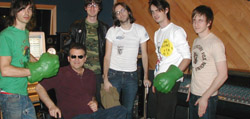 L-R: Alex Greenwald, Tom Weir, Jess Conrad, Jacques Brautbar, Sam Farrar and Darren Robinson
Studio City Sound recently welcomed renowned engineer David Bianco as he records and mixes V2 artists The Burning Brides, produced by George Drakoulias.

Tom Weir mixing and Richard Feldman producing legendary reggae artists Toots And The Maytals who have a who's-who of recording greats on their new V2 release: Eric Clapton, Willie Nelson, Bonnie Raitt, Ryan Adams, Trey Anastasio, Shaggy, Rahzel, No Doubt, Bootsy Collins and The Roots, Bunny Wailer, Keith Richards, Rachel Yamagata and others, all take part in this amazing record. Tom also recorded and mixed Phantom Planet and Pete Yorn for NPR's "New Ground" hosted by Chris Douridas. SCS is also busy with producers Steve Plunkett and Spencer Propher recording songs for Britney Spears' untitled movie for ABC's Family Channel.
Dr. Dre Detox
.'The Detox', which is unlikely to be released until 2005, is the follow-up to 1999's '2001' album by Dr Dre, and is likely to feature guest appearances from Eminem, 50 Cent, Snoop Dogg and Knoc-Turn'al, as well as G-Unit's Lloyd Banks, Guvner and Game. Co-producer Scott Storch told MTV: "I'd describe it as the most advanced rap album musically and lyrically we'll probably ever have a chance to listen to."
Clive Davis Department of Recorded Music
At Tisch School of Arts, New York University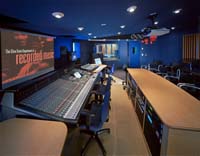 The studio offers an SSL XL 9024K Series console
photo: David Goggin
Recently, Troy Germano of the Studio Design Group was approached by old friend, Clive Davis, chairman and CEO of BMG North America, regarding the "Clive Davis Department of Recorded Music" at New York University's Tisch School of Arts. Davis wanted Germano to design and build a studio for a university course, which would provide students with a well-rounded background in the inner workings of the recording industry. Wanting the classroom facility to be as close to high-end professional studios as
possible, Germano brought in longtime colleagues Dave Bell of Whitemark LTD
in England and Dave Malekpour of Professional Audio Design (PAD) -- 781-982-2600.

Brauner and Soundleux Mics Star at Smith's Riverhouse and Sixteen Place Studios



L-R: Paul Reed Smith, Matt McPherson
Paul Reed Smith has become synonymous with excellence in the crafting of guitars. When Smith went looking for the best microphones that money can buy for his new Riverhouse
recording studio, he chose the Brauner VM1 tube mic and the Soundelux 195 both available through Transamerica Audio Group. Matt McPherson is in the enviable position of having the wherewithal to write, produce, record and perform his music under his own exact terms - he owns Autumn Records, Sixteen Place Studios on Music Row in Nashville and now, two Soundelux ELUX 251 microphones.

Napster by Subscription

Napster has announced they will soon offer tracks for 97 cents per track for premium subscribers. As they roll out a new version that will accommodate various portable players, including Creative's popular Nomad line, Dell's Digital Jukebox , Rio and others. Napster's Premium Service subscribers, meanwhile, will be able to buy tracks in bulk for as little as 80 cents per song. They will also offer a package of 50 tracks for $39 to premium subscribers.

Jazz At Lincoln Center Seeks
Recording Studio Operator/Tenant For New Home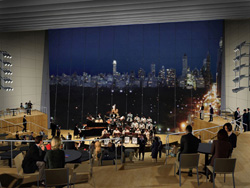 photo: David Goggin
Opening October 18, 2004, the 100,000-square-foot FPRH is the first performing arts facility built specifically for jazz, and marks the first extension of the Lincoln Center campus in ten years. In addition to jazz, FRPH will also accommodate other forms of performing arts, such as opera, dance, orchestral music and film.
Located in the new Time Warner Center at Columbus Circle, JALC's $128 million facility will have three major venues utilizing recording services: Rose Theater (1,000+ capacity), The Allen Room (500+ capacity) and Dizzy's Club Coca-Cola (140 capacity), in addition to the interactive Ertegun Jazz Hall of Fame and the Irene Diamond Education Center, which houses the recording studio, the Louis Armstrong Classroom and The Edward John Noble Foundation Studio.
JALC's new recording facilities are being designed and completed by "Sound of Jazz" (SOJ), a partnership JALC formed including specialists from Artec Consultants Inc. and The Walters-Storyk Design Group. Along with FPRH's world-renowned architect Rafael Viñoly, JALC has acquired the widest range of acoustical, electro-acoustical and theatrical design skills available.
The new tenant will assist JALC in its mission to integrate live music, recording, audio for video and asset management with state-of-the-art audio standards. The operator/tenant will install all necessary professional audio equipment and provide experienced staffing. The operator/tenant will participate in all recording done on-site, working with JALC to record and archive a significant percentage of FPRH's jazz performances, as well as periodic JALC education programs. The estimated gross revenue of the recording facility is projected to be in excess of $1 million annually.
JALC will choose the recording studio operator/tenant from all qualified candidates, both domestic and international, in April 2004. E-mail Chris Stone WSG or call 323-465-7697

About Jazz at Lincoln Center
Jazz at Lincoln Center is a not-for-profit arts organization committed to promoting the appreciation and understanding of jazz. Under the leadership of Artistic Director Wynton Marsalis and President/CEO Hughlyn F. Fierce, JALC advances a unique vision for the continued development of the art of jazz, producing a year-round schedule of performance, education and broadcast events for audiences of all ages, from around the world. Downloadable renderings here

Howard Johnson at Cups 'N Strings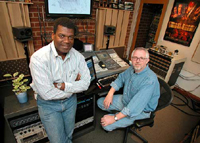 photo: David Goggin

Legendary funk/soul singer Howard Johnson recently mastered a new album entitled: "Soul Japan Presents Family Snapshots", featuring Johnson, Dave Cochran, Portrait, Regis Branson, and Ed Johnson at Cups 'N Strings. Seen in the studio are Howard Johnson (L) and studio owner/chief engineer Bruce Maddocks. studio: 310.656.9356



Dig wins at Sundance
A film charting the seven-year career odyssey of The Dandy Warhols and their friends The Brian Jonestown Masacre has won the special JURY PRIZE at the SUNDANCE FILM FESTIVAL. A labour of love by first-time director Ondi Timoner picked up the documentary award at the prestigious festival last month. The film has now been picked up for major distribution in the US by Island Records founder Chris Blackwell's Palm Pictures. Often using a spy-cam planted in her hat, Timoner chronicled the changing friendship between Newcombe and Taylor as their paths crossed then separated.

JOBS On Hollywood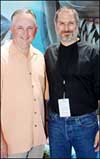 Steven P. Jobs, Pixar chief executive, right, with Richard Cook, chairman of Walt Disney Studios.

Some industry executives have wondered whether Apples' Steve Jobs's recent breaking off the Disney negotiations was partly a prelude to efforts to take the top job at a Hollywood company - maybe even Disney's Mr. Eisner's job. But others note that Mr. Jobs has always done best when he has stayed close to the technology. And they predict that this new media mogul will have no need to go Hollywood.
The success of Mr. Jobs's digital film studio, Pixar, has come not from upending the business of distributing movies, but from employing computers as powerful creative tools for movie animators steeped in the traditional art of storytelling.
For all his talk of revolution over the years, Mr. Jobs has taken a disciplined, evolutionary approach to the media industry that has been remarkably successful: Apple is the leader in the music download market and Pixar's "Finding Nemo'' is one of the most financially successful animated films.
"With his fingers in music and film and computers, it is obvious that Steve can now hold his head up with the other moguls," said Danny Hillis, a former computer scientist at Disney's Imagineering division and now the chief technology officer of Applied Minds, a technology and consulting company in Glendale, Calif.
At this year's Consumer Electronics Show, Mr. Jobs's longtime rival, the Microsoft chairman Bill Gates, exhibited a portable media player that he is counting on to surpass Apple's iPod, because the Microsoft device can play not only music but videos.
But several days earlier, in an interview after he introduced an even smaller version of the iPod, Mr. Jobs said he doubted there would be a mass market for a small, portable video player.
"With an inexpensive pair of headphones you can approximate a $10,000 speaker system," he said. "However, there is no portable video alternative for a 50-inch plasma HDTV screen.
He acknowledged that Apple was experimenting with portable video technologies, but he also noted that two excellent portable products were already available for watching movies: portable DVD players and notebook computers with DVD drives.
Mr. Jobs points out that Hollywood has been much more sophisticated than the recording industry about expanding its distribution strategy. It is already possible, for example, to watch movies in a wide range of different ways, including rental videos, pay-per-view and even free television.
Al Teller, Joins Board of Directors of INgrooves

Al Teller, the former Chairman & CEO of MCA Music Entertainment Group, including the record label and publishing division, and former President of CBS Records and Columbia Records has joined the Board of Directors of INgrooves. San Francisco-based INgrooves, a digital label and distribution company, has quickly established itself as one of leading providers of Dance & Electronic music content to the digital music services such as iTunes, Napster, Rhapsody and MusicMatch. In his role on the Board of Directors, Mr. Teller will lend his 30 years of music industry experience to INgrooves and its goal of creating the dominant record label in the new digital era.


LA Reid, New Chairman of Island Def Jam Music Group
Universal Music Group has named Antonio 'L.A.' Reid to Chairman of The Island Def Jam Music Group, announced CEO Doug Morris, and President Zach Horowitz. Reid's appointment is effective February 12, 2004. "We couldn't be happier to be working with an executive who has the range of talents that Antonio brings to the company," stated Morris. "He is a multidimensional music man and entrepreneur, whose hallmarks have been a deep love of music and an incredibly successful track record in building the careers of world-class artists. I am confident that we will have a smooth transition and begin a new era of growth and excitement for Island Def Jam." "This is an amazing opportunity to work with the most talented artists and executives in the recording industry, including Doug, Zach and Jimmy, who are the absolute best in the business," commented Reid.

Reid, an award-winning producer, most recently served as President & CEO of Arista Records. While there, he scored commercial success with such artists as OutKast, whose album Speakerboxxx-The Love Below, recently earned three Grammy Awards, including Album of the Year, and remains one of the best-selling albums in the country, as well as Sarah McLachlan, Dido, 2004 Grammy winner Pink and Avril Lavigne, among many others. His artists at Arista won five 2004 Grammy Awards and garnered a total of 31 nominations. Formerly, he served as Co-President of the highly successful LaFace Records, which he co-founded in 1989 with producer-songwriter Kenneth 'Babyface' Edmonds. Under Reid's leadership, LaFace had grown into one of the music industry's most successful record labels, dominating the pop and R&B charts with such top acts as TLC, Toni Braxton, Usher, Tony Rich, Pink, OutKast and others. In total, the Atlanta-based label had sold more than 50 million albums worldwide. Prior to founding LaFace Records, Reid garnered 33 No. 1 singles and three Grammy Awards with Babyface as the producing-songwriting duo behind such chart-topping acts as Whitney Houston, Boyz II Men, the Jacksons, Bobby Brown, Paula Abdul and Sheena Easton. Smooth landing L.A.!
Lyor Cohen To Head Warner Music Group
Move reunites Bronfman with chief of Island Def Jam Music Group

Edgar Bronfman Jr. has lured Lyor Cohen away from Island Def Jam Music Group to head Bronfman's recently acquired Warner Music Group.
The move reunites Cohen with Bronfman, who led a group of investors that purchased Warner Music Group in November for $2.6 billion. The pair worked together when Bronfman was head of the Universal media conglomerate, until Bronfman sold all of those music, film, TV and theme-park assets to the French company Vivendi in 2000.
"Lyor Cohen runs things in a way the other guys can't," his longtime friend and business partner Russell Simmons said in a statement. "When most people throw money at things, Lyor throws creativity ... his vision is just different. You have to find new ways to do things. You have to be creative. The whole business needs to be revamped and Lyor knows how to do this and that's why this new job is perfect for him."
Cohen's first job in entertainment was running a nightclub in Los Angeles. In the early 1980s he came to New York and wangled a job with Simmons' management company, starting as road manager for Run-DMC. Soon after, Simmons founded the pioneering Def Jam Records, which launched the careers of LL Cool J, the Beastie Boys, Public Enemy and many others. Cohen made himself so indispensable that Simmons gave him equity in the company - which they sold to Universal for $130 million in 1999. Universal then merged Def Jam with Island Records and put Cohen in charge, making him responsible for acts far beyond rap. Bronfman's purchase of Warner Music Group instantly created one of the world's largest music companies. Warner's share of the market is second only to Universal; as of last November, Warner had approximately 18 percent of overall market share, while Universal had about 28 percent, according to Nielsen SoundScan.
Among the top artists on Warner's roster include Madonna, Missy Elliott, Faith Hill, Matchbox Twenty, Kid Rock, Staind and Metallica. Its recent success include crooner Josh Groban, who recently held the No. 1 position on the album charts.
Bronfman said Cohen's arrival does not hint at a greater shakeup at Warner.



Coachella!
May 1st and 2nd 2004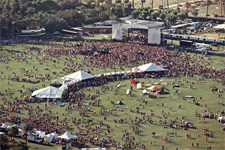 Booked by LA's Goldenvoice, Coachella is the closest thing to a British music festival in America. Held in the mystical Mojave desert at the Empire Polo Field in Indio, CA (two hours east of Los Angeles), it is an unparalleled Zen experience with a diverse musical lineup that takes place for two days and nights under a galaxy of stars, swaying palm trees, green grass and beautiful scenery.

Music fans travel from around the globe to experience a truly unique line-up of musical acts featured in four stage areas spread throughout 78 acres amid gorgeous desert sunsets and mountainous views. With its strongest headlining line-up ever, 2004 will find mega-artists Radiohead, The Cure, the newly reunited Pixies and Kraftwerk on the main stages.

The festival is known to showcase up and coming acts that in the months and years to follow become massive. Many of the performances by past bands like The Strokes, Underworld, Bjork, and Kruder & Dorfmeister have gone down in entertainment history as the act's best-ever in the US. Last year, the Goldenvoice-promoted event attracted 68,000 music fans.

Los Angeles' GoldenVoice is the promoter and Tickets for the festival went on sale February 14 (Valentine's Day) at Ticketmaster. Radiohead will lead the Saturday night line-up with performances by The Pixies and Kraftwerk scheduled as well, while The Cure will conclude the festival on Sunday night. General admission tickets are priced at $75 per day, with a limited amount of 2-day tickets available for $140 plus $1 per day donated to charity. In the Coachella festival tradition, there is free parking and the doors to the venue will open at noon on both days. Parking lots open at 9am and camping is available for the entire weekend close by. For more lineup announcements and information on nearby hotels, camping facilities, restaurants and more, click here: Coachella
Studio Business Chops Announces Spring West Coast Tour
Half-day Seminars Explore New Revenue Sources for Audio/Music Pros


The producers of Studio Business Chops, regional seminars focusing on business tips and techniques for music and pro audio professionals, have announced a West Coast tour in mid-May. San Diego, May 15; Los Angeles, May 16; San Francisco/Oakland, May 18; Sacramento, May 19; Portland, May 21 and Seattle, May 22 are included in the tentative schedule, with venues for the seminars to be announced shortly.
Presented by GC Pro (Guitar Center's professional division), Studio Business Chops' afternoon seminars are facilitated by management coach John Stiernberg, author of Succeeding in Music. He's joined by an array of industry professionals, from music supervisors and record producers to project and commercial studio operators, discussing topics including: Strategies to Win Clients and Market Share, Business Plan Tips and Techniques, and a New Revenue Sources roundtable.
"The SBC seminars are a unique opportunity for music and audio professionals to understand the specific challenges of their business," says Tom Menrath, director of business development for GC Pro. "We've supported the program from the beginning as an excellent educational business resource for so many of GC Pro's customers." Professional products, support services and resources from a wide variety of suppliers are displayed around the presentation halls.
"The business side of the music business has created huge new challenges that need to be addressed by industry professionals," says event producer David Schwartz. "This is a unique learning environment where top music business leaders share their practical and radical views of doing business in the evolving audio-music world. It's an educational marketplace, with a community flavor and futuristic technology on display."
"There is a major emphasis at the show on opportunities in non-traditional areas for music professionals, like video games, ring tones and interactive entertainment, as well as the quickly growing business potential in the film and television worlds," according to event co-producer, Giovanna Imbesi. For more info: e-mail David Schwartz

Gabriel and Eno launch online label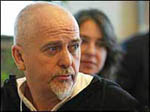 Peter Gabriel and Brian Eno (Roxy Music) are launching a provocative new musicians' alliance that would cut against the industry grain by letting artists sell their music online instead of only through record labels. At MIDEM, the pair handed out a small manifesto called the "Magnificent Union of Digitally Downloading Artists" or MUDDA. The pamphlet has ideas for artists to release their music online with more release options.
Eno and Gabriel both suggested they'd welcome a chance to make songs that stand alone.
"I'm an artist who works incredibly slowly," Gabriel said. "If some of those (songs) could be made available, you don't have to be so trapped into this old way of being confined only by the album cycle." The former Genesis singer and world music promoter is interested in putting multiple versions of the same song online. He's also looking forward to being able to hear unfinished music from other artists.
"We tend at the moment ... to try to find a moment when a song is right. You stick the pin in the butterfly and put it in the box and you sell the box," he said. "Music is actually a living thing that evolves."
Apart from being a successful musician, running his own record studio and the Real World record label, Peter Gabriel is also active in the field of digital downloading. As one of the founders of OD2, which stands for On Demand Distribution, he is offering 300,000 songs in MP3 and WMA format and the download technology to retailers like Freeserve, Tiscali, Wanadoo and Virgin.
Cano Art

Drawing inspiration from pop culture, Mexican Muralists, superhero comic book art, and the German Expressionists, Michael Cano's paintings have been the subject of admiration and collection by a wide range of notable actors, musicians, and entertainment industry figures. Already Lauded Among a Diverse Crowd of Music, Film & Literary Luminaries, 45 of Michael Cano's Paintings Are Making Their Public Debut February 15th – April 1st at the Barracuda (7600 Melrose Ave.)
Catch a special Media Event/Showcase of Cano's works as well as music from the forthcoming "Ruta 100" U.S. Latin Alternative Compilation Album on
Saturday, March 20th (6:00PM-9:00PM). To attend this special event please RSVP to Josh Norek at JN Media – 323.933.2069



"I'd like to take oil painting lessons from Cano one day." -Johnny Depp
"The portrait Cano did now hangs in my family's home in Mexico City. Everyone agrees that it captured me perfectly." -Joselo (Café Tacuba
SSL C Series Consoles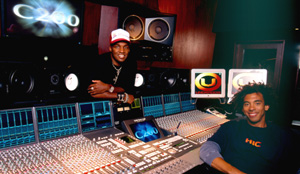 Harvey Mason Jr's Underdog Entertainment

The Technical Grammy Winner SSL launched the C100 and C200 at last April's NAB. LA
customers include six C232 for Fox Television and a C248 mixing daily at Harvey Mason Jr's Underdog Entertainment. Odds On Recording in Las Vegas took delivery of one recently.
The broadcast industry has been quick to embrace the console's excellent design, unique and innovative features and ability to meet the challenges of DTV. The C200 has drawn clients from both the music and post production industries due to the console's ability to address high bandwidth recording standards.

C100 Digital Broadcast Consoles have been sold to facilities around the world topping 15 installations since its release including two consoles to Danish Broadcasting; one to the Golf Channel, FL; one to NHK Sapporo, Japan; one to Disney Broadcast; one to NBA Entertainment, NJ; one to Core Digital, AZ; two consoles to Seoul Broadcast (SBS), Korea; one to TCN Channel 9, Australia; one to ABC TV3, NY; one to Nippon Hoso, Japan; one to MBC, Korea; one to the Food Network, NY and one to Comcast, PA. C200 Sales reached 15 and spanned the globe, including one console to Office Terra, Japan; one to WCU; one to Underdog Entertainment, CA; one to Imagica Akasaka, Japan; one to Bicoastal Recording, NY; four to Fox Promo, CA; two to Fox Sports, CA; one to Croatian Radio, Croatia; one to Omnibus, Japan; one to TV Tokyo, Japan and one for Odds On Recording, LV.
"We're looking forward to continuing this upward trend in 2004, with continued strong market penetration for the C100 and C200," RickPlushner, president of SSL North America says.



L-R: Rick Plushner, Phil Ramone and Phil Wagner.

Legendary producer/engineer Phil Ramone presented Rick Plushner, president of Solid State Logic, and Phil Wagner, senior vice president of Solid State Logic, with this year's Technical Grammy at the 46th Annual Grammy Awards held in Los Angeles, CA. The award recognizes SSL, the world's largest manufacturer of professional analogue and digital audio consoles for music, broadcast, post production and film, for the design and production of industry-defining audio mixing consoles over the years.
The Village Buzz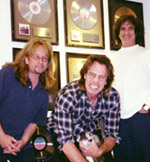 L-R: Engineer Maddy Spindel, Rick Springfield and Scooby, Producer Ronnie Grinnel.
2004 is off to a busy start at The Village Recording Studios in West Los Angeles, where the synergy of pop, rock, commercial and film music making continues hot. Recent sessions at The Village have included British indie rockers Travis and Starsailor, Rickie Lee Jones and the always-iconoclastic Randy Newman; all of the above were recording on Studio D's Neve 88R console with engineer Jason Wormer for live broadcast on KCRW radio's top-rated Morning Becomes Eclectic.
Also in Studio D was Rambo himself: Sylvester Stallone, along with John Cleese, Jack Black, Holly Hunter and William H. Macy, all recording voiceovers for the upcoming animated movie Automatons with producers Ed Solomon and Chris Matheson and engineer Wormer. In Studio B, Rick Springfield mixed for a new release with producer Ronnie Grinnel, engineer Maddy Spindel, and mascot Scooby! (See accompanying photo).
And more: Blues master Keb Mo' hammered out pre-production for a new project with engineer Mark Johnson, singer/songwriter Poe cut tracks with engineer Jim Mitchell, the sultry Mya recorded a song for Shrek II, Janet Jackson recorded vocals with producers Jimmy Jam and Terry Lewis, and Guns 'N' Roses camped out cutting new tracks with producer/engineer Caram Costanzo and Pro Tools engineer Eric Cadieux.
Feb Salute to the Fab Four!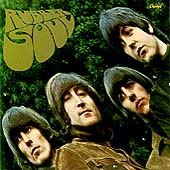 It was forty years ago on Feb 7th, when the Beatles came to America and changed American music and life forever. We salute the fab four on this month of Febrauary dedicated to St. Valentine's. "All you need is Love." -- Lennon