studioexpresso, Trans Audio Group & PlugIn Alliance Present
Award-Winning Producers
at TECTracks, NAMM
Anaheim convention center, 2nd Floor Room 203A-B
Saturday, Jan 23, 2-4pm (Prior to Tec Awards)
It's 2016. Time to brush up your production skills and meet award-winning artists who are here to share their secrets to success in the studio. studioexpresso and TransAudio Group host this session where Grammy-winning producers and engineers discuss trends and emerging opportunities for developing high quality musical content.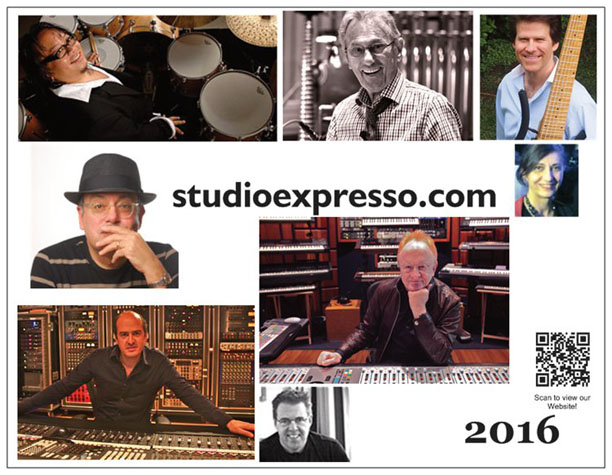 Two Sessions Moderated by:
Brad Lunde and Claris Sayadian-Dodge
Read Matt Forger Review Of 2013 Sessions at HotZone
2:00 - 3:00 pm
Orchestrating A Jazz Session
We all love jazz, but how does that love play out in the studio? This panel will bring together some of the world's top jazz engineers and producers to discuss their studio techniques, tricks and subtleties that allow jazz to be captured at the highest level of its art form. The all-star panel includes:
click on artist links for bios
Will Smith & Jimmy Fallon Beatbox "It Takes Two" Using iPad App!


Curt Bisquera (Sarah McLachlan, Lana Del Rey, Josh Groban)
Session with CB at Capitol
The West Coast Adventures of Kirkee B
Sarah McLachlan Shine On Tour

Brent Fischer (Usher, Elvis Costello & The Roots, Michael Jackson)
New Thing by Brent Fischer
D'Angelo - Really Love -- Grammy nom
Elvis Costello and The Roots with The Brent Fischer Orchestra
Michael Jackson - This Is It
Clare Fischer ¡Ritmo!


Al Schmitt (Diana Krall, Paul McCartney, Jefferson Airplane)
Al Schmitt Gets a Hollywood Star
Sir Paul McCartney at Capitol w/ Krall & Tommy LiPuma, Al Schmitt



3:00 - 4:00 pm
Producers' Forum
Releases with Big Buzz
Art . Technology . Commerce
Music producers are faced with an increasing number of details and evolving realities, as they set the course and steer a successful recording project. With economics a challenge as never before, this panel will discuss how to not compromise quality while reducing production costs, leveraging the producer network to get better session musicians, cutting win-win deals, dealing successfully with labels and managers and more! This world class panel includes
click on artist links for bios
VALUE MUSIC -- James Gordon & Tori Kelly!


Peter Asher (James Taylor, Linda Ronstadt, Steve Martin & Edie Brickell)
BRIGHT STAR, A NEW MUSICAL Steve Martin & Edie Brickell
Peter & Gordon
James Taylor --5
Rod y Gab

Larry Klein (Joni Mitchell, Melody Gardot, Herbie Hancock)
Melody Gardot Once I Was Loved
Lizz Wright - Freedom & Surrender
Joni Mitchell and Larry Klein

Rafa Sardina (Placido Domingo, Estopa, Katherine Jenkins)
Placido Domingo Song Duets
Calle 13
Estopa

The Annual TEC Awards will be held the same evening at 7 following these panels
Claris Sayadian-Dodge founded studioexpresso.com in 2000, a production resource for developing artists. Dodge is the publisher and chief editor of studioexpresso's monthly eZine for the recording industry and looks after an Award-winning roster of producers with the affiliated C Artist Management. Past positions include: Management III, PMK, Rogers & Cowan Public Relations, Ocean Way studios, Prairie Sun Recording and studio bau:ton.
Claris supports Grammy's MusiCare and sits on the board of a Film Foundation dedicated to documentaries on human rights. She has a BA degree in business and continues to create professional networking events to raise awareness and funds for art and music education programs and worthy causes.

# # #
Past Events
studioexpresso HotZone at NAMM 2015
studioexpresso HotZone at NAMM 2014
studioexpresso Hot Zone at NAMM 2013
studioexpresso at Mix Open Golf Tournee
Monday, June 25, 2012
studioexpresso Presents The Art Of Producing Masters
A Panel of audio professionals discuss label-friendly production trends at NAMM "Hot Zone" 2012

studioexpresso Presents Rock, Record and Roll!
A Panel of audio professionals discuss label-friendly production trends at NAMM "Hot Zone" 2011

Studioexpresso Hosts Audio Underground 007
Presented by Trans Audio Group & studioexpresso

Studioexpresso Connects With Young Musicians
Presented By The Learning Annex & studioexpresso
An Artful Experience
Expresso@8 With Eddie Kramer Draws An Experienced Music Crowd

studioexpresso & Music Business Chops
studioexpresso hosts Demo Eval Sessions During MBC 2004

Sign me up for news on upcoming events here!
studioexpresso Media Sponsor at
2015 Music Industry Golf Tournament