Studioexpresso Hosts Audio Underground 007
Presented by Trans Audio Group & studioexpresso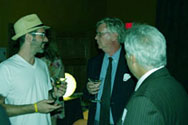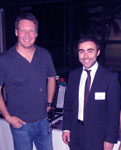 l-r: Ryan Hewitt (Jamie Cullum, Blink 182), Geoff Daking, Universal's Tim Reid, Jizelle, Kolet, Terry Sawchuk (Tomi Swick, Matt Dusk) with ATC's Ben Lilly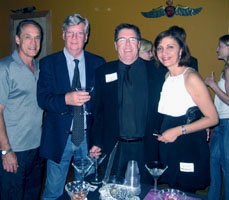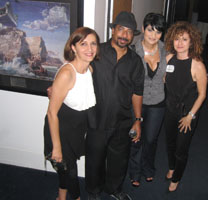 Cheers 007! Some of audio's best & brightest inventors and users of fine recording gear gathered at the THE VILLAGE STUDIO on August 29th to get a sneak peak of the newest music recording products to be shown at AES this fall.
Audio Underground 2009 is produced by www.transaudiogroup.com and the invitation-only highly-classified mixer was hosted by studioexpresso on Saturday evening.
More than 50 VIP guests enjoyed Vesper Martinis (shaken not stirred) and Caviar served alongside some of the hottest studio gear in the world.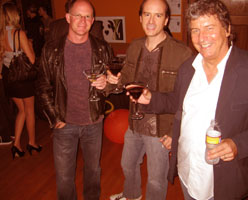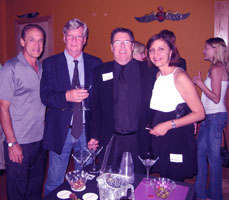 Mixers Mix: l-r: Clark Germain (David Benoit, Chic Corea), Fishbone Music's Rafa Sadina (Stevie Wonder, Beto Cuevas), Ken Allardyce (Green Day, Avril Lavigne), Maple Jam Music's Greg Ladanyi (Toto, Don Henley), Geoff DAKING, Trans Audio Group's Brand Lunde (a.k.a. "Q") with studioexpresso's Claris Dodge
"Brad (Lunde) is the man behind the gear and gadgets. Our community of top music makers, may as well call Brad "Q," says studioexpresso's Claris Dodge, referring to the man who supports her clients with the best tools of the trade. "Like Bond, studioexpresso producers and artists have impressive clients and gigs 'assignments' that demand and deserve the best in gear. At Trans Audio, we do our best to meet this need," adds Lunde with a smile.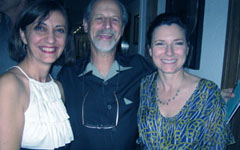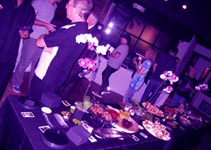 A Bond Experience: l-r: studioexpresso's Claris Dodge, Eddie Kramer (Jimi Hendrix,Carlos Santana and Michelle Branch)
and AJ

The Audio Underground Roadshow (AUR) followed up its inaugural event in Sacramento, California with a very well attended second roadshow at The Village Recorder in West Los Angeles, the following day on Sunday.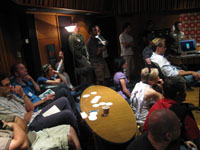 Audio aficionados from the Los Angeles area congregated in the venerable recording facility's historic Studio D for a pre-AES Convention sneak peak at new products from some of the industry's top boutique manufacturers.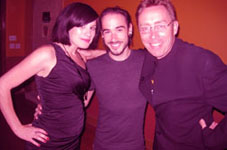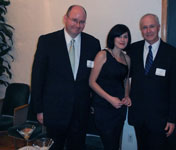 "The purpose of these roadshows is to give end users a chance to talk to engineers ````and manufacturers and learn on a one-to-one basis the intrinsic values of the gear being shown," says Lunde. The event was co-sponsored by TapeOp Magazine and studioexpresso.com.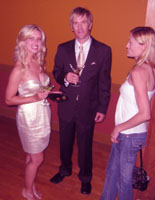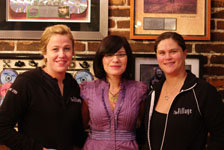 l-r: CHRIS ESTES of ENDLESS ANALOG with
two fan. The Village Women l-r: Engineer, Vanessa Parr, Quality Control Specialist, Erica Earl and Tina Morris, Manager/tech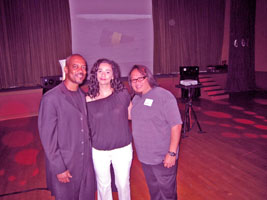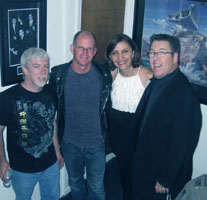 l-r: CC Thomas, Daniella & Curt & Bisquera (Josh Groban, Elton John; )Matt Forger (Michael Jackson,Simon Lynge), Clark Germain (David Benoit, ), Claris and Brad Lunde (a.k.a. 'Q').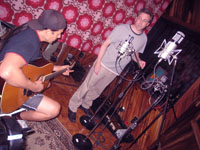 Marvin Etzioni (Lili Haydn, Peter Case, Marvin Country) with Claris Dodge gives AudioUnderground and studioexpresso a High Five!David Bock of BOCK AUDIO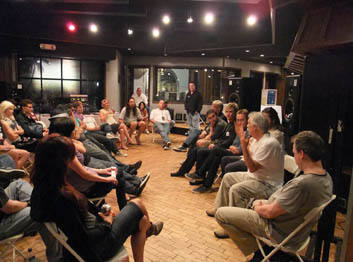 Participating manufacturers of highly respected gear included: L.A. studio musician and pro audio developer PETER MONTESSI of A DESIGNS ; UK's Hi-end monitor manufacturer BEN LILLY of ATC LOUDSPEAKERS ; One of the brightest minds in handmade microphones of our dayDAVID BOCK of BOCK AUDIO; Blues Magoos drummer/engineer/pro audio designer GEOFF DAKING of DAKING; Creator of The new bridge between tape machines and DAWs CHRIS ESTES of ENDLESS ANALOG; Inventor/Producer GEORGE MASSENBURG (Lyle Lovett, Aaron Neville, Dixie Chicks) of GML and boss man at Legendary all-tube recording equipment from Denmark, JESPER B. NIELSEN of TUBE-TECH Well done, James!
TAG at AES NEW YORK 2009 BOOTH #555
visit www.transaudiogroup.com

Past Events
Studioexpresso Connects With Young Musicians
Presented By The Learning Annex & studioexpresso
An Artful Experience
Expresso@8 With Eddie Kramer Draws An Experienced Music Crowd

Sign me up for news on upcoming events here!