Master Of Re-Invention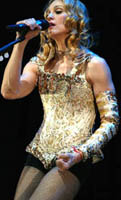 The Summer of 2004 marks the launch of Madonna's appropriately named "re-Invention Tour," which began in Los Angeles, continues through mid-September, ending in the Netherlands. Already synonymous with constant reinvention, this international artist has hit the road with an impressive cast of musicians, dancers, and audio/visual experts to deliver a show as inspirational as its moniker illustrates that it should be. For vocals, Madonna is using a combination of SKM3072 handhelds with ME3005 capsules and a custom headset with a Sennheiser ME105 capsule. "Headset-wise, we're using the SK5012 pack because it so incredibly small and works great. While in rehearsal, she requested a capsule that would sound like her handheld, and the Sennheiser ME105 fit the bill," says Systems Technician Gene Phillips. Madonna's high standards for monitoring have resulted in unique and impressive working situations for monitor engineer, Ian Newton and vocal monitor engineer, Sean Spuehler. The two-man team runs a dual Yamaha PM1D console configuration with a total of 92 inputs.


Sony and Bertelsmann (BMG) Come Together
The marriage will leave four industry majors with approx 80% of the world music market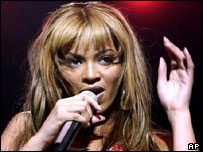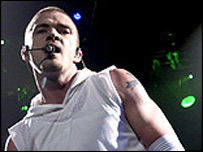 Beyonce is one of Sony's key performers; Justin Timberlake is one of BMG's key performers
The deal will bring together under one roof Sony stars such as Barbara Streisand and Beyonce and BMG stars, including Elvis Presley and Christina Aguilera.
The Japanese and German parent groups argue that their businesses need to join forces to tackle the crisis in the global music industry faced with both pirate CDs and an explosion of illegal music downloading.
"We're pleased that (EC officials) have recognized that the creation of Sony BMG is an appropriate and necessary response to current market conditions," said Sony Music Entertainment chairman and chief executive Andrew Lack, who will become chief executive of the combined company.
According to Competition Commissioner Mario Monti, European Union gave the deal the nod despite complaints from other labels and smaller independents that a merger would reduce competition and lead to higher prices for consumers. There are no conditions attached to EC approval.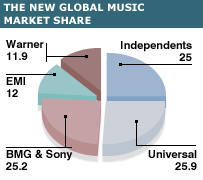 The new firm will account for 23 per cent of worldwide music sales, and one in three new releases in the US, according to Nielsen SoundScan. It still requires approval from the Federal Trade Commission in the US but that is expected within days.
The deal will leave 80 per cent of the market in the hands of the "big four" - Sony/BMG, Vivendi Universal, EMI and Warner. European regulators said they would keep an eye on the market and would "carefully scrutinise" any further consolidation.
The coming together of Sony and BMG takes place after EMI, the third largest record company, failed last year to buy the fourth largest - Warner Music.
US Warner was eventually bought by Canadian media mogul Edgar Bronfman Jr for $2.6bn (or £1.5bn at the time).
Recently, the Financial Times reported that the two companies plan to shed 2,000 jobs, or a quarter of their combined workforce.



Born At The Village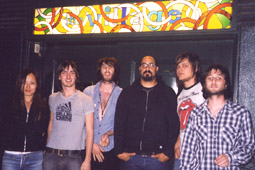 photo: Maureen Droney
Get Born by Jet, the hard rocking, Australian four piece who've been called a hybrid of AC/DC and the Stones, is garnering critical raves and Platinum sales, fueled by the success of their hot iPOD commercial and two smash singles, "Are You Gonna Be My Girl?" and "Cold Hard Bitch."
Get Born , produced and mixed by Dave Sardy (Red Hot Chili Peppers, Marilyn Manson) and engineered by Greg Fidelman, was mixed by Sardy at The Village in Los Angeles, on Studio A's classic Neve 8048 console. "I love working at The Village," says Sardy. "It's one of the few remaining top studios in the world that hasn't compromised
the technical side or the service side to stay in the business. The Village has a clear idea of what a studio should do for its clients."
Other current chart-topping albums worked on at The Village lately include Slipknot's Volume 3: The Subliminal Verses, Usher's Confessions and Janet Jackson's Damita Jo.
Heating Politics at Firehouse!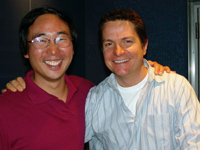 Firehouse Studios in Pasadena hosted a session with composer Nathan Wang who recorded music for "A Remarkable Promise," the nine-minute documentary shown at the recent Democratic National Convention.

Created by award-winning maker director James Moll, the video showcased the Democratic Party's presidential nominee John Kerry's lifetime of service. Advised by Steven Spielberg, and narrated by actor Morgan Freeman, the documentary included personal comments and observations from those who best know John Kerry.


Mastering Social Distortion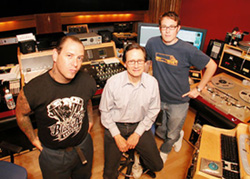 Photo by David Goggin
Mike Ness, founder of the enduring punk band Social Distortion, is seen during the mastering of the band's first new album since 1996. Following rigorous touring over the past 4 years, Social Distortion has experienced a new surge of popularity both by fans and critics. The album, entitled Sex, Love and Rock 'n' Roll, is set for September release on Time Bomb Recordings. Pictured (L-R) are Ness, mastering engineer Bernie Grundman, and producer Cameron Webb.
Terry Lippman Takes On Streetkid Vandal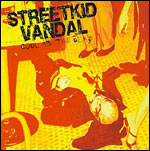 Melbourne's Streetkid Vandal have picked up Terry Lippman as their US manager. Lippman, with his brother Michael, was an original manager of Matchbox Twenty and after splitting from his brother, managed the careers of producers for Madonna, Bruce Springsteen, Incubus and Prince.
Earlier this year Streetkid Vandal released their 'Cool As The Dead' EP. Forthcoming dates for Streetkid Vandal are: August 6, Melbourne, The Evelyn September 28, Port Douglas


Starfield
In the Name of Love


Starfield Pictured L-R: Tim Neufeld, John Andrews, Shaun Huberts and Jon Neufeld.


This fall Starfield will embark on the major market, In The Name Of Love Tour, with Todd Agnew, BarlowGirl and Building 429 in conjunction with World Vision. This tour event was sparked by the recent Sparrow benefit project, In The Name Of Love: Artists United For Africa, which brought together popular Christian artists, including Starfield, to re-record chart-topping songs.
Recording World Piano Competition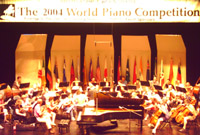 The World Piano Competition has become one of the premiere piano contests in the world with 150 contestants chosen from more than 500 applicants, representing over 14 countries for the junior division. The accompanying adult competition drew the finest piano players from around the world to compete for a grand prize of $45,000 and a performance at Lincoln Center N.Y.C. The youth competition was for a prize of $1,500 and a performance at Carnegie Hall.
"Based on my great experience using DPA 4006's for the Cincinnati Symphony, getting a pair of DPA 4003's to record the competition was definitely a priority," says Jon Brennan, chief audio engineer for The Word Piano Competition. "The orchestra recording turned out dynamite. The bass response was very present and tight, while the treble was extremely clear.


McRae And Chiccarelli at The Paramour
Sessions Utilize the new Telefunken NA Ela M12 Microphone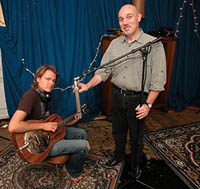 Photo by David Goggin

Top producer/engineer Joe Chiccarelli has recorded the upcoming album by critically-acclaimed English artist Tom McRae, with executive producer Mike Hedges, at The Paramour Estate in Los Angeles. Seen in session are the album's co-producers (L-R) Tom McRae and Joe Chiccarelli with the new Ela M12 microphone supplied by Telefunken NA, which was used for acoustic guitar, cello, percussion, and background vocals.
Telefunken North America is now shipping the Ela M12, a faithful reproduction of the legendary C12 condenser microphone. Following the industrywide acclaim of the Telefunken Ela M 251, winner of the prestigious 2003 TEC Award for Studio Microphone Technology, the new Ela M12 epitomizes the classic, large diaphragm, condenser tube sound. Each Ela M12 system is handcrafted in the USA, utilizing the original Austrian blueprints, and meticulously duplicating the original specifications. The Ela M12 features a 9-polar pattern remote control, adjustable from omnidirectional to hyper-cardioid. The mic houses an NOS 6072 tube, T-14 transformer and TK-12 capsule, an exact reproduction of the CK-12 capsule found in historic prized microphones. Included is a jewelers microphone box, flight case, swivel connector cable, owner's manual, and 5-year limited warranty. Price: $5,995.


Micing A Black Eagle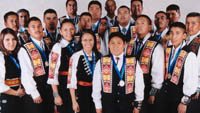 The 18-strong Black Eagle group now compose their own music, which is written and performed in the ancient Towa language of Jemez Pueblo, a community located 50 miles north of Albuquerque, New Mexico. In 1998 the group signed to Sound of America Records (SOAR), owned by Tom Bee, lead singer and founder of the legendary 70s group XIT, who has produced many of Black Eagle's releases.
Currently working on their eighth album release since 1995, the members of Black Eagle have enjoyed a string of awards and nominations over the last several years. In February of this year, the group won a Grammy Award for the Best Native American Music Album for "Flying Free," which also won the Best Powwow Album of the Year award at the 2003 Native American Music Awards (also referred to as the Nammys). Black Eagle's fifth album, "Life Goes On," released in 2001, was also Grammy-nominated.

"We have one big drum and put the four mics around it," explains group manager and performer George Toya. "Probably about 12 or 14 people round the drum at once, singing and drumming at the same time. Then there are three girls singing backup, and they're usually standing right behind the drum." "The mics are spaced around the drum so that all the voices can be heard equally," explains group manager and performer George Toya. "We found that the Sennheiser mics have a great balance. They really pick up so much more compared to what we were using before. Plus these mics have superior range."


Brubek and Renner on ATC Monitors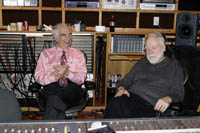 Jack Renner, Telarc's chairman and chief engineer, may be in semi-retirement, but you'd be hard pressed to draw that conclusion from his schedule. He returned a call from his Rhode Island home, where he was packing for a trip to London to record Benjamin Zander and the Philharmonic Orchestra's performance of Mahler's First Symphony.

Earlier this year Renner tracked a pair of Telarc releases that feature two of the most widely respected jazz pianists of our time, Dave Brubeck and McCoy Tyner. Telarc has been making digital recordings since it first opened shop in 1978, says Renner. "Dr. Thomas Stockham's original Soundstream digital recorder was the best system available until just a few years ago," says Renner. Eventually buying parts for the Soundstream became difficult and Telarc switched over to a Sony DSD system.

McCoy Tyner's "Illuminations" and Dave Brubeck's solo album, "Private Brubeck Remembers" were both recorded at Avatar Studios in Manhattan. Both projects were recorded direct to disk with no overdubs. "Avatar is a great space," says Renner. "We've worked there for a number of years. They've got an excellent technical staff, they're up to speed on DSD technology, and they're very accommodating. It's also easy to get a nine-foot piano in there!" The Brubeck session was "one of the most moving I've ever been involved with," says Renner. "Dave ran a big band while he was in the Army during World War II, and the tunes on "Private Brubeck Remembers" were all popular from that time. He recorded the entire CD in about four hours. Dave tends to just sit down at the keyboard, start playing and go until he's finished, without lead sheets or any other memory aid. He remembers all of the tunes and improvised on them. Everybody in the studio was sitting there with his or her mouths open. He's approaching his 84th birthday and his technique is all there. Fortunately we had a perfectly tuned instrument, a great recording space, a beautiful recording medium, and the outstanding ATC SCM-20 active monitors to help us capture the moment."

Platinum Audio Rentals - a premier supplier of high-end pro audio gear to Southern California producers, engineers, and recording studios - recently acquired two Brauner VM1 Klaus Heyne Edition microphones. Like all Brauner microphones, the VM1 KHE is handmade in Germany. After construction, each mic is shipped to Oregon's German Masterworks for final tweaking by Klaus Heyne himself. As a result, the VM1 KHE is a truly exceptional transducer that joins ranks alongside the world's most coveted and classic microphone designs. Both ATC and Brauner VM1 Klaus Heyne Edition microphones are distributed in the U.S. by Brad Lunde's TransAudio Group www.transaudiogroup.com


Soundelux Soundtracks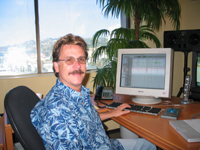 Supervising Sound Editors Geoff Rubay and Zack Davis and their teams at Soundelux have commenced sound editorial work on the feature film MRS. HARRIS, directed by Phyllis Nagy.The mix will be done by Re-recording Mixers Rick Ash and Adam Jenkins at Todd-AO Hollywood.Based on the sensational 1980s media event, famed cardiologist Herman Tarnower (Ben Kingsley) meets a particularly brutal end at the hands of his jilted lover, Jean Harris (Annette Bening).
Supervising Sound Editor Mike Wilhoit of Soundelux(pictured above) and Re-recording mixers Brad Sherman and Jon Taylor (both of Todd-AO) are wrapping up sound services this week on Little Black Book which was mixed on Stage S at Todd-AO Radford in Studio City, Calif. The Film is directed by Nick Hurran, and stars Brittany Murphy, Kathy Bates and Holly Hunter.
Sennheiser - LA Club's choice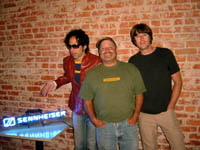 Three historic Hollywood clubs, with a reputation for booking the best local and national musical talent, have exclusively equipped their stages with Sennheiser's Evolution Series microphones. Club Lingerie, Genghis Cohen, and Molly Malone's Irish Pub have between them featured a stellar line-up of talent over the decades including the Red Hot Chili Peppers, Jane's Addiction, Rikki Lee Jones, Nirvana, Primus, Gin Blossoms, Michelle Shocked, Joan Osborne, Lucinda Williams and Lenny Kravitz since first opening in the 1970s. According to Tinsky, who is working to restore Club Lingerie to its former glory days, there is an identical complement of Sennheiser microphones at all three venues. "They're all working great and we're thoroughly happy with them," he reports."For vocals we have the Evolution 835," he continues.
Avatar Studios
Home of The Queen, Spiderman and more...



Artists who were recently in recording at Avatar includes Joss Stone, Jimmy Eat World, Muse, Backstreet Boys, 3 Days Grace, Thornley, Maroon 5, Trey Anastasio / Phish, Story of the Year, Franz Ferdinand, Polyphonic Spree, My Chemical Romance, JoJo, Missy Higgins, Soundtrack of Our Lives, Butterfly Boucher, Livingston Taylor, Bill Charlap and Chris Botti.
Producer Arif Mardin was in recording an upcoming Queen latifah album with engineer Michael O'Reilly. Brian Montgomery assisted and handled all Pro Tools editing. We understand Ron Fair is also producing tracks from this album in Los Angeles.

Studio A (NEVE 8068) was buzzing with sounds this past month for Sessions @AOL with artists including: Joss Stone, Lonestar, Maroon 5, Story of the Year, Butterfly Boucher, and others. Multitracking duties are handled by engineers Greg Thompson and Anthony Ruotolo. Elliot Scheiner and producer Bobby Columby recently recorded a track with Chris Botti, which featured Sting on vocal. Brian Montgomery assisted.Livingston Taylor recently in recording with producer Glenn Rosenstein and engineer Joe Ferla. The new album features James Taylor, Alison Kraus, Carly Simon and others. Brian Montgomery assisted. STUDIO B's SSL9000 was kept busy with Engineer Chris Shaw recently in mixing live shows by Phish and Trey Anastasio from the Bonnarroo Festival. Brian Montgomery assisted.


Newly Appointed at SSL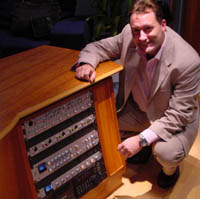 Console manufacturer Solid State Logic has appointed Colin Lee as product manager for its recently introduced XLogic range of rack-mounted outboard equipment. Lee says, "Given my long-standing interest in music, it's great to be back in the audio industry and to be part of a company that I have always held in such high regard. The XLogic range is a natural progression for SSL and I'm really looking forward to playing a part in its future success."




Tec Awards 2004
Nominations Annouced!
20th Anniversay promises a spectacular show During 117th AES Convention, San Francisco



Carlos Santana, Sam Phillips and Ike Turner at 2003 Tec Awards

On Saturday, October 30, the TEC Awards will celebrate its 20th anniversary honoring the achievements of technical professionals in recording and sound, and the innovative products that they employ in their work. The ceremony will be held in San Francisco on the third night of the 117th AES Convention. The Mix Foundation is planning a spectacular show that will draw many of the biggest names in music production from around the world.
Filmmaker George Lucas and engineer/producer Elliot Scheiner will be inducted into the TEC Awards Hall of Fame, and producers Jimmy Jam & Terry Lewis will be awarded the prestigious Les Paul Award at the 20th Annual Technical Excellence & Creativity Awards, to be held Saturday, October 30, at the Marriott Hotel in San Francisco.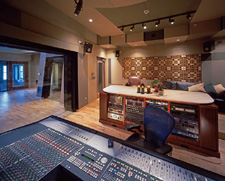 Congratulations to all the noms including Russ Berger Design Group (RBDG) and BiCoastal Music pictured above (www.rbdg.com/projects/bicoastal) who have been nominated for a 2004 Technical Excellence & Creativity Award in the category of Outstanding Creative Achievement, Studio Design Project.

In the 20 years the TEC Awards have been presented, Russ Berger's designs, providing both acoustics and architecture, have been recognized with 19 nominations and eight TEC awards in the category of Outstanding Institutional Achievement for Acoustics/Facility Design.
"We are thrilled to receive a nomination for a TEC award," said Russ Berger, president of RBDG, located in Addison, TX. "Being nominated for an award of excellence and creativity is a significant honor since we are judged by our peers as one of the best in the business. This is the ultimate industry recognition of RBDG's dedication to design excellence."
For general information as well as sponsorship and ticket information please visit www.mixfoundation.org, or contact Executive Director Karen Dunn at (925) 939-6149 or visit the website for list of noms. Congrats to all!



ENO Digital Remasters




Eno co-wrote with David Bowie on Low, Heroes and Lodger, was a founder member of Roxy Music, as well as the producer of U2's The Joshua Tree, Achtung Baby.
Four of Brian Eno's early, groundbreaking albums have been digitally remastered and reissued in special edition digipak packages as part of a series called "Original Masters." Very often when albums are remastered, the tapes are re-equalized, remixed, in other words altered from the way they were originally delivered by the artist. Not so with the albums in the "Original Masters" series. "What I quickly learnt was that many of the EQ'd Production Masters at the time were absolutely 'spot on',' says Heyworth, "and why shouldn't they be when you think about it, this was the end of a long artistic endeavor and are we saying that they didn't get it right at that point? This is nonsense of course because if it was a landmark recording and sold lots of albums it must have been right! The Artist and Producer all decided at the time that this was 'it'. Should we be tampering with that piece of art-after all we don't go around saying let's Re-master a great painting."
The result is a clarity and depth of sound to these albums not heard since their initial playback in the recording studio. And more important, no attempts have been made to re-equalize, remix or in any way tamper with the original EQ'ed analogue production masters. These "Original Masters" sound just as Brian Eno originally intended them to be heard.

Farewells

Jerry Goldsmith
1929 - 7.21.2004

BMI award-winning composer Jerry Goldsmith, who scored such diverse films as the Star Trek series, Disney's Mulan and sci-fi thriller Total Recall, died in his sleep at his Beverly Hills home after a long battle with cancer.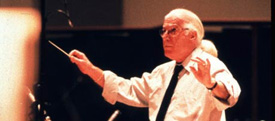 Goldsmith is survived by his wife, Carol; children Aaron, Joel, Carrie, Ellen Edson and Jennifer Grossman, six grandchildren and a great-grandchild.



David Baker



Grammy winning engineer David Baker died peacefully in his sleep after finishing a session in Rochester, New York on July 14, 2004. He was 58. David is survived by his wife, Kyoko Baker. A memorial service is being planned for August 16th, to be held at Avatar Studios starting at Noon and lasting until 10 PM. David Baker was a terrific engineer with a long & distinguished career spanning 40 years with over 2,000 recordings. His long-term working relationship with Shirley Horn earned him a Grammy in 1998 for recording "I Remember Miles" for Verve.


Sweet Thing!
Rufus who performed at two sold-out shows at BB Kings (Universal Citywalk) on July 9th and in Santa Cruz for a crowd of 3,500 audience is enjoying a hot summer!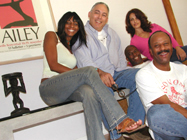 Enter the Rufus Vocalist Contest and compete for a chance to record and tour with the original and legendary hit-making Rufus Group Read Details Here!
One of the most commercially successful funk groups of the '70s, the multi-racial RUFUS™ are today best remembered for launching the career of soul diva Chaka Khan. Arguably the band is responsible for the genesis of NEO SOUL, bridging their brand of old school with Hip Hop, Jazz, Pop and Funky Rock with staple of hits like Sweet Thing and Tell Me Something Good Contest Rules and to book the band - details Here

Berklee Recruits Ungar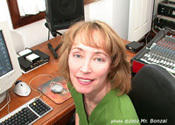 Best known for her numerous production work with Leonard Cohen, Adam Cohen, Laurie Anderson, Guster...mixer/engineer LeAnne Ungar has accepted post of Associate Professor with the Berklee Music school of Production and Engineering. She will continue her commercial work from Boston as well as Los Angeles. She may be contacted at Berklee: 617-747-2483 ask for her administrative assistant Kris Quiniones or email LeAnne.
Alpert's Vibrato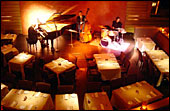 Photo by Russ Langford

Music maestro Herb Alpert helms this intimate Bel-Air steakhouse and jazz club. Back-lit wood paneling encloses cozy booths and tables at Alpert's swanky supper club. His own Studio B sound designers (Gary Meyerberg) laid out the acoustics for the space, and the talent is booked straight from his personal Rolodex. Mastering engineer Bill Dooley (Parmaount Mastering) handles some of the club's fine live sound. Co-owners the Smith Brothers (Arroyo Chop House) add old-fashioned prime porterhouse and more eclectic fare like short ribs with caramelized turnips to the mix. Desserts include apple pie and a Meyer lemon meringue.
2930 Beverly Glen Circle
Bel Air, CA 90077
Phone: (310) 474-9400



Live Life and Love it too!
The travel adventures of our architect friends Isabelle Ulrich and Duke Sakiyabu continue...the new sampling of the fine images they sent us from Mexico this summer below. Two brilliant architects behind some notable studios and homes in Los Angeles who know how to live.
In the middle it's a coffee blossom - we hear it tastes amazingly better compared to Starbucks. Well, maybe it's the air!



The Mystery photo
First one to identify the event and the chics (hint: one of the ladies runs a major studio in Hollywood) with the Malibu Country Club Giant (hint) to receive a surprise package courtesy of studioexpresso!
send your reply to info@studioexpresso.com and good luck!