Music Worth Its Gold!
Olympic Swimmer Gary Hall gets a little help from composer Alan Rubik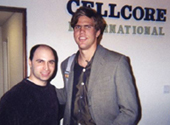 In Athens, Olympic Gold Medallist Gary Hall, Jr. repeated his gold-medal performance in the 50-meter freestyle. He and his coach Mike Bottom have been using "CD2000: Music For Your Health" by LA based composer Alan Roubik to prepare for competition, and have said that it has been an essential part of their training.

Gary has type-1 diabetes, and was told that he would never be able to swim competitively again after having become a four-time Olympic medallist. The news was devastating, but he overcame and has become a great champion and role model.
The composer met Olympic coach Bottom and Gold Medallist Hall sometime in 2001and had a chance to discuss his music with them over dinner.
"After only a couple of weeks of use at UC Berkley's training facilities, Mike informed me that Gary and other top ranked swimmers had been using the music regularly to better prepare for competition. Mike felt that the music definitely helped the swimmers to relax and get centered before practice," says Rubik. Utilizing Magnetic Resonance technology in determining the physiological impact of music, Rubik is able to create mathematically based formulas to compose, arrange and produce therapeutic music. To read more about Gary, visit his web site at www.garyhalljr.com


The Art Of ProAudio Honored At 20th Annual Tec Awards
Lucas, Scheiner, Jam & Lewis Get Special Recognition; Harry Shearer set to host the Award show in San Francisco 10.30.04




L-R: Lucas, Scheiner, Jam & Lewis

Actor, comedian, author, musician, radio personality Harry Shearer ( Mighty Wind, The Truman Show, Godzilla, My Best Friend's Wedding) is set to host the 20th Annual Technical Excellence & Creativity (TEC) Awards, to be held Saturday, October 30 (on the third night of the 117th AES Convention), at the San Francisco Marriott.

Presented by the Mix Foundation for Excellence in Audio, the charitable event is the world's highest-profile awards show recognizing the creative achievements of audio professionals and the technological innovations employed in their work.

In addition to the presentation of 23 awards for outstanding projects and products of the past year, attendees will witness the induction into the TEC Awards Hall of Fame of filmmaker extraordinaire, George Lucas (Skywalker Sound), and celebrated engineer/producer, Elliot Scheiner. Being honored as well will be the renowned production and writing team of Jimmy Jam and Terry Lewis, who will receive the coveted Les Paul Award, sponsored by Gibson Guitar Corp.
Elliot Scheiner will be inducted into the TEC Awards Hall of Fame, and producers Jimmy Jam & Terry Lewis will be awarded the prestigious Les Paul Award.
"We're looking forward to an exciting 20th anniversary," says executive producer Hillel Resner. "Every year we come away convinced that the latest show has surpassed all others, but with Harry Shearer as our ringmaster and the creative giants we are honoring, we're fully expecting that this will be a TEC Awards for the ages."
Proceeds from the awards ceremony are donated to organizations working for the prevention of noise-induced hearing loss in the music environment, including House Ear Institute of Los Angeles and Hearing Education Awareness for Rockers (H.E.A.R.) of San Francisco, as well as to numerous scholarship programs for students of the audio arts and sciences. To date, the Mix Foundation has contributed more than a half-million dollars to these worthwhile causes. Gold Sponsors confirmed include: Allen & Heath, Audio-Technica, The Burst Collective, Digidesign, Ex'pression College for Digital Arts, Guitar Center, Mackie/EAW, MOTU, Meyer Sound, the Recording Academy, Remote Recording, RØDE Microphones, Solid State Logic, TC Electronic and Yamaha Corporation.
For ticket information, please visit www.mixfoundation.org or call (510) 985-3263. For information on program book advertising and sponsorships, contact Eric Geer at (414) 967-0104, or e-mail eg@wi.rr.com.
Make A Donations For The Music and Sound Auction on eBay
Tec Awards is Presenting the Benefit for H.E.A.R.® and HEI's Sound Partners™
TEC Awards' Music and Sound Auction on eBay, set to begin on October 21 and continue through November 2, 2004. The online auction will coincide with the 20th Annual Technical Excellence & Creativity Awards, to be held on Saturday, October 30 at the San Francisco Marriott.
The online auction will be managed by H.E.A.R. (Hearing Education and Awareness for Rockers) a nonprofit organization dedicated to informing musicians and the public about the prevention of hearing impairment in the music environment. Proceeds from the auction will benefit H.E.A.R.®, as well as the Sound Partners™ campaign of the House Ear Institute in Los Angeles, a hearing conservation program co-founded by the Mix Foundation in 1997.
Auction items will include pro audio equipment (recording devices, microphones, loudspeakers, mixing consoles, amplifiers, etc.), guitars and other musical instruments, music memorabilia, photographic art, and a variety of special gift items, including hotel and spa packages. Previews of the items will be posted on the auction homepage: http://members.ebay.com/aboutme/hear as they become available.
The TEC Awards Music and Sound Auction organizers are currently accepting donations of music and pro sound equipment, music memorabilia and other items, as well as cash gifts. For donation information, and information about TEC Awards tickets or sponsorships, please visit the auction homepage or contact Kathy Peck / 415.409.3277
Peace
If you're planning to go to AES, one week earlier in San Fran save the date for A Day of Meditation and Prayer for Peace. This powerful event will be held on October 23, 2004, from 10:00 a.m. to 5:00 p.m. at Herbst Pavilion at Fort Mason in San Francisco. This day of thought-provoking and peaceful activities will include guided meditations, visual imageries, and talks by Cheri Huber, Sylvia Boorstein, Michael Lerner and Lakota Hardin. Other peace activities will be offered throughout the day: a peace chant by the Threshold Choir, a labyrinth, and an African Body Prayer. There will also be a special area for silent meditation and prayer. A vegetarian lunch will be provided at a minimal cost. Bring your family and friends. For more info visit The Peace Project Thanks John March for sending us the info!
The event is free, but registration is required: http://www.livingcompassion.org/oct23.html
Vote For Change Tour
October 1-8, 2004

MoveOn PAC, a grassroots organization, over 2.5 million people strong, that works to give real Americans a voice in our election process, announced the Vote for Change concert tour, to benefit America Coming Together. VFC is a loose coalition of musicians brought together by a single idea, the need to make a change in the direction of our country.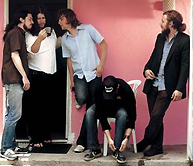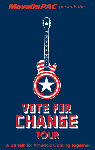 My Morning Jacket performing with Dave Matthews Band, Ben Harper & the Innocent Criminals, Jurassic 5.

This unprecedented effort will include approximately 40 shows in 30 cities in 9 battleground states over the course of 10 days. These concerts will feature Babyface, Jackson Browne, Dave Matthews Band, Death Cab for Cutie, The Dixie Chicks, Ben Harper & the Innocent Criminals, Jurassic 5, John Mellencamp, My Morning Jacket, Pearl Jam, Bonnie Raitt, Jack Johnson, Crosby Stills & Nash, R.E.M., James Taylor, Bruce Springsteen and the E Street Band, and more. These and other artists will appear on separate bills on the same night in selected cities around several battleground states.
AES 2004 SAN FRANCISCO
product update
Little Labs STD Mercenary Edition Makes its Debut at AES in October.
Little Labs (AES Booth #620) joins the growing list of Mercenary Edition products with the introduction of the Signal Transmission Device (STD), a guitar/instrument cord line driver. The Little Labs STD Mercenary Edition is the perfect solution for: the live player who is tired of wireless rigs but still needs to be able to walk more than ten feet from his amp; the studio player who needs his amplifier in isolation, but himself in close proximity to his band mates; the recording engineer using control room rack mounted direct injection boxes with a player located in the studio or isolation booth. Visit them at AES BOOTH #620
DPA Microphones Inc., will debut its new cardioid headband microphone, the DPA 4088 at AES 2004. Ideal for live performances requiring high stage volumes, it provides a secure and comfortable fit while allowing complete freedom of movement. More info contact DPA
Booth # 1342.
At this year's AES, Solid State Logic will display its highly acclaimed C200 digital production console, featuring new Version 2 software with powerful production enhancements. The C200 has had much success in music production, with sales including Underdog, LA and BiCoastal, NY, plus Floating Earth and MSG in Europe. Omnibus Japan, has installed a Solid State Logic C200 Digital Production Console at the Shin Akasaka Video Center, the company's new headquarters, which opened in May 2004.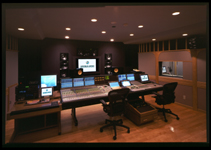 Omnibus Japan Chooses SSL's C200 Digital Production Console For Its New Surround Suite

Mr. Tsuneo Marui and Mr. Koichi Mori, chief engineers at the company, stated, "We were looking for a digital console that could handle surround productions, as this is an area we hope to develop by spreading the surround message to our customers. The desk is housed in MA-B, which is also THX approved."
Live demonstrations from October 28 to 31 at the Moscone Convention Center SSL booth #1002.

Joseph's Exlusive publishing Deal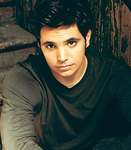 William Joseph was discovered, developed and co-produced by Grammy® Award Winning Producer and Songwriter, David Foster (Josh Groban, Renee Olstead and Michael Buble) who also helped sign the extraordinary young piano virtuoso to Peer Music. On August 10th, Joseph's CD Within was released nationally, and features several original compositions as well as cover recordings of classics songs. Joseph is currently on tour, opening for Josh Groban, from August 13, 2004 through September 11, 2004 at various venues across the nation.

Sound Of World Police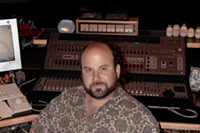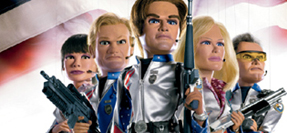 Supervising Sound Designer Scott Gershin of Soundelux has commenced work on TEAM AMERICA: WORLD POLICE. Directed by Trey Parker and Matt Stone, TEAM AMERICA features marionette superheroes fighting to end terrorism and putting tired celebrities out of their misery. TEAM AMERICA is scheduled for an October 15 domestic theatrical release (just in time for the election).
Sax In Ojai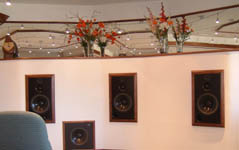 Doug Sax' new Ojai, California Mastering Lab features a customized ATC 5.1 monitoring system.
Revered as one of the world's very best mastering engineers his peers and artists, the 2004 Technical Grammy Award-winner, Doug Sax has opened a new two-room studio facility featuring a customized Acoustic Technology Company's ATC SCM150A 5.1-channel monitor system. The new facility, located in Sax' newly adopted hometown of Ojai, 75 miles northwest of Los Angeles, utilizes unique design concepts in the layout and construction of the main studio.
"What's unique about the room is that there's no console in front of the listener," explains Sax, who still maintains his famed Mastering Lab facility in Los Angeles. "There's no console between you and any of the speakers, including the rears. If you have anything between you and the speaker it's going to cause acoustic problems. You have to listen longer in surround. Psychologically it really helps you concentrate, as you're not looking at knobs and meters and all the stuff that might take you out of just listening."
The surround monitoring system, comprised of five ATC SCM150A loudspeakers and an ATC 15-inch subwoofer for the LFE channel, is installed in a decidedly unique front wall, reports Sax who became familiar with the ATC monitors while working with engineer James Guthrie over the years. "For many years James brought in his own ATCs when he mastered at The Lab in Hollywood and I did my first surround sound project at his studio near Lake Tahoe. So instead of familiarity breeding contempt, it bred respect!" ATC is distributed in the U.S. by the TransAudio Group www.transaudiogroup.com


TransAudio Group To Distribute Mercury
TransAudio Group, a leading professional audio distributor to the recording, live sound, and broadcast markets, has been appointed to handle all the sales, marketing, and distribution in the U.S.A. for Hayward, California-based, Mercury Recording Equipment Co. The custom manufacturing company was established by David Marquette of new, used, and vintage recording equipment specialists Marquette Audio Labs to recreate the sonic characteristics, performance, and features of some of the more sought after classic recording gear in brand new, handmade units.
With classic audio processors such as those originally made by Fairchild, Pultec, and Telefunken/Siemens now difficult to find, expensive to buy, and costly to maintain, Mercury Recording Equipment Co. is dedicated to bringing the sonic and aesthetic character of those devices to new generations through an expanding line of hand-crafted classic recreations. Incorporating similar circuitry, tubes, custom transformers, and design ideas to the originals, all Mercury Recording Equipment products are hand-wired using silver solder, are fully transformer balanced, and feature a distinctive vintage look with powder coating or baked enamel finish with engraved lettering.
The first units initially introduced by Mercury Recording Equipment, which have all recently been updated, include the Mercury 66, a variable bias-style all-tube, all-transformer compressor similar to the Fairchild 660, and the Mercury EQ-H and EQ-P all-tube, all-transformer equalizers, which pay tribute to early tube EQs such as those made by Pultec. The company has now turned its attention to recreating the classic Telefunken/Siemens studio microphone amplifier modules with the Mercury M72s and the newly introduced M76m.
Marquette has teamed-up with two veteran engineers intimately familiar with vintage analog audio designs in order to produce brand new units that authentically replicate the features, appearance, layout, functionality, and build quality of these revered classics. David Bock, known not only for his great work with Soundelux Microphones, but also with in-studio maintenance of vintage audio gear, and John Hinson, an authority on Telefunken/Siemens modules, Urei/Universal Audio products and original "Beatles" Recording Equipment, have helped maintain the Mercury Recording Equipment Co. vision of building superior recording equipment with quality craftsmanship through to the finished product.
TransAudio Group will be showcasing the complete line of Mercury Recording Equipment Co. products at the AES Convention in San Francisco in October at Booth #602. Unlike previous years in which the distributors products were each individually showcased under the Audio Underground banner, TransAudio Group and president, Brad Lunde, will feature the full line of brands in a single large booth featuring manufacturing company representatives and guest audio engineers. AES SAN FRANCISCO BOOTH #602
That Classic Sound From Telefunken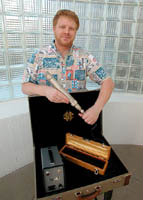 Telefunken NA CEO Toni Fishman with the company's new Telefunken Ela M12 microphone, which utilizes the GE 6072A vintage tube. Photo: David Goggin
Telefunken North America has acquired what is believed to be the last large stock of vintage NOS (New Old Stock) 6072A General Electric tubes, manufactured to strict military/industrial standards. The 6072A is the premiere tube used in Telefunken NA's line of new microphones which faithfully recreate the legendary vintage Telefunken sound. Detailed reverse engineering has produced not imitations, but meticulous reissues of the classic Telefunken microphones. For More Info contact: Toni Fishman (860) 882-5919


Micing McLachlan
Sarah McLachlan remains true to the Neumann KMS150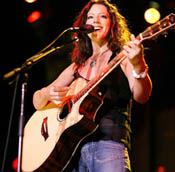 Photo: Todd Kaplan

Currently touring to support her critically acclaimed "Afterglow" album, singer/songwriter Sarah McLachlan is nightly delivering her signature songwriting artistry with consummate vocal and instrumental skill. For McLachlan's longstanding FOH engineer, Gary Stokes, capturing and relaying her voice in the most complimentary manner possible is the most important aspect of his job. According to Stokes, the crucial equipment for this task is the Neumann KMS150 hyper-cardioid microphone matched with True Systems microphone pre-amplifiers. Stokes incorporates 20 channels of True Systems mic pre-amplification into the McLachlan live rig. He utilizes a combination of multiple Precision 8 eight-channel units alongside the P2analog model for what he refers to as "all the primary channels" - vocals, acoustic guitars, and crucial drum inputs. Still, Stokes claims that his Neumann KMS150/True Systems combination is the centerpiece of a superior overall mix. "I found that the True Systems pre-amp was by far the best sounding design in the style of present, in-your-face, clear amps. It provided lots of gain and gave me everything that you can get off of a mic capsule right where you need it. It was a clear winner for me. Because of that we decided to get some more units and use them elsewhere besides on Sarah's vocal," says Stokes.

Wireless With Heart
Sennheiser Mics For Usher, Heart and Wilson Phillips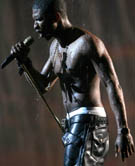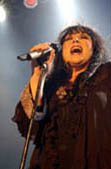 Photo: Getty Images

Hosted in Miami for the very first time, the 2004 VMAs presented a new challenge to Wireless First, the New York-based RF specialist company headed by Kevin Sanford, who brought in many channels of Sennheiser wireless equipment for the telecast.
"This year, MTV decided they wanted to do it in the round," reports televised awards show veteran, Sanford, who was in charge of all of the RF systems for the show, including wireless performance microphones and personal monitor systems, presenter microphones, and production intercom systems. "I asked, 'What do you want us to cover?' The answer from MTV production was, 'Everything!'" He continues, "We had 24 channels of Sennheiser SKM5000 microphones inside the arena. Those were each fitted with the Neumann KK105-S capsule. We used all Sennheiser 3032-U dual true diversity receivers. We also supplied 12 channels of Evolution 300 Series personal monitor systems."

Usher (pictured above) was one of the performers using the Sennheiser SKM5000-N with the Neumann KK105-S capsule. JET, who performed on the show and also took away the award for 'Best Rock Video' for their hit single, "Are You Gonna Be My Girl," utilized most of their arsenal of Evolution Series mics. "I managed to use our own e945 vocal mics while performing," reports the band's FOH engineer, Johnny Haskett. "We let them put a another mic on the guitars, but we made sure there was an
e609 Silver on there as well!"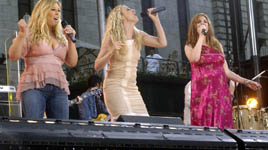 Wilson Phillips recently embarked on a promotional tour for the multi-platinum vocal trio's new album release, "California," released at the end of May, and the first release from the band since "Shadows and Light" in 1992, includes covers of some of the Golden State's defining pop songs. For the live shows, EW Series vocal microphones demonstrated that the MD935 capsule on the SKM300-G2 handheld transmitter was the best match for the girls' voices. The girls were backed-up by L.A. band The Better Days, led by Carnie Wilson's husband, Rob Bonfiglio, while sister Wendy Wilson's husband, producer Dan Knutson, mixed front-of-house sound.

For the first time in over a decade, legendary rock act Heart is on tour supporting a studio album of brand new material: the critically commended "Jupiter's Darling" CD release. For "Jupiter's Darling" tour Ann wields a Neumann KMS105/Sennheiser SKM5000-N combo wireless system while Nancy stayed with her longtime favorite, the Sennheiser 3072-U handheld wireless system.

Other rock acts, such as Hoobastank and Yellowcard, who performed back-to-back with JET in a rock 'n roll medley, used only one RF mic. In contrast, notes Sanford, the hip-hop medley, featuring Lil Jon with his East Side Boyz, the Ying Yang Twins, Petey Pablo, and Terror Squad, used 14 RF mics.
Sanken On The Road


Paul Baldwin travels all over the world working on such shows as the Superbowl, 60 Minutes, 20/20, 48 Hours, National Geographic, and Cops. One of his specialties is the "sit-down" interview and his microphones of choice are Sanken, in particular the new CS-1 short shotgun and the COS-11 lavalier. "I often use both a lavalier on the speaker and a shotgun on a boom, just out of the shot," Baldwin explains. "I put the lav on track one and the shotgun on track two so that the editor can choose which works best. For example, a woman who is softspoken might sound better with a boom, while someone with a loud voice would sound good with a lavalier."


Artists In The House At Avatar
Once again Avatar was host to the stars...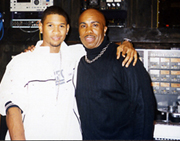 L-R: Usher, Paul Anthony (Full Force) at Avatar
Edie Brickell recently in studio A (Neve 8068) recording with producer Charlie Sexton and engineer Brian Scheuble. Brian Montgomery assisted.
Producer Mark Hudson recently in completing overdubs for Ozzy Osbourne's latest CD. Bruce Sugar engineered, Peter Doris assisted. Elliot Scheiner recently in recording Renée Fleming for Decca Records. Peter Doris assisted..
Engineer Rich Costey recently visited Studio B (SSL 9000) to mix the newest The Mars Volta album for Universal Records. Omar Rodriguez produced, Ross Petersen & Claudius Mittendorfer assisted. Studio C (Neve VR) had Producer Billy Mann overdubbing for a Jessica Simpson Christmas album. Chris Rojas engineered with assistance from Peter Doris.
Gods & Goddesses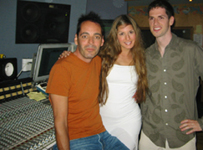 Indie-Goddess, Sylvia Tosun, at South Beach Studios with Mixing-God, Tom Lord-Alge (Avril Lavigne, Peter Gabriel, Faith Hill) and Producer, Miklos Malek (Celine Dion, Jennifer Lopez, Anastacia) mixing her upcoming album release. The album entitled "All this Time", features Tosun's collaborations with Julie Flanders and Emil Adler of cult band October Project, Dove Award winning songwriter Stephanie Lewis, world class violinist Allison Cornell (Shania Twain, Cyndi Lauper, Joe Jackson) and percussionist Gilad (Michael Brecker, Al Dimiola). Tom Coyne of Sterling Sound put the final touches on the record that is due out in Autumn 2004. To learn more about Sylvia check out www.sylviatosun.com.


Deal Unites Two Audio Leaders
Avid Technology, Inc. (NASDAQ: AVID) today announced that it has entered into a definitive agreement to acquire Midiman, Inc., doing business as M-Audio – a leading provider of digital audio and MIDI solutions for electronic musicians and audio professionals. At closing, Avid will pay approximately $80 million in cash, issue approximately 2 million shares of Avid common stock, and assume all outstanding M-Audio stock options. The deal also includes earn-out provisions, which would be payable to M-Audio's equity holders based on the successful achievement of certain financial milestones. Under the terms of the agreement, M-Audio will become a business unit of Avid's Digidesign audio division and market its line of computer audio peripherals, PCI sound cards, keyboard controllers and control surfaces, microphones, speakers, and distributed software and proprietary sound libraries alongside Digidesign's award-winning digital audio workstations for the professional and home/hobbyist markets.
2004 marks Digidesign's 20th anniversary. In 1984, Digidesign's founders Evan Brooks and Peter Gotcher set out to expand the sounds of their drum machine and make enough money through the sales of drum sound replacement chips to finance their own recording dreams. The result was the founding of a company that revolutionized the way that audio was recorded, edited and mixed — first with Sound Designer, and then with the advent of Pro Tools® digital audio workstation technology. Today, Digidesign is the leader in digital audio recording, and Pro Tools has become the audio production standard for music and post professionals around the world. Digidesign provides the music, broadcast, multimedia and film industries with Oscar® and Grammy® award-winning software and hardware for audio creation, production, and distribution.


Monét At Studio City Sound
With Scarlett Pomers, from the "Reba" television show on the WB network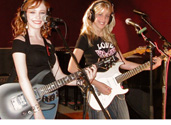 Fourteen year old Monét Lerner, backed by her three piece "powerhouse" had three return appearances at the world-famous Whisky a GOGO (9/14, 23 and 10/20th coming up at 8:45pm!). "She displays all of the talent and strength of a seasoned veteran", says New Music Weekly magazine. Monét has been recording her debut album at Studio City Sound with producers Tom and Larry Weir. "The labels are starting to come around now and the buzz in the industry is very intense", says Tom. Also joining Monét for the local dates will be actress and fellow recording artist, Scarlett Pomers, from the "Reba" television show on the WB network. "Scarlett and I just recorded an amazing duet together and we will be performing it during the Whisky dates", said Monét during a recent recording session at Studio City Sound.
A Remarkable Promise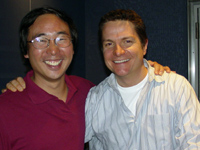 Composer Nathan Wang (left) working in Firehouse Recording Studio's Studio A with director James Moll while recording the soundtrack for "A Remarkable Promise," a video documentary unveiled at the recent Democratic National Convention. Photo by Eugene Wang. According to the composer, the film spans Kerry's entire life. "I needed to prepare music that supported the images being seen on the screen and to engender a sense of patriotism and service. I used a 19-piece string orchestra, plus two woodwinds and a trumpet player; Firehouse Studios'
spacious Studio 'A' was the perfect environment for the recordings," says composer Nathan Wang. Wang had only five days to prepare soundtrack music for the video documentary, and was working down to the wire. "Because of last-minute edit changes, I did not receive a locked picture until late in the process; director James Moll was finalizing his vision until the last possible minute."
All tracks were recorded, edited and mixed using Firehouse's Digidesign Pro Tools digital audio workstations for instant replay and sample-accurate editing. "I also brought in some pre-recorded French horn, bassoon and piano elements recorded on Pro Tools - these tracks were plug-and-play compatible with the live sessions."
Wang has composed music for several Jackie Chan movies, plus cartoons and animated series, including "Bruno the Kid," "Felix the Cat" and DreamWorks'
"Toonsylvania," in addition to the Emmy-nominated "American Family" for PBS, starring Edward James Olmos. "A Remarkable Promise" aired in primetime on Thursday, July 29, 2004


A Mercenary Having A Birthday!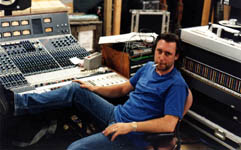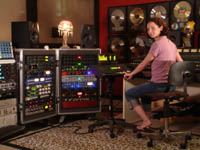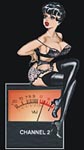 Fletcher mixing four-inch 16-track with Longview Farm's Neve 8078; Mercenary today; Samara in MethLab; O' Mercy!

Mercenary Aydio has gone from a brokerage to a dealership, though manufacturing and product distribution and a custom repair shop to somehow land on its feet as a nearly functional "dot com" providing only new equipment to clients worldwide. Despite all of their manic failures, the original M.O. to provide customers with the best products and services has always, and will always, remain the same. Happy 15th Anniversary Big Boy!

Aviom Brings Taylor Music To The Fans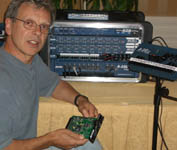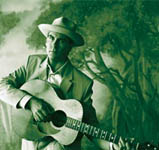 During his European Summer tour, Grammy award-winning singer and songwriter James Taylor brought music to his fans in six countries with the help of Aviom. On stage with Taylor were world-class players Michael Landau (guitar), Jimmy Johnson (bass), Harvey Mason (drums), Andrea Zonn (violin and vocals) and Larry Goldings (keyboards).
Taylor's front of house engineer of 15 years, John Godenzi (pix above), designed a monitoring system for the band that uses Aviom's A-Net technology for all on-stage monitoring. Taylor, Johnson, Zonn and Mason used wireless in-ear systems while Landau and Goldings used wedge speakers. Both the guitar rig and the keyboard rig were set up on separate stereo wedge systems. More Information, please contact Aviom at 610-738-9005.
Top Producers At LAMP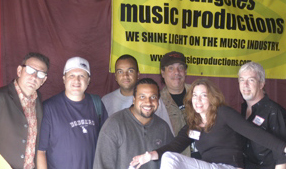 (L-R): Marvin Etzioni (Toad the Wet Sprocket, Counting Crows); Keith "KC" Cohen (Prince, Madonna, Seal); Carlos Warlick (Ice Cube, 2Pac, Will Smith, Xzibit); Joe Warlick (Diana Ross, Doobie Brothers, Dr. Dre); Dito Godwin (No Doubt, Bonnie Raitt, Motley Crue); Leslie Waller, L*A*M*P Founder and Executive Director; and Matt Forger (Michael Jackson, Paul McCartney, Quincy Jones). Photo by Jim Steinfeldt.

On August 7, 2004, musicians, artist managers and producers eagerly attended an exciting educational event covering vocal arranging, the art and science of producing, and specialized listening sessions for rock/alternative, country/acoustic/folk, rap/hip hop, and pop/R&B. Presented by Los Angeles Music Productions, "Top Producers Reveal All" featured


Gentlemen, start your DATs!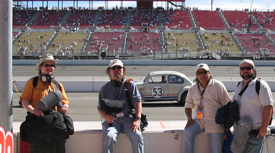 Herbie: Fully Loaded with Michael Keaton and Matt Dillon is NASCAR beware... Herbie returns- fully loaded and is making his way to the track! The Soundelux crew pictured above (l-r) - Peter Zinda, Mark Ormandy, Glenn T. Morgan and Scott M. Gershin - are enjoying a quick break from the heat and the action at a race track in Fontana, Calif. where the gang recorded sounds for the upcoming feature from Walt Disney.
Live Life and Love it too!







The travel adventures of our architect friends Isabelle Ulrich and Duke Sakiyabu continue...the new sampling of the fine images they sent us from Guatamala, Chiapa, Panama...Two brilliant architects behind some notable studios and homes in Los Angeles who know how to live.
Ciao muchachos!

Ardent Goes 3X On HD3's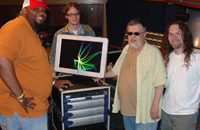 (L-R) North Mississippi Allstars members Chris Chewand, Luther Dickinson, producer Jim Dickinson and engineer Pete Matthews gather around Ardent's new ProTools HD in Studio B. The band is back at Ardent to start their new studio effort for ATO Records.

Ardent Studios has added three Digidesign Pro Tools HD3 Accel systems, one for each main studio at its facility. The HD3 systems are running on Apple G5 computers with dual 2.0 GHz processors, 1.5 GB of RAM and Apple 23" Cinema HD displays.
Ardent Studios, founded in 1966 and located in the historic Overton Park district of Memphis, has quite a distinguished history that includes 3 Doors Down, North Mississippi Allstars, Gin Blossoms, REM, ZZ Top and Big Star. For more info, call 901.725.0855
Mechanics Hall
Popular site for Classical Recording Sessions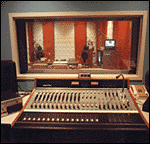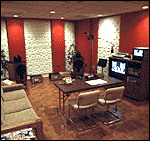 Widely acclaimed for its fine acoustics, Mechanics Hall has become increasingly in demand as a site for classical music recording sessions by the major labels such as Telarc International, Sony Classical and Koch International. The Great Hall is ideally suited for recording because of its optimum reverberation time and very low background noise level. Two Steinway nine-foot concert grand pianos (New York or Hamburg) are available, as well as the E. & G.G. Hook pipe organ. A professional recording studio in the Fuller Wing is equipped with state-of-the-art digital and analog systems for two-track stereophonic recordings. Selected CDs recorded at Mechanics Hall include: Corigliano: The Cleveland String Quartet Telarc International CD-80415 ('97 Grammy Winner, Chamber Music); Purcell: Dido and Aenas Boston Baroque, Perlman; Appalachian Journey, Yo-Yo Ma, Cello, Edgar Meyer, Violin, James Taylor and Alison Kraus, Vocals.

Mais Qui, C'est Global Music Village Midem
23-27 January 2005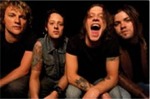 Four months ahead of showtime, over 15 different countries have already confirmed that they will host associative stands for their compatriot labels and music companies.
They include Brazil (Brazilian Music & Arts), Spain (SGAE), Canada (CIRPA and ADISQ), Portugal (MVM), France (SCCP, SPPF, SACEM and SPEDIDAM), Belgium (SABAM), Music Export Finland, the Trade Council of Iceland, Export Music Sweden, Scottish Development International, Hungary's Budapest Music Centre, Enterprise Ireland, Austria's Wirtschaftskammer Österreich and Australians who will have a special showcase presented by Ampedmusic, the Australian arm of indie labels' online distributors The Orchard, and by label Blah Records. Blah's star acts include "dirty rock n'roll" outfit Maeder (photo), currently licensed to Warner Music; female rock singer Valanti; and Jay-Z-style rapper Nox.



"With its frozen prices and continued focus on new revenue streams, MIDEM 2005 will once again prove our commitment to helping the music industry work through its crisis," says MIDEM CEO Dominique Leguern (photo); "Our new look at the live music business is a key part of this commitment."
The $18bn gaming industry in particular is attracting an increasing number of musicians keen to get their music to a new audience. Game soundtracks are accordingly becoming more and more sophisticated.
Some examples include "Burnout 3" (EA), whose soundtrack features Franz Ferdinand and the Von Bondies; "True Crime" (Activision), which includes exclusive work from Snoop Dogg; or the forthcoming "Splinter Cell 3" (Ubisoft), whose score was composed by Ninja Tunes artist Amon Tobin.

The first ever edition of the MIDEM Classical Awards will take place Monday, January 24, in the Palais. The event will be the first truly international ceremony for this genre of music.
The Awards' jury will be drawn from the world's most prestigious specialised magazines, radio channels and organisations: Le Monde de la Musique and Radio Classique (France), Gramophone (UK, US), Fono Forum and Radio MDR/ARD (Germany), Crescendo (Belgium), Pizzicato (Luxemburg), Musik & Theater (Switzerland), Music Manual and IMZ, the International Music & Media Centre (Austria), Musica (Italy), Scherzo (Spain), Gramofon (Hungary), Muzyka21 (Poland), AudioMusic (Russia) and the International Artist Managers' Association (IAMA).

The categories are "Recording of the year", "Label of the year", "Lifetime Achievement Award", "Artist of the year" and "Outstanding Young Artist, in partnership with IAMA." Two DVD awards and eight CD awards will also be granted. The deadline for submissions is October 8, 2004: please contact Cornelia Much for more information.


Farewell to Capone
Grammy Winner Producer


Tom Capone (Luis Antonio Ferreira Goncalves), a Brazilian music producer nominated for five Latin Grammys, was killed in a motorcycle crash hours after being shut out at the awards show. Capone, 38 died early on September 2nd when his Harley-Davidson collided with a car in the Van Nuys area of the city.

The president of the Latin Recording Academy, Gabriel Abaroa, released a statement in response to Capone's death, which occurred just hours after two albums he produced garnered awards. "The Latin Recording Academy, Brazilian music and the world have lost a great music maker with the passing of multiple Latin Grammy-winning producer Tom Capone," Abaroa said.

The Rio de Janeiro resident was up for "Producer of the Year" and four other awards at the fifth annual Latin Grammys. Two albums he produced won Latin Grammys -- Maria Rita's self-titled debut in the Brazilian popular music category, and Skank's "Cosmotron," which was named best Brazilian rock album.

But with five nominations for the fifth annual Latin Grammy Awards, the multitalented producer is not only the most nominated individual this year but also the most nominated Brazilian ever. But Capone is not just a producer and an engineer. He's also a musician and the director of A&R for Warner Music Brazil.

"I have total support from my boss, Claudio Conde, who allows me to produce some albums during the year," said the late producer.

Capone got into music playing the guitar and producing for a band called Peter Perfeito in the 1980s. He later opened his own studio and began producing full time. When Warner Music Brazil asked him to be A&R director in 1998, he accepted on the condition that he be allowed to produce albums for other labels. The list of acts he has worked with includes Gilberto Gil, Milton Nascimento, Raimundos, Barao Vermelho, Nando Reis, Marisa Monte, Carlinhos Brown and Lenine.

But the project that has thrust Capone's name into international consciousness is "Maria Rita," the self-titled debut album by the daughter of singer Elis Regina (1945-82), a superstar of Brazilian popular music. Released in 2003 on Warner, it has sold 640,000 copies, according to the label. "The main thing is Maria Rita's voice," Capone said. "And we also have her totally intuitive and yet precise perception of the arrangements. Great parts of the repertoire, as well as the jazz trio ensemble, were taken from her live concerts."
Capone is survived by his wife, musician Constanca Scofield, a month-old son and two other children from a previous marriage.


Hello Love Birds
Congrats to Mr & Mrs Zinkhann!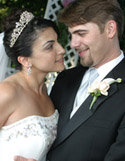 LA studio vets, Caroline Khesse (Roylatone, The Mix Room) and Chad Zinkhann (known for his tech work in some of LA's premiere studios), tied the knott last month! The newlyweds will move to Colorado. We wish them continued happiness and success. Rocky Mountain Pro Audio community should welcome this dynamic duo. Know any cool studios or producers in Colorado who could use help booking their studio or have production coordination or management needs, send an email to Caroline.
How can all this technology truly improve the human condition?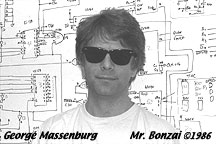 "In the same way that the arts do. It's a mechanism that allows us to observe ourselves, a reflection of our politics, our daily lives. It helps show us at our best and our worst, and pushes us to develop ourselves. Music has such power to make the best of life. The future lies in dealing with each other through knowledge and wisdom."
— George Massenburg (award-winning engineer, producer, and electronic designer), interviewed by Mr. Bonzai in 1986.