Complementing Music Greatness
Neil Dorfsman (Eric Clapton, Sting, Björk) On Choosing VMA Tube Microphones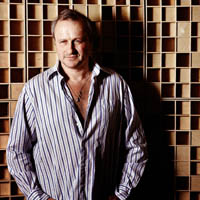 Without a doubt, there are very few recordists whose accomplishments can compare with the artistically diverse, decade spanning, gold- and platinum-packed discography of prolific producer/engineer Neil Dorfsman. Having collaborated with such varied and illustrious artists as Eric Clapton, Sting, Dire Straits, Paul McCartney, Bruce Springsteen, Björk, and the White Stripes, Dorfsman has done much to continuously complement musical greatness.
Humbly, Dorfsman acknowledges that regularly working with such an assorted group of great musicians continues to offer substantial rewards. "Staying this busy does keep things really interesting," he says. "Doing everything that comes your way has real advantages to it, and I have been doing a lot of different things."
However, while he's always working on something new, Dorfsman admits that he's rarely bought new gear for recording his many aural pursuits. "I have minimal gear and have never bought much because I've always preferred to work in commercial studios, not at home," he explains. "Not only do I prefer it for the social interaction but also for the quality of the equipment. Sadly, the record business is undergoing a sea change - and has been for a while - to where the home studio is becoming the norm. Because I figured I was going to be doing a lot more recording in places that aren't traditional studios, I wanted to always have a super-high quality microphone with me. The Brauner VMA is one of the few pieces of gear that I have bought."
Essentially two high-end microphones in one, the Brauner VMA is a large-diaphragm tube that utilizes a single set of dually used electronics. When in the first of two switchable settings, the VMA becomes the Brauner VM1A - an ideal mic choice for applications where precise, intimate acoustic detail is required. When robust and rich vocal sounds are a must, the VMA's second setting delivers the goods and performs in a very big way. For the price of one world-class vocal microphone, the Brauner VMA packs doubly good sonic characteristics. The VMA comes complete with a Brauner SM shock mount, PSA power supply with mode switch and pattern control, C1-7.5 Brauner low-capacitance cable (for VMA to PSA connections), and an FC1 carrying case.
Two years ago, Dorfsman was introduced to the VMA while participating in a microphone demonstration at the TransAudio Group booth, and, as a result, was amazed. "Normally you really can't tell much at a trade show because you are listening to headphones," he explains, "but I put the headphones on and the VMA was just astounding - even in headphones in the middle of a trade show! It was so clearly superior to everything else I had heard that day that it stuck in my mind. I thought to myself, 'If I ever buy a microphone, I'm going to try to get one of these.' Then my friend Elliot Scheiner, who I respect hugely, told me he had bought a VMA and loved it."
Shortly after, Dorfsman was presented with a daunting recording project:
recording nearly 20 world-renowned female vocalists for a UNICEF benefit.
According to Dorfsman, the gig never came to fruition, but it served as a conclusive catalyst to his purchase of a VMA of his very own. "The UNICEF recording was to include a broad selection of really great female vocalists," he remembers. "I was going to be traveling around the country doing this, and I felt that I needed at least one common denominator microphone available for everybody. I ordered the VMA on that basis. The project didn't happen, but I've used the VMA extensively ever since then.
It's incredibly detailed, very beautiful sounding, and both modes sound great. I have a long extension cable and keep the controller in the control room. As the person is singing or playing, I just find which ever works best and have not once been disappointed."
Although the Brauner VMA is especially well suited for vocal applications - which is why Dorfsman bought it in the first place - he is auditioning it on almost everything under the sun. "I've used it on recorder, alto sax, soprano sax, and acoustic guitar - all kinds of stuff," he explains. "With all of those, it's so real and present. It's a little spooky."
A true VMA fan, Dorfsman is doing his part in spreading the word about his new favorite microphone and, as a result, is doing his part to create a whole new group of VMA aficionados. "I've loaned it to a couple of other engineers that have also flipped out about it," he enthuses. "Everyone that I work with immediately notices how great the mic sounds. And to me, that is the ultimate testimony of its greatness."
LasVegasProAudio.com is the direct sales division of TransAudio Group. It was created to serve as a conduit between extremely busy pro audio professionals and boutique high-end equipment manufacturers. LasVegasProAudio.com offers a select group of imported lines, including ATC Loudspeakers, Brauner microphones, SoundField Microphones and Daking Pro Audio microphones. LasVegasProAudio.com is dedicated to providing their customers with a long-term partnership that delivers, not only direct pricing but timely, accurate product information and unparalleled personal customer service.
Contact Brad Lunde, LasVegasProAudio.com Phone (702) 307-2700 o Fax (702) 314-2764 o e-mail brad@lasvegasproaudio.com or visit Las Vegas Pro Audio web site.
Botnick's Unit Eye
studio bau:ton Design Opens Doors to Imagination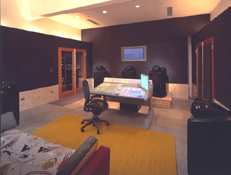 When Bruce Botnick, famed 'Doors' engineer, scoring mixer par excellence and leading surround sound pioneer, moved to Ojai from Los Angeles, he needed his own first-class studio.
studio bau:ton was called in to design a personal studio, to the exacting standards of the seasoned sound professional, in an existing commercial space. Bruce had previously enjoyed working at Fox's Newman Scoring Stage (an earlier studio bau:ton design). Also, principal architect Peter Grueneisen had been involved in the renovation of Bruce and Marie Botnick's Richard Neutra house in LA.
Completed in mid-2004, UnitEye, a word play on the facility's address, is indeed stunning to look at, but it is primarily designed for the ears. Five free standing Nautilus speakers and a subwoofer are positioned around a Digidesign Icon console for a permanent 5.1 surround setup. The large space and plentiful ceiling height facilitated ideal room proportions, and no compromises were needed to lay out a generous facility, tailored to the needs and preferences of its owner. Bass traps and curtains control the sound throughout the space, while indirect and recessed lighting and a flush mounted flat panel video monitor tie together the visual aspects of multi-media production.
A wide skylight, which allows natural daylight into the room, focuses the calm environment inside the main studio space, without creating glare or heat gain. A friendly atmosphere is created by applying cotton bonded acoustical pads (B.A.P.) and porous expanded polypropylene (P.E.P.P.) panels, environmentally friendly alternatives to fabric and fiberglass. A polished concrete floor with rugs and wooden oriented strand board wall panels complete the picture.
The client area in the back features comfortable seating and bookshelves built into the rear wall, all supervised by the inscrutable Robby the Robot, the giant science fiction character from Forbidden Planet, looking on from the corner. Outside the studio, a kitchen, bathroom and lounge area and a mezzanine utilize the remaining space, forming a complete and comfortable working environment.
Engineer/Producer and LA native Bruce Botnick's illustrious list of credits is a testament to just how influential Los Angeles has been in shaping popular music in this past half century. In a career that began in the mid-60s, Botnick has had his hand in some of rock's finest hours, including the Doors (LA Woman), Eddie Money, Kenny Loggins; movies such as ET, Star Trek First Contact, Air Force One, Basic Instinct, Aladdin, Total Recall, Mulan and many others. Bruce is in the process of remixing the entire Doors catalog for DVD-Audio.
Studio bau:ton has recently completed personal studio facilities for the Dave Matthews Band, its drummer Carter Beauford, French composer Eric Levi, actor/musician Will Smith; as well as screening rooms for The Walt Disney Company in Paris and Amsterdam, and a post-production facility expansion for Warner Brothers' The Idea Place in Burbank.
Contact: Peter Grueneisen or visit studio bau:ton



Shag With A Twist
Where Art, Dance & Theater Meet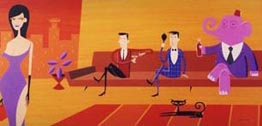 Beautiful people. Fabulous fashion. Exotic music. Bottomless cocktails. Sound perfect?
Just you wait.
Shag with a Twist™ is an extraordinary new theatrical experience that brings to life the vibrant illustrations of Shag through an evocative cocktail of art, music and dance.
Thirteen thoroughly modern Shag created characters romp through an idyllic era of jet setting, tiki, and lounge-inspired tunes. Like the time they represent, swanky Tupperware™ party goers soon discover that even good things come to an end. A murder results in chaos and the fallout is one of the most capricious mysteries ever staged -- complete with a bumbling inspector, quirky sidekick, and a host of unlikely suspects.

The result? Like Shag's art, there's always a twist.


Josh Agle's (better known as Shag, a contraction of the last 2 letters of his first name and the first two letters of his last name) is a painter, illustrator and designer (best known for his updated illustration of MGM's Pink Panther) working in Southern California. His paintings have been shown in galleries and museums throughout the US, Australia and Europe. In November of 2002 he will have his New York exhibition at the Earl McGrath Gallery. Speaking of The Pink, look for the new release, "Who Stole The Pink" from MGM, with Steve Martin as Inspector Clouseau in an all-new adventure of The Pink Panther. A stunning pop star (Beyoncé), a soccer player, a Chinese assassin - who committed the crime?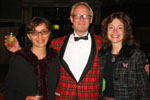 L-R: Cynthia Bradley, Shag surrounded by C&C
Cynthia Bradley is creator, director, choreographer of San pedro ballet...Currently, Mrs. Bradley serves on the Board of Directors of The Getty House Foundation, chaired by Monica Hahn.
Shag with a Twist premiers at the Los Angeles Theatre Center (LATC), 514 S. Spring Street Los Angeles, 90013, Downtown. Parking is available adjacent to the building. For more information, click Theater.


The production opens March 18 and runs through June 11, 2005, Thursday, Friday and Saturday evenings at 8 pm. Tickets are priced at $45, $35 and $25 (for students and seniors with ID). For more information and to purchase, click Get Your Tickets.
Run time is approximately 2 hours with an intermission. Theater doors open at 7:00. Concessions are available in the lobby. Jetsetter rates offer 6 preview performances at $85.






Since the new album was released 6 months ago, Granian has played over 65 shows. "Mark My Words" has just been added to The Unsigned Top 10 competition at Alternative Addiction (vote here). Earlier in March the song was featured both on GarageBand's Rock front page Track Of The Day and XM Radio's XM Unsigned (CH 52) & Radar Report.

Spin calls him the hottest unsigned artist with 25,000 sales (that's without any label muscle). With number one on MP3.com and bookings up and down the East Coast and as far west as California, Granian is hot property.

Upcoming Tour dates to include: 3/31 : Los Angeles, CA @ Universal Bar & Grill; 4/01 : San Francisco, CA @ 1751 Social Club; 4/07 : Chicago, IL @ The Apple Store 7PM; 4/07 : Chicago, IL @ Wise Fools Pub; 4/08 : Bloomington, IN @ Kilroy's Sports Bar and 4/09 : New York, NY @ Tribeca Rock Club. For complete tour dates, music and booking info contact Granian web site.
Keynote at NAB
Gage on Radio


Sun Microsystems cofounder and chief researcher John Gage to deliver the keynote address at this year's Radio Luncheon. The luncheon is held April 19 from noon to 1:45 p.m. A ticket is required to attend.
Gage speaks regularly and is known for providing food for thought to his audiences.
In his capacity at Sun Microsystems, Gage regularly hosts Sun's Digital Journey, a series of broadcast and Web-based programs that seek to gain a more complete understanding of new and emerging technologies.
A newly created training weekend dubbed Leadership Training Weekend to Debut at NAB2005. Held April 16 and 17 at NAB200 and presented in two sections, the leadership training weekend will feature broadcast-specific sessions offering strategies and grab-and-go techniques to help managers create a fulfilling, high-performance work environment.
From Indie to Cyndi
Daking Gear Spans The Gap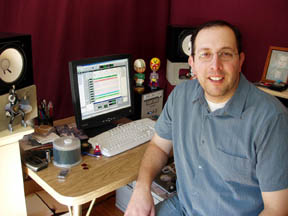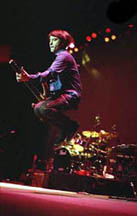 L-R: Indie engineer, Rob Skane; Flying high on the Daking Mic Pre/EQ is famed recording engineer/producer/guitarist, William Wittman.
In the spirit of classic pro audio manufacturers, Geoffrey Daking & Company has developed both a distinguished line of recording equipment and a growing group of fervent fans through the pursuit of unwavering aural excellence and unquestionable manufacturing quality.
Citing consummate pro audio authorities API, Neve, and Trident as aural influences, Geoffrey Daking has effectively created modern classics such as the Mic-Pre/EQ, FET Compressor II and, most notably, the Mic-Pre IV equalizer.
While it is reasonable to assume that truly impeccable and world-class signal paths require very deep pockets, Daking products clearly debunk that theory. Because of that, engineers recording world-renowned, multimillion-selling artists, as well as those recording in the 'indie'
scene, can both enjoy Daking product benefits, such as all-discrete transistor circuitry and superior Class A amplifiers. Case in point: Self-recorded, self-financed, and 'buzzed-about' indie singer/songwriter Rob Skane and prolific, successful and erudite producer/engineer William Wittman both claim that their Daking Mic-Pre/Four-Band Equalizer are invaluable parts of their respective and numerable recording sessions.
According to Skane, his recent purchase of the Daking Mic-Pre/EQ was prompted by his desire to have a superior - not simply a good - signal chain to record a follow-up to his critically acclaimed 2002 CD release entitled "Self-Noise." "Right before I started pre-production," Skane recalls, "I wanted to have a decent mic pre. I then decided that if I was going to buy something 'good' why not spend the extra money and get something truly high-end? That's when I decided on Daking." After doing a substantial amount of online research, he found that his future pre-amp purchase came well recommended by many. "I read so many awesome things about it. Everything mentioned how well built it was as well as how beautiful it sounded, which I found to be 100 percent true."
Wittman, who has known of Geoff Daking and his pro audio manufacturing pursuits for some time, almost always has a Daking Mic-Pre/EQ in use.
Considering Daking and Wittman's mutual admiration for Trident A range consoles, this frequent use of Daking gear on Wittman productions makes perfect sense. "Geoff and I have been friends for years," explains Wittman, who first met Daking as both men worked in the New York recording scene. "At a certain point, Geoff and I discussed the kind of consoles we preferred. We were both fans of discrete, Class A, transistor, transformer I/O-style consoles, and later I heard that he had decided to build modules based on the Trident A range. So I didn't exactly seek out his modules - I knew about them before they existed!" From there it wasn't long before Daking components were perpetually patched in for many Wittman sessions. "One day the modules appeared and I've used them ever since."
Featuring all discrete transistor circuitry, transformer balanced I/O, and Class A amplification, the Daking Mic-Pre/Four-Band Equalizer offers five stepped frequencies per band with hard bypass, continuously variable boost and cut, and all-relay switching with gold bi-furcated contacts. High- and low-pass filters, at 25Hz and 15kHz, respectively, are included in the phantom-powered unit, which also provides remote mute and bypass, output level control on the final gain stage, and a 20dB mic input pad. In addition, sturdy construction featuring a stainless steel chassis and aluminum knobs makes the Daking Mic-Pre/EQ as rugged as it is aurally pleasing.
The worth of his Daking Mic-Pre/EQ's quality features, affirms Skane, is immeasurable in relation to how it can enhance a recording artist's own recording rig. "It's actually a very cost-effective purchase," he says. "It's so affordable to be such great, great equipment. I don't expect that I'll ever need another mic pre because I have the Daking, although my next purchase, before I begin tracking acoustic guitar and vocals, is going to be the Daking compressor."
Skane uses his Daking Mic-Pre/EQ to record almost everything in his Pro Tools LE-based home studio. "I use it on electric guitar, acoustic guitar, bass, and vocals - pretty much everything I do here at my house," he explains. "The Daking goes straight to Pro Tools through my Digi 002. I often use the Neumann TLM 103, my favorite vocal mic, for voice and acoustic guitar. It's weird to explain, but my acoustic finally sounds like the one I hear in my head before tracking. And people like to use the term 'musical'
to describe equalizers, right? Well, I never really understood that before hearing the Daking EQ. That section of the pre-amp is just fantastic. I've never used better."
For a successful recordist like Wittman, who surely has and could use anything under the sun to transfer sound to medium, regularly depending on a bevy of Mic-Pre/EQs could be considered a firm confirmation of Daking component superiority. "To me, everything works with it because it's a good mic pre," he explains. "I tend to think in terms of recording an entire album using the same mic pre. It lends a consistency to the recording and puts everything in the same starting place, which I think is only beneficial."
Wittman's philosophy, coupled with his affinity for Daking gear, has prompted the frequent use of Mic-Pre/EQs on much of the latest recordings of Cyndi Lauper, often coupled with a Microtech Gefell UM900, the artist's favorite studio vocal microphone. "Two of her last three albums were recorded almost entirely with the Dakings. Almost every note on those was recorded with those modules. I should also add that Cyndi also uses a Daking Mic-Pre/EQ and a Daking compressor in her live monitor rack. She likes the sound of her voice through the Daking so much that she chooses to hear it in her ear monitors and on stage. In addition to Cyndi, I made extensive use of the Dakings on all guitars and keyboards on Joan Osborne's best-selling recording, "Relish."
Admittedly, the pro audio market is full of component pre-amplification options for engineers to choose from. But for both Skane and Wittman, two savvy recordists with substantially differing recording circumstances, there's no doubt that the Daking Mic-Pre/Four-Band Equalizer is a wise choice for sessions ranging anywhere from indie to Cyndi. "There are an enormous number of choices out there, but there is a certain narrow subset that is the real cream of the crop," philosophizes Wittman. "And when you skim the cream from the top, there's a much smaller subset of choices. That's where the Daking lives. It's in that stratified, very high-end atmosphere. Why? It sounds as good as the best recording consoles have ever sounded, and is built so you're getting real value for your money."
For more info email Brad Lunde, call at (702) 365-5155 or visit Las Vegas Pro Audio web site.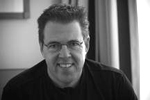 Las Vegas Pro Audio is the direct sales division of TransAudio Group. It was created to serve as a conduit between extremely busy pro audio professionals and boutique high-end equipment manufacturers. LasVegasProAudio.com offers a select group of imported lines, including ATC Loudspeakers, Brauner microphones, SoundField Microphones and Daking Pro Audio. "LasVegasProAudio is dedicated to providing our customers with a long-term partnership that delivers, not only direct pricing but timely, accurate product information and unparalleled personal customer service," says Lunde.

Founded by industry veteran Brad Lunde, LVPA and TransAudio Group have quickly become the premier US importer/distributor and/or US sales and marketing representative for high-end audio. "Success hinges on TransAudio providing dealers and end users with a higher standard of product expertise and support far beyond the norm," says Lunde. TransAudio Group's product lines include: A Designs Audio (USA), AEA (USA), ATC (UK), Brauner (Germany), Daking (USA), Drawmer (UK), George Massenburg Labs (USA), Mercury (USA), Soundelux (USA), SoundField (UK), and Z-Systems (USA).

Sundance Winners "Hustle and Flow" And "Forty Shades of Blue"
Scored at Memphis' Ardent Studios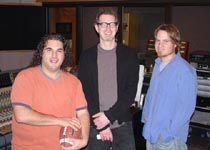 L-R: Recording engineer Matt Martone, "Hustle and Flow" composer/musician Scott Bomar, and assistant engineer Curry Weber.
Photo: David Goggin
Hustle and Flow," the independent film which was purchased by Paramount/MTV at the recent Sundance Film Festival for a record $9 million, was shot on the inner city streets of Memphis and scored in the city's legendary Ardent Studios. Directed by 33-year old Craig Brewer and scored by composer Scott Bomar, the film was financed by Academy Award-nominated director/screenwriter John Singleton for $2.8 million.
Bomar composed the Stax Records-influenced score, which was recorded with former Stax recording artists, and includes the theme song "Hard For A Pimp." The film, which portrays a Memphis pimp who realizes his dream of becoming a rapper, received the coveted Sundance Festival Audience Award for dramatic film. Among the actors in the film is Isaac Hayes, who recorded, among other projects, his "Hot Buttered Soul" album at Ardent Studios.
The Sundance Film Festival Grand Jury Prize for dramatic film was awarded to "Forty Shades of Blue," with original music composed by Dickon Hinchliffe and recorded at Ardent studios. In the film, a Russian woman living in Memphis with a much older rock-n-roll legend (played by Rip Torn) experiences a personal awakening when her husband's estranged son comes to visit. All the recording studio scenes were filmed in Ardent's Studio A. Producer/director was Ira Sachs and music supervisor was David Less, both Memphis natives


Lay Me Down Those Rythm Tracks
With Session Pro Klug

You've read about him in Modern Drummer Magazine, may even recognize his signature beats in recordings with Herbie Hancock. Doug Klug is an accomplished drummer and percussionist with extensive experience playing rock, jazz, blues, funk, Latin, classical, pop and R&B. A graduate of the Berklee School of Music, he has played with many legendary musicians, including Herbie Hancock and multiple Grammy award-winner André Crouch.

Now, you can call Klug to put some of that special touch on your next track. He'll even offer few good stories and VIP tix to China Club (celeb Jamms). "I would like to help artists and producers save money when they think their project will benefit from a pro session player who's familiar with programming and has experience in both live and studio work. It's amazing how easy life becomes when you can read music and play to click track as well as I do. Plus, I have the ability to play in just about any genre of music," says Klug.
Catch Klug's drumming live (Sanatana and Beatles covers) every Tuesday at his club, Jam Jam (On Western 2 blocks North of Beverly Blvd., and Elmwood). Also check out Doug at The Wild on Reseda coming up on April 1st with CLAREDAINE.COM For complete references or to book Doug Klug, please call (310) 204-9027.

Avatar
Hosts The Stars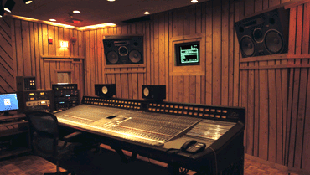 The New Studio G (SSL 4000 G+)
Artists who worked at Avatar in '04 include John Mayer, Norah Jones, Elvis Costello, Franz Ferdinand, John Scofield, George Benson, Maria Schneider, Bebel Gilberto and Queen Latifah.
Kirk Imamura, president of Avatar Studios in Manhattan reports that despite the somber outlook for major studios, the recording scene at Avatar is extremely vibrant."The nature of production has been definitely shifting with controlled budgets and recording efficiencies a must. You may be paying a higher hourly rate at high-end facilities like Avatar, "but you have a smoother session, which may translate to better performance and having more time and options to capture better sound, not to mention less stress on those involved in the creative process," says Imamura.

Recently the Neve studio C hosted recordings with The Glass Menagerie and producers Dan Moses Schreier, and engineer John Kilgore; Luciana Souza with James Farber engineering and Brad Mehldau recently recorded with trio and solo piano for Nonesuch. James Farber engineered, Aya Takemura assisted.

Studio A (Neve 8068) hosted Island/Def Jam artist Fefe Dobson recently in with producer Jay Levine recording new material. Ross Petersen and Kyle Kelso engineered. Chad Lupo assisted. Sh'K'Boom Records recently in recording the cast of the Broadway hit Little Women. Joel Moss engineered, John Miller produced. Jan Folkson operated pro tools, with Brian Montgomery second engineer. Bill Frisell recording with his trio, Ron Carter and Paul Motion, for Nonesuch Records. Lee Townsend produced while James Farber engineered. Ross Petersen assisted.

Imamura reports that Avatar Studios has been booked solid for the last three months. Furthermore, 24 of the projects nominated for the 2004 Grammy Awards were recorded or mixed at Avatar. Avatar Studios just opened a new room in November 2004 dubbed Studio G (SSL 4000 G+) where Mixer Rich Costey recently mixing the new Weezer album produced by Rick Rubin. Ross Petersen assisted.

Eric Clapton with producer Simon Climie and engineer Alan Douglas recently in recording for an upcoming release in studio A. Brian Montgomery assisted. For bookings contact: Tino at (212) 765-7500 or email him at Tino@AvatarStudios.net


Chalice On The Charts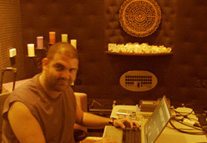 Lulo Perez (Alejandro Sanz, Cafe Quijano, Ricky Martin) at Chalice Studios
Photo: By The C

STUDIO A (SSL 9000J) hosted Jason Cupp who produced and mixed Finch's forthcoming LP with assistant Alan Mason. Jason also engineered vocals and remixed "Holla Back Girl" for producer Pharrell. Mike Schroffel" was the assistant. Mary J. Blige was recording vocal overdubs with producer Jaha and engineer Chris Puram. She also recorded vocals with producers Troy Taylor and Kendu.
STUDIO B (NEVE 88R) had Chingy and producer Kwame who were tracking for an upcoming release with Brian Sumner engineering and Alan Mason assisting. Rich Travali mixed a few tracks for Robin Thicke's forthcoming record produced by The Neptunes. Alan Mason assisted. Producer Desmond Child and Engineer Rob Jacobs mixed the track "Reachin' For Heaven" sung by Diana DiGarmos. The song is on the motion picture soundtrack for Disney's "Ice Princess". Also in Studio B, Nick Lachey was recording vocals with producers Soulshock and Carlin. Scott Campbell engineered and Mike Schroffel assisted.
For bookings call Studio Manager, Sharon Lewis at (323) 957-7100 or take an express tour here
True Love At Studio City Sound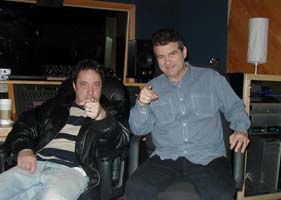 Since their collaboration on the Toots and the Maytals "True Love" led to the Grammy win for Best Reggae Album, Producer extraordinaire, Richard Feldman and Studio City Sound's chief engineer and mixer – Tom Weir, are at it again! This time, the dynamic duo are mixing Willie Nelson's new album for Lost Hiway Records.
Big 3
New PAD Installation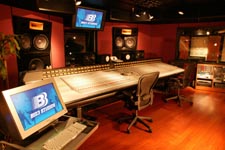 With a growing list of high-profile clients including Mario Winans, Destiny's Child, Cheap Trick, Usher and Hilary Duff, Big3 Studios has come a long way in a short amount of time. Founded about 4 years ago, the 7,000 sq. ft. facility started off with one tracking and control room and two mini-suites. Now the full service recording facility features three studios with state-of-the-art equipment, furnished by Professional Audio Design (PAD), and provides top-of-the-line multi-track audio recording, mixing, production and mastering services. Located close to the serene beaches of Florida's Gulf Coast in downtown St. Petersburg, Big3 Studios opened to the public late last summer.
Graham Mastering At Grundman's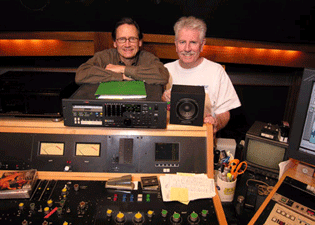 During mastering sessions are Bernie Grundman (left) and Graham Nash.
Photo by David Goggin
Graham Nash visited Bernie Grundman Mastering during the mastering of Crosby, Stills, & Nash - Greatest Hits, which includes "Carry On," "Teach Your Children," "Southern Cross," "Long Time Gone," and 15 others. The Atlantic/Rhino Records collection is slated for March 15 release. Also visit Eye To Eye -- Photographs by Graham Nash here
AWS In The house of Jam & Lewis and Henson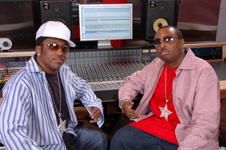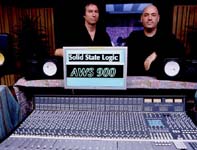 L-R: Jimmy Jam and Terry Lewis, Flyte Tyme, Los Angeles; Ron Rutledge, VP of Henson Recording Studios, and Tal Herzberg, Grammy nominated engineer/producer, with the newly installed Solid State Logic AWS 900 Console in Studio 'H' at Henson Recording Studios (Photo by Edward C. Colver)

From Will Smith and Alicia Keys' studios to producer and A&R executive David Kershenbaum's private production environment to engineer Denis Savage's use for Celine Dion and others at Caesars Palace in Las Vegas, the AWS 900 is leading the industry into the future. "The AWS 900 has set the industry on fire by providing exactly the right combination of SuperAnalogue™ quality coupled with extraordinary digital control capabilities at an attractive price point," says Rick Plushner, president of Solid State Logic, North America.

A partnership was recently formed between engineer/producer Tal Herzberg and Henson Recording Studios to operate the newly designated Studio 'H', built around a Solid State Logic AWS 900 Console. The console is the controller and audio path for a large Pro Tools recording and editing system. The Studio will service Herzberg's clients and commercial projects.
Herzberg is a four-time Grammy nominated producer, programmer, engineer who has worked on projects ranging from Black Eyed Peas, Vanessa Carlton, Counting Crows and Christina Aguilera to Phil Collins, David Bowie, Mary J. Blige and Brittany Spears. His experience with SSL consoles through his work with the pop hit makers led him to the AWS 900 purchase.
Brooks' Halo
When Metric Halo's Channel Strip Completes Your DAW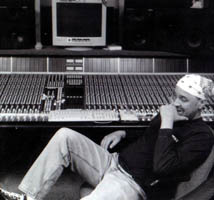 Producer, mixer, and studio and live sound engineer Bobby Brooks boasts an impressive resume that spans many musical genres, from classic Motown to heavy metal.
Brooks, who operates out of his own Archangel Studio, has used every music production tool out there, but none has proved more essential than Metric Halo's ChannelStrip plug-in. Unlike other software plug-in developers, he notes, Metric Halo offers an all-in-one mixing tool with ChannelStrip, an integrated bundle that incorporates EQ, compressor and gate functions, with over 100 presets offering ready-made solutions or jumping-off points for creative mixing.
Brooks quips, "They're a great company, but they put so much into ChannelStrip that they can't come out with anything else. They can't come out with the killer gate, they can't come out with the killer compressor - everything is already right there!" "She only needs one vocal take. She'll get five songs done in one day - lead vocals, background vocals, everything - and it's all impeccably great." "It's the only thing I use," states Brooks, who is proud to once again see R&B legend Teena Marie, with whom he has worked for most of his career, nominated for a Grammy this year. She has just released "La Dona," her first album of all-original material in ten years, on Universal/Cash Money Classics.


Warner IPO
Looking to raise $750 to 1 bil


Warner Music Group is expected to file for an initial public offering anyday now. The New York-based company is backed by a group of investors that includes the company's chief executive, Edgar Bronfman Jr., (pictured above) as well as private equity firms Thomas H. Lee Partners, Bain Capital and Providence Equity Partners. The offering is expected to raise from $750 million to $1 billion and could take place in the next 30 to 60 days, pending regulatory approval, according to sources. News of the timing of the offering was first reported by The New York Post.
Goldman Sachs Group and Morgan Stanley & Co. have been selected to jointly lead the offering. Merrill Lynch, Lehman Brothers and Deutsche Bank will be among the underwriters.
The investor group acquired Warner Group for about $2.6 billion a year ago, committing about $1.25 billion in equity to the deal. Investors have since gotten back almost all of their investment.
Flash 'em
Debut of Sony's Flash-based Audio Players




The company that brought us the Walkman is revolutionizing portable gaming...and also hoping to regain some of its luster in a market dominated by the iPod with the unveiling of a big lineup of portable music players. With the nine new players, Sony Corp. is taking particular aim at Apple Computer Inc.'s slim new iPod Shuffle. That's because, like the Shuffle, the new Sony players use flash memory, a storage medium more durable, lightweight and compact than its larger-capacity cousin, the hard drive.
Up to 70 hours of battery life! Gorgeous displays, increased functionality and ultra-compact designs. Our new line of flash-based players let them have it all," said Allan Jason, vice president for portable audio products at Sony Electronics.

The new Network Walkman models easily play back both MP3 and ATRAC3®/3plus™ music files, as well as support WMA and WAV formats. They are compatible with Sony's Connect™ online music store and include SonicStage® software to import, manage and transfer music collections.
Green Day Promotion

IFC is set to announce today a partnership with Grammy-winning band Green Day and its music label, Reprise Records, to merge the band's song "Jesus of Suburbia" into the film channel's on- and off-air promotions and programming through 2005. IFC said the deal will allow "Jesus" -- a 9-minute, 8-second rock anthem off the band's album "American Idiot," which won the Grammy last month for best rock album -- to be heard in its entirety without being "torn apart and hacked into commercial radio-friendly segments." " 'Jesus of Suburbia' is the ultimate articulation of our national zeitgeist -- it speaks perfectly to the anxiety, emotions and passions of our audience," said Evan Shapiro, general manager and executive vp at IFC. Green Day will be playing the Werchter Festival in Belgium, July 1st. "Give Me Novacaine" was featured on NBC's ER last week.

U2's US Tour
Arthur Fogel, president of TNA International, worldwide producer of the U2 tour, tells Billboard.com, "hopefully all the [presale] issues will have been worked out. It helps to have more than one show in New York." Indeed, U2 will go up with three New York shows on the new leg, and route "padding" there and in several other markets will allow for more shows to be added as dates sell out.
Considering A "Blanket License"
Everything under the umbrella of subscription services
National Music Publishers Assn. president and CEO David Israelite told the House Judiciary Committee's copyright subcommittee that publishers were willing to consider a "blanket license" for many new forms of music delivery. "We're willing to consider everything between the goal posts of radio and pure sale," Israelite told reporters after the copyright subcommittee's hearing on the issue.


Mann exits Rykodisc
Arthur Mann, co-founder of the prominent independent label Rykodisc and president of its parent Ryko Group, has resigned from the company. He will exit Ryko on March 31. Mann also served as president of the firm's music publishing company Rykomusic and its global arm Ryko International and was worldwide head of business affairs. "I'm an entrepreneur," Mann said. "I helped build a company. I'm the last of the original owners, and I'm looking for new challenges."

Durst Sues Over Web Sex Tape
Limp Bizkit singer Fred Durst is suing 10 Web site operators who posted the rocker's homemade sex tape after it was stolen from his computer -- possibly by the same hackers who got into reality-television star Paris Hilton's cell phone. The lawsuit, filed in federal court last week, seeks more than $70 million in damages and any profits the site operators reaped in recent weeks, when the 3-minute clip of Durst and a former girlfriend began appearing on the Internet. In the complaint, Durst contends the 2003 video was never meant for public viewing. It was stored in Durst's home computer, but hackers managed to break into the computer remotely and make a copy, according to the lawsuit.
Aussie Idols' MTV Awards

Aussie artists won six of the 12 awards voted on by viewers at MTV's inaugural Australia Video Music Awards earlier this month. Australian pop sensation Delta Goodrem took home best female artist as well as viewer's choice at the high-profile event, hosted by Ozzie Osbourne and family, and broadcast live from Sydney's Luna Park. "Australian Idol" 2003 runner-up Shannon Noll won best male artist, while "Idol's" winner that year, Guy Sebastian, won best pop video for "Out With My Baby."


Kazaa!
In a landmark music piracy case
A court refused Friday to grant a request by the Australian recording industry to force owners of the file-swapping giant Kazaa to disclose their assets pending a decision in a landmark music piracy case. Australian recording labels are suing Kazaa's owners, accusing the company of contributing to widespread copyright infringements by letting Kazaa users download up to 3 billion files each month, freely exchanging songs, music and television programs without paying royalties. The recording companies want Kazaa's owners declared liable for copyright breach and loss of earnings. If they are successful, a civil trial to set damages will likely proceed later this year.

Paste Magazine is excited to announce that it has issued a call for entries for the just-launched Paste Shorts Festival. Short films will be selected for screening at a fall music and film festival, for placement on the magazine's DVD sampler accompanying its year-end Film Issue and for a forthcoming retail DVD of short films.
Submission details are online at www.pastefest.com. Submissions are now being accepted, with a final submission deadline of August 1, 2005.
"Established and upcoming directors are producing short films that, in many instances, surpass some of the best feature films out there," says Paste film editor and festival director Tim Porter. "Yet, short films continue to receive criminally low exposure. Our hope is that our samplers, combined with a festival and retail compilation, can contribute to raising the profile of these great works and artists.

Publisher Nick Purdy notes, "With the DVD sampler reaching the magazine's rapidly growing readership, these works will be exposed to more people than at even the largest international film festivals. It's an ideal way for directors, musicians, labels, studios and others to have their work recognized in an increasingly crowded marketplace."
Presented by New Line Home Entertainment, the magazine's latest DVD features theatrical and film trailers, music videos and short films including clips from the Extended Edition of "Return of the King"; an outtake from "Festival Express"; The Yes Men's "The Horribly Stupid Stunt" short film, and clips and trailers from "Elf," Oscar-nominee "Story of the Weeping Camel," "Because of Winn-Dixie," "The Rapture," "Watermarks," "The Academy Collection" ("The Weather Underground," "Sound and Fury," "Dancemaker"), "My Flesh and Blood," "Blue Vinyl," "In the Realms of the Unreal," "Sprout," "I Have Found It," and Adult Swim favorite "Home Movies."
The independently owned publication has grown rapidly by pleasing an audience hungry for music and films with depth and substance. The DVDs and festival are just the latest projects from the leading-edge magazine. Purdy and Editor Josh Jackson are weekly guest commentators on CNN Headline News, where they offer their Paste Picks of new CD releases. The magazine has also launched a retail listening station and an online radio station.
For more information on Paste and its new DVD sampler, contact Nick Purdy at 404.378.8677 or nick@pastemagazine.com or visit www.pastemagazine.com.


Your Pick
At The New Hard Rock Cafe on Times Square






Hard Rock Cafe is moving the NY Cafe from 57th Street to Times Square this summer.
They've asked us to forward artist guitar picks as display for their new floor.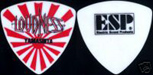 Donate your memorabilia for use in the design, send them to:
Picks at studioexpresso: 13351-D Riverside Dr. Suite 275 Sherman Oaks, CA 91423
We'll make sure the artist names and donors appear with the picture of the final design in studioexpresso's eletter.

Fourplay In The Firehouse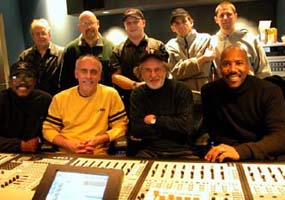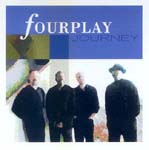 Fourplay completes their cd at Firehouse Recording. According to bassist, Nathan East, The band had fun in the studio swinging, playing funk, jazz, hip and pop combining elements that can be enjoyed by a wide range of listeners.

"Larry played some very inspired solos. Harvey "Mr. Multi-Talent" lays down the law with the grooves as always. Bob as usual displays his prolific compositional skills and was composing on the spot faster than we could record his material! We all benefit from his gift as an arranger & producer and had fun rising to the challenge of interpreting his music and bringing to life his magical notes and chords from day one! The band continues to push me to sing more which I had the opportunity to do on this recording," adds East. Fourplay is touring in Japan in the month of April 2005.

Nathan East -- The Business Of Bass
Publisher: Panopoly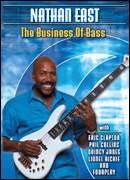 Nathan East takes you into the studio and behind the scenes to learn and see first-hand what it takes to be a professional musician. East has collaborated and toured with some of the most famous stars in the industry, including Clapton, Phil Collins, Quincy Jones, Lionel Richie, Babyface, Billy Preston and David Foster. With these artists and others, The Business of Bass covers the demands and rewards of making music for a living, both in live performance and studio sessions. Bonus tracks include: interactive Q&A • professionals' workshop with Harvey Mason and Nathan East • rare concert performances by Fourplay featuring Nathan East, Bob James, Harvey Mason and Larry Carlton. Running Time: 2 hours, 15 minutes $24.95 (US)

Imagine
A World Without Music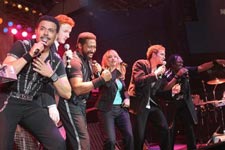 AMC 's goal is to build credibility for music and music education, especially at an early age, and to expand that portion of the population that enjoys and makes its own music.

On March 9, multi-platinum recording artists the Commodores, "a cappella" singing sensation Take 6 and American Idol stars Justin Guarini, Diana DeGarmo and John Stevens, raised their voices at a special reception to support music education in Washington DC. Along with education advocates, these legendary and emerging recording artists will deliver tens of thousands of petition signatures from teens across the country in support of music education to leaders in the US House of Representatives and the US Senate.


Got Tape?
New Analog Tape Companies Emerge To Fill Void Left By Quantegy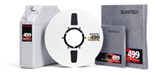 Two new tape manufacturers have emerged since Quantegy shut down operations last month, with pending Chapter 11 restructuring. York, PA-based ATR Magnetics, a new division of ATR Services, and The Netherlands' RMG International, the latter acquiring production and formulation patents from EMTEC, are just months away from distribution.
Quantegy president and chief executive Richard Lindenmuth guarantees, "We are definitely coming back. We have a crew working in the factory building on our current Work-In-Progress analog tape." According to Lindenmuth, an overwhelming response from the industry, including calls from studio engineers in the midst of tape-based projects and SPARS stepping up to organize runs of various Quantegy tape lines, has encouraged the company to move quickly in resuming the manufacture of its audio products.
While ATR expects to be supplying its own unique analog tape formulations before June of this year, the team--including ATR founder Michael Spitz and partner Carl Rusk--were prompted to go public earlier than planned with the panic set off by Quantegy's Chapter 11 announcement.

RMG (Recordable Media Group) International entered negotiations with the EMTEC insolvency administrator in July of 2003, and the company actually acquired the EMTEC production and quality assurance equipment and procedural documents in October of 2004. Since then, RMG's been developing a prototype coating running for 3.81 mm audio pancake tape, with production quantities scheduled for April 2005. RMG's "EMTEC-Quality audio" studio tape samples are slated to hit the market in June 2005. For more information visit Quantegy at www.quantegy.com and ATR Magnetic at www.atrmagnetics.com or visit at NRS

LA Studio Manager Shuffle
Candace Stewart who ran Cello studios is now booking for Sage & Sound Studios. According to Stewart, The two brothers Steffan and Marc Fantini have a great vintage API room that some of you may know about. The bros are about to open a new room which according to Candace will be up and running in a few week. Beautiful large tracking room designed by George Auspberger equipped with a 72 input 8048(2 consoles together) with a host of vintage outboard gear. Those of you who are locals; call Candace on her cell# 323-459-9300 or stop by Sage & Sound and say hi.


Royaltone Studios has been sold to a private buyer and is nolonger available to outside clients, according to Jane Scobie who used to run the studio.
She can be reached on her cell 323-646 7345.

Rock Star Auditions For A Reality Show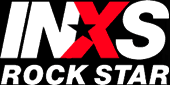 What's special about INXS? 25 years; Over 4,000 live shows to over 25 million people in almost 50 countries; over 30 million records sold worldwide including Number Ones
in 4 different continents; 23 UK hits ; 17 US Billboard hits (7 Top Ten); 33 Australian hits
6 Consecutive Top Ten UK and US albums!

What's next? The multi-platinum international Rock band is looking for their next lead singer. Mark Burnett Productions, the creator of Survivor and The Apprentice has created a new reality TV series on CBS that will give singers and songwriters the opportunity to become the next lead singer of INXS. They are looking for WOMEN of all styles that are ages 21 and up.
Industry Referral/Invite only auditions will be held in Los Angeles on March 25th.

To mail in a submission, please send a video or DVD of 4-minutes in length.
The video should be performance-based followed by a self-interview in which entrants should talk about themselves, their music background and influences. All submissions should be in NTSC or PAL format and must include an application. Please visit www.inxsrockstar.com to print an application. To schedule an audition, submit a video/DVD, or for more information,
contact: Peter Cohen 310-471-3781 x202 Rockstar Ent. Inc. PO Box 742 Beverly Hills, CA 90212 USA

The death of Michael Hutchence in November 1997 had a profound impact on the members of INXS, who had been close friends and collaborators for more than two full decades. In 1999 with guest vocalist Terence Trent D'Arby, they returned to the concert stage before 90,000 and a vast television audience to officially open Sydney's Olympic Stadium with a blistering performance. With guest vocalist Jon Stevens, INXS performed at the closing ceremony of the Sydney Olympic Games in September 2000, broadcast to an estimated television audience of several billion people. By the middle of 2002 INXS returned to the international concert arena with the band playing in South, Central and North America on a full scale tour with an overwhelming response and the band re-igniting interest from fans and media. Shows throughout Europe followed and multiple trips to Latin America which included headlining the huge Vina Del Mar Festival in Chile in 2003, broadcast to a global audience of 180 million.


Love Is Everywhere..
We thank our adventurous travellers and designer/architect Duke Sakiyabu and Isabell Ulrich for sharing their album with us. Keep the photos coming guys!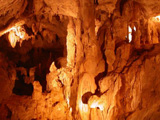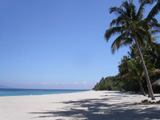 Deer caves housing bats; Sarawak pepper plant; Isa & Duk sailing; Aninuan Beach on Mindoro Island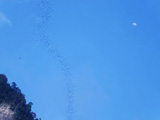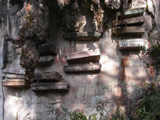 photos: Duke Sakiyabu and Isa Iulrich

When 2 million bats come out of the cave, no mosquito is safe in the blue sky. Sagada is known for its hanging coffins -all throughout the narrow valley. St Mary at the Philippines Border.



One World
Stop Crimes Against Humanity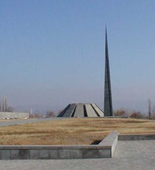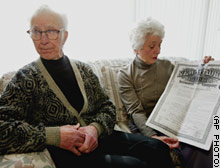 Genocide memorial in Yerevan, Armenia; Martin Marootian and his wife, Seda, are among 12 plaintiffs who recently reached a $20 million settlement with New York Life Insurance Company.
The First Genocide of the 20th Century has led to series of brutal events, The Jewish Holocaust, Bosnia, Cambodia...up to and including the massacres in the Darfur region of Sudan today.
The descendants of 1.5 million Armenians killed between 1915-23 in the Turkish Ottoman Empire share a special obligation to stand up for crimes against humanity.
Every year, on April 24, the date is observed by Armenians worldwide.
In recent news , US. District Judge Christina Snyder granted approval of the settlement for unpaid death benefits for 12 plaintiffs in a class action lawsuit. Three Southland charities received a share of a $20 million settlement stemming from mass killings 90 years ago of Armenians in the Turkish Ottoman Empire. "The company was more than willing to settle the claims, having first tried to do so in 1915," says Sy Sternberg, chairman and CEO of New York Life who sold about 8,000 policies in the Ottoman Empire beginning in the 1880s, with less than half of those bought by Armenians. The company stopped selling insurance in the Ottoman Empire in 1915.

Turkey rejects the genocide history and claims Armenians were killed in civil unrest during the collapse of the Ottoman Empire.



France and Russia are among more than 15 countries (Canada, Australia, Switzerland and Vatican, among them) who have passed resolutions to recognize the first Genocide of the 20th Century. The United States has not made such official declaration to-date.


March For Humanity
The Youth federation has organized a 215 mile walk dubbed "March For Humanity" set to begin on April 2 in Fresno, Calif. and will reach Sacramento on April 21, where march participants, human rights activists and Armenian American community members will gather for a rally organized to thank the California State Legislature and 36 other states' legislatures for officially recognizing the Genocide. For more information about the March for Humanity, visit www.marchforhumanity.org or call (818) 507-1933


Human Rights Jam
Souls – 2005 (third year)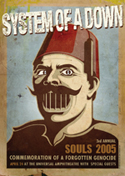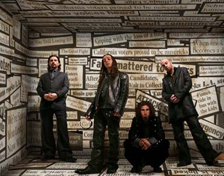 Soul 2005 Poster and SOAD

System Of A Down and KROQ-FM Present "Souls 2005" A sold-out Concert to raise awareness and funds to benefit human rights organizations. The concert at Universal Amphitheater will be held in Los Angeles on Sunday April 24. Show begins at 8:15PM; Check back with the SOAD Site for updates on support acts and other details



Slow Motion Rain, Gor and friends will play at 8pm -- Hard Rock Cafe at Universal City Walk April 24, 2005.
Resources
Peter Jenning World News Report on Armenian Genocide
Times Article - Travel Section (Sept 04)
Armenian Film Foundation -- Support "Celebrate-A-Witness" poster and AFF's award-winning films. Ask for more info AFFoundation@verizon.net
Genocide Memorials Around The World - 26 countries
ANCA - Armenian National Committee of America
Komitas -- Highly revered 19th Century Composer, Musicologist, Singer, Choir conductor, Flautist, Teacher and Genocide Witness.
Taupin Art - ABC's Of Genocide -
click on Patriot Acts (4th sqare in the bottom) then click on the 4th square on the right to view the painting.
For more info or interested collectors, contact studioexpresso.


"It's important for people to be aware of the Armenian Genocide and the cover-up by the Turkish government and our present US Administration, Turkey's allies in the defense and oil industries. Had the Armenian Genocide been acknowledged as a Crime Against Humanity as it was, Hitler might not have thought he could get away with the Jewish Holocaust. History does and will repeat itself, unless we stop that cycle," says Serge Tankian (System Of A Down).

"Like the genocide of the Armenians before it, and the genocide of the Cambodians which followed it, . . . the lessons of the Holocaust must never be forgotten." -- Ronald Reagan
April 22, 1981, proclamation

studioexpresso salutes the souls lost, the survivors and all those who stand united for crimes against humanity.