> home page
> more producers/engineers
Brent Fischer
arranger I musician I composer I producer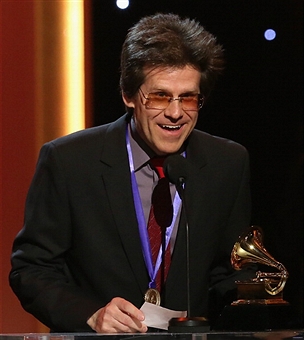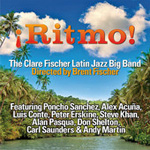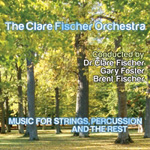 photo: Wire Images Mark Davis
NEWS

New Album: Music For Strings, Percussion And The Rest Featuring The Clare Fischer Orchestra Conducted by Dr Clare Fischer, Gary Foster and Brent Fischer.
Available now at ClareFischer.com, CD Baby, Amazon, and iTunes
Grammy-winner ¡RITMO! Nominated for 2013 Latin Grammy, Best Latin Jazz Album
(view nominees).
Now avaialble at: ClareFischer.com, CD Baby, Amazon, iTunes.
Brent Fischer Orchestra featured on Late Night with Jimmy Fallon Sept 19, 2013 with
Elvis Costello & The Roots (watch at RollingStone.com)
New Elvis Costello Roots album features orchestra arranged and conducted by Brent Fischer

¡RITMO! Wins A Grammy Award: Best Latin Jazz Album 2013 Features Poncho Sanchez, Alex Acuña and the Clare Fischer Latin Jazz Big Band; Directed and produced by Brent Fischer

Press & EPK here
http://www.studioexpresso.com/news/clarefischerritmogrammy.htm

History: Brent Fischer music credits are on over 30 million CDs for Pop, R&B and Jazz royalty such as Usher, Raphael Saadiq, Michael Jackson, Prince, Al Jarreau, Toni Braxton, Dianne Reeves, and Vanessa Williams, to name a few. Fischer has carved a niche in the world of orchestral arranging, having worked with father, composer/arranger Clare Fischer for over three decades.
"If artists gave us a simple G Major Triad, it was up to us to wrap it in the velvet of timeless orchestral beauty," says Fischer.
Brent Fischer was immersed in music since birth. Composer Clare Fischer, his father, surrounded him with the sounds of a unique harmonic language that Brent became aware of before he could even speak. "In a sense, music is really my first language. That's why working behind the scenes with artists like Paul McCartney, Robert Palmer, Brandi, Poncho Sanchez, George Duke, Joao Gilberto And Carlos Santana has come so naturally to me," says Brent.
From age five Brent Fischer took up many instruments - Drums, Bass, Keyboards, Chapman Stick, Marimba, and Vibes. In 1988 he earned a Batchelor of Music Degree In Symphonic Percussion from California State University, Northridge. Working professionally in the music industry since age 16, Fischer has enjoyed a wide variety of careers as session player, arranger, composer, conductor, band director, sound designer, music business consultant, book editor, clinician, contractor, and last but not least, a music ethnologist (performing/recording worldwide with groups from more than 20 different countries).
Brent Fischer's orchestral writing offers a timeless quality with lush and layered strings, and soaring brass and/or woodwinds. His 3-dimensional musical palette uses many colors of highly unusual or lesser known orchestral instruments effectively and effortlessly to create a distinct sound for his discerning clients. This coupled with an unconventional harmonic sense, inspired by his father, truly sets Brent Fischer's sound apart.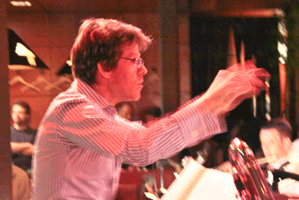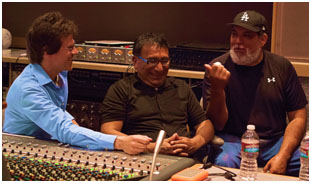 "I work on each project with a deep respect for the artist's musical identity and budgetary requirements. At the end of the day, it all has to work and sound great," says Fischer.
Mr. Fischer offers clinics and/or master classes for Universities and Music Conservatories on subjects that include:
Expanding your compositional/arranging techniques
Clare Fischer's harmonic concepts for arrangers, composers and improvisers--an overview of this unique style including specific techniques with written and audio examples
Latin jazz grooves workshop--open to all musicians for a deeper understanding of playing idiomatically in these styles
Transcribing complex harmonies for study--techniques for developing absolute relative pitch (more practical than perfect pitch) and expanding harmonic vocabulary
My Career with Clare Fischer--Insights into the music industry -- father and son working history with stellar artists from Dizzy Gillespie and Cal Tjader to Prince and Michael Jackson.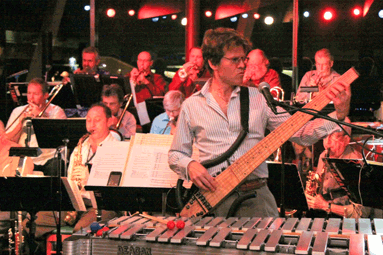 Current Credits:  Brent Fischer is the Director of the Clare Fischer Bands, which include: The Clare Fischer Big Band, The Clare Fischer Latin Jazz Group, The Clare Fischer Jazz Corps, a unique 30 piece ensemble, and The Clare Fischer Clarinet Choir. Fischer hand picks the members of each group from amongst the top professional musicians in L.A.
Being busy as a writer means only traveling occasionally with the bands. "We do what I call 'reverse touring'. Fans worldwide are notified that, if they want to see us in concert, they should make it the highlight of a vacation to Southern California - and they do come, from around the globe, especially for something as unparalleled as the clarinet choir" says Brent Fischer.
Brent Fischer arranged two tracks and penned Rainforest, inspired by nature and Latin rhythms on the new Grammy-winning Clare Fischer album, ¡RITMO! featuring The Clare Fischer Latin Jazz Big Band, Poncho Sanchez & Alex Acuña. This is the 5th album Brent has produced for Clavo Records. "It blends our worldwide music influences with the highly idiomatic aspects of Latin rhythms and uses sonic colors to continue awareness of the rainforests that replenish our world in countless ways," says Brent, who plays electric basses, vibraphone, marimba, and keyboards on the CD. Clare Fischer's legacy continues through Brent, who has shared music with his father for decades. "I've been recording my Dad for a long time to make sure we'll have his keyboard parts on future releases. Technology makes it possible for us to play together on this and future albums, similar to Natalie Cole's Unforgettable," says Brent who serves as Executive Consultant at Fame Wizard, Inc., a revolutionary internet music services company dedicated to independent artist career development. "It's not just about selling music digitally on-line," says Fischer, "but also developing new ways to monetize original content non-exclusively so artists keep all rights to their music."
Read press release here

On September of 2011, Brent produced and directed the highly anticipated Jazz sessions of his father's two acclaimed groups. The Clare Fischer Voices "...And Sometimes Instruments" marks the 50th solo album for the prolific Fischer and "Continuum" with Clare Fischer Big Band is his 51st. For the new releases Brent assembled over 30 Jazz legends, including ---Peter Erskine, Alex Acuna, Don Shelton, Bob Sheppard, Gary Foster, Andy Martin, Scott Whitfield, Ron Stout, Steve Huffsteter, Carl Saunders and Larry Koonse for the sesssons at Glenwood Studios in Burbank and at Conway Studios in Hollywood. "32 musicians, 10 songs, 36 hours of studio time and 160 gigabytes of Protools tracks later we have enough material for 2 CDs," says Fischer.
The music consists of previously unreleased compositions and arrangements written for big band by Clare Fischer plus Brent Fischer originals and arrangements of Clare's songs that the elder Fischer asked his son to write. "What sets this project apart is the writing. It blends skillful craftsmanship with musical credibility," says noted music journalist Don Heckman. "Plus with so many exotic brass and woodwind instruments like alto horn and contrabass clarinet, you're going to hear an unparalleled variety of aural colors," says Brent Fischer.

Did you know? It was Johannes Brahms who brought the clarinet into classical music's Romantic Movement. So does that make the elder Fischer the Brahms of bebop? Just asking. Read reviews in studioexrpesso's October issue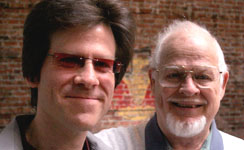 Listen to Red Bull Music Academy Radio Interview with Brent and legendary father, Dr Clare Fischer.


Contact: C Artist Management
Claris Dodge
818-427-1675
http://www.studioexpresso.com/profiles/brentfischer.htm
<![if !supportEmptyParas]>
copyright 2010 studioexpresso