Los Angeles, CA February 18, 2013 - The new Clare Fischer album, ¡Ritmo! won a Grammy this year in the category of Best Latin Jazz Album. Brent Fischer, who produced ¡Ritmo! and directs the Clare Fischer bands, was there to accept his award along with the late Dr. Fischer's wife, Donna who accepted on Clare's behalf.
The 55th Annual Grammy Awards were held on February 10, 2013 in Los Angeles at Staples Center.
This is the fifth Clare Fischer album Brent Fischer has produced for Clavo Records, with more to come. "My father's handwritten scores let me look deep into his heart and mind. They surrounded me with his love and guide me in all that I do as a Composer/Arranger, whether in Jazz, Pop or Symphonic works," says Brent, who recorded Dr. Fischer playing keyboards on many new works. "These will soon be released featuring various ensembles and special guest artists," says Brent.
Clare Fischer's legacy continues through his son. Brent, who is credited for arranging two tracks on ¡Ritmo!, penned Rainforest, inspired by nature and Latin rhythms. Like his father, Brent also writes and arranges for pop artists such as Usher, Al Jarreau, Eric Benet and Michael Jackson, to name a few.
¡Ritmo! is Dr Fischer's third win and twelfth nomination, including last year's nom for Best Instrumental Arrangement for In the Beginning* from Continuum, also directed and produced by Brent Fischer. Dr. Fischer won in 1986 for his album, "Free Fall," and in 1981 for "Salsa Picante and 2+2."

¡Ritmo! features Poncho Sanchez and Alex Acuña who appear on San Francisco PM, a mambo arranged by Brent and mixed by 11-time Grammy-winner Rafa Sardina. Other stellar musicians on ¡Ritmo! include: Luis Conte, Peter Erskine, Steve Khan, Alan Pasqua, Don Shelton (Hi-Lo's, Singers Unlimited), Carl Saunders, Andy Martin, Ron Stout, Steve Huffsteter, Pete De Siena, Scott Whitfield, Francisco Torres, Bill Reichenbach, Alex Budman, Rob Hardt, and Jeff Driskill.
¡Ritmo! is getting solid response across the nation from major radio stations like WBGO-New York, XM/Sirius, and KCSM-San Francisco and available NOW on www.ClareFischer.com, CD Baby, iTunes, and Amazon

Once again, the Grammy Awards were broadcast live in high-definition TV and 5.1 surround sound. Full list of Grammy winners here: http://www.grammy.com/nominees
Watch the EPK: Making of the 2013 Grammy-winning Clare Fischer album ¡Ritmo! directed and produced by Brent Fischer: http://youtu.be/eeKIB7fqV4A

# # #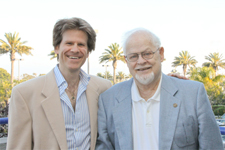 About Clare Fischer
Grammy-winning versatile pianist, composer and arranger, Dr Clare Fischer crossed freely from jazz to Latin and pop music, working with such names as Dizzy Gillespie, George Shearing and Natalie Cole as well as Paul McCartney, Branford Marsalis, Prince and Michael Jackson. "I'm not just jazz, Latin or classical. I really am a fusion of all of those," Fischer described his sound in an interview with LA Times. It's been said that regardless of genre, Fischers' arranging and composing possessed a rich harmonic palette, one that attracted and influenced notable musicians --Herbie Hancock, among them.
Dr Fischer, who passed away on January 26, 2012, leaves behind a rich legacy of music. This year marks the 20th anniversary of the writing and arranging partnership between Clare Fischer and his son Brent Fischer, who produced the 2013 Grammy-winning album ¡Ritmo! (Best Latin Jazz Album) featuring the Clare Fischer Latin Jazz Big Band
http://www.clarefischer.com/
Clare Fischer Discography on AllMusic
Clare Fischer on Wikipedia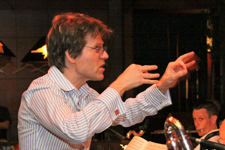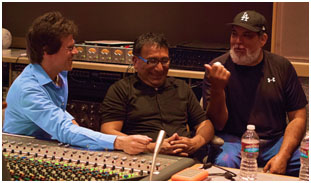 Brent Fischer (left) with Alex Acuña and Poncho Sanchez during recording of Grammy-winning ¡Ritmo! featuring the Clare Fischer Latin Jazz Big Band

About Brent Fischer
Grammy-winning multi-instrumentalist (bass, vibes, keys), composer, arranger, and producer Brent Fischer continues the family tradition of writing and arranging with a rich harmonic palette that has become a brand of its own. Like his late father, Clare Fischer, Brent Fischer arranges and orchestrates for pop artists like Usher, Al Jarreau, and Eric Benet, Michael Jackson to name a few. Brent Fischer directs the Clare Fischer ensembles and produced the last five Clare Fischer albums, including the Grammy-nominated 2011 release "Continuum" and the 2013 Grammy-winning Clare Fischer album, ¡Ritmo! (Best Latin Jazz Album), featuring the Clare Fischer Latin Jazz Big Band with Poncho Sanchez and Alex Acuña. http://www.studioexpresso.com/profiles/brentfischer.htm
Brent Fischer Discography on AllMusic
# # #l network now!

To request an interview with Brent Fischer, or to receive high-resolution photos, CD or for any media/press inquiries, please email or call us. Thank you.