An Artful Experience
Expresso@8 With Eddie Kramer Draws An Experienced Music Crowd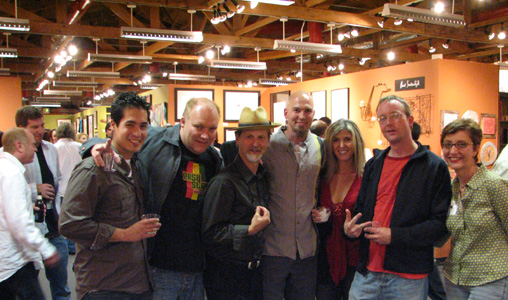 An Artful Experience l-r: , Vince Quintero and Jay Baumgardner (NRG Studios), Eddie Kramer, Jeff Sheehan (Bay 7), Karen Pinegar (Worlds End), Wade Norton (NRG Tech), Claris Sayadian-Dodge of studioexpresso with Ellis Sorkin and JT Meskiel (The Document Room) in the background
photograph by: Jay Kauffman
Santa Monica, California - May 22, 2006 -- Wild About Music Gallery in Santa Monica (1450 2nd St) was site of a very special artist reception and photo exhibit on Friday May 19. "It was truly a magical evening attended by over 150 music and pro audio leaders and master magicians, including a real magician who entertained the guests," says Claris Dodge of studioexpresso who co-hosted the event with Shelley Meyer of Wild About Music.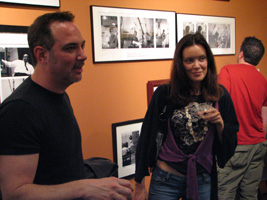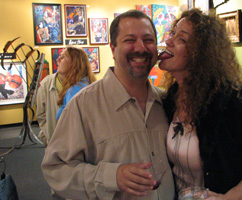 Mixer/studio Owner, Ben Gross (The Mix Room) and friend watching over Dave Rosen (Absolute Rentals) getting a firey KISS from (Firehouse Studios) manager, Candace Stewart!
photographs by: Jay Kauffman

VIP guests took a rare look at Rock royalty photographed from 1967-1972 by the legendary music producer Eddie Kramer (Rolling Stones, Jimi Hendrix, Led Zeppelin, Kiss).
The evening featured a slide show presentation followed by an artist reception.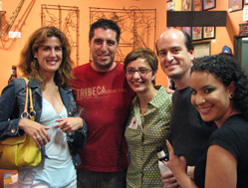 l-r: Tamar Sardina, arranger/musician, Che Che Alara, C, mixer/engineer/producer, Rafa Sardina, Elissa Ayadi (The Mix Room); Kramer, C, Shelley Meyer, Brad Lunde (Las Vegas Pro Audio)
photographs by: Jay Kauffman
"Rock'N Roll and beer go together...Award-winning Firestone Walker Fine Ale was poured for the guests and one of the sponsors, Ultrasone gave a pair of their brand new iCans in a drawing held afterwards. The winner will be announced in studioexpresso May Ezine.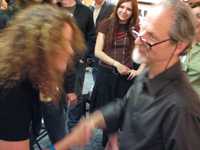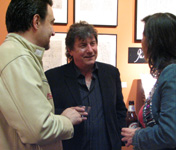 l-r: Kramer with guests Stewart, artists MarinaV (background), Alfonso Rodenas, mixer/engineer/producer, Ken Allardyce and Victoria Scott.
photographs by: Jay Kauffman
"The photographs are transparent and honest. Kramer has managed to break the thick glass in the control room that separates the artist from technicians or has made the camera lense disappear all together. This is what great producers do when they capture a magical performance in the studio. They make the artist be themselves. Eddie's photographs are work of an insider or a good producer," says Dodge.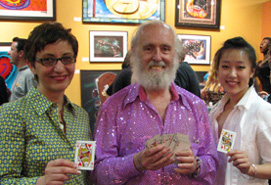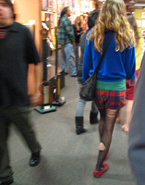 Queens of Heart with master magician Paul "FIG" Fegen
photographs by: Jay Kauffman
"Many of the photographs in the Kramer exhibit go far beyond single-image compositions, although they can be ordered in a variety of sizes and combinations. Instead, Kramer engages the audience with storyboard vignettes comprised of four to ten or more images thoughtfully placed in three-to-seven-foot wide photographic montages," says Shelley Meyer of WAM.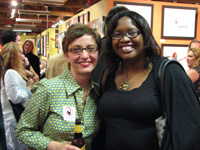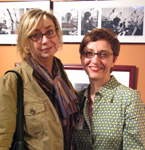 l-r: Sahirah Uqdah of SU Entertainment and Maureen Droney, The Recording Academy Executive Director,
Producers & Engineers Wing photograph by: Jay Kauffman

The resulting storyboards provide multi-faceted, candid glimpses of rock legends like Jimi Hendrix between takes of songs for Electric Ladyland, and Led Zeppelin laying down tracks for Houses Of The Holy at Mick Jagger's English country estate, Stargroves, in August 1972. All photos are done in Limited Editions of only 45 or 200 and are available by
custom special order.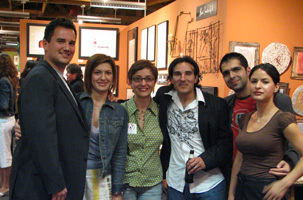 Attorney Pauliana Najaria with friend musicians and photographer, PatrickN
photograph by: Jay Kauffman

The event drew the growing ranks of independent music professionals and business operators such as artists, managers, studios, producers and music and film executives.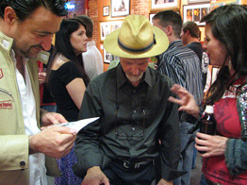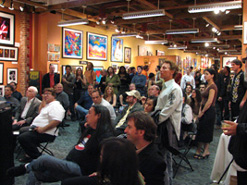 Eddie Kramer with attendees at Wild About Music
photographs by: Jay Kauffman
"It was a great event and Claris had the perfect guest list to make it hopping and feel right," says Wild About Music's Shelley Meyer.

Eddie Kramer is best known for his innovative Rock production contributions over the past 30 years. In 2002, he won a Grammy for his work with Carlos Santana and Michelle Branch on the single, "The Game of Love." More recently he was featured on an episode of "Queer Eye for the Straight Guy," in which he gives a framed limited edition print of Jimi Hendrix to the episodes "Straight Guy." Eddie is scheduled to work with a new Capitol artist in June. "We have more photo exhibits lined up this year which will take me to Eruope (Rotundum, Holland), Middle East (Dubai) and Tokeo, Japan," says Kramer.

Interested collectors, please visit Wild About Music Gallery or direct inquiries about the photographs to Shelley Meyer (310) 899-3114



l-r: Jimmy Page and Robert Plant Recording At Stargroves, 1972; Keith Richards rehearsing on a National Steel Dobro backstage at Madison Square Garden, NYC, 1969; Jimi Hendrix at Olympic Studios, London, 1967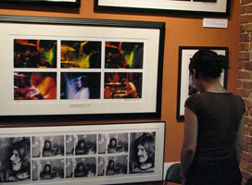 photographs by: Jay Kauffman
Sponsors of expresso@ with Eddie Kramer were: Budda Amplification - www.budda.com; ESP Guitar - www.espguitars.com; Harman (http://harman.com); Las Vegas Pro Audio - http://lasvegasproaudio.com; ROYER Labs - www.royerlabs.com Ultrasone - www.ultrasoneusa.com and Firestone Walker Fine Ales