For Immediate Release: January 2014

studioexpresso & Trans Audio Group Present Two Music Panels
Studio 2 Stage: Tips From The Top

Friday January 24, 2014
At Hot Zone, NAMM, Anaheim

Read Matt Forger Review Of 2013 Session

Meet & Hear Award-Winning Mixers and Music Directors


Hosted by studioexpresso and Trans Audio Group, this forum will bring together the brains behind artists like
Lady Gaga, Prince, Usher, Elton John, Maroon5, Neil Young, Alejandro Sanz and Led Zeppelin!
A special Trans Audio Group high-end audio playback system with ATC speakers will be used to demonstrate recent or timeless recordings by our panelists.
Co-Moderators: Brad Lunde & Claris Sayadian-Dodge of studioexpresso l C Artist Management

Room 203 A-B
Prior to The 29th Annual TEC Awards held the same evening at 7 pm

Panel -I- Studio Engineering & Mixing Panel
Click on artist names below for bios
3:00 - 4:30 pm

Ah, the sound of a great Mix! It's truly a sonic art. A big part of the hit record sound you hear is in the mixing. Meet four top mixers who will share their secrets and offer studio tips, tricks and techniques. What's role of a good assistant in mixing? How to hire one of these guys, How to listen more critically, what gear to use and more...

Eddie Kramer (Jimmy Hendrix, Anthrax, Kiss)
F pedal
Jimi Mix
EK Archives

Niko Bolas (Neil Young, The Mavericks, LeAnn Rimes)
Path 2 Assisting
Neil Young

Rafa Sardina (Alejandro Sanz, Placido Domingo, Lady Gaga)
Plácido Domingo & Zaz - La Chanson des Vieux Amants
Calle 13 - Multi_Viral (Lyric Video)

Matt Wallace (Pepper, Maroon 5, Faith No More)
Tommy & The High Pilots
No Fixing!
She Will b Loved - Maroon5


Panel -II- Music for TV and Film - MD's In The House!
Click on artist names below for bios
4:30 - 6:00 pm

From sweetening sessions to TV and tours, Music Directors make the music world go around - hiring musicians, arranging, orchestrating, playing, to conducting - in the studio, on the set or on the road. Meet them and learn how to play in their world.
Hear credited and award-winning music guests share their take on today's music production trends and offer helpful hints to stay on top of your game and grow your business.

Christina Abaroa (Enrique Iglesias, Celine Dion, Christina Abaroa)
Pintor De Ilusiones - Cristina Abaroa Band Studio Sessions
Barbara Padilla epk

Cheche Alara (Latin Grammy Awards, The Jimmy Kimmel Show, Christina Aguilera)
Bonnie Hunt TV
Estopa

Kim Bullard (Elton John, CS&N, Avril Lavigne, Kelly Clarkson)
EJ Croc Rock Rio
EJ Rocket Man
Brady Lefler (Hot Chelle Rae, supporting Justin Bieber)
Hot Chelle Rae - Hung Up
Hot Chelle Rae - Downtown Girl

Brent Fischer (Jimmy Fallon, Elvis Costello & The Roots, Usher, Michael Jackson)
Elvis Costello & The Roots - Fallon show 9.13
EC Roots Brent Fischer Orchestra
Grammy winner Ritmo!


Path to Music Directing or Mixing?
Tour or TV show Preparation - What does it take?
How masters approach a mix? Sound architects, Communication, Formats
Studio gear you can't do without?
Listen to playback of timeless recordings and ask questions!
Key to career longevity


Brad Lunde founded TransAudio Group, the premier distributor of high-end recording gear to the US and Worldwide. TransAudio helps the industry's inventors build a business through product development working with top level end users and selling to the trade. TransAudio product lines include the best of the best: A-Designs (USA), ATC Loudspeakers (UK), Bock Audio (USA), Chameleon Labs (USA), Geoffrey Daking & Co (USA) Drawmer (UK), George Massenburg Labs (GML USA), SoundField Microphones (UK) and Tube-Tech (Denmark) to name a few



Claris Sayadian-Dodge founded studioexpresso.com in 2000, a production resource for developing artists. Dodge is the publisher and chief editor of studioexpresso's monthly eZine for the recording industry and looks after an Award-winning roster of producers with the affiliated C Artist Management. Past positions include: Management III, PMK, Rogers & Cowan Public Relations, Ocean Way studios, Prairie Sun Recording and studio bau:ton.
Claris supports Grammy's MusiCare and sits on the board of a Film Foundation dedicated to documentaries on human rights. She has a BA degree in business and continues to create professional networking events to raise awareness and funds for art and music education programs and worthy causes.

# # #
Past Events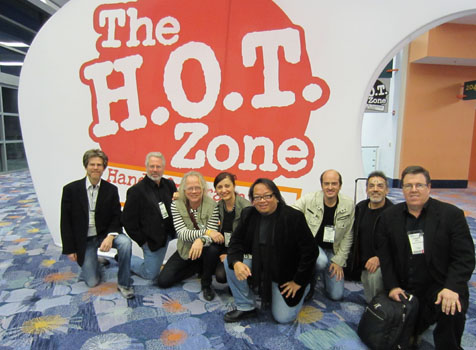 studioexrpesso at HotZone 2012: l-r: Brent Fischer, Jay Kaufman of Kaufman & Associates, Greg Penny,
Claris Sayadian-Dodge, president studioexpresso.com, Curt Bisquera, Rafa Sardina, Peter Schwartz, Brad Lunde, president TransAudio Group.
studioexpresso Hot Zone at NAMM 2013
studioexpresso at Mix Open Golf Tournee
Monday, June 25, 2012
studioexpresso Presents The Art Of Producing Masters
A Panel of audio professionals discuss label-friendly production trends at NAMM "Hot Zone" 2012

studioexpresso Presents Rock, Record and Roll!
A Panel of audio professionals discuss label-friendly production trends at NAMM "Hot Zone" 2011

Studioexpresso Hosts Audio Underground 007
Presented by Trans Audio Group & studioexpresso

Studioexpresso Connects With Young Musicians
Presented By The Learning Annex & studioexpresso
An Artful Experience
Expresso@8 With Eddie Kramer Draws An Experienced Music Crowd

studioexpresso & Music Business Chops
studioexpresso hosts Demo Eval Sessions During MBC 2004


Sign me up for news on upcoming events here!