Latin Jazz On The Green
Free concert at LACMA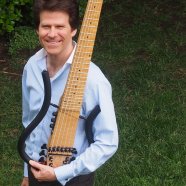 Sat Aug 29, 5-7pm
Brent Fischer + The Clare Fischer Latin Jazz Group
featuring: Luis Conte and more...
studioexpresso listed as Media Sponsor at
2015 Music Industry Golf Tournament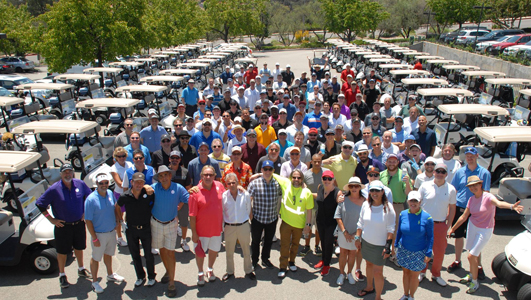 studioexpresso & Trans Audio Group Present
Award-Winning Producers Share Production Tips At HotZone, NAMM
Anaheim convention center
Saturday, Jan 24 (Prior to Tec Awards) 1pm and 3pm
Two Sessions Moderated by:
Brad Lunde and Claris Sayadian-Dodge
Read Matt Forger Review Of 2013 Sessions at HotZone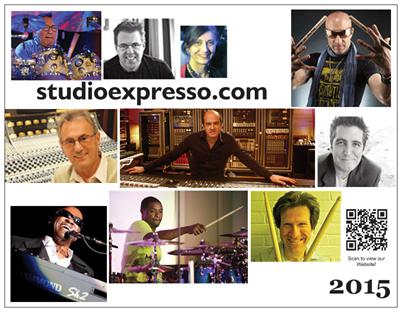 1:00 - 1:50
Production - Studio and Stage, to TV and Film
Room: Tech Lab (202-B)

It's 2015. Time to brush up your production skills and meet award-winning artists who are here to share their secrets to success in the studio, on stage or on the film/TV set. studioexpresso and TransAudio Group host this session where Grammy-winning producers and engineers discuss the trends and emerging opportunities for developing musical programming in a world of limitless release formats.

click on artist links for bios
Cheche Alara (Latin Grammys, Jimmy Kimmel Show)
Bonnie Hunt band w/ Alara and Nate Morton

Teddy Campbell (American Idol, Tonight Show w/Jay Leno)
Tonight Show Band Rehearsal
Jay Leno Show: Rickey Minor and Band Members Remember Whitney
American Idol with Blake Lewis

Ellis Hall (Ray Charles, Boston Pops, Tower of Power)
Who is Hall?!
Hammond Artist Hall - Hammond interview w/ Emiko
Symphony Hall

Brent Fischer (Usher, Elvis Costello & The Roots, Michael Jackson)
Elvis Costello and The Roots with The Brent Fischer Orchestra on Jimmy Kimmel
Son of A Dad with Teddy Campbell at Conway
Fischer Big Band in Recife "Morning"


3:00 - 3:50
Getting A Killer Drum Sound
Room: The Forum (203-A&B)

Yes, it's as cool as it sounds. studioexpresso and TransAudio Group present this session bringing together some of the world's top drummers and engineer/producers, sharing their technique on getting that big bad drum sound.

click on artist links for bios
Alex Acuna (LA Phil, Lee Ritenour, Beck)
Drumworld solo
'94 Heineken Jazzfest
Clare Fischer ¡Ritmo!

Kenny Aronoff (Smashing Pumpkins, Mick Jagger, John Mellencamp)
Sting - Kennedy Center Honors...Dec 2014 (Lady Gaga, Bruno Mars, Bruce Springsteen..
Game Changing Moments
Smashing Pumpkins Live on Letterman

Rafa Sardina (Placido Domingo, Lady Gaga, Calle13)
Sardina: MOMENTUM presented by Sennheizer
Sardina at After Hours presented by SSL

Al Schmitt (Diana Krall, Paul McCartney, Jefferson Airplane)
Sir Paul McCartney at Capitol w/ Krall & Tommy LiPuma, Al Schmitt
Schmitt at Mix Masters
Schmitt - 2006 Grammy Trustees Lifetime Achievement Award
More...stick around for TECnology Hall of Fame presentations - only 10 minutes after this session in the same room!


How to get a killer drum sound?
What's in your pre-production bag?
How and when to hire an engineer/mixer?
How and when to hire an arranger?
Learn about gear the pros use on stage, in the studio or on the TV/film set
Release formats and which one is the right one for you?
Production do's and don'ts
Listen to playback of timeless recordings and ask questions!
The 30th Annual TEC Awards will be held the same evening at 7 following these panels
Claris Sayadian-Dodge founded studioexpresso.com in 2000, a production resource for developing artists. Dodge is the publisher and chief editor of studioexpresso's monthly eZine for the recording industry and looks after an Award-winning roster of producers with the affiliated C Artist Management. Past positions include: Management III, PMK, Rogers & Cowan Public Relations, Ocean Way studios, Prairie Sun Recording and studio bau:ton.
Claris supports Grammy's MusiCare and sits on the board of a Film Foundation dedicated to documentaries on human rights. She has a BA degree in business and continues to create professional networking events to raise awareness and funds for art and music education programs and worthy causes.


# # #
Past Events
studioexpresso HotZone at NAMM 2014
studioexpresso Hot Zone at NAMM 2013
studioexpresso at Mix Open Golf Tournee
Monday, June 25, 2012
studioexpresso Presents The Art Of Producing Masters
A Panel of audio professionals discuss label-friendly production trends at NAMM "Hot Zone" 2012

studioexpresso Presents Rock, Record and Roll!
A Panel of audio professionals discuss label-friendly production trends at NAMM "Hot Zone" 2011

Studioexpresso Hosts Audio Underground 007
Presented by Trans Audio Group & studioexpresso

Studioexpresso Connects With Young Musicians
Presented By The Learning Annex & studioexpresso
An Artful Experience
Expresso@8 With Eddie Kramer Draws An Experienced Music Crowd

studioexpresso & Music Business Chops
studioexpresso hosts Demo Eval Sessions During MBC 2004

Sign me up for news on upcoming events here!