Brian Wilson
Gettin' In Over My Head
Rhino Records




It's no exaggeration to call Beach Boys' Brian Wilson one of the most influential pop composers of the last 50 years. Wilson who got inducted in the Hollywood Bowl Hall of Fame on June 25th '04, returns with first New Studio Album in Six Years. "Gettin' In Over My Head" on Rhino Records is engineered and mixed by long-time collaborator Mark Linett and is being met with glowing reviews from critics and fans worldwide.
Mr Bill Clinton was not the only one making book (My Life) signing appearances this last week in Los Angeles - Mr Wilson dropped in Tower Records in Sherman Oaks on Saturday to sign his brand-new CD. Next CD signing is in London (HMV, 150 Oxford Street) on Thursday, July 29th at 6.00pm. Yup, he even autographed a studioexpresso coaster. Good vibrations!!!
Wilson who was the subject of a cover story in the new Ice Magazine ( Mark Linett, Van Dyke Park, Andy Paley, and David Leaf are featured in the article) will be touring with his band throughout the United States this summer and fall. He'll be performing the music of SMiLE (Nonesuch Records), as well as selections from his brand-new album.

Talking Heads
Once In A Lifetime
Rhino Records



Also available from Rhino, retailing at $64.98 is the boxed set of Talking Heads with 50 tracks on 3 CDs; this unique set features hits as well as previously unreleased rarities, outtakes, and more. Designed by Stefan Sagmeister, the Talking Heads' boxed set got points for the extraordinary quality of the cover art. the images -- scaled-down versions of enormous canvases by Russian muralists Alexander Vinogradov and Vladimir Dubosarsky - have a lightstruck, Garden of Eden quality, but with a touch of the macabre (bleeding body parts). Rhino's sales dept wanted the set to fit in standard six-inch CD bins. The designer complied by creating an extra-wide case that slips into bins - on its side.
Ozomatli
Street Signs
Concord Records
6.22.04

Ozomatli, Gen-Y's Los Lobos, drops their long-anticipated album Street Signs on Concord Records. Well worth the wait. This disc finds this LA-based band in full party mode, mixing the hottest elements of hip-hop, funk, Latin, rock and beyond. On the traces of Middle Eastern influences on the album, the band says: "Naturally, especially in a warlike state, there's a certain level of dehumanization going on with whoever is the enemy, and in a lot of ways I think that by representing this sound, we're lending out support to all the people who obviously have nothing to do with what's been going on and all the beauty that's come from that region of the world." Ozo, Kinky and Plastilina Mosh will hit the country starting Aug 4 in Los Angeles. Tour schedule here.

PJ Harvey
Uh Huh Her
Island Records
May 04


Written, performed and produced by PJ Harvey, 'You Come Through' is the second single to be taken from Harvey's new album 'Uh Huh Her' which entered the charts at #12 this week. The album was also recorded and mixed by Harvey, who chose Head to assist in additional recording and mixing and Rob Ellis, long time collaborator, to play drums and percussion on the album. Multi-instrumentalist, Harvey, played everything else.
Live dates also include Glastonbury Festival on Friday 25th June, a headline slot at T in the Park, a European festival tour and a trio of sold-out solo shows in London: Somerset House on 13th and 14th July, and Brixton Academy on 15th July.
The Killers
Hot Fuss
Island Rcords


The new buzz band from sin city (Las Vegas) released their debut on Island this month. This album is very reminiscent of 80's new wave sound influenced by New Order, Smiths & Duran Duran. The band came to the attention of London-based independent label Lizard King, and they made their way over to the UK for their first ever gigs outside of Las Vegas and a limited edition release of "Mr Brightside" in September 2003. Right now few bands are a safer bet than The Killers", glowed NME), while the group's subsequent appearance at New York industry fiesta CMJ in October saw a swarm-sized buzz surround the band and a worldwide (ex-UK) deal inked with Island Records.
Jersey
Generation Genocide
EMI


Based in Burlington, Ontario Jersey is proper punk in the tradition of the Clash, Rancid and Bad Religion infused with elements of U2 and even a little Tie Domi. All four members are proudly working-class guys who took day jobs in places like steel plants, warehouses and hockey arenas to finance the band. Since they formed in 1996, Jersey's DIY work ethic has seen them cover tens of thousands of miles through Canada, the US and the UK, including four tours of duty with the Warped Tour and road trips with punk warriors like Less Than Jake. Now after a series of singles, two indi EPs and two independent albums, Jersey makes their major label debut with Generation Genocide.
Tiësto
Just Be
Nettwerk



Now out in stores is the latest artist album by the #1 DJ in the world, Tiesto, titled "Just Be". The album features the smash single, "Love Comes Again" featuring fellow Nettwerk artist, BT. Tiesto will be touring in support of his new album throughout North America this summer.
So far release parties are scheduled for Germany, Sweden, the Netherlands, the UK, North America and Spain.
Miriam Makeba
Reflections
HeadsUp - 6.22.04


Miriam Makeba's Reflections, released in time to celebrate the historic ten-year anniversary of the end of apartheid, is the latest installment in the Heads Up Africa series. The first release in four years from legendary South African musical treasure and Grammy Award winner Miriam Makeba, a pioneer who blended different styles long before anyone even began to talk about "world music." Listen to her "Mas Que Nada" and tell us if you can stop dancing!

Congrats to Telarc and Heads Up who scored three awards at the annual JazzWeek Awards held Saturday, June 5, at the Crowne Plaza Hotel in Rochester, N.Y.
* Michel Camilo: Artist of the Year
* Word of Mouth Revisited (Jaco Pastorius Big Band): Record of the Year
* Telarc Records: Label of the Year

Finn Bros
Everyone Is Here
Netwerk
8.24.04



Neil and Tim Finn, The Finn Brothers, are set to release their first collaborative studio album in eight years, Everyone Is Here, on Aug. 24th.
Recorded in Los Angeles, the title reflects not only the musical reunion of the former Crowded House and Split Enz front men (Neil and Tim respectively) but also the involvement of both former and current musical cohorts. On the production side they recruited Adam Kasper to record (Foo Fighters, Queens of the Stone Age) with string arrangements by Tony Visconti (David Bowie, T. Rex, Mercury Rev), then the brothers went one step further and brought in some familiar faces, producer Mitchell Froom (Elvis Costello, Phantom Planet) and mixer Bob Clearmountain (The Rolling Stones, David Bowie, The Cure), both of whom many will remember as the production team behind Crowded House's catalogue. This marks the first time The Finn Brothers have been in a studio with Froom and Clearmountain since Crowded House's critically lauded album, Woodface. As Tim said, what would the Finns be without their live shows and to that end they will set off on a July run to give North American audiences the first listen to the new songs.



Maverick Moves


In an agreement announced late this month, Warner Music said it would buy Madonna and her partners Guy Oseary and Ronnie Dashev (Maverick's COO), out of their share of the label. Madonna, Oseary and Dashev controlled 60 percent, while Warners owned the remaining 40 percent. Madonna will have no role in the company, while Oseary will keep his share and stay with Maverick as CEO and A&R chief.

This will end the legal battle that pitted the music conglomerate against their biggest star, Madonna who co-founded Maverick Records 12 years ago. The deal does not affect Madonna's own recording contract with the Warner Bros. record label, which is a part of Warner Music and has been her home since 1984. She's sold more than 60 million records with the label.

"It was an effective way of settling the lawsuit. It's clean and equitable, and it doesn't have anything to do with her record contract." said lawyer Bert Fields, who represented Maverick.

"This new joint venture agreement is clearly a win-win for both WMG and Maverick, and we are pleased that Guy Oseary, one of the most successful A&R executives in the industry, is continuing his relationship with both companies," said Lyor Cohen, Warner Music's chairman.

Oseary expressed optimism about his new arrangement with Warner Music. "The new independent spirit at Warner Music is a perfect fit for a stand-alone label like Maverick," he said. A representative for Madonna did not comment.

Rumors have it that Maverick turned down Warner earlier buyout offer of 80 Million only to settle for less than 20 Mill -- not good for the material girl living in a material world; But, Madonna's currently living the "American Life" with her sold-out Re-Invention Tour ($300 for a top-tier face-value ticket in San Jose). Madonna's 2001 tour sold out 47 venues and grossed $75 million. The CD debuted at number one with lackluster sales of 700,000 copies in the United States, according to Nielsen SoundScan data. From the lady who invented re-invention...stay tuned for more!



Wrap Your Music!
Commercial P2P Service to Promote and Distribute Indie Music





Wraptor -- a new peer-to-peer offering from several of the original developers of Morpheus -- plans to sell Indie Music during its Summer 2004 launch.
www.wraptor.com combines the power and efficiency of p2p technology with the security of digital rights management to bring the consumer the best of both worlds. The MediaForge™ WRAP is a Comdex award-winning media application that supersedes traditional audio-only files such as MP3, WMA and AAC. WRAPS deliver not only higher quality compressed audio, but as well offers added features such as lyrics, tour dates, album artwork, biographies, discographies and artist photos.
WRAPs also fully supports the latest in digital rights management, allowing content owners to set usage and playback rules.
Users of WRAPTOR™ will use a powerful search engine to download secure, encrypted WRAPS to their computer's hard drive. Each WRAP will include a license which allows the user to listen to the song in its entirety an unlimited number of times until the license expires, at which time the user is prompted to "unlock" the file using funds in their WRAPTOR™ account. No reloading is required. The user simply purchases the file, and a high-quality MP3 is extracted from the WRAP. Each purchased MP3 will be stamped with a digital watermark and unique customer ID number upon extraction, allowing the customer to redownload the file for free should it be lost or damaged after the purchase.
Wraptor's parent company, Free Radical Networks (FRN) has inked a content distribution deal with Unborn Media (UM), developer of an Indie Music site called Purevolume. Under the agreement, PureVolume will offer the WraptorLAB and Wraptor solution to its more than 15,000 featured bands.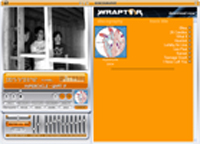 "By providing an attractive solution for online retail environments offering legal downloads, Wraptor has positioned itself to be the leading community for online consumers looking to purchase legitimate indie music," said FRN president and CEO Benjamin Osgood. "Striking a deal with PureVolume was a natural fit because of our shared commitment to supporting indie artists. Like Wraptor, PureVolume is truly an artist-friendly company."


"We at PureVolume have explored several options for making online digital music sales available for indie artists. Nothing came close to the affordability and robustness of Wraptor; we're very excited to be offering this tremendous resource," remarked Unborn Media president and CEO Brett Woitunski. Wraptor and PureVolume have teamed up to release the official 2004 Vans Warped Tour unsigned music compilation, which will be distributed on this year's tour.

Mix Open Tea Off with Friends!
A beautiful day at Malibu Country Club
Keep the Mix Open Golf Tournee on your callendar next year!
Pictures worth a thousand words.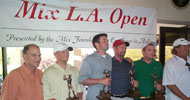 The winners, Chairman Cherney with Rose, The "Was" Cart








Zen moments, Hilltop are Paula (Capitol), Hillel, Maureen Droney and our fearless cart racer/guide, A Green Pose, The trophy, The Mix Women








Hillel Resner with Eddy, the World Link Digital Party, The Studio Management Party with David Schwartz in the background, Madam Dunn offering the goods!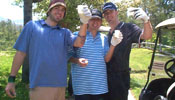 studioexpresso's Claris swanked by mixer Ralph Sutton (R) and drummer Greg Fields (L), the Cello Cheer!
Rowe, AMI and The Harry Fox Agency to License Digital Jukeboxes
Under a recent agreement, Harry fox Agency will provide licensing for songs from its affiliated music publishers for Rowe AMI's secure digital jukebox network (AMI Entertainment Inc.). HFA represents more than 27,000 music publisher principals.
"We are pleased to be able to extend to our affiliated publishers this agreement with Rowe AMI," said Gary Churgin, President and CEO, The Harry Fox Agency. "Rowe, AMI and HFA go back to the days of the player piano, and this relationship is another example of how companies can transition their businesses to take advantage of the new opportunities that digital delivery brings."
The Rowe AMI network will be launched with an all digital jukebox, which is essentially a special-purpose PC with a touch-screen color LCD or CRT monitor and a moderately sized 40, 80 GB hard drive. The all-digital model allows patrons to search for songs by title, artist, album or genre using graphical search and navigation tools. It will use a broadband connection for both Music on Demand requests as well as for remote Internet-based management of its resident inventory of encrypted MP3 song files stored on the jukebox's internal hard drive. All song play events are tracked by the central music servers.

Tec Awards 2004
Nominations Annouced!
20th Anniversay promises a spectacular show During 117th AES Convention, San Francisco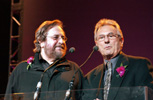 Mixing engineer Jack Joseph Puig accepts theTEC Award for Record Production/Single or Track for his work on Sheryl Crow's "Soak Up The Sun"; Presenters and Hall of Fame members Phil Ramone (l) and Al Schmitt; 2003 Hall Of Famer Eddie Kramer

On Saturday, October 30, the TEC Awards will celebrate its 20th anniversary honoring the achievements of technical professionals in recording and sound, and the innovative products that they employ in their work. The ceremony will be held in San Francisco on the third night of the 117th AES Convention.
Congratulations to all the nominees announced this month!
TEC Awards Technical Achievement Nominees for 2004
TEC Awards Creative Achievement Nominees for 2004
The Mix Foundation is planning a spectacular show that will draw many of the biggest names in music production from around the world. In addition, Mix magazine is publishing a 20th Anniversary TEC Awards Special Edition with an exciting Web component.

"There is an impressive array of talent and ingenuity involved in producing the music that surrounds us and the tools employed to create and deliver it," says Mix Foundation president, Hillel Resner. "Each of the 2004 TEC Awards nominees are true stand-outs, and we're privileged to have the opportunity to recognize their contributions."
The Mix Foundation contributed $42,000 to hearing conservation and audio scholarships in 2003. Two students awarded were: April Cech is in her second year of the Master's program in Sound Recording at McGill University in Montreal, Canada and Laurie Covarrubias is studying Sound Engineering/Recording at the Los Angeles Recording Workshop. To be eligible and apply for 2004 scholarship, you must currently be enrolled in an audio program full-time and have a grade point average of 3.5. Download the apllication here.
For sponsorship and ticket information, contact Executive Director Karen Dunn at (925) 939-6149 or email Karen Dunn. Mark your calendars early...and look for updates in the coming studioexpresso announcements.



Los Angeles Film Festival Music Highlights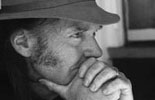 10th annual Los Angeles Film Festival painted the twon red with Opening and Closing Night Galas earlier this month June 17-26. A total of 195 films, including 83 features representing 31 countries, screened at the Festival. This year the Festival received more than 2,800 submissions from filmmakers around the world. On June 22nd 2004 Los Angeles Film Festival's Artist in Residence, the legendary Neil Young was on hand for for an intimate conversations discussing his cinematic and musical influences. Featured both Classic and new films with music topics included:

Yellow Submarine
Directed by: George Dunning



A psychedelic, pop-art extravaganza of animations and music, Yellow Submarine is a tripped-out animated classic about how the Beatles save the world, or rather, Pepperland, armed with wit, whimsy, and, or course, some of the finest pop songs ever written.
Dig!
Directed by: Ondi Timoner



Seven years in the making, this portrait of two rock bands — the Dandy Warhols and the Brian Jonestown Massacre — offers up a heady brew of mad musical geniuses, triumphant world tours, disingenuous death threats, disastrous gigs, and elusive record contracts.
Metalica Some Kind Of Monster
Directed by: Joe Berlinger and Bruce Sinofsky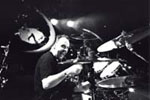 A moving and hilarious documentary that you don't need to love the music to enjoy, the latest film from the directors of Paradise Lost and Brother's Keeper follows the world's most successful heavy metal band through midlife crisis, group therapy, and the creation of a new album.

The Last of the First
Directed by: Anja Baron



Featuring the hardworking Harlem Blues and Jazz Band, whose legendary members include Fats Waller's guitarist, Louie Armstrong's pianist, and Frank Sinatra's drummer, this captivating documentary is a reverent and emotional look at jazz's living history.

"With each year we have become a more important platform for filmmakers to showcase their work," said Festival Director Rich Raddon. "Films selling out of the Festival and the large cash prizes of $50,000 and $25,000 make us one of the few festivals in the country that can deliver in a major way for filmmakers." Watch Previews here!
Summer Is Here With Great Live Music

Old is new again with legendary bands on the road...Van Halen, Earth Wind And Fire, Talking Heads' David Byrne, Chaka Khan and yes Rufus!
Tell Me Something Good
Rufus Hitting the Road With The Great American Talent Contest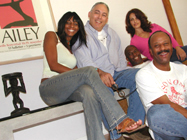 RUFUS featuring originals Andre Fischer, Bobby Watson, with Niki Haris (Madonna), Ray Parker Jr. (Raydio, Ghostbusters, Stevie), Kandace Lindsey (Marc Anthony), Lee Curreri (Fame), Fred Jenkins (Gap Band), Bill Cantos (Phil Collins) will play:
July 9th at BB Kings Live at Universal Citywalk, Los Angeles (9 p.m. and 11 p.m.)
July 23 Santa Cruz Boardwalk (6:30 p.m. and 8:30 p.m.).

RUFUS, one of the famous pop and R&B super groups with lead singer Chaka Khan that toured with George Clinton and the Funkadelic, Stevie Wonder, The Rolling Stones, Elton John, Labelle, Sly and the Family Stone, Earth, Wind and Fire and others, has launched "The Great American Talent Search."
RUFUS seeks vocalists, from this nationwide talent search, to continue their musical legacy of original Neo Soul, bridging their brand of old school with hip-hop, jazz, pop, and funky rock songs.
Two winners will be selected to record a single, participate on the national tour, win a 2004 Scion and other cool prices.
Will the winner have the vocal chops, style, and talent to be the next Chaka Khan? "We're not looking for Chaka Khan clones; no one can replace what Chaka contributed to the band," say original founding group members Andre Fischer and Bobby Watson, "We're looking for exceptional vocal talent that will blend effortlessly with the sound and legacy of RUFUS."
RUFUS has won two Grammy Awards for Tell Me Something Good and Ain't Nobody, multiple RIAA certified platinum and gold albums, and generated record sales of 25 million+ units.
Contest Rules and to book the band - details Here

Circutbreakers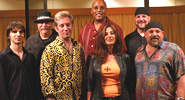 Your taste is Classic Rock and Blues? Then call the Circutbreakers! Based out of Los Angeles, this high-energy seven-piece band with Horn Section, features some of LA's finest studio players, songwriters, producers and recording artists. The Band members have played with the best of the best, and are now available for your event, or venue. This band has played all over the world, and will definitely rock the house. "Our goal is to play great music with great players so that everyone can have a great time! Simple as that!," says John March. The band: Tamara Champlin - Vox; Steve Ferrone - Drums; Milen kirov - Kbds; Steve Madaio - Trumpet; John March - Guitar; Tom Saviano - Saxes; Tim Scott - Bass and Vocals
http://www.thecircuitbreakers.com or listen to Mp3's here!
Acoustic Live Battle Of The Bands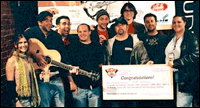 TLAMS Entertainment Services is now taking submissions for the Third Annual Acoustic Live talent series, an "acoustic" battle of the bands / songwriting competition, presented by the LAmusicScene.com. 42 artists will be chosen by a submission panel of industry professionals to take part in the Acoustic Live competition. Industry professional judges will advance artists to the final Acoustic Live showcase, for a chance to win great prizes provided by Acoustic Live sponsors. Submissions are being accepted now through August 1st. Artists are encouraged to review official rules before submitting. Acoustic Live is open to all genres of music, artists and bands alike; submissions do not need to be acoustic. Submissions are $15 dollars and will be accepted via acousticlive.net and Sonicbids. For more info email: acousticlive@hotmail.com


Extras!
Motion Soundtrack Video Vancouver July 18th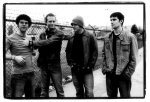 Local Vancouver music fans who would like to be part of Motion Soundtrack's video shoot should drop by downtown Vancouver by the CBC Studios (located at 700 Hamilton Street) on Sunday, July 18th to be an extra in the video for the Nettwerk Management act, Motion Soundtrack. Their new cd, The Bridge will be released nationally on July 6, 2004 on Cazart! Records and MapleMusic.
Extras will need to arrive promptly at 12pm, remain on location between approximately 12pm and 5pm, and should bring their own lunch or lunch money. Extras should also dress as if they were planning on attending a concert. For more information, e-mail or phone 604-461-5466.
Audio Adrenaline On BMI Award
Christian Music Awards in Nashville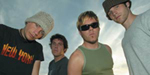 EMI CMG's Audio Adrenaline members Mark Stuart, Will McGinniss and Bob Herdman, each received two BMI Christian Music Awards, sharing the top Songwriter of the Year title with Steven Curtis Chapman.
The band is recognized for their CHR hits "Ocean Floor," and "Pierced," from their critically acclaimed ForeFront albums, Lift, and the GRAMMY-winning Worldwide, respectively.
Other BMI award-winning songwriter/artists who contributed to the most-performed list were Rebecca St. James, Jars of Clay, Vickie Winans, Donnie McClurkin, John P. Kee, 12 Stones, Relient K, Big Dismal, Gerald Crabb, Marc Byrd, Dorinda Clark Cole, Richard Smallwood and Greater Vision. A complete list of 2004 BMI Christian Music Awards winners can be found at BMI.com.
New Classic Line of Telefunken Mics Shipping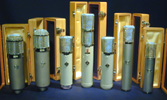 L-R: U 47M (Short Body); U 47M (Long Body); Ela M251 (with AC701K Tube) Limited Edition
Ela M270 (Stereo Mic); Ela M251(E) (with 6072A tube) - 2003 TEC Award Winner, Studio Microphone Technology; Ela M12 -- 2004 TEC Award nominee, Studio Microphone Technology; Ela M14 - The first in a new line of affordably priced studio microphones.

Telefunken North America has completed its initial line-up of new microphones which faithfully recreate the legendary vintage Telefunken sound. Detailed reverse engineering has produced not imitations, but meticulous reissues of the classic Telefunken microphones, featuring precious new old-stock vacuum tubes. Telefunken vintage reissue microphone systems include wooden mic box, flight case, external power supply, swivel connector cable, owner's manual, and 5-year limited warranty. Prices range from $2,995 to $14,995. Call 860.882.5919 or visit the Web site.

Big Star Reunites At Ardent in Memphis


L-R: Jeff Powell and band members Jon Auer, Jody Stephens, and Ken Stringfellow

Big Star, which had all three of their albums included in Rolling Stone's recent 500 Greatest Albums of all time, has reunited at Memphis' renowned Ardent Studios. Recognized as the quintessential American power pop band, Big Star stands today as one of the most daring and revered cult acts in all of rock & roll, with bands such as R.E.M and The Replacements citing them as an influence. Big Star's last studio album, Sister Lover's/Third, was completed 30 years ago, but not released until 1978. Big Star was also honored this year with the first annual Heroes Award presented by the Memphis Chapter of the Recording Academy. The band co-produced the new Rykodisc album with Jeff Powell (of Afghan Whigs fame), who also engineered with assistant Adam Hill. Pictured are
Heaven Sent
Palisade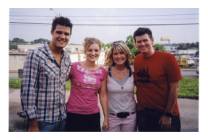 Pictured (l-r) at the Nashville Sounds ballpark are: Jeremy Noel and Ashley Jett, Palisade; Natalie Grant, Curb Records Recording artist; and Brandon Peffer, Palisade.
Clint McElroy, WTCR Radio (Cattlesburg, KY) Program Director, says, "I look to the skies and plead, 'Send me something fresh, and exciting, and ramped-up about you'…and the next thing you know, the new Palisade single hits my desk. Amazing."

The radio tour took them through such major markets as Chicago, Indianapolis and Grand Rapids in support of their self-titled, Fervent Records debut releasing July 20. The new Modern Pop Group performed for 2,000 at Nashville Sounds Game. Congrats!

Kutch on Mastering
API 2500's offer tone, color and more...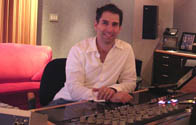 Dave Kutch, mastering engineer at Masterdisk in midtown Manhattan

With Pro Tools becoming an increasingly common production medium, mastering engineer Dave Kutch reveals that he has found himself equalizing significantly more in the analog domain over the last couple of years, rather than he did five years ago, when he was equalizing 50 percent in the digital domain. The API 2500 fits that paradigm perfectly, says Kutch, who expresses dissatisfaction with the inability of many compressors to pass transients. "It gives me a little bit of tone, a little bit of color and, most importantly, it's preserving my bass and kick transients better than any other compressor that I've used."

Previously with Herb Power's House of Sound and Hit Factory Mastering prior to that, Kutch has mastered some of Hip-Hop and R&B's top artists, including Notorious B.I.G., Puff Daddy, Kanye West, Outkast, Pete Rock, Missy Elliot, Lauryn Hill, Jaheim, Whitney Houston and Nelly & the St. Lunatics. Having mastered Outkast's "Stankonia" album, Kutch was among the first group of mastering engineers to be recognized by the Recording Academy when the
Grammy Award categories were expanded in 2002.
For more info contact: audiotoys.com

Masters in Arms At Avatar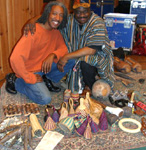 L-R: Bashiri Johnson and Kimati Dinizulu
Photo by Hisao Oka taken 5.18.04
Avatar Studios in NY hosted recording of a four-part public television series called Slavery And The Making Of America. . The series is set to air in the first quarter of 2005. Dante James is the series producer. Music for the series was recorded in Studio C with producer Michael Whalen and engineer Roy Hendrickson assisted by Peter Doris.

Digidesign on Festival Circles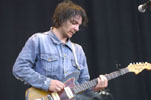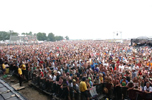 Byrne, Wilco at Bonnaroo
Over Thirty Bands were recorded and Mixed on Digidesign's ICON during Bonnaroo Festival in Manchester, TN June 11-13. Familiar and new names like Dave Matthews & Friends; String Cheese Incident; Yonder Mountain String Band; Calexico; North Mississippi Allstars; Wilco; David Byrne, Los Lobos, Bob Dylan, to name a few.
Live Bonnaroo offers downloads of high fidelity, mastered, soundboard recordings of entire sets from many artists performing at this year's Bonnaroo Music Festival. Sets are available in both MP3 and CD-quality lossless formats (FLAC), powered by nugs.net's state-of-the-art delivery system.
Also new from Digidesign: Real-time Web Licensing for Plug-ins and Other Software Options. Plug-In Rentals offered through the same Online technology.
Sparrow and Sanctus Real Give World Vision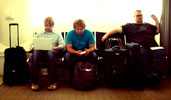 Sparrow Records and this year's "Modern Rock Song" and "Album Of The Year" Dove Award nominees, Sanctus Real, presented a check for $75,000 to World Vision during Gospel Music Week held in Nashville in April. The donation came from a portion of the proceeds from the critically acclaimed In The Name of Love: Artists United for Africa recording and through Sparrow's retail partnerships.
The monies from the project have already fully funded World Vision relief efforts in the Mwakankomba Village in Zambia, Africa, a village devastated by the HIV/AIDS virus. The village is being given core community development aid focused on improving basic long-term health needs. Most importantly, AIDS prevention education for children and mentoring for orphans will be provided to encourage them to stay in school, learn how to survive and thrive as adults.
"What an honor to have helped the people of this village in Zambia and to spread the word about the efforts of World Vision in Africa," says Matt Hammitt, lead vocalist for Sanctus Real, a band featured on In The Name of Love with its rendition of U2's "Beautiful Day," which also became the band's first No. 1 Rock R & R hit single. "We are so grateful to have been chosen to be a part of this recording and look forward to the stories of hope it will generate."
Todd-AO Mixers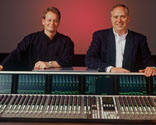 Academy Award-winning Re-recording mixers Michael Minkler and Myron Nettinga (pictured above) of Todd-AO West have commenced work on the mix for Michael Mann's COLLATERAL, scheduled for a August 6 domestic release. COLLATERAL stars Tom Cruise and Jamie Foxx.


Scott Millan Comeback! Scott who left Todd-AO in 2000 to accept a position with Sony Pictures Studios Post Production, will be returning to Todd-AO effective as of August 1, 2004. Scott will be combining his mixing talents with a management role as Senior Vice President, Creative Sound Services, Studio Operations.
New Line of Home Theater Products From Quincy Jones and SLS



Jones, who's known in the music and film industry as "Q", will co-develop a new line of high quality home theater and entertainment products for global markets under the name, "The Q Line." The Q Line will combine SLS' proprietary "ribbon driver" technology, which provides some of the marketplace's highest level of sonic engineering with Jones' innovative design for optimum sound. Future Q Line products may also incorporate SLS' Patented Evenstar digital amplifier technology. Q Line products, which include headphones, will be targeted for distribution in mass-market retail outlets around the world with an expected launch date of fourth quarter 2004.
"Technology has always enriched my life and empowered me," says Jones. "SLS is in that tradition. They've come up with a technology that should change our industry. Their speakers deliver sound in its most natural form and at a very affordable price. This breakthrough can be compared to the evolution of sound from mono to stereo. I'm excited to be involved in its future."
About Quincy Jones:
Acclaimed by many as the 20th and 21st century's most prominent composer, arranger, record producer, artist, film producer and instrumentalist, Quincy Jones' career is unprecedented. 79 Grammy nominations and 27 awards, multiple Oscar nominations for film scores and producer of the best selling single of all time, "We Are The World", and the best selling album of all time, Thriller, are only a few of his extraordinary achievements.
Quincy has been a master inventor of many of the musical hybrids in shuffle pop, soul, hip-hop, jazz, classical, African and Brazilian music; presenting it to the world as some of the ingredients of a musical gumbo.
He has also been a major force in virtually every medium including records, live performances, movies and television. Quincy won an Emmy for the music score of the landmark TV miniseries, "Roots" and is the recipient of the Academy of Motion Pictures Arts and Sciences Jean Hersholt Humanitarian Award as well as the Grammy Living Legend Award.
He has received honorary doctorate degrees from over 15 major colleges including Berklee College of Music, Harvard University and The American Film Institute.
His business achievements are also monumental. Jones was a successful record company executive at Mercury Records and then later the founder, chairman and CEO of Quest Broadcasting. In 1990 Quincy formed Quincy Jones Entertainment (QJE) with Time Warner, Inc. and produced NBC's Fresh Prince of Bel Air.
Quincy has also been instrumental in launching the careers of countless stars, including Whoopi Goldberg and Oprah Winfrey, who starred in the film The Color Purple, which Quincy also produced.
In addition, he currently serves as a consultant and advisor to Time Warner and XM Satellite Radio.
In 2001, Quincy added the title of "Best Selling Author" to his list of accomplishments when his autobiography Q: The Autobiography of Quincy Jones entered The New York Times, Los Angeles Times and Wall Street Journal Best-Sellers lists.
His humanitarian efforts have changed the lives of millions around the world and he has received countless national awards from foreign countries. He was named a 2001 Kennedy Center Honoree for his contributions to the cultural fabric of the United States of America.
Last month, he produced a live international concert in Rome to introduce the world to his newest humanitarian effort, called We Are The Future. It's designed to help children from in-conflict cities throughout the world and he's already planning next year's concert.

Carlos Santana to be honored in August as the Latin Recording Academy's Person Of The Year for his professional, cultural and social accomplishments. Congrats!
Live Life and Love it too!
Thanks to Isabelle Ulrich and Duke Sakiyabu for sending us these fab images from their adventures in Mexico this summer. Two brilliant architects behind some notable studios and homes in Los Angeles who know how to vacation. Ciao Muchachos!







Birth of a Verna!


Congrats to Paul Verna & Ellen Dooley for the joyous arrival of their new daughter, Alexandra Emily Verna!! Born on May 7, 2004, at Ballard House in Portland, Maine, weighing 8 pounds, 6 ounces, and measuring 21 inches. She's so lovely!

Ray Charles
Farewell to a Legend
1930 - 2004

"Soul is the feeling that comes through in the music...that's the essence of soul..."
-- Ray Charles
Charles' last public appearance was alongside Clint Eastwood on April 30, when the city of Los Angeles designated the singer's RPM studios, built 40 years ago in central Los Angeles, as a historic landmark. Charles' swan song, "Genius Loves Company," a collection of duets due Aug. 31 on Artemis, was recorded primarily at RPM, according to the artist's longtime personal producer/engineer, Terry Howard.
Charles won nine of his 12 Grammy Awards between 1960 and 1966, including the best R&B recording three consecutive years ("Hit the Road Jack," "I Can't Stop Loving You" and "Busted").
Veteran producer Jerry Wexler, who recorded "What'd I Say," said he has worked with only three geniuses in the music business: Bob Dylan, Aretha Franklin and Charles.
"Music's been around a long time, and there's going to be music long after Ray Charles is dead," Ray told the Washington Post in 1983. "I just want to make my mark, leave something musically good behind. If it's a big record, that's the frosting on the cake, but music's the main meal."
Mr Charles, thanks for the main meal and the frosting too!



Safe and Happy 4th of July Weekend Everyone
-- click here for some e-fireworks!