>home

 
>more news!
PRESS & MEDIA INFORMATION
For immediate release

Studioexpresso Producers Listen to Musicians and Songwriters at Business Chops 2003

Presented by Guitar Center's GC Pro in association with Succeeding In Music and studioexpresso, the seminars were held at Sportsmens' Lodge on 9.15 and The knitting Factory on 11.2. The events drew close to 300 musicians, songwriters and audio professionals who discussed current issues relating to the artist and offered positive suggestions on how to seize opportunities present in today's changing music Industry.
Artist Development Room (ADR) was hosted by studioepxresso. It featured producers Marvin Etzioni (Counting Crowes, Toad The Wet Sprocket, Grey De Lisle), Matt Forger (Michael Jackson, Paul McCartney)and Jeff Gross (Baywatch, MTV, Raj) who listened to songs and offered evaluation.

The complimentary Listen for attendees of Business Chops was provided by studioexpresso producers who stressed the value of a good song and production for an artists' long-term career outlook. "Remembering that music is a form of emotional communication is important" Matt says, "Too many people view recording as a technical experience. It is important to understand technology and be able to control it, but it's the music at center stage. It's the song people remember, not the recording system," adds Forger. "Music suffers when artists aren't being regionally promoted. Think about it – the Beach Boys, Doors and X in Los Angeles, the Velvet Underground and Ramones in New York, Clash and Sex Pistols in London – all of those bands were heavily promoted in their hometown regions way before they broke nationally and internationally," says Etzioni.



The Producer Discussion Group moderated by John Wooler on Artist Development Revolution explored the shift in artist development from major labels to indie artists and labels, managers and producers. Panelist included: Bobby Borg, consultant, musician, teacher and author (Warrant, Beggars and Thieves and his own band, Left For Dead, Billboard book, "The Musician's Handbook"); André Fischer, Grammy winning producer/arranger/writer/musician (Janet Jackson, Natalie Cole, Rufus - originally featuring Chaka Khan) who has also held exec A&R positions (MCA, Fox); Scott Mathews, producer/musician (Beach Boys, Elvis Costello, Johnny Cash) Michael C. Ross, producer/mixer/engineer (Christina Aguilera, Vanessa Carlton, Mya, Dixie Chicks); John Wooler - Five-time Grammy winning producer (John Lee Hooker, Eliades Ochoa --Buena Vista Social Club-- Saidah) and A&R Exec (former Sr. V.P. at Virgin Records America and President of Point Blank Records, currently consulting with EMI Music Group).

L-R: Wooler with Michael C Ross. Borg, Mathews, Wooler, Ross and Fischer.

Business and Marketing success coaches, John Stiernberg (principle business consultant of Stiernberg Consulting and author of Succeeding in Music) and
Diane Rapaport (producer and co-publisher of The Musician's Business and Legal Guide) offered empowering musician workshops on taking care of business.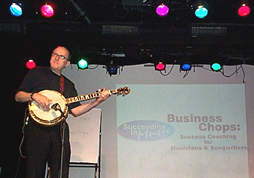 L-R: JS opened the seminar with some happy notes! Geoge Abott and a songwriter with the chops at the studioexrpesso table!

"A great opportunity to learn, network, and give one's music career a boost," says co-presenter and founder David M Schwartz. The full-day event offered: continental breakfast, light lunch, giveaways (Special prizes provided by leading music and audio industry sponsors like: GC Pro, DPA, Audio-Technica, Mix, EM, Re-MIX, Music Connection & studioexpresso) plus valuable handouts and resource materials of workshop were given to all attendees.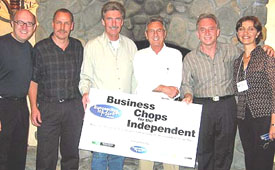 Business Chops September 2003 Event at the Sportsmen's Lodge, Studio City
L -R: JOHN STIERNBERG, Stiernberg, RON McCARRELL, President and Chief Marketing Officer of DH1 Studios, Inc.; DAVID SCHWARTZ, COO of Mpowered Ideas Media; and former Editor-in-Chief of Mix Magazine; AL SCHMITT, DH1's Music Director and 11-time Grammy-winning engineer/producer; CLARIS SAYADIAN-DODGE, founder and principal of studioexpresso; TOM MENRATH, Director of Business Development, GC Pro/Guitar Center.
The Buzz:
"I attended the Business Chops for the Independent workshop, and found it excellent. Your training workshop truly conveyed the importance of individual artists and producers formulating their own branding ideas as well as a business plan." -- Scott G, G-Man Music
"An essential… informative and inspirational. For new artist to professional musician or entrepreneur in music industry this workshop gives you the tools to reach your goals and stay on top of your game." -- André Fischer

L-R: John Braheny, Candace Kentopian of Right On Track PR/Marketing, Giovanna Imbesi of Tutto Media Productions and Jeanne Stiernberg.
ABOUT BUSINESS CHOPS:
Business Chops is presented by a trio of industry veterans from the professional audio and music fields who are committed to educating the independent music professional about how to succeed in the field. John Stiernberg of Stiernberg Consulting, the Sherman Oaks, CA-based business development firm, and co-founder of Succeeding In Music, a provider of business education tools for music industry professionals. David A. Schwartz, former Editor-in-Chief and co-founder of Mix Magazine, is COO of Mpowered Ideas Media, specializing in music compilation projects for direct response television. Claris Sayadian-Dodge is founder and principal of studioexpresso, artists' gateway to production services. She also represents the C Management roster of producers and composers.

PRESS CONTACT:
Candace Kentopian 323- 559-0856
visit us at: Business Chops.com











<![if !supportEmptyParas]> <![endif]>