.
Silent Zoo Studios (Formerly The Bridge)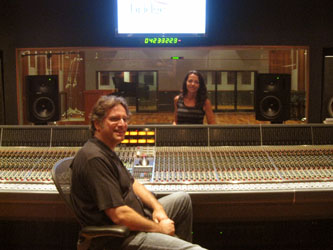 Located in Glendale, Calif. The Bridge Recording opened its wings in August of 2010. The ground up 6500 sq. ft. scoring facility housing a 1700 sq. ft. stage (37'x48' with a 22' ceiling), two large ISO rooms (17' x 12'), machine room, large control room (775 sq. ft.). Designed by Kaufman & Associates The Bridge was chosen in the Mix Class of 2010 last year.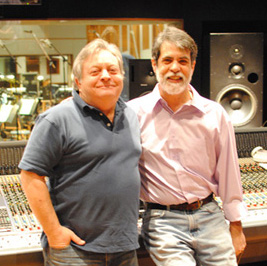 Rick Riccio, engineer with Chris Ledesma, music editor at The Bridge Recording Celebrating The Simpsons 500th episode.
Owner Greg Curtis is a session and touring trumpet player (The Glenn Miller Orchestra) and an accomplished recording engineer. Native of Oshkosh, Wisconsin, Greg was soon swept up with film work in LA after graduating from UCLA.
He outgrew his home studio and search began for a larger facility to accommodate his growing record and film clients.
"We started with a clean slate; this was an empty warehouse, so I was able to draw on my experiences both as an engineer, and as a musician to build the room I wanted," says Curtis.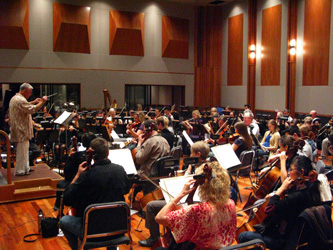 When building The Bridge, Greg wanted to avoid small, stuffy control rooms. "Modern Film dates generally require a big staff in the control room, especially during a scoring session," says Curtis. Client comforts, 5.1 surround monitoring became must-have's at The Bridge. Massive connectivity is built into what could be one of the largest, most comfortable, and exceptional sounding rooms in town.
The control room features integrated, KVM stations, where multiple operators can independently view and control up to 4 different recording or playback rigs simultaneously.
In the machine room, you can actually hook up all of those rigs to your system quite easily. The Control room features a piece of Hollywood history -- a 96-input Neve scoring console (previously at Paramount Pictures Scoring Stage M).
Another key feature at The Bridge is its dedicated cue mix setup for engineers via custom Neve 48-channel cue mixer.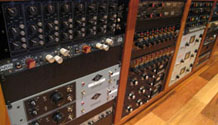 Sessions include top engineers, producers and composers: Children's and adult choir for X-Men was recorded with Brad Haehnel engineering and Henry Jackman, Composing. Teddy Shapiro worked on Arthur for Warner Bros. Chris Fogel engineering and Bryan Carrigan on Protools. ABC's "No Ordinary Family" was scored at The Bridge. Others to include Shawn Murphy, John Kurlander and sessions for the TV series: The Simpsons.Who else has recorded here in its short history? John Debney - "The Change Up," Aaron Zigman - "Yellow," Christopher Lennertz - "The Avengers," and Austin Wintory - "Vessel." You get the picture!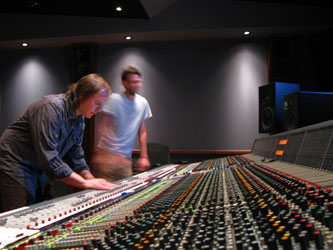 Because Curtis and his team were without the constraints of an existing structure, they were able to build a very diffuse, very even acoustic space with enough natural reverb. "Having literally no ceiling height restrictions at the planning stage allowed us a lot of freedom to make this recording room special," says Curtis who wants to make visiting engineer's job of capturing the special performance-moments easier.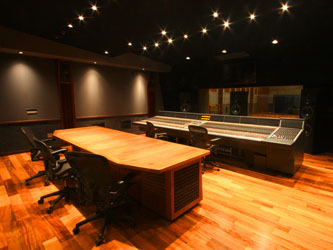 "You can hear your ensemble well, and get instantaneous feedback from performers. You can lean into the room, and it reacts just like you know it should. Everyone feels musically comfortable," he adds.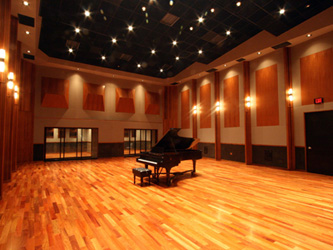 Film scoring and live album recording paradigms were presented very early in the planning process. This decision created a unique, very specific set of requirements -- Acoustics, infrastructure, equipment, isolation, and staffing -- which were costly to achieve.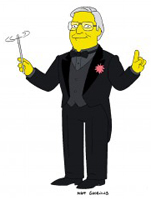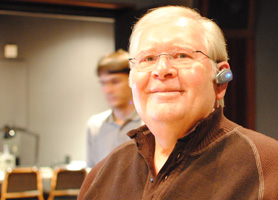 Alf Clausen, composer at The Bridge Recording Celebrating The Simpsons 500th episode.
"Our main clients, the major networks and studios, are demanding, so their returned business really shows that we have succeeded," says Curtis who is also a big fan of mid-century jazz Recordings like those on Blue-Note and Mercury records. A track is dedicated to The Bridge Studio by Jazz artist, John Daversa on his new release "Junk Wagon." "It's truly a joy to work with inspired musicians like John. This album is especially satisfying because it confirms that we've achieved building the musician-friendly space that I originally envisioned," says Curtis.
In the main room, there's a Steinway Concert D Artist Bank Series grand, "a perfect choice for classical artists," Curtis adds.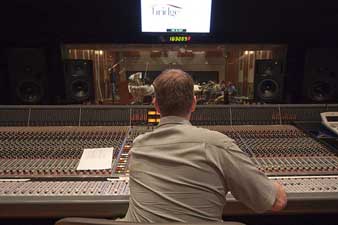 As a guy who records, mixes and masters film scores and high end gaming scores, John Rodd says that when it comes to medium sized orchestra recording, there are not many options in Los Angeles. "And for recording orchestras…. the size and 'sound' of the room is very, very important.
The acoustics of both the recording room and the control room were very good at The Bridge," Says Rodd. "The crew were very, very on top of things, and the session went perfectly. The restored console (Neve VRP) that had been at the Paramount scoring stage was flawless. I was recording both a multitrack and a live mix of the musicians, so there was no room for error," Rodd says.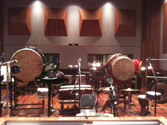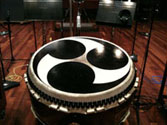 The Bridge is capable of handling multiple digital HD video streams, cue mixes, and audio channels throughout the facility. Engineers have a choice of over 120 microphones, including much sought-after vintage ribbons and the popular tube brands. Here you have choice of 4 great vintage EMT plate reverbs and 48 channels of outboard mic preamplifiers from Neve, Millennia, AEA, and Universal Audio, along with multiple outboard surround reverbs, including Lexicon 960XL and PCM96 surround. Pro Tools HD7 and HD3, ATC LCR, QSC 8-speaker surround monitors are available.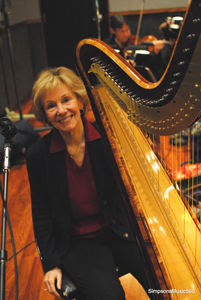 Gayle Levant at her harp during the Simpsons 500th Sessions
It is this combination of technical infrastructure, equipment, acoustics, and the personnel that make up an enjoyable experience at The Bridge. Here you can enjoy a gorgeous, acoustically balanced, incredibly well isolated live room that can accommodate up to 50 players. Two large isolation booths with dedicated HVAC, each with its own independent isolation system, along with double sets of sliding doors.
"Plus we have seasoned staff with great ears, minds, and hearts. Clients rely on us to give them a really great sound and a great experience, reliably and on-time, without any glitches. We make them feel comfortable doing their work here, and send them home smiling. This is what sets us apart," says Curtis

Parking is available across the street at studio's Tech Shop, located at 5304 San Fernando Road. The manager scored high points by reserving parking for us when we were visiting. It's perhaps this attention to detail that visiting guests will remember. Seasoned manager Vicki Giordano comes from diverse background --Labels: A&M and Chrysalis; studios: Hollywood Sound Recorders, Audio Affects and PR.
Other key staff include: Tech, Steve Anderson (formerly at Capitol Studios) and Assistant, Engineer/Protools Operator Milton Gutierrez (formerly of Firehouse Studios).
Excellent restaurants surround you at The Bridge ...Porto's, Damon's and other popular eateries on Central and Brand Avenues and at The Americana in Glendale are only 5 minutes away!
For Booking or a studio Tour
Holden Woodward
736 Salem Street
Glendale, CA 91203
fn 818-484-5222
https://www.silentzoostudios.com/