Follow the yellow brick road to Conway Studios, Hollywood, CA
Spotlight updated 2014 by
Carly Price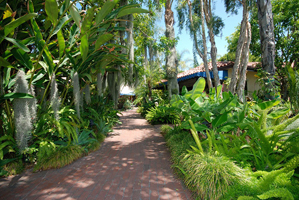 This year marks Conway Recording Studio's 38th year in the recording industry. Conway is meeting this milestone by hosting growing ranks of chart-topping artists, expansion in gear and staffing. Recent projects included: Pharrell Williams, Mika, Sia, Miley Cyrus, Snoop Dogg, Camila, Taylor Swift, Usher, Ariana Grande, One Direction, Iggy Azalea, Adam Lambert, Gavin DeGraw, Kid Cudi, Wiz Khalifa, and Maroon 5.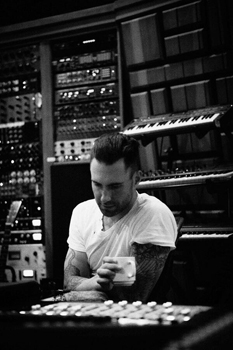 Adam Levine during recording of V by Maroon5 (courtesy of AL web site)

Maroon 5 recorded their new album, "V" (due out September 2nd) at Conway studios. According to new studio manager Stacey Barnett, Eric Eylands and Eric Weaver both assistant engineered Noah Passovoy. "Maroon 5 and their team are amazing people to work with. We're very proud to house such caliber of musicianship at Conway," said Barnett.
Conway's new engineering team includes. Eric Eylands, Eric Weaver, Ben Sedano, Josh Smith, John Armstrong, John Cranfield and Chief Tech, Doug Tyo.
Not only has Conway's team expanded, but they have also updated the rooms with Neve 88R Consoles -- Studio A with 80 channels and studio C with 74. Studio B (25 x 20-foot control room) offers an 80-channel SSL XL. The large window overlooks scenic outdoor gardens and has a small isolation booth for overdubs or voiceovers.


Adjacent to the historic Paramount Pictures Studio district, Conway Recording Studios offers its clients a choice of 3 world-class rooms set amidst a 48,000 square foot expanse of tropical and desert gardens. "With remote mic pre-amps and movable monitor faders, the 88R is the ultimate in analogue consoles. It has wonderfully open musical sound, with all the warmth we're accustomed to with Neve console's," says owner Brundo (above, right).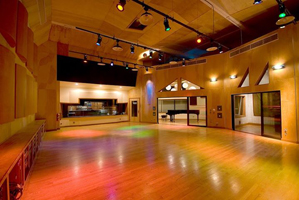 Studio A -- spacious main room
All Control rooms are generously appointed with well-maintained vintage and contemporary outboard equipment including an impressive microphone collection. Amenities include kitchen, private lounges with television, VCRs and a game room.

photo: courtesy of Maroon5 web site
Owners Buddy and Susan Brundo purchased the studio in 1976 after a four-year tenure as staff engineer and studio manager. The following years saw the Brundos gradually transform the studio into one of the world's premier multi-room recording facilities.
"The 5.1 people usually bring in their own speakers," says Brundo. "But in B, we decided to install a complete surround-capable monitor system that meets the sonic specifications of the room."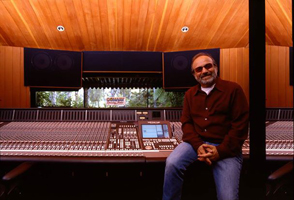 Past clients include: Jazz legend, Nancy Wilson, Julio Iglasias, Kelly Price, James Newton Howard, Dionne Warwick, Gladys Night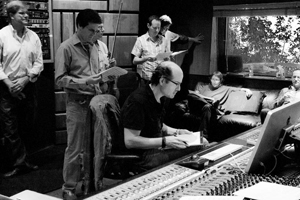 Elvis Costello & The Roots Sessions with Brent Fischer Orchestra at Conway recording Wise Up Ghost with Grammy-winner mixer/engineer, Rafa Sardina
Watch behind the scene making of...here
Dave Matthews Band, Willie Nelson, Mariah Carey, Better Than Ezra, producers Glen Ballard, Matt Serletic, Ron Fair, Brad Wood, Benny Faccone, Rick Knowles and Peter Asher, to name a few.



Never know who you run into at Conway Gardens!
"Artists like our facility's openness, the indoor/outdoor connectedness to the gardens -- it's like you're in your house. We take pride in creating a relaxed atmosphere....plus our staff is very friendly and helpful. Our tech is pretty accessible too," says Brundo


Brent Fischer Orchestra in Studio C recording Pacific Jazz, new Clare Fischer Big Band album directed and produced by Brent Fischer
who recently purchased an additional building attached to the facility to accommodate writer/arranger studios. And here in California you can count on year round bbq wheater on their grounds. We're told Conway takes pride in their secret sauce!

Contact: Stacey Barnett - Studio Manager
Conway Studios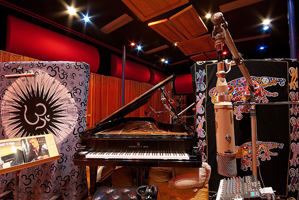 323-463-2175 ph
www.conwayrecording.com
Studioexpresso Copyright 2001