Peter Asher: A Life In Music

By Claris Sayadian-Dodge
April 2022 Interview with Peter Asher as he receives TEC Hall of Fame Award at NAMM on June 4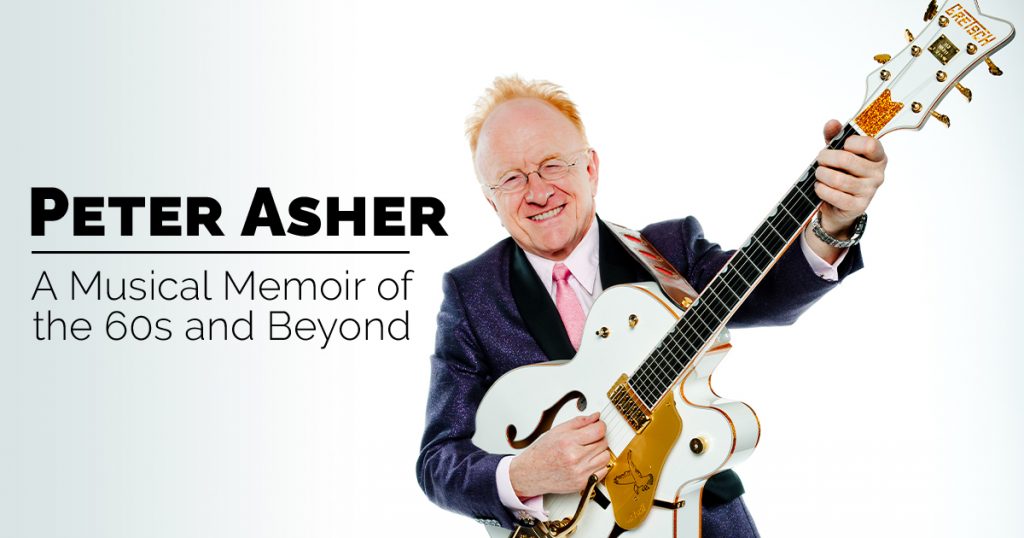 A Renaissance man is defined as a person who has wide interests and is expert in several areas. By these standards,
Peter Asher
is a Renaissance man, and a modern-day troubadour with a full life in Music. Asher's ability to produce iconic artists that we know and love with such a broad range—rock, pop, folk, country, rhythm and blues, jazz, dance, Latin, classical, comedy, and Broadway and movie soundtracks—is unmatched.
Asher is a two-time Grammy- winner Producer of the Year for his work with James Taylor & Linda Ronstadt and others. Astonishingly, he remains a sought after producer today, having been involved in various capacities in modern music history, for for over fifty years -- as artist, label executive, artist manager, record producer, author, DJ/Host and entrepreneur.
Wearing multiple hats comes second nature to Peter Asher. Like most producers, Peter began as a musician, making hits with
Peter & Gordon
(Peter Asher and Gordon Waller). They achieved international fame in 1964 with their million-selling single (Lennon-McCartney's
World Without Love
, and Del Shannon's
I Go To Pieces
++).
Peter moved on to make history as A & R Director of the Beatles'
Apple Records
, before becoming a highly respected artist manager and producer. One needs only to visit
AllMusic
to appreciate this man's vast body of work. But, let's look at some of his most recent credits. Did you know? Asher was one of the first producers to credit the musicians that played on his sessions, realizing how important they were to the success of each song and album.
Asher-produced a CD by actor Steve Martin and the Steep Canyon Rangers, The Long Awaited Album, was released on September 22, 2017, and is one of several production efforts Steve Martin has asked Mr. Asher to oversee, including a 2018 PBS TV special with Martin Short and the Steep Canyon Rangers.
Peter produced Love has Come for You, an album by Steve Martin and Edie Brickell — the title track a Grammy Winner in 2014- and the stage show based on it, Bright Star, which garnered 5 Tony nominations in its run on Broadway in 2016.
In 2018 he embarked on a new project titled Revamped to celebrate Elton John's songwriting partnership with Bernie Taupin. Among its highlights is Ed Sheeran singing Candle in The Wind, produced by Mr. Asher. The celebratory collection was a follow up to the Peter Asher-produced special edition of Goodbye Yellow Brick Road -released in March 2014 – which featured Ed Sheeran, Imelda May, Fall Out Boy, and others covering songs from E.J.'s classic album.
Asher has worked on numerous soundtracks to include: Amazing Spider-Man 2, Man Of Steel, and Rush, alongside the legendary Hans Zimmer. Notably Asher directed the
Hans Zimmer Live! tour of the USA and Europe in 2017. Compass Records' Red House imprint released the Peter Asher produced Why Wait! from Kate Taylor. James' "Sister Kate" is backed by Albert Lee, Danny Kortchmar, Russ Kunkel, Leland Sklar, Waddy Wachtel, Victoria Asher, Scarlet Rivera and more…look for many of the same cast to work on the new album by the Bangles' Susanna Hoffs… Mr. Asher is producing and aiming for a Summer 2022 release.

BOOK
Peter Asher: A Musical Memoir of the 60s and Beyond is filled with stories with the beloved music legends we know and love to include: Singers Jackson Browne, David Crosby, Marianne Faithfull, Carole King, Kenny Loggins, Graham Nash, Aaron Neville, Randy Newman, Bonnie Raitt, Linda Ronstadt, JD Souther, and James Taylor; producers Lou Adler, Mike Curb, Richard Perry, Al Schmitt, and Sir George Martin; musicians Hal Blaine, Andrew Gold, Danny Kortchmar, Paul Shaffer, and Waddy Wachtel; and actors Kevin Kline and Robin Williams. Many of these participants also provided previously unseen photographs. pre order
here
Host/DJ
Enjoy Peter Asher: Me To You (Beatles chnl on sirius XM here
studioexpresso met with Peter Asher in April 2022 for this brief interview about his life and illustrious career
SE: Your mom was a music teacher and I understand the young George Martin was one her pupils?
PA: Mom (Margaret Asher was a professor of the oboe) taught music at the Royal Academy in London. George studied at Guildhall School of Music in London (rival universities) where he took piano, conducting and orchestration classes. To get a music major you had to choose a second instrument. George must have realized his oboe playing was not up to snuff, and he wanted to pass the exams ...so he was looking for an outside oboe teacher and somebody recommended my mother who did do few pupils outside the Academy. Lot of confusion. Some people write that my mother taught where George went to school which is not true.
SE: Glad, we got that straight! How did you meet George Martin?
PA: I might have met him in passing while he was studying with my mother. Occasionally, pupils would come to our home for private lessons. I met him again in '64 -Pre-Apple. Peter and Gordon era. George wasn't' our producer but, I would see him during Beatles sessions from time to time. We -Peter & Gordon - were singed to the EMI label.
SE: How did you end up working at Apple?
PA: Paul (McCartney) and I had become friends. You probably know the story that Paul knew my sister (Jane) and would hang around the house a lot. Our parents offered him a guest room on the top floor of the house, next to my bedroom, sort of as pied-à-terre (temporary lodging). He moved and lived with us for couple of years. And that's how Paul and I became friends.
After Peter and Gordon were sort of winding down, and Beatles were concentrating more on recording and live shows, they decided to start Apple. Paul knew that I had already decided that I wanted to be a record producer. He actually played on the the very first record I produced. He asked me if I'd produced some records for the new label they were planning to form and I said of course I would. As it became more real, we got the name, which was Apple. And he asked me if I wanted to be the head of A&R and I accepted.
SE: Nice! Tell us one or two fond memories from that historic era?
PA: This time was full of exciting moments. You may have heard the story. Fond memory that sticks with me is: There was a basement music room in our house. My mother told Paul he could use the room to play the piano. I remember one occasion when John Lennon came over and they went down and played together for a couple of hours. Then Paul called me and asked me to come down and listen to a song they had just finished. I came down and sat on this little two-person sofa while they sat side by side at the piano bench (no guitars interestingly) and played this brand new song they had just finished called I want to hold your hand. That's a memory that sticks with you!
I suppose another one is when we got a call to tell us we're #1 in America!
SE: Sweet! By now you must have an incredible collection of memorabilia from these years?!
PA: No, I don't actually. I've never been a keeper. Some people like Bill Wyman, most famously, kept everything. I didn't. I don't have stuff.
SE: What are your other passions outside music? Any hobbies?
PA: I don't have a hobby as such. I suppose Music covers it all for me. I read, I watch TV. I don't have a particular hobby, I don't do woodworking or anything like that!
SE: A life in Music is fine. What's your favorite show?
PA: I love Only Murders in the Building on Hulu with my friend Steve Martin, Marty Short and Selina Gomez. Great comedy series!
SE: Speaking of Steve Martin, you've done several project with him in the recent years. How did it all start?
PA: We've been friends off and on for many years. Musically, he's always been an amazing banjo player. I was having dinner with him at his house and he was working on some songs with Edie Brickell whom I've admired very much. These songs sounded great and and I told him they should make an album and we talked about how it should get done. I was on the plane the next day when he emailed me and said do you want to produce the record? I said, of course I do. And that turned into about 100 Broadway shows! Then we did a follow up with two more albums. So, that's been a pleasure. I'm a great admirer of Steve and Edie who is an exceptional singer.
SE: Yes, I love Pretty Little One by Steve Martin and the Steep Canyon Rangers feat Edie Brickell – posting it here so everyone can hear it!
PA: Yes, I produced the music for the show when they did w that song.
SE: How about your working relationship with Hans Zimmer – how did that start?
PA: Met him through my wife, Wendy. We had dinner together one night and he offered me the opportunity to produce some of his work.
I have an office there (Remote Control, Santa Monica) and help out with whatever is needed. Sometimes, it's producing a song, other times, it's pretty general. So, it varies. Right now he's on the road in Europe, doing a tour which began with me directing the show. It's changed few bits since. But, Hans and I put together the original version. It's a wonderful show.
SE: Describe your work when you create a live show -- the various hats you wear, what's involved?
PA: Largely it's the question of coordinating all the assets in a live show -- what music we should do, in what order, coordinating set design, sound and light design, which all goes into creating a good live show. New visuals were created to go with Zimmer's music. What it's NOT --playing music from the movies. We didn't want to do that. It's looking at the music, simply as music. It surprised people when we took the show to Coachella, couple of years ago, pre Covid, and it was immensely successful. Turned out, they love it!
SE: In recent years you worked with Elton John and Bernie Taupin, one of my all-time favorites! You also executive produced? How did you first meet?
PA: We did an tribute album with Miguel, Ed Sheeran, and others. I produced some titles and was the exec producer, pulling it all together. I've been friend w Elton forever. I met him in London first and then we met again when he performed at the legendary Troubadour in Los Angeles-- the show that changed his future. He and the band came to my house the following day where they met James Taylor, who was staying with me at the time.
SE: We started with the 60s and fast forwarded to 2000s and now let's go to the middle -- 70s and 80s when you moved from London to Los Angeles. How did you meet James?
PA: The key figure who introduced us is guitar player, Danny "Kootch" Kortchmar. Danny was in a backup band supporting Peter and Gordon during one of our early tours in America. He and I became great friends and remained friends. He was subsequently in a band called The Flying Machine with James. When the band broke up Kootch gave my phone number to James. James called me up and came over to my house and played a few tunes and I was blown away! I said to him look, it's funny coincidence you should call me now because I just got this new job as head of A&R at a new label called Apple Records. Would you like a record deal? He said, yes please! And then when we left Apple (it was getting weird because Allen Klein was coming in, and all of that), and that's when I became his (James Taylor's) manager and producer. We set off to move to Los Angeles where we built our careers.
SE: Speaking of Kootch – you produced an album for his sister, Kate Taylor feat Kootch, WaddyWachtel, Russ Konkel and Leland Sklar, The Immediate Family
PA: Yes, that was couple of years ago. They remain my favorite musicians. More recently, I'm in the process of making an album with Susanna Hoff (The Bangles), with the same musicians.
SE: How fun. When is Hoff's album coming out?
PA: Late summer
SE: Bit'o Asher trevia – you're one of the first producers to actually credit session musician. Is that right? I'm sure musicians really appreciate that.
PA: Yes, it's true. Apparently, that wasn't usual in the early times. It seems only fair and logical to me. I didn't think that was particularly generous. The difference between the Wrecking Crew and The Immediate Family, is that the first did not get album credits. Also I did it, because I remember being genuinely interested in knowing who plays on my favorite records.
Without credits, it's hard to find out.
SE: On June 4, you will receive the iconic TEC Hall of Fame Award at NAMM 2022, at the Hilton Anaheim, Pacific Ballroom. Congratulaltions!
PA: Apparently so. Yes, Thank you! You get a certain point in your life that people say, we want to give you awards. And you say, yes please! I'm delighted!
SE: Are you expecting any surprises as far as friends showing up at TEC Awards? They put on a good show. I understand SNL vet, Fred Armisen is hosting – he's funny and brilliant!
I was there when producer Don Was received this Award. It was a lot of fun, Was Not Was played and many of Don's friends came to celebrate with him.
PA: I presented one year to Kootch and Waddy. But beyond that I don't know.
SE: You worked with Linda Ronstadt at Ocean Way during my tenure there in the 90s. You also worked at Conway and all the major studios in town? Where do you work these days?
PA: These days I usually work at some engineer's hovel (haha)! Wish we could work somewhere nice and book the place for 3 months straight (like we did)! You end up doing some things at home, you know!
SE: Yes. I know. You've been smart not to own a studio. You've done everything but that!
PA: Exactly. I have avoided that (Laughs)
SE: Your favorite beverage?
PA: Gene Martini straight up with an olive!
SE: Spoken like 007!
PA: Almost! (Smiles)
SE: I understand you were Mike Myer's inspiration for Austin Powers, the International Man of Mystery?!
PA: More Smiles!
A Life In Music by David Jacks The book includes comments from a number of music producers and engineers (including Lou Adler, Niko Bolas, John Boylan, Geoff Emerick, Jack Endino, Frank Filipetti, Val Garay, Nathaniel Kunkel, Terry Manning, Sir George Martin, George Massenberg, Richard Perry, Al Schmitt, Matt Wallace, and Frank Wolf, among others), not to mention interviews with many musical artists who speak on working with Peter over the years. Order here


Visit: Peter Asher studioexpresso profile