Scoring For Film With Benjamin Wallfisch

By Claris Sayadian-Dodge
October 2022 for studioexpresso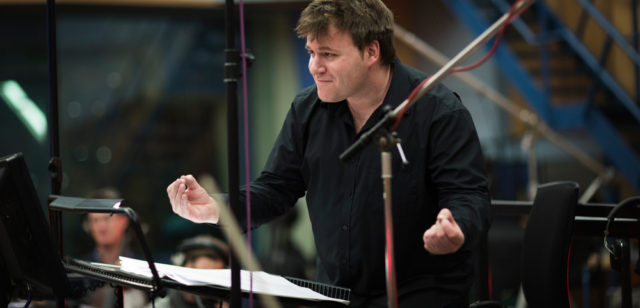 The Mix Lab's writing room is home to Golden Globe, BAFTA, 2x Grammy and Emmy nominated composer Benjamin Wallfisch, who has collaborated three times with Pharrell Williams, including a live performance at the 2015 GRAMMY Awards and partnered with Adele, arranging her 2017 GRAMMY performance of George Michael's Fast Love.
Benjamin Wallfisch has worked on over 80 feature films. To date, the movies he has scored have made over $2.5 billion in worldwide box office receipts, and in 2019 Variety inducted him into their 'Billion Dollar Composer' series. He's the composer of Andy Muschietti's IT and IT Chapter 2, David F. Sandberg's SHAZAM! I and II, Leigh Whannell's THE INVISIBLE MAN and co-composer of Denis Villeneuve's BLADE RUNNER: 2049 (with Hans Zimmer). Other scores by Wallfisch include: HIDDEN FIGURES (also featuring Pharell Williams) which was nominated for a golden globe, and Christopher Nolan's DUNKIRK (re-imagining Edward Elgar's Nimrod). Benjamin has also scored Gore Verbinski's A CURE FOR WELLNESS, the Steven Spielberg produced short film AUSCHWITZ, directed by James Moll, KING OF THIEVES, starring Michael Caine and directed by James Marsh; and Steven Knight's SERENITY, starring Matthew McConaughey and Anne Hathaway. He also completed scoring HOSTILE PLANET, a six part series for National Geographic.

More recently, wallfisch scored for Ron Howard's survival drama Thirteen Lives which was mixed at The Mix Lab in Dolby Atmos powered by ATC speakers. The film is based on a true story from 2018 Tham Luang cave rescue, and the tremendous global effort to save twelve boys and their soccer coach who were traped in the cave filled with water following a horrific monsoon in Thailand. The gorgeous soundtrack by Wallfisch matches the film's sweeping cinephotography of spectacular scenes.
Shazam! Official Soundtrack I Making the Score Water Tower with Benjamin Wallfisch


Ben's passion for film began early. First he entertained the idea of being a camera man with a deep passion for film making. Benjamin talks about how music breaths and the majesty and freedom it represents, what he calls "an attitude." It's perhaps this new attitude that audiences have embraced.
When writing scores, he delves into big questions like how do you define the soul or humanity? How do you represent light and shadow musically? Melancholy and joy, all familiar to us yet spoken in a musical language that expresses it in volumes of musical shades.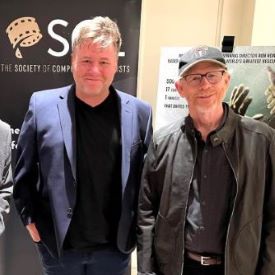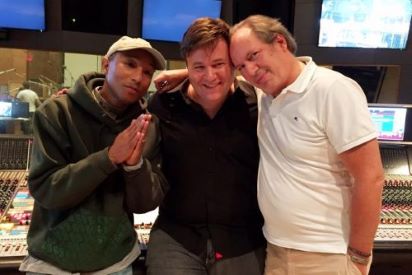 photos: courtesy of IMDB and The Mix Lab L-R:

Composer Benjamin Wallfisch with director Ron Howard at the opening of Thirteen Lives from Amazon and MGM Studios; and with Pharell and friend and mentor, Hans Zimmer.

With over 25 albums of his music released to date on labels including Deutsche Grammophon and Epic Records, Benjamin has performed live in over 100 concerts worldwide, leading orchestras such as the London Philharmonic, Philharmonia, Los Angeles Philharmonic, Los Angeles Chamber Orchestra and the Sydney Symphony at venues including the Hollywood Bowl, Sydney Opera House and Royal Festival Hall. He has collaborated, recorded and performed his music with artists including Lang Lang, Herbie Hancock and Yuja Wang, and has over 50 concert music commissions to his name.

studioexpresso exclusive Interview with Benjamin Wallfisch

SE: You conducted the St John Orchestra in a recording of Escape Velocity- your composition. Was it a commission? How and when did it come together?

BW: Many years ago, back in 2003, I was lucky enough to become associate composer of the Orchestra of St John's for a few years. An incredible group of musicians based in the beautiful St Johns' Smith Square concert hall in central London, founded by John Lubbock. Back then I was writing mainly concert music and having that ongoing relationship with an orchestra meant I could be super experimental – it was a really fun time to be doing that in my early 20s. 'Escape Velocity' was actually a commission from the BBC Proms, and the recording is of the live performance which I was fortunate to conduct

SE: How do you navigate the two different worlds of classical music and film music. How are they different or similar?

BW:About 7 years ago I made the decision to take a semi-permanent break from the classical music world and focus entirely on film music, as honestly it became too difficult to navigate both worlds logistically. As much as I miss those incredible moments conducting orchestras in different parts of the world, and the inspiring journey you go on with all the artists in the orchestra as we rehearse and find unique ways to present the music, the scheduling became impossible to navigate. Concerts are often confirmed three or four years in advance, and film projects can sometimes come along with 24 hours notice, with the need to finish only a few weeks later. Also I was tired of spreading myself too thin - I really wanted to focus on just one thing, and film music has honestly been what's inspired me the most since I was a kid, growing up in the 80s completely obsessed with the music of John Williams like so many of us.

You have a unique narrative when it comes to telling a story with music. How would you characterize or describe your sound?

SE:

BW: Thank you! I have a rule which is to never try and describe my own music – I can only find what's wrong with it, and how it could be improved! But I do try to write in a very direct way, and try to get straight to the heart of things – and also try to give the musicians who record it all something I hope they'll enjoy playing. I also love spending a lot of time crafting melodies, iterating and chipping away until you have the simplest DNA of an idea, on top of which you can start building and developing. But as a piano player, everything for me starts with harmony, and I love to throw in little harmonic surprises into even the most innocuously simple melody. It's something I've been experimenting with since I was a kid messing around on the piano for hours making up crazy chord progressions, and exasperating all my piano teachers in the process who would much rather I was practicing my scales!

SE: Which tools of your trade or technologies excite you and explain why?

BW: I've been a gear head/nerd for as long as I can remember, and it's a never ending thing. I'm currently very excited about getting into modular synthesis (something I've never attempted before) and combining that with some pretty extreme experiments in Dolby Atmos. You never know - there might be a concept album that comes out of it.

SE: Cool! If you could have dinner with one or two composers (from any era) who would they be and what would be the topic of your dinner conversation?

BW: Wow - only two?? That's tricky! I think it would have to be JS Bach - how did he manage to a) write literally perfect music whilst b) have time to be a father to 20 kids. And Beethoven – he changed absolutely everything and it would be just fascinating to sit down and get to know the man personally - he's like a God.

SE: You come from a musical family. What would be your advice to your 15-year-old self?

BW: This could either be a very long answer, or a short one, so I'll spare you: 1) Trust your instincts. 2) Don't work so hard - go have some more fun. 3) Don't attempt to do it all - find your focus and stick to it.

SE: Having worked in some of the best studios in the world, what were one or two objectives to achieve when you decided to create your own space?

BW: I was so lucky to have the opportunity to build a space like The Scoring Lab/The Mix Lab. The main thing was to have the whole building function like one massive rig - with all the rooms speaking to each other seamlessly, and to future-proof the technology as much as possible, to enable the 'laboratory' mindset. I love to try and push technology until it breaks, just to see where it might lead. It's a total nightmare for my technical team, but it means we can have this super creative environment where no ideas are off limits. My hope is that anyone who hires the Mix Lab for one of their projects feels like they are in an environment where anything is possible.

SE: You've collaborated with many directors, more recently with Ron Howard on13 Lives. How is your approach different with each director or each film?

BW: I love to build long-term collaborations with filmmakers, so you can develop a shorthand that facilitates bold ideas and experiments. Of course it's always slightly different depending on the director and the movie, but my general approach is to try and create an environment for the director where they can almost reach out and touch the music during the iterative writing process, in the same way as they might be able to with the picture edit, or the VFX, or working with an actor on set. It has to feel completely collaborative, fast moving, slightly dangerous, and completely open, where throwing out an idea you might have spent weeks on can be done with no hesitation. There's always something better hidden away, as long as you're willing to embrace the process and explore the pathways that might start with just a simple comment from your director when they hear a new theme for the first time.

You studied at Royal Academy of Music -- tell us a fond memory or valuable lesson taken from that period?


SE:

BW: I'll never forget putting together a student performance of Schoenberg's Pierrot Lunaire, just because I absolutely loved the piece, and it scared me. I wanted to figure out what was going on under the surface, and knew the only way to do that would be to learn it and perform it. It's for a small ensemble and solo singer, performing in a very unusual vocal style invented by Arnold Schoenberg, 'Sprechstimme' - an expressionist style of performing where speech rhythms and pitch are precisely notated, and then highly exaggerated into angular and sometimes disturbing melodies. As a listener you don't know where the music stops and the speech begins. It's incredibly difficult to do, involving unbelievable precision in pitch and rhythm, and at the time there was only one person considered the world expert in the style, the late great Jane Manning, who had recorded the piece with the likes of Sir Simon Rattle. One day I plucked up the courage to simply call her up to see if she would like to perform it in a little student concert, and she immediately agreed, and refused any payment. She was truly one of the most incredible and generous artists, and I learnt a lot from her.

SE: Beverage of choice?!

BW: Mine's a dirty vodka martini! I think my wife Missy and I had about 6 each on our first date!

SE: Your favorite spot in LA, besides your studio?!

BW: So many, but probably Point Dume beach at sunset.

Visit Benjamin Wallfisch Official
AllMusic
IMDB
The Mix Lab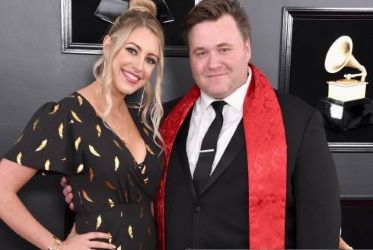 Missy & Benjamin Wallfisch at The Grammys (Getty Images)