.
. Experience Immersive At
The Mix Lab
The First Dolby-Certified Atmos Stage in California
with ATC Speakers

This is how Billie Eilish and brother Finneas, her co-writer and producer, describe the Dolby Atmos listening experience at The Mix Lab. "Transported," "Textural," "Cool!" Her latest album, Happier Than Ever: A Love Letter to LA, currently tops the US charts, and was re-recorded and mixed in Atmos for its final dub by Chris Jenkins and Sal Ojeda at the Mix Lab in Santa Monica where artists enjoy unparalled service.
The new recording facility consists of two-rooms -- the private studio and writing room for Golden Globe and Emmy-nominated film composer Benjamin Wallfisch (Shazam!, Bladerunner: 2049 with Hans Zimmer and Hidden Figures with Zimmer and Pharrell Williams), and the commercially available mix room, The Mix Lab.
Designed in close collaboration with Dolby, The Mix Lab is the first Dolby-certified Atmos stage in California with all ATC speakers, widely considered the finest monitors in their category, and beloved by music producers world-wide.
The Mix Lab is also the best Certified Atmos mix stage of its size in the world. Here you enjoy the most cutting-edge technology currently available. More award-winning artists have signed on to Atmos in order to bring their fans every detail of clarity and depth in music lovingly created for them. Just listen to 34+35 and Motive by Ariana Grande, Rocketman by Elton John, What's Goin On by Marvin Gaye, Circles and Sunflower by PostMalone and the long list goes on.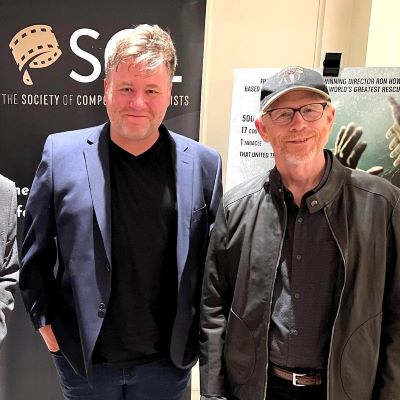 Above: Composer Benjamin Wallfisch with director Ron Howard at the opening of Thirteen Lives from Amazon and MGM Studios
The score composed by Benjamin Wallfisch for Ron Howard's survival drama Thirteen Lives was also mixed at The Mix Lab. The film is based on a true story from 2018 Tham Luang cave rescue, and available for streaming on Amazon Prime Video in more than 240 countries and territories worldwide. The feature from MGM, Bron Creative, Imagine Entertainment, Storyteller and Magnolia Mae recounts the incredible story of the tremendous global effort to rescue twelve boys and their soccer coach who were traped in the cave filled with water following a horrific monsoon in Thailand. The gorgeous soundtrack by Benjamin Wallfisch matches the film's sweeping cinephotography of spectacular scenes.
The Mix Lab recently welcomed living legend mixer Shawn Murphy (right) at the studio with film industry greats Erik Swanson and Bob Wolff.

The Scoring Lab and The Mix Lab are designed by renowned architect Peter Grueneisen of nonzero\architecture who was nominated for Creative Achievement in Studio Design in the 36th NAAM TEC Awards.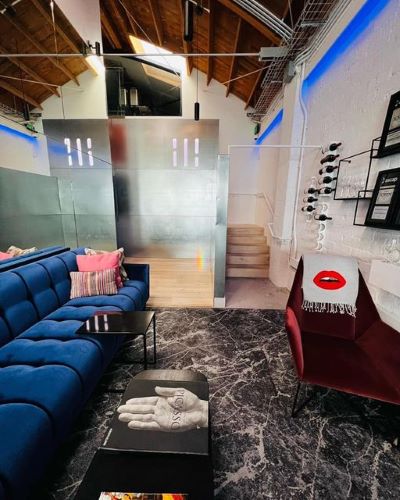 All Photos courtesy of The Mix Lab & Taiyo Watanabe
Tech Talk: The Mix Lab is driven by a 64 channel, dual operator AVID S6 console, five 2020 Mac Pros, 16 AVID HDX cards, 24 ATC speakers, and best-in-class outboard such as Bricasti reverbs, Maag and Manley EQs and Shadow Hills Mastering Compression, The Mix Lab is an unparalleled facility in which to mix immersive audio in all formats.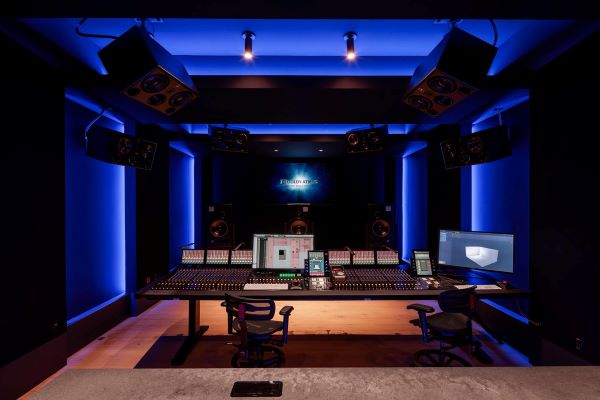 Award-winning film composer Benjamin Wallfisch (left) talks about his studio's transformation, from an art gallery. "We get a daily reminder of that every evening when the setting sun shines through the original glass doors and projects a little prismatic rainbow on the steel facade of our mix room. It really brings out the incredible architecture by Peter Grueneisen and his team at at nonzeroarchitecture," says Wallfisch who fully embraces the future of sound and music production.
Recent projects here include: Score mixes for The Warner Bros. Pictures movie Mortal Kombat and Universal Pictures' The Invisible Man among several other projects for clients including Netflix, Universal Music Publishing Group and Interscope Records.
Happier Than Ever is now streaming on Disney. Eilish's album features the Los Angeles Children's Chorus, The LA Phil conducted by Music & Artistic Director Gustavo Dudamel, and world-renowned Brazilian guitarist, Romero Lubambo, with orchestra arrangements by David Campbell. The video includes animated elements that take viewers on a dreamlike journey through her hometown of Los Angeles.
Eilish calls it an ode to LA.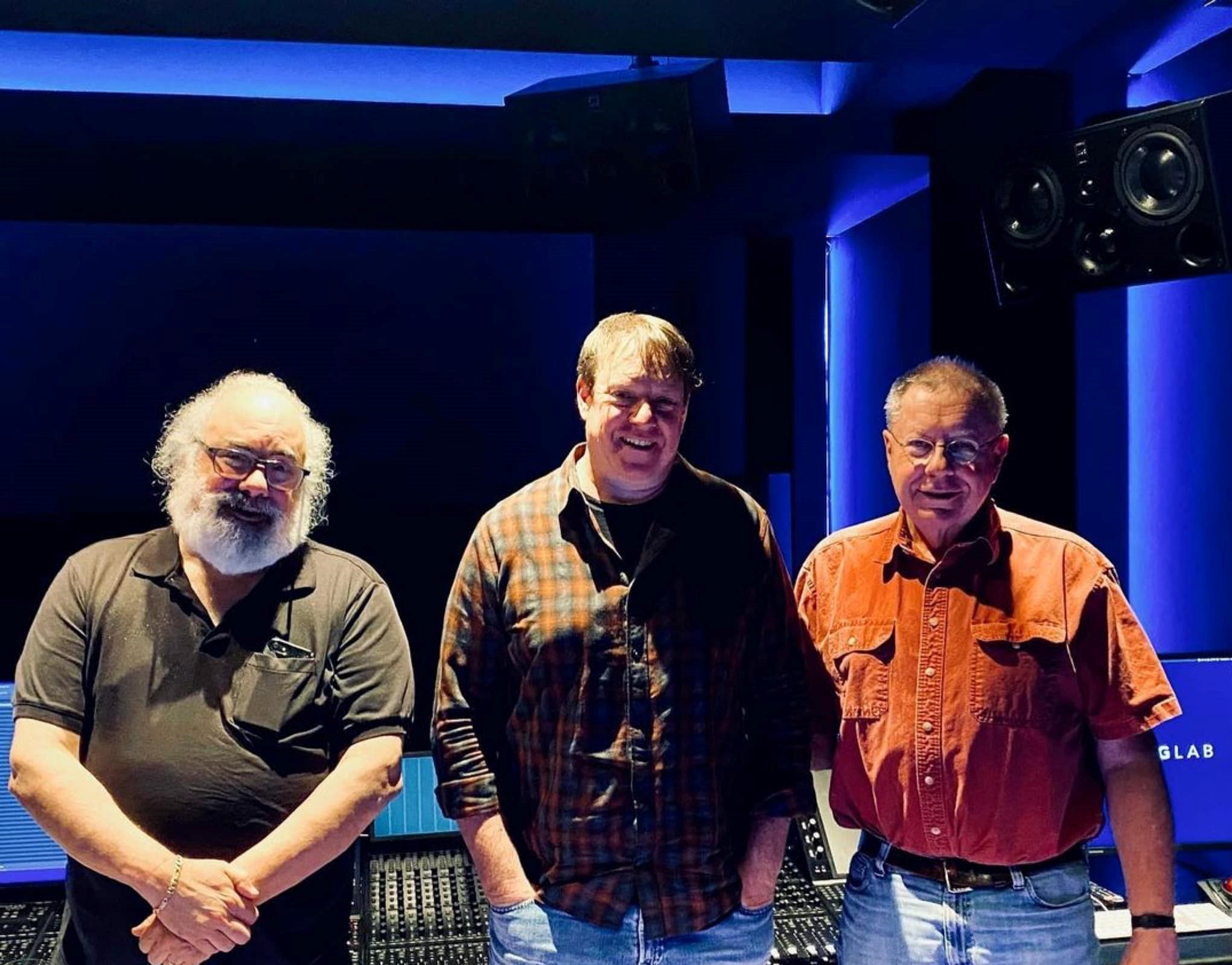 Legendary mixer Shawn Murphy alongside industry greats Erik Swanson and Bob Wolff at The Mix Lab
Shawn Murphy was at The Mix Lab working on an episode of Obi Wan Kenobi with Bill Ross, composer (the theme written by John Williams). Shawn also worked on a Sony Masterworks project featuring Yo-Yo Ma.
Christophe Beck worked on Disney's 100th Year Banner Logo with Greg Hayes engineering and Larry Mah on Protools.
Cues for Hocus Pocus 2 with John Debney, composer and engineer Damon Tedesco and Erik Swanson on Protools.
Optimized for Re-recording Mixers, Scoring Engineers and Composers mixing in Atmos, 7.1 or 5.1, and artists and producers mastering albums in Dolby Atmos, The Mix Lab's dual operator S6 and Dolby Certification allows the studio to also operate as a fully fledged dub stage for post production Re-recording mixing in all formats. "We also offer an ADR/overdub booth with a wide range of exceptional microphone and pre-amp options, and welcome all clients with a 24/7 concierge-style service, gourmet catering and valet parking,"
adds studio owner Missy Wallfisch.

Booking Contact: Missy
email: bookings@mixlab.studio
Official https://www.mixlab.studio/
facebook