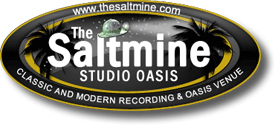 Welcome to Saltmine -- A Recording Oasis
In The Mesa Desert!
Arizona's one-stop recording, mixing and mastering Studios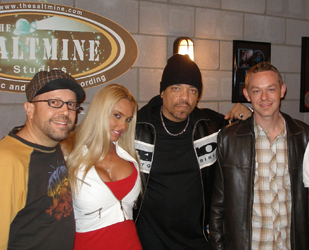 Owner Don Salter (left) and engineer Jason K. Levine (far right) with Ice T & co.

The Saltmine Studio Oasis is an exclusive recording facility in Mesa, Arizona (a vibrant epicenter for the arts) reflecting the unique character of Arizona's desert and canyon landscapes. Here you have vintage Neve tracking and SSL mixing options and all the latest in gear and best in service.

Located in the east-side suburb of Phoenix, you're only 350 miles from Los Angeles -an afternoon drive or a blink-of-an-eye flight away. It's close to downtown aligned with boutiques, shops, museums, cafes, and yoga studios.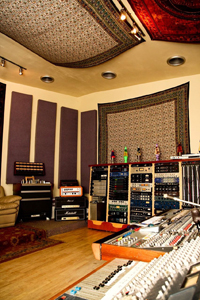 studio A
The Saltmine has been home for many celebrity clients.
It caters to Hip Hop and Rock acts; but, with four studios, there's something for everyone. Artist who have recorded here include: Jonas Brothers, Lil Wayne, Trisha Yearwood, Bone Thugs N Harmony, Swizz Beatz, Ice T, Jimmy Eat World, Megadeth, DJ Khaled, Uncle Kracker, Sheryl Crow, Cyndy Lauper, Big Bad Vodoo Daddy, Ministry, Alicia Keys to name a few. Many independants and producers like Warren Riker, Wyclef Jean, Rick Rubin and Timbaland have been at TSSO.





"We did it one room and one expansion at a time. The studios were an evolution of sorts. It starts with one step that leads to the next, and you end up at the gates of The Emerald City!" says owner/ producer and manager Don M. Salter who found this great space, an open air triage of buildings with one-foot thick masonry walls.

The studio space was originally built in 1914 for The Mesa Tribune newspaper. After it burned down, it was rebuilt in 1956 as a church. "We turned it into a world-class recording facility in 2003, a creative palace. The facility was fully modernized; new plumbing, all new electrical, as well as all studio rooms being built to be world class specs and shapes, from cut concrete doors to 14' sand-filled masonry walls," says Salter.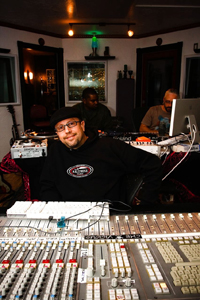 Salter in studio D

At The Saltmine, you can choose a house engineer or you can bring your own. The studio has full-time engineers including Don Salter (the owner), and Jason Levine (Che Vicious, DMX, G-Unit). "We're looking for a chief engineer at the moment," says Salter.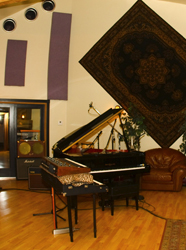 Studio A with Yamaha C7 Studio Grand Piano

The Saltmine is very supportive of outside production talent with a welcoming staff who's there to help you get the sound you want. The full-service facility offers tracking, mixing and mastering. "We do everything here. We are Arizona's one-stop recording. We do everything from start to fnish; so,
a local artist can walk in with an idea and walk out with a duplication master," says Salter.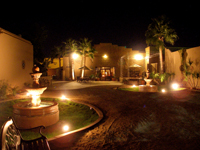 When you visit The Saltmine you can feel the love and care put into the place. You also immediately feel the atmosphere of peace, security and privacy.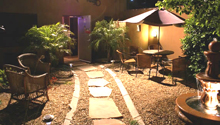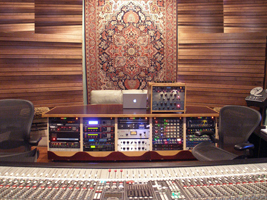 Studio B, The mix room

The Saltmine has wealth of gear and instruments in each studio. On their website visit the section called "The Vaults" for a list of available 200+ microphones, outboard gear, 75+ Guitars, Basses, and drums, effects pedals, keyboards and modules as well as guitar amplifiers.

The Tracking Studio A has 48 Channels of 70's Vintage Custom Neve (1081 type pre/EQ), Neve 1073 pair, 2 API Lunchboxes, Pro-Tools HD-3 (32 x 32 I/O) Waves Platinum, 5 Iso Rooms, a Cathedral Drum Room with Yamaha C7 Studio Grand Piano, Fender Rhodes, and DW 6 piece drum kit with many snares and Zildjian, Paiste and Sabian cymbals.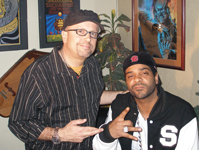 Salter with Jim Jones

The Mixing Studio B is a fully restored SSL 6064 E G+ TR formerly owned by Mixer extrordinaire Ben Grosse with Pro-Tools HD-3 (24 ins x 64 outs) with Apogee Big Ben clock, DA-16, Rosetta 200, 4 Pultec EQ's – 6 Distressors – Lexicon 480L- AMS RMX 16 Reverb – Waves Diamond- Vocal Booth, Sony C-800, Neumann 149, C-12VR, Westlake Monitors with dual 18" Subwoofers, Bryston Amps and Crossovers.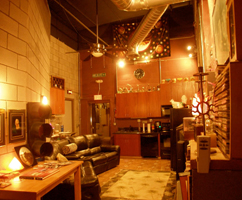 Accommodations
The Production Studio C comes with a Mackie D8-B / Pro-tools LE 003 Expanded, Production Studio with ISO booth. Lots of Keyboards including Triton, Virus, Fantom, Motif, Nord Lead etc., MPC 2000XL, and MPC-3000 Roger Linn etc.




The Villa Studio D is a SSL 4056 G G+ TR room formerly owned by producer David Foster, Pro-tools HD-3 (24 I/O) with Waves Gold, Neve Mic Pre, 1176 Limiter, Lexicon 480L, Dynaudio M3A Mains with dual 18" Subwoofers, Drum room with Ayotte Drum Kit, Vocal booth, Rehearsal lounge with JBL PA system.
Additionally, you can master here reasonably with a 3-tier mastering services offered in all formats. Saltline accept files from all over the world via FTP or you can send by good old fashioned FEDEX. "Our third tier" process is especially recommended for clients who have mixed their project at another studio "in the box" a.k.a. a digitally mixed project, especially home studio projects. The tape process tends to greatly complement and counteract the generally gnarly sound of these digital systems and offers a level of sonic integrity that would otherwise be impossible to obtain. It is the ULTIMATE ANALOG complement to PURELY DIGITAL source material," says Salter.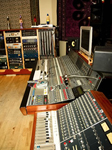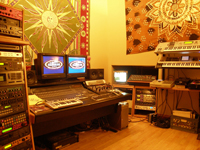 mastering room (l) and studio C (r)

Call to check the "A La Carte" recording, daily, weekly or monthly packages with or without engineer/producer and assistant. Saltmine offers accommodations for guests "The Villa" and "the Bungalow " bedroom suites with fully equipped kitchen and bathrooms.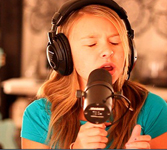 Watch 2011 America's Got Talent Anna Graceman sing and play on
Saltimine's Yamaha piano
"2011 America's Got Talent Anna Graceman loves Saltmine's Yamaha piano," says Salter.

Overnight accommodations are available in this suite with a master bedroom, private dual shower, kitchen, pool table and laundry.
Tempe, the home of Arizona State University is only ten minutes away, near music nightlife, and plenty of local talent. There are lakes, golf courses, 5-star hotels and great restaurants near by, also natural untouched deserts and wildlife parks perfect for photo-ops.

Beautiful Saltmine in Mesa could be your recording destination with gorgeous 72 degrees temperature. Here you can play, record and live on the studios' 16,000 square foot private compound. The secure gated grounds can serve as a live outdoor music venue which can entertain up to 300 hundred guests. You could also just chill out on the misted patio and BBQ while enjoying the serenity of three Mexican fountains. "You'll never have to leave if you don't want to," says Salter.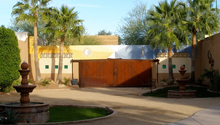 Booking Contact:
Don Salter, Owner, Manager
The Saltmine Studio Oasis
48 South Macdonald Street
Mesa, AZ 85210
480.892.6585