2021 Ushers A Different Grammy Show

By Claris Sayadian-Dodge
March 2021 for studioexpresso


New Host + New Format

Hosted by Trevor Noah (below right), the 63rd Annual Grammy Awards aired on CBS on March 14, at 8 p.m. ET/5 p.m. PT. with nearly four-hour run time. The awards could also be watched on Paramount+ or FuboTV (7-day free trial)
This year the show looked and felt different. Gone were the live performances, unusual artist pairings, elaborate stage changes with hundreds of instruments, musicians and MDs. Above all, gone was the live audience!
Enter the Pandemic Grammys, where the old was replaced with the new - giant green screens, creative graphics, viewer interaction via socials, and five small stages arranged in a circle. Attending were rotating nominees seated at tables for two, six feet apart, all outdoors, in front of the Staple Center in Los Angeles.
There were fewer award-presenting stars, replaced by personnel from a few choice clubs and venues that have struggled during the pandemic, including the Apollo Theater in New York and L.A.'s Troubadour and Hotel Café.
Nice nod to the producers!

New Executive Producer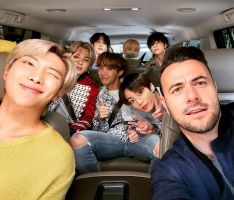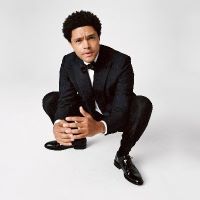 8.8 million viewers tuned in to the CBS broadcast of 2021 Grammys.

The Grammys had a new executive producer at the helm for the first time in decades.
The show must go on and this year the task was upon British TV producer Ben Winston (above w BTS). He turned James Corden's "Carpool Karaoke" series into a viral sensation. Co-executive producer, Jesse Collins is a Grammy and Oscars veteran who produced the Weeknd's Super Bowl show just weeks before.
Jack Sussman is the executive vice president of specials, music and live events at CBS.


Performers & Album Sales Won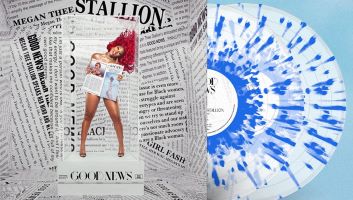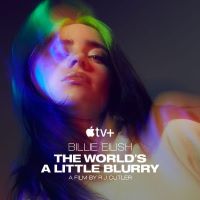 Megan Thee Stallion posted her new vinyl on her Facebook now available from Urban Outfiter for $36.98 Billie Eilish shares her new film, The World's Little Blurry directed by RJ Cutler on AppleTV and you can get the limited edition Billie Eilish gift card now at Apple retail stores and online in the U.S


Artists do what artist do best. Perform, express authenticity and sometimes mirror our times. What was on our nation's minds and hearts this past year were expressed by Terri Lyne Carrington + Social Science. Their video performance of "Trapped in the American Dream" expressed racial justice or lack thereof when it comes to incarceration and the for-profit prison system Watch it here
H.E.R won song of the year, "I Can't Breath." The song (listen here) sports over 2 million views on YouTube and takes its title from the chants we heard during BLM marches echoing Eric Garner's last words. He was the unarmed black man who was killed in 2014 after being put in chokehold by NY City Police.
The dynamite Korean septet consisting of members J-Hope, Jimin, Jin, Jungkook, RM, Suga and V -- performed. They were nominated this year for "Dynamite," but did not win. This is their first song released completely in English. Doja Cat was also left behind. Still BTS are the first K-pop group to snag a Grammy nomination and perform at the show. Who needs a Grammy when you can dance, and amass an impressive international fan base, "The BTS Army!" Their fans go goo goo and ga ga over BTS' animal magnetism and charm! According to their label, Big Hit Entertainment, 993,000 viewers from 191 countries tuned in to their virtual concert, held on October 10 and 11 at the Olympic Gymnastics Area in Seoul, and streamed online at various ticket price points.
Sorry boys, the Grammy goes to Lady Gaga and Ariana Grande this year!

The Premiere Ceremony Won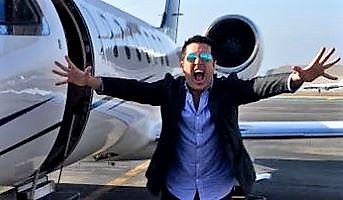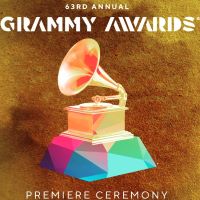 Jhené Aiko hosted the Grammy Awards' Premiere Ceremony where more than 70 awards are announced. Aside from minor glitches during some acceptance speeches, the show was a success. First few minutes the social networks lit up with engineer-types posting comments about the audio shortcomings. But, all in all, the opening concept and musicianship won. Performers who took the stage during the Premiere Ceremony, all of whom are Grammy nominees include: Burna Boy, Terri Lyne Carrington + Social Science, Jimmy "Duck" Holmes, pianist Igor Levit, Lido Pimienta, Poppy and Rufus Wainwright.
Cheche Alara (above left) produced and Music Directed the Premiere show. The show opened with "Mercy, Mercy, Me" (written by Marvin Gaye, from his second million-seller album What's Going On). This was not only a celebrating of the 50th anniversary of the Marvin Gaye classic, but the montage of collaborators singing the song. The graphic presentation displayed performers from different locations appear in triangular frames against a starry backdrop. Cool graphics!
Written in '71, the song offers poignant message of sorrow regarding the environment and remains relevant today.



"I will deeply miss having all my amazing musician friends onstage this year, but we will keep the lights on, and have incredible performances," Alara posted on his Facebook page.
The show opened with an All-Star ensemble comprised of nominees performing a version of Gaye's song arranged by Alara featuring: Afro Peruvian Jazz Orchestra, Alexander Desplat, Anoushka Shankar, Bebel Gilberto, Camilo, Gustavo Santaolalla, Grace Potter, Gregory Porter, John Beasley, Kamasi Washington, Kierra Sheard, Ledisi, Lupita Infante, Mariachi Sol de Mexico, Mykal Kilgore, PJ Morton, Regina Carter, Säje, Sarah Jarosz, and Thana Alexa.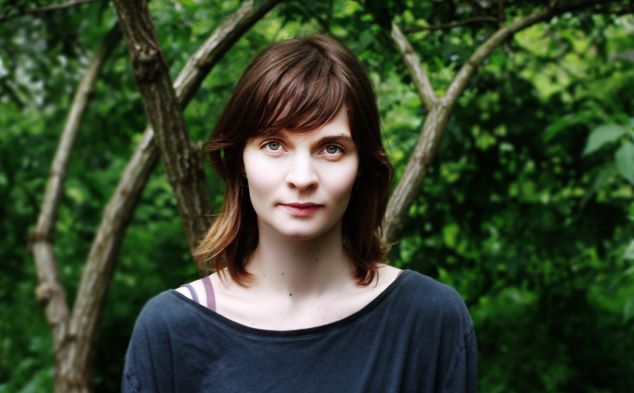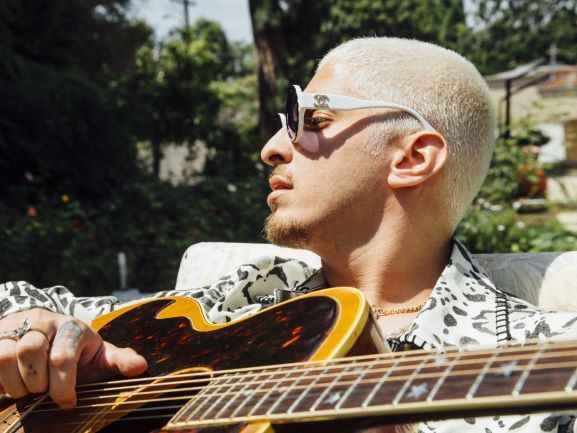 Producers. Engineers, Composers & Arrangers Won

Versatile musician Andrew Watt (above right) won Producer of the year, non-classical (Dua Lipa, A Boogie Wit Da Hoodie, Miley Cyrus, 5 Seconds of Summer and Ozzy Osbourne). This is where more obscure categories like Best Classical, Best Children's (Joanie Leeds won for "All The Ladies," and Best engineered albums are announced. The latter went to multiple engineers for their work on "Hyperspace." Engineers who won: Drew Brown, Andrew Coleman, Shawn Everett, Serban Ghenea, David Greenbaum, Jaycen Joshua, Beck Hansen and Mike Larson won for Best Engineered, non classical. Randy Merrill took the honors for mastering engineer (Beck).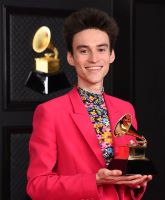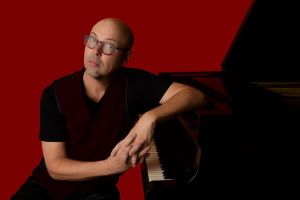 l-r: Jacob Collier, John Beasley
Big congrats to above fine musicians: John Beasley of Monkestra won Best Arrangement, Instrumental or A Cappella for "Donna Lee." Jacob Collier won Best Arrangement, Instruments and Vocals for "He Won't Hold You" feat Rapsody
Composer Hildur Guonadottir (above left) took a Grammy for Best Score for Soundtrack for Visual media for the Joker.

The Premiere Ceremony can be streamed from Grammy's YouTube Chl here
Music & Style(s) Won

70s music and fashion was back in 2021! From the red carpet to the stage, there were echoes of 70s. Harry Styles who won Best Pop Solo Performance For "Watermelon Sugar" switched between a leather suit (sans shirt), and plaid jacket with velvet trousers, purple scarf and platform shoes.
Bruno Mars performed in their 70s best (in deep orange), suits borrowed from your parent's prom night!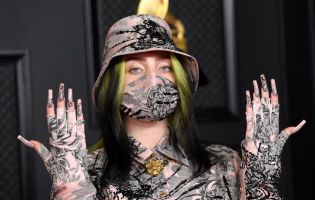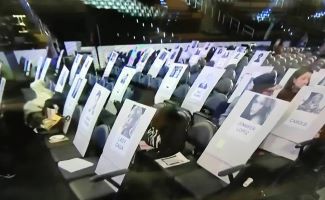 Eilish Photo (L): Kevin Mazur - Rehearsal day (right) photo: studioexpresso

Everyone's favorite family duo, Billie Eilish and Finneas shined their style. They won Best Song Written for Visual Media for their theme for the upcoming Bond flick "No Time to Die." The song would've been a shoo-in for the Best Original Song race, but now Bond 25 is delayed in theaters yet again until April 2, 2021 (after the eligibility period).
When it comes to fashion, these two have cracked the code with their edgy style and bling (branded nails and jewelry), and two matching wears in lime green and peachy pink, with matching face masks brought to you by Gucci.
A new Apple TV+ documentary, Billie Eilish: The World's A Little Blurry, debuted just in time on February 26, directed by R.J. Cutler.

Eilish and Finneas also won Record of the year. Billie accepted graciously addressing Megan Thee Stallion (winner in three categories: Best New Artist, Best Rap Song and Best Rap Performance --the latter two for the remix of "Savage," featuring Beyonce). "You are a queen. I want to cry thinking about how much I love you. You're so beautiful. You're so talented. You deserve everything in the world. Genuinely, this goes to her," Eilish said.

The surprise: Strokes won Best Rock Album after two decades of being overlooked in the Grammy nominations.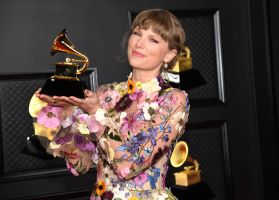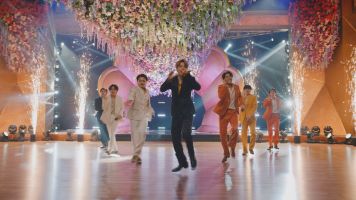 Swift (left) photo by Kevin Mazur for Getty Images for The Recording Academy -- BTS (right) photo by: Cliff Lipson/CBS

Album of the year went to All-American girl Taylor Swift for Folklore. She became the first woman to win this title 3X (and she is in good company with Frank Sinatra, Stevie Wonder, and Paul Simon).
She accepted the award in her floral-print mini dress with collaborators Jack Antonoff and Aaron Dessner. Thanks to the magic of Disney, she, like Alice in Wonderland, takes her fans into a magical world through her upright piano in the video for "Willow" – off her Evermore album. How's that for helping your fans forget 2020?!

Queen Bey, Beyoncé won 4 awards with a whopping 9 nominations including Best R&B Performance for "Black Parade." She now sports having total of 28 Grammys (more than any male or female artist in history)! Congrats Q Bey! She appeared regal in her black leather gown designed by Daniel Roseberry for Schiaparelli. Her modest footware by Jimmy Choo design retails for $950 at Farfetch!
Dua Lippa looked gorgeous in her Versace with swarovski crystals. She won Best Pop Vocal Album For 'Future Nostalgia' and reminded us during her acceptance speech that even when we're in midst of a pandemic, dancing and being happy is possible.

Fiona Apple racked up two wins for her innovative and challenging album, "Fetch the Bolt Cutters."
Thundercat won, but Flying Lotus, Kamasi Washington, and Chloe x Halle didn't.
Best Rap album went to NAS for "King's Disease"
Robert Glasper featuring H.E.R. & Meshell Ndegeocello won Best R&B Song: "Better Than I Imagined"
James Taylor won Best Traditional Pop Vocal Album with "American Standard," a body of work that shares a name with a toilet brand!
Jagged Little Pill won the award for Best Musical Theater Album. "Jagged Little Pill" is also in consideration for 15 Tony Awards. The show is inspired by an album by Alanis Morissette, released in '95 via Maverick and produced by Glen Ballard. Los Angeles engineer Chris Fogel engineered the sessions.

Viewership By The Numbers Won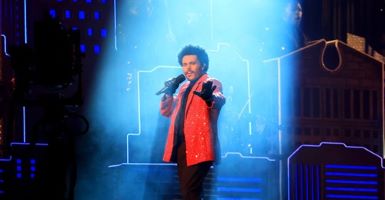 96.4 million viewed the Superbowl 2021 where Weekend performed during the half time show.

Perhaps the big winners this year were not even there. According to Nielsen, 33.8 million watched President Biden's inauguration on Jan. 20 where Lady Gaga and Katy Perry performed. CBS said the Super Bowl attracted 96.4 million viewers (still the lowest-watched NFL championship since 2007) where Weekend played during its half-time show.
By comparison, only 8.8 million viewers tuned in to the CBS broadcast of 2021 Grammys, according to Nielsen's Live + Same Day fast-affiliate numbers (per Variety). The pre-pandemic 2020 Grammys, featuring a historic sweep of the night's four top awards by Eilish, drew its lowest ratings in history.
Supporters and Advertisers

Bulova, Facebook, IBM, JBL, MasterCard, Pandora, People and SiriusXM were all supporters of GRAMMY.com (hosted for the first-time entirely on the IBM Cloud). Fill those swag bags please!
As for ad dollars? In 2017, The Alicia Keys-hosted telecast pulled in $95 million in national TV ad revenue, according to Kantar Media data quoted by MediaPost. Top 2019 Grammys advertisers were Walt Disney Pictures (5 minutes), Google Phones (4 minutes), and Apple Music and Lincoln Motor Co., each with 3.5 minutes, according to i.Spot.tv. No record is posted for this year's ad revenue when we distributed this exclusive article to studioexpresso.
Challenges

While Music's Biggest Night remains one of the most popular award shows in the US, the ongoing decline in viewership continues to raise questions about the appeal and relevance of such formats in today's ever-changing media landscape.
According to Forbes, the TV medium is poised to see unprecedented ad spending declines that we can tie directly to the rise of streamed content.
It appears ratings for all award shows are down and the slide isn't strictly COVID-related. Last month's Golden Globes on NBC fell more than 60%. Both American Music Awards and the Billboard Music Awards hit record lows last year. The 92nd Academy Awards on ABC in February 2020 drew 23.6 million viewers, down from nearly 30 mill .
In comparison, a TV-Event like Oprah with Harry and Meghan on CBS, drew 17 million viewers (more than twice the Grammy show) and it required three people talking in their chairs! What does this say about our culture or the public appetite for entertainment?
"The notion of genre is disappearing," writes Amanda Petrusich of The New Yorker. What we mean by "Pop" or "Jazz" or "Country" changes regularly. Historically, R&B music became known as R&B, and was marketed as "race music"—during the 1920s and '30sJustin Biebers showed his frustrations with the Recording Academy for misclassifying his nominations this year. Bieber stated on his Instagram that "Changes was and is an R&B album. It is not being acknowledged as an R&B album which is very strange to me."
One of the most common complaints about the Grammys is that, among both nominees and winners, fame tends to trump quality. Top 40 rules the general categories, but there are also fields for reggae, jazz, classical, folk, alternative music, and gospel, among many others. Several commentators have criticized the use of "urban" as code for "black." Finally, today the consumer experience is different. They're trained by streaming platforms to seek mood-specific music vs genres.

Recovery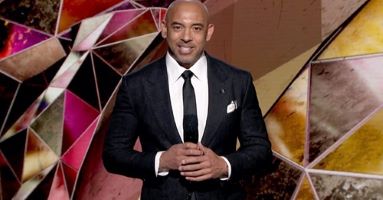 The interim CEO, Harvey Mason Jr (above) followed Grammy's first female CEO Deborah Dougan after her short stint and controversial departure (making explosive allegations regarding discrimination, vote-rigging and financial irregularities, none of which are addressed). Mason delivered a brief speech on the day of the show promising to build a Recording Academy "we can all be proud of." He highlighted the organization's support of the GRAMMY Museum®, advocating on behalf of music creators, supporting music people in times of need through MusiCares. And this year that support was much needed. Since March 2020, MusiCares has distributed more than $22 million to help more than 25,000 music people through these challenging times. Just last week the organization hosted a virtual fundraiser to honor the resilience of the music community. The virtual event also featured legendary performances from the MusiCares' vaults by Bruce Springsteen, Usher, Stevie Nicks and Tom Petty. For general Aid Resources click here or Covid Relief
Recording Academy's mission states that it is the world's leading society of musical professionals and is dedicated to celebrating, honoring, and sustaining music's past, present and future. The Show did just that.
Indeed celebrations this year included posthumous Grammys for the legendary John Prine and Chic Corea (each took 2 awards). A lifetime achievement award was bestowed to Selena.


Times & Timing

Musicians will tell you. Timing is everything. Ken Ehrlick, the show's producer for the last forty years, got his timing right.
He announced his retirement before the world changed. Saved by the bell!
Perhaps viewership is not gonna be what it was in its heyday when there were three major networks.
One thing we can hope and count on. Next year it will be different still.

Now What's In My Gift Bag?!
Lash Fary, a swag vetera n who has curated the Grammy Awards gift bag for 22 years, said the Recording Academy wanted this year's offerings (gifted to performers and presenters) to reflect the current times. To honor COVID-19 protocols and keep contact at a minimum, the bags will be delivered or mailed to show participants rather than exchanged in a suite, as is typical. Contents include: Luxury tea essentials from Cup of Té, a tea company founded by Taylor Lindsay-Noel, a disabled Black entrepreneur who was a world-class gymnast in her teens before a life-altering. Grammy Awards host Trevor Noah is also represented in the bags via a Bonfire and Trevor Noah Foundation collaboration that features a T-shirt and tote bag set. Handmade bath and body products from luxury brand Hotsy Totsy Haus, a company founded by deaf single mother Christi Leonardi; pumpkin and peanut butter handmade dog cookies from Wags Cookies made by Emily Ainsworth, who battles dysautonomia and chronic pain. It's been reported that the bags are valued at more than $5,000 each. Well, you get the picture.
Big congrats to all the winners and nominees listed here - https://www.cbsnews.com/news/grammy-winners-nominees-2021/
Many musicians have had time to build and create during the pandemic.
Next year is looking at you kids!