MAD DOG IS CURRENTLY A PRIVATE ARTIST STUDIO
Mad Dog, working class heroes' studio, updates! A large multi-purpose booth has been added to 'The Stage' and a Vintage Neve 8088 console installed in studio A.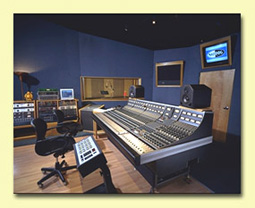 Studio A with vintage Neve

Mad Dog Studios is an expansive 6000 square foot full-service recording facility located in the heart of Burbank's Media District hub. Mad Dog offers cutting-edge recording technology with three Pro-Tools suites alongside an impressive collection of vintage microphones, amps and instruments. It boasts three complete multi-format studios, two lounges, satellite TV and high speed DSL Internet access.
Mad Dog offers a unique, comfortable and creative environment which many artists and producers seek out time and time again.The facility can handle every project from inception to final mix and editing. Their experienced staff has a reputation for being attentive and creating a welcoming atmosphere.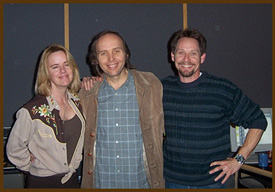 L-R: Heather Myles, Dwight Yoakam and Michael Dumas
Recent Activity included sessions with
Dwight Yoakam who was in doing a duet on the latest Heather Myles record with Michael Dumas producing. Curb Records' new pop division signing, "Feel", led by Scot Sax, has been working with producer/engineer Dusty Wakeman on their upcoming August single and release titled "Won't stand in your way." Producer, BT, was in to complete some hush, hush editing for Britney Spears.

The latest addition to Mad Dog is a vintage Neve 8088 console to Studio A. The console has Flying Faders automation, 40 channels of 31102 modules, 16 busses, 4 automated stereo returns, 8 echo returns and 24 monitor-to-stereo available.
"What makes Neve consoles great is the sound of their mic preamps and the EQs. The 80 series Neve consoles are like a 1956 Ford pickup truck. When you open the hood there's not a lot of stuff inside. That gives you a real clean signal path. This particular console is very rare. Not a lot of 8088s were made. 8088 is an 8068 with 8 more channels. This one is in particularly pristine condition," says Mad Dog's owner/producer, Dusty Wakeman.


L-R: Joe Chiccarelli and Justincase
Along with the Neve, a Studer A800 multi-track recorder forms the centerpiece of Studio A.
A plush control room offers the ideal audio environment, minimizing listener fatigue and maximizing artistic creativity. The large tracking room provides both live and dead recording, boasts 12 foot high ceilings and comes with movable baffles. Two iso booths and a private lounge are also usable for recording; offering endless sonic flexibility. Racks full of vintage and cutting-edge outboard gear are accompanied by a well-stocked mic locker and an enviable collection of guitars, amps and keyboards. Total audio-for-video synchronization, ProTools and 48-track capability complete the mix; making Mad Dog's 'Studio A' a world-class choice.

Additional recorders in Studio A include: Ampex ATR 102 2 track with 1/2" and 1/4"head stacks, Tascam DA45HR 24bit DAT, Otari MTR 90III available, two Tascam DA78HR, 1 DA88 digital 8track with remote available, and Pro Tool Mix Plus 24i/o system with a Mackie HUI available.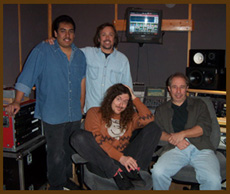 Clockwise: Rafael Serrano, Dusty, Tony Pappa, Weird Al Yankovic

Since 1980 Mad Dog has played host to a string of major artists, producers and TV/film companies working in a variety of music-related media. Dwight Yoakam, Lucinda Williams, Buck Owens, Courtney Love, Queen Latifah, Rob Zombie, Aimee Mann, Megadeth, Rod Stewart, The Bangles, Robben Ford, The Damned, Soluna and Folk Implosion are just a few names to drop. Mad Dog has a strong clientele base within the Los Angeles' AAA, Americana and country music scenes in part due to owner, Dusty Wakeman's, strong ties within these circles. Mad Dog is also no stranger to catering to major record and film companies. Some of the producers and engineers who have passed through the doors of this studio include: Joe Barresi, Sylvia Massey-Shivy, Narada Michael Walden, John Travis, Dave Bianco, Joe Chiccarelli and Brian Scheuble among others.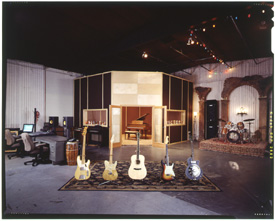 The Stage with the new large Multi-Purpose booth

Mad Dog Studios' most recent upgrade is the addition of a spacious multi-purpose booth to the largest of their three studios, 'The Stage.' The booth provides the dual versatility of either a control room or iso booth. With the booth in place the option of a traditional control room setting complements the open studio recording style the room is known for. 'The Stage' continues to offer both the immediacy and liveness of open studio recording with its unique 2500 square foot open recording space. It is suitable for everything from pre-production, tracking and overdubs to video shoots.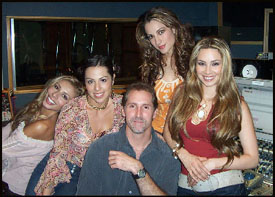 Producer/Engineer Jim Champagne with Aurora Rodriguez, America Olivo, Jessica Castellanos and Christina lopez (aka "T")

The studio offers amenities to make musicians feel at home. The stage includes its own private entrance and lounge, kitchen, bath with shower, 400 amp service and lighting grid. Large movable baffles allow sonic customization for each project. It boasts 15 foot high ceilings and dramatic 12 foot columns off the set of Dwight Yoakam's "This Time" tour (a little gift from a favorite client). Along with these impressive aesthetic improvements, highly anticipated upgrades to the room include a 70's style drum booth and a Sony DMX-R100.
To top off the list of changes to Mad Dog's Studio B, 5.1 Surround monitoring has been added. The Sony DMX-R100 Digital Audio Mixer anchors Studio B. It has 48 channels, 25 motorized faders, touch screen control, fully integrated automation, digital routing matrix, machine control and a 24-bit quality operating at 44.1,48, 88.2 and 96 khz. The room features an over-sized vocal booth (great for loud guitar amps), lock-to-picture capabilities and multiple formats. Studio B is the perfect room for overdubs, digital editing, mixing for both stereo and 5.1, and for transfers between formats. The room boasts 12 foot high ceilings.

L-R: Dusty Wakeman and Dave Bianco with Sony DMX R-100

Recorders in Studio B include: Pro Tools 24bit Mix Plus with an additional farm card and Mackie HUI, Otari MTR 90iii 2" 24 track analog tape machine, DA88 format - two DA78HR 24bit and one DA88, Tascam DA45HR 24bit DAT, Fostex D5 DAT HHB CD Recorder and a TC M5000.
The studio's design was conceived and constructed by producer/engineers, Dusty Wakeman and Michael Dumas, with award-winning studio designer, Chris Pelonis of Pelonis Sound and Acoustics. Mad Dog provides a wide variety of acoustic choices. Control rooms are all acoustically neutral. Mad Dog also offers a large selection of recording mediums and front-end gear. Here you'll find a more than adequate selection of microphones featuring Neumann, AKG, Royer and Shure. For a complete list of studio specs check out Mad Dog's website.
"At Mad Dog, our clients tend to be people who are serious about their art, whether they are artists, producers or engineers. We offer the very best equipment in a clean, comfortable environment at reasonable rates. If you need lots of marble countertops and gold fixtures for your entourage, we're probably not your place. If you want to focus on recording your music with uncompromising quality without a lot of distractions, then you've found the right place. I like to tell people that Mad Dog is the "working class" high-end studio."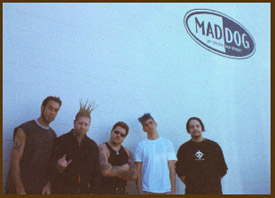 From Zero
For those flying in, savvy out-of-towners slip effortlessly in and out of nearby Burbank International Airport. The Burbank locale provides a refreshing break from Los Angeles traffic snarls, yet provides easy access to those wanting to explore the vast city of Los Angeles or spend a relaxing day at the beach, desert or mountains. Sunny and warm, Burbank has an excellent year round climate and endless nearby activities. Everything you need is just a few minutes away. Dining choices range from casual cafes to fine dining in downtown Burbank's lively restaurant row.

Contact: Dusty Wakeman or James Tanksley, Mgr.
Mad Dog Studios
Phone (818) 557-0100
Fax (818) 557-6383