Matt Wong
Pianist, Arranger, Composer, Producer

photo: Pat Johnson

Matt Wong is an award-winning pianist, composer, and arranger. He attended Manhattan School of Music, where he studies jazz piano with Phil Marokowitz and jazz composition with Jim McNeely.
His impressive list of awards includes: ASCAP awards (4); Downbeat Music Awards (4); Monterey Jazz Festival Awards (2); a Jazz at Lincoln Center Award, and many more.

Wong has worked with small ensembles big band, and full orchestras. His compositions have been perfromed by artists and groups including the Jazz at Lincoln Center Orchestra, Boston Symphony Orchestra, San Francisco Symphony (SoundBox), Oakland Symphony, Grace Kelly, Santa Cruz Symphony, Realistic Orchestra, Louis Cole, and the Late Show Band (Stephen Colbert).

Wong's more recent work has been with Academy, Golden Globe and Grammy Award-winning artist Jon Batiste as a keyboardist, arranger and orchestrator. He has also worked for Grammy Award-winning producer/composer/arranger Brent Fischer assisting with music orchestration, production, and engraving, and assisted on production of two Clare Fischer Big Band Albums for Clavo Records.

Born and raised in San Francisco, CA, Wong feels fortunat to have grown in an environment that supports Jazz and fosters musical collaboration and experimentation.
Wong is currently based in New York City.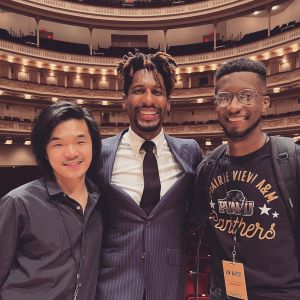 L-R:Matt Wong, Jon Batiste and Glenn Alexander II at Premiere of Batiste's American Symphony Sept 2022 at Carnegie Hall Photo: Matt Wong
Matt Wong and conductor Glenn Alexander II were Jon Batist's orchestrators at the world premiere of Batiste's American Symphony which took place at Carnegie Hall on Thursday, September 22, 2022.
The piece, just over 90 minutes of music accompanied by 64-piece ensemble, paid salute to musical visionaries—such as Duke Ellington, James Reese Europe, Mahalia Jackson, and Nina Simone—who once stood on the very stage.
Matt Wong
Official
SoundCloud
Oakland Symphony

copyright 2019 studioexpresso