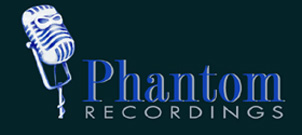 We're Not in Kansas Anymore, Toto!
Click The Heels Of Your Ruby Shoes and Land in
Phantom Recordings where Commercial Offerings Meet Musician-friendly Vibe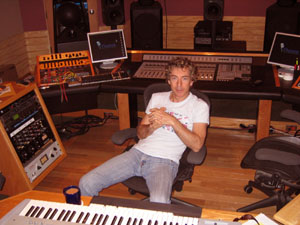 Simon Phillips in the control room of Phantom Recordings
Photo: By The C
Phantom Recordings opened officially in February of 2005 where the new Toto album is being engineered and co-produced by Simon Phillips who also handels all the Pro Tool programming. "Oh, and a bit of drumming too! We have all enjoyed working here, it has a great vibe and the live room has a great sound. We tracked most of the record live - sometimes 6 of us playing - and the room handles it well," says producer/owner, Phillips.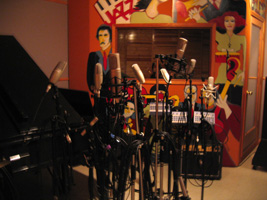 Centrally located near Sherman Oaks restaurants, Phantom Recordings is built around a Pro Tools HD3 system with 32 inputs and 24 outputs. The spacious control room is 400sq ft (17' x 23'), Live room is 700sq ft (27' x 26') with an Iso booth that measures 42sq ft
(6' x 7').

Much attention was given to the headphone cue system which utilizes the Furman 16 channel set-up. Great attention to detail was given to the cabling (all Mogami) and also connectors. Nickel to nickel and gold to gold protocol is observed so the signal path from mic to digital converter is pristine. The same goes for monitoring out of Pro Tools using either B & W 801 Matrix speakers or Genelec 1031As.
The control of studio A is spacious and can accommodate direct recording. Plus the main room offers an Iso booth and large enough for several musicians to play together.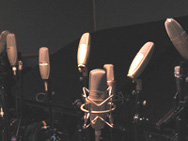 Phantom's studio B offers a 150 sq. ft space with tie and mic lines to studio A. It can be booked as stand alone ProTools editing suite or can double as an Iso booth when booking the main room.
"We're not competing with the major studios of the world. It is a medium priced studio which has a good size control room, a great live room and also enough hang out space to relax, eat and get away from the work areas," says Phillips.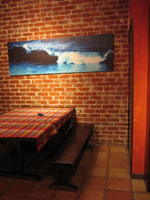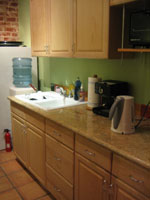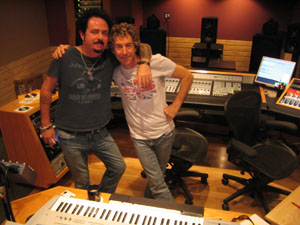 l-r: Steve Lukather & Simon Phillips at Phantom Recordings
Photo: By The C
Simon Phillips has engineered the last 2 Toto records and mixed a DVD for the band at Phantom. He also recorded and mixed Derek Sherinian and recorded drums for the new Joe Satriani and Stanley Clarke albums at Phantom Recording.
The main room of studio A is suitable for every stage of making a record. Simon will also be mixing some surround material at Phantom Recordings. The studio is set-up for surround utilizes 5 Genelec 1031As, an M & K sub and M & K bass management. "My concept for monitoring was to have a pair of speakers which were compatible to a mastering room's speakers - hence the choice of the 801s. They may not be so good for one's ego but you certainly know what is being recorded. Material I have taken out of the studio translates well on other systems," says Phillips.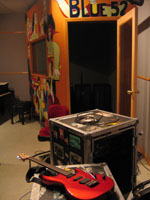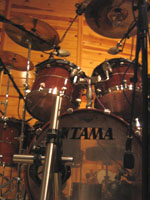 According to Phillips who's particular about getting good drum sound, the room is not the livest room but it handles volume well and has a pleasing natural sound. "I use some interesting compression on ambience mics to create a bigger space. All my mics are new apart from some old AKG D12s. As much as I love old vintage gear I am really into the new "retro" stuff as they are consistent and more cost effective to repair and maintain. I have some lovely Røde tube mics, a Royer R121 ribbon and quite a few Shure condenser mics," says Phillips.

You ask what type of service one can expect when booking Phantom? Simon says: "We offer a professional atmosphere with old fashioned studio etiquette. I am passing on the lessons learnt by myself working in many studios in the 70's in London to my assistant - lots of English tea and biscuits!!!"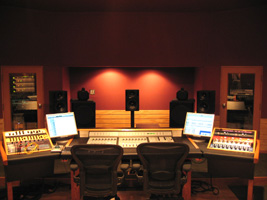 Gear wise, the room offers a well-propotioned mix of outboard and mics including a good selection of different mic pres like Neve, API and Focusrtie to suit different instruments.
Steve Macmillan is mixing the tracks on Toto's new album, "Falling In Between." Fans around the world can expect a February 2006 release from Frontiers Records .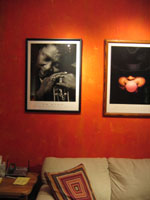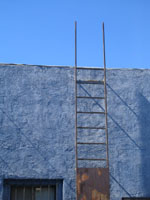 visit Phantom Recordings:
http://www.phantomrecordings.com/
Bookings Contact: studioexpresso
818-990-3031 or
Studio # 818-907-3345